Life is too short to travel to the same place as every other tourist. While I love Paris, Rome and New York as much as anyone else, there is no greater pleasure than discovering the more unique travel destinations that are hiding, (mostly undiscovered) around the world.
Those destinations that are perfect for people like you and me, who take extended vacations; those who travel on a budget but still want the full bifters when it comes to experience.
This post may contain affiliate links. They cost you nothing but we make a small commission. If you would like me to explain it further, please visit our disclaimer page.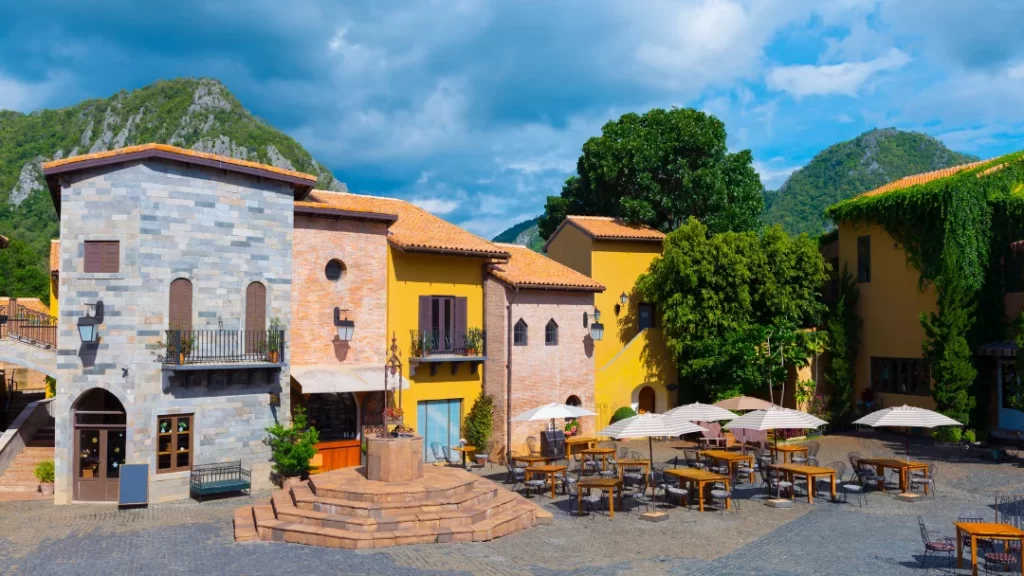 The following places are, in our opinion, some of the most beautiful places on earth.
They are gorgeous but underrated destinations that we have travelled to both a family and as a couple (in the days before my kids invaded my life).
As well as giving you ideas of local activities in each destination, I have included tips on how to save money, making these hidden vacation spots perfect for those looking for cheaper, budget places to visit around the world.
Hopefully, this guide will give you some fresh ideas for the next time you come to plan your next trip!
And remember! Before you leave for an international trip, make sure you create space in your brain by following our must-do travel checklist.
Unique Travel Destinations That Will Leave You Reaching For Your Passport
1: Taranaki – New Zealand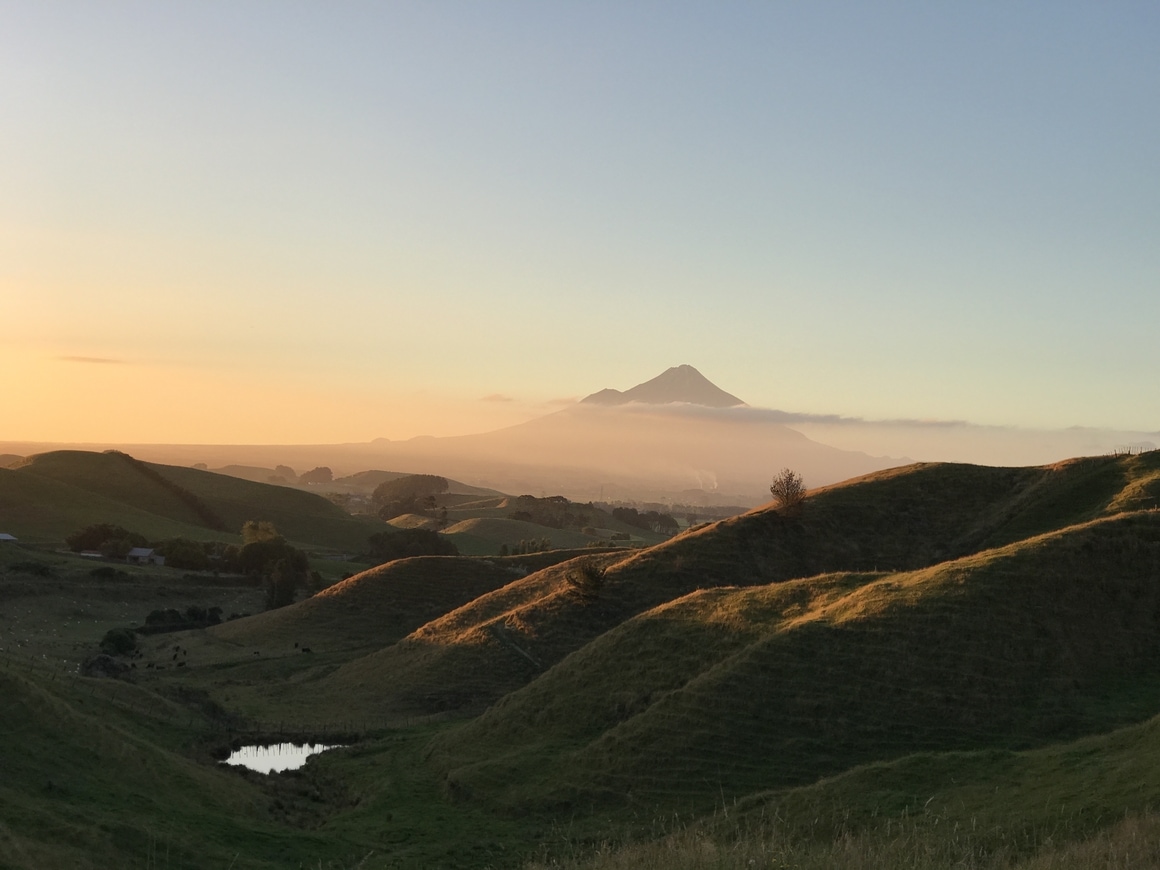 I'm going to kick off with this beautiful region in New Zealand.
I am lucky enough to call Taranaki home but that in no way makes me biased!
Taranaki is a region on the West coast of the North Island of New Zealand.
It is famous for the active but quiescent stratovolcano, Mt Taranaki, that towers proudly over the entire province.
Taranaki is dressed with beautiful black sand beaches that host fabulous surf breaks, meaning that in the winter, you can ski and surf on the same day!
They say that the best time to visit New Zealand is in the summer, but I don't agree. New Zealand is fabulous in all seasons.
Just remember though, if you are visiting Taranaki in the spring or autumn, don't forget a light jacket or a good quality rain poncho.
New Zealand has many secrets that only the locals know about, and one of those is the fact that New Zealand regularly experiences four seasons in one day.
a
BUDGET TIP
Taranaki has got stacks of free things to do including hiking, mountain biking, and volcano climbing!
Take a walk along the coastal walkway and watch the sunset before enjoying a glass of wine in one of the many unpretentious bars. Cheaper than Auckland or Wellington!
We only ever use Kakak to secure the best price on flights. They really can NOT be beaten (and their mobile app is terrific!) Check out the price of flights to New Zealand HERE ✈️
2: Mirrisa – Sri Lanka
Although Sri Lanka is becoming more popular, it is still a relatively underrated destination.
We spent three weeks in Sri Lanka as a family, and this beautiful island captured our hearts.
Surrounded by the Indian Ocean, Sri Lanka offers golden sand beaches, fabulous food, stunning wildlife, breathtaking scenery and friendly people.
If that isn't enough to convince you to make Sri Lanka your next destination, know that it was recently announced that Sri Lanka is offering Free Visas to over 30 countries, including the US. What are you waiting for?
Don't miss the town of Mirissa, which will provide you with a stunning beach, wonderful restaurants and a slow pace of Sri Lankan life.
BUDGET TIP
Take the bus from Mirissa to the beautiful town of Galle. The ride will cost you no more than a dollar and the experience – to sit next to an open window amongst the colourful locals – is priceless.
The pizza restaurant next to the bus stop in Mirissa is also the best in Sri Lanka (and is very reasonably priced!)
a
3: Udaipur – India
I am including two cities from India because, after spending six weeks in India last year, I am such a huge fan of the country.
Poor India gets a lot of bad press when it comes to being a vacation destination, but give India a chance, and I think you will love it as much as I do.
Udaipur, also known as the city of lakes, is an incredibly romantic and unique destination for any traveller willing to look outside of the box.
Nestled beside the serene Lake Pichola, Udaipur offers a winding maze of streets lined with intriguing shops and cafes.
The people of Udaipur are friendly and hospitable and are proud of their beautiful city with its bustling art scene.
Take a romantic boat ride on the lake at sunset and admire the city from the water.
I defy Udaipur not to charm you!
Things to do in Udaipur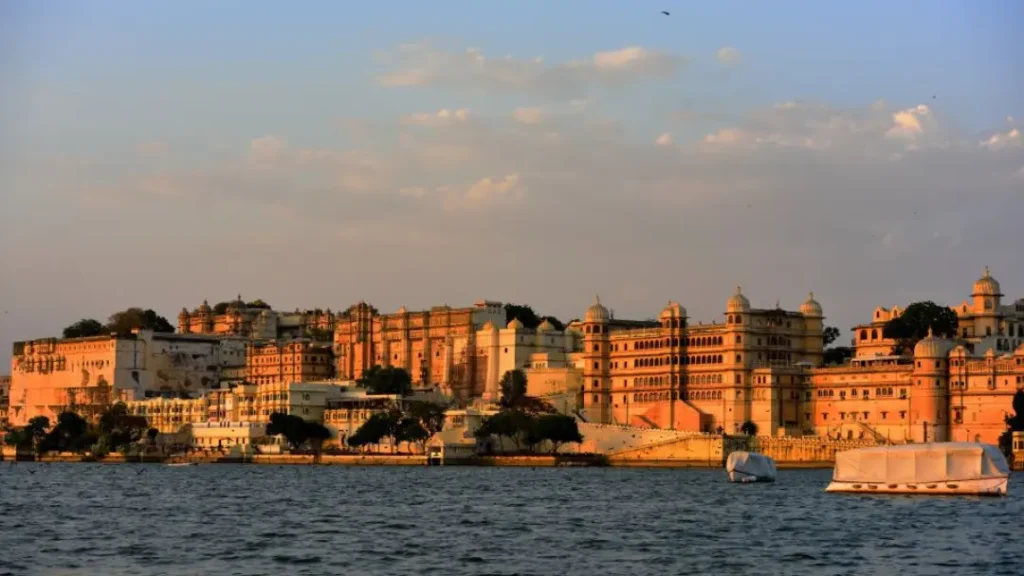 a
BUDGET TIP
Take a tuk-tuk up into the hills and find the reservoir. It is beautiful, quiet and shady. Best of all? It's free!
Save This Post To Pinterest!⇓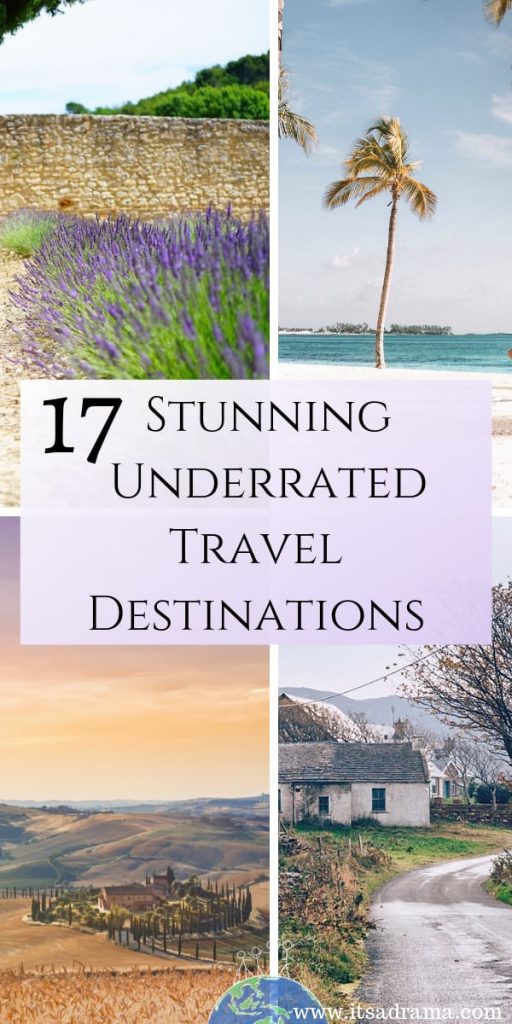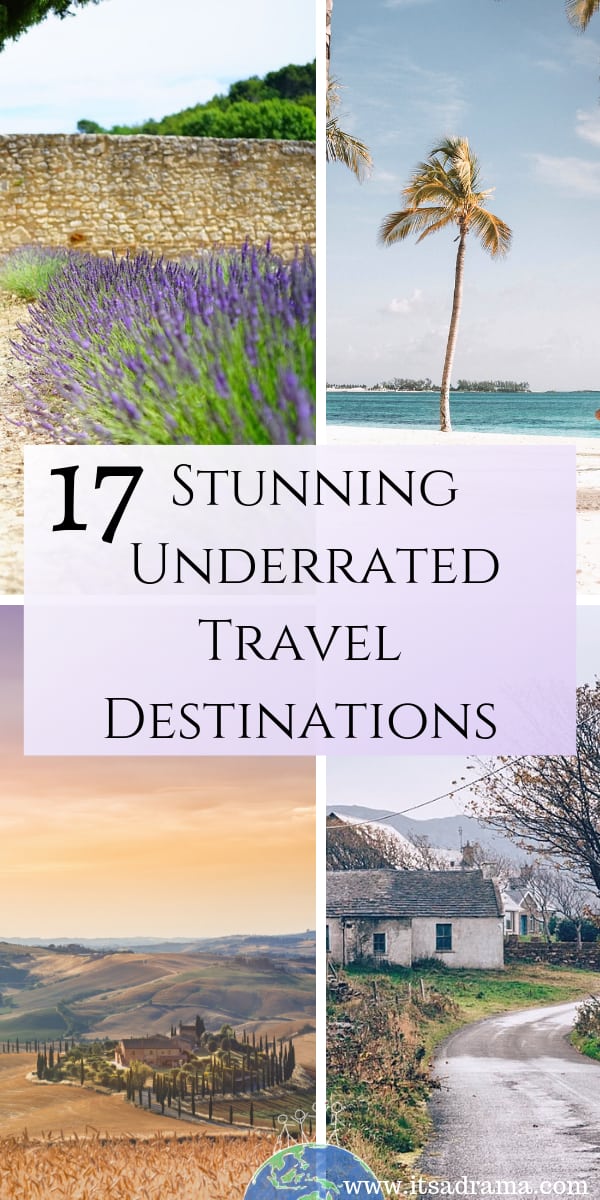 4: Alleppey – India
Alleppey, also known as Alappuzha, is a city in the southern Indian state of Kerala, which is famed for its backwaters, an intricate network of canals and lagoons that weave inside and around the beautiful surroundings of the region.
Allepey is quite possibly the greenest, cleanest and friendliest city that we visited in India, offering the visitor fabulous beaches and superb restaurants.
I promise; that if you are looking for a unique destination in India, you will love Allepey.
Why don't you listen to our podcast, where my teenage son and I talk about the realities of backpacking through India for a month – India – is it as scary as everyone says it is?
a
BUDGET TIP
Eat at Hassan's family restaurant.
This is not an affiliate link. Just me telling you that you won't find more delicious and cheap Indian food than at this place.
Would you love to travel more often but could use some tips on how to do it for a lot less? Then join me & I'll show you how!
5: Phong Nah-Ke National Park – Vietnam
Most people who go to Vietnam tend to head to the major cities that offer beaches and shopping, which is a shame because by doing so, they miss the chance to experience beautiful destinations like Phong Nah.
Steeped in history, Phong Nah offers the adventurous traveller a breathtaking chance to experience the oldest karst mountains in Asia.
These stunning mountains were formed over 400 million years ago and are riddled with hundreds of spectacular rivers and caves, all waiting to be explored.
If you are a budget traveller who thrives on adventure, then Phong Nah in Vietnam is a must-do unique destination for you.
a
BUDGET TIP
Hire a motorbike (very cheap – just be aware of a popular scam with motorbikes in Vietnam!) and drive up to the beautiful hills. The food in Vietnam is sooo cheap so you can stop at any roadside cafes and have a delicious lunch!
6: Chiang Mai – Thailand
There is so much more to Thailand than beach resorts.
Take the train from Bangkok and head to the misty mountainous region in the North of Thailand.
Here, you will find Chiang Mai, a beautiful city, backed majestically by the Doi Pui–Doi Suthep National Park offering bird watching, hiking and waterfall climbing.
Chiang Mai has it all: first-class dining, hundreds of temples and beautiful weather.
a
BUDGET TIP
Love to exercise when you travel? The park in the middle of Chiang Mai is a fabulous place to go and work out for FREE!
Why pay for an expensive gym when you can exercise in the early morning or evening in such beautiful surroundings?
We only ever use Kakak to secure the best price on flights. Check out the price of flights to Thailand HERE ✈️
Would you love to travel more often but could use some tips on how to do it for a lot less? Then join me & I'll show you how!
7: Verona – Italy
I am naming Verona as one of the underrated destinations in Europe because it always seems to take second place to the likes of Rome and Florence!
Make sure you check out common mistakes travellers tend to overlook when planning a trip to Italy before you leave!
While many European cities offer much more to do as a family, Verona will capture your heart if you long for romance and understated exclusivity.
Used as the setting for Shakespeare's Romeo and Juliet, this medieval town, built between the meandering Adige River, is the quintessential romantic Italian city.
Offering world-class restaurants, shopping to rival glitzy Rome, and huge performances staged in the ancient Roman amphitheatre, you will fall head over heels in love with Verona and with each other!
a
BUDGET TIP
Housesitting in Italy
If you want to save money on accommodation out in Verona, then HOUSESIT!!
We are big fans of housesitting. We estimated that while housesitting throughout Europe, we saved ourselves approximately ten grand.
Honestly, I can't understand why more people don't do this!
It's VERY straightforward, allow me to explain…
The initial 'looking part' is free. You can oggle all of the beautiful houses around the world that are waiting for YOU to look after them. Take a sneak peek here! (As I say, looking is completely free, so gander to your heart's content).
Then, if you are serious about using Housesitting as a tool to travel the world for free (as we do), you can use my exclusive discount code to save yourself 20% by Clicking here.
This is one of the emails that I get twice a day. At least consider housesitting! You will save a fortune and get to stay in places that are unbelievable!
If you are planning a trip to Italy, do not rule out the possibility of Housesitting!
It's not hard and is a fabulous way to experience living in beautiful parts of Italy in return for looking after someone's property (and maybe a pet!)
Click here to see more housesits in Italy.
Still not sure about paying for a Housesitting membership? Remember that the cost of a yearly membership (approx $80 using the discount code above) will be paid back (and more) on the first housesitting night. It really is that simple!
8: Paros – Greece
I have spent many summers in this tiny slice of Paradise and adore every inch of it.
In fact, this summer (2023) my family and I spent a month together on this glorious little island. If you have ever wondered about the cost of a Greek Island Vacation, then I can give you every single detail!
Travellers in the know regard Paros as the quintessential Greek Island.
This idyllic island that sits in the middle of the sparkling blue Aegean Sea greets new arrivals with sugar cube white houses, pristine white sand beaches and quaint fishing villages.
Naousa is the village to head for if you love to shop, indulge in fresh fish and spend the evenings drinking cocktails in one of the many harbour-front bars.
BUDGET TIP
Hire a scooter and head to the tiny village of Lefkes.
Here you will find traditional tavernas that serve meals for half the cost of the more popular places. Remember! In Greece, when you order a 'tuna salad' it is literally a plate of tuna mayonnaise with an olive on top.
If you are wanting a sandwich then order the tuna salad, take bread that is served as standard at any restaurant and make your delicious lunch!
We only ever use Kakak to secure the best price on flights. They really are unbeatable. Check out the price of flights to GREECE HERE ✈️
9: Naples – Italy
Naples often takes a back seat to the more glitzy Italian destinations such as Rome and Milan, but if you have always longed to experience the real Italy, to spend your vacation amongst Italians who elude showy tourism and instead opt for raw, unadulterated elegance, then you will love Naples.
Wander the maze of streets lined with colourful and noisy stalls, eat the finest pizza in Italy and don't miss the chance the spend a few days exploring Pompeii.
Don't miss the National Archaeological Museum. It is a stunning museum and is where most of the relics that they dug up from Pompeii and Herculaneum are on display. It is not free, but it is very cheap compared to other attractions in Italy.
Don't miss it!
Budget Tip:

Hiring A Car And See Much More of Italy!
Please. Promise me that you won't just pick ONE of these destinations and then stay there for two weeks.
Please. Italy is SUCH an easy country to travel around, and if taking a tour isn't your thing then do what we do (every time) and hire a car to explore.
We are travelling the world with our teenagers for a year and so are always looking for ways to save money. To do things as cheaply as possible.
If there are two or more of you on your Italy trip, it will certainly be cheaper to hire a car to get around. The best car hire in Italy (without a doubt) that we found was Europcar. They were (and always have been) fabulous to deal with.
Take a quick look at what car hire in Italy (or anywhere else in Europe) will cost you.
Why do we always use Europcar?

Free Cancellation Up to 48 Hours Before Pickup. We all know how quickly plans can change (especially with the current travel climate). We love that we can cancel at such short notice and pay nothing.
Best Rate Guarantee. Seriously, we are skinflints, and we do our research thoroughly. You won't find a cheaper deal (the hours that my husband has scrolled through listings proves it!).
Best range of vehicles. For business travel or holiday travel, Europecar cars include economy, intermediate and full-size classes, plus people movers and minivans for those travelling with a group. For a touring holiday or something special, Europcar offers 4WDs, SUVs, and prestige/luxury cars. You get to pick what's best for you!
Customer care. Of course, my husband will never admit this but driving for the first time in Italy was daunting! No need to worry. As soon as we turned up to collect our rental car, the staff were super helpful. Their English was near perfect, and they were extremely patient and thorough. They gave us lots of tips and reassured us (or at least me!) that driving in Italy was going to be a pleasure. And it was!
Cost. We paid $22 a day for our little car in Italy and drove it all over Europe – it was perfect! For that price, the kids even get to have an Italian gelato!
Looking for the BEST Car Hire for Italy? You just found it! CLICK HERE to find out more!
Next, you could read…
Pompeii. A Few Things You Should Know…
Taking a trip to Italy. How to avoid looking like a complete novice
10: Kilkenny – Ireland
If you are looking to experience a real slice of Ireland, then the medieval city of Kilkenny is one of the best destinations for you.
The 'Medieval Mile,' which runs between the castle and the cathedral along the banks of the River Nore, is intriguing.
Narrow, crooked lanes filled with more pubs and shops than you imagine, all inviting the visitor inside to experience some true Irish hospitality.
Be sure not to make the same mistakes that we made when planning your Ireland vacation – the Irish ways are very unique and take some getting used to!
Next, you could read…
20 Mistakes to avoid making in Ireland (so you don't look like a feck*in' eejit)
a
BUDGET TIP
Go into any of the local pubs in Kilkenny at lunchtime, and you can guarantee that there will be a couple of musicians having a jam.
Order your Guinness and your steak and ale pie, and spend the afternoon listening to free music. (maybe buy them a beer if your budget will stretch?!)
Would you love to travel to places like Ireland more often but could use some tips on how to do it for a lot less? Then join me & I'll show you how!
11: Banchory – Scotland
Banchory is a beautiful historic town 20 miles west of Aberdeen.
Sitting quietly alongside the magnificent River Dee and with a backdrop of heavy green forests and stunning countryside, Banchory offers not one but two castles to explore, along with a handful of small independent cafes and boutiques.
Take one of the many woodland walks and breathe in eh Scottish air.
You won't be able to help to want to don a kilt and grab a pair of bagpipes.
Either that or a portion of good old Scottish fish and chips.
BUDGET TIP
Don't miss the chance to spend a few hours soaking up the crisp Scottish air in Banchory, watching as the salmon jump upstream in the River Dee.
12: Charleston – South Carolina
The best-hidden gems are often off the beaten track, and it would be quite easy to miss the city of Charleston in South Carolina.
Founded in 1670, the adorable city of Charleston with its cobblestone streets and chocolate box houses oozes charm, history and elegance.
Take a horse-drawn tour through the winding streets or spend the evening amusing yourself with a famous Charleston historical ghost tour before eating out at one of Charleston's many fine restaurants.
We believe this is one of the most unique destinations in North America and one not to be missed!
BUDGET TIP
Free parking down by the seafront on Bay Street. Easy walking distance and you can stay there all day while you explore this gorgeous city.
Next, you could read…
Things to do in Charleston at night (but not the usual stuff)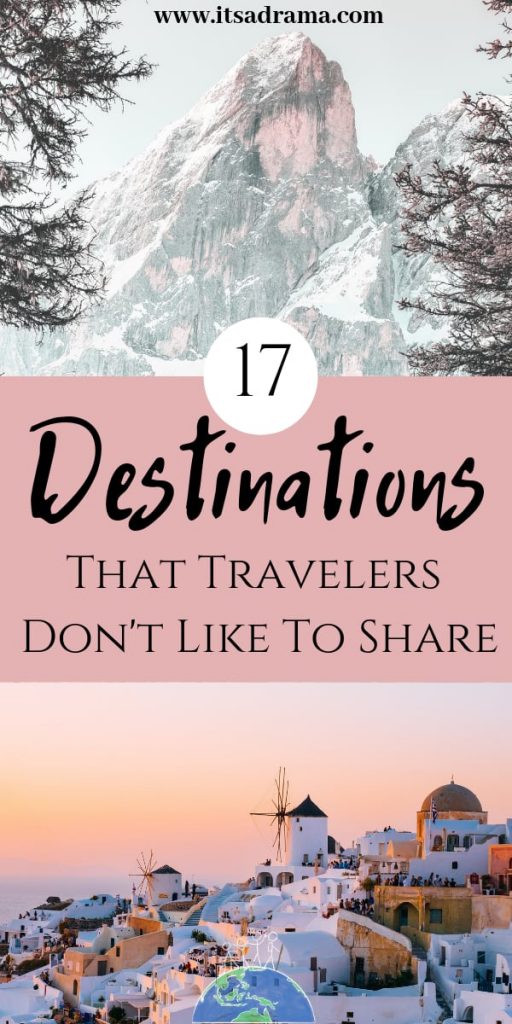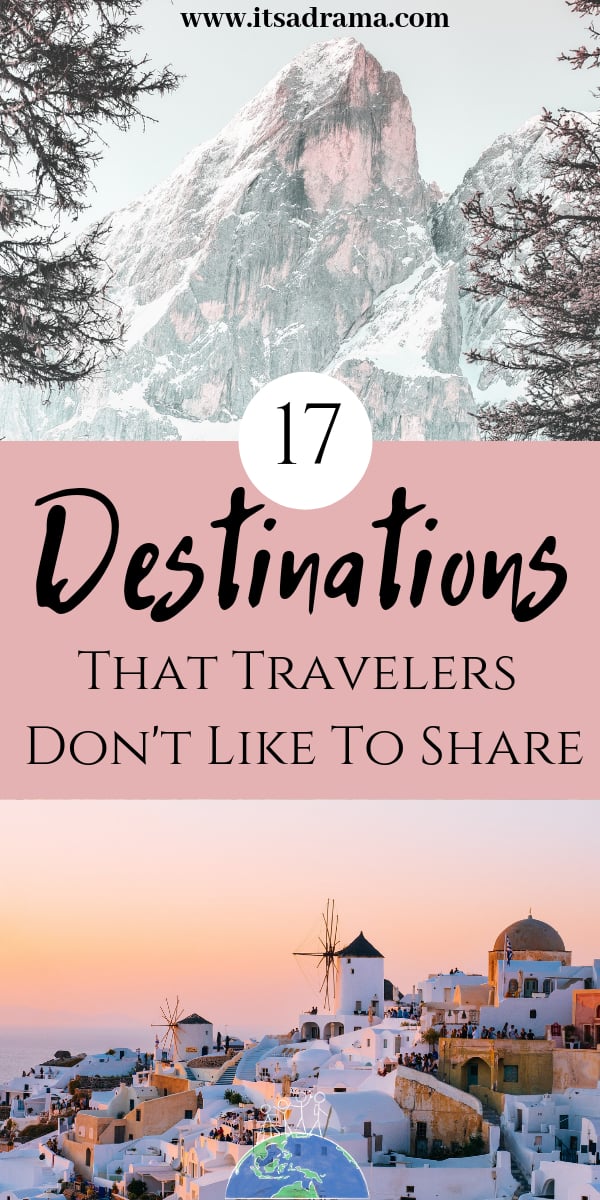 13: Briançon – Hautes-Alpes, France
If you are looking to go skiing in the French Alpes and want to experience history and culture as well as some snow, then head to Briançon.
Briançon is the highest town in France and quite possibly the most unique destination you will be glad I tol you about.
Head up to the old part of this gorgeous French town which is overlooked by the fortified castle, and you will find charming steep and narrow streets offering up dark cosy restaurants that serve possibly the best cheese fondues in France!
Nearby, excellent skiing can be found at nearby Montgenevre (another underrated destination for skiing) and Serre Chevalier.
BUDGET TIP
Hire a car and take the spectacular drive up through the windy, mountainous roads up to Montgenevere. Once there, take a 30-minute stroll into Italy and have a pizza!
14: Shimosuwa – Japan
Japan is one destination in the world that you can not afford to miss, and popular to contrary believe there are lots of things to do in Japan that are gentle on the wallet.
The problem that you will have with Japan is you won't have enough time to see it all!
My advice to you (if you have a two-week itinerary for Japan) would be to concentrate on quality, not quantity.
Take your time to learn about the Japanese culture; eat good food and visit beautiful towns that are slightly off the beaten track.
Shimosuwa is a peaceful town located in Nagano Prefecture of Japan.
It has a population of not much more than 20,000. It is quiet, the scenery is stunning, and when you visit here, you will truly feel that you are in Japan.
Using your Japanese Rail Pass, take the train and visit the beautiful mountain city of Matsumoto.
You will find a 16th-century castle nicknamed the 'Crow Castle' to reflect its distinctive black walls and restaurants serving some of the best Ramen noodles that we tried in Japan!
Why not listen to our latest podcast episode: What culture facts surprised us most in Japan
BUDGET TIP
Spend a few hours doing a sake-tasting tour at Cella Masumi. We did this, and it was a fabulous way to spend the afternoon. The hosts are very friendly, and the cost is a good deal cheaper than in Tokyo or another major city.
Would you love to travel more for a lot less? Then let me show you how! Join my FREE newsletter, and I will send you a complimentary copy of my ebook "Travel More, Travel Better, Pay Less". I look forward to getting to know you better!
Next, you could read…
28 Things NOT to do in Japan (if you want to save face!)
15: Sinj – Croatia
If you go inland approximately 30km from Split, you will find the beautiful historic town of Sinj, sitting very modestly in the heart of Dalmatia.
Whereas Split is blue and loud and touristy, Sinj is green and peaceful and very Croatian.
Enjoy traditional Croatian dining, friendly people and beautiful scenery in this very underrated destination in Croatia.
BUDGET TIP
Cool off in the shade of the sweet-smelling pines as you follow the path upwards from the centre of Sinj to the remnants of the old fortress which rises on a rocky hill above the town.
It is a gorgeous walk, and the spectacular view at the top that reaches for miles will cost you nothing.
16: Ile De Rais – France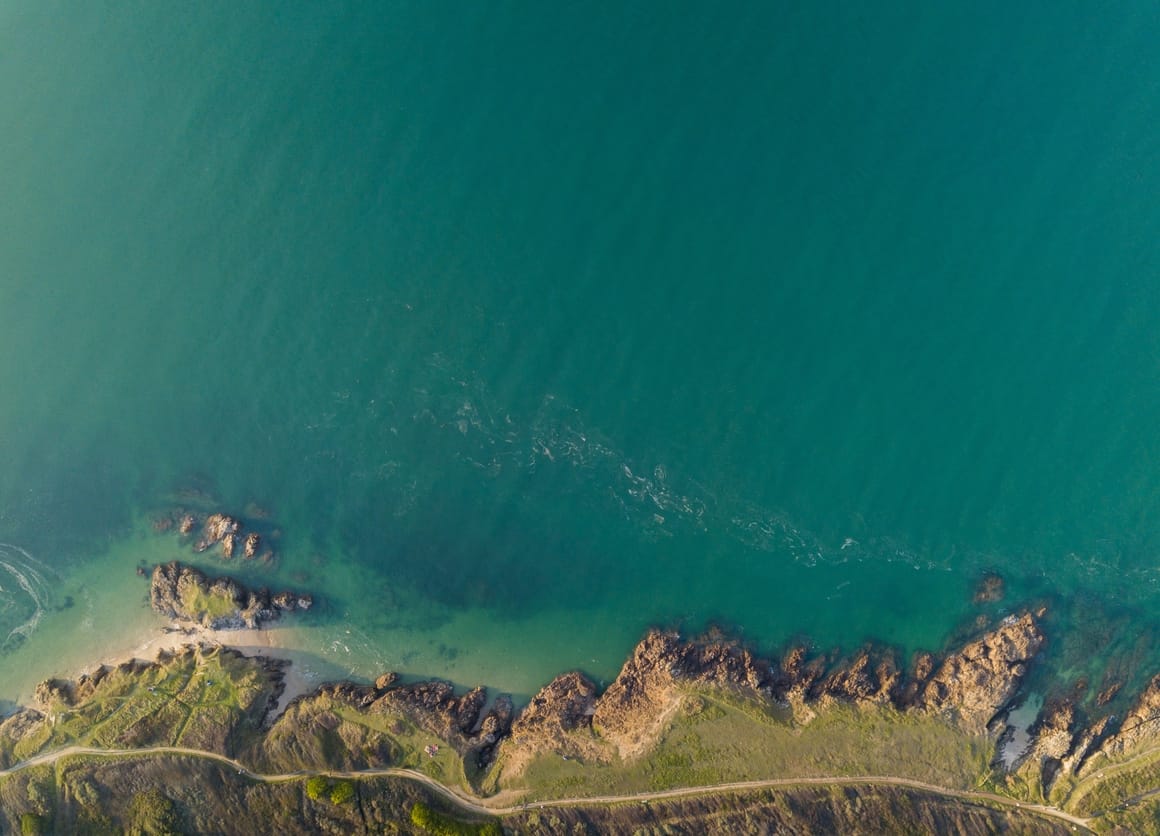 If you pick the right time to visit this stunning island of Ile de Rais the West coast of France, you will find empty beaches, perfect weather and hundreds of places to relax in nature.
Flanked by sweet-smelling pine trees and stunning sand dunes, Ille De Rais is the perfect place to take a family.
The harbour villages and the quiet cycle paths that adorn the island make for a relaxing and tranquil way to spend time as a family or alone.
Don't miss the weekly markets that serve up some of the best meat that we have tasted in the whole of France!
For Pinterest!⇓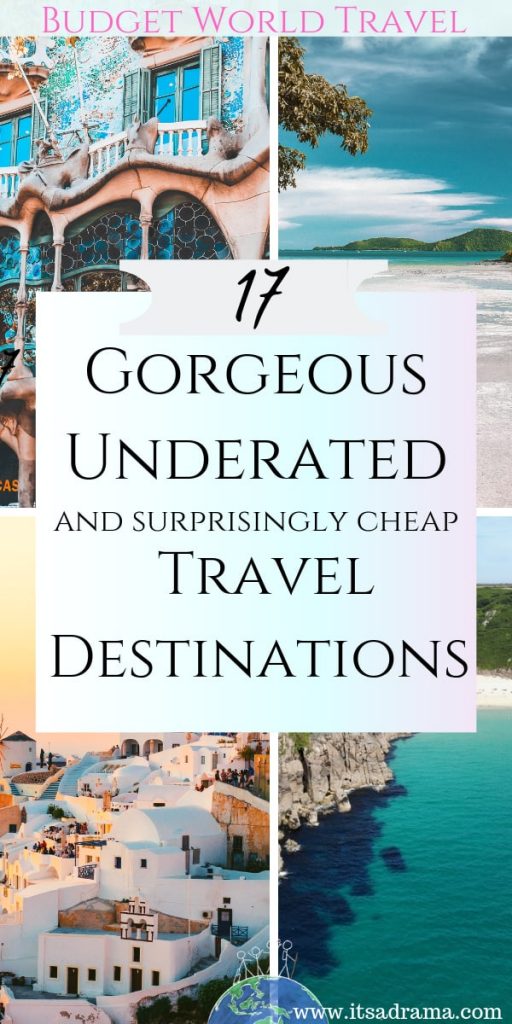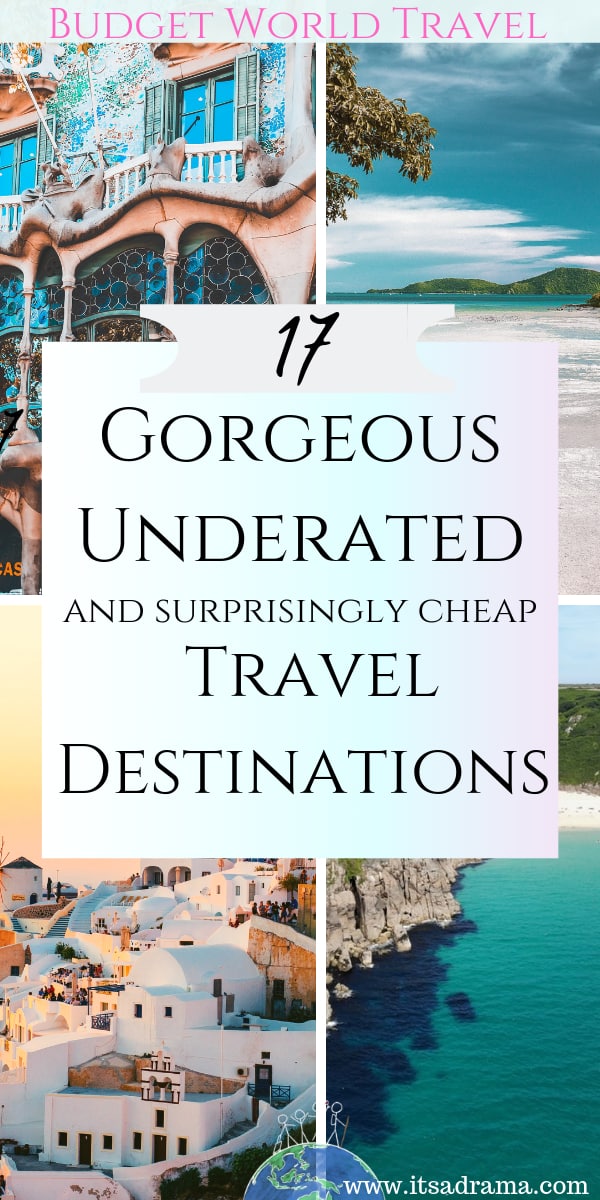 BUDGET TIP
Hire a bike and explore this very flat island for FREE! It's a great way to see the countryside and meet the friendly locals!
17: Porthcurno – Cornwall, England
I was brought up in Cornwall in the UK, and I absolutely adore it.
The whole of Cornwall is lovely, but you have to travel far down South to experience the real unique destinations.
The village of Porthcurno is simply stunning and is close to many other fishing villages that you can explore. Porthcurno offers rugged coastlines, beautiful white sandy beaches and charming seafood restaurants.
Do not miss the chance to see an open-air performance at the famous Minack Theatre, an open-air amphitheatre that is built into a rocky granite outcrop that juts out to the sea; this is quite possibly the most stunning theatre in the world.
BUDGET TIP
Don't forget to bring your packed evening lunch to the Minac Theatre! Join the locals and enjoy the wonderful atmosphere. It is very likely that you will see a shoal of dolphins out to see, saving you money on expensive wildlife tours!
If You Enjoyed This Post Please Share It To Pinterest!⇓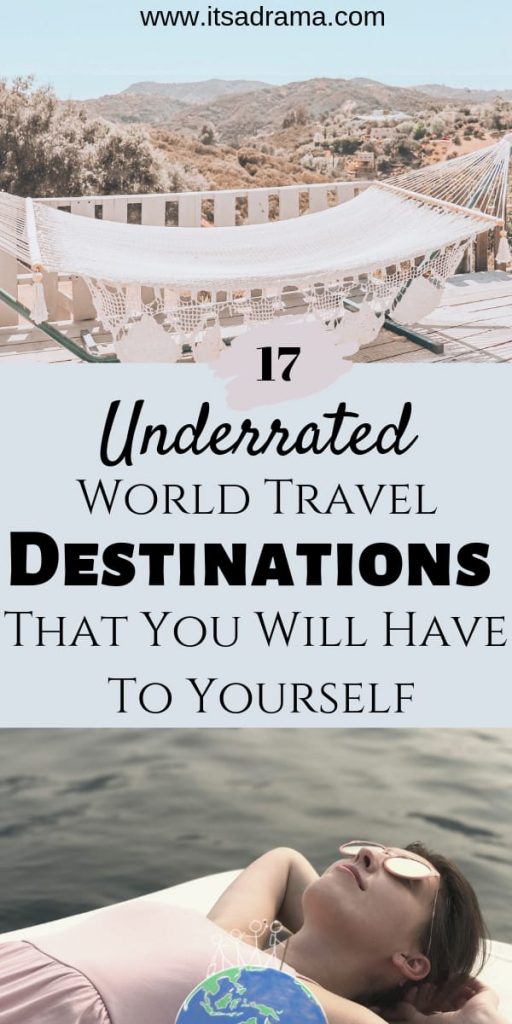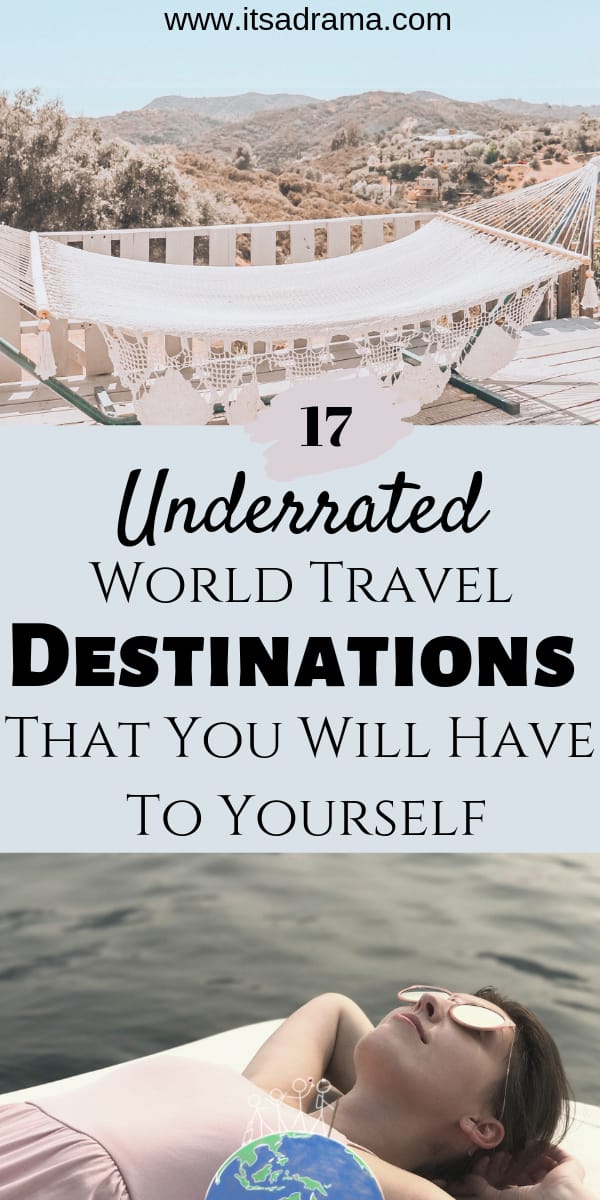 Related Posts That You Will Enjoy!
NYC for Christmas – see it as the movie stars do
How We Saved Ten Grand By Housesitting in Europe And You Can Too!
Best European Destinations For Kids!
8 Tips For Travel That You Need To Ignore 'Cause They Are Crap!
International Travel Checklist. 35 Things I Bet You Never Think Of
Arrive looking beautiful. 10 Plane essentials that you will never leave home without again.
16 Ways To Love It Up In Paris (Even When You've Been Married For Years)
There you have it!
17 of the most unique travel destinations in the world!
I hope you find a special place that you would like to visit and please, and if you do, let me know what you thought!
Don't forget to share this post with someone who you think would enjoy it as much as you and contact me in the comments below if you would like to know anything else about each destination.
PS. We LOVE Housesitting. Want to Try it too?
If you have been following me for a while, then you will know that we have just returned from six months in Europe and Asia. While we were there, we did a lot of housesitting. We are constantly asked how we did this and if we can share the website that we used. So here it is:
The initial 'looking part' is free. You can oggle all of the beautiful houses around the world that are waiting for YOU to look after them. Take a sneak peek here! (As I say, looking is completely free, so gander to your heart's content).
Then, if you are serious about using Housesitting as a tool to travel the world for free (as we do), you can use my exclusive discount code to save yourself 20% by Clicking here.
Still not sure about paying for a Housesitting membership? Remember that the cost of a yearly membership (approx $80 using the discount code above) will be paid back (and more) on the first housesitting night. It really is that simple!