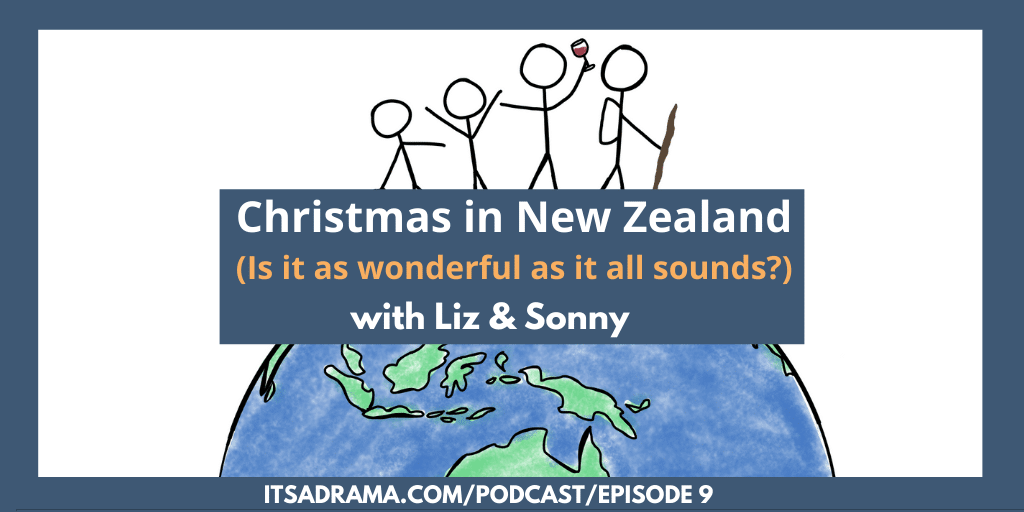 This post may contain affiliate links. They cost you nothing but we make a small commission. If you would like me to explain it further, please visit our disclaimer page.
This week's show comes after a long winter hibernation which included (for Liz at least) mainly cream, potatoes, belly pork and wine.
But. It is spring in New Zealand now and we are back and raring to go!
If you have ever dreamed of emigrating to Australia or New Zealand but spending Christmas in the sun seems a bit weird, then you will love this show!
Do You LOVE New Zealand? Sign up below and I will send you my FREE Moving to and Living in New Zealand Guide. A 5 Part Video Series!


In this episode, we…
Share the differences between Christmas time in New Zealand (Southern Hemisphere) and how that differs to the big day in the US/UK (Northen Hemisphere)
The pros and cons of spending Christmas in the sunshine and the big secret that anyone wishing to do Christmas time on the cheap should know about!
We'd love to know what you think about this week's show and if there is anything you would like to know further so that we can include it in our question time next week!
The practices I suggested:
Eating Skinny Dipped Almonds if You are Trying To Cut Back on Chocolate!
You can find those chocolates here (warning* – the whole family will try to steal them. Hide them well.)
Check out the cost of flights to New Zealand At Christmas time Here
Thank you so, so much for listening!
There's a fresh episode each week, if you subscribe then we will love you forever.
Plus. It means two things –
1: You'll get each new episode delivered to your phone every week (that way you'll never miss an episode)

2: I won't have to listen to my son's moaning about how doing all of this work isn't worth it because there's this guy on Youtube and he's got a trillion million subs…
Please.
Just subscribe!!
Liz and Sonny xx