I am guessing that if you are reading a Night Zookeeper review, then you are considering homeschooling.
Yes? I hope so. It's always nice to meet someone with the same interests as you.
I have been homeschooling my kids for the past ten years.
We started when my son was ten and my daughter was seven. Within this time, I learned that homeschooling parents must wear many hats. One of those hats being scourer-of-the-internet for the perfect teaching resource.
If you are looking for a fabulous way to get your kids excited about reading and writing, then today, my friend, is your lucky day because we are here to review Night Zookeeper.
Night Zookeeper is currently offering my readers a WHOPPING 50% OFF their regular priced subscription. But wait! Before we dive in and review the Night Zookeeper, let me talk to you a little about homeschooling.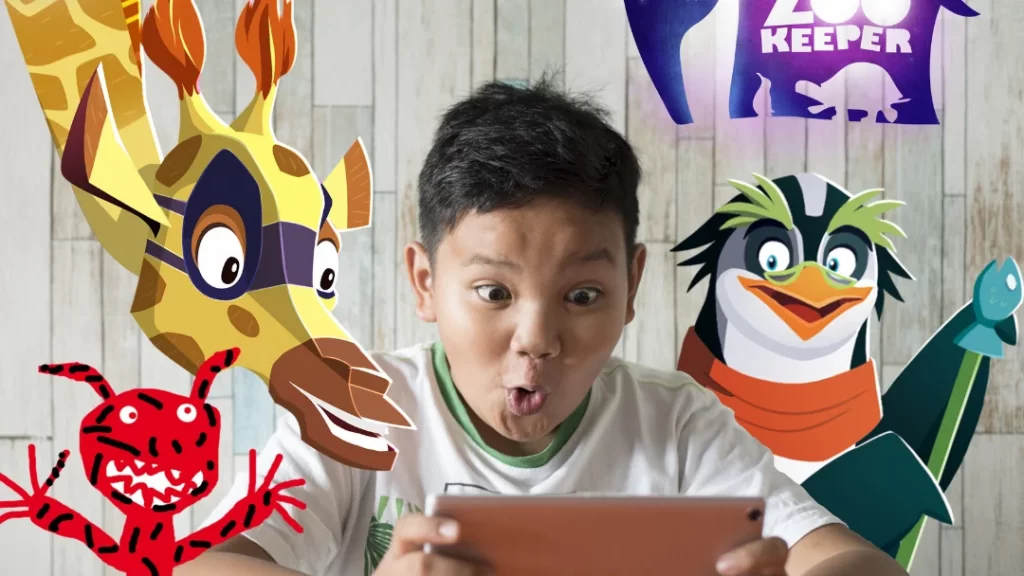 Homeschooling Your Children
As a homeschooling parent, I have spent hours, days, and years searching for the best online homeschool resources, which is why I am confident in recommending things that will make your homeschooling journey as stress-free as possible.
You see, I've been where you are now.
I know what it is like to prepare yourself for homeschooling mentally.
To get excited by the positives that having kids learning at home brings. But I also know that, right now, you may be weighing up in your mind how you will make things work. How you will juggle your job while teaching your little ones.
But being the parent you are, you are determined to make homeschooling work. (And it will, I promise). You buy coloured pencils and clear a space in the spare room, ready for your new life to begin.
And then, before you know it, the big day arrives.
Homeschooling day one. And there you are, faced with children who now decide to tell you that they don't like (and have never liked) reading and writing.
Yes, mama, we've all been there.
Help! Homeschooling is too Hard!
You start to panic.
Words like adjectives and proper nouns are thrown around, and suddenly, you are expected to know the difference between a comma and a semicolon. Homeschooling looks pretty overwhelming.
It's about this time that homeschooling parents begin to scour the internet for help, only to find themselves faced with thousands of options.
Courses, programmes, printables, books. They're all there—each promising to make your child succeed.
The internet is filled with endless resources. Too many. So many that you find it hard to choose.
If only there were a programme that you could trust. One that would provide your child with a solid education. An online learning experience that your children couldn't wait to jump into every morning.
Come closer, my friend. And let me introduce you to Night Zookeeper.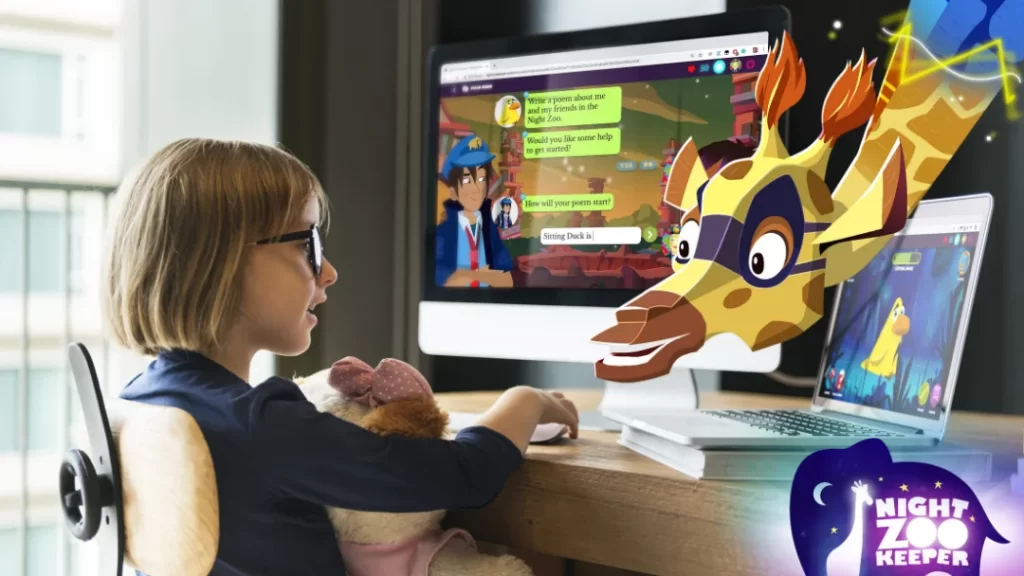 Night Zookeeper Review
What is The Night Zookeeper, I hear you ask? Well, to put it simply, Night Zookeeper is a place where your child will fall in love with all things literacy!
This online learning tool helps to encourage and inspire creative writing, reading and drawing skills in children, and it is fabulous.
Based on a hugely popular U.K. book series (more on that later), Night Zookeeper is an adventure game that teaches children various writing concepts, all while having lots of fun! It is perfect for ages 6 to 12 and is available across all devices.
Experienced educators have developed Night Zookeeper, and it shows.
The website is incredibly child-friendly and provides the ultimate interactive learning experience. Your child's imagination will soar! They will be taught new words and grammar skills and, best of all, will be encouraged to write their very own unique stories.
Friendly Community
I'm all for community, which I love about this unique programme.
When your child joins Night Zookeeper, they become part of a community.
A friendly group made up of like-minded youngsters who love to create. The space feels safe and friendly and is moderated by real tutors. (The community is also optional, so no pressure if your child prefers to work alone).
I don't know about you, but knowing that my child had friends who receive and provide encouraging feedback daily is a HUGE bonus for me.
If you are ready to jump in and grab your 50% Discount, click here and do so now!
Still, want me to tell you about the other benefits? Keep reading…
It Gets Better. Night Zookeeper Has Real Tutors!
Here's where the pressure gets relieved from your very strong shoulders, my friend.
Let's not kid ourselves; while homeschooling is fun, knowing that a qualified teacher monitors your child's work is a much-welcomed comfort. Huge, in fact.
Every week, your child will receive new lessons from a dedicated tutor who will provide personised feedback to encourage them and help them get better and better. Children are encouraged to explore many kinds of writing, including poetry, reports and letter writing.
Published Work
And the benefits continue!
Once your child is happy with their finished piece of writing, they can share their work on their very own team blog.
Your child can read, leave and receive comments on other friends writing, promoting kindness and encouragement. And you can relax knowing that everything written is being checked and moderated by a team of qualified educators.
10 Reasons Why Homeschoolers Love Night Zookeeper
Children can create anything that their imagination allows.
Fun, engaging games that increase vocabulary and improve spelling.
Promotes a positive reading and writing experience – in and out of school.
Your child's stories are showcased to a global community!
Night Zookeeper is a safe place full of amazing ideas powered by children's imaginations.
Puzzles and challenges that develop grammar and structure skills.
In-depth parent guide full of FAQ

for

families

new to learning online, all the help you need.
Children receive comments on their work from real tutors who track their progress and encourage them.
Parents can track their child's progress, easily see any new lessons or messages from their tutor & leave

comments on their child's writing pieces.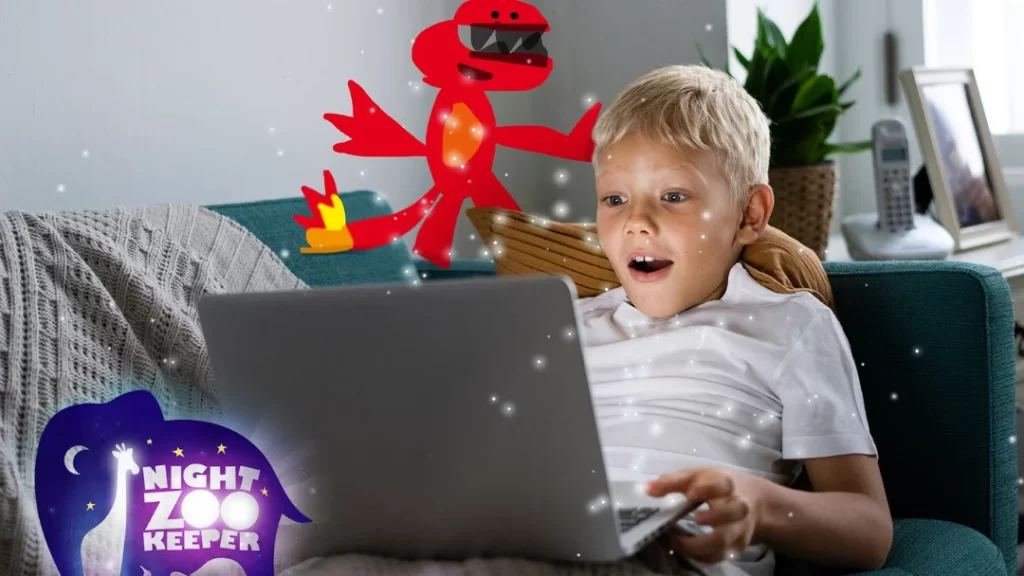 FAQ About The Night Zookeeper
➡️ What will my child write about?
Your child will write about everything, from stories about magical animals to instructions on making the perfect hot chocolate (yes, please, I hear you say!).
All writing genres are gradually introduced, including newspaper articles, persuasive writing, reports, and poetry.
➡️ But My child doesn't like writing!
Relax. Night Zookeeper has been proven repeatedly to inspire even the most reluctant writers to develop a love of writing. Trust me; your child will LOVE it, too!
➡️ Can I check my child's progress?
Yes. When you join Night Zookeeper, you will be given access to a parent dashboard where you can easily monitor your child's writing, achievements, and feedback from their tutor.
➡️ Does Night Zookeeper follow the School Curriculum?
Tick. Night Zookeeper covers Language Arts Common Core. It also covers the National Curriculum.
➡️ What if I have more than one child? What's the Cost?
You can add more than one child to your account. Press 'Start Trial' and add the number of children you would like (up to 3).
With the 50% DISCOUNT CODE, The cost of Night Zookeeper is $59.99 for the year for a single-child subscription and $77.99 for 2-3 children.
More children can be added at a bespoke price.
Sign up to get a free 7-day trial and then get 50% off on the yearly subscription!
The Zoo Nightkeeper Books
Remember that I promised to tell you about the books that helped me find this learning experience? Well, here goes.
The Night Zookeeper is a series of award-winning adventure books (book #5 has just been released) written by Joshua Davidson.
Each book is set in a zoo which, as you have probably guessed, only opens at Night!
The zoo (which your child will come to know and love) is a mystical and magical place safeguarded by a young hero named Will. Will and his friend Riya must protect the animals of the Night Zoo from all sorts of weird and wonderful creatures using their imagination, courage and wit to win the day.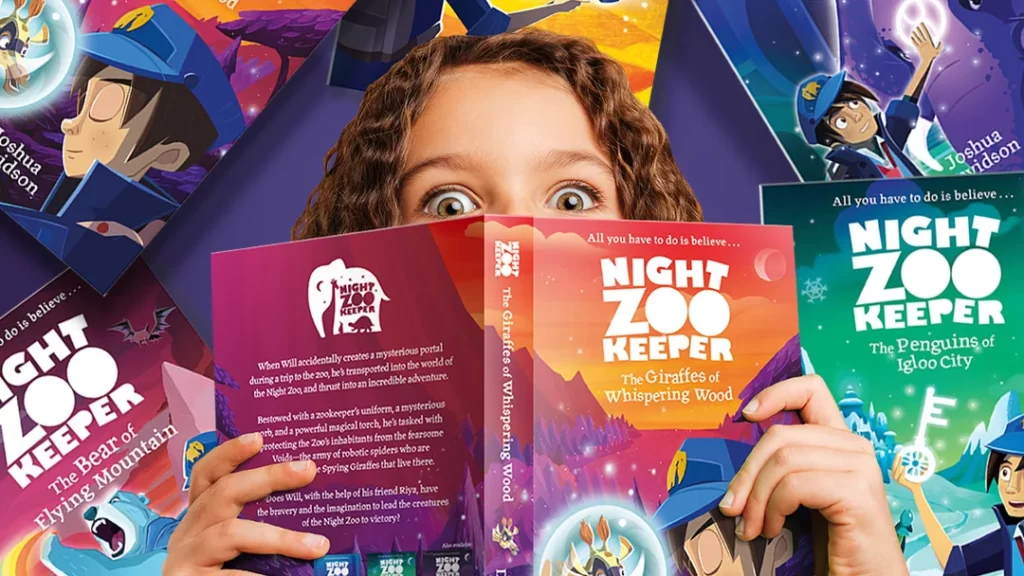 Final Word From Me About This Night Zoo Keeper Review
I love doing paid reviews like this because (and don't tell our friends at Night Zookeeper this) I would have told you about this fabulous resource anyway – for free!
I have worked hard at homeschooling, and if I can save you a few years of groundwork, I am happy to do so. Finding an online learning programme that ticks every literacy box makes me want to shout from the rooftops about it!
Sign up TODAY and receive your exclusive 50% DISCOUNT on the yearly subscription to The Night Zookeeper!
Feel free if you have any questions you would like to ask me about Night Zookeeper.
Drop a comment below, and I'll try to answer anything you are unsure of. Until then, happy learning!
Love This Night Zoo Keeper Review? Save it to Pinterest! ⇓