Are you getting sick of reading conflicting Fiverr reviews? When all you really want to know is: is Fiverr reliable? Is Fiverr safe and, most importantly, is Fiverr a legit website?
All very valid questions from someone about to give their money to a stranger I'd say.
If it's any consolation you're not the only one.
I am the kind of person who spends hours googling everything there is to google before I will part with one cent of my money.
And Fiverr was no different.
(And in answer to your question 'is Fiverr legit?' It is – but more on that later).
Before we get into what Fiverr is and isn't and I share with you some personal reviews of Fiverr, let's address why you would want to use a website like Fiverr in the first place.
This post may contain affiliate links. They cost you nothing but we make a small commission. Read more on our disclaimer page.
Why Use Fiverr?
E-commerce is the word on everyone's lips in 2019. Building your own online empire, generating money and escaping from the 9 to 5 desk job is what many people dream of – including me.
There are many forums, blogs and websites out there that will help the everyday person create a professional online presence, meaning that with just a few dollars you can start to build a serious website based business.
Fiverr Website Design. Logo Design, Content Creation & More!
By using Fiverr you can outsource (which means pay for someone else to do it for you) almost everything concerning your online business. Fiverr can build you a website, create a logo, do the graphic design, you can even get someone to write the blurb for you!
But, for someone who has never dabbled in the waters of online freelancing, the question that most people want to know is: Is Fiverr legit and is Fiverr safe to use?
After all, nobody likes to be ripped off. Least of all me.
Fiverr Reviews 2020 (From Someone Who Has Used Fiverr – Lots).
I have had this blog for a few years and I also run two eCommerce stores.
I have used the Fiverr website design service for three of my business' and have also used the Fiverr logo design service five times.
My son is a freelancer on Fiverr.
So, you can trust me when I say I am speaking from experience. Know that this Fiverr website design review and my answers to questions such as 'Is Fiverr a scam and 'can you trust Fiverr' all come from first-hand experience.
But, before I give you a full review of fiverr, let's cover the basics of what Fiverr do, whether they are safe and how they can help you in your quest to receive the best online freelancing services.
For Pinterest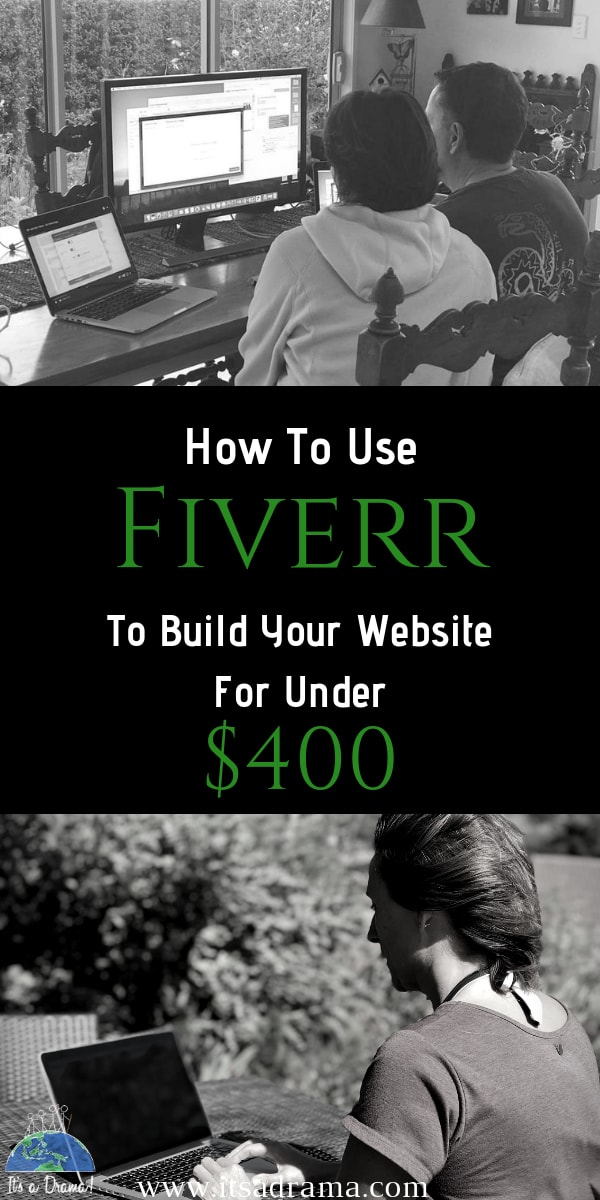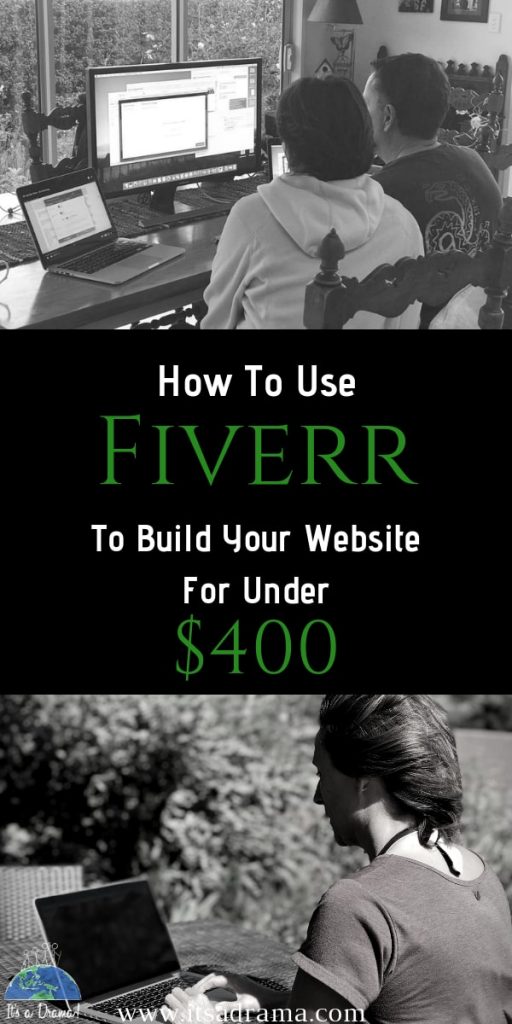 What Is Fiverr And Is Fiverr Legit?
Fiverr is an online marketplace where freelancers (sellers) from around the world offer all sorts of digital tasks and services to clients (buyers – you).
When Fiverr first started out, all services were no more than $5 – hence the name, but there was a public outcry in 2014 with clients insisting that if they wanted to pay more money for better services then they should be able to.
So, the rules were changed and now the cheapest service will cost you, you guessed it, a fiver, and the most expensive service being offered anywhere upward of the $1000 mark (US).
How Does Fiverr Work?
The Buyer
You are the buyer. The customer. You want a job doing that you can't do yourself. Such as a video presentation making for your next AGM or a poem writing for your best friends 40th birthday. (Forgive me, I'm trying to think outside of the box here). Here's how to use Fiverr.
You go to the Fiverr official website (which is very easy to navigate so I won't talk you through that).
Fiverr offers many services.
Things that you and I might find hard to do. Graphic design, digital marketing, social media accounts management, writing, translating.
You can find people to design Christmas cards for you, entertainers to sing jingles for you, resume creators to write an amazing CV.
Loads of things. Lots and lots of services.
If you need something doing online; Fiverr can do it for you. Go to the site to see how much it will cost for Fiverr website design.
You choose. You Pay. You have the goods.
The Seller
If you are the person who has any one of these skills then you enter the Fiverr market place as the seller.
You register with Fiverr, make a profile, say what services you can offer and wait for the orders!
Please note, my son is a seller on Fiverr and it's not quite as easy as I'm making it sound. There are thousands of Fiverr freelancers and the competition is huge. But that's not to say it isn't possible to make money. He had to offer his services fractionally cheaper at first in order to get customers who would rate and review his work. Once you have a good reputation then the easier it will become for you.
I'll get to whether or not Fiverr is legit later in the post. First things first.
How To Use Fiverr. 10 Simple Steps For Success.
I'll make this as simple as possible because if you are like me you won't appreciate techy jargon.
You need an online task doing that you can't do yourself. I say online because we are not talking about needing your sink unblocked here. No. Online services mean things that can be done online.
For Example, you need a new logo design for a website that you are updating. Or, you need someone to build that website from scratch, that's an online service that Fiverr can provide.
Here's how to use Fiverr:
Signing Up
Deciding What Services You Need From Fiverr
Once you are on the Fiverr site go to the services page. Here you will find a toolbar at the top of the page which lots of different categories. You can either search these categories until you find something that suits your needs or you can use the 'search for services' box in the top left corner.
Remember how I told you that Fiverr offers many services? Well,l to give you an example I typed in 'Singing Monkey' and here is what came up. Just saying. It's very easy to use.
Next, you will be asked a few questions. How much you want to spend, how quickly you need the gig (don't worry, I'll tell you what a Fiverr gig is later) if you require an English speaker etc, etc. Still looking very easy, don't you think?
Choosing The Best Person For The Job
You are then faced with a whole heap of sellers, all desperate to work for you. The sellers don't know that you are looking at them (in case you didn't know this) so take your time, go through their reviews and look at their work.
Alongside some sellers profile, you will see a yellow heart with a number. This simply means the number of positive reviews this Fiverr seller has received.
The more reviews, the more popular the seller will be, meaning that you may have to wait a few days before they can start your work. They will explain this clearly to you.
If you have more than one seller (freelancer) that you are interested in, add them to your favourites by clicking the grey heart at the bottom left of their profile. Then you can make a shortlist.
Once you have decided on the freelancer that you wish to use, choose which package is right for you.
Sellers usually offer a basic package. For example, $10 I will sing one monkey song at your party. $20 I will sing two and wear a monkey costume. $50 I will sing all night. You get the picture. Choose your package.
Establishing A Relationship – Or Not
If the service that you are buying is fairly cheap (under $30) then you can press the buy now button.
If however, like me, you are asking someone to build an entire website for you and are spending over $300 (like me) then you will want to chat to the person and get a feel of how they work. In which case, press the contact buyer button and have a chat with them.
Once you have established that you like each other and this could be the beginning of a long a happy friendship, go ahead and place the order. Ok. Here's where the questions come in.
Is Fiverr Safe? Is Fiverr Good? Can Fiverr Be Trusted?
The answer to all three of these questions is yes, yes and yes!
The thought of paying your money upfront worries some people, but rest assured. Fiverr is safe.
First off, know that when you pay your money this does NOT go to the freelancer doing your work straight away.
Fiverr holds the payment until you are completely satisfied with the job. If you are NOT happy you can request a refund. All very easy and legit.
Fiverr is a very popular marketplace – and rightly so, but as with any other crowded market you must do your homework.
Read the Fiverr reviews carefully (and yes, they are alll legit and verified) study the seller's past work and if you're still unsure, contact the freelancer and bombard them with questions.
Do not feel guilty about doing this. I have done exactly the same lots of times. I, like you, wanted to feel completely sure before I parted with my hard-earned money!
My experience of Fiverr has always been a positive and professional one and if you follow the above guidelines, Fiverr will be perfect for you.

What Is a Fiverr Gig?
I'll admit, the term gig is a little confusing but it's easy to understand.
A gig is a job.
You sign up for someone to build your website, that sign up is your 'gig'. You can have more than one gig. You could have one freelancer designing your logo and you could have another freelancer working as a copywriter, writing blog posts for you.
Both are gigs.
What Are Fiverr Revisions?
Revisions in Fiverr is like saying 'have another go'. Asking your freelancer to do it again until you are happy.
Remember how I told you that the sellers offer different packages? Well, the use of revisions plays a big part in their price bracket.
Sellers who charge more will usually offer 'unlimited revisions' meaning that you don't have to accept the finished product (and they don't get their payment) until you are completely happy.
Every time I have used Fiverr I have opted for unlimited revisions package.
Yes, it's more money but this really is a fabulous feature. Make sure you are clear about this. UNLIMITED revisions mean just that. The freelancer keeps going until you are 100% happy with the product.
Don't feel bad about sending it back to the freelancer because they haven't put the comma in the right place on your logo. This is what you are paying for. Be clear about that.
Related Posts That You Will Enjoy
Building a website from scratch. How to outsource it and survive
Starting something new. Slightly terrifying, very exciting!
Using Fiverr For Logo Design
The logo that you see on this page in the top left? The one of the globe and the family? That logo cost me $40 to have designed on Fiverr.
I was just starting on Fiverr and new to online freelance sites – unfortunately, I couldn't find a helpful site like this te to talk me through it!
I followed the above steps and found my perfect girl. She was American and offered unlimited revisions. I used about five of the revisions offered perfecting the final logo.
Fiverr logo designers will often ask you for ideas before they start work. This gives them a chance to know what you like and what you don't.
You can get a logo for $5 but beware…they are very ugly and basic and for $5 you won't get any revisions. The word 'clipart' comes to mind. Just saying.
Depending on who you choose, your logo designer will send you your design on whatever background you ask for. They will provide a logo for social media, business cards and blogs etc.
The beauty of using Fiverr for logo design is that the logo you receive will be between you and your designer. Service is fast, communication is excellent.
I love my Logo and I made a very good friend out of the freelancer who designed it for me. I went on to use her for other graphic design on my website. Do not hesitate to use Fiverr for logo design they offer a superb service. You won't be disappointed.
Alternatives To Fiverr
I won't give you a full rundown on other websites like Fiverr, there are plenty of other sites that can give you that information, this online market website gives you a list of the top 10 and is extremely useful
What I will say is that I have also used Freelancer for Logo design. Here were the main differences.
Fiverr Vs Freelancer
Freelancer felt rather spammy compared to fiverr. I used the 'post a project' option where you say what you need and people bid on the job.
You are flooded with hundreds of very, very similar logos. None of them any good to be honest.
It seemed to me that all of the designers were copying each other. My budget was $25 and for that, the quality was nowhere near as good as Fiverr.
You feel very rushed to pick 'a winner'. It's too much pressure. for me, I prefer Fiverr by far.
The one positive thing I liked about Freelancer was the customer service. The guy was very helpful and talked me through a few things I was stuck on.
I've never had to deal with customer service on Fiverr as everything has always gone smoothly, but yes, Freelancer came out with top marks for service.
What Happens When The Fivver Gig Is Completed?
Your order will be delivered and it is time for you to check everything and either accept the order or request revisions. Obviously, if you took the package with no revisions then you will accept and part company, but if not then you go keep going with the revisions until you are happy.
Know that the freelancer will be super keen to wrap the job up and move onto the next project. Don't feel rushed, keep communicating until everything is right.
Once you press 'accept order' the gig is finalised and the freelancer gets paid (less Fiverrs commission)You leave a nice review and admire your new logo!

Final Words On Fiverr
Remember, some of the Fiverr reviews out there are written by people who haven't been within ten feet of the website (!) so if there is anything whatsoever you would like to speak to me further about then drop me a comment below or email me – I'll help you in any way that I can.
I hope you have enjoyed this Fiverr reviews 2020 and that it has answered your questions as to whether Fiverr is legit and safe, as I said, I couldn't have been happier with how things turned out.
If I were in your shoes and I needed something doing for an excellent price at fantastic quality then I would head over to Fiverr right now and check them out. And remember, if you enjoyed this post then please share it!
Good luck!