Japan has some of the best food in the world. Eating, along with many other everyday Japanese life rituals is one of the things that makes this beautiful country as exciting and as intriguing as it is. But you may be wondering what to eat in Japan when you just can't face another piece of sushi.
Tell people you are travelling in Japan, and the first thing they will advise you to do is fill your face with street food. In fact, if you don't eat noodles swimming in broth at least nine times a day, then you are just a big fat fake, and you aren't doing the other hardcore backpackers proud
We have just spent two weeks in Japan where we backpacked and couchsurfed for a big chunk of the time. Thankfully, both our budgets and our train journeys were made all the lighter because of this little known Japanese secret.
What to Eat In Japan When You Don't Fancy Noodles or Sushi.
They are all over America and in most of Thailand. There are not many people on this planet who are not familiar with the small convenience store 7- Eleven.
But wait.
This 7- Eleven is different. This is Japans' version of the corner store franchise. And let's face it EVERYTHING in Japan is better than everywhere else in the world. Especially their 7- Eleven's.
Japan. I want to thank you and congratulate you on producing the best lunches for a budget traveller in the world. Ever.
If you happen to be travelling with kids, no matter their age, it might be teenagers like me or even babies (hats off to you by the way) or, if you simply can't face another quail egg swimming alongside some sliced eel, the 7-Eleven in Japan is going to be your new best friend. And by the way, I love Japanese Ramen noodles as much as anyone else. Just not every day for two weeks.
ENJOYING THIS POST? PIN IT!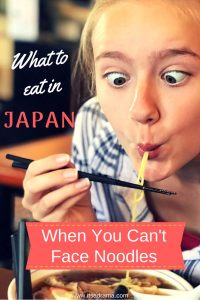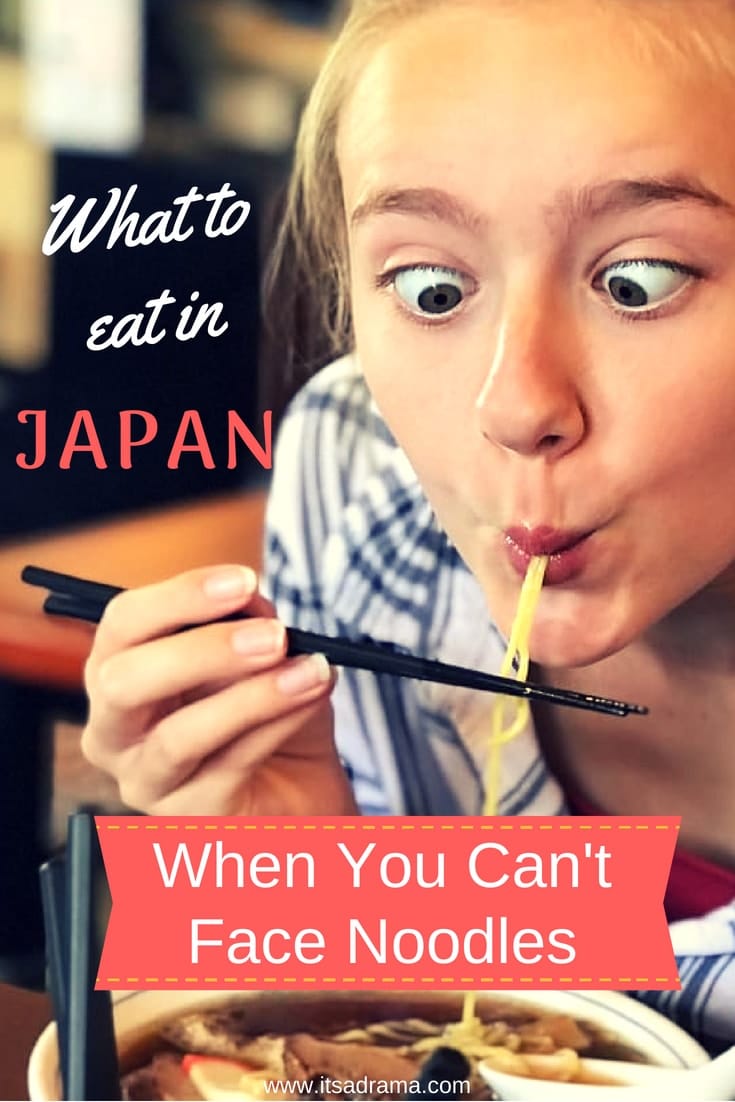 First Course:
Egg mayonnaise sandwiches.
All of the sandwiches in the 7- Elevens in Japan are served on the freshest, whitest of white bread that you have ever seen in your life. There are no crusts. Of course, there aren't silly. Crusts are messy. They don't do mess in Japan.
The butter on every sandwich has been spread with expert precision, and the filling which is always deliciously fresh no matter what time of day you visit manages to be plentiful without oozing out of the sides of the bread and going all down your nice clean shirt.
There is egg mayonnaise. There is ham and cheese. There is egg mayonnaise. Just have the egg mayonnaise. It's the best.
Second Course:
Rice balls. For when you are feeling Japaneezy.
Perfectly, and I mean perfectly wrapped balls of rice with various fillings hidden inside, held together with crispy sheets of seaweed. Here's the best bit. You can buy these rice balls to take to the park, on the train, even to the cinema if you so wish because they have been so cleverly and ingeniously packaged that when opening them ( pull on the little tabs marked by arrows), every grain of rice stays neatly in your hand.
It's amazing.
Even my 16-year-old son – who can make a hunk of salami crumble all over the floor and into the woman's lap sitting next to him on the train – managed to eat these rice balls without dropping a single solitary crumb.
Perfect.
Third Course:
Dessert.
Bags of chocolate peanut brownies that taste divine no matter what time of the day you choose to scoff them.
These neat little squares are rich and delicious. I don't know if the Japanese chef has injected them with some sort of stay cold gas, but I do know that even when they have been opened on the slightly too warm shinkansen for an hour or so, they never leave chocolate marks on your fingers. No sir. The Japanese chocolate brownie makers would think that far too rude.
To Drink:
No need to go to Japanese traditional tea houses and pay a fortune to sit cross-legged (try doing that with a lanky teenage boy who suffers from achy legs; I dare you). No, instead, go to the 7- Eleven and head to their warming cabinet.
Milk coffee ( too sweet for me, but my son was addicted to them) or Japanese Jasmin tea. (Hot or cold, your choice – mine was cold) or, for those of you who are feeling a little cheeky, why not indulge in a can of whiskey and soda? Unfortunately, this wasn't an option for me at lunchtime with two kids. Nobody likes to see their Mother rolling off the bullet train half cut.
And all of this on every street corner and in every railway station throughout Japan.
A three-course lunch and a drink will set you back around $5. Now that's what to eat in Japan if you want a bargain and you can't face any more noodles or sushi.
7 -Eleven Japan, you are a budget travellers dream. Your staff are always courteous and helpful, and I could have eaten my meals off your floors they were so clean. Thank you.
Dear Japan, why I'm in love with your toilets.
Two weeks in Japan. How the locals would do it.
Why travel changes your perspective.
How people on a normal wage afford to travel the world
So, if you are travelling to Japan and are wondering what to eat, one word of advice. When you've been in the country for a couple of days and you've done the obligatory Ramen noddle thing, get yourself straight down to the local 7- Eleven and grab an egg salad sarnie. You're stomach and your wallet will thank me for it.