What is Couchsurfing? How does it work? Is it free? Is it safe? Can I do it with my family?
These are the most common questions I hear when I tell people I couch surfed around the world with my kids for a year.
Rather than give you a boring old review like every other blog post you can find online, I thought I'd simply answer every question I can think of about Couchsurfing in 2021.
If you can listen while you read then why not check out our couchsurfing podcast where my teenage son and I talk about Couchsurfing around the world!
That way you get the truth.
And yes.
My Mother did actually say she thought we'd all be murdered in our beds. Your mum will do too.
More on safety with Couchsurfing later.
Couchsurfing Review UPDATED FOR 2022
I needed to jump in here and update this post because I recently found out that due to the pandemic keeping many of us travellers at home, Couchsurfing is no longer free.
In some countries, you are now required to pay a donation. here is what I found from the blog on the Couchsurfing website;
In the United States, we are asking for $2.39/month or $14.29/year. This amount is adjusted in a number of currencies and is often considerably lower in various countries.
Yes, it's sad that the service is no longer free but come on, it's not such a big deal.
I'm a Brit and if I'm not whinging it says something.
I am more than happy to pay such a small amount if it means keeping this amazing community alive.
A small fee in return for valuable, amazing experiences. It's a no-brainer.
On With The Couchsurfing Review
First things first. It's Couchsurfing with a capital C and not couch surfing with two words.
Ok then, that's that sorted. Let's move on.
Before my husband and I set off to travel the world with our two kids aged 16 and 13, I had never heard about Couchsurfing. I certainly didn't think it would be something that a family could be part of.
Now, 7 countries and 34 couch-surfing hosts later, we now consider ourselves Couchsurfing experts (woohoo!).
Because of Couchsurfing, we have been able to travel to parts of the world that we only dreamed about and we are more than happy to share our experience and advice with you.
This post contains affiliate links. If you use them we make a small commission but they cost you nothing.
If you aren't already a member of Couchsurfing, download the app here from the App store and sign up from your phone or tablet. If you are on a desktop sign up to Couchsurfing here.
FOR ALL YOU PINTEREST LOVERS ⇓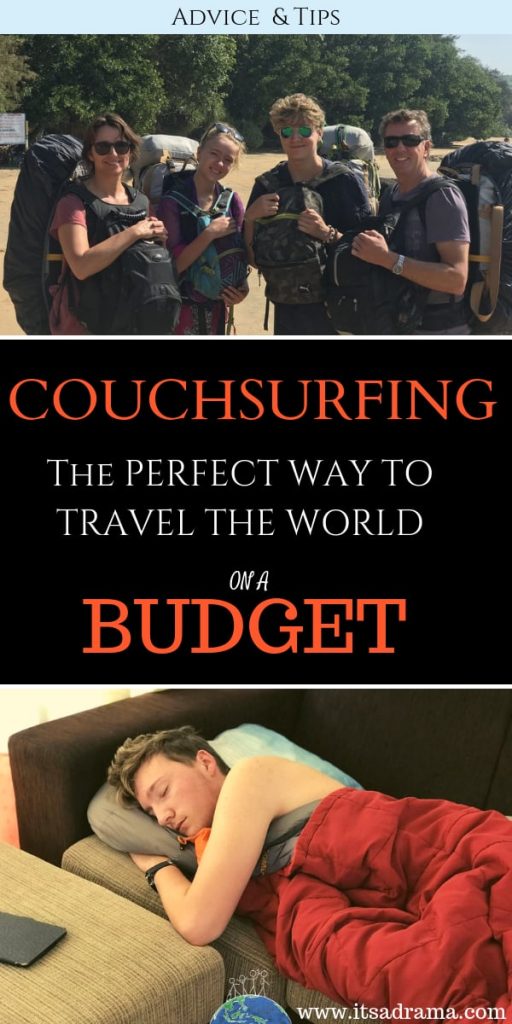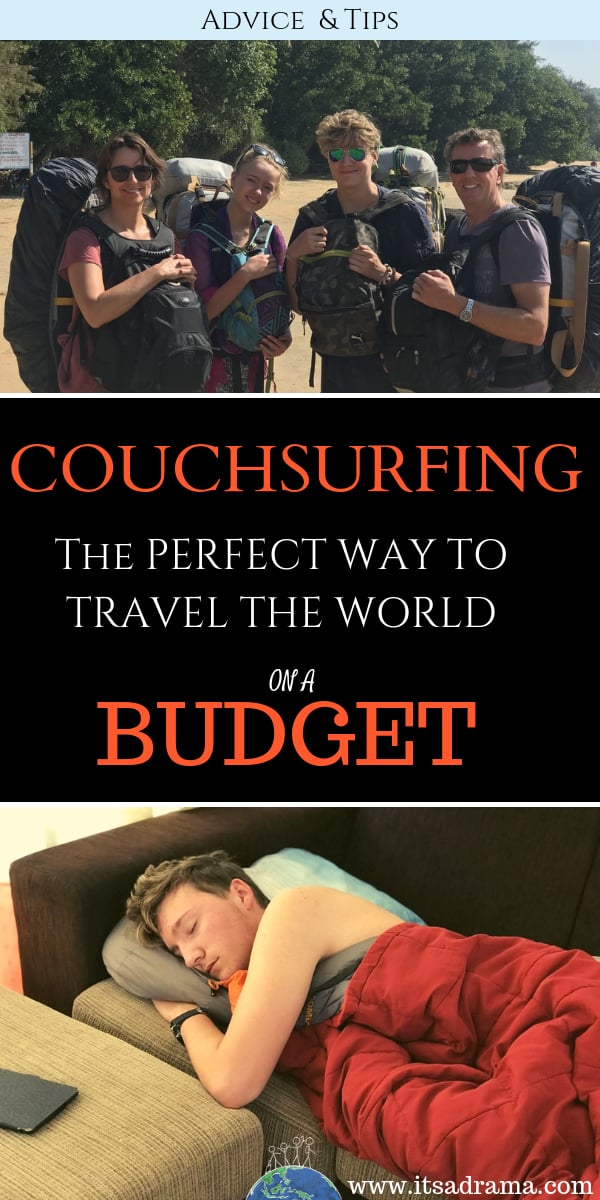 A Couchsurfing Review 2022: How Does it Work?
Ok then.
You are probably thinking where do I start? What do I do? I am here to reassure you that if I can do couchsurfing, anyone can.
No really. It's the truth. Here's what you do:
Make A Profile. How to Make The Best Couchsurfing Profile.
When you sign up for Couchsurfing you state whether or not you are able to host. If you are travelling like us then you will have to say no to this at the moment. Don't worry, you can always repay the favours when you get back home and clean the spare room out.
The best Couchsurfing profiles are those that include tons of information.
Make sure you include your likes and dislikes. Whether you prefer hosts with families or maybe your own room. Say if you prefer to smoke or if you are of a religious belief that leads to certain rules.
By making the best profile possible, you are much more likely to find the perfect match when it comes to choosing a Couchsurfing host to stay with.
How To Find A Couchsurfing Host
Enter into the search box where it is you want to go, and put in the dates.
Say how many people are in your party and press enter. You will be shown hundreds, if not thousands of hosts.
If you prefer to stay with hosts with families tick this box. Hosts who offer a private room tick the box.
You get the idea. Be careful with the filter box though. Being too fussy may mean you miss out on some fabulous opportunities.
Couchsurfing for Families
With accommodation being the most expensive part of travel, our family knew that if we wanted to travel around the world for a year, along with using various other travel hacks we would have to find ways to avoid paying for accommodation.
We did consider squatting, but in the end, turned to Housesitting – the reason we saved ten grand in Europe – and Couchsurfing.
Long term travel with kids is bloody brilliant. Nothing like I imagined it would be.
Because we spent the majority of our time Couchsurfing, our experience of travel and meeting different people was very different from the norm.
Couchsurfing as a family is one of the richest experiences you can give your children while travelling.
It isn't as scary as it first sounds, no worse than turning up at an Airbnb for the first time. Honestly, you will meet so many lovely people who will remain your friends for life.
Just make sure you are prepared beforehand and make yourself a thorough travel checklist.
Will We Really Have To Sleep On A Couch??
To date, we have stayed with 34 Couchsurfing hosts and I have never slept on a couch. My daughter nearly slept in a rabbit hutch when we couchsurfed in Italy and it all went a bit weird (you can listen to that particular story on our PODCAST – couchsurfing when it's weird and freaky), but couches? No.
Actually, that's a lie, my son has, but only about four times.
Anyway, he doesn't count. He's young and doesn't need a proper bed.
When couchsurfing as a family, you will sometimes (if you are lucky) be given two rooms and the kids can have a bit of space, but mostly you will all be sleeping in one room.
I love this. My kids hate it, but I love it.
I think it makes the whole experience exciting and conversation-worthy. I read somewhere that a hotel is a five-star prison and when we are Couchsurfing this always rings true.
Inside Tips From Couchsurfing Hosts!
You will receive tips on places that you would never have possibly known about.
We were told about the best Ghostwalk tour in Charleston, USA, a FREE parking space in the middle of Paris, the best pizza restaurants in Florence, the way to see the Cherry blossoms without the crowds in Japan, free temples in Sri Lanka…I could go on forever.
Is Couchsurfing Safe?
Couchsurfing.com has a fantastic, incredibly user-friendly website.
You have access to all the reviews left by previous couch surfers. It is impossible for the host to alter their Couchsurfing reviews.
By practising a few simple steps you will be able to iron out any worries that you may have about your safety when couchsurfing.
If You Are Serious About How To Save Money When You Travel Then Check Out Our Latest
Travel Course Where I Reveal Every One Of Our Secrets! Click Here For Details
How to Make Couchsurfing As Safe as Possible:
If you happen to find the perfect Couchsurfing host but feel that there were a few unanswered questions on their profile leaving you a little unsure, either:
Send a message directly to the host asking whatever it is you need to know. You will soon get a feel from the messages if this host is the one for you.
Read every review that has been left on the profile, making sure to read any negative ones as well as positive.
If you are still not sure, I suggest you do what we did a couple of times. Look for someone who has stayed with the host. Send a friend request to them. Send them a private message asking them for more details on the host you are planning to stay with.
This is a belt and braces, tried and tested technique but it gives you the peace of mind. Especially if you are Couchsurfing alone.
Do your homework and use your common sense. I wanted to stay with a host in Italy. He had over two thousand Couchsurfing reviews, but fifty of those were negative. By digging a little deeper, I was able to conclude that the guy's bathroom wasn't the cleanest and he also insisted on guests having dinner with him on the first night – thus the reason for the negative reviews.
Neither of these things was a problem for us, and so we decided to stay with him. I was desperate to see Italy the proper way, and so a grubby bathroom wouldn't have stopped me.
Everything was as we expected. Not the cleanest of bathrooms and dinner together on the first night. Yes, he was a bit of a control freak but that's fine by me. It takes one to know one as they say.
Sometimes the negative reviews don't necessarily correlate with your idea of negativity so do your homework. My advice to you would be this. If someone looks the slightest bit dodgy, then don't request to stay. No matter how desperate you are.
ENJOYING THIS POST? PIN IT!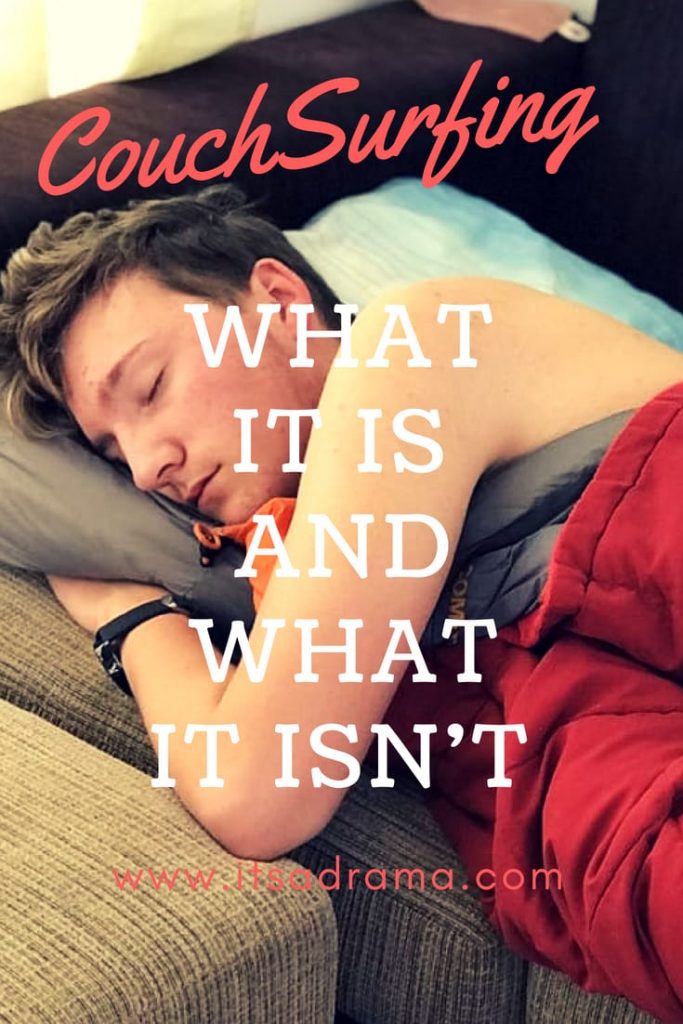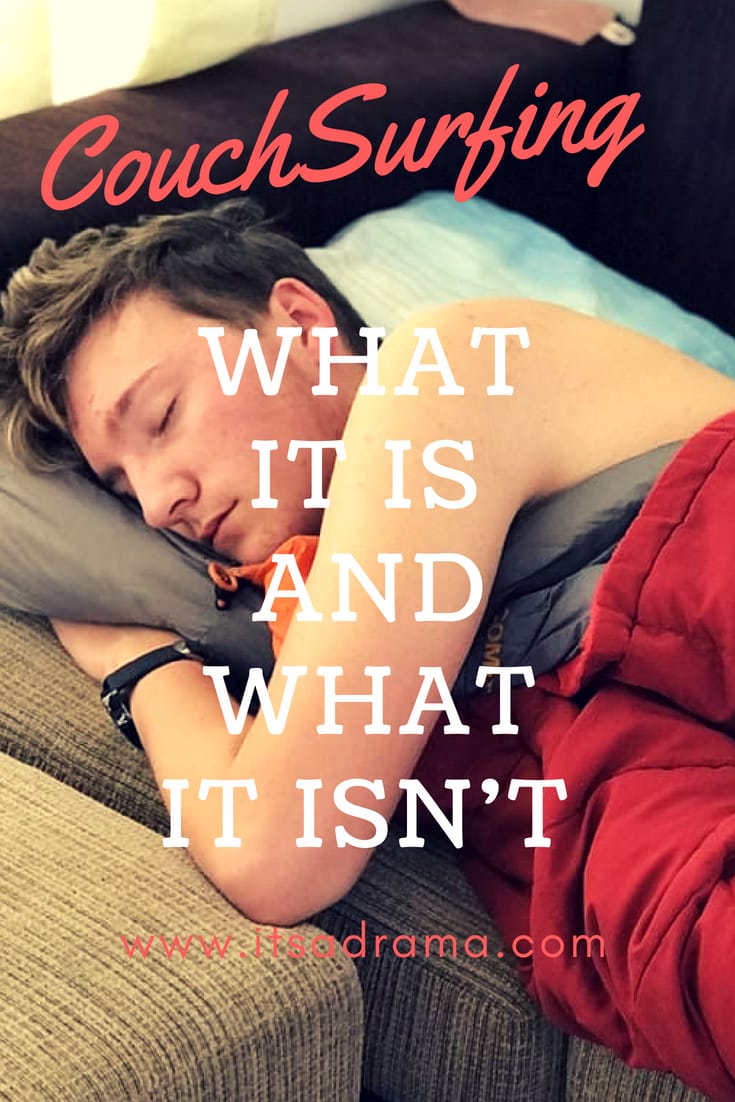 Is Couchsurfing Free?
Not quite.
Please refer to the update at the top of this post. In some countries (including the US), you are now required to pay a monthly donation to be a member of the couchsurfing community. Don't panic. It is tiny.
The donation is very small but I don't want you to think that saving money is the only reason to couchsurf.
There is so much more to Couchsurfing than getting a cheap place to stay for the night. I am all about saving as much money as possible when we travel but it goes a little deeper than that.
Couchsurfing is about connecting with travellers from around the world. It's about swapping stories and food. Living with a local for a few days.
In exchange for giving you a (practically) free bed for the night, your host will expect you to share some of your stories. Spend time with you.
Don't use Couchsurfing as a free/cheap hotel, or I will be cross with you.
A
What To Take Couch Surfing With You
a
You don't have to take anything with you when you couchsurf but talking from experience I would highly recommend these few essentials to make the whole stay easier and more enjoyable.
If you are the kind of person that needs to travel with a bit of luxury then I would recommend you check out my travel essentials for feeling gorgeous post.
Travel Pillow
We have always used travel pillows but then I discovered the sleep keeper which means you can travel the world with your own pillow! Yay!
Sleeping Bag Liner For Hot Nights
Again, if you turn up to couchsurf and your host doesn't have any bedding, you are going to be in trouble.
Remember if you use the bedding provided by the host you are expected to wash it afterwards.
We prefer to use our sleeping bag liners whenever we couchsurf.
These ones are made of silk and are just gorgeous. If you are going to Vietnam you can buy the exact same thing for half the price at the market. If not, buy one before you go traveling.
Sleeping Bag
For colder nights, you will need a sleeping bag. We all have a Coleman Mummy Sleeping bag.
They are lightweight and cosy. The fact that they are shaped like a mummy is perfect if you are Couchsurfing as a family and need to share the same bed. Less space to take up!
Travel Towel
a
It goes without saying that you won't be wanting to use someone else's towel when you couchsurf. We love these super absorbent travel towels simply for the fact that they dry so quickly.
Remember, not all couchsurfers allow you use of their laundry facilities so these are super handy.
Travel Insurance
Whether you are Couchsurfing or not, please don't think about travelling without insurance.
Some Couchsurfing hosts (like our man in Italy) host up to 7 different people at a time. You don't get a lock for your door so make sure that your bags are covered for theft – just in case.
It probably would never happen, but for the sake of a couple of hundred dollars, it's worth the peace of mind.
There is only one insurance company that we use (and only ever use when we travel), and that is World Nomads. Over the years, we've made three claims (sorry, guys), and each time the service has been superb. You can check them out for yourselves here.
Which Countries Are Best for Couchsurfing?
We have now couchsurfed in five countries. Here is a quick review of those countries and how they all differed.
Couchsurfing in Charleston, America.
In Charleston, we had our own car which was handy as the host lived quite far from the city. Check where the host lives and whether they are close to public transport.
The host was out for the entire stay.
We had two rooms and our own bathroom.
We were allowed to use the kitchen to cook meals. We ate breakfast at the house but ate dinners out.
Couchsurfing in Washington DC
The hosts made us a meal for when we arrived. We called ahead before and asked if we could bring something, which we did – wine and chocolates.
We had two rooms. The kids were on a mattress on the floor; we were in a lovely comfy bed. Sorry kids. We are the eldest.
We used the kitchen to cook breakfast and ate with the hosts before they went to work.
We left the house at the same time as the hosts went to work.
We got free metro tickets that had been left by previous couchsurfers. Got some fabulous tips on free things to do in Washington.
We got to learn all about the politics in America as our host was a lobbyist for the government.
We applied to stay with the host the night before and were thankfully accepted. Not all hosts like such short notice. Allow at least a week to apply.
Couchsurfing Sri Lanka
Was asked to pay $10 per person to cover the price of all meals. This was non-negotiable and probably a little naughty. We didn't mind, though. The food was lovely, and we figured it was helping a local family who needed the money. Know that this isn't normal practice when couch-surfing.
We all slept in the couchsurfing hosts' family bed while the host family slept on the floor next door. We were not at all comfortable with this and only stayed one night. On speaking with other couchsurfers afterwards, it seems that this is the norm in Sri Lanka.
Our host was a Buddhist, and we learned all about the religion over dinner. Is there anything better than first-hand knowledge?
We used our own bedding and travel pillows. See 'What to take Couchsurfing' above. Don't couchsurf in Asia without your own bedding.
Couchsurfing in India
Some will say we were crazy to couchsurf in India with the kids, but I disagree. The hosts were charming, friendly and helpful beyond belief. Yes, India is a mindboggling country to some, but, apart from the obvious eyeopeners such as taking horrendous overnight sleeper buses, I LOVED India.
Really. If you haven't been, ignore what you hear about India and find out for yourself.
*Check out our PODCAST #10 – India, is it as bad as everyone says it is? – a family travel podcast
Back to our Couchsurfing experience of India.
We all stayed in one room.
No meals. No kitchen use.
We ate at local restaurants with the host.
The host met us at the bus station.
The host was part of an arranged marriage. So we spent an entire day chatting about the whole procedure and the for's and against's. Fascinating stuff.
Couchsurfing Japan
It is no secret to anyone following this travel blog that we LOVED Japan. If you get the chance to visit this beautiful country, then please do so.
It is amazing.
We couchsurfed for our entire three weeks in Japan and loved every minute of it. If there is one place on earth that I recommend you to couchsurf, it would be Japan.
Everyone says how expensive the country is, but we found Japan affordable and easy to backpack as a family.
While couchsurfing in Japan, we stayed with seven different Couchsurfing hosts.
The Japanese people are the friendliest Couchsurfing hosts we have ever experienced.
Every single host that we stayed with treated us like family.
We were given meals, breakfast and dinner with every host we stayed within Japan.
We got to cook a meal and share a meal with every one of our hots as a token of our appreciation
We were met at the station by every host.
We slept on futons in every house.
Apply to Japanese hosts early. Japanese people are planners. They do not take kindly to last-minute requests.
Every Japanese Couchsurfing host we stayed with loved families. If you've got kids, you are in luck.
Couchsurfing Italy
There are tons of Couchsurfing hosts in Italy but unfortunately (for us at least) the majority seem to prefer solo and couple travellers. If you are couch surfing with kids, you will have to do a bit of digging around.
I made a lifelong friend of a Couchsurfing host in Italy
We stayed with a host who had advertised a room as being 'a hobbit hole room'. This turned out to be an oversized rabbit hutch on his veranda. Just saying you might want to check what specific descriptions mean.
As it was, my daughter slept in bed with us but had you been four adults, it would have meant sleeping with Barney for the evening.
In saying that, the host gave us some fabulous inside tips about traveling in Italy – so I will let him off about the rabbit hutch.
We cooked at least one night for every one of our hosts in Italy.
We always bought gifts for our hosts. This applied to everywhere that we Couchsurfed, not just in Italy.
One host insisted we left the house before he went to work which was 7.45 am. Not easy with two teenagers let me tell you.
Listen To Our Podcast! – Couchsurfing. (When It's all a Bit Weird & Freaky…) But please don't be put off!
PS. We LOVE Housesitting. Want to Try it too?
If you have been following this podcast for a while, then you will know that we have just returned from six months in Europe and Asia. While we were there, we did a lot of housesitting. We are constantly asked how we did this and if we can share the website that we used. So here it is:
The initial 'looking part' is free. You can oggle all of the beautiful houses around the world that are waiting for YOU to look after them. Take a sneak peek here! (As I say, looking is completely free, so gander to your heart's content).
Then, if you are serious about using Housesitting as a tool to travel the world for free (as we do), you can use my exclusive discount code to save yourself 20% by Clicking here.
Still not sure about paying for a Housesitting membership? Remember that the cost of a yearly membership (approx $80 using the discount code above) will be paid back (and more) on the first housesitting night. It really is that simple!
Related Posts That you will Enjoy!
PODCAST. Couchsurfing in Italy when the host is a bit weird and odd
PODCAST. How It feels when you finally decide to ditch everything and go travelling
How people on a regular wage afford to travel the world
25 Awesome travel gifts for kids – all for under $20
8 Travel tips that you can safely ignore – because they are rubbish!
Travelling with teenagers? Consider buying these fabulous items to keep everyone sane!
I hope this Couchsurfing review has shed some light on what has to be the absolute best way to travel and see a country on a budget.
Don't let the opportunity of Couchsurfing pass you by; you will love it I am sure. If there are any more questions that you want to ask that I haven't covered, please feel free to message me and remember!
If you know someone who would enjoy this couchsurfing review as much as you did then PLEASE share it!