Deciding which is the best drone for travel? Trying to figure out how to travel with your drone without constantly fearing that airport security will confiscate your new toy? Do you want someone to explain in plain English the reasons why we think our chosen drone is the best for travelling the world? Then please read on.
First, let me tell you why we wanted a drone to travel with. Like me, you may be questioning whether or not you even need a drone.
I was reluctant to spend money on a drone; I won't lie. I am a point and shoot kind of gal and having only just familiarised myself with the features of the iPhone,  I wasn't convinced that we were going to need a drone to take on our travels around the world.
My husband, on the other hand, is a huge gadget fan as is my 16-year-old son who will be travelling around the world with us too. They explained that to be able to capture out of reach images, see things from a different perspective we would need a drone.
2018 UPDATE!! We have been travelling with the DJI Spark now for 5 months. We have been to America, Sri Lanka, India and Thailand capturing sensational footage. When a friend of mine saw our India videos and asked 'how the hell did you get a drone into India without it being confiscated or trashed at the airport'  it made me realise another super important upper hand that the DJI Spark has over any other drones. More on that later in the post.
Every traveller knows the importance of taking superb photographs. But we are going one step further. We will be documenting our journey not just through photos on this blog, but by a video diary. A vlog. Apparently, they are the new best thing, so there you go. I'm in the right line for a change.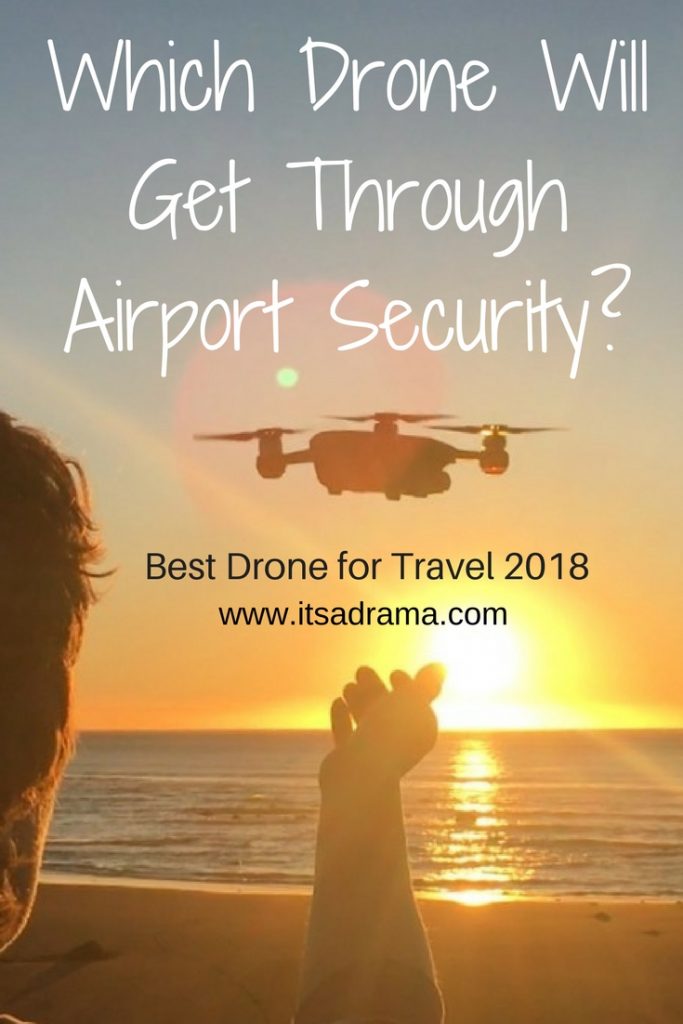 Before you watch our travel blog drone video at the end of this post in action, let me give you a rundown of the Drone that we chose and why we think you need to splurge on a drone. But firstly, let's get any negatives out of the way. There are only two that we can think of.
Are There Any Reasons For DJI Spark 
Not

 To Be The Best Drone For Travel?

 

No.

Ok. Maybe just two. You may not want to spend money. The DJI Spark is by no means the most expensive but it's not the cheapest either.

 
The Cost:
Although they are under $700, it is still an extra expense. Especially if you are on a budget like us. However -and this is a big one, you are only ever going to have these experiences once in your life and at the end of the day, compared to the bigger boys, this is still pretty cheap for a Drone.
People May Say: 'Isn't The Mavic Pro Better?'
No. And here's why not.
The Spark's more expensive brother is the DJI Mavic Pro. And yes, this drone shoots up to 4K video, whereas the Spark only shoots at 1080. Confused? Basically, it comes down to quality. The higher the pixel count the clearer the video.
But Remember Travelers…
Yes, you can travel with the Mavic and yes the quality may be a tad higher, but, you will pay for the higher quality, not just in terms of cost, but in another way too.
The higher the resolution, the bigger the file to upload. If you travel to places where the internet is not great (and you will; especially if you plan to travel to India or Sri Lanka)  then you are going to become frustrated very quickly believe me.
Ok, that's the negatives. Now here are the reasons why we think if you are looking to buy a drone for travel, you will love your DJI Spark as much as we do.
This post contains affiliate links. They cost you nothing extra but we make a small commission.
7 Reasons Why The DJI Spark is The Best Drone for Travel in 2018.By Far.

1:  Selfies.
The DJI Spark is classed as a selfie drone. I am travelling with two teenagers. What's a day without a million selfies?  Yes, I know there are selfie sticks, but who is going to want to carry one of those around for the day?
DJI Spark hovers beautifully in front of your faces and never fails to take the perfect selfie.
2: Ariel Shots
The Ariel shots for vlogging are just out of this world. Watch the very first vlog Sonny, and I did with the DJI Spark, and you will see what I mean. I can't wait to stand somewhere really remote and take an ariel shot. You could never capture such footage without a drone. There is also a tracking device on the DJI Spark so that even if you turn and walk in another direction, it will stay focused on you.
3: The Ease of Flying.
Honestly. I don't like toys or playing games and I can't even fly a kite. But I can operate the DJI Spark like a pro.
It's perfect for beginners.
The drone has obstacle avoidance meaning if there is a tree in the way it will fly around it. Or someone's head. I even trust my teenagers to fly it which is a big bonus. I can't stand it when you buy something, and you're terrified of letting the kids near it for fear of them breaking something.
It also has a cool feature called auto positioning. If you drop the controls or take your hand off them for a minute, it won't go zooming off toward the horizon. It will stay where it is due to auto levelling via GPS. You don't even need a separate remote to control it. You can use your phone.
4:  Return to Home Within a Metre Feature
If you happened to lose contact, at least you can just call it back. Like a dog but without the vet bills.
5: It is Robust.
We have had a couple of drones in the past, and they have both been quite fragile. The DJI Spark is solid and sturdy, making it the perfect drone for travel. We just wrap ours in our clothes and pop it into the middle of our pack.
UPDATE: We have been travelling with our DJI Spark for 5 months now and it is still in perfect condition. It's been everywhere. The beach, the mountains, the Jungle and the desert. It's amazing.
6: The Spark is small and light.
It's as tall as an iPhone and about as wide as a pair of sunglasses. The propellors fold in two, and it will take off from the palm of your hand. Do be careful here though and don't so what I did; I held out my hand waiting for it to take off and when it started to whir and lift I freaked out and threw it on the floor.
I know. I told you. I'm strange.
Luckily, because theDJI Spark is as a robust as I testified, no harm was done.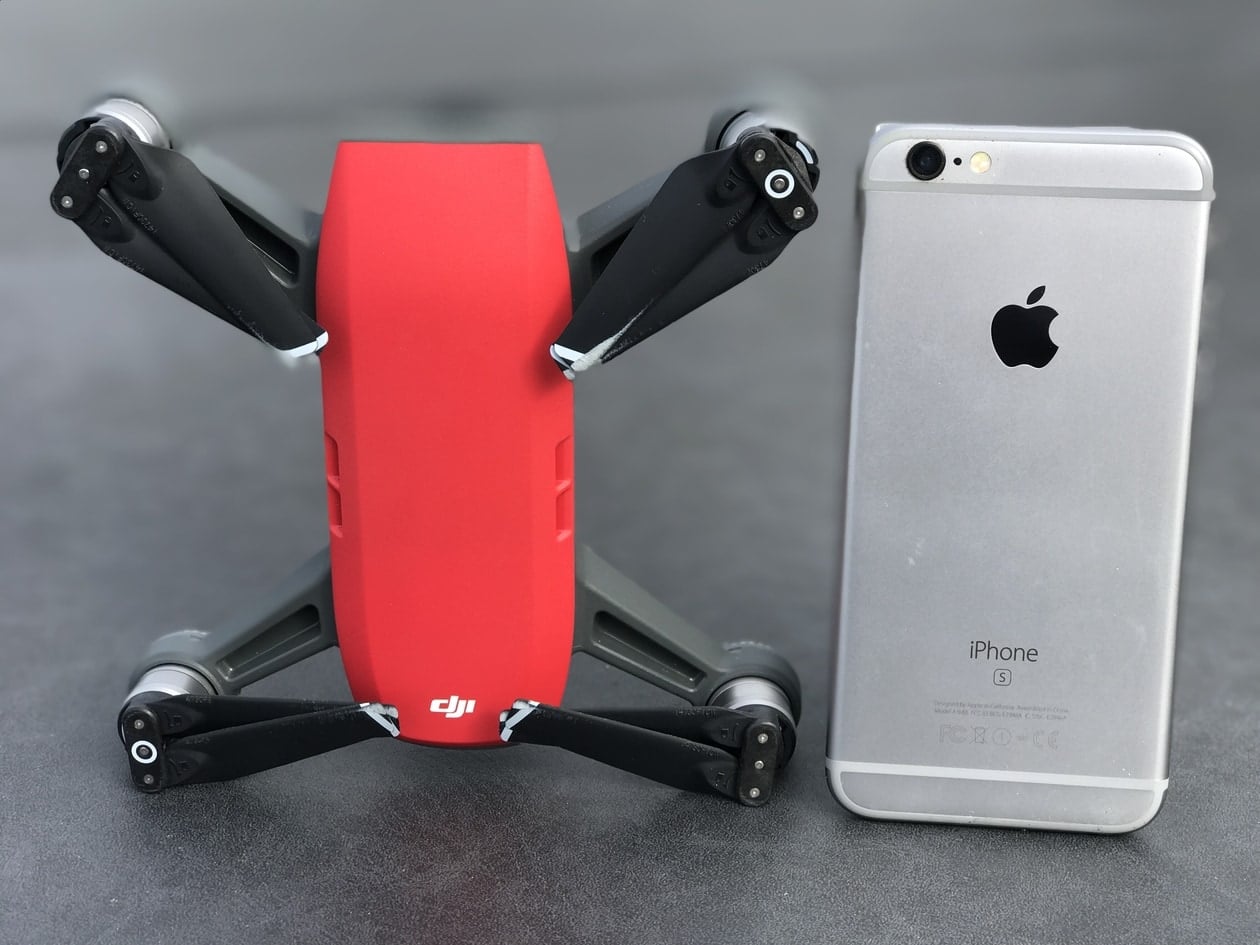 7: The Battery is Light.
We take two with us, and still, it's not heavy. Another plus for the Spark being the best drone for travel. Weight is everything. It flys up to 30km an hour in sports mode. If speed is your thing, then you won't be disappointed. Remember, I have a 16-year-old son. It impresses him. Need I say more?

UPDATE!!!
8: The Final Point And Probably The

Most Important

for Those of You Using Your Drone For Travel:
Before we set off around the world I was blissfully ignorant of the fact that some countries won't let you take a drone through airport security unless you have a permit.
Because of this, everywhere we travelled the DJI Spark went along in the flight bag and was sent through the radar screen with everything else in our bag (phones, kindles, chargers etc) without a second thought.
Not once was it pulled up or questioned by airport security. It's so small, that when packed into the carry case it's very easy to mistake it for a regular camera.
We have had the same conversation at every airport we turn up to; whether or not the drone will make it through security. And we always come to the same conclusion. Even if the drone was taken off us by security, at such a modest price – it wouldn't be the end of the world. (Just make sure you get some good footage first!)
 We Have Taken The Drone to The Following Countries in 2018
Sri Lanka.
Going through airport security? No problem. We put it into the flight bag.
Ever stopped by police for filming?  Just once at the nine arch bridge in Ella. We were told to destroy the footage of the tunnel, which we just deleted. We were gutted as there were other people flying drones up around the corner and they weren't caught.
India.
Going through airport security? No problems. We travelled internally in India twice with the drone in the flight bag.
Ever stopped by police for filming? We were asked not to film at a dam in Udapuir. Apart from that, we were discreet in our filming.
Take a look at some fabulous footage we took for our travel blog in India.
Thailand
Going through airport security?  Absolutely fine. Again, in the flight bag.
Ever stopped by police for filming in Thailand? No.
Vietnam.
Going through airport security?  All good. Flew into Hanoi.
Ever stopped by police for filming in Vietnam? No
Hong Kong.
Going through airport security? No problems.
Ever stopped by police for filming in Hongkong? No
Japan.
Going through airport security? No problems.
Ever stopped by police for filming? No, although we only tended to fly in rural areas. We came across quite a few signs that banned the flying of drones.
Europe.
Going through airport security? No problems.
Ever stopped by police for filming? We have taken the drone to Croatia, Montenegro, Italy, France and Amsterdam. The only place we were banned from using it (by the Mayor in a tiny hamlet would you believe?) was France. 
Writing a Travel Blog and Need a Drone to Take an Amazing Video?
We understand that when you are making such a big purchase, you want an honest opinion. We would never recommend anything to you unless we were entirely in love with it ourselves. If there is anything I haven't covered, send me a message, and I will do my best to answer it for you. And check out our other DJI Spark Drone videos on our Youtube channel!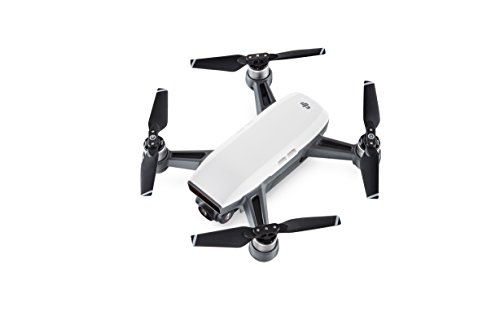 So, that's our recommedation for the best travel drone. Without a doubt.
All I will say is just be respectful when flying your drone. If you are aware of how others feel around you then you are less likely of getting yourself into hot water. Some people, understandably, get peed off if they think you are invading their privacy etc, etc. If this is the case I suggest you pack up and move to your next fabulous location.
And hide in the bushes!
Why not head over to our Videos Page And Take a Look at The Drone in Action in New Zealand! Until then, good luck with your new drone and happy travels!