So, you are planning a visit to the Taj Mahal. If you are an information freak like me like me, you will read every Taj Mahal travel blog you can get your hands on.
Unfortunately, you may find that you come across loads of negative stuff about how the Taj can be a very traumatic experience. One filled with robbers and touts and selfie seekers. It's not the kind of relaxing once in a lifetime experience you anticipated, is it?
We have just travelled around India for six weeks and let me assure you, you mustn't believe everything you read on travel blogs about the Taj. Only this one.
For Pinterest!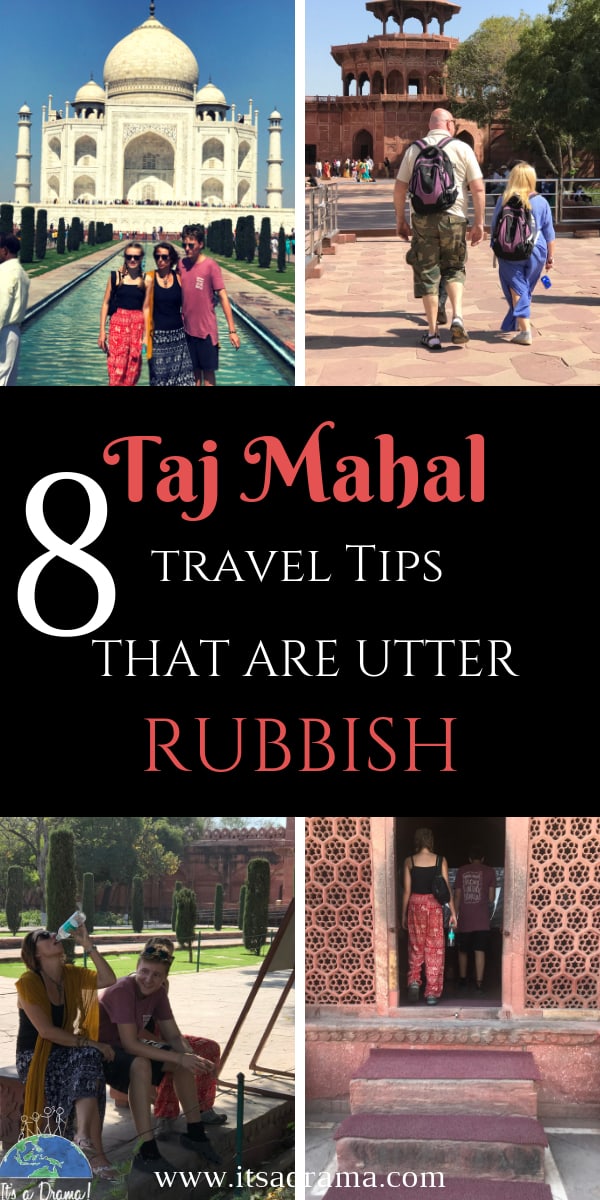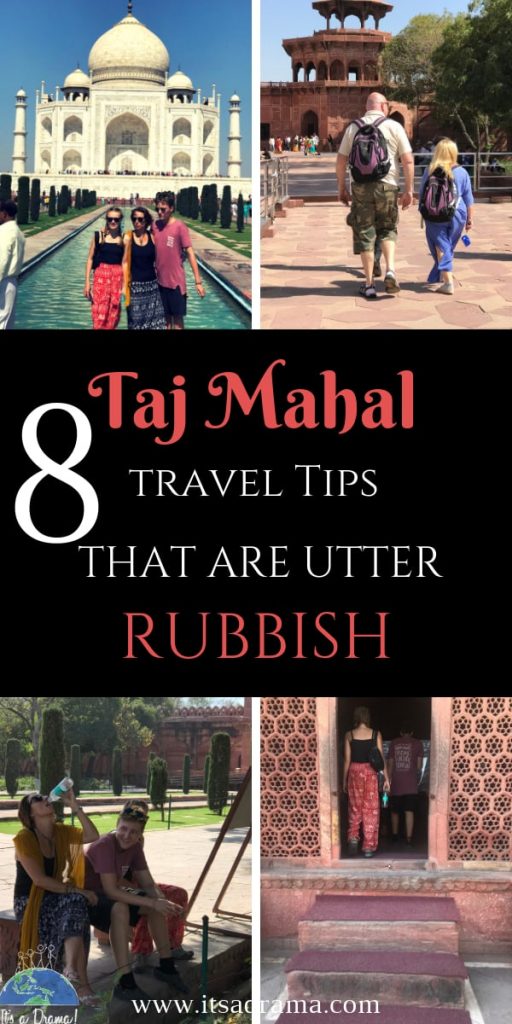 This post may contain affiliate links. They cost you nothing but we make a small commission.
We left the beautiful city of Alleppey where we spent a few days cruising the Kerela backwaters and then, after having spent a glorious few weeks relaxing on some of Indias most beautiful beaches near Gokarna, we took the train from Jodhpur to Agra.
We booked the train through the only online booking agent we ever use when travelling in  India. 12GoAsia. I don't know if you've ever tried to book Indian train tickets online without an agent. It's a nightmare.
Honestly, pay the tiny bit extra and use a reputable company like this one to book all of your trains, planes and automobiles in India. You'll never use anyone else after you use them.
If I can give you one piece of advice about getting to Agra, it's this. Try your hardest to book the train. Don't make the mistake we did when we were in India and think about taking an overnight sleeper bus. It's hideous. You will regret it.
Ok.  Let's look at the information that every travel blog on the Taj should tell you.
The Stuff That Every Taj Mahal Travel Blog Should Tell You About:
The History:
I'll tell you about the Taj Mahal-like I would tell it to my kids. What can I say? I'm a control freak.
The Taj Mahal is a white marble mausoleum (a mausoleum being a free-standing structure that encloses the burial chamber of a deceased person) in the city of Agra in India.
It was commissioned by the Mughal emperor Shah Jahan in 1632  for his wife Mumtaz Mahal ( he had a few wives – but this one was special). She was special because a few years earlier when Shah got into a bit of a fight with his brothers; she stood by him. She was apparently the 'chosen one of the Palace'. Lucky duck.
But. Mumtaz's luck didn't last long.
This poor woman was giving birth to the couples fourteenth child when she departed the world. Probably couldn't face one more push. But no matter. She had a very caring and doting husband who's hair apparently turned white overnight as he grieved the loss of his fair wife.
As a token of his undying love for her, Shah Jahan ordered the construction of the Taj Mahal to house her body. Either that or he just couldn't face looking after all those kids alone, probably thought this would give them somewhere cool to have a runaround and a play.
It took two decades to complete and was said to be overlooked by the architect Ustad Ahmad Lahouri (the same guy who designed the red fort at Dehli).I just hope it wasn't a priced job and he had the sense to work on a day rate. And time and a half for weekends. He, along with 20,000 workers and 1000 elephants, worked their socks off to build what is now the worlds most romantic building.
Just as it was finished Shah, being a typical man, started thinking about what he could build next. He had plans to construct his own super grand mausoleum across the river from the Taj Mahal where the love of his life lay.
Shah didn't want to be put to rest next to dead Mumtaz. He wanted to have his own seventh wonder. Typical man. If you've got a mausoleum, I want a mausoleum. And mine will be bigger and better. And across the river. And by the way, I'm taking the remote control.
Remember, everyone needs their own space. Especially Emporers. And Mummys.
But, Shah Jahan never got to play with his new tools because he got ill, had a fall out with his sons and the most prominent and most influential son captured him and put him in the Agra Fort. Saving the family thousands on nursing fees. And there he stayed, until the day he died in 1666. His only view of the Taj being from a small window from the fort prison. Probably driving himself insane as he looked out over the Taj thinking 'That pillar could do with shifting to the right a little a bit'.
When Shah Jahan died, his son, very kindly, buried his father next to Mumtaz in the Taj Mahal mausoleum. The old chap had no say. No nice new shiny mausoleum for you Daddy. No. Budge over Mumtaz. The Emperors getting into bed.
There.
That's a very quick history lesson on the Taj Mahal. You're welcome.
Opening Times and Ticket Prices To The Taj Mahal:
Open every day apart from Friday. From sunrise to sunset.
Costs 1000 Rupees for foreigners, 530 for Citizens of SAARC and BIMSTEC Countries and 40 Rupees for Indians.
But let's face it. If you were Indian you wouldn't really be reading a Taj Mahal travel blog. You'd just ask your Grandma.
I was scared of going to the Taj because every Taj Mahal travel blog that I read was negative and scary, I'm not joking, I was almost ready to stay on the train and go straight back to Jodhpur. But, I put my big girl knickers on and gingerly stepped out into the station in Agra. Waiting to be attacked and abused.
Nothing.
Just the usual tuk-tuk drivers telling us that 'This is local price madam'.
Nothing new here then.
The twaddle and baloney that you'll be told from many of the Taj Mahal travel blogs and reports.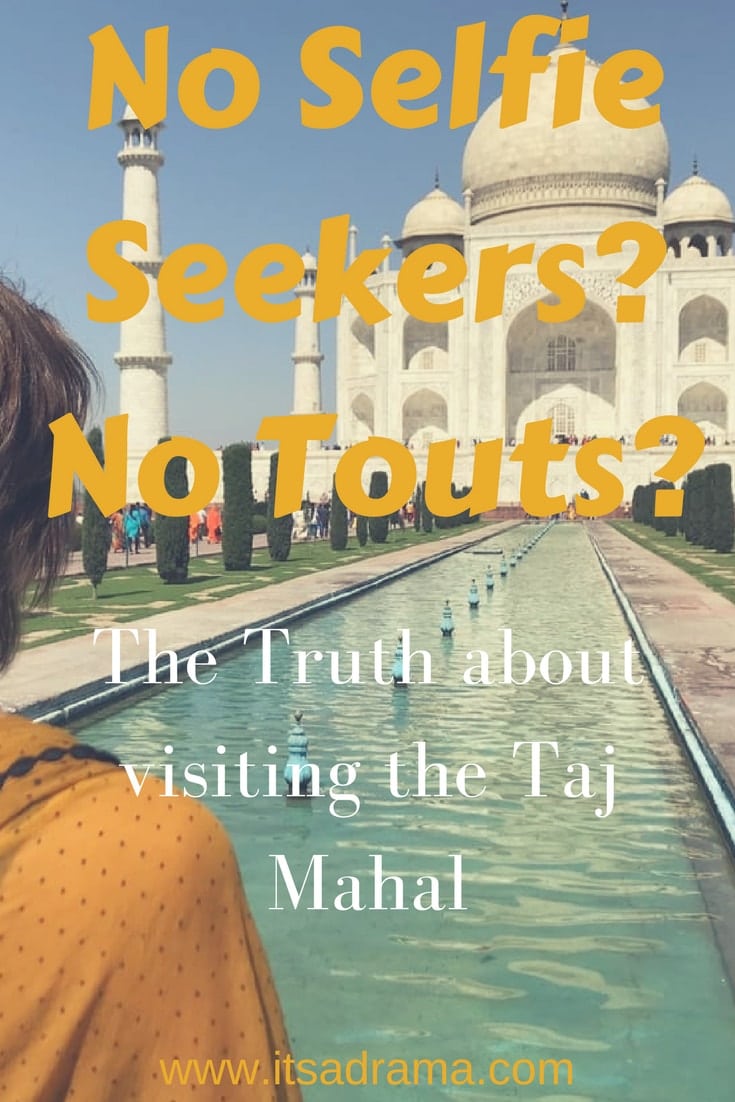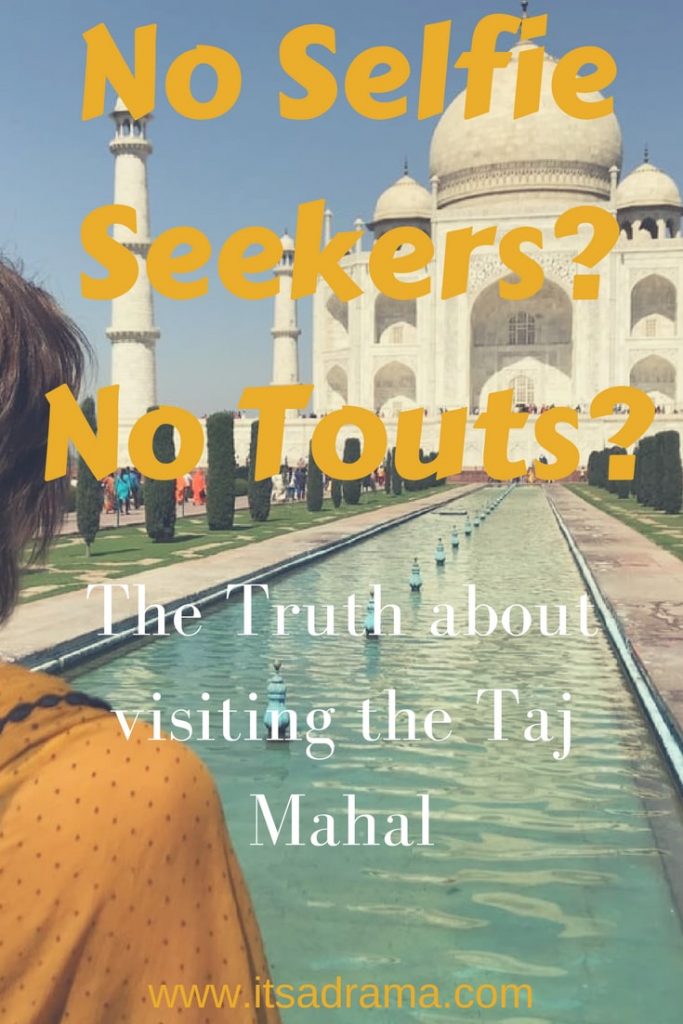 12 Things You May Read About The Taj Mahal (but in my experience were a load of twaddle)
 If you don't get there early, there will be masses of people lining up to get in and you will be squashed and trampled. 
We went to the Taj on a Monday in February at 12 pm. There wasn't one single person in front of us in line. Not one.
There will be millions of touts/hagglers/robbers all waiting to scam you and steal your belongings. Many visitors go home feeling cheated and abused says one news report.
Err. No. I think someone asked us to buy a magnet, but that was it. Oh, and a guy asked me where the toilets were. No feelings of being abused here, just super friendly Indian people.
 You won't be able to take any bags into the Taj Mahal or even a lipstick with you.
Because of this scaremongering, we didn't take a bag with us, causing my two teenagers to bicker about who was going to put the phones in their pockets and who would carry my glasses. Annoyingly, we saw loads of people with small bags in all shapes and sizes. Obviously, don't take a rucksack but you will be ok with a small bag it seems.
Thousands of Indian tourists will want to take selfies with you. They will even mob you if you say no!.
One group of girls asked us for a selfie. One. The rest ignored us and were busy taking their own photos. I was a bit disappointed actually.
 The Taj Mahal will be covered in fog, and you won't be able to see it.
Wrong. It was lovely and clear. Like I said it was midday in high season (February) No fog to be seen.
 The Taj will probably be covered in scaffolding and this will ruin your experience.
We were lucky here; they must have finished the cleaning process before we arrived. Very thoughtful. Again, a classic example of why you shouldn't worry about stuff until it happens. The only bit of scaffolding we saw was a bamboo makeshift that I think the security guard was using to get a better view.
Whatever time of day you visit the Taj Mahal, it will be chaotic. You won't find anywhere that you can be alone and enjoy the splendour of this beautiful building. 
When you have seen inside the Taj Mahal, come down the steps and turn right. Towards the mosque. Follow the path through the gardens and here you will find lots of shady places with wonderful views of the Taj. Everyone else is too busy taking selfies on Dianas bench. You will be practically alone.
 The streets of Agra are filthy.
Yes. The streets in Agra are dirty. But this is India. I suggest you visit parts of Delhi prior to coming to the Taj Mahal. That way you'll be used to to the smell of cow poo and wee and smokey fires.
You need to know what gate to use otherwise you will end up queuing like an idiot and you will feel like a plonker.
Wrong. We went to the south gate first because this was the closest to our hotel. Then we were told that this gate was closed so the tuk-tuk driver took us to the East gate. This was when I started to fear that we were being scammed as I'd read all the reports. No such drama. The gate was legitimately shut. I think the guards had just gone for their lunch or something. No drama. No scam. Hmmm. How boring.
There are aggressive policemen blowing whistles to keep the long line of people moving through the tomb room.
Everyone moved through the tomb at a very civilized pace. Yes, the policemen blow their whistles, but this is India. They have to blow something. Be it their car horns, their noses or a whistle. It's fine. It's what they do. Don't take it personally.
Don't go in the midday sun. It's boiling you will dehydrate, swelter and die.
We visited the Taj from 12 pm until 3 pm. There are loads of shady places for you to find a bench and have a bottle of water. (You get one free with your admission price).
You're put into segregated lines according to your sex. Separated from your party.
And? I think this is an amazing law. I wish it applied to the whole of the world. I'd much rather be with a load of calm women instead of standing in line pretending that I'm interested in the latest Liverpool results. Sigh.
Agra is filthy. Get out as quickly as you can.
No. Don't do this. The city has more strings to its bow than the just the Taj. And anyway, if you do you leave early  will miss out on this experience:
Go to the Hotel Saniya Palace and sit on the roof terrace with a cold beer and the best view of The Taj Mahal you will ever see for free. If you want to stay there, you can take a look at the hotel and prices here on Agoda. It's nothing fancy but would be worth staying there just for the rooftop breakfast with the best view in Agra.
Had I known about this place we would have stayed there, but we had already booked and paid for our room at the Hotel Dasapraskash. This was an excellent hotel for us as we had been backpacking around India for six weeks and wanted a little bit of luxury.
The price was reasonable with breakfast included and it was super clean with comfortable beds. But there is no view. You decide what you want to comprise on. If I did it again I'd sacrifice the comfort for the view. My kids might disagree with me though!
Taking A Guided Tour Of The Taj Mahal.
If you are still not convinced that you can do the Taj Mahal by yourself and you have more money than me (which at this moment in time wouldn't be difficult) you could always pay for a tour company.
There are loads out there but I would only personally recommend one and that's because they are small in numbers and concentrate on giving you the 'real India experience ' as opposed to the 'sit on a coach with an orange sticker on your forehead' experience.
In my opinion Get Your Guide is the best tour company there is. We have used them all over Asia as well as in Italy and have been thrilled with the expertise and value for money. Check out these tours.
A
Related Posts That You Will Enjoy!
Backpacking India. 25 Things you will NEVER say.
Why people travel. 8 Powerful reasons.
How people on a regular wage afford to travel the world.
Taking an India sleeper bus. Sheer hell on earth.
8 Travel tips that you can safely ignore. 'cause they're rubbish.
10 Travel essentials for the plane. Make your trip to India the best it can be!
However, you decide to experience  India, plan your trip to the Taj knowing that you must ignore all the negative information you might read on the Taj Mahal travel blogs. Take it all with a pinch of salt.
Unless of course you do get swarmed with selfie seekers. In which case, call me. I'll come and photobomb.