Why do you need a travel checklist?
Because there is only so much information can you store in your brain at once.
That's why.
Whether you are going on vacation or taking off on a long term worldwide travel adventure, your poor head will be whizzing with everything you need to do beforehand so what better way to combat that than to use travel check off list?
This post may contain affiliate links. They cost you nothing but we make a small commission.
Going On Vacation Or Backpacking The World. Your Ultimate Travel Checklist
My family and I recently returned for a year-long backpacking trip around the world so I know what you are going through. Here is a handy travel list that you can check off one at a time.
So that you don't have to have a fuzzy head as I did.
Meaning that all you have to worry about on vacation is whether or not to have a glass of red, white or rosé.
Enjoy.
(We have tried to keep this travel check list in some sort of order but forgive me if I go off on a tangent. It will be because I remembered something super important to tell you!)
The Important Stuff That Needs Crossing Off The Check List First.
1. Passports
Make sure everyone's passports are up to date and have at least 12 months left on them.
2. Visa's
Apply early (8 weeks min) for any visas that you may require.
If you are travelling to Vietnam know that you get part of the visa at the airport. Ignore any horror stories that people tell you about this, these, along with many other 'well-intended international travel tips' all almost always not true. Getting a visa for Vietnam is easy.
3. Safety
Check out any potential threats or warning concerning the country that you're travelling to.
You can download a specific app from your country's government website or else use do what we did and use the World Nomads safety destinations page. You will find their information thorough and up to date.
4. Vaccinations
12 weeks before travel get all of the recommended vaccinations.
Make sure you ask for a vaccination passport. This is a handy booklet with a log of which vaccinations you have had; you carry it with you when abroad.
I have to tell you this: We were sold a STACK of recommended vaccinations by our clinic in New Zealand when we told them we were taking our kids' backpacking around the world for a year. Had we taken every one the cost would have been $$'s. As it was, we opted only to have the important ones and spent the remaining money on excellent travel insurance.
Do your homework and ask yourself if there is a chance you will get bitten by a wild dog in the middle of Italy. If the answer is maybe, then get the jabs.
a
5. Travel Insurance
We (well, my husband) scanned the entire internet looking for the best travel insurance and I can safely say (without a doubt) that the best out there is World Nomads. You won't find better.
If you do decide to ignore my advice and go with someone else, please make sure that you are covered for dental (I needed a root filling in Thailand) and that your policy covers the excess if you hire a car or a motorbike. This saved us a fortune in Europe – especially in Ireland where the waivers would have cost us $$$s.
6. International Driving Licence
We hired a car in Italy for three months and drove it around the whole of Europe. It was amazing. Make sure you apply for your international driving license.
If you are visiting Thailand and plan to hire a bike (make sure you do, it is so much fun!), either take your bike license before you leave or else risk a $60 fine. We did the latter and were stopped by the police. It isn't so bad, they give you the fine but also write out a waiver for the next 21 days. Crazy but true.
Money Travel Checklist
7. Currency
Get at least $100 in each local currency. You don't want to be caught out. Order the currency from your local bank but allow at least a week for them to get it.
Don't make the mistake of leaving yourself short. If you are planning a trip to Ireland and are looking to drive around the remote parts of the country, then you will be pushed to find a bank or an ATM
8. Download These Apps To Make Travel Easier!
If you are like us and are always watching your budget (or if you want to keep the kids entertained with a task) get the free Travel wallet app for keeping track of what you are spending.
Download your favourite music from Spotify so that you don't pay data charges to listen to music.
You will love the free rome2rio app if you are touring around. Rome2rio gives you every transport option, including the cheapest way to reach your destination.
Get a taxi app for your phone! Uber, Pick me and Grab all work really well in Asia, the US and the UK, or if you are travelling in Italy, use It Taxi.
9. Plastic Money
Apply for a travel debit card which will allow you to pay in various currencies. They are usually free and extremely convenient.
Essential Travel Accessories For Your Checklist
10. Bags And Shoes
Buy the best travel purse/ flight bag/carry-on bag – whatever you want to call it, that you can afford. You DO NOT want to compromise on this bag, you will take it everywhere with you and it will get a lot of use.
Don't pack any more than 2 pairs of shoes. Hard I know, but you will thank me for this tip.
Take one comfortable pair of shoes for walking and for flying. You will be walking alot, especially if you are planning to visit cities where you will be doing lots of sightseeing – in Pompeii or Athens for example.
I bought a pair of Tiosebon shoes and I never had them off (as my kids liked to point out many times) they are good looking, incredibly comfortable and lightweight. You'll love them.
Along with your travel shoes, take a comfortable pair of sandals that can be dressed up. Remember, you can buy lots of pairs of flipflops for next to nothing if you are travelling to any of the Asian countries.
11. Travel Clothes
Only fly in comfortable pants. You don't want to spend twelve hours on a plane squirming in your seat for the sake of looking swish.
If you are going to a beach destination then pack a sarong if nothing else. You will use it on the beach and on the overnight train to block out the light. (See the tip about the electrical tape!)
Unless you are going to somewhere really cold and wet (and it's wintertime), don't bother with a coat, instead, pack a good quality rain poncho. These are much more versatile, easier to stuff into your bag and to be honest, are more stylish, and let's face it – style is everything.
If you are taking a trip to Italy then check out my what to wear in Italy post. You will look and feel every bit Italian.
For Pinterest!⇓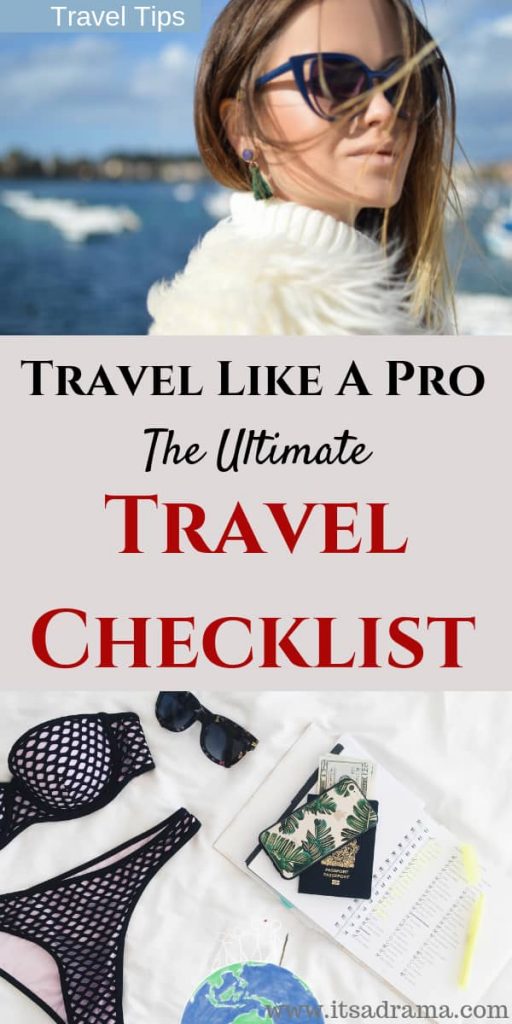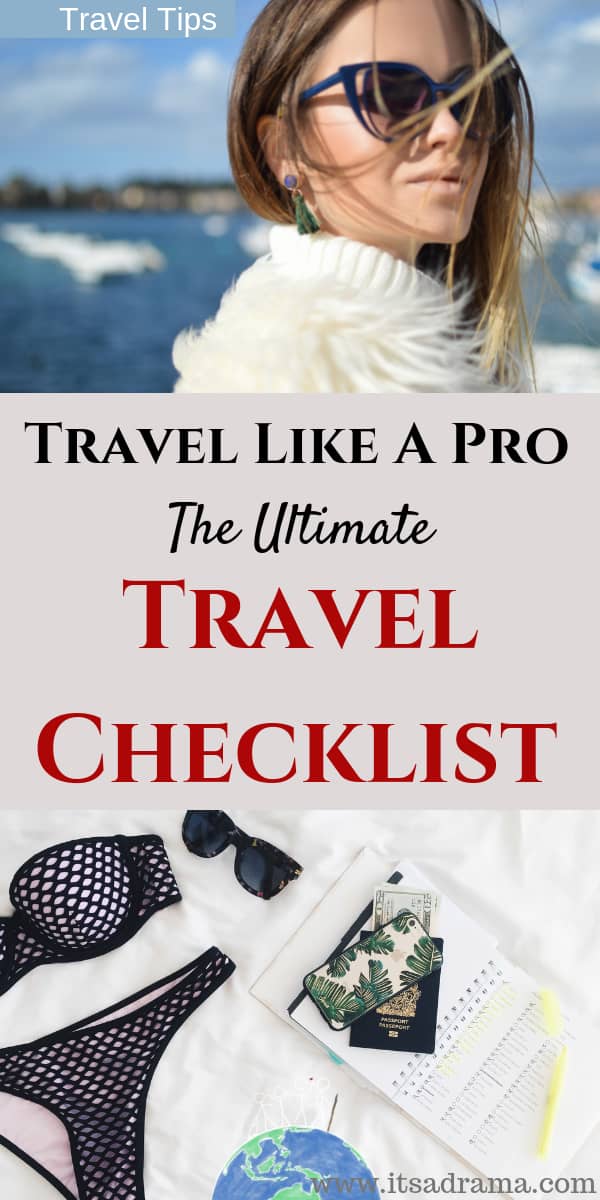 12. Keeping You Healthy!
Contrary to popular belief you can take your electric (or battery) operated brush on the plane with you. If you are unsure, check with your airline but we flew all over the world with ours and we never had any problems.
Buy your sunscreen before you go. Be warned! Sunscreen is extortionate in Asia, Europe (and New Zealand isn't cheap either). I only ever recommend the SunBum sunscreen because it is lightweight, great value, it smells nice and I have never burned!
Bug spray. See above and apply the same advice.
Insect repellant is so expensive in Europe and if you plan on travelling to Asia you will be lucky if you can find some. In fact, if you complain of being bitten you will be told to light another joss stick.
When it comes to bug spray, we only ever use this stuff. It is the strongest and lasts for up to 8 hours. When we were in Paris we went through loads of this stuff – be prepared! Paris has some nasty bugs!
Technology Travel Checklist
13. Tech stuff
If you are traveling to a unique destination that you know will supply you with amazing photo opportunities then consider traveling with a drone. The footage you will capture is breathtaking.
Don't listen to all of the naysayers that tell you they are illegal. Just do your research. Pick a drone that is suitable for travel and you will be glad you made the effort.
If you are going to use mobile data and wish to keep your own cell phone number for business etc (remember that when you use a foreign SIM it changes your number!) it may pay to get a personal hotspot device and load up a SIM card from your provider (eg, AT&T and Tmobile). This way your whole group will have the use of mobile data using the wifi from the hotspot device.
Get a decent travel plug adapter. I can't stress enough how much you are going to need one.
The best one on the market (and the one that my husband cherishes with all of his heart) is the BESTEK Travel adapter. It comes with adapters to suit most countries around the world and has 4 built-in USB chargers.
If you are travelling with kids you will know what I mean when I tell you how convenient this is!
Get the Google translate app for your phone. Download the language of your chosen country before you leave so that you don't use valuable data when you are away.
Get some travel headphones. Our family all have Beats wired headphones I can guarantee they are super comfortable, block out noise and for the price, are perfect for travel.
We have always prefered these wired headphones as we found you don't have to worry about charging them – especially useful if you have a long flight.
Get some plane adapters for your headphones. Some older style planes have the outdated 2 pin jack meaning that to watch the TV you have to use the planes horrid headphones instead of your own.
Things You'd Never Think Of (But Which You Will Thank Me For Including)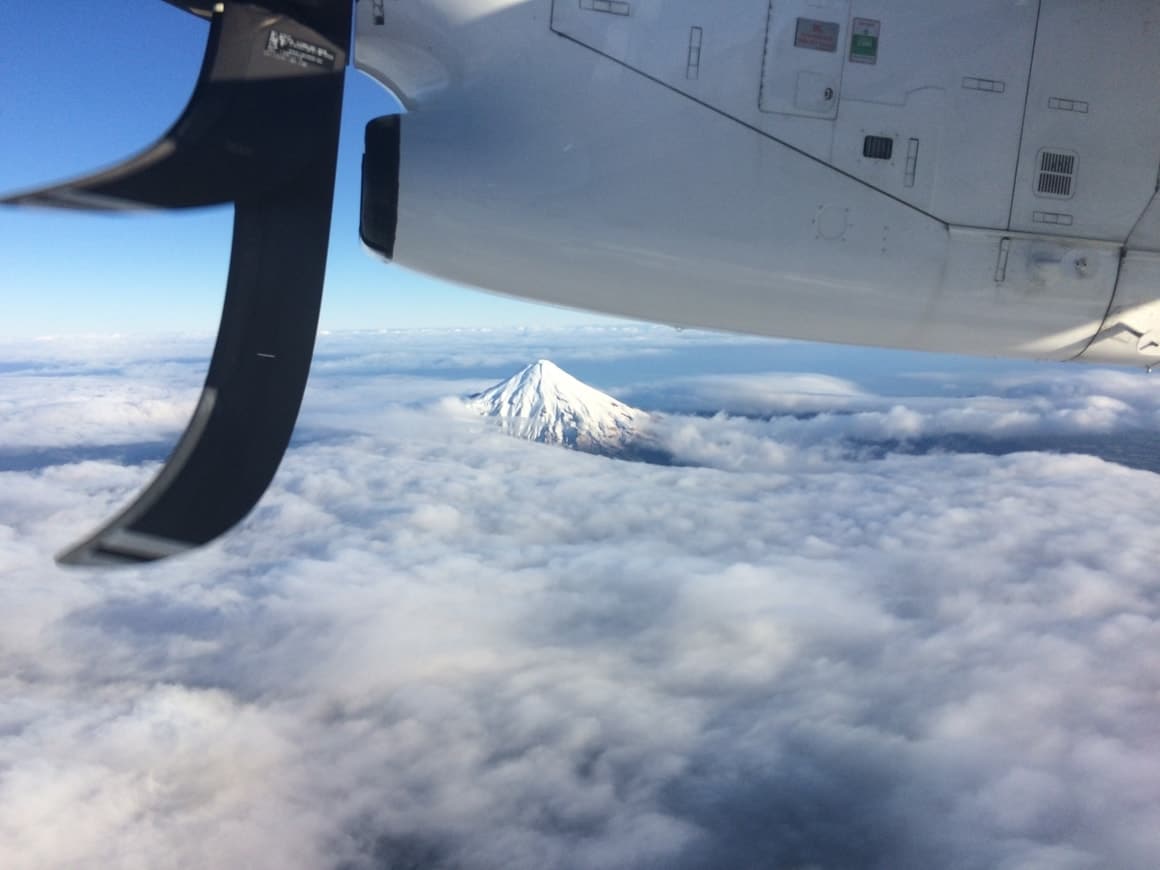 14. Pack some tea bags
I mean it! There is nothing better than turning up at your destination and knowing that you can have a decent cup of tea while you unpack. What can I say? I'm a Brit.
15. Multitool
My husband insisted I tell you about this travel tip. You won't go wrong if you pack this handy multi-tool for emergencies – and let's face it, there always seems to be one! (Remember though, pack this in your luggage and not your carry on flight bag).
16. Tape
CRAZY BUT TRUE TRAVEL TIP!!
Take a roll of electrical tape. You may think this is an odd accessory but honestly, we used this tape a LOT.
Taping my sarong to the ceiling of the overnight train from Bangkok to Chiang Mai in order to block out the light; taping the lids of leaky shampoo bottles down; keeping flapping curtains together. Taping the kid's mouths together (no, that was a joke). Seriously, you'll use this tape at least once, I promise.
17. Straps
Pack a couple of buckle straps in case your luggage breaks. Also handy for strapping extra pairs of shoes (or travel books etc) to the outside of your case when you need extra space.
In my opinion, this one is the best on the market.
18. Travel Pillow
Invest in a good travel pillow, or else take one of the brilliant Sleep Keepers (which means you have your own lovely pillow with you at all times!)
19. Bungee Cords
Bungee cords for broken bags or a temporary washing line; again, wouldn't travel without them.
For Pinterest ⇓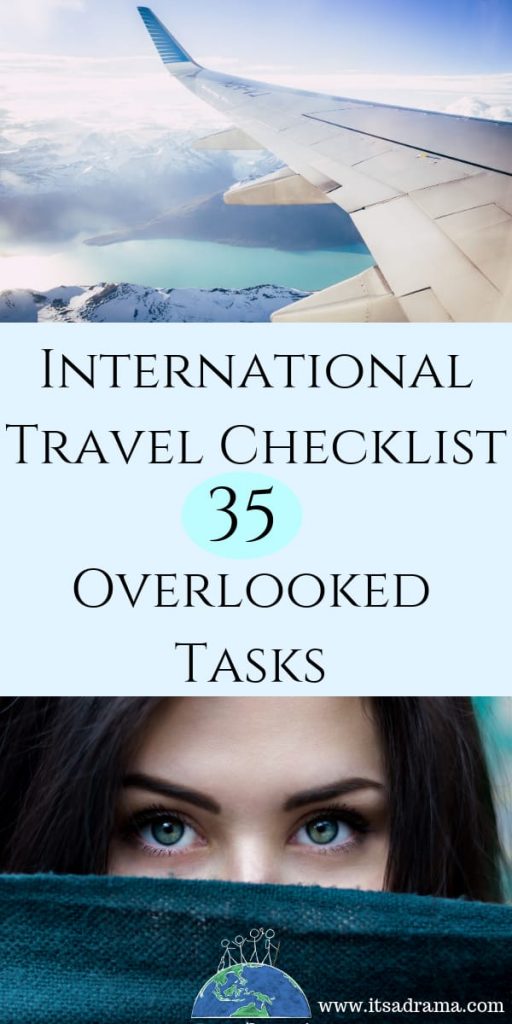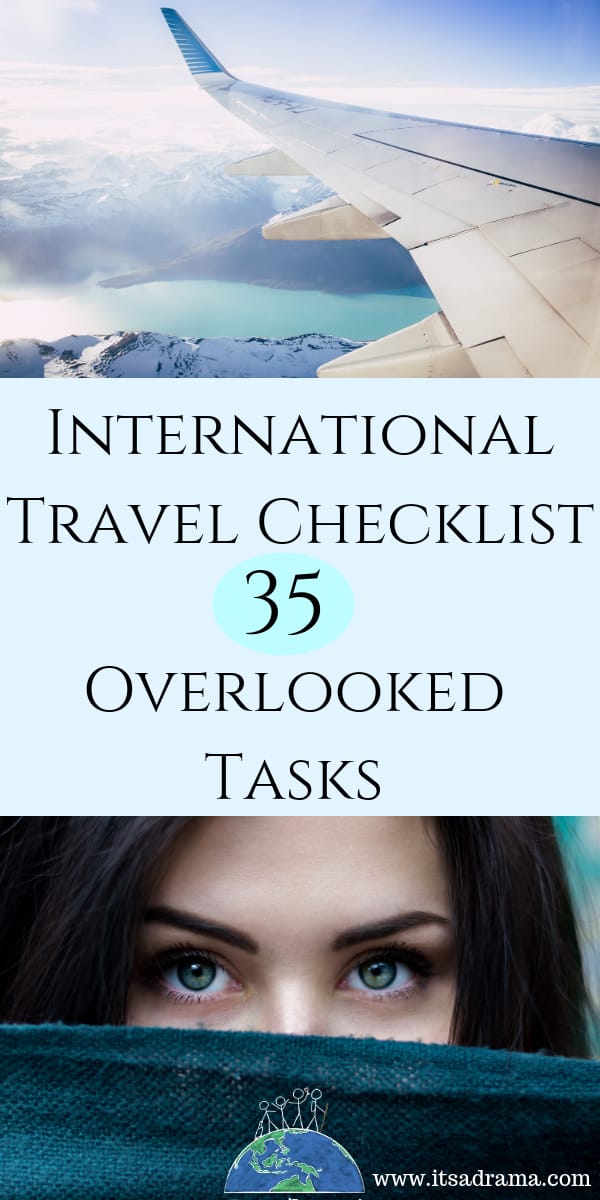 Travel Check Off List For When You Leave The House!
20. Be Extra Sure!
To do this, Read my getting ready for vacation checklist. (Sorry, shameless plug!)
21. Turn off Water
Turn the water off so if you get a flood there will be minimal damage.
22. Unplugs
Turn all plugs off, believe it or not, most devices use electricity even when they are in stand by mode.
23. Set Your Heating
If you are taking a winter break then turn your heating down to the frost protection setting (don't turn it off completely – you may come back to frozen pipes and a flooded house).
24. Mail
Arrange for your mail to be collected or, if travelling for longer than a month, get it diverted to a friends address.
Related Posts That You Will Enjoy!
Ireland travel tips. How to avoid looking like a f*ckin eejit
Christmas in NYC – see it like the movie stars
Having the STD talk with your teenage daughter. How NOT to do it.
Arrive feeling beautiful. 10 Plane essentials that you will never leave behind again.
Airport hacks that travellers don't like to share
5 Awesome European cities for kids that your family will never forget!
Things To Be Booked In Advance
25. Transport
Book any public transport that you plan to use in Asia well in advance. Overnight trains and sleeper buses fill up quickly, especially in India.
When booking transport in Asia we only ever use 12GoAsia they are the easiest to use and have the best customer support.
26. Tours
Book your tours ahead. We were devasted when we turned up to see Anne Franks house in Amsterdam only to find that we needed to book at least two weeks in advance.
27. Kennels/Cattery
Book the kennel for the dog or cattery for the cat well in advance.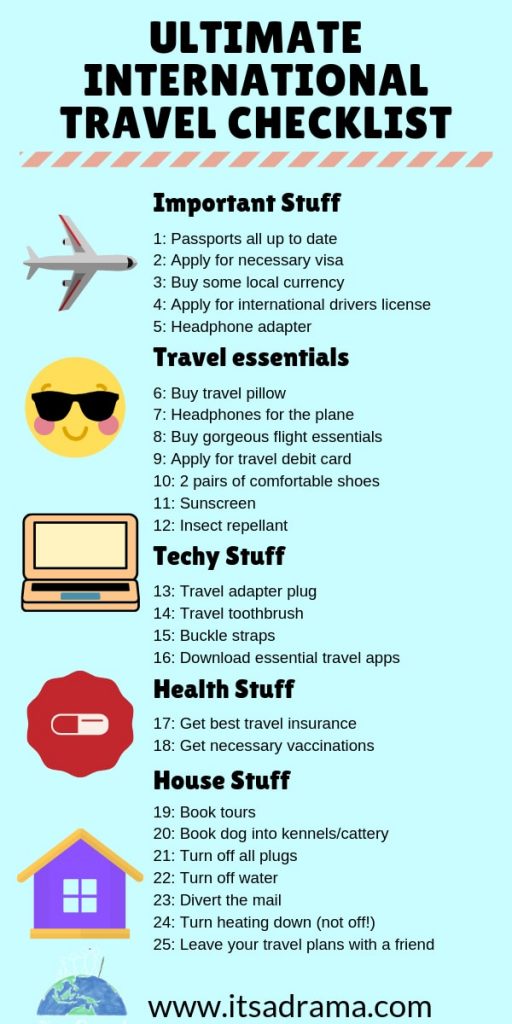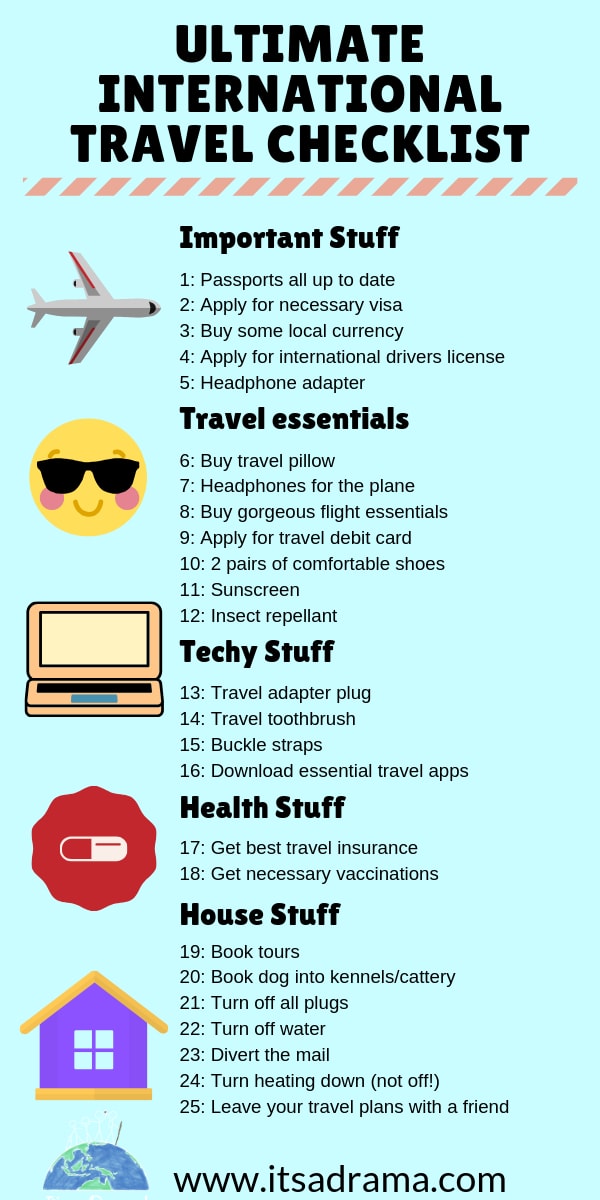 And Finally…Now That Your Travel Check Off List Is Empty…
Be prepared that coming home is hard. Especially if you have had the time of your life which I'm hoping that you do!
Whatever your travel plans involve – going on vacation or backpacking the world I hope you have enjoyed this ultimate travel checklist.
If there is anything, you would like me to add, please comment below and remember, no matter how organised we believe ourselves to be, a good travel check off list can make or break your trip! – please share this with anyone you think needs to keep calm and carry on travelling!