NYC. The city that never sleeps. NYC. Manhattan, Fifth Avenue, Wall Street, Broadway, restaurants with doormen in top hats. NYC. Glitzy. Expensive. Exciting. Luring. Sparkly words that describe a glittering metropolis. NYC on the cheap. Not a term that crosses peoples lips that often is it?
Like me, you may think that to visit this jaw-dropping city you are going to need stacks of cash, right?
Wrong.
We took two kids (age 16 and 13) to NYC for four days, and, even though we were on a budget, we managed to have a fabulous time finding unique things to do, eating wonderful food and staying in a skyscraper hotel with views to die for.
Here's how we did it and how much it cost.
How To Save Money In NYC Without Feeling Cheap
Lucky for you, I did all of the hard work, so you don't have to. I'm kind like that. You're welcome.
If you want to visit this wondrous city for a few days but are worried that you may have to remortgage your house to do so, relax, I've got it covered.
For Pinterest ⇓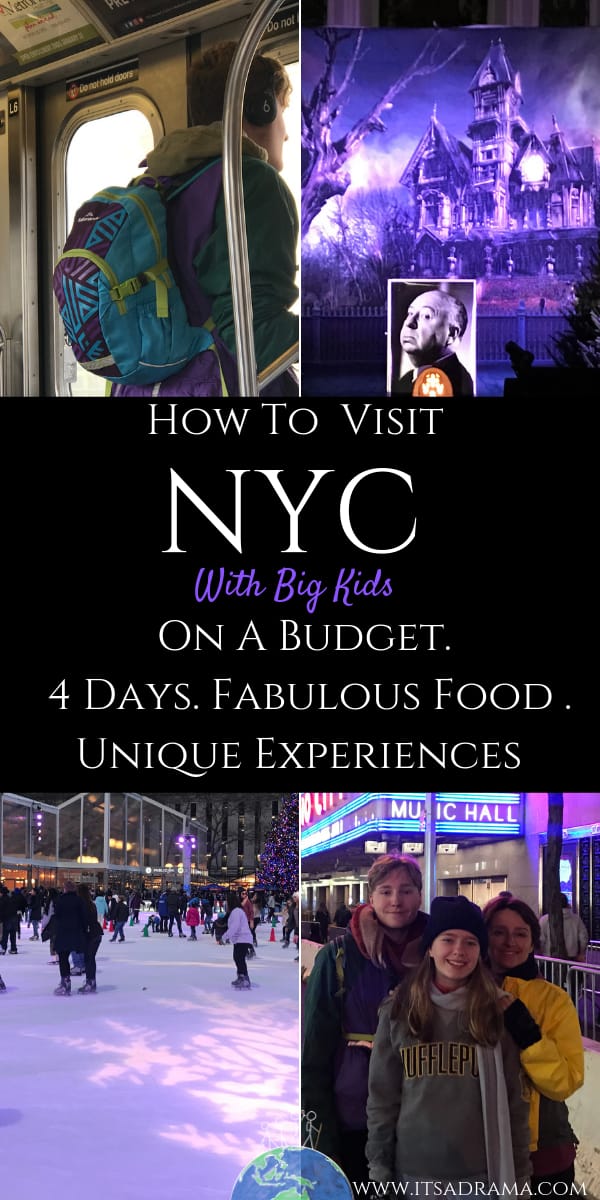 Accommodation In NYC.
Hotel De Point (in the Queens district)
We stayed in the Hotel de Point in Flushing, believe me, I spent hours trawling through hotels, and this is the one I kept coming back to. I am so glad I did, it was the best option for cheap hotels in NYC
Although this hotel isn't slap bang in the middle of the city, neither is your budget; that's why you are going to love me for the recommendation.
Staying in Queens gives you a real sense of adventure! It is only 40 minutes from the centre of Times Square, and Queens itself has some amazing bars and restaurants.
Here's why the Hotel De Point in Queens is the best choice for you if you want to visit NYC on the cheap – like us.
Location: The hotel is on a quiet side road just outside Flushing in Queens. There is a rooftop bar with fabulous views out to the city.
Parking: IS FREE!.
Getting to Manhatten. The Q25 bus stops right outside the hotel. It takes about 10 minutes bus ride to get to the station in Flushing. (Get off the bus, and the subway is on the other side of the road, behind you on the left) Get the purple line 7 straight to Manhatten. You can't get on the wrong train. Flushing is the end of the purple line. It will take you about 35 minutes. Take a book, or just people watch.
Free breakfast. When I read the reviews about Hotel De Point, lots of people were complaining about the quality of the breakfast. Granted, this is not the ritz, and yes, the cutlery and plates are plastic but come on. You're on a budget.
Order the waffles with maple syrup and bananas. My teenagers had three every morning, and it saw them through until lunchtime. There is toast and scrambled eggs. It's excellent considering the price; you will not go hungry. I've had worse breakfasts in much nicer hotels.
Free coffee and tea in the hotel lobby. My son thought hed died and gone to heaven. This freebie saves you $10 a time. Get hot drinks for the bus ride and feel like a real New Yorker.
For a family of four. Two large beds in a large airy room. $104 per night.
Total cost for four nights: $416
Although I am an affiliate for Booking.com, I was not paid to write nice things about this hotel.
All the information that I give you is my own opinion. There isn't anything negative I can say about our stay. If I stay somewhere that impresses me, I always want to pass that information on.
Click here to check out the availability and prices of the Hotel Du Pont.
We visited New York City before the kids were on the scene. We had a café and plenty of cash, so we didn't really skimp. You can read about us and our story here.
But then the kids came along. Our recent trip to New York looked nothing like our previous experience.
But you know what? This time it was better. Doing New York on the cheap will give you and your family and more memorable experience, plus, you won't be paying for it for the rest of the year.
Best Way to Get Around NYC on a Budget
If you plan on staying in one area for the entire duration of your stay in NYC, you could get taxis, and this would no doubt work out cheaper for you, especially if you are a family.
But. Who wants to come to the most exciting city in the world and stay in one place for the whole time? Not you?
Good. Glad to hear it.
In that case, other than walking, you are going to need to buy bus or metro tickets to get yourself from one place to the next.
We got a seven-day unlimited pass, this was perfect for us as the card covers the whole of NYC, so it meant that it cost us nothing extra to get back to the hotel.
The card is good for buses as well as trains. The tickets are easy to buy. Every Metro station has a bunch of machines that you can get them.
Just a note, we tried to use our travel charge card to buy all four, but it would only let us buy two. Probably an error on our bank end but just be aware; you might have to pay by a different means.
Total Cost: USD 128 (4 people).
Best Restaurants in NYC For Those On A Budget
We were in NYC for four days. Here is how we ate on the cheap and loved it.
Remember, the costs are for a family of 4.
Amazing cream cheese (and loads more toppings) bagels and coffee. Busy place with locals.Fresh, big and cheap bagels. We shared two between us, and it was enough. (especially if you've filled up at breakfast as I told you to).
Cost: $13 USD
The walk to this bakery is an experience in itself. Harlem is a very happening neighbourhood. I loved it. This is where you are going to find not only the cheapest but also the BEST cookies you will ever taste.
My daughter had a chocolate brioche, and it was also delicious. Because of the price we pushed the boat out and didn't share. Nice coffee and tea. Fresh, huge (this is important to us. We have a teenage boy who likes to eat and is always hungry) and delicious.
Cost: $23 USD
Dinner in Chinatown at the Wo Hop.
The reviews of this restaurant were excellent, but when we got down the little steps to a basement restaurant, we found a restaurant that was indeed very busy but was full of tourists. There wasn't one Chinese face which isn't a good sign.
But, we were late for the theatre so we couldn't be bothered to look elsewhere. I'm glad we didn't. The food came quickly, and the portions were massive.
It was the usual western Chinese food, lemon chicken, shrimp fried rice, ribs, beef in a black bean sauce with noodles etc. But it was delicious. The meal comes with free tea; the dishes were fresh, huge and very, very cheap. At least the waiters were Chinese.
Cost: $29 USD
If you stay in the hotel that I mentioned there is an Italian restaurant downstairs.
On our last night, we were pretty weary and decided to go back to the hotel to veg out in front of a movie. We ordered pizza, and they delivered it to our room. Perfect.
There is also a liquor store two blocks from the hotel (next to BJs). We bought a bottle of red and drank it out of the paper cups that are in the hotel lobby next to the coffee machine. I sacrificed a lot of wine while trying to do NYC on the cheap. I love wine as you know, but even I know that $8 for a glass of wine is too much when you are on a budget like ours.
There was enough leftover pizza for us to eat on our road trip to Rochester the next day, so that justified the higher cost.
Cost: $59
Peking Duck on the side of the street in Chinatown.
Eating in China town in $10. Go to a busy Chinese supermarket and order one of the boxes of Peking duck and sauce from the deli section.
They are warm, and the nice lady will give you takeaway forks and napkins. Go outside and find somewhere to perch. We sat on some pallets. Get in quick before your teenage son eats it all.
Cost: $11 USD
As you can see, we love Chinese food. The best we ate while trying to do NYC on the cheap were from Xi'an Famous Foods.
I had the cumin Lamb, and it was delicious. Again, the portions are plentiful.
You can eat inside this tiny little place, but we couldn't get a seat. Go over the road, and after about a two-minute walk you will come to an outdoor plaza. There are tables and chairs. Eat your meal here.
Ok, so you've found somewhere to sleep, your belly is full of delicious food, and your wallet is still looking relatively healthy.
But what about activities? Unique things to do?
Is it possible to visit this city with a family, with teenagers and still say you managed it on a budget?
Yes, my friend. It is.
Would you love to travel more for a lot less? Then let me show you how! Join my FREE newsletter, and I will send you a complimentary copy of my ebook "Travel More, Travel Better, Pay Less". I look forward to getting to know you better!
The main reason for us bringing my kids to New York was to show them, Broadway. My son has got his heart set on being an actor and so what better place to visit than the worlds most famous theatre district.
We always knew that we would try to see a Broadway show. We weren't too concerned with which one, as long as we could get discount tickets. The tickets were our chief extravagance when we were in NYC, but it was worth every penny.
If you are visiting NYC with a family and you are trying to do everything on the cheap BUT you don't want to sound like a misery by constantly saying "No" to everything they suggest, try these activities.
Unique Things to Do in NYC That Won't Break The Bank
See A Broadway Show.
I bet you weren't expecting me to say go and see a show, but guess what? There is a way to get tickets half price! Yay!
We saw Miss Saigon. You can buy tickets on the day of the performance from any one of the three TKTS ticket booths. We chose the South Street Southport booth in Manhatten rather than the time's square booth. I'm glad we did. There was no line, and we got four fabulous seats – seven rows from the stage, for 50% off the original price.
Remember, this was an extravagance for us. When you think of how the cost of the tickets was nearly as much as the hotel for four nights, it's not exactly cheap, but as I said, this was on the bucket list.
Ice Skating.
How many times do we see the movies with a little girl skating around the empty Rockefeller skating rink? Round and round on the sparkling white ice, under the giant glittering Christmas tree. The reality? A tiny rink that is packed to the gunnels with people, each clambering to get an inch of space.
And the parents. Looking grey with worry at the thought of how much the whole experience is costing them.
If you have your own skates, go to the Bryant Park Rink in Winter Village. It's free!
If you need to hire skates, then go to the top end of Central Park just south of Harlem Meer. Here you will find the Lasker Rink. It doesn't have all the bells and whistles of the more popular rinks, but the upside to this is there are no crowds, and it is cheap.
Plus, from here you can walk a few blocks and visit the Levian Bakery that I told you about.
For Pinterest ⇓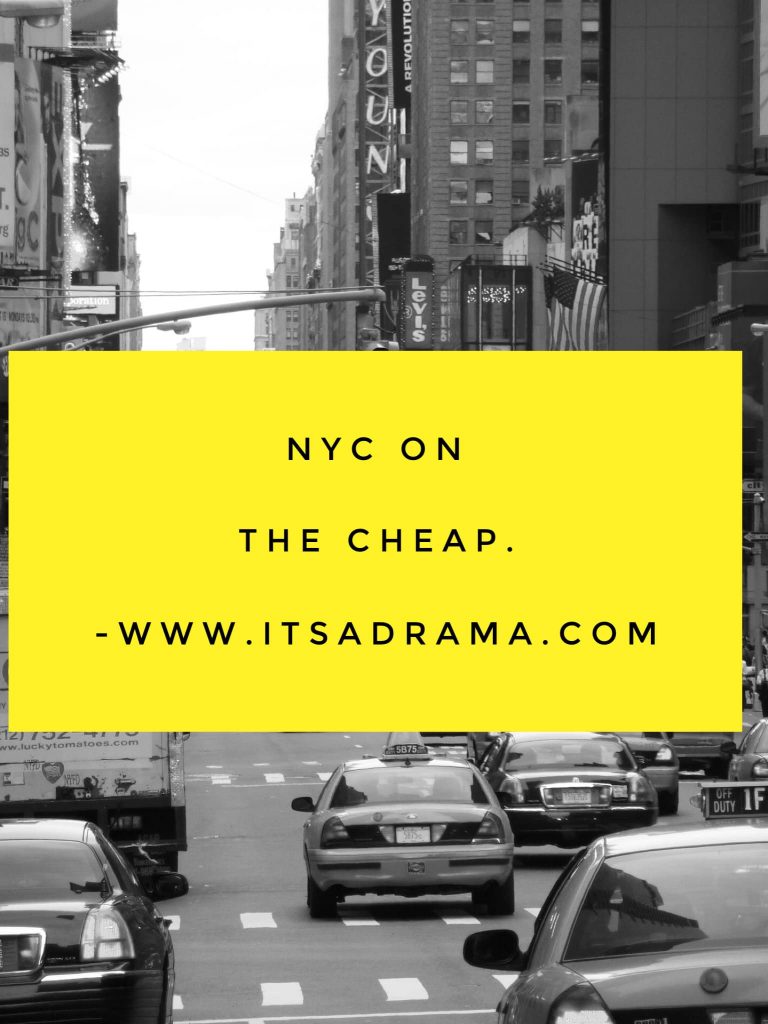 See An Off-Broadway Show In Greenwich Village
We are theatre fanatics, and I wanted to take my kids to see actors who had to work for their money – without the beautiful sets, costumes and lighting.
If you become a member of the TDF (Theatre Development Fund) for just USD 29, you will be able to buy heavily discounted theatre tickets.
We bought tickets for a bargain USD 9 each, to see the opening night of the Alfred Hitchcock Radio Play, and it was superb. Not a tourist in sight.
The audience was made up of locals, and what a colourful crowd they were.
You will not regret going the extra mile to support the lesser-known theatre companies.
If we hadn't had the kids with us, I would have liked to have gone on to a jazz club. But that's not what this trip is about! Maybe next time!
Cost: 4 tickets = $36 USD
See the Statue of Liberty from the water
Take the free ferry over to Staten Island. Get on at the Whitehall Terminal in Lower Manhattan.
Go to the top deck (wrap up if you go in December as we did!) on the right-hand side, and you will get a fabulous view of the lady herself.
You have to disembark at Staten Island and get back on the next ferry back to Manhatten. The transfer is easy. Just follow the crowds.
Cost: Free
Ride the Metro.
People watch and listen to talented musicians. If you bought the unlimited metro card, you might as well use it.
Sometimes we would just stay on the metro for a few stops just to listen to the goings on within the carriages. This in itself is entertainment, and the kids loved it!
Visit Central Park
If you are looking to experience this lovely park, this haven of tranquillity amidst the blaring horns and the bustling crowds, then walk around Central Park on foot.
Every corner that you turn will show you a different glimpse of the beautiful Manhatten skyline. Within the 843 acres of Central Park, there are musicians, dog walkers, and wealthy New Yorkers taking their children to their private ice skating lessons.
Just go there and walk. People watch. Relax and soak it all up.
Cost: Free.
Related Posts That You May Enjoy!
Travelling with kids. How to stay sane before wine o'clock.
Taking the Ft Lauderdale water taxi. How to, why, and how much.
8 Travel tips to ignore 'cause they are rubbish
Couchsurfing with a family. The good, the bad, and the bucket
Leaving everything behind for a year. Why we decided to backpack the world with our teenagers
We visited NYC in December, which was amazing as all of the holiday displays decorated the shop windows.
We came from Charleston where the cobbled streets were lined with beautifully lit houses but still, nothing beats NYC at this time of year.
It was magical.
This is yet another free activity you can do if you plan on visiting at this time of year.
As you can see though, whatever time of year you visit New York City, you need not spend a fortune.
The Total Cost For a Family of Four to Visit NYC
Contrary to popular belief, visiting NYC on the cheap is possible! We were there for four nights and three days and the total cost for the four of us (and remember, my kids are 16, and 13 and eat. A lot.) Drum roll, please…
Total Cost: Four People Visiting NYC (including seeing two shows) USD 1167
Have you been to New York City on vacation?
How did you save money? Were you on a budget? What was your most extravagant splurge?
Drop me a comment below and let me know how you managed to do NYC on the cheap. Until then, happy travels!
Would you love to travel more for a lot less? Then let me show you how! Join my FREE newsletter, and I will send you a complimentary copy of my ebook "Travel More, Travel Better, Pay Less". I look forward to getting to know you better!