Travelling is like getting pregnant. Only a lot more fun, and you feel thinner.
As is the case with an imminent birth, as soon as you announce to the world that you intend to pack a case and head out on vacation, you will be bombarded with lots of well-intended tips for travel.
This post may contain affiliate links. They cost you nothing, but we make a small commission. If you would like me to explain it further, please visit our disclaimer page.
If, like us, you are planning to visit Thailand, Vietnam or Japan, you will be inundated with 'helpful' travel tips. Well-meaning advice.
Whether you want it or not.
Some of this advice is worth taking on board, but beware; a small percentage of these tips are from scaremongers, doom and gloomers. Usually, those who have never set foot out of their own country. These people believe that travel is only for the rich or for young foolish twenty-somethings.
They will bombard you with tips concerning things that can and probably will go wrong. Ignore them.
They're talking rubbish.
14 Tips For Travel That You Need To IGNORE.
We are currently travelling the world for a year as a family. We are into our tenth month of travel. We have been to Asia, America and Europe.
Here are 14 travel tips that people gave us (free of charge) when we told them about our plans to travel to Asia. Total crap, all of it.
Drum roll, please.
PIN THIS FOR LATER!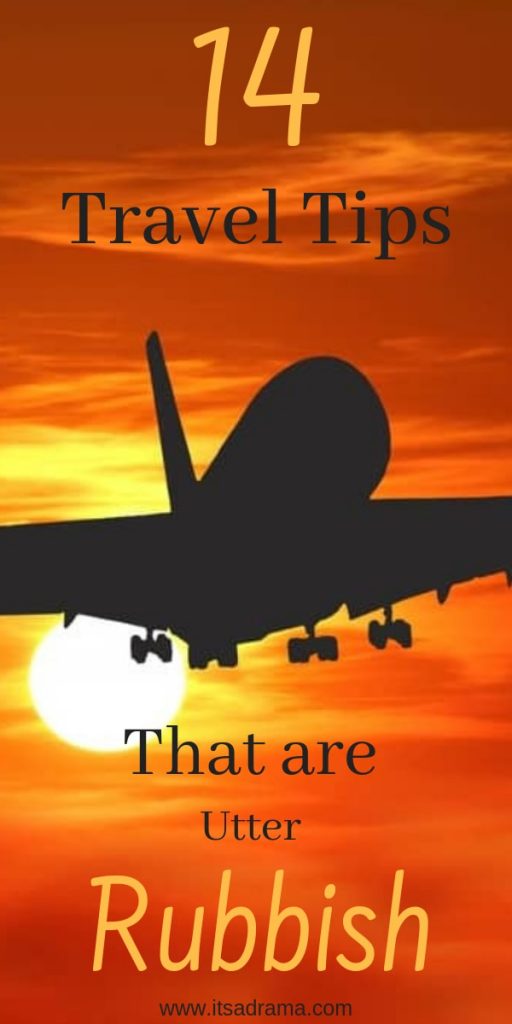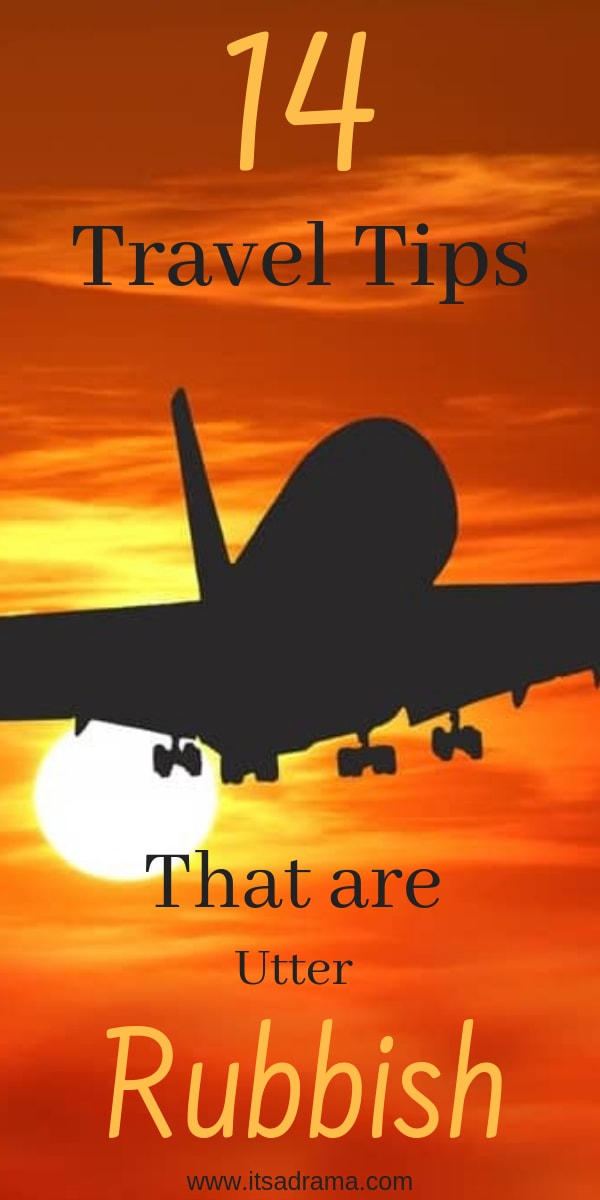 Travel Tips in America.
TIP: Don't Discuss Politics. People are extremely cautious with strangers and very touchy about this topic.
Tip: Be prepared for staff members to be rude. Pushing and shoving at airports and supermarkets.
Reality:
We spent six weeks in America last year. We hired a car and drove from the bottom end of Florida to the tip of Upstate New York, stopping in Charleston for a ghost tour along the way and squeezing in 4 days at Christmas in NYC. It was fabulous.
We loved every single minute of it. America was a super friendly, courteous and happy place to visit.
Because we were on a budget, we couchsurfed. We did this in a few states, including Washington. Our Washington host worked for the government so we got to talk about plenty of politics. Over dinner. I know. What can I say? I'm a rebel.
It was fascinating and educational. Our host was keen to talk about her political stance and enlighten us on things we weren't aware of.
Stay open-minded and listen to what people have to say. We found that the American people were more than happy to discuss politics.
Customer service is king in America and it never failed to amaze us just how polite and eager to please staff members were. Even the airport staff were friendly.
Travel Tips Sri Lanka
TIP: Don't hang out of the train doors in Sri Lanka, as it is illegal and unsafe.
TIP: Don't get the local buses. The drivers are maniacs, and you will quite possibly all vomit and die.
Reality:
Sri Lanka travel is one of its own. We went everywhere by bus in Sri Lanka and it was the best. Yes, it is like going on a roller coaster without a seatbelt but you're in Sri Lanka, it's all part of the experience!
If I'd listened to the naysayers and avoided the bus we would have missed out on the purple neon, the T.V being played at full blast from the front of the bus and the colourful locals. Take at least one bus when in Sri Lanka. I insist.
We travelled extensively by train in Sri Lanka. We paid for fancy seats on the observation train from Colombo to Ella and other times we went third class and sat in the doorway watching the world whizz by. The latter was the best. There is no better feeling in the world than watching the golden sands of beautiful Sri Lankan beaches such as Mirrissa heading toward you and knowing you are going to be laying on that same beach the next day!
I don't know of any other country where you can stand in an open door on a train. It was amazing. Live dangerously. Hold tight and enjoy the ride.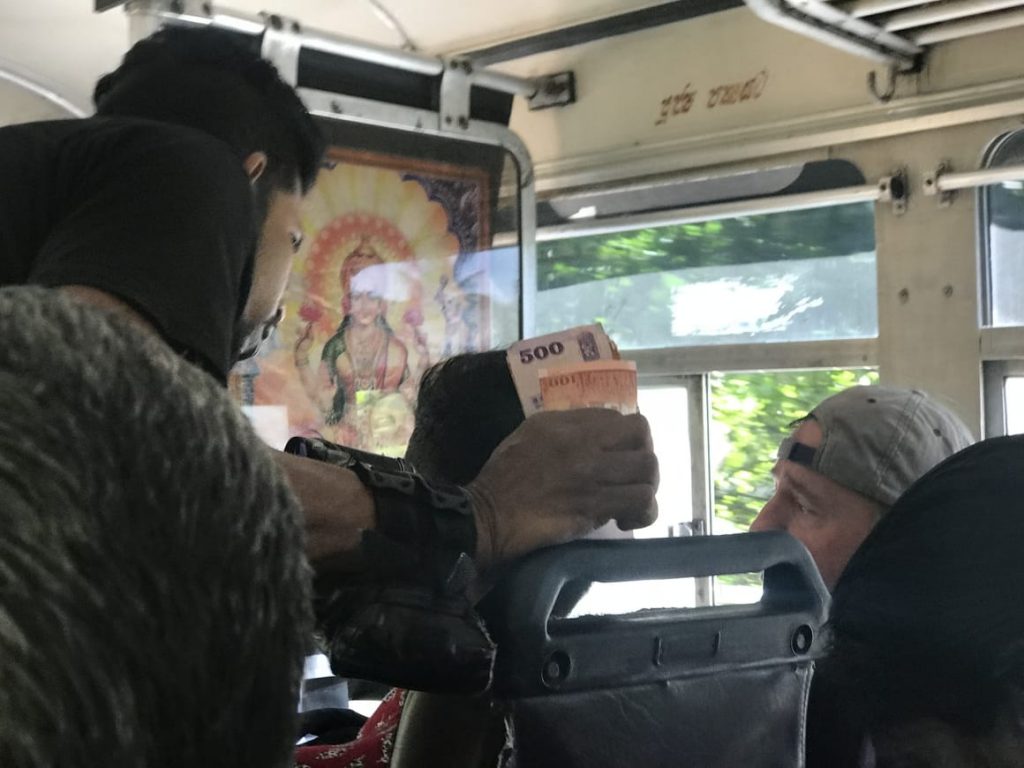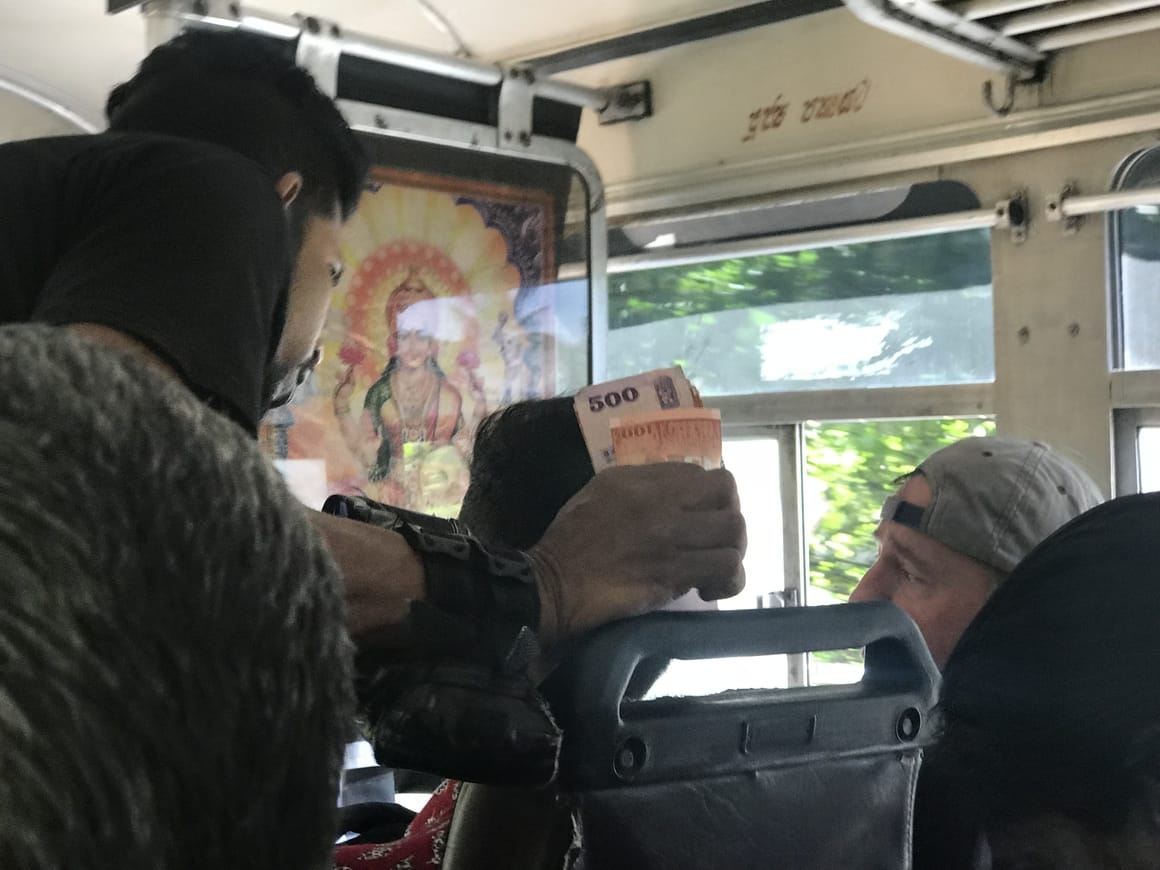 Travel Tips For India
Tip: Take lots of diarrhoea tablets with you. You'll need them.
Tip: Keep your daughter on a tight reign.
Tip: Don't visit the Taj Mahal as you will be queuing for six weeks and anyway, you'll die of dehydration in the queue.
Tip: Train Travel Is Impossible To Book.
Reality of Travel in India:
We spent seven weeks backpacking around India, and I never got ill. Not once. I was a bit disappointed to tell you the truth. I was counting on losing a few pounds.
We only ever ate where there were lots of locals. Our favourite restaurant of all time (which was in Alleppey) still holds the title for the tastiest, friendliest and cleanest restaurant I have ever eaten at.
My daughter nor I ever felt threatened – true, we were travelling as a family with my husband and son but even so, there were times when we went off on our own and I never felt unsafe.
We visited the Taj Mahal and were the only people in line. That's true. We weren't mobbed by selfie seekers, and the man at the gate gave us a free bottle of water, so we didn't die.
Train travel in India isn't the easiest, but it certainly isn't hard when you know who to use. Don't mess about trying to figure out the crazy Indian rail website. We used the fabulous 12GoAsia to book all of our tickets, and we never had a problem.
Just be sure to allow a few weeks to book if there is more than one of you.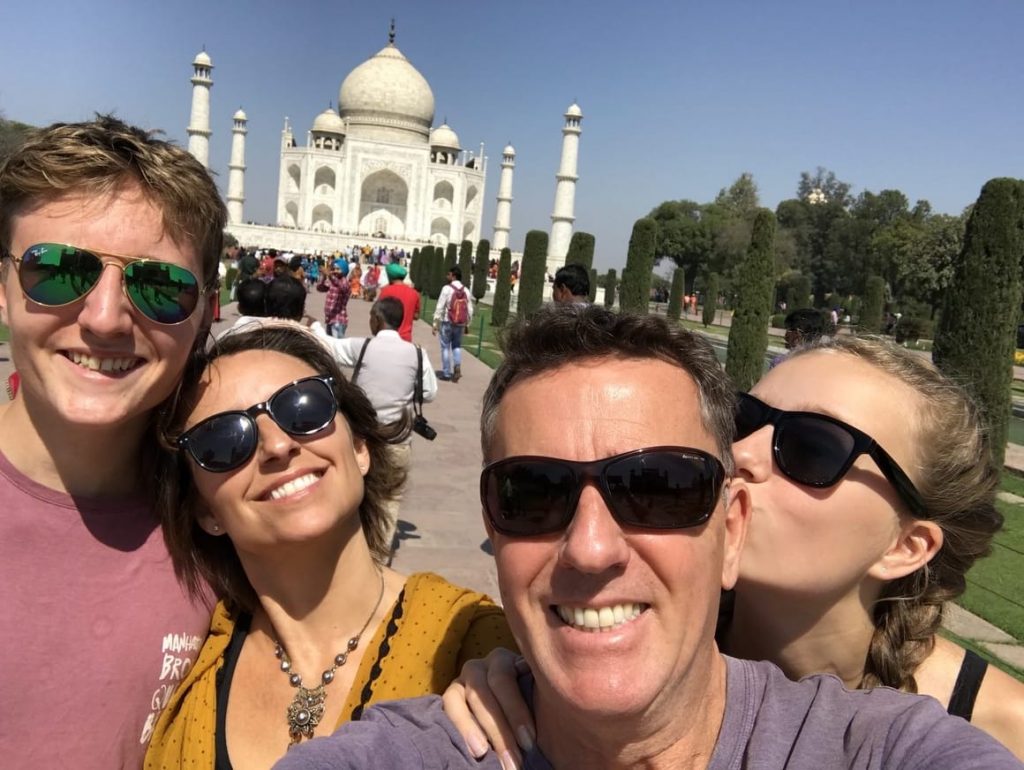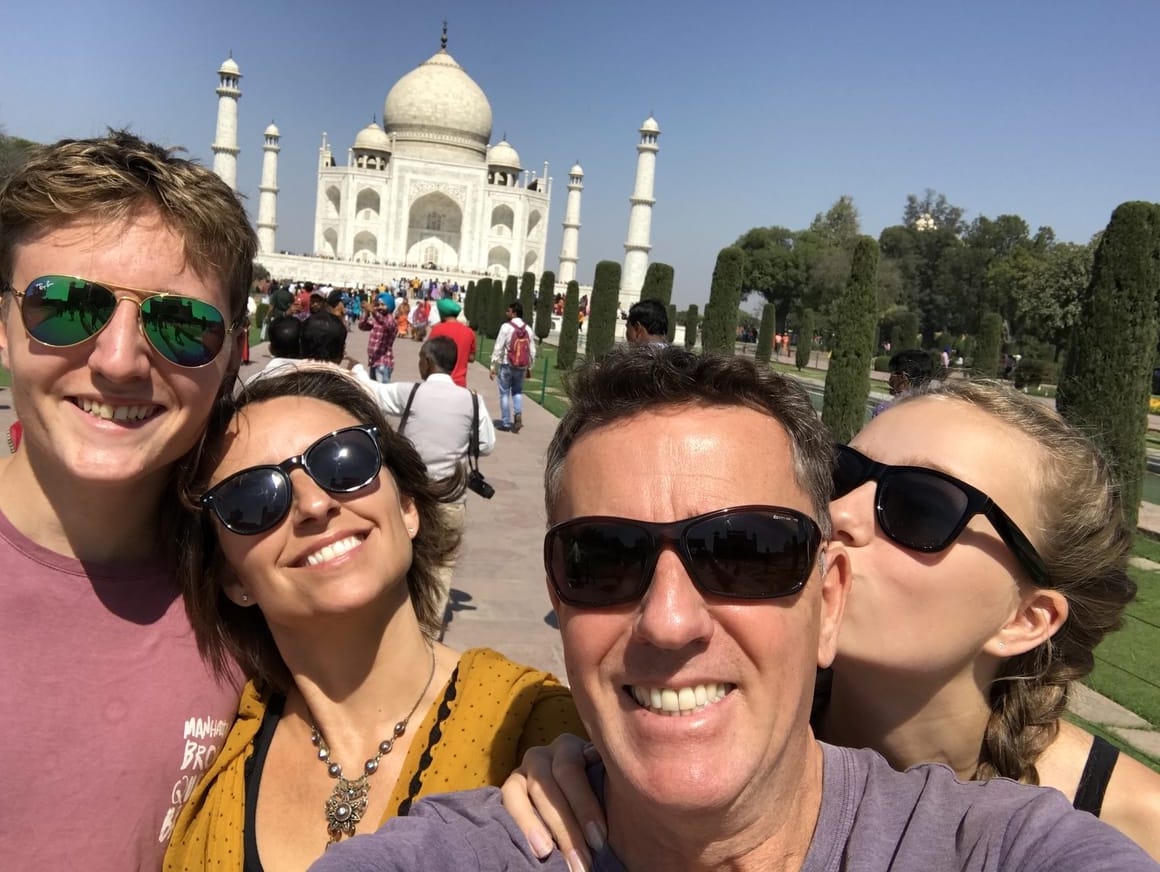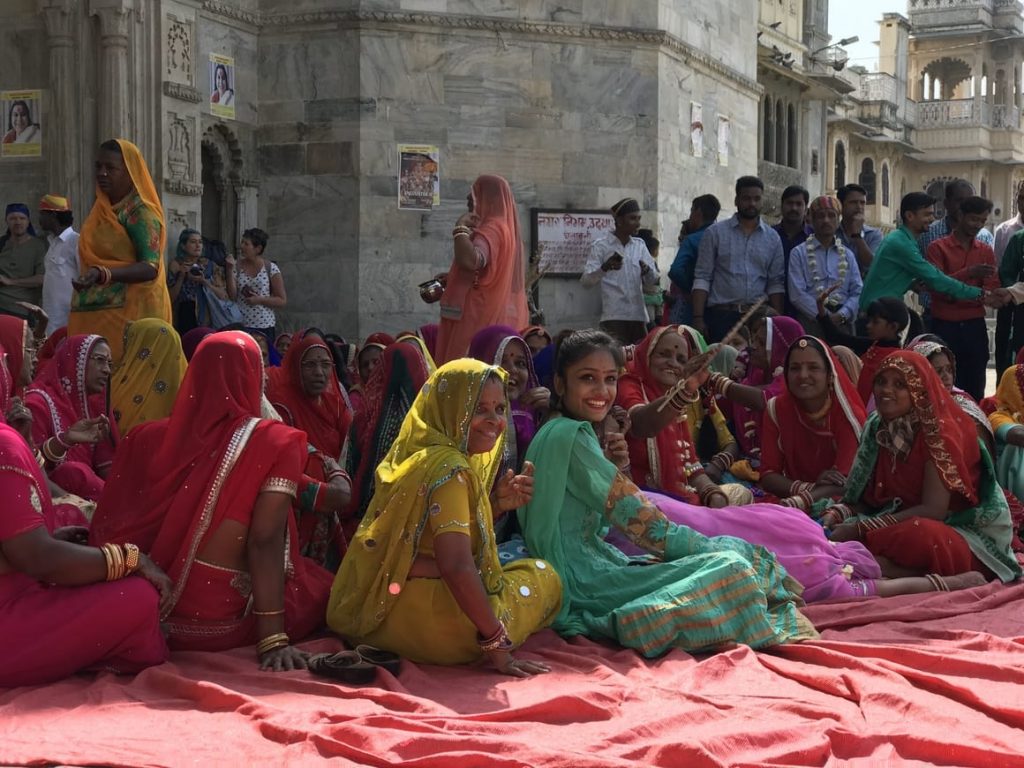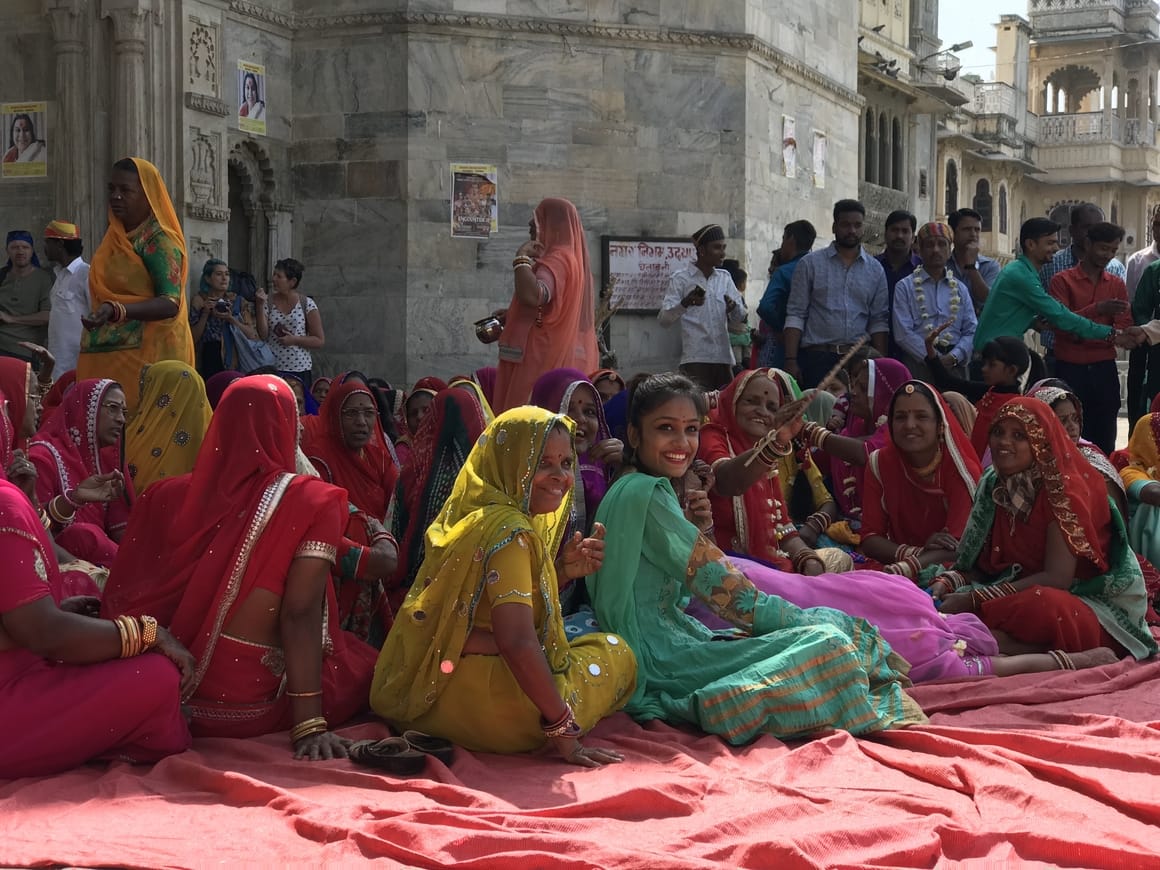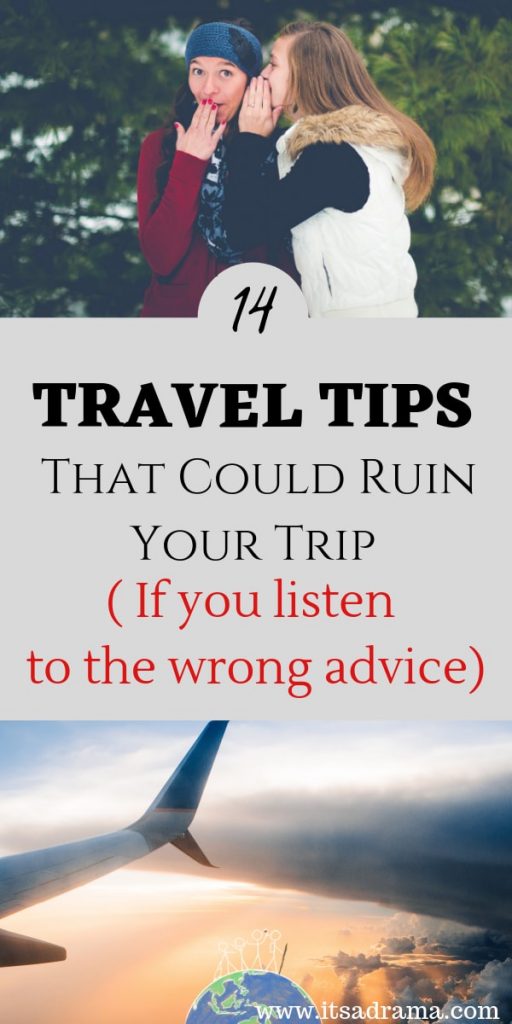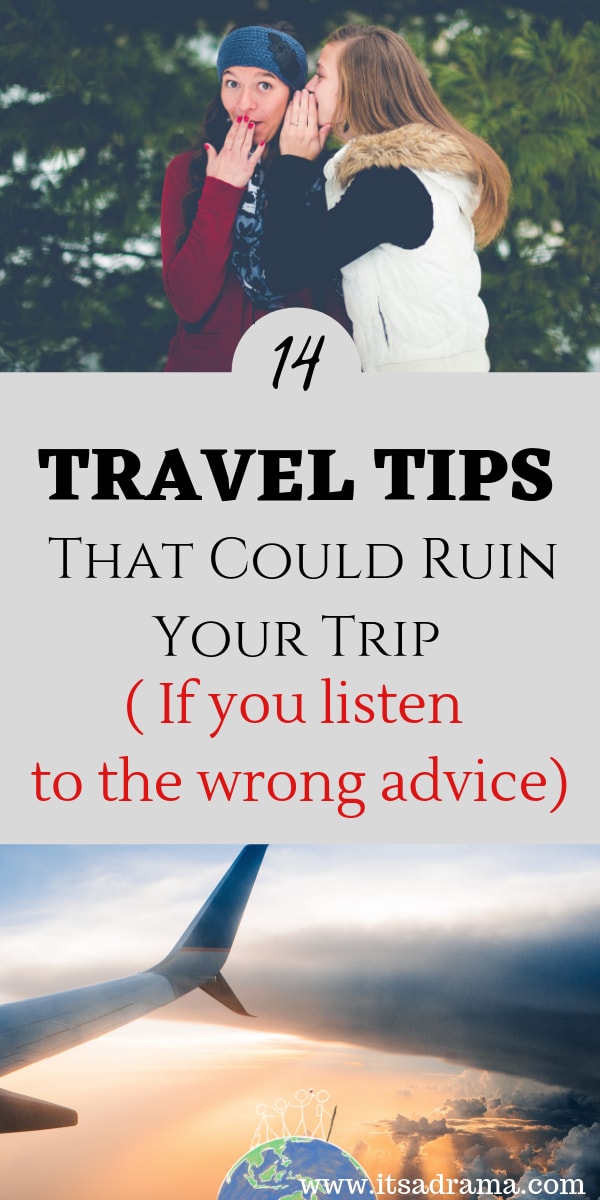 Travel Tips Thailand
Tip: Avoid Khoa San Road if you are travelling with kids in Thailand.
Tip: Thailand is party central full of prostitutes and drug pushers. Avoid at all costs.
Reality of Travel in Thailand:
Khao San Road has got to be seen to be believed. Surprisingly, it is actually very small, and yes, it is full of bars and street vendors selling fried spiders or scorpions for the tourists. But. The atmosphere is thrilling.
You can get some of the best fruit smoothies from the stall on the corner of Khao San Road, so if you are a health freak like my daughter, you are going to love it. Don't miss it. Even with kids.
It's true, that in Bangkok and around the beach resorts in high season, you will come across big parties. But head north to the likes of Chiang Mai, and you will be rewarded with utter serenity. Chiang Mai itself is a university city with an incredibly relaxed yet hip feel. There are many temples and beautiful waterfalls that you can visit to experience real Thailand.
Travel Tips Vietnam
Tip: Worry about your visa. You will wait for hours at the airport for your Visa. The whole system is a mish-mosh.
Tip: Beware. The Vietnamese people will look at you with dollar signs in their eyes.
Reality of Travel in Vietnam:
We waited for a total of twenty minutes at the airport in Vietnam for our visas to be processed. I won't lie, I was a bit disappointed. I was looking forward to sitting on my phone for three hours, but it was not to be.
Vietnam is beyond beautiful. You will love both the countryside and the cities, especially Hanoi which is a gorgeous mix of Paris and Asia. Yes, we came across a few cheeky scams that you have to watch out for, but take them with a pinch of salt and relax.
When can you feed a family of four a bowl of noodle soup for $2 who cares if the market lady tries to rip you off for a bit of lettuce?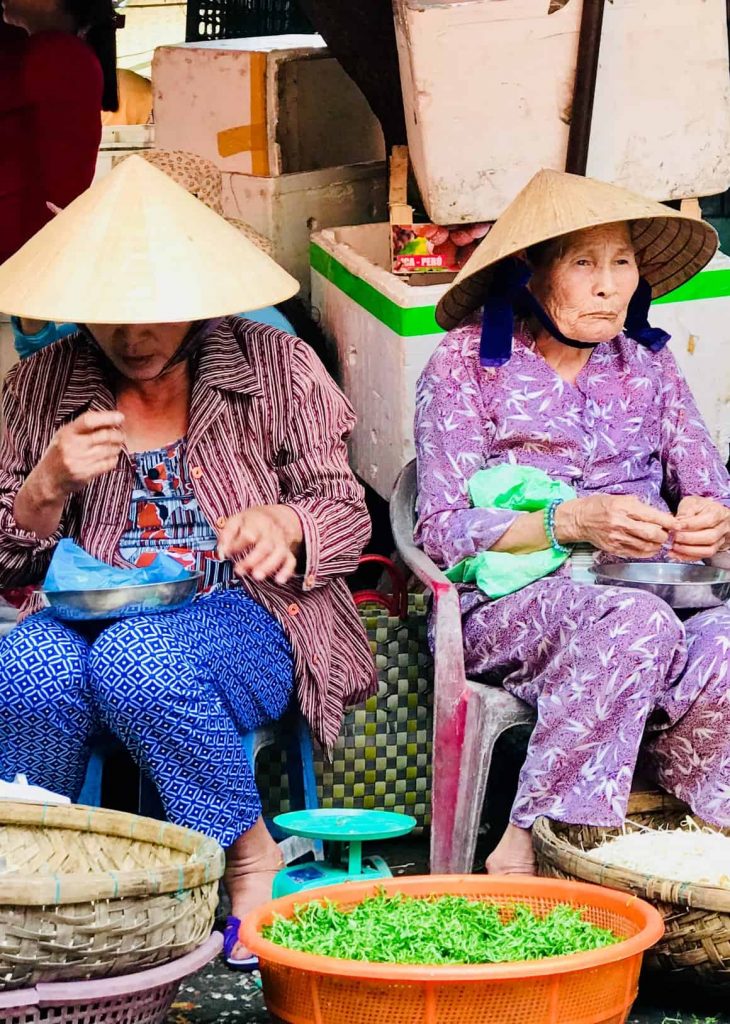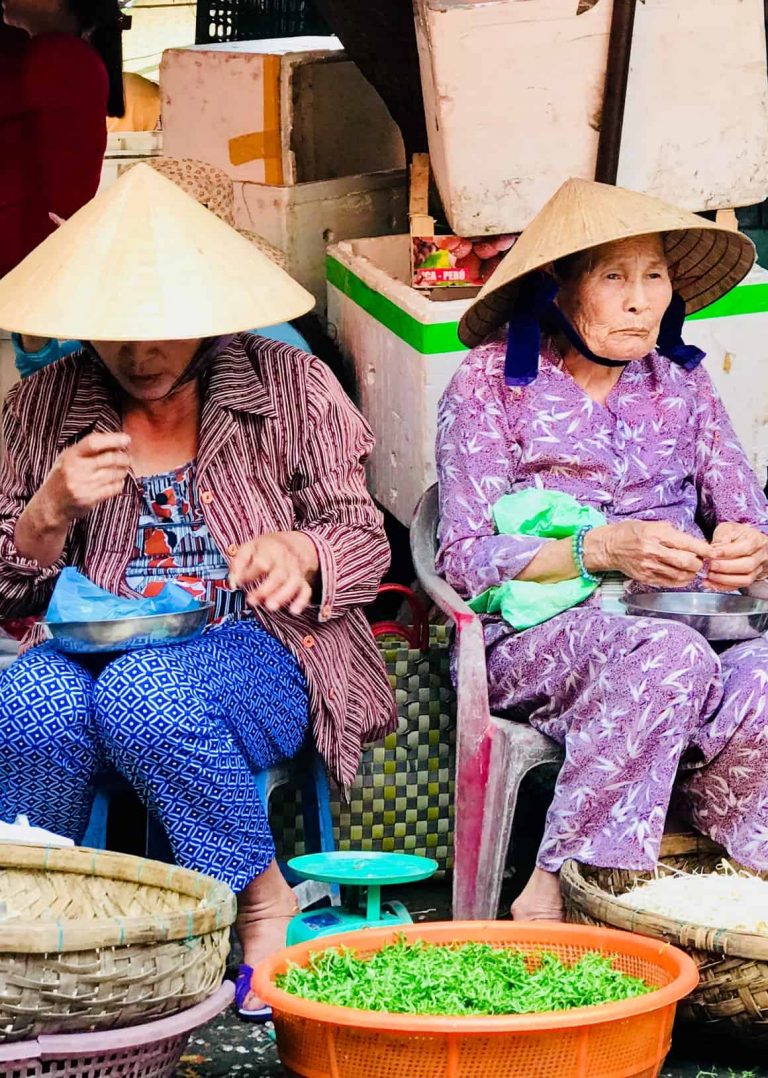 Travel Tips Japan
Tip: Learn Japanese Nobody speaks English, nothing is written in English, there is no English.
Tip: Take stacks of money. It is expensive you won't even be able to afford a glass of water or some raw fish.
Reality of Japan Travel.
Out of all of the countries we have travelled to, I think Japan holds the crown for the most misinformed tips.
We spent almost a month backpacking around Japan. We couchsurfed everywhere we went. We found the Japanese people to be the most hospitable, calm, generous and humble nation that we have ever met on this planet. (The Japanese also hold my vote for the nicest toilets in the world!)
The Japanese people are also very willing to give you lots of tips on what to do in Japan (and what NOT to do!) so that you know not to make the same mistakes twice!
Most information on the trains is translated into English but if you are having problems just ask someone. I lost count of the times we were stood in a railway station looking confused and strangers would come up to us asking if we needed help.
Yes, Japan is pricey, but no more so than France. There are lots of bargains to be had if you know where to look – like this secret food gem that we discovered. Take the time to learn some of the Japanese culture facts before you arrive – it will help you enormously.
If you would like more posts like this, why not sign up for my newsletter? I will send you my thoughts, and we can chat once a week and be friends forever.
If You Liked This Post, You Will Also Enjoy My Other Related Posts:
Travelling with kids? How to stay sane before wine o'clock.
Stop worrying about the kids you are travelling with. It's not worth it
28 Things not to do in Japan if you don't want to look like a complete wally
How much does it cost to travel with a family for four months?
Arrive Feeling Beautiful. 10 Plane Essentials That You Won't Want To Travel Without
To Wrap Up. Tips For Travel That You Need To Ignore!
So there you have it 14 tips for travel that you can safely go ahead and ignore.
Remember, these tips are usually from well-meaning strangers and they mean no harm, but they are usually getting their information second hand and most of it is utter tosh.
When someone takes it upon themselves to put a dampener on your trip by telling you the doom and gloom stories, just smile and say thank you.
Then go and get your bag packed and start creating your own travel tips! If you enjoyed this post and know someone that could use a few tips for travel, please feel free to share generously on your favourite social media platform!