Charleston is charming. I also happen to think it is an underrated destination. It is a gorgeous city crammed with cobblestone alleyways and is steeped in history. But what about when the sun goes down? Are there any unique things to do in Charleston SC at night?
And why don't more people rave about this place?
This post contains affiliate links. They cost you nothing but we make a small commission. If you would like me to explain it further, please visit our disclaimer page
Charleston
Charleston in SC is beautiful, but like many tourist places in America, it can also be pricey. Unless of course, you know where to go.
We recently spent a week in Florida, cruising the Ft Lauderdale waterways for less than $20 a person so I was determined to find some cheap things to do at night in Charleston.
If you are travelling with teenage kids (like me) who tend to stay in bed until lunchtime and then emerge like vampires looking for things to do at night, then you might also like to check out my in-depth guide on things to do in Charleston with kids.
And of course, stay right here if those kids like to do fun things at night!
This guide will also be useful if you are looking for a few unique things to do in Charleston (that are a bit different from everyone else).
What to do in Charleston SC at Night
The following suggestions on fun things to do at night in Charleston SC at night will make everyone in the family happy and suit even the most frugal of travellers.
#1: Charleston Sunset Historic Harbor Cruise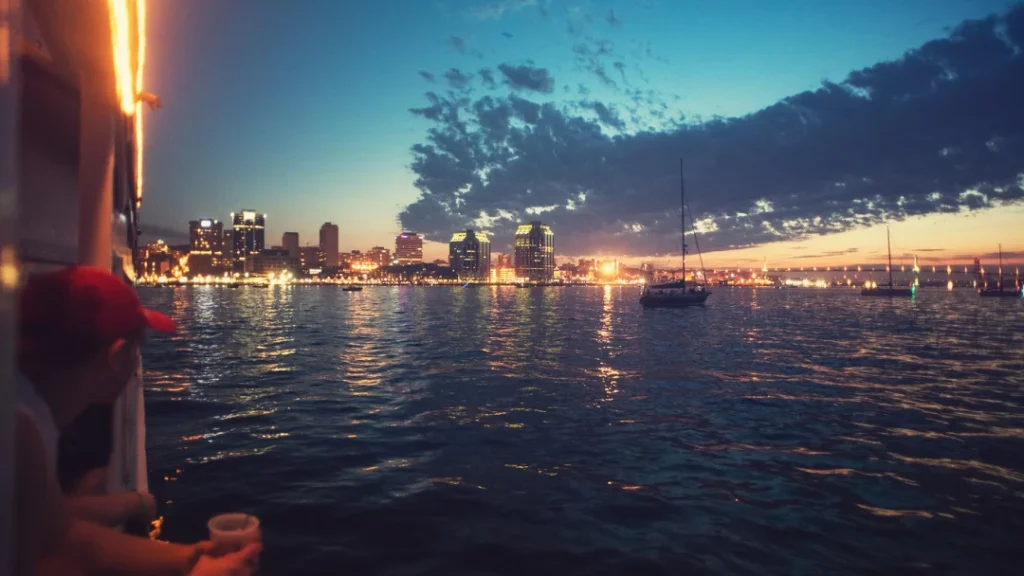 What city doesn't look beautiful at night? Charleston does for sure!
What better way to spend the evening than to take an evening sunset cruise. Climb aboard the historic "Carolina Belle" and coast along the Charleston Harbor for a relaxing cruise.
You'll learn about the rich history of Charleston, passing a multitude of landmarks and points of interest.
After a busy day on the streets, this is the perfect way to see the twinkling lights of this absolutely gorgeous city.
Check out the details of the Harbour cruise here.
#2: Charleston: Haunted Carriage Evening Tour
You and the kids are going to LOVE this 40-minute nighttime carriage tour of Charleston! Be taken around the city and discover the spirits that are said to be lingering in the narrow streets.
This tour was SUCH a bargain! You will love hearing about the spooky tales from Charleston's long history. Be prepared to visit haunted alleys, graveyards, churches, hotels, and even a dungeon!
Check out the details of the Haunted Carriage Tour HERE!
#3: Spooky Charleston! Ghost & Dungeon Walking Tour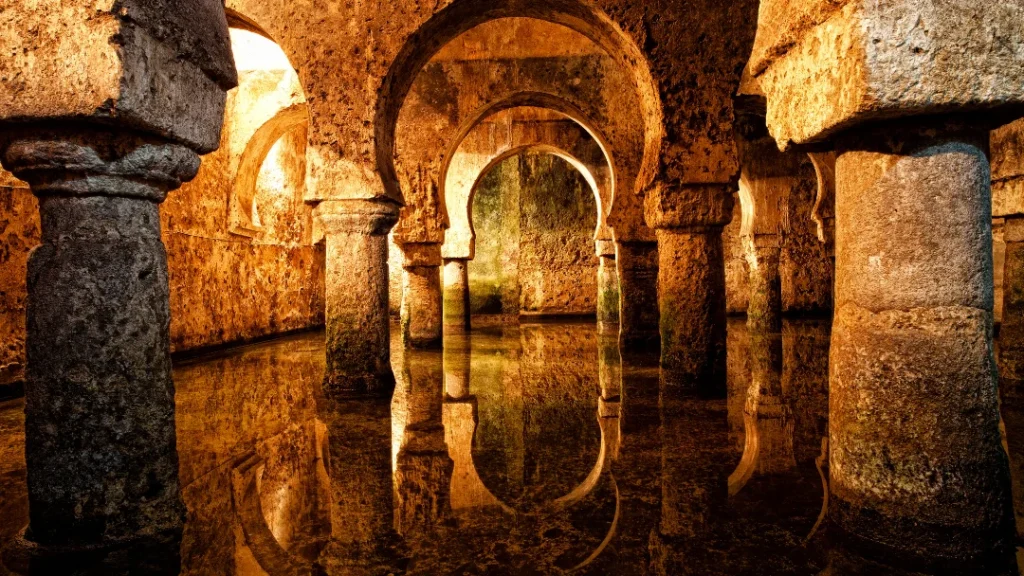 I couldn't believe it when I learned that there were spooky walking night tours in Charleston, and I was even more excited that they were so cheap! We took this haunted walking ghost tour at night and it was the best money we could have spent.
If you are stuck for something original and fun when bouncing ideas for what to do in Charleston, then be sure you check out the supernatural nighttime tour.
In our opinion, this tour was the best thing to do in Charleston at night, (especially with older kids).
We were met by our guide who was a professional actor, dancer and director and he certainly knew how to tell a captivating story. From the very start of this amazing tour, we were hanging on his every word, not to mention his coattails.
This isn't just a haunted ghost tour, this is also an entertaining history tour. We learned a great deal about this fascinating city and the people that lived here.
Charleston at night is an eerie place, to say the least. Try and go in the winter when the tiny paned windows are lit by flickering holiday candles and you will swear you can see shadows lurking around every street corner. We loved it!
Check out the haunted walking tour here.
Accommodation In Charleston SC
Want FREE Accommodation In Charleston SC? Listen up!
One other very valuable tip for when you visit Charleston, SC – Housesitting!
Charleston is the perfect place to start your Housesitting adventures. If you are a responsible homeowner and you fancy staying in Charleston like a local, then please, consider a housesit.
You can check out the beautiful houses in Charleston (and the rest of the world)for FREE here.
Then, if you decide to join Housesitters you can use my exclusivediscount code to save yourself 20% by Clicking here. Becoming a member means that you can apply for the house-sits.
It's all very straightforward and easy.
You make a profile, and then twice a day, you are sent emails (such as the screenshot from my phone below) listing available properties in Charleston!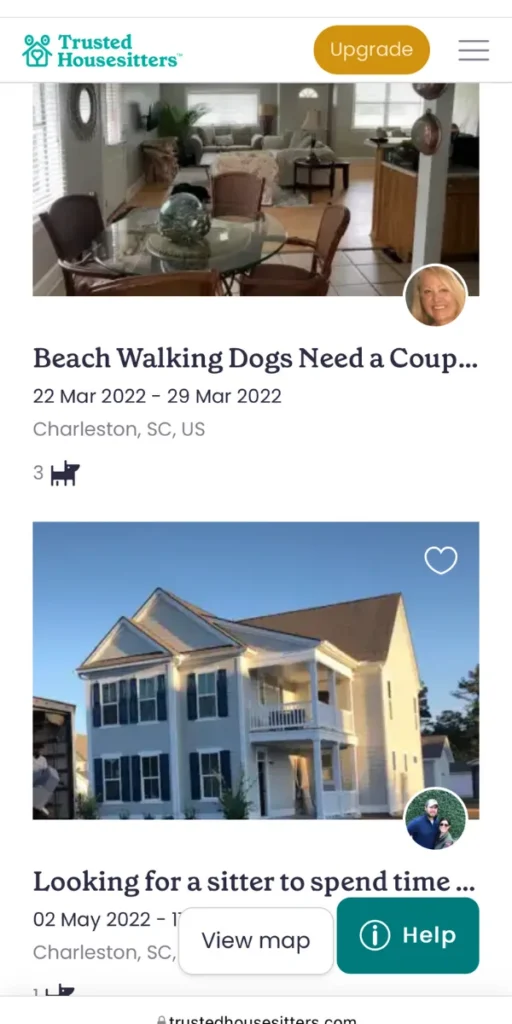 This is one of the emails that I get every day. At least consider housesitting! You will save a fortune and get to stay in places that are unbelievable.
If you are planning a trip to Charleston, do not rule out the possibility of Housesitting! It's not hard and is a fabulous way to experience living in beautiful parts of Italy in return for looking after someone's property (and maybe a pet!)
Click here to see more housesits in the USA and type Charleston SC in the search.
We are big fans of housesitting. We estimated that while housesitting throughout Europe, we saved ourselves approximately ten grand. Honestly, I can't understand why more people don't do this!
Hotels In Charleston, SC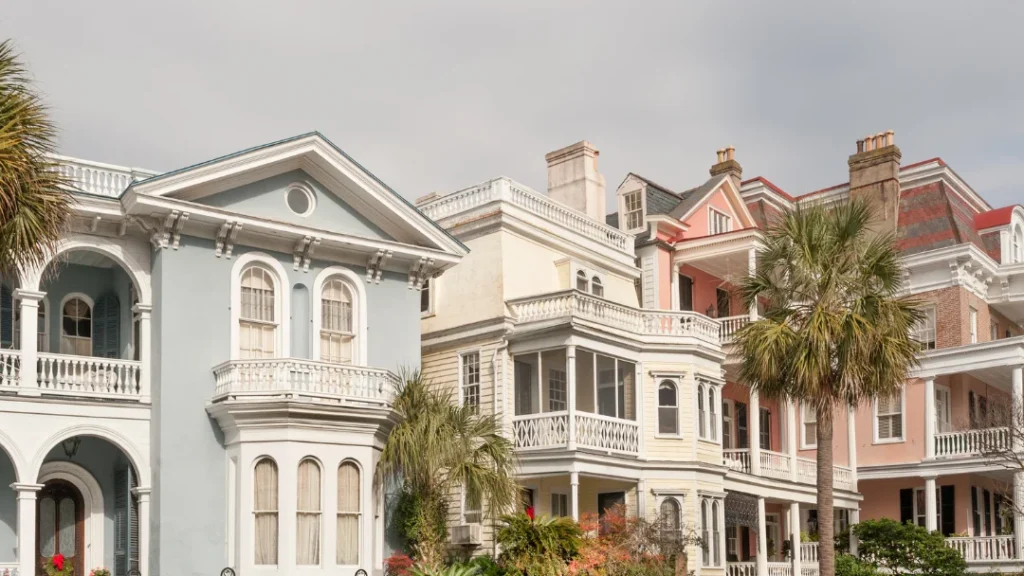 My suggestion here would be to use this website to find a great hotel in Charleston. It's the only site that we use and trust and they have some great deals.
Because of the way things are in the world at the moment, you can find some FABULOUS deals.
Best Hotel in Charleston Sc?
If you really want to make your stay in Charleston SC then why not spend the night in the notorious (but very beautiful, I must say) Battery Carriage House Inn.
While in Charleston, we learned that this Inn is said to be the most haunted (and funnily enough, the most romantic!) hotel in Charleston, SC.
Many guests have witnessed a wailing torso hovering above their bed. A little tip: if you're booked to stay here and you find yourself in room 8 or 10 – move.
The Inn is very popular so if you would like to spend the night here be organised!
Click this link and check out the availability for The Battery Carriage House Inn.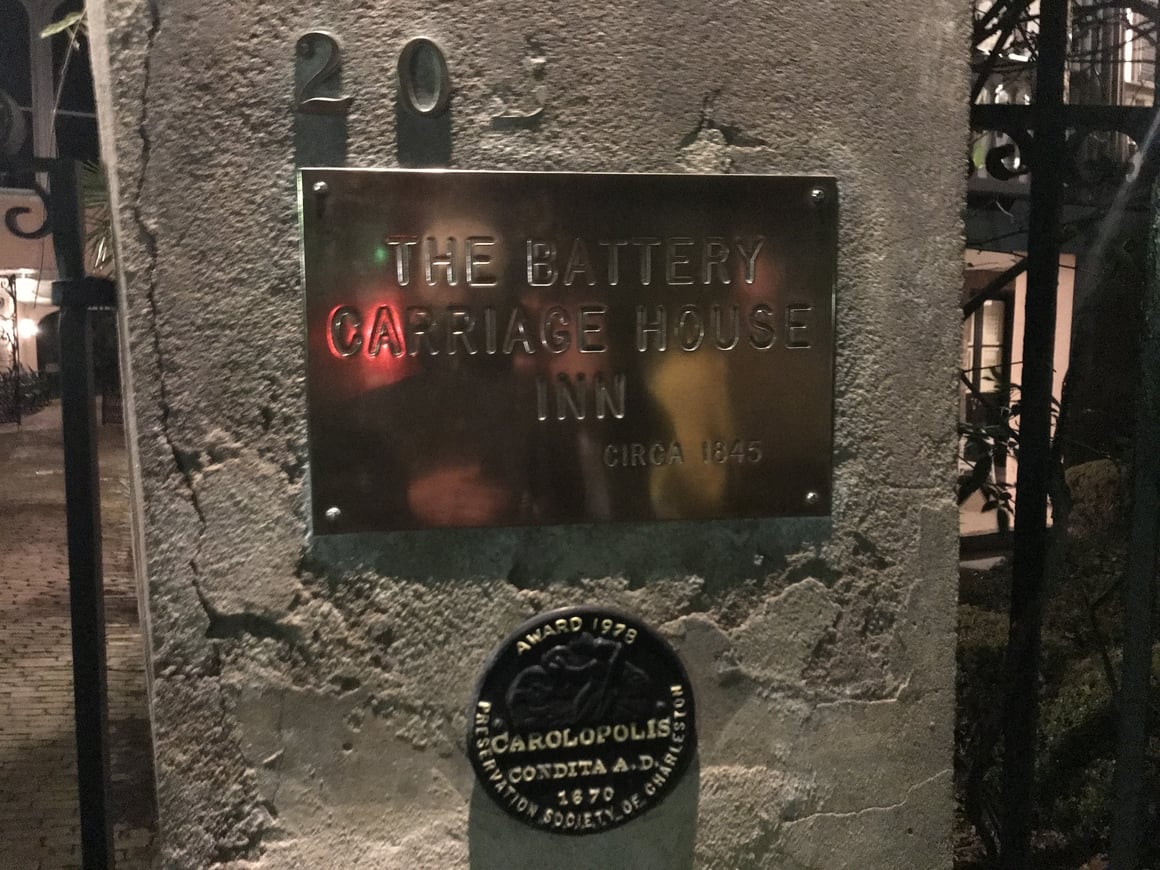 I had to drag my daughter to visit the haunted hotel after the walking tour was over. I didn't see a ghost but I did see two very entertained teenagers.
Best Charleston Restaurants
Charleston is full of lovely restaurants but if you are on a budget (or travelling with kids that can eat you out of house and home), then you will love the following two restaurant suggestions.
Dellz Uptown
If you have a car as we did, drive 15 minutes from downtown and go to Dellz Uptown.
It's a vegan restaurant, but I didn't tell my teenagers this; otherwise, they wouldn't have wanted to go. There is plenty of free on-street parking. It is open until 8 pm. We ate there for two nights. It was that good.
As well as vegan and vegetarian, the menu also includes meat options, I tried both – a chicken wrap with black beans, melted cheese, brown rice, Mexican sauce and sour cream, and then a vegan pizza with tomato, coriander, chilli and avocado both were absolutely delicious.
Dellz Uptown will let you bring your own wine, but if you don't carry a bottle in the car as we do, you can buy a glass for $5.
A meal for 4 at Dellz Uptown costs us $46 when we brought our own wine and $62 when we drank theirs. It has a very nice vibe with easy-going, kind staff. Get the window seat and watch the Charleston locals going about their evening on the busy street.
My teenagers loved it, and all the while, I don't think they ever guessed we were in a vegan restaurant.
Brown Dog Deli
If you are in town and can't be bothered to drive, you are not going to regret going to the Brown Dog Deli for dinner. The deli has two branches in Charleston. We went to the Calhoun Street branch. It is open until 10 pm.
This long narrow eatery has high ceilings, fabulous music, a relaxed atmosphere and superb food. There is something here to please everyone.
My 13-year-old daughter is pretty fussy and was delighted to find she could build her own hot dog.
My 16-year-old would eat a horse and still be hungry, but the portions were big enough – even for him.
Brian and I shared a pulled pork meal, and it was plenty. We had a couple of beers instead of wine (it was cheaper). We paid $56 for the four of us.
Either of these places would be a fabulous Charleston nighttime option. I looked around and there were groups of friends and also couples eating there.
We were the only family in there but that's ok. You can just do what we did.
Admire the hundreds of album covers that are posted all over the walls and then bore the kids senseless about how things were better in the days when you had to save up and buy yourself a record.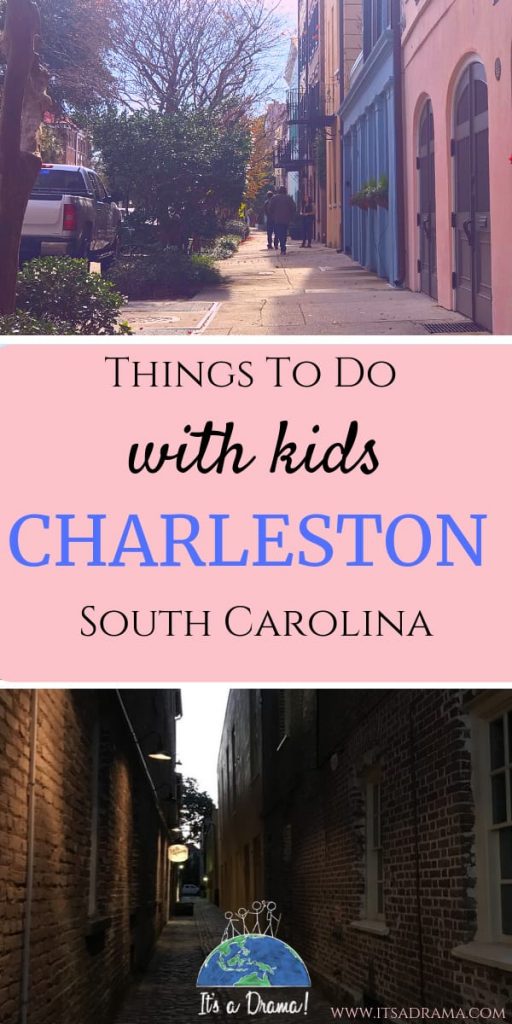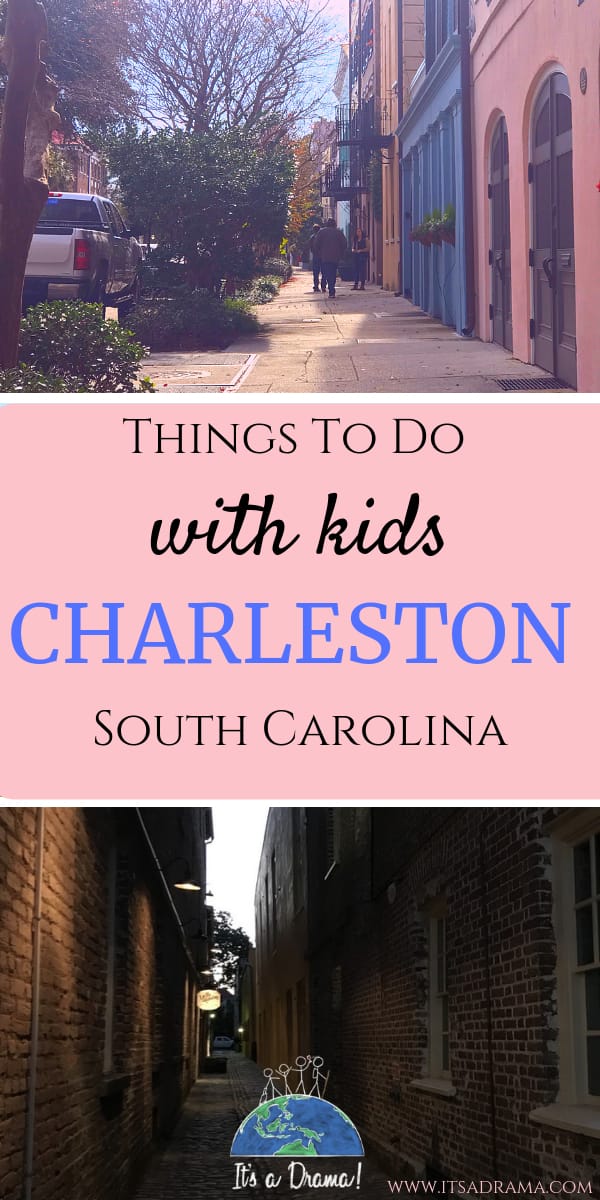 Related Posts That You Will Enjoy!
Arrive feeling beautiful. 10 Travel essentials that you will never travel without again
Taking the water taxi in Ft Lauderdale. 24 hours cruising for under $25
Travelling with teenagers? 10 Things to keep you sane
3 Days in NYC on a budget. How to do it!
So, that's it! Things to do in Charleston, SC at night – if you are with kids then even better!
Be prepared to spend an evening eating good food, huddle up to the one you love and be entertained in a way that you'd undoubtedly forgotten existed. If you have any other tips on Charleston, then please comment below, I'd love to connect with you!