Looking for things to do in Charleston Sc with kids that won't break the bank?
My husband and I took our two kids ( teenagers age 16 and 13) to Charleston for a long weekend.
But. There was a catch.
As always we were on a budget (nothing new there then ) and I must admit, I was somewhat worried as to whether we'd be able to make our money stretch.
Our budget was $80 per day for the four of us. (Yes, we travelled the world for a year but we're certainly not rich).
So did we do it?
You bet we did, and now we want to share with you some fabulous (and cheap) things to do in Charleston SC with your kids!
(This post may contain affiliate links. They cost you nothing but we make a small commission. If you would like me to explain it further, please visit our disclaimer page)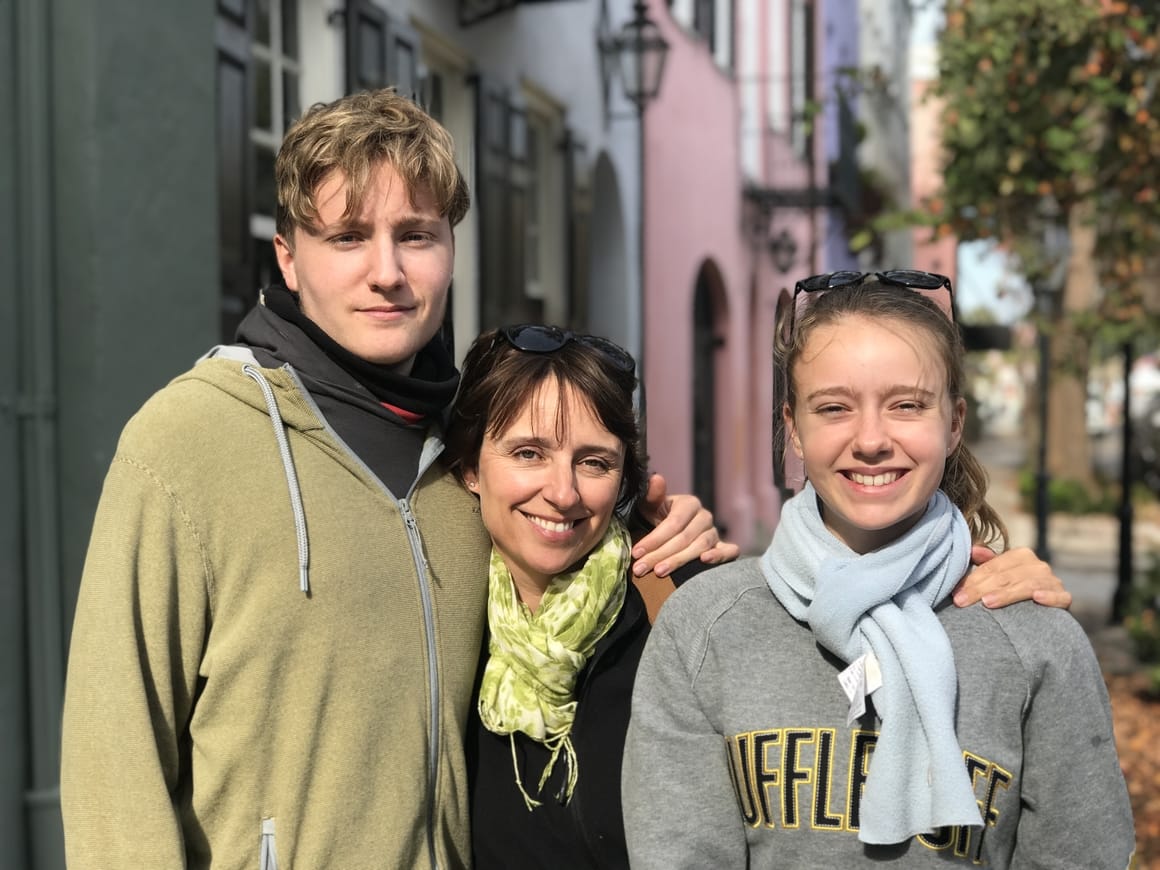 Why Visit Charleston?
As well as some really fun and inexpensive things to do do with kids in and around the city, (and some awesome things to do at night in Charleston) we found lots of free things to do in Charleston so as you can imagine, I was more than happy!
In 2016, Charleston SC was ranked the 'World's Best City' and it's not hard to see why.
As well as lots of incredible shops to lose yourself in, Charleston has markets, graveyards, beaches and museums making it one of the worlds most unique travel destinations.
* If you are the kind of person that can listen while they read, why not hit the arrow and listen to our lasted travel podcast episode where my eighteen-year-old son and I reflect on possibly the BEST thing to do while visiting Charleston SC with your family!
23 Things to do in Charleston SC With Kids
1. South Carolina Aquarium
If you have water babies, then the South Carolina Aquarium in Charleston will be a huge hit.
2. Take a Mini Cruise
Taking a cruise and seeing Charleston, SC from the water has to be one of the most relaxing ways to see the city. This 90-minute cruise is fabulous value for money and never fails to impress every member of the family.
Click here for details.
3. Go to the Beach
If you are visiting Charleston in the summer then a trip to the beach is a must!
There are many beaches to choose from, all as lovely as each other and each offering something different for the kids.
If you don't mind a short drive, then the Isle of Palms is approximately 12mi from the city of Charleston and is our recommendation for the best family beach near Charleston.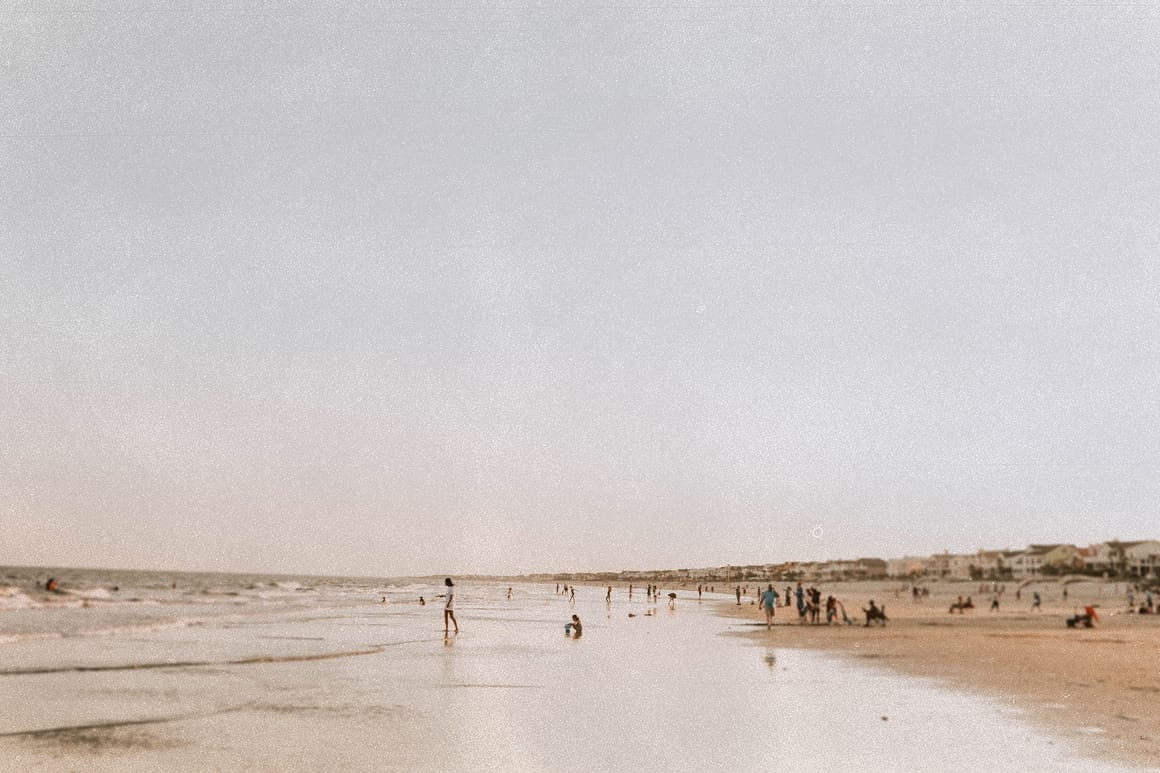 4. Ice Skating
If you are visiting Charleston with a skater, then why not head to the Carolina Ice Palace?
It is a good-sized rink and always has a healthy number of kids activities for the family to enjoy.
5. Take a Ghost Tour
If you are looking for things to do in Charleston, SC at night, then you are going to LOVE this next suggestion.
This fabulous ghost tour is the one that my son is raving about on the podcast (click here to listen to the podcast episode now!)
I can not recommend this tour highly enough.
If you are looking for things to do with slightly older kids in Charleston and you all don't mind getting scared (because you will be, I promise!), then click here for more details on this tour.

6. Spoleto Festival
If you are visiting Charleston between May 28 and June 13, then why not head to the Spoleto Festival?
Named after Charleston's sister city in Italy, the festival is 17 days of theatre, music, and dance.
This is one annual event that shouldn't be missed if you are visiting with kids.
7. Play Mini Golf
Why not take the kids out to Blackbeard's Cove Family Fun Park. Amongst other fun things, this fun park in Charleston SC has an amazing mini-golf course – perfect for those competitive kids in the family!
(Ps: Mums, there is also a cafe where you can sit and watch!).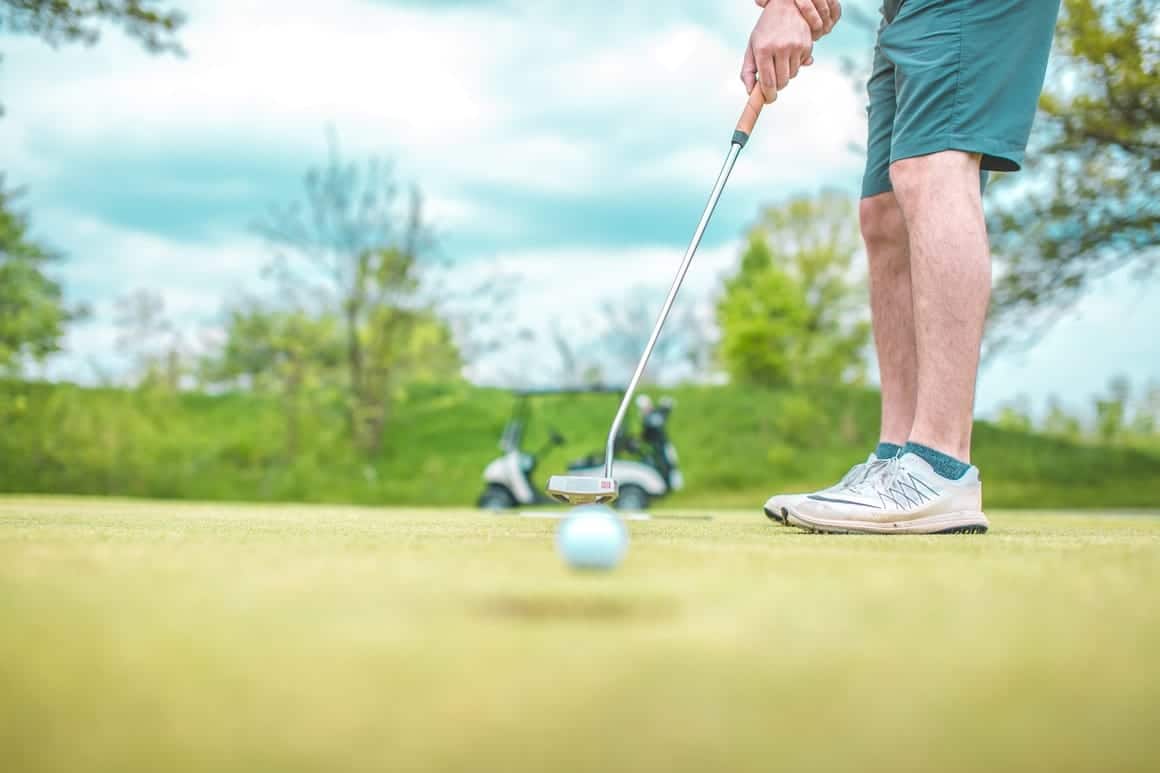 8. Play Lazer Tag
GloZone has one of the coolest laser tag courses around and as long as everyone in your family is at least 42" inches tall then you can have hours of fun here!
9. Escape Room
Break Out Escape Room in Charleston. A fabulous way to fill the afternoon if you are visiting with kids (particularly older children who need to get their testosterone out of them).
Just saying.
10. Hire a Bike
Get up as early as is humanly possible when you have kids (I'm thinking about my teenagers) and explore the city before it has fully awoken.
Charleston, before it gets into full swing, is truly magical and riding around the streets (or walking if you prefer) is the best way to see it.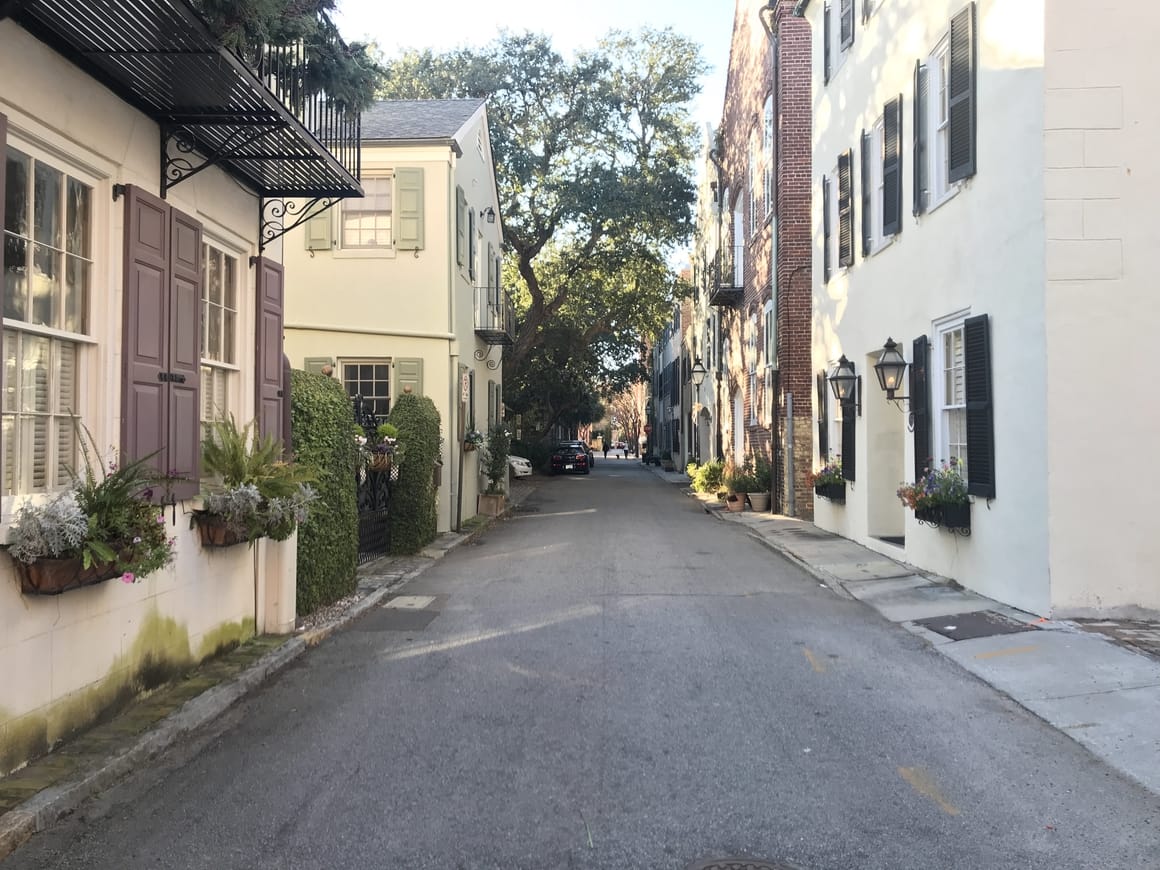 11. Visit a Plantation
There are many plantations around Charleston that the kids will enjoy but our firm favourite is the Magnolia Plantation and Gardens.
12. Eat Cupcakes
WildFlour Pastry which is located on Spring St has the best cupcakes ( try the red velvet ) in town! Your kids (and you) will LOVE this place.
The smells that waft from this little shop just make you feel right at home.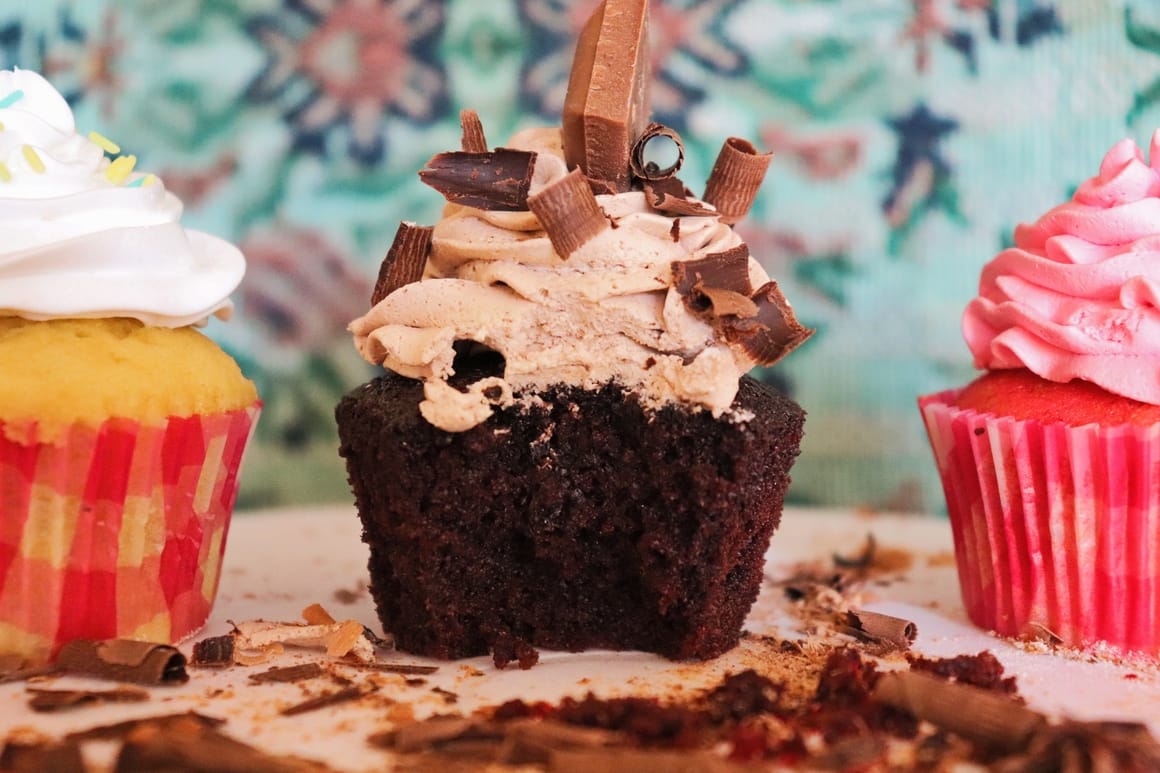 Free Things To Do In Charleston, SC 💸
13. The Charleston City Market
A family favourite when visiting Charleston SC with the kids. Spend the day and browse the lots of lovely stalls and chat with the vendors who make a lot of their own wares.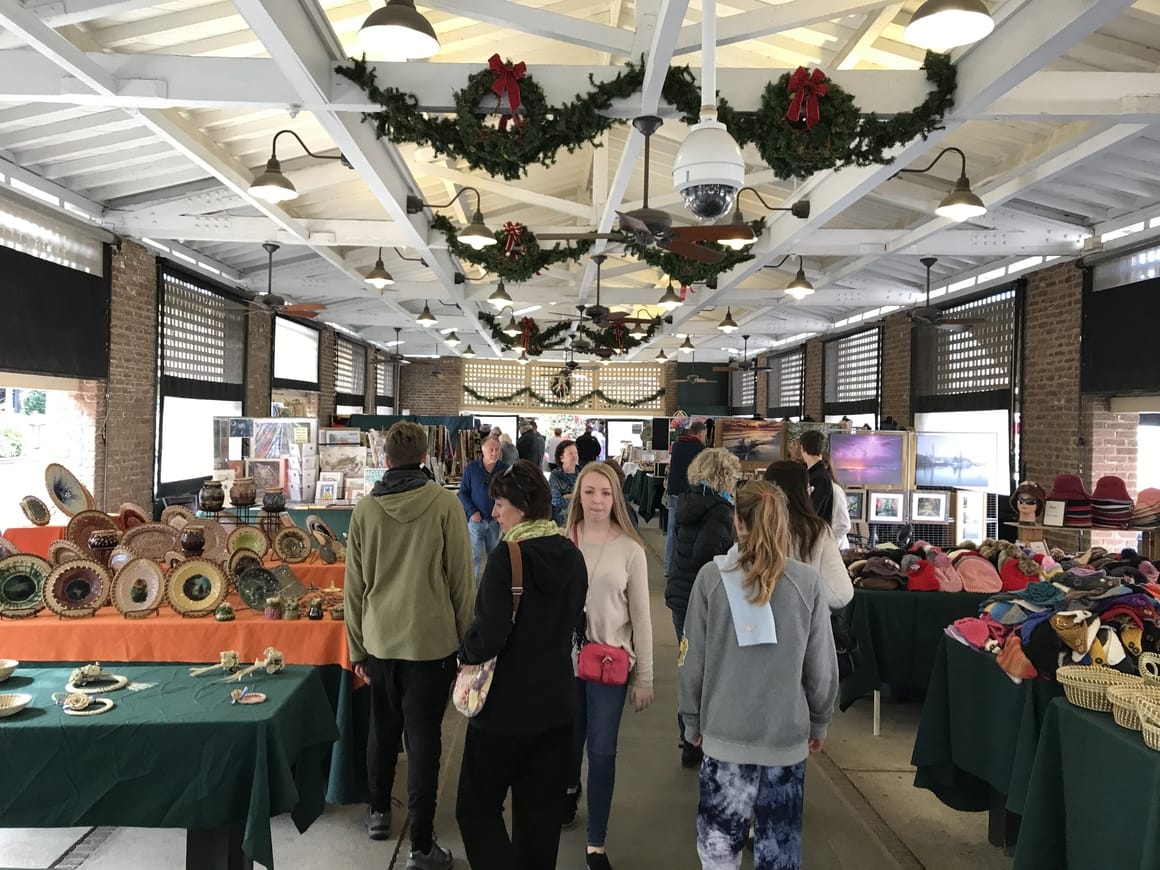 14. The Battery & White Point Gardens
Make sure that you take the kids to the Battery at night.
As impressive as it is in the daytime, there is nothing more special (and slightly creepy if you have just been on the Charleston ghost tour and been told scary stories!) than seeing the impressive houses all lit up at night.
The kids will love it.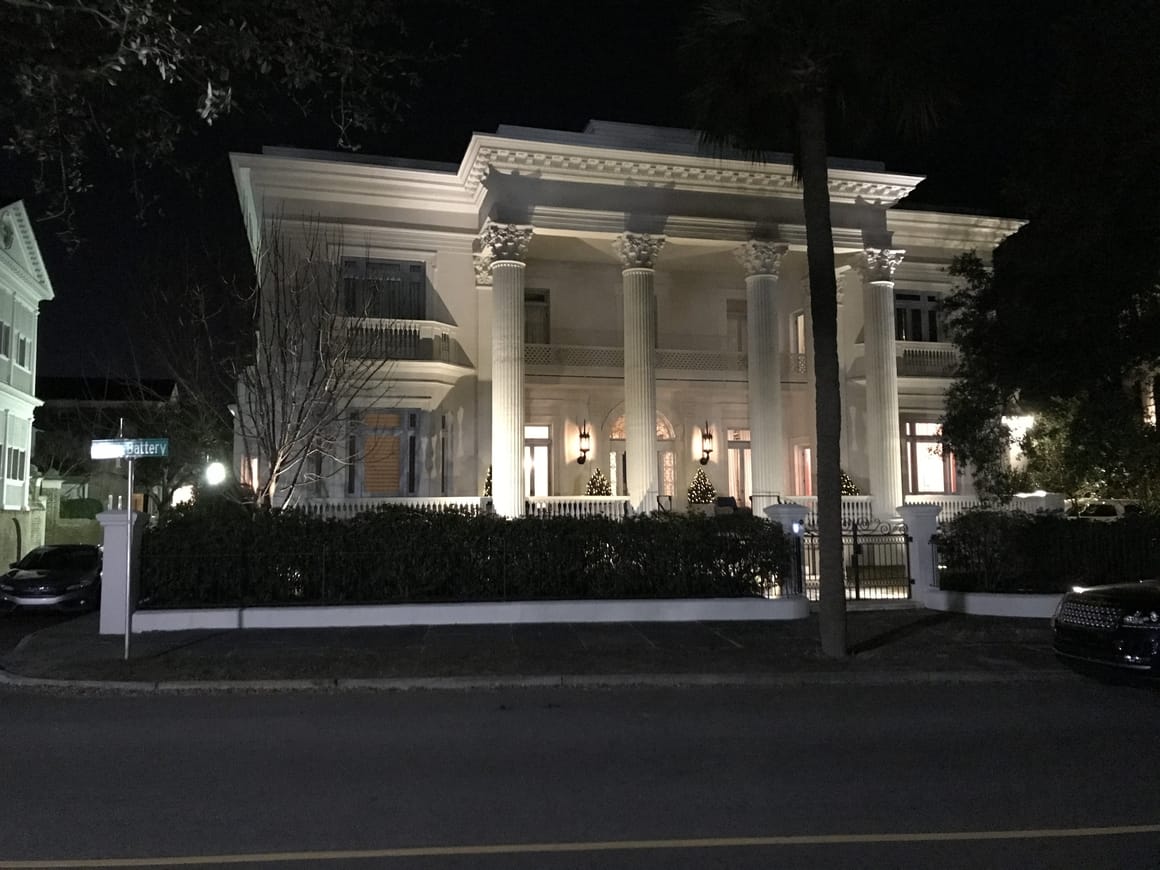 Would you love to travel more for a lot less?
Then let me show you how!
15. Rainbow Row on East Bay Street
This colourful street needs no introduction.
Rainbow Row is the perfect place for kids to take lots of beautiful photos. (and if your daughter is anything like mine she will proceed to post them all over social media!)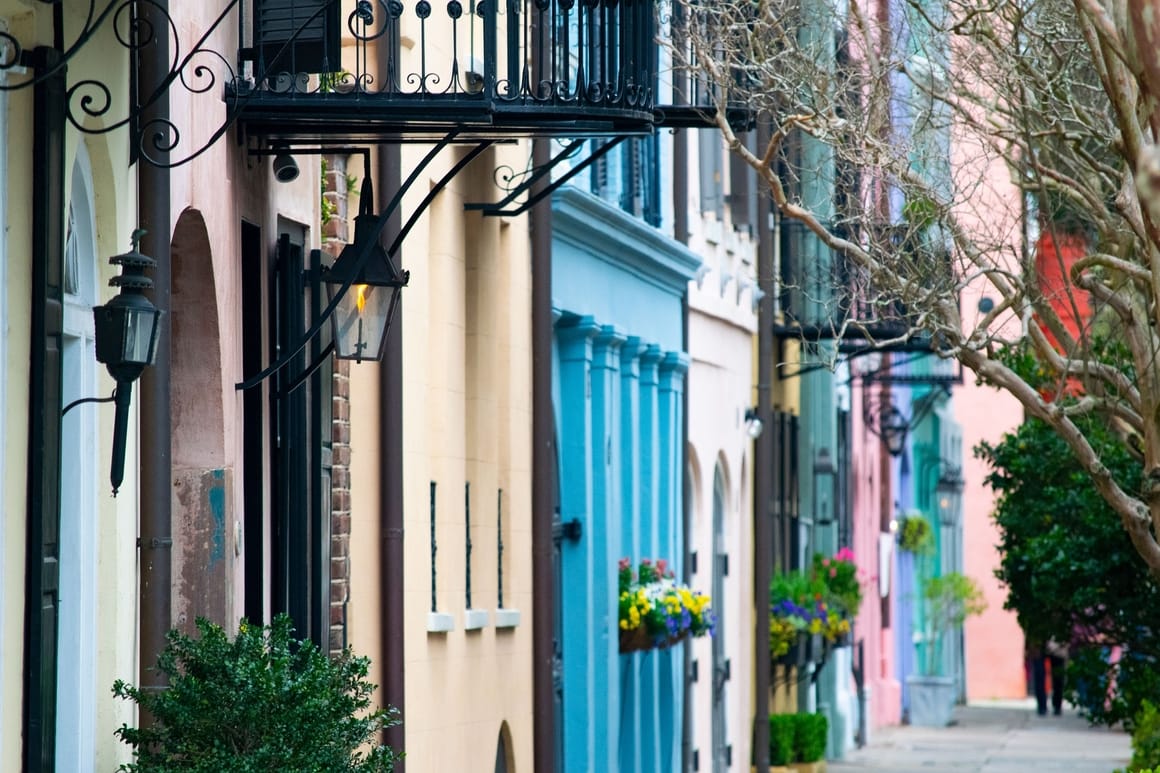 16. Hampton Park
No visit to a city with kids is complete without seeking out one of the beautiful parks in which to play, picnic and relax, and Hampton Park is Charleston's answer to that.
17. The Ravenel Bridge
The Arthur Ravenel Jr. bridge, ( known locally as the Cooper River Bridge), is a beautiful and very pedestrian-friendly bridge.
Walking or hiring a bike and setting off across this impressive bridge is a relaxing way to see the skyline of downtown Charleston and the harbour.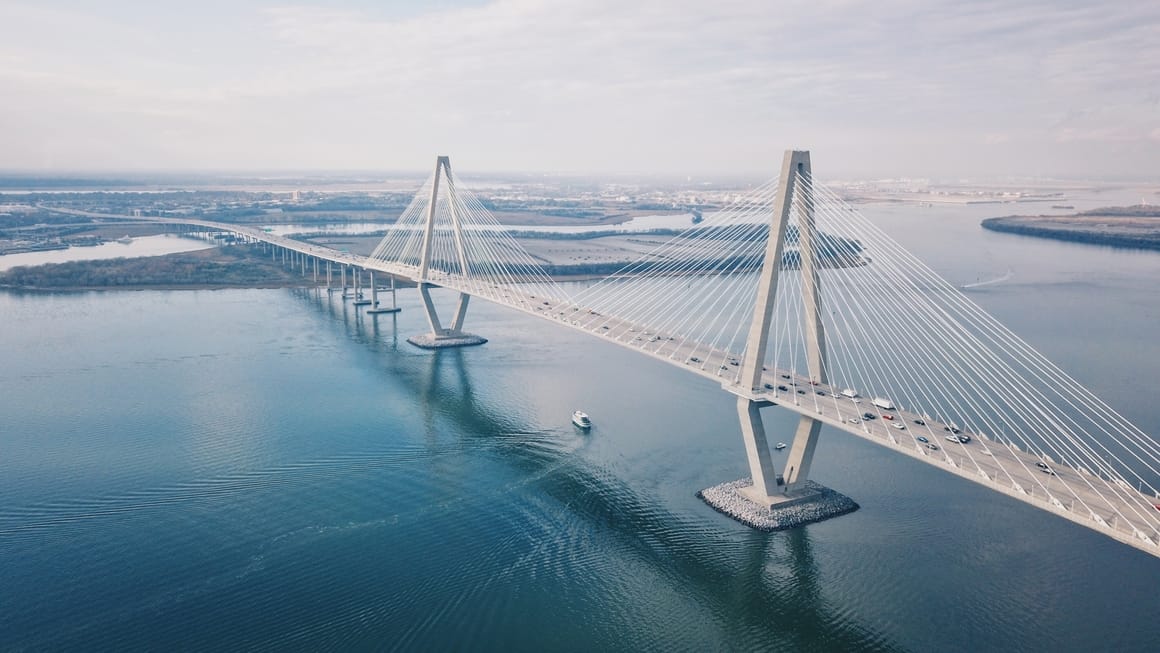 18. Sit & People Watch
Take the weight off your kids (and yours!) tired legs, grab a takeaway coffee and sit on the steps of the United States Custom House.
The building behind you is beautiful but more than this, those steps are a great place to watch the tour buses loading and unloading!
This photo was taken in December last year and the sun never stopped shining. Although it was cold in the evenings we found the weather in Charleston to be quite mild for a winters day.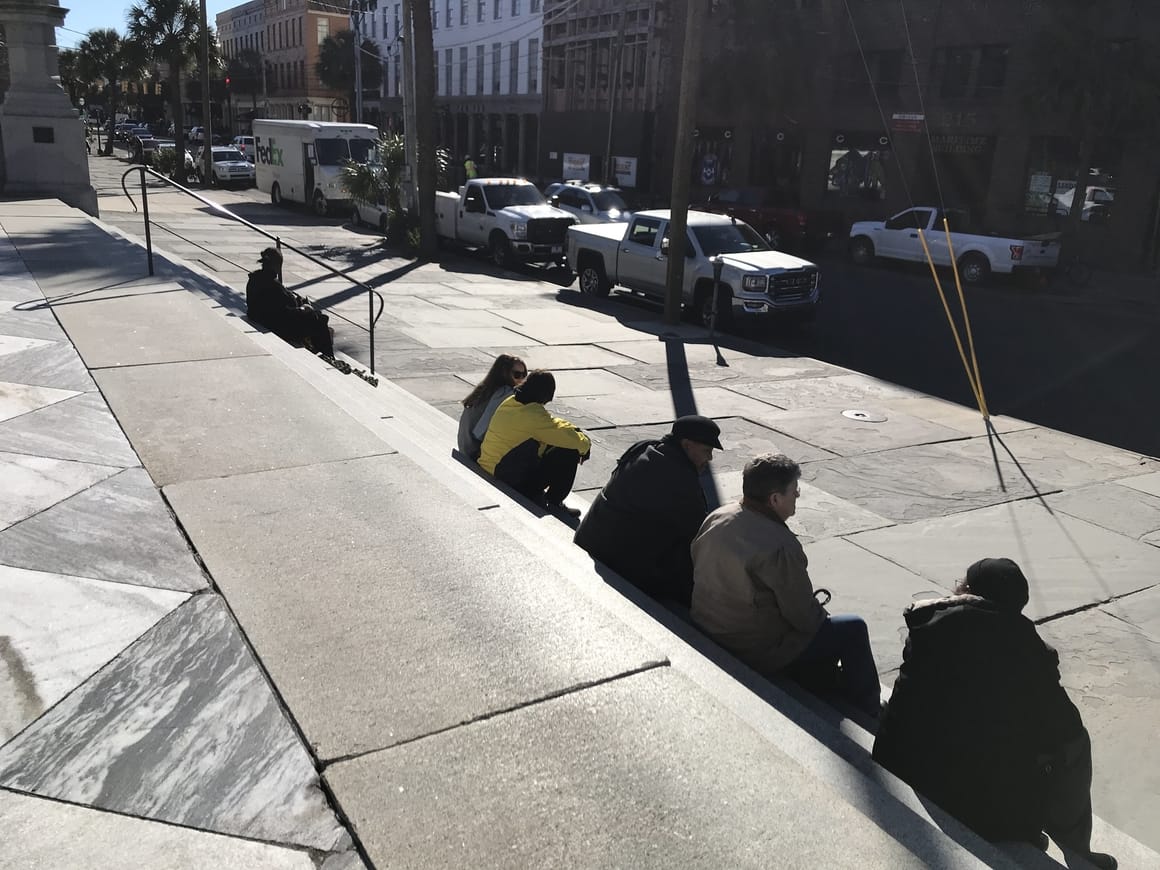 19. Charleston Waterfront Park
Why not watch the sunrise from this beautiful 8-acre park or take the kids to the fountain at the North end of the park?
This park is beautiful, serene and great for the kids. *Dogs are allowed to the park too as long as they are kept on a leash.
20. Broad Street
If your teenagers are anything like mine then they will love walking along Broad Street and oggling the most impressive (and expensive) houses in the city.
If your kids are small then why not play 'guess how many people live there' (just to give you the chance to take a look at this beautiful area yourself!)
21. Free Museum in Charleston SC
The Mace Brown Museum Of Natural History in Charleston is not only free but is a firm favourite with kids who love Dinasores!
The museum is home to dinosaur bones, crinoids, mosasaurs, cave bears as well as many more. My favourite exhibit for my kids was the reconstructed jaw which houses real teeth from the giant extinct shark Megalodon.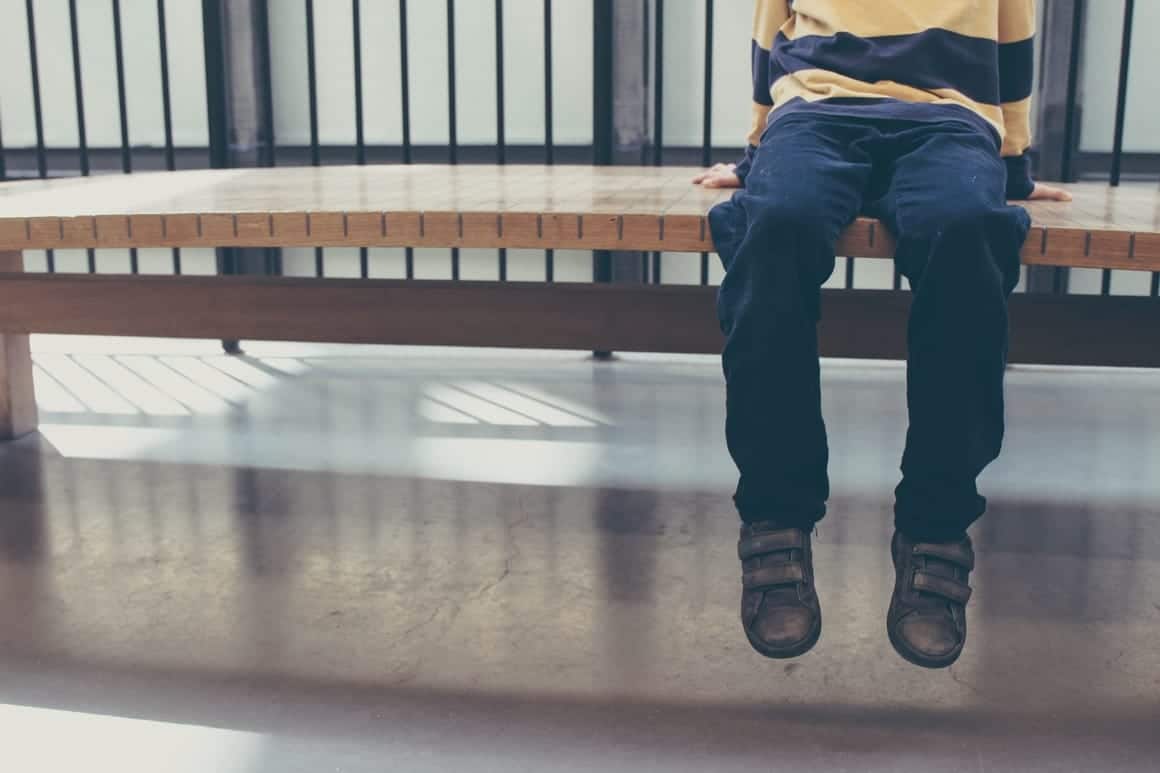 22. Go To The Beach
There are lots of beeches to enjoy with the kids. Our personal favourite is Sullivan's Island (it has lots of good restaurants nearby!) Isle of Palms and Folley Beach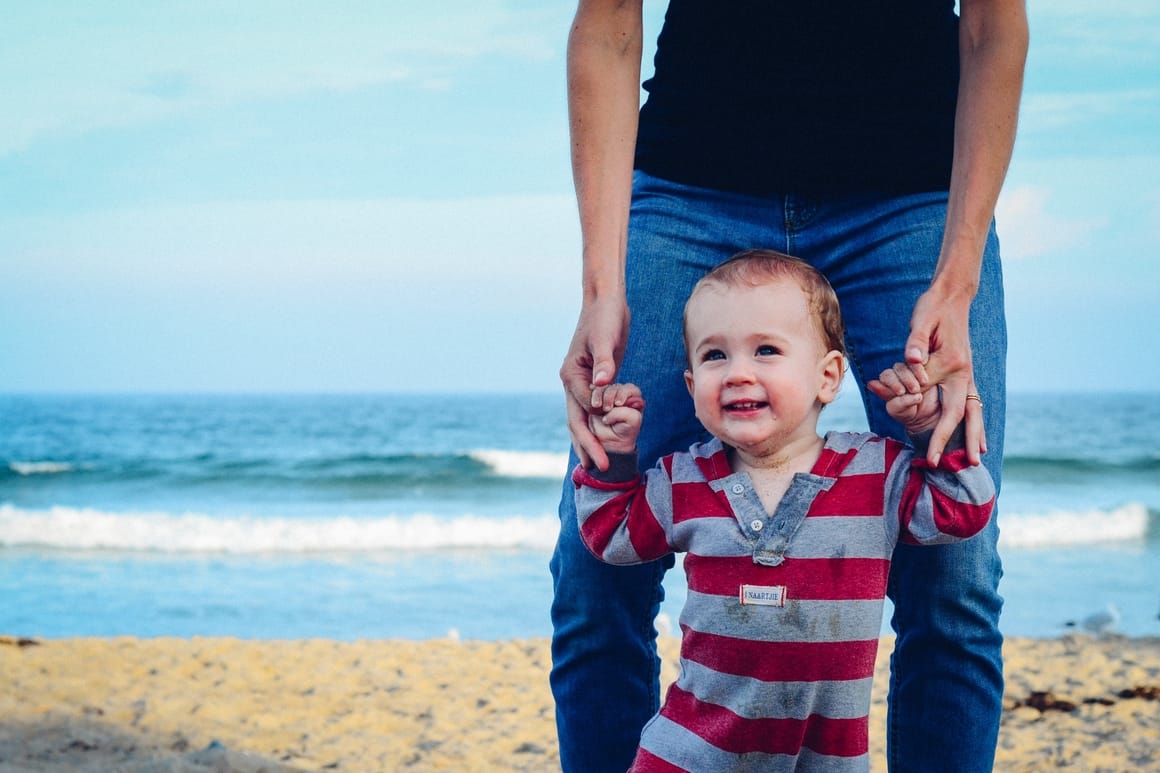 23. Spend Some Quiet Time (and get free wifi) in the Charleston City Library
I won't lie. The reason we came here is that my kids were desperate for some wifi. What can I say? I travel with teenagers!
But.
If you are a normal booky kind of family travelling with kids in Charleston and you need a space to retreat to for an hour or so then the Charleston Libary will be perfect for you.
There are comfy couches, clean public toilets and best of all? It's free!
Related posts That you Will Enjoy!
The water taxi in Ft Lauderdale. How to use it to your best advantage
How to afford to travel the world with two kids when you are NOT rich
17 underrated destinations that are just gorgeous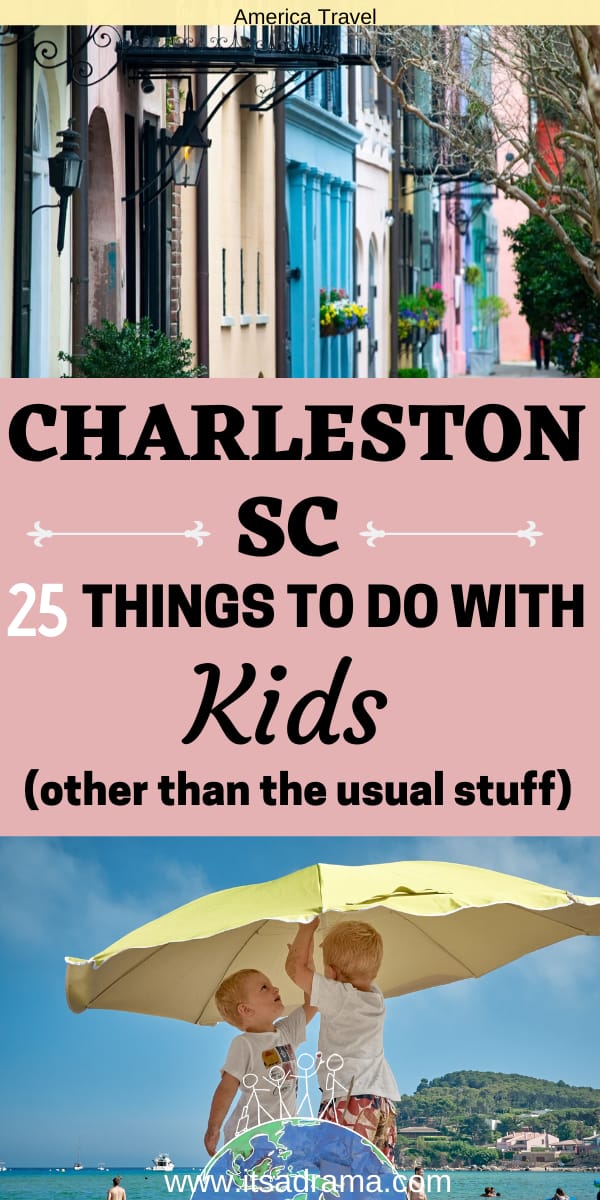 Now listen to our podcast on the (BEST) things to do in Charleston SC, with kids!
We hope you have enjoyed this post and it has given you some ideas on what to do with the kids in Charleston (and even better – FREE things to do!)
Now, why not listen to our podcast!
And remember, if you know someone who is travelling to Charleston with kids and is in need of some fun things to do then please share this post!
PS. Would you love to travel more for a lot less?
Let me show you how!