Ther's only so many visits to the mall that you can handle. When you arrive in Ft Lauderdale and you look out from your airconditioned hotel room window and see the aqua water twinkling in the sunshine, playing host to a range of water vehicles, you know.
You know you have to get out there and play.
And the Ft Lauderdale water taxi is going to be your affordable host for the day!
This post may contain affiliate links. They cost you nothing but we make a small commission.
What better way to see Ft Lauderdale than from the water?
Only there may be a slight problem.
Money.
What to do when you want to be out on the water all day but, like us, you are on a budget. The answer? The Fort Lauderdale Water Taxi.
The Water Taxi. The Best Way To See Fort Lauderdale
There are many expensive day cruises that you can take in Ft Lauderdale, but they are just that.
Expensive.
When you are a family on a budget these boat tours, along with everything else, add up.
No one likes to go on vacation and have to worry about the cost.
That's why you will LOVE the water taxi.
Read about (and watch our little video!) how we took our two kids on the Ft Lauderdale water taxi, ate lunch, hired bikes and drank wine – all for less than the cost of one ticket on one of the many super-duper tours that are on offer within the city.
Fun Facts About Fort Lauderdale, Florida (observed as a newcomer)
Before I tell you all about our amazing experience with the water taxi, let me first fill you in on Florida facts. Remember now, I am a newcomer to Ft Lauderdale (I am British and live in New Zealand)
Everyone seems to love doing things on the water! There are masses of boats everywhere and for those who like a little privacy, ou can even hire your very own boat through Fort Lauderdale boat rentals!
Ft Lauderdale is hot and pretty big. The population is 179,000
The buildings are towering and sleek, each nudging their way to the prime spot beside the pristine white sand beach.
Kids ride around on bikes with no hands, no shirts and no helmets. There is a relaxed and edgy feel to the city. Very different from our experience of Charleston, Carolina.
There are swaying palm trees, parrots, geckos and white pavements. No wonder it is one of the worlds best destinations.
There are lots of muscle cars. And shops. Fort Lauderdale is surrounded by waterways. You can take a boat up the intercoastal from Fort Lauderdale all the way to New Jersey without having to go out into the ocean.
As you drive around you pass over numerous little bridges catching fleeting glimpses of the beautiful houses that line the exquisite waterways resembling a scene out of Italy.
For Pinterest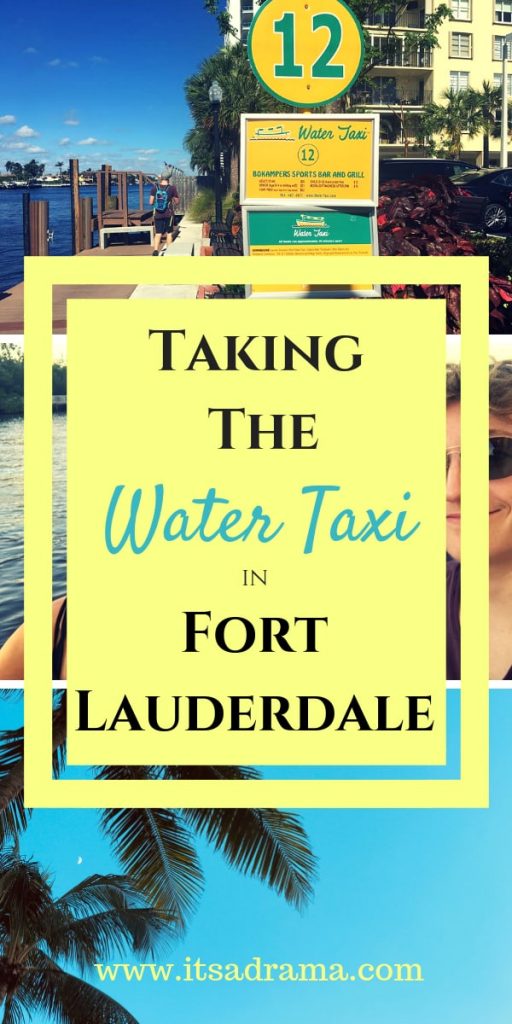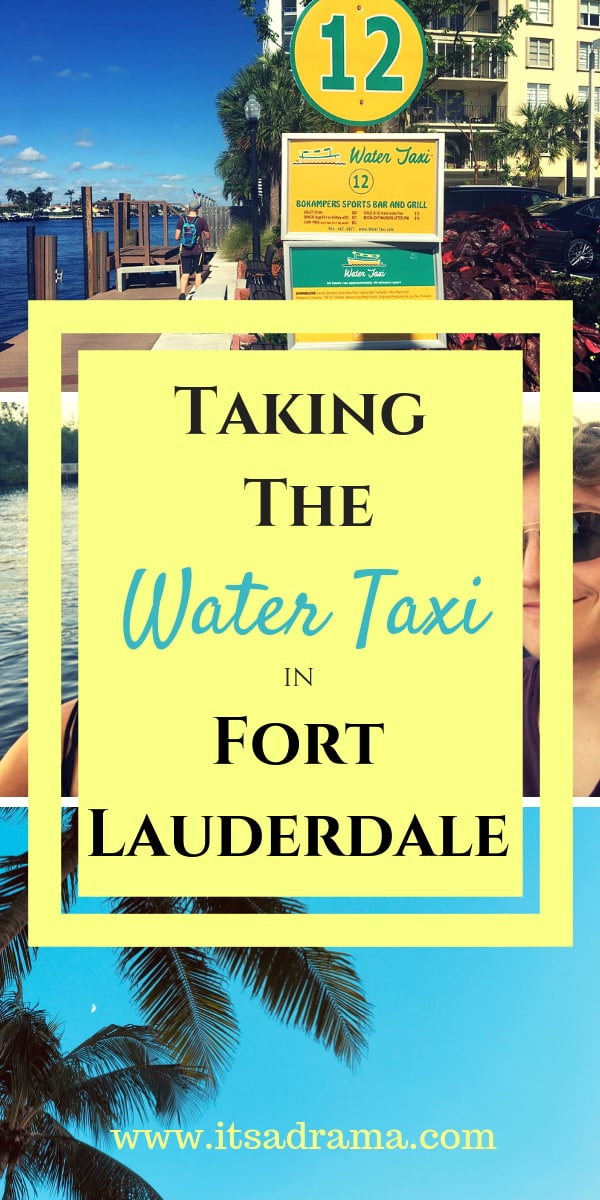 Things To Do In Fort Lauderdale on a Budget
Go to the local parks and see geckos basking in the sun
Of course, there are tons of malls but if you are like me, the thought of trapesing around shopping malls with two sweaty teenagers and very little money is not fun.
Spend a day on the water. Those waterways looked so inviting, but how can you possibly afford it on a tight budget?
The Fort Lauderdale water taxi. Hurray!
Related Posts That You Will Enjoy
Housesitting in Europe. How we saved ten grand.
Couchsurfing with kids. The good the bad and the bucket
How To Save Yourself At Least 44% On Activities In Florida!
I need to tell you the BEST way we found to save money on activities in Florida including the water taxi.
Miami, Orlando and Ft Lauderdale all have lots of amazing activities and if you are here with kids you will want to do as many of them as possible.
By using the brilliant Miami Pas you can save yourself over $700 versus the cost of buying each activity ticket separately.
That's a huge a 44% savings!
If you are in Miami for 5 days or more then this is the pass for you.
The Fort Lauderdale Water Taxi.
A fleet of bright yellow water taxis open on the sides but covered on top to protect you from the sun or rain! You can hop on and off as you please meaning that you can be super flexible.
Why Use The Water Taxi In Ft Lauderdale?
These water taxis are a genius and an affordable way to see the city.
There are three scheduled routes that run the length of the city, each with their own designated stops. The Fort Lauderdale route, the Hollywood route and the New River route.
The Fort Lauderdale route that we took has nine stops in total. You pay one fee and your pass is good for the whole day (and night). It starts running at 9.45 am and the last boat is at 11 pm.
There are clearly marked stops at given stops. If you stayed on the boat and did the whole tour around the main Fort Lauderdale route without getting off, it would take you about three hours.
From the moment we stepped on to the boat I knew it was the right choice. It's more like an exclusive tour boat than a taxi.
Each boat has a guide that stands at the front of the boat giving a running commentary on everything as you go along.
Download this genius App FREE from iTunes. It shows you where your nearest water taxi is and your most convenient stop.
What Is There to See From The Fort Lauderdale Water Taxi?
You chug along at a gentle pace – but not a boring one – and watch all the superyachts gliding past you. Ladened with supermodels and their sugar daddies.
The kid's jaws were wide open – but not as much as mine. Then there are the houses that were worth billions of dollars, owned by movie stars and inventors of shampoo.
The biggest cruise ship in the world was berthed for us to see. In. The. World.
You can't begin to imagine how much that impressed my kids.
What About Bathrooms And Refreshments Onboard?
There are toilets and also a bar onboard where you can buy alcoholic drinks, sodas, popcorn and crisps. All pretty reasonable too.
$1 for a bottle of cold water and $5 for a glass of wine; I won't lie. I was tempted.
The thought of watching superyachts from the little yellow water cab with a glass of Sauvignon Blanc in my hand seemed a very attractive option, you know how I love my wine.
For Pinterest ⇓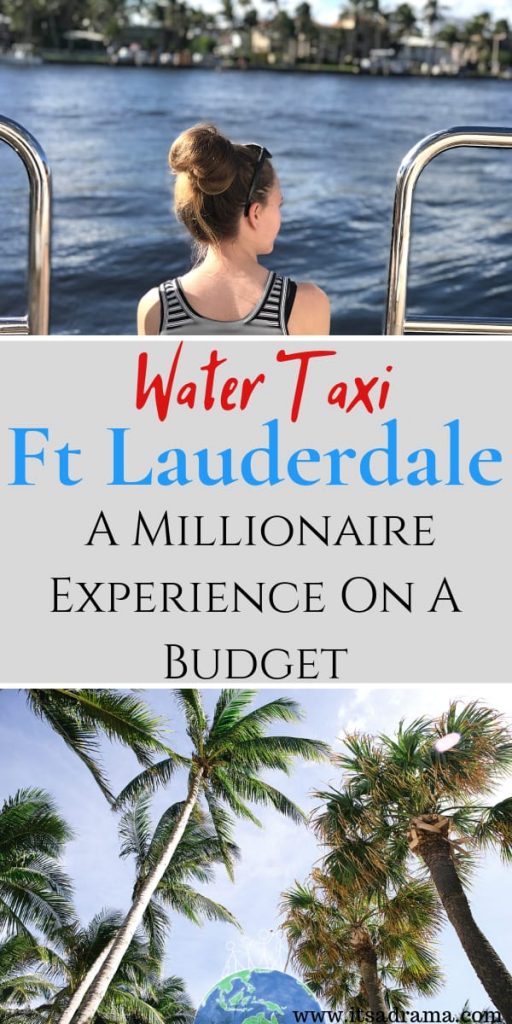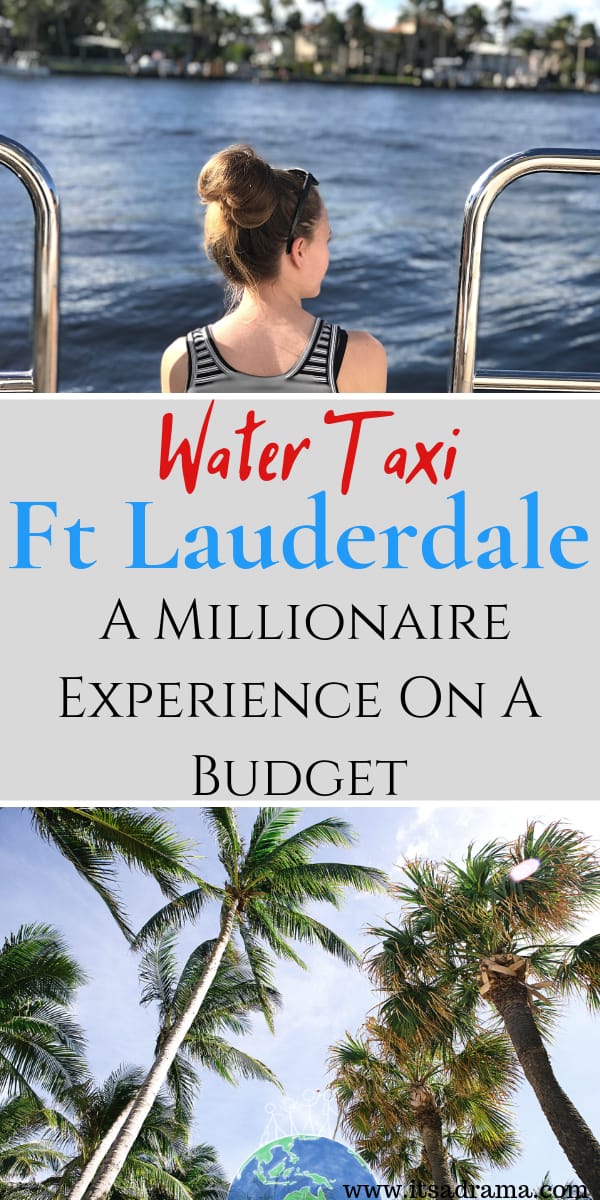 Refreshments On Board The Water Taxi
Between 5 pm and 7 pm, the wonderful Fort Lauderdale taxi offers a happy hour.
And oh, how this made Mummy happy! Two glasses of wine, ( I was kind, I gave one to Brian) a coke, and an apple juice – $8. Plus, free popcorn. It was divine.
The wine was cold, the sun was starting to set over Hollywood beach, the kids were happy, and all the while the friendly, funny staff on the boat giving us a light-hearted history lesson on Ft Lauderdale.
I didn't want the ride to stop. It was perfect.
Holiday Season On The Water Taxi
If you are lucky enough to visit Ft Lauderdale in December you will catch the holiday lights.
As I said, your ticket for the water taxi is good for the whole day and night, meaning that you can hop on at night and cruise up and down in the warm evening breeze feasting your eyes on the lavishly decorated houses and yachts.
And they are impressive.
I can't think of any better way to see these beautifully decorated houses than from the water
Here is a short video of our day on the water taxi. Enjoy!
Other Related Posts That You May Enjoy
Arrive feeling beautiful. 8 Brilliant Plane Essentials that you will never leave home without again
Ireland Travel tips. What to fe*kin' expect
Travelling with kids? How to stay sane before wine o'clock
25 Awesome travel gifts for kids that love travel. all for under $20!
The Cost of The Water Taxi In Ft Lauderdale?
Tickets are priced at $26 for adults and $12 for children aged 5 -11 Making it an affordable option for those on a budget.
While we were in Ft Lauderdale we used our Miami card and saved ourselves $12 on the price of the ticket (just check to see if the water taxi is still included, they were talking about taking it off)
If you just fancy the happy hour and the Christmas lights tour, hop on after 5 pm and it will only cost you $16 to cruise all night!
The whole day, including water taxi, lunch, bike hire and happy hour boat drinks cost less than a single ticket on one of the flash tour boat cruises that are on offer in Fort Lauderdale.
Do You Love To Travel But Can't Figure Out A Way To Do More Of It?
[et_bloom_inline optin_id=optin_6]
So there you have it. The Fort Lauderdale water taxi is, in our humble opinion, one of the best tours to take in the city. You are going to love it!
If you found this post of use to you and it made you want to try out the water taxi in Fort Lauderdale, please share it and I'll be forever grateful!
PS. We LOVE Housesitting. Want to Try it too?
If you have been following me for a while, then you will know that we have just returned from six months in Europe and Asia. While we were there, we did a lot of housesitting. We are constantly asked how we did this and if we can share the website that we used. So here it is:
The initial 'looking part' is free. You can oggle all of the beautiful houses around the world that are waiting for YOU to look after them. Take a sneak peek here! (As I say, looking is completely free, so gander to your heart's content).
Then, if you are serious about using Housesitting as a tool to travel the world for free (as we do), you can use my exclusive discount code to save yourself 20% by Clicking here.
Still not sure about paying for a Housesitting membership? Remember that the cost of a yearly membership (approx $80 using the discount code above) will be paid back (and more) on the first housesitting night. It really is that simple!