Anyone who reads this blog will know that my family and I are currently on a year-long world trip, our first stop being Fort Lauderdale in Florida. And what better way to see this fabulous city than from the water? Only there was a slight problem. Money. What to do when you want to be out on the water all day but you are on a budget. The answer?  The Fort Lauderdale Water Taxi.
This post may contain affiliate links. They cost you nothing but we make a small commission.
If you are a regular reader you will also have heard all about our super tight budget. As any parent will tell you, traveling with kids isn't cheap, but it's certainly possible to save money – especially in Florida. If you are on the lookout for things to do in Ft Lauderdale that won't break the bank then read on!
The Water Taxi. The Best Way To See Fort Lauderdale  (in my very experienced opinion…)
There are many expensive day cruises that you can take in Ft Lauderdale, but they are just that.
Expensive.
When you are a family on a budget these boat tours are out of our reach.
Read about (and watch our little video!) on how we took the  Ft Lauderdale water taxi, ate lunch, hired bikes and drank wine – all for less than the cost of one ticket on one of the many super duper tours that are on offer within the city.
Things To Do In Ft Lauderdale on a Budget. How To Save Yourself At Least 44% On Activities In Florida!
Before we go further, I need to tell you the BEST way to save money on activities in Florida.
Miami, Orlando and Ft Lauderdale all have lots of amazing activities and if you are here with kids you will want to do as many of them as possible.
By using the brilliant little Miami Go City Card you can save yourself over $700 versus the cost of buying each activity ticket separately.
That's a huge a 44% savings!
If you are in Miami for 5 days or more then this is the card for you.
What is Fort Lauderdale, Florida Like?
Before I tell you all about our amazing experience with the water taxi, let me first fill you in on Florida facts.
Ft Lauderdale is hot and pretty big. The population is 179,000. Remember, I am a Taranaki girl where the population of New Plymouth is 76,000 and although we emigrated from Bath in the UK where the number of residents was 176,000 –  that was a long time ago, so to me, Fort Lauderdale seems huge.
The buildings are towering and sleek, each nudging their way to the prime spot beside the pristine white sand beach. Kids ride around on bikes with no hands, no shirts and no helmets. There are swaying palm trees, parrots, geckos and white pavements.
There are lots of muscle cars. And shops. Fort Lauderdale is surrounded by waterways. You can take a boat up the intercoastal from Fort Lauderdale all the way to New Jersey without having to go out into the ocean.
As you drive around you pass over numerous little bridges catching fleeting glimpses of the beautiful houses that line the exquisite waterways resembling Venice.
For Pinterest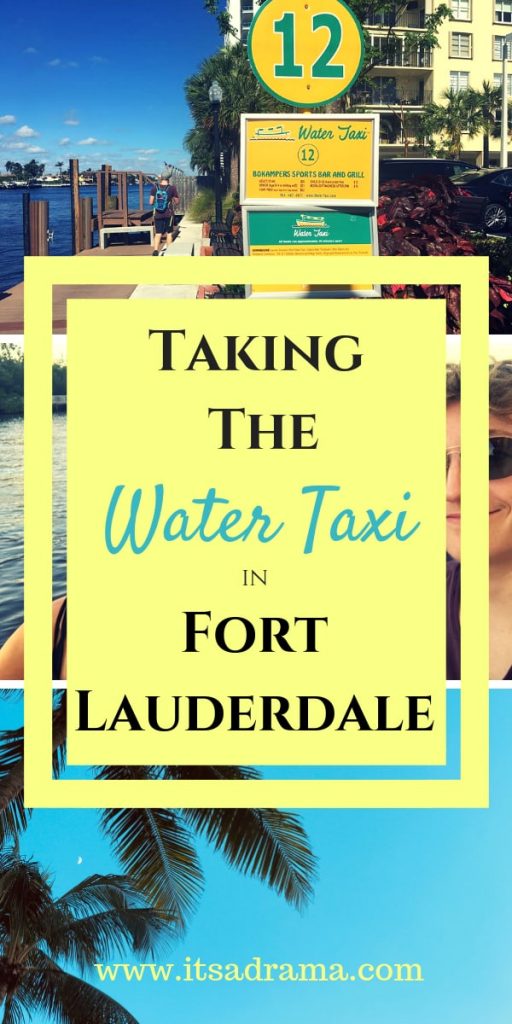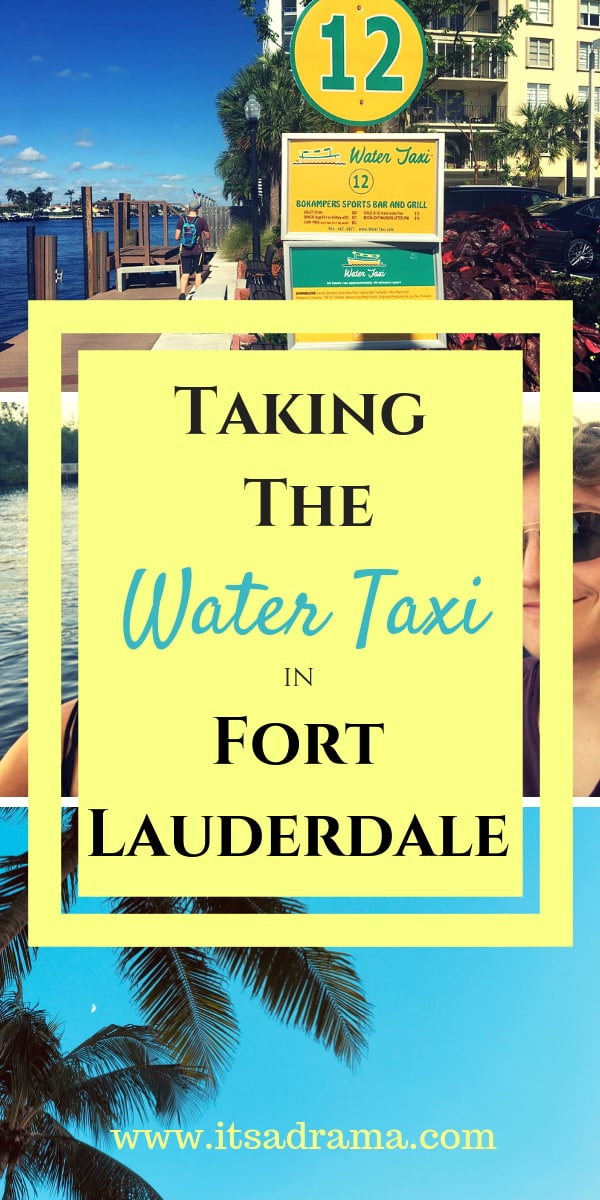 Things To Do In Fort Lauderdale on a Budget
Go to the local parks and see geckos basking in the sun
Of course, there are tons of malls but if you are like me, the thought of trapesing around shopping malls with two sweaty teenagers and very little money is not fun.
Spend a day on the water.  Those waterways looked so inviting, but how can you possibly afford it on a tight budget?
The Fort Lauderdale water taxi. Hurray!
Related Posts That You Will Enjoy
Housesitting in Europe. How we saved ten grand.
Couchsurfing with kids. The good the bad and the bucket
Arrive feeling beautiful. 8 Brilliant Plane Essentials 2109
The Fort Lauderdale Water Taxi.
Just what we were looking for. A fleet of bright yellow water taxis open on the sides but covered on top to protect you from the sun or rain! You can hop on and off as you please meaning that you can be super flexible.
These water taxis are a genius and an affordable way to see the city.
There are three scheduled routes that run the length of the city, each with their own designated stops. The Fort Lauderdale route, the Hollywood route and the New River route.
The Fort Lauderdale route that we took has nine stops in total. You pay one fee and your pass is good for the whole day (and night). It starts running at 9.45 am and the last boat is at 11 pm.
There are clearly marked stops at given stops. If you stayed on the boat and did the whole tour around the main Fort Lauderdale route without getting off, it would take you about three hours.
From the moment we stepped on to the boat I knew it was the right choice. It's more like an exclusive tour boat than a taxi.
Each boat has a guide that stands at the front of the boat giving a running commentary on everything as you go along.
Download this genius App FREE from iTunes. It shows you where your nearest water taxi is and your most convenient stop.
What is There to See From The Fort Lauderdale Water Taxi?
You chug along at a gentle pace – but not a boring one – and watch all the super yachts gliding past you. Ladened with supermodels and their sugar daddies.
The kid's jaws were wide open – but not as much as mine. Then there are the houses. Worth billions of dollars, owned by movie stars and inventors of shampoo. The biggest cruise ship in the world was berthed for us to see.  In. The. World.
You can imagine how much that impressed the kids.
There are toilets and also a bar on board where you can buy alcoholic drinks, sodas, popcorn and crisps. All pretty reasonable too.
$1 for a bottle of cold water and $5 for a glass of wine. I won't lie. I was tempted. The thought of watching superyachts from the little yellow water cab with a glass of Sauvignon Blanc in my hand seemed a very attractive option, you know how I love my wine.
Where to Eat While Taking the Water Taxi in Ft Lauderdale. (On a budget)
Teenagers have a habit of getting hungry so we hopped off the boat at stop 6.
This is also where you get the connecting boat down to the Hollywood Florida area.
The New York Marina Deli serves HUGE sandwiches. The guy that runs it is from New York and is super friendly. Their motto is to make yourself at home and when S and T found there was free wifi they did just that. The café is about a 12-minute walk. Use Google maps to find it.
There is an open tea, coffee and soda bar at the end of the counter where you can keep going back for more. Its all very relaxed and superb value for money.
A HUGE sandwich fed two of us – and you know how a 16-year-old can eat. I won't lie. He did ask for more but I said no. Free wifi and an unlimited amount of coffee. We would have been there all day.
Where did the Water Taxi Take you in the Afternoon?
We carried on down the river, all the while being told about the billionaire's houses that lined the waterways. Jane Fonda had a place there and Samuel L Jackson. The houses are amazing to see.
Getting Off The Water Taxi In The Hollywood District.
It was now the afternoon and Brian was keen to go and see the Jimmy Buffet hotel Margaritaville. It's in a district called Hollywood and it is stop number 9.
The whole area feels like a cross between California and Blackpool. Lots and lots of bars but rather than northerners wearing kiss me quick hats it is lined with beautifully tanned bodies in pink diamante thongs. All over fifty.
It does wonders for your confidence.
The fantastic thing about this place is the 2.5-mile boardwalk that runs alongside the beach. Note, this is not a boardwalk. There are no boards. It is made of concrete and is called a broardwalk.
It reminded me a little of the coastal walkway in Taranaki my hometown, that too has an amazing broadwalk, but whereas in Taranaki you have to watch out for crashing waves splashing you, here you have to look out for the 80-year-old guy on his rollerskates with a Chihuahua in his arms.
What is There to do in the Hollywood District With Kids? (On a budget)
The broardwalk is worth getting off the boat for. It's filled with free entertainment.
I wish I lived in a country where you could wear your bikini and everyone didn't flee in the opposite direction screaming for their lives. It would be so liberating.
Much to the kid's delight, we all decided to hire some bikes to cruise the broardwalk. Its far too long to be able to walk the stretch and back again within an hour, which is when we were due to get back on to the boat to meet our relatives.
For Pinterest ⇓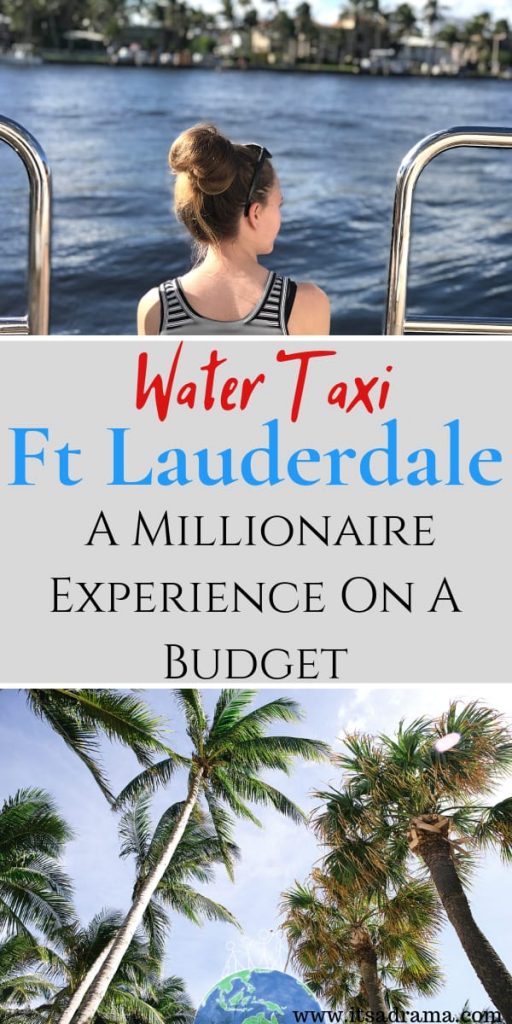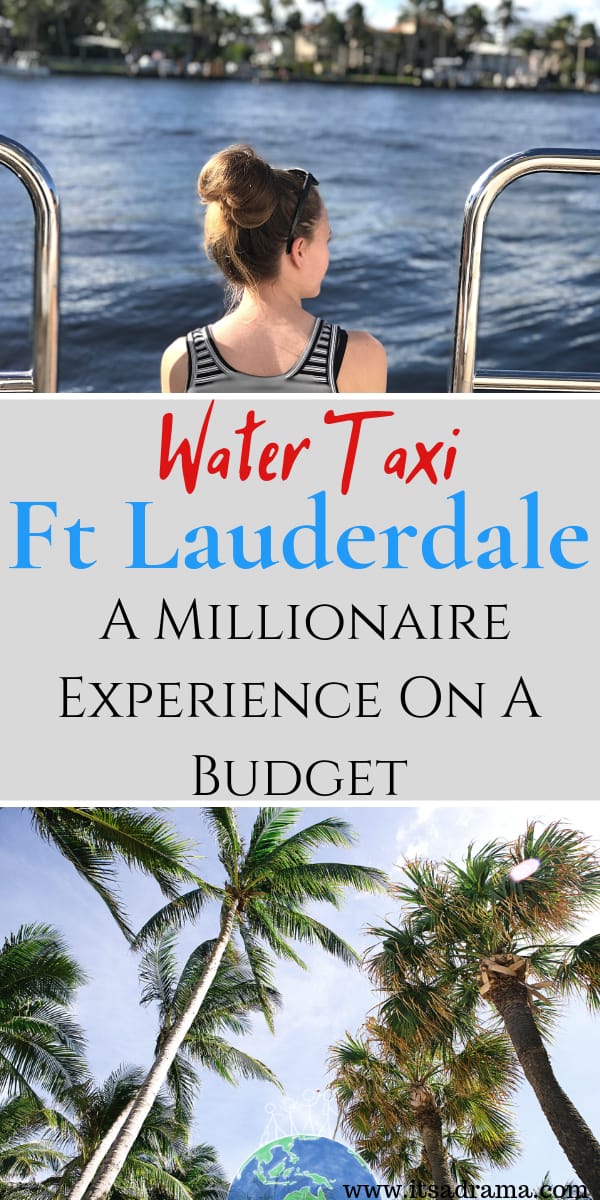 Hire Some Cruising Bikes and c-r-u-i-s-e.
Go to the bike rental shop at the entrance to the beach. The bikes are $12 for an hour or $7 for 30 minutes.
It was fabulous, they are the kind of bikes with the huge cow horn handlebars and a massive comfy seat.
Perfect for my big squashy old bum. I'm sorry, you can keep your racer thin sleek looking bikes. Those seats give women like me cystitis. If there had been a spare chihuahua going, I would have put it in the basket on the front to make me feel all Hollywoody.
Cruise the Broardwalk like a Local for just $7.
We spent a bliss filled hour cruising up and down the broardwalk in the warm afternoon sunshine. The sea is a beautiful turquoise, the sand is white and the people? Well, just do it for the people watching if nothing else!
It's worth every penny, and at $28 for the four of us, it was a bargain.
Don't Miss This Extra Treat on The Water Taxi.
The afternoon was fantastic and cheap. Perfect. We boarded the taxi just after 5 and were in for a further treat.
Between 5 pm and 7 pm, the wonderful Fort Lauderdale taxi offers a happy hour.
And oh, how this made Mummy happy. Two glasses of wine, ( I was kind, I gave one to Brian)  a coke, and an apple juice – $8. Plus, free popcorn.  It was divine.
The wine was cold, the sun was starting to set over Hollywood beach, the kids were tired from the bikes – still not too tired to scoff as much popcorn as they could manage,  and all the while the friendly, funny staff on the boat giving us a light-hearted history lesson on Ft Lauderdale.
I didn't want the ride to stop. It was perfect.
If you are lucky enough to visit Ft Lauderdale in December you will catch the holiday lights. As I said, your ticket for the water taxi is good for the whole day and night, meaning that you can hop on at night and cruise up and down in the warm evening breeze feasting your eyes on the lavishly decorated houses and yachts.
And they are impressive. I can't think of any better way to see them than from the water.
Here is a short video of our day on the water taxi. Enjoy!
Other Related Posts That You May Enjoy
How people on a regular wage afford to travel the world
8 Travel tips that you can safely ignore – 'cause they're crap
Travelling with kids? How to stay sane before wine o'clock
25 Awesome travel gifts for kids that love travel. all for under $20!
The truth as to why people love to travel
The Cost of The Water Taxi In Ft Lauderdale?
Tickets are priced at $26 for adults and $12 for children aged 5 -11 Making it an affordable option for those on a budget. While we were in Ft Lauderdale we used our Go Miami Card and saved ourselves $12 but you would have to check to see if the water taxi is still included
If you just fancy the happy hour and the Christmas lights tour, hop on after 5 pm and it will only cost you $16 to cruise all night!
The whole day, including water taxi, lunch, bike hire and happy hour boat drinks cost less than a single ticket on one of the flash tour boat cruises that are on offer in Fort Lauderdale.
So there you have it. The Fort Lauderdale water taxi is, in our humble opinion, one of the best tours to take in the city. You are going to love it!
I'm going to track down the guide that held my children's interest with his historical stories for so long and I'm packing him in my suitcase. Out with the chihuahua and in with the water taxi guide.
If you found this post of use to you and it made you want to try out the water taxi in Fort Lauderdale, please share it!
Now. Where's my pink diamante thong?…