Ireland is about as down to earth as it gets. If you are wondering what to pack for Ireland then please; leave the frilly, flouncy and silky items to other parts of Europe and think more understatedly gorgeous.
Earthy. Green. Sea-Salty. Wild.
They are the words that describe a woman who is about to visit Ireland.
A woman who doesn't have to shout about how beautiful she is. She just is so deal with it.
This post may contain affiliate links. They cost you nothing but we make a small commission. If you would like me to explain it further, please visit our disclaimer page.
I have been to Ireland many times, both with my family, with hubby, and on my own.
I have made lots of common Irish mistakes that most first-time visitors to Ireland make, and I have learned from those mistakes!
After all of these years visiting the Emerald Isle I have clocked up some invaluable Ireland tips and I would like to share what I now know about what to pack for Ireland.
Ready?
What To Pack For Ireland. 17 Items You Will Be Glad Of
Let's start with the things that you will want to wear in Ireland.
The best advice I can give you when deciding on what clothes to pack for Ireland is to prepare for all possibilities.
Honestly, Ireland changes her mind like – well, like the weather.
You can get up one morning to wet and windy blowing a gale, and by lunchtime, it is looking like you might get your swimsuit out!
What To Wear In Ireland
Longer Style Waterproof Jacket
If you have visited Ireland before you will know the reason I am recommending you pack a longer style waterproof raincoat such as this one.
Ireland is full of beautiful picnic spots and stunning viewpoints. You will usually find a bench or if not a piece of grass that you can nestle down onto and take in the scenery.
Those benches are usually damp. You need a long coat to keep your bottom dry! I love this loose-fitting waterproof jacket that could easily be dressed up with a scarf for a night in an Irish pub — Click here for prices.

Fleece
The key to looking great and feeling comfortable on your Ireland vacation is layering.
Pair this beautifully soft and comfortable fleece underneath a lightweight waterproof jacket and you will be good to go — Click here for prices
Long-Sleeved Tops
Take three long-sleeved tops that you can wear under a fleece on a windy day or to the pub in the evening.
This tunic style top looks gorgeous with jeans and a poncho or layered over some warm leggings — Click here for prices
Short-Sleeved Top For Day Wear
I love this boat neck tee shirt because not only is it perfect for those days when the sun is shining in Ireland, it is gathered at the tummy making it very flattering.
This could be worn with a long cardigan for a night out on the Irish tiles and would be equally suitable for warm days sightseeing — Click here for prices
Dress Top (for the evening)
I LOVE this gorgeous casual crop top. It would be perfect to wear at night in Ireland.
It comes in a range of different colours and would look fabulous paired with skinny pants or some loose-fitting linen trousers — Click here for prices
Chunky Cardigan
How Irish will you feel in this earthy, casual (but utterly gorgeous) chunky cardigan
Perfect for those blowy afternoons or pair with some skinny jeans to look ready to soak up the Dublin atmosphere — Click here for prices
Fleece Lined Leggings
We were last in Ireland in Sept/ October and I lived in these cosy leggings! They are perfect for keeping that Irish wind at bay.
Wear them underneath lightweight hiking pants for a day sightseeing or else on their own with a long tunic, boots and scarf for an evening out in Dublin — Click here for prices
Skinny Jeans (comfy and flattering ones)

You get to an age where you think skinny jeans will never again have a place in your wardrobe. Well, you are wrong – thanks to Levi!
These pull-on, shaping jeans makes me want to love Levi forever.
These skinny jeans hold you in, hold you up and quite frankly are the most comfortable jeans I have ever worn. You are going to LOVE them in Ireland. I promise. — Click here for prices
Lightweight Dress Pants
I'd take one pair of comfortable pants to wear in Ireland. Always a good go-to for when you don't want to think too hard!
These stretchy pants are super comfy and have a flattering bootleg cut, meaning that they look just as good with hiking boots as they do dress shoes — Click here for prices
Hiking Pants
There are so many beautiful hikes in Ireland and if you are looking for a pair of windproof, stainproof and quick-drying pants then these Columbia pants are your best choice!
I love the fact that these pants roll up really small too, making more room in your packing case — Click here for prices
Lightweight Scarf
I love these snap scarves.
If you haven't yet worn one they are super soft scarves with little snaps on the ends that you can either put together or leave open and flowing.
They are hugely versatile and can keep you warm when the Irish wind gets a bit blowy or they can dress up a plain tee shirt into something a little special for a night out — Click here for prices
Comfy Shoes
You will absolutely LOVE these Sketchers walking shoe. They are the perfect shoes to pack for Ireland. They are super comfortable and paired with either skinny pants or boot cut trousers would look great.
I also think that if you wore these with a little black dress they would look super cute —Click here for prices
Boots
These cute ankle boots are the perfect look for an evening out in Ireland.
Wear them with skinny jeans or leggings and a poncho — Click here for prices
Poncho
This stylish poncho paired with skinny jeans or tights and a skirt is the perfect look for when trying to decide what to pack for Ireland. Elegant yet casual this poncho is a mixture of cotton and spandex making it soft and comfortable — Click here for prices
Other Items You Will Need to Pack For Ireland
Other than what you will need to pack for Ireland to wear, there were a few other essentials that I was glad that we took with us when we visited the Emerald Isle (that weren't mentioned in the travel books!)
Umbrella
Whatever season you visit Ireland to make sure you pack a travel umbrella. This is the best one on the market and you will thank me for the advice to take an umbrella to Ireland.
Brilliant in the wind and in cities, this umbrella comes in lots of colours — Click here for prices
Ireland Travel Adapter
After having spent a year traveling around the world with two tech-loving teenagers I realised how important this travel adapter was.
This 4 port USB power travel adapter will not only save you lots of stress in Ireland but will also keep everyone's gadgets firmly topped up — Click here for prices
Ireland Travel Insurance
Whatever you do, make sure that the insurance you buy for your Ireland trip is the best there is.
As I said, we have spent the last 12 months traveling the world and so my husband did a stack of research about which was the best travel cover. This is the company that we use every time.
I AM an affiliate for World Nomads which is just as well because we have made 3 claims in the past year and every time they have been faultless and saved us $$$'s in emergency dental fees and Ireland car hire excess, I tell everyone I meet about how fantastic they are.
I will only ever recommend World Nomads for Ireland travel insurance but whichever one you choose, make sure you are covered for everything.
Use the quote widget below ⇓ to instantly find out how brilliant World Nomads are or click here for more details.
Day Bag
This cross over anti-theft bag is not only stylish but it is super practical too.
(If travel purses are your things then you can check out my post on 21 gorgeous and practical travel purses.)
Ireland is a relatively safe country and I have never experienced any crime while visiting, but it is always reassuring to know that your travel purse cannot be snatched — Click here for prices
Bug Spray
One of the common mistakes that people make on their first visit Ireland is assuming that there aren't any bugs.
Not true – and I have the bites to prove it!
Don't worry, mosquitoes in Ireland don't carry any nasty disease but to avoid scratching all day pack some repellant.
In my opinion, this one is the best there is. Fragrance-free and easy to rub in — Click here for prices
Here is the Ireland video I promised you of us in the pub!
Related Posts That You Will Enjoy
Ireland tips for your first visit. What to expect
How to avoid looking like a fe*kin eejit in Ireland
Arrive feeling gorgeous. 10 Plane essentials that you will never leave home without again
Vacation Checklist. 39 ways to make things a little easier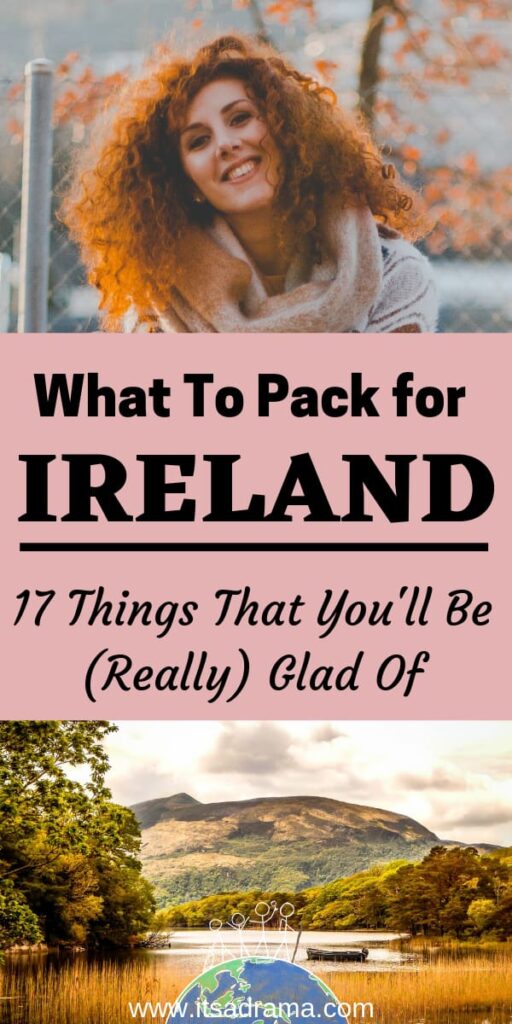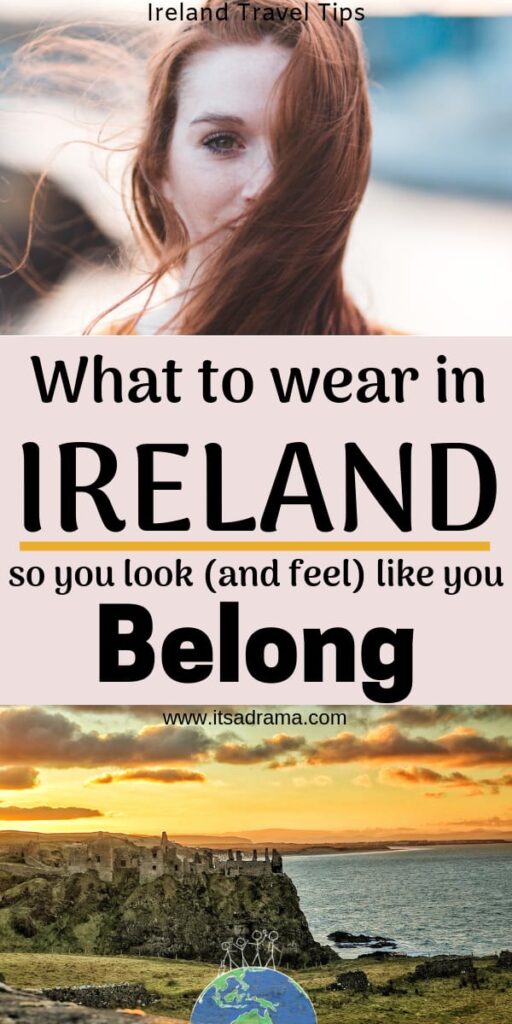 So, there you have it. And not a frill or a flounce in sight!
Have you been to Ireland? Are you about to make your first trip to this gorgeous country?
If you can think of anything that you would like me to add to either the what to wear in Ireland or what to pack for Ireland then leave me a comment below and I will gladly add your suggestion!