Travel purses are a funny thing.
While every woman needs a purse for travel, ideally, we would prefer not to look (or feel) as though we are lugging around some ugly, cumbersome (achy shoulder) carry-all that is housing the entire contents of the top drawer in our kitchen.
That's not the look we are after when going on vacation.
No, thank you. Certainly not.
The Best Travel Purse. 21 Practical (& Gorgeous) Options
So, when it comes to travel handbags, what's the answer? Which is the best travel purse on the market?
Which one will make you look, feel and be as relaxed, practical and gorgeous looking as possible?
The answer to that will depend on three things.
Your style, your budget and your fear of being robbed. So without further ado, let's explore the best purses for travel.
This post contains affiliate links. They cost you nothing, but we make a small commission. If you would like me to explain it further, please visit our disclaimer page.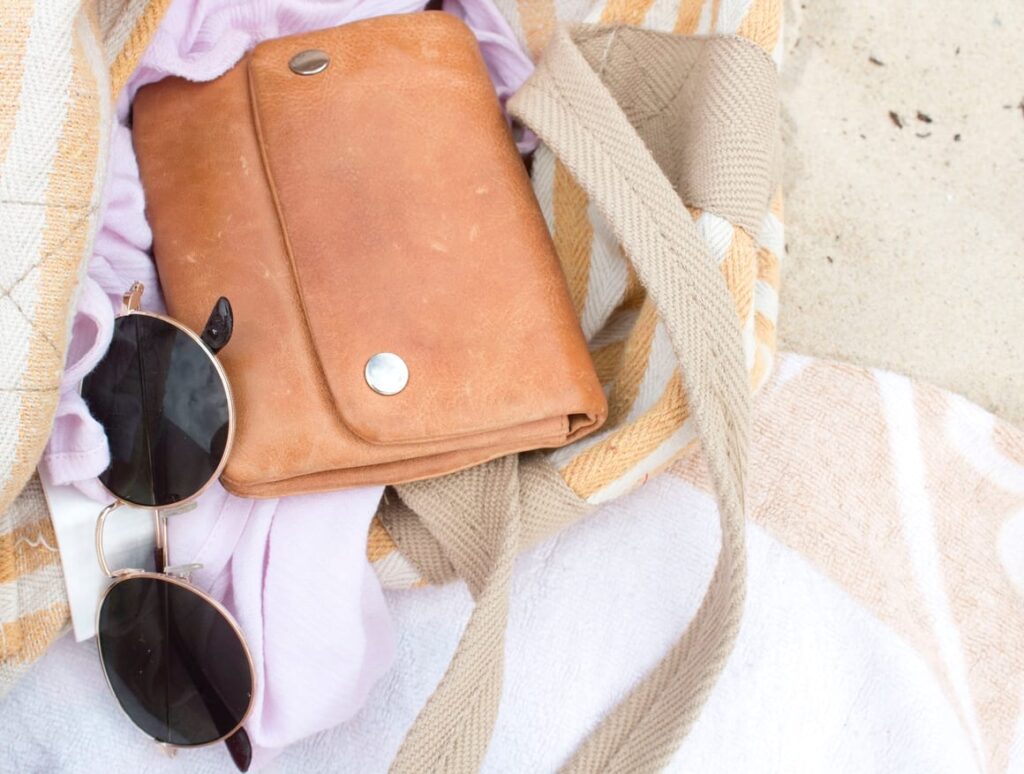 Best Crossbody Bags For Travel
I love cross-body purses, especially for those long travel days.
The beauty of having a crossbody bag when you are travelling is that it leaves your hands free – and we all know how important that is.
Whether we are eating on the go, hydrating ourselves or simply snapping photos, the crossbody bags are ideal for travelling to places where you know you are going to be distracted and busy.
Bagallinin Crossbody Bag
This lightweight Bagallini travel purse comes in lots of stylish colours, making it one of the more stylish crossbody bags for travel.
It is made from polyester making it lightweight and water-resistant.
Perfect for a weekend trip away it has lots of little pockets for credit cards and phones — Click here for prices
NOTAG (Waterproof) Crossbody Bag For Travel
If you are travelling to somewhere rainy such as Ireland or New Zealand then be sure to take a waterproof bag!
There is nothing more annoying when you are travelling than getting caught in a downpour, leaving the contents of your purse soggy.
This waterproof travel purse comes in four lovely colours. It is a little larger in size making it one of my top best travel purses (I carry far too much stuff around with me!) — Click here for prices
Cellphone Travel Purse
I'm including this lovely little bag because it is just that.
Little and lovely. And the perfect small travel purse.
I adore the colour – it would be perfect for a day out in Rome or Paris when you let your other half carry the important stuff and all you have to worry about is your phone, your money, and looking gorgeous…
— Click here for prices
Triple Zip (Large) Crossover Purse
If you are looking for something slightly larger and want to match your purse with a particular outfit, then this triple zip crossover bag is ideal.
This is the French grey version but this bag comes in a huge range of 33 different colours, and they are all very classy and soft.
This travel crossbody bag has stacks of room, loads of pockets and is ultra-stylish. The best purse for travel — Click here for prices
Multipurpose Crossbody Hiking Bag
Lightweight crossbody bags for travel aren't always easy to find, but they are essential if you are taking a hiking trip, (or if you plan to do a good deal of walking or have teenagers who need to carry a small amount of stuff!). Either way, this multi-purpose crossbody bag is for you.
This travel purse can be used as a messenger bag, shoulder bag or crossbody.
I love the breathable, shaped and padded shoulder strap – making it one of the best lightweight crossbody bags for travel, and the ideal bag for those long days out.
Loads of lovely colours too — Click here for prices
Best Anti-Theft Travel Purse
I am happy to say that in all the years we have travelled (32 countries) I have never once had my bag snatched.
That's not to say it won't happen, but I don't want you to ruin your trip by fretting constantly about lions and tigers and bears. There are some tips for travel that you need to ignore. Just saying.
Simply be aware and use your common sense. You'll be ok.
Taking simple precautions such as wearing your bag on your front or tucked inside your jumper in busy areas such as subways or high-traffic streets is usually enough to keep your things safe.
But.
If you would prefer to know that the travel purse you are carrying is less attractive to bag snatchers (or you are visiting a place that is known for crime (talking of which, check out things to do in Venice, Italy), then the following travel purses are for you. ( I have included a link to what RFID blocking is just in case, like me, you have no idea how all this anti-theft stuff works!)
Travelon Anti-Theft Mini Shoulder Bag
This Travelon bag. is one of the best travel shoulder bags out there.
Not only is it anti-theft but, more importantly, it doesn't look like your average tourist bag.
It comes in a range of lovely prints (and also plain) this travel purse has an RFID blocking card and is made of slash-proof material giving you peace of mind for when you are out and about — Click here for prices
Travelon Anti-Theft Bucket Bag

Another bag by Travelon and one of my personal favourites.
As the mum of two kids, I like to carry lots of things around with me (in case of 'emergencies'). These emergencies never seem to happen but hey – I like to be prepared. And this is the perfect bag for that.
Stacks of room in this comfortable, anti-theft purse. Comes with the usual blocking card and splashproof material and is available in 12 stylish colours This has also got to win the prize for best travel purse with water bottle holder! — Click here for prices
Waterproof Anti-Theft Backpack
If you are travelling with valuable electronics, then you will seriously want to consider a waterproof anti-theft backpack such as this Pincnel rucksack.
The zipper to the main part of the bag is at the back so it can't be seen by would-be thieves. Large and roomy, big enough to carry an A4 pad, umbrella, water etc
I love the range of 14 colours (especially this stunning green) — Click here for prices
Messenger Anti-Theft Purse

This lovely messenger bag by Travelon is about as practical and stylish as they come.
With all the usual safety features offered by Travelon anti-theft but in a simple design.
This bag is deep, so will fit lots in. A nice little feature is a removable LED light — Click here for prices
Baggalini Anti-Theft Crossbody Purse
I think this Baggallini theft-resistant crossbody bag would look gorgeous on a city break.
It comes over as being super causal yet gives you peace of mind when travelling!
This traveling purse comes in many colours, with lots of pockets (including an RFID pocket for credit cards) and chunky zips. I love the side pocket for a water bottle or umbrella — Click here for prices
Best Luxury (and utterly gorgeous) Travel Purse
Sometimes you don't want practical. You simply want to look (and feel) gorgeous, and picking the best travel handbags can make you feel all that and more. *If this is you, then after reading this post, you might want to know about what to wear in Italy, where I offer more ideas for glamourous travel purses.
These travel purses aren't designed for trecking up the Himalayas or carting the kids around Disneyland; they are for those moments when you wander at your leisure around a European city – drifting from coffee shop to wine bar.
The perfect vacation purse.
Leather Cross Body Travel Bag
I adore this 100% oil-rich leather crossover bag everything about it says European casual style!
I am impressed with the price and the lovely vintage battered leather – plenty of pockets and adjustable strap – it's a gorgeous travel handbag— Click here for prices
Clutch Travel Purse
I'm not usually a pink bag kind of girl but I am in love with this soft pastel pink colour and the practicalities of this bag for travel.
Clutch bags are an elegant way to carry a purse (there is the option of a shoulder strap if you prefer – wear it crossbody for safety) and the Aeeque bag ticks all of the boxes for space and glamour making it one of the best travel purses for women.
Three big zipper compartments mean that you will have everything you need to hand — Click here for prices
Tote Organiser Bag For Travel

This 100% cowhide leather tote bag is fabulous for those who like to carry lots of things and wear their bag hooked under one arm (on a safety note, this is a great deterrent from thieves too)
There is a middle divider and lots of pockets inside to keep your life organised when you travel! I'm thinking New York or Milan with this stylish travel purse; I love it — Click here for prices
Triple Zip Large Travel Purse
You can never have enough zips and compartments when you travel, making this lovely Alyssa bag perfect for those who prefer to carry more in their purse than in their luggage!
Comes in a range of different colours (including black) but I have a secret preference for this beautiful soft green look. Understated and beautiful — Click here for prices
Heshe Vintage Leather Travel Purse

If you are looking for an elegant, classic purse to travel with then you will love this leather Heshe bag.
Made from cowhide leather (make sure you purchase a few weeks before your vacation so that the leather softens up)
Wear it hooked over your arm or across your body
I love the outside zip (perfect for the things you need to get to quickly) and every one of the colours ooze class —Click here for prices
Boho Wicker Travel Purse
What is not to LOVE about this cute wicker purse? I think it would be simply perfect for wandering the streets of Europe in the summer paired with a soft cotton dress.
This travel handbags lightweight material makes it super easy to pack snuggly into your luggage without taking up space or weight — Click here for prices
Would you love to travel more for a lot less? Then let me show you how! Join my FREE newsletter, and I will send you a complimentary copy of my ebook "Travel More, Travel Better, Pay Less". I look forward to getting to know you better!
FAQ On The Best Travel Purse
Over the years, I have had the same questions come up a number of times regarding which bags are the best for travelling, so I will try to answer the most common ones.
#1. What's the best travel purse for Europe?
Depending on where you are going in Europe. If you are with your family and are going to be spending a lot of time in the European cities then I would recommend a crossover bag. The same applies if you plan on doing lots of sightseeing – perhaps you are going to visit Pompeii for a day?
I love crossover bags for busy travel days as they allow you to be hands-free. You are able to take your child's hand, read books about travel or simply snap loads of photos on your phone.
I've included a quick video so that you can see what I mean when I say about Europe being busy…
#2. What's the best travel purse for Italy?
If you are visiting Rome, Florence, or Venice in the summer, then choose a purse that is both lightweight and comfortable. It will be hot.
We have travelled all over Italy and have (thankfully) never had any experience of crime, so I never bothered with an anti-theft purse. Read our Italy travel tips post to know more about what to expect in Italy.
In saying that, don't carry your purse with the opening on show – not in busy tourist areas. Put your purse across your front and rest your arm on the zip.
#3. What's the best way to keep your purse safe when travelling?
Look. First, let me say that, as a family, we have been travelling the world for over twenty years. Last year we took two teenagers backpacking to 22 different countries.
We spent the night on sleeper buses in India, walked the streets of Hanoi at night, missed trains in Waterloo station in London – you get my point. Not once – ever have we experienced bag snatching.
While you could argue that we might just be lucky, I don't think so. We just always use our common sense.
Take precautions but don't get so stressy that it ends up ruining your trip.
I am not a fan of shoulder bags when travelling to busy places. They are easy to swipe and usually light enough to run off with. If you do fall in love with a shoulder bag wear it crossbody in places that don't feel safe.
Clutch bags are beautifully elegant but not much good for busy sightseeing days. Carry on to the restaurant in the evening – that's about it.
With both messenger bags and cross-body bags keep your most valuable items inside the pocket closest to your body.
Never, and I mean never, carry your wallet or phone in your back pocket while travelling.
When we backpack as a family, my husband carries a rucksack with loads of zips and locks (and mini padlocks for trains etc) as he is the one who takes care of the important items such as passports and computers. Choose an anti-theft rucksack if you want peace of mind when you travel.
#4. What's the best travel purse for Paris?
Again, this will depend on who you are visiting Paris with! If you are taking a romantic long weekend vacation in Paris then I would always take a leather shoulder bag with lots of room (there are lots of things to buy in this gorgeous city!)
You will be doing a lot of walking so you will need water. Allow enough room in your bag for that.
Or. If you prefer to travel light for a day, then carry a small crossover travel purse that will fit your phone, your lipstick and a credit card.
#5. What is a Fabulous Book to Read on My Travels?
While there are many books about travel I could recommend you read on your vacation, there is one in particular that I am going to recommend. The Travel Bog Diaries!
Here's why I think YOU will LOVE the Travel Bog Diaries.
1: If you are this far down the post, then you obviously like my style of writing.
2: You are a woman, and this book was written for you.
3: You are a man. There's a man in the story. You'll love this book.
4: You love to travel. There are sixteen chapters within this book, each set in a different country. Italy, Sri Lanka, Ireland, England, India, Japan, to name a few.
5: It's as FUNNY as hell.
6: It was written by MEEEEE!! (Sorry. Couldn't resist..!)
The Travel Bog Diaries. One Woman's hilarious confessions of Surviving Family World Travel.
Check it out on Amazon HERE
Related Posts That You Will Enjoy
17 Underrated travel destinations that are simply gorgeous (and cheap)
Ireland travel tips for the first time. What to fe*kin' expect
The ultimate travel checklist. 38 common things that most people forget
What to wear in Italy. So that you look (and feel) every bit Italian
Arrive feeling gorgeous. 15 Travel essentials for the plane
Do You Love To Travel?