Nobody likes to turn up at their destination feeling wrecked.
When you pack for a plane journey, be it a long haul trip or a quick weekend internal flight, you want two things: One, to get some sleep so you avoid jet lag and two, to feel comfortable but, at the same time, glamorous.
Every traveller loves a bit of glam – regardless of what they might tell you.
If you pack the best travel essentials for the plane, your vacation will begin once you board the flight.
And not two days into the trip once you have recovered.
This post may contain affiliate links. They cost you nothing but we make a small commission. If you would like me to explain it further, please visit our disclaimer page.
Travel Essentials For The Plane
There are a few airport hacks that we swear by when taking a long flight.
One of these tips is only taking the things that you will use and that will benefit you on the plane.
Use our comprehensive and thorough travel checklist to make sure that you are only taking the absolute essentials. Leave the unnecessary 'I might need that" things at home.
Make sure you buy the best travel purse for your trip, one that is big enough for your belongings.
You will need to know that your essentials are close at hand and small enough to pack down into your bag.
There are some genius travel accessories that can save you weight and space, including stylish rain ponchos that squash down into almost nothing and travel pants that are light and comfy. Best books about travel that will pass a long flight.
We want you to arrive at your destination feeling as relaxed as possible.
For Pinterest ⇓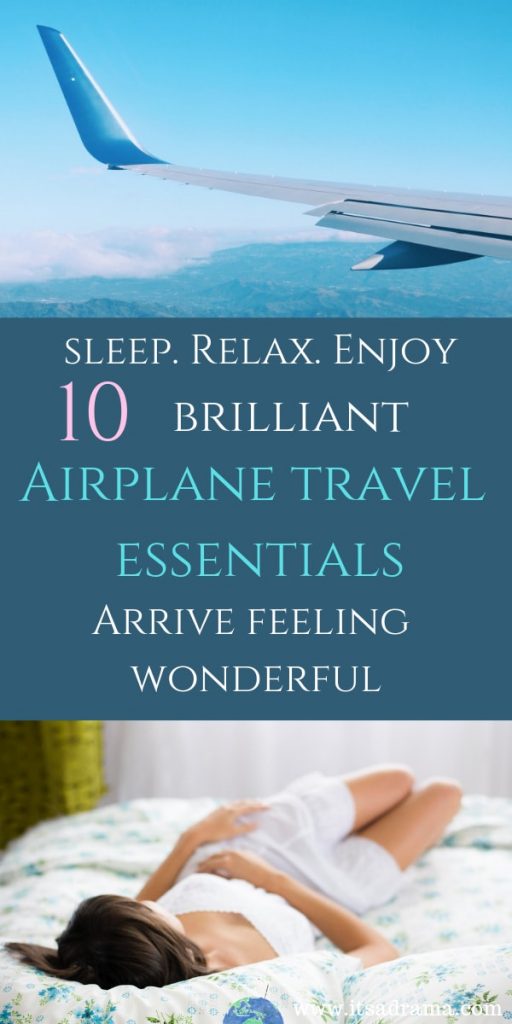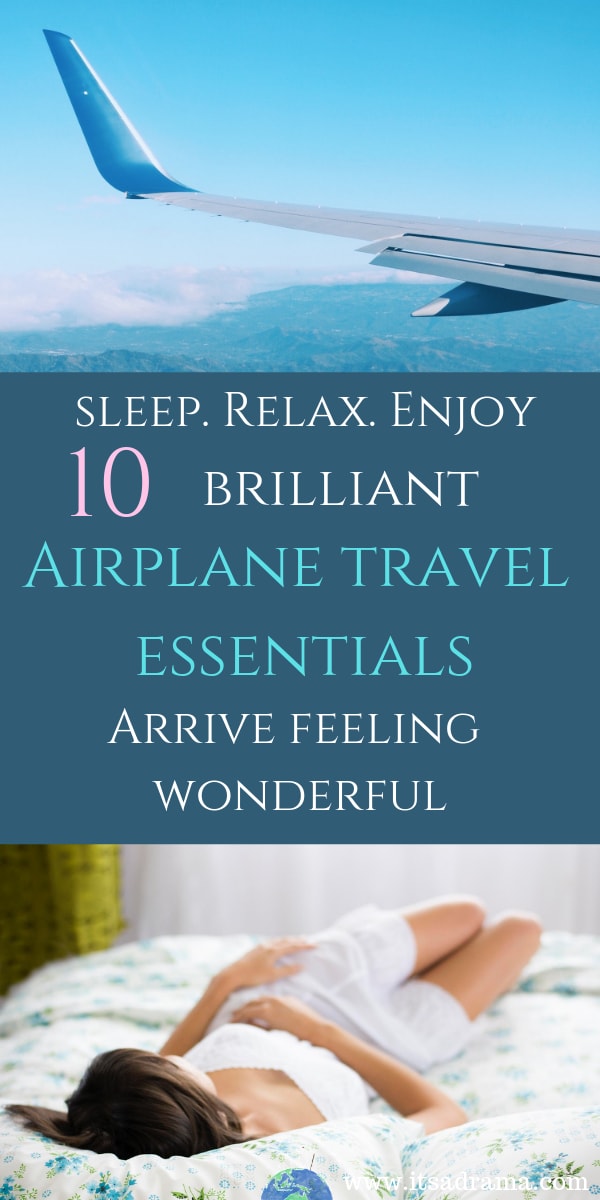 Travel Essentials That Will Help You Get Your Beauty Sleep
Let's start with sleep.
The one thing that every single one of us prays will be possible once we settle ourselves into our seats on the plane is that we will be able to sleep.
To do this, I recommend you pack the following:
#1 The Best Travel Pillow
This fabulous J pillow is brilliant. You can twist into any position, making it ideal for those whose chin tends to fall forward like me!
It provides neck support by filling the gap between the head and shoulders, making it the best-patented travel support pillow for travel.
You can twist the pillow into several positions.
The design is perfect for full support while sleeping upright without getting a stiff neck, making it perfect for Airplane flights, cars, busses or trains — Click here for prices
#2 The Best Travel Shawl
This Incredibly versatile travel shawl is a must-travel essential when it comes to warm accessorizing.
This gorgeous wrap serves as a pashmina shawl, dressy scarf, poncho, blanket, and more. It can also be worn alone or layered elegantly with other clothing.
It is lightweight, breathable and 2x softer than cotton, leaving a soothing, warm feel to your skin.
This fabric has UPF 50+ sun shield and moisture-wicking properties, making it perfect for all weather!
Click here for prices
#3 A Comfortable Eye Mask
I was bought this brilliant 3D Eye Mask present before we left on our backpacking trip, and it is the BEST thing for getting sleep on the plane.
It has a 3D groove design in the eye socket, creating the airy barrier you need to stay sleeping. There is no eye pressure which is super important
There is no comparison between this and the regular eye masks — Click here for prices
Travel Essentials To Help Combat Achy Legs
Now that you are able to get to sleep let's make sure you are comfortable when you wake up!
#4 Foot Hammock
There's one thing that drives me mad when I'm on a plane, and it's when I discover there isn't a footrest.
Before long, your legs start to ache, and you end up rolling up your sweatshirt so that you can raise your feet up slightly higher.
Not any more!
These brilliant travel essentials for the plane let you enjoy leg and lower back support while your legs swing gently with the motion of the plane.
Simply loop the strap over your tray table arms and put your feet up! — Click here for prices
#5 Compression Socks
I never used to wear compression socks when I flew. I thought they were for old people. Now that I am that old person, I would not fly without them.
The difference it makes to how your legs feel at the end of the flight is unbelievable.
The compression on the Physix Gear compression Socks is perfectly located on the heel, foot and calves, giving you instant support and comfort — Click here for prices
Travel Essentials To Keep Your Skin Looking Gorgeous
#6 Anti-Ageing Beauty Serum
I am a 52-year-old woman who travels a lot.
I have tried endless serums, creams and potions that all promise to hydrate my skin and keep it looking beautiful so that I don't get off the plane looking like a Ryvita biscuit.
In my opinion, there is only ONE serum that actually works and that is the Tree of Life Range.
Hydrates; gets rid of fine wrinkles and spots – I LOVE it, and I know you will too — Click here for prices
#7 Collapsible Water Bottle
One of the most important things you can do on a flight to keep your skin looking lovely is to stay hydrated.
We love these genius collapsible water bottles that squash to almost nothing when not in use. Perfect for travelling. — Click here for prices
#8 In Transit Face Wipes
We all know how it feels to get to the end of a long flight and have the urge to wipe your skin free of all the dirt and air that has settled on your face.
Here is a product I absolutely love. (love the name too!)
In Transit have a range of products that are perfect for travel. Including these handy wipes that you won't fly without ever again — Click here for prices
#9 The Worlds Best Hand Cream
The first thing to look dry on a plane is your hands.
I have been using this wonder cream for over twenty years now and it never fails to amaze me how brilliant it is.
Named the world's best hand cream, no woman should fly without a tube of L'Occitane — Click here for prices
#10 Elizabeth Arden 8-Hour Lip Balm
Eight-hour cream was created more than seventy years ago and is still the number one beauty product that women (and men) turn to for hydration.
I love this lip balm. It gives a subtle, glossy finish while remaining ever so slightly plane glamorous! — Click here for prices
Travel Items For The Plane That Reduces Any Unnecessary Stress
#11 Anti-Theft Travel Passport Wallet
My husband always carries our four passports, tickets and boarding pass, and it causes him a lot of stress.
The Zoppen Multi-purpose travel organizer would stop any of that worry.
For those who understand technology (excluding present company) is that it keeps identification thieves away from you and protects your personal information with the use of an inside RFID blocking shield material under frequency 13.56 Mhz. — Click here for prices
# 12 Noise Cancelling Headphones
These are the most expensive item on my plane travel essentials list, but they are a luxury I couldn't be without.
It isn't until you have tried a pair like the Bose Quiet Comfort 35 that you realise what you have been missing out on.
Unlike some other headphones, Bose does not sell itself as being completely noise-cancelling. Instead, they focus on the quality of the sound that is delivered, and yes, it is a fantastic sound and, unlike some headphones that I've tried, doesn't make your ears too hot.
An important feature for me when I travel is weight. I don't like bulky headphones. The Bose are light and fit nicely into my flight bag — Click here for prices
#13 An Extra Bag For Souvenirs
Unfold this bago travel bag at the airport to avoid excess luggage and carry your gifts and souvenirs home!
When opened to its full size it is 85 litres capacity. It is super lightweight and durable with lots of extra pockets for those things you couldn't resist.
This bag makes a nice lightweight alternative to a suitcase if you are only away for a few days and want something practical and easy to carry — Click here for prices
#14 Best Travel Book!
While there are many books about travel I could recommend you read while taking your vacation, there is one in particular that I am going to recommend. The Travel Bog Diaries!
Here's why I think you will LOVE the Travel Bog Diaries.
1: If you are this far down the post, then you obviously like my style of writing.
2: You are a woman, and this book was written for you.
3: You are a man buying travel items for his partner. You're nice. You're allowed to read this book.
4: You love to travel. This is a book about a woman who throws her regular life up in the air to travel the world for a year.
5: It's as FUNNY as hell.
6: It was written by MEEEEE!! (Sorry. Couldn't resist..!)
The Travel Bog Diaries. One Woman's hilarious confessions of Surviving Family World Travel! Click here for prices
Would you love to travel more for a lot less?
Then let me show you how! Join my FREE newsletter, and I will send you a complimentary copy of my ebook "Travel More, Travel Better, Pay Less". I look forward to getting to know you better!
And Last But Not Least, Best Multi-Trip Travel Insurance!
By far the least one of the most important travel essentials you will need before you set off on your flight.
#15 Fantastic Travel Insurance
We use World Nomads regardless of whether we are taking a trip for a week or a year, and they are fabulous.
I recently cracked a tooth while eating ribs in Bangkok (as you do) and needed an emergency root canal filling.
World Nomadswere sympathetic, efficient and responsive and the total cost of the dental treatment was covered in my policy. Take a look at the quote box below if you haven't yet got your insurance.
Please note: We receive a fee when you get a quote from World Nomads using this link. We do not represent World Nomads. This is not a recommendation to buy travel insurance.
Underrated (but gorgeous) travel destinations
Best Travel Pants For Long Flights. No more yanking and wriggling
25 gifts for kids that love to travel
Travelling with teenagers? 10 items that will make them happy and keep you sane!
How people on an ordinary wage afford to travel the world
8 Travel tips that you can safely ignore (because they're rubbish)
For Pinterest!⇓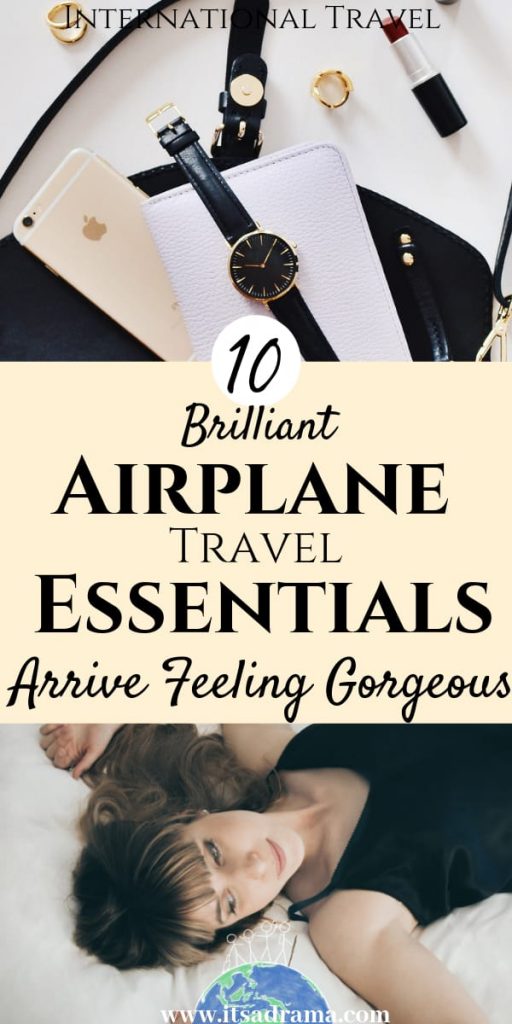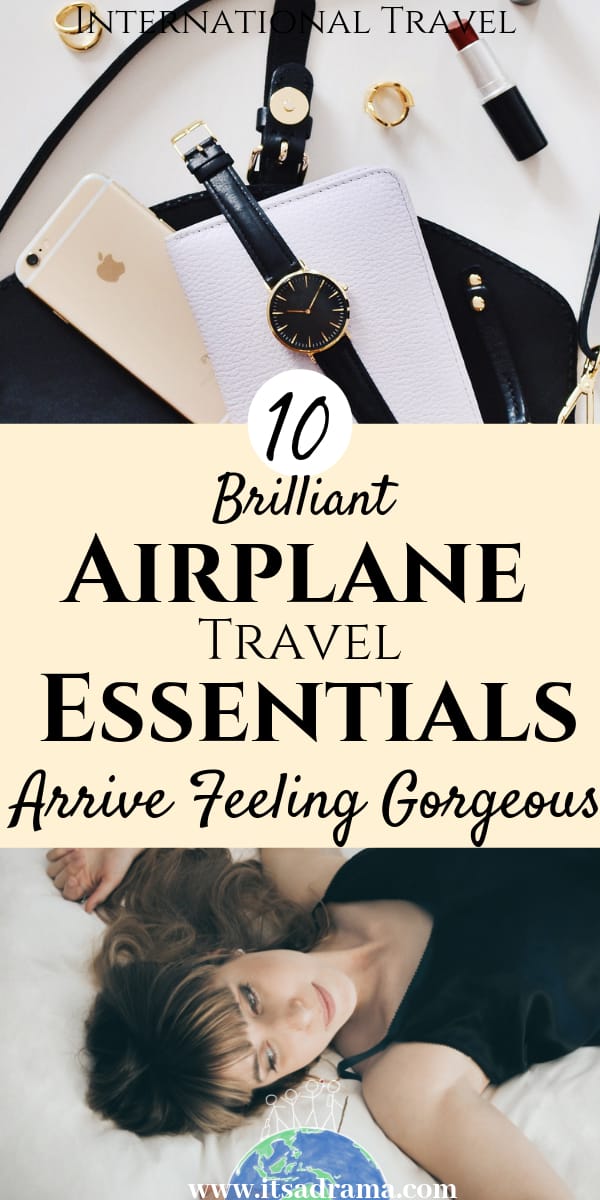 We hope you enjoyed reading our compilation of brilliant travel essentials for 2024.
Did I miss something?
If you have just done a plane journey and found travel essentials for the plane that you couldn't live without, please share it with me either through the comments below or by email.
And if you enjoyed this post, please share it with your friends!
PS. Would you love to travel more for a lot less? Then let me show you how! Join my FREE newsletter, and I will send you a complimentary copy of my ebook "Travel More, Travel Better, Pay Less". I look forward to getting to know you better!