When packing for a plane journey, be it a long haul trip or a quick weekend away on an internal flight, you want to be comfortable. To do this make sure you pack the best travel essentials for the plane.
Only take the things that you will use and that will benefit you, otherwise, you may find yourself fiddling with your bag, elbowing the person sitting next to you and in general becoming hot and bothered.
In the past five years, we have flown more times than I care to remember. Ranging from thirty-hour flights from England to New Zealand, seventeen hours between New York and Sri Lanka and many short hop flights. Be warned; I regard a short trip as anything under six hours. We are travelling with teenagers and have come to realise that if you don't pack the right things, things can be awkward!
For Pinterest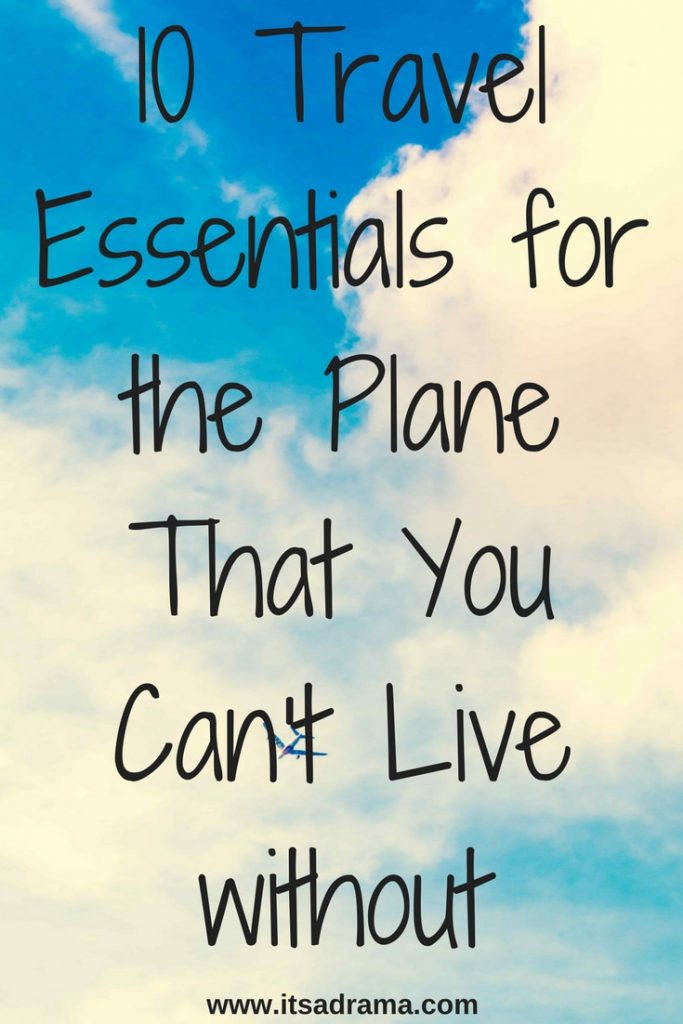 Our Top 10 Survival Items For The Plane:
Let's start with sleep. The one thing that every single one of us prays will be possible once we settle ourselves into our seats on the plane is that we will be able to sleep. To do this I recommend you pack the following:
Airplane Neck Pillow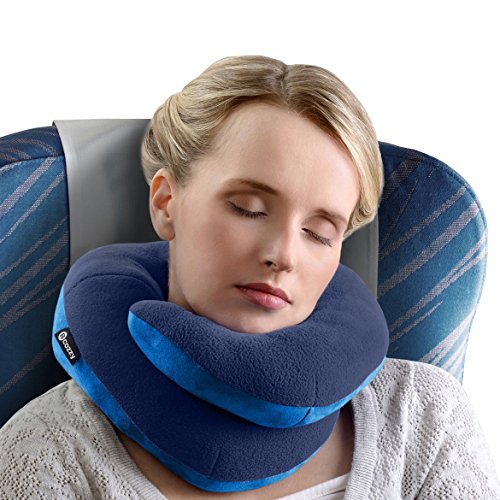 Because we travel as a  family we have tried almost every travel pillow out there and the BCOZZY Pillow is honestly the only one that works. You can twist into any position making it ideal for those whos chin tends to fall forward like me!
You can also double it up at the back to prevent a stiff neck. We have found it is brilliant not just for plane travel but also for long train and bus journeys too.
It's machine washable, and I love the way that it compresses pretty small into my flight bag.
Eye Mask
I was bought this brilliant blackout eye mask as a present before we left on our backpacking trip and it is the BEST thing for getting sleep on the plane.
This comfortable eye mask is made of 100% natural mulberry silk on both sides. It is so luxurious to wear.
There is no comparison between this and the regular eye masks. It has an adjustable strap at the back so no more long hair getting matted into velcro and it is a total blackout. It sits comfortably on your face, and you can wear it for hours without getting those annoying eye mask marks that the cheaper ones give you.
Essential Oil For Sleeping on the flight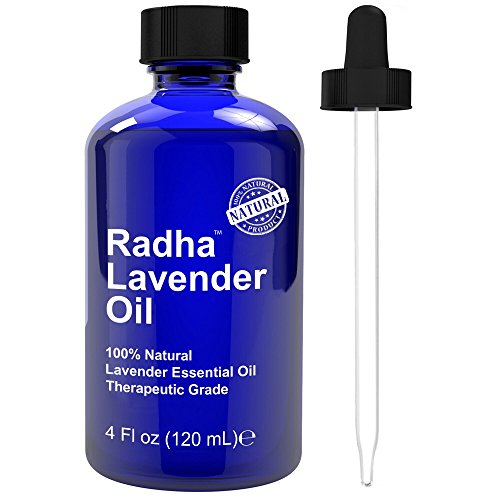 Anybody who knows me will know I start to panic if I don't have a bottle of Lavender Oil in my bag when I am travelling.
I have used this essential oil for years. It is ideal when you need to calm yourself (or your kids) and sleep. It is 100% natural and is ideal for plane travel. Put a few drops on your neck pillow, and you'll be asleep in no time. Plus, it makes the cabin smell nice. Perfect!
Footrest for aching legs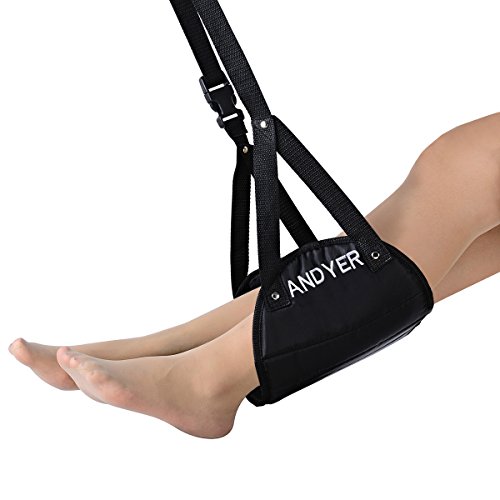 Now. Let's make sure you are comfortable when you wake up.
The footrest is not something I have used personally, but I want one!  My review is purely on what others have told me and from what I saw when flying from India to Thailand. This portable foot rest looks amazing.
There's one thing that drives me mad when I'm on a plane, and it's when I discover there isn't a footrest. How annoying. Before long your legs start to ache and you end up rolling up your sweatshirt so that you can raise your feet up slightly higher.
This brilliant travel essential for the plane lets you enjoy leg and lower back support while your legs swing gently with the motion of the plane. Imagine a mini hammock. Simply loop the strap over your tray table arms and put your feet in the hammock! Because it takes up minimal room in your bag, this has to be my next purchase for plane travel!
 Water Bottle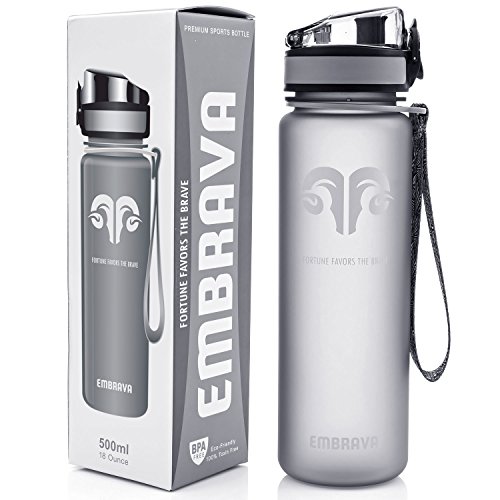 We all know how essential it is to keep hydrated when flying. Taking your own water bottle on board with you means that you can politely ask the steward to fill your bottle up with fresh water without having to deal with those miniature size glasses airlines love to give us.
In our opinion, the Embravais the best sports water bottle out there. It fits nicely into the cup holders on the plane, has a spill-proof lid (for that turbulence) and is BPA and Toxic free.
Compression Socks.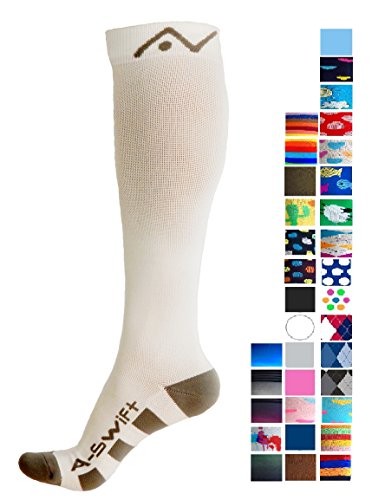 I never used to wear compression socks when I flew. I thought they were for old people. Now that I am that old person I would not fly without them.
The difference to how it makes t your legs feel at the end of the flight is unbelievable. The compression on the  Physix Gear compression Socks is perfectly located on the heel, foot and calves, giving you instant support and comfort.
Lip Balm to Keep Your Lips Moisturized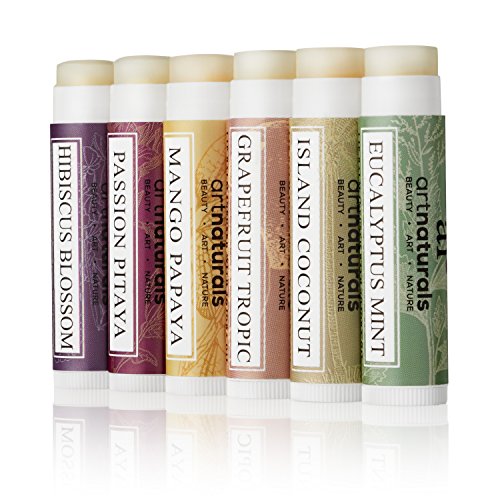 How can one so small be so valuable? This has to be one of your must-have plane travel essentials. These little sticks fromart naturals combine natural beeswax with jojoba coconut and sunflower seed oil, to moisturize your lips perfectly when travelling.
Apply to your lips and any other area prone to dryness, before you fly, and you will land at your destination with lovely soft skin. A little bit goes a long way too, so although it may seem a little pricey, it will last you for ages. I love it!
Passport/ Money/ Boarding Pass Holder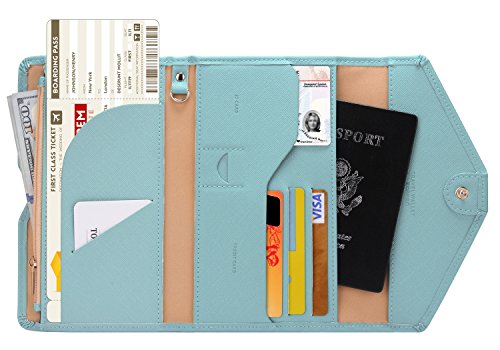 Again, this is one of those travel essentials for plane travel that will be on my Christmas list.
My husband is always the one in charge of carrying our four passports, tickets and boarding pass but if we all had one of these it would save him a lot of stress! TheZoppen Multi-purpose travel organizer is made from eco friendly PU leather.
It is roomy and organised with a place for your passport, boarding pass, tickets. Three credit card slots, one id slot, one sim card pouch, a cell phone pouch, a zipper for coins and money AND a pen holder! Phew!
The best part of all – for those who understand technology (excluding present company) is that it keeps identification-thieves away from you and protects your personal information with the use of an inside RFID blocking shield material under frequency 13.56 Mhz.
Headphones For Meditation or Blocking out Noisy Passengers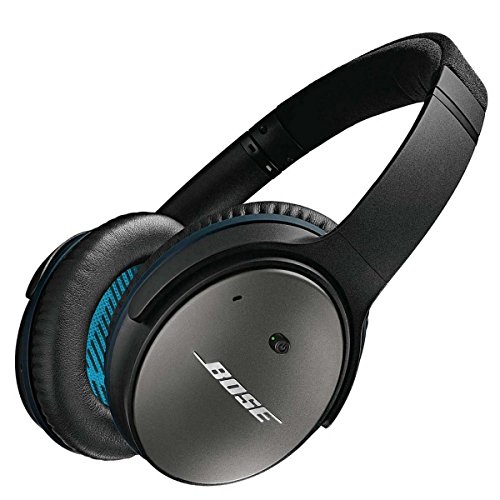 These are the most expensive item on my plane travel essentials list, but they are a luxury I couldn't be without.
I know that airlines give you a pair of headphones on the plane but, like many people, I am paranoid about the damage headphones can do to your ears so am very fussy as to what I choose.
It isn't until you have tried a pair like the Bose Quiet Comfort 35 that you realise what you have been missing out on.
Unlike some other headphones,  Bose do not sell themselves as being completely noise cancelling. Instead, they focus on the quality of the sound that is delivered and yes, it is a fantastic sound. Not too basey, a nice clean sound and unlike some headphones that I've tried don't make your ears too hot.
T

hey might as well advertise as sound cancelling because when you have them on you can hear little else. The earcups are soft and they have a padded headband so they sit comfortably on your head. An important feature for me when I travel is weight. I don't like bulky headphones. The Bose are

 light and fit nicely into my flight bag.
An Extra Bag For Souvenirs!
When folded up, this lightweight Travel Duffle Bag is just 30 x 32 cm.
Unfold at the airport to avoid excess luggage and carry your gifts and souvenirs home!  When opened to its full size it is 85 litres capacity. It is super lightweight and durable with lots of extra pockets for those things you couldn't resist.
It also makes a nice lightweight alternative to a suitcase if you are only away for a few days and want something practical and easy to carry.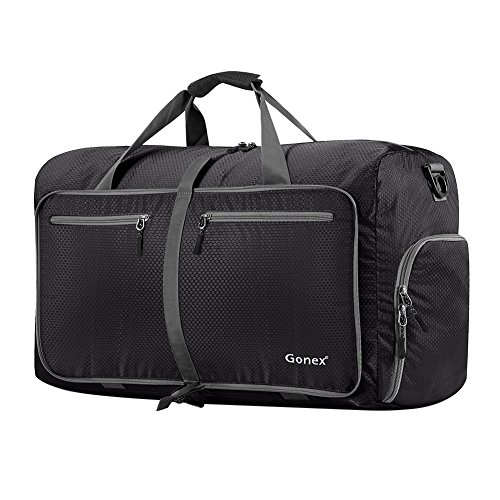 And Last But Not Least, Best Multi Trip Travel Insurance!
Last, but by far the least most important travel essential you will need before you set off on your flight. Great travel insurance. We use World Nomads regardless of whether we are taking a trip for a week or a year and they are fabulous.
I recently cracked a tooth while eating ribs in Bangkok (as you do) and needed an emergency root canal filling. World Nomads were sympathetic, efficient and responsive and the total cost of the dental treatment was covered in my policy. Take a look at the quote box below if you haven't yet got your insurance.
Other related posts that you will enjoy!
25 gifts for kids that love to travel
Travelling with teenagers? 10 items that will make them happy and keep you sane!
How people on an ordinary wage afford to travel the world
8 Travel tips that you can safely ignore (because they're rubbish)
Christmas On The Beach Or In The Snow. Which Is Less stressful?
We hoped you enjoyed reading our compilation of brilliant travel essentials for the plane 2019. As I said, most of them we use and one or two of them are on my to buy list for my next flight.
Thank you for using our links. If you use them we make a few cents at no extra cost to you. Thank you! Did I miss something? If you have just done a plane journey and found something you couldn't live without please share it with me either through the comments below or by email. Safe travels!