Finding the best travel pants for a vacation that involves long flights (or car journeys) is by no means easy.
Depending on the climate and the kind of holiday you are taking, you will want to look your best at all times but, more importantly, be comfortable.
Below you will find a range of travel pants for every occasion. Whether you are flying out to laze on a beach in the hot weather, or are taking a sophisticated city break, we are confident that you will enjoy our hand-picked selection of best travel pants for women.
This post contains affiliate links. They cost you nothing but we make a small commission should you wish to use them. Thank you!
Best Travel Pants For Long Flights – 2020
Love These Travel Pants? Save Them To Pinterest ⇓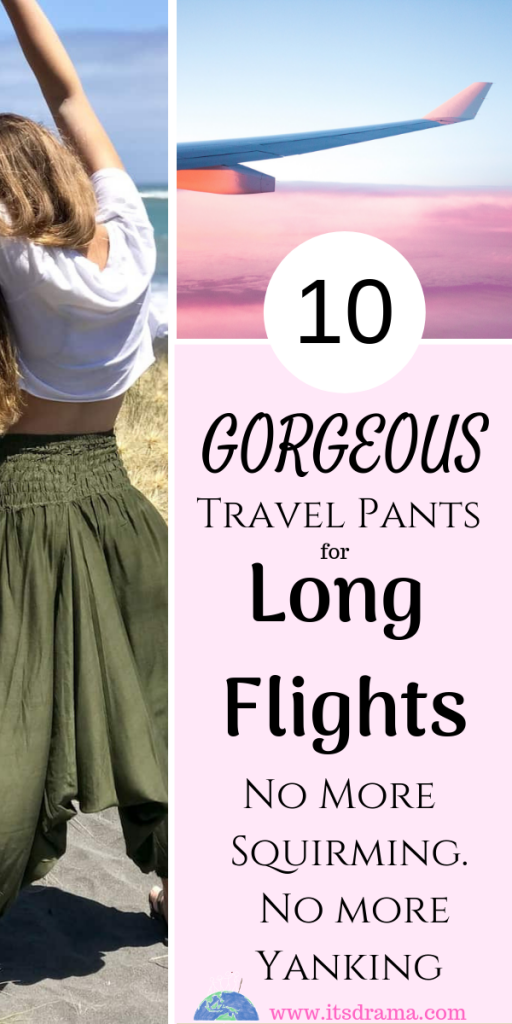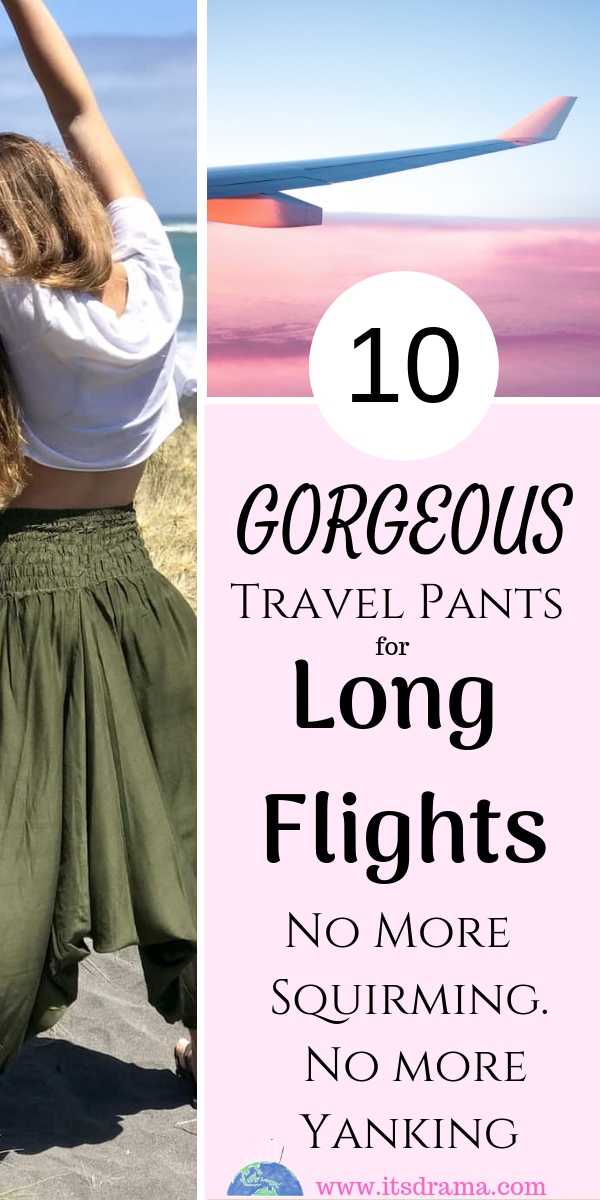 a
Best Travel Pants For The 'Smart' Look
There is no reason why you cannot wear smart pants on a long flight and still feel super comfortable. It all comes down to the material that you choose.
You want something light and breathable, or you will end up become hot a bothered and nobody likes to be like that on a plane.
Pair the following pants with a crisp white shirt (be careful with turbulence and wine!) or a soft linen blouse, some flat sandals and away you fly!
Dickies Straight, Stretch Pants
These straight-leg pants are perfect if you want to travel casual but smart at the same time. These travel pants are made from 97% cotton and 3% spandex, giving you that comfortable stretch perfect for travelling on a plane.
contoured midrise waistband featuring a stretchable lining to conform to your shape.
straight leg fit with flatteringly flat, welt back pockets, a double belt loops at centre back for more support
Trusted name
wrinkle-resistant fabric
Lee Relaxed Straight Fit
I didn't really want to put a pair of jeans in this review as in general, jeans are not the best travel pants for women – however! These Lee relaxed fit pants are so soft and comfortable, so they pass the aeroplane test!
The pants come in a variety of colour but we love the stone. Paired with a white open-necked linen shirt these pants would be perfect for travel!
Relaxed Fit w/ comfort-stretch waist, zipper & button closure w/ welt pockets.
Designed with a super-comfortable waistband and made from silky-soft fabric
Variety of colours
Roll up, Stretch Pants
These fashionable roll up and stretch pants are made from 97% nylon and 3% spandex making them wrinkle-free and stretchy and perfect for long flights overseas.
These are more of an adventure pant and so would be perfect if you have been searching for the best hiking pants to take on vacation with you.
Cross-functional pant
Stretch Zion fabric
Articulated knees
Perfect for those who enjoy hiking
a
Travel Pants For Women. Gorgeous and Casual Plus Size

With no buttons or zips to worry about, the elasticated waist of these casual pants makes them very easy to pull on and off. They are 100% cotton and have comfort and style written all over them!
Cotton Cropped Wide-Leg Straight Pants With Pockets
Simple Design, Loose Fit / casual Style with High Waist.
perfect for daily wear,home,school,travel,sports,vacation,streetwear.
Pair with a soft tee shirt and a pair of flats
Linen Cotton Pants
These gorgeous pants are the ultimate in comfort and style.
The pants are hand made and have been through the strictest of screening to ensure nothing but the best quality. If you are looking for a vacation flowy style look, then these pants are the ones you want to travel with!
Material: 55% Linen,45% Cotton. Fabric soft, wearing loose and comfortable, healthy and breathable, do not stimulate the skin, no static electricity.

Pure colour, simple and generous, without the complexity of the lace and folds.
Pants are suitable for any

size.

You can select the size from S to 5XL.
Related Posts That You Will Enjoy!
Best toothbrush for travel – 2020. No more furry teeth!
Arrive at your destination feeling beautiful! 10 Brilliant travel essentials for the plane
25 Travel gifts for kids, unique, awesome and all under $20!
I hope you enjoyed this post on best airplane pants for travel and I hope that you found something to suit you! If you know someone who would appreciate this post then please spread the love, until then, enjoy your travels and continue to look gorgeous!