Over the years I have discovered some valuable airport hacks that make traveling by plane all the more pleasurable. Even on a budget.
If you are a skinflint like me, then you will like this post.
Although I can't advise you on how to get into VIP lounges or receive upgrades – I'm currently backpacking the world with my husband and two teenagers, airline staff value their jobs, there's no way on God's earth they would ever risk putting us lot up into first class.
Not with the way my son's feet smell.
But I can give you some hacks and tips on how to make airplane travel on a budget all the more enjoyable – with or without kids.
Top Airport Hacks For Skin Flints Like Me Who Wish They Had More Money
For Pinterest ⇓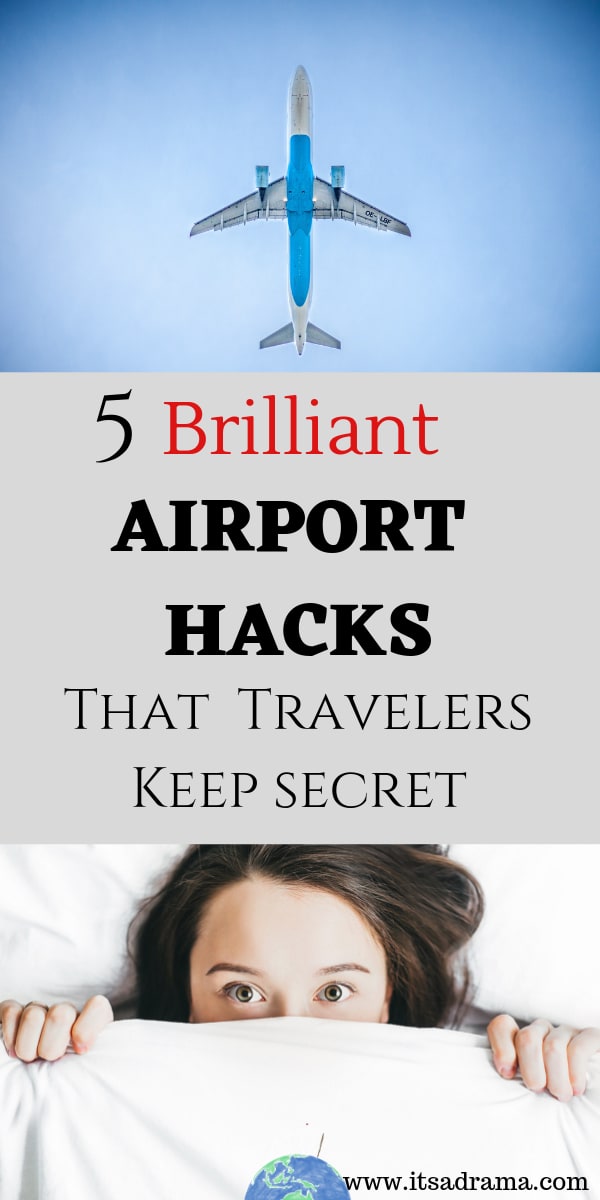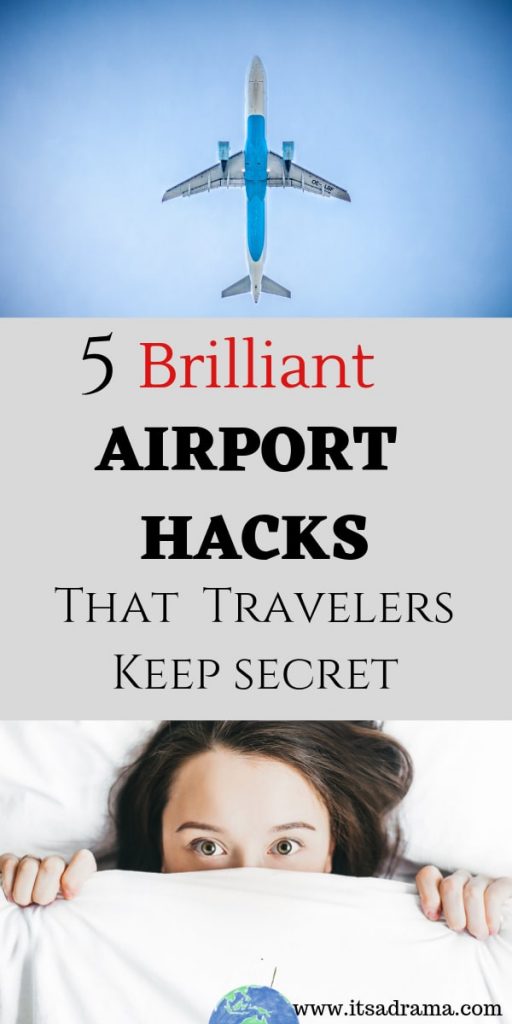 This post may contain affiliate links. They cost you nothing but we make a small commission.
1: Get Your Bum onto the Massage Chair.
Travelling makes you tired. For some reason, the moment you step through the doors of an airport you develop the chronic fatigues and flop like an understuffed rag doll on to the top of your luggage trolly.
After you have checked your bags in and nearly had a heart attack because you thought they were at least two kilos overweight, find one of those comfy massage chairs.
I know they have one at Danang airport in Vietnam. Look for the signs.
If you are wealthy and think nothing of spending a few bob on some painful, probing bits of metal digging hard into your back disguised as a massage, then go ahead and pay your money.
If you are tight like me and just need a sit down because you underestimated how far gate 24 was from the check-in gate, sink down into the inviting leather massage chair and pretend that you are asleep.
Have a nice rest.
None will dare bother you because people are far too polite, especially in Asia.
Pay nothing and relax.
But If You Have A Little Spare Cash…
Pop one of these brilliant mini massagers into your flight bag. They weigh less than half a pound and are particularly useful for those who suffer with achy feet on a long flight.

a
2: Hydrate Your skin For Free
Your skin will get dreadfully dehydrated when you travel; flying is the worst.
You leave your house looking like a well-oiled avocado, and by the time you've been through security, your skin starts to resemble a bag of crunched up crisps that have been glued to a deflated balloon.
You know its true.
When I used to travel without the kids, I would have lots of lovely hydrating potions to make my skin feel gorgeous on the plane.
That all stopped when we decided to travel for a year.
Enter airport hacks for the budget traveller number two. Listen up.
Go to the very posh and far too expensive beauty department in the airport lounge – where all the girls look at you as though you have just fallen off the back of a tractor.
Ignore them; they are merely getting their 40 hours in so they can go out at the weekend and get sozzled.
Go straight to the cream that says: 'you can't afford me so don't bother pretending' and pump a tremendous amount into the palm of your hands.
If you are travelling with teenagers, they will dye of embarrassment at this point, shrivel with shame because their horrendous mother has just pumped half a bottle of Creme de la Mer into her grubby palms.
Ignore them.
Go to the toilets, sit on the closed seat and prepare yourself for an expensive rub in. Make sure you slather the potion into your cracked dry elbows, your knobbly knees, and most importantly, your tired, aching donkey feet.
lt will be wonderful – I promise.
If your daughter complains loudly through the cubicle door that the plane is about to board and to 'Omg hurry up!', tell her to shut up and go away.
a
But If You Have A Little Spare Cash…
I swear when I use this stuff my eye wrinkles seem to plump out. I love it. It is highly recommended by flight attendants so I reckon if they say it's good it's the thing to use if you are about to fly!

Related Posts That You Will Love
Travelling with teenagers. How to survive before wine o'clock
Best travel pants for long flights. No more wriggling and yanking
How people on a regular wage afford to travel the world
Backpacking in Japan. How to do it in style on very little dosh.
25 Awesome Travel Gifts For Kids That Will Keep Them Quiet For Hours
3: Find The Best Wifi Spot There is to be Had.
Wifi and kids. Do I need to say more? As soon as they enter through the doors of the airport, kids start to resemble police sniffer dogs. Looking in every little corner for a slither of wifi connection.
Airport hack number three. Getting free wifi.
Don't bother going to a cafe – too expensive, especially with kids, instead, just plonk everyone down against a wall or next to a rubbish bin outside the cafe and hook yourself up to the wide world web.
If you are travelling with teenagers or someone you don't like very much, wait until they're fully engrossed (which will take approximately 23 seconds) and then sneak away to the bar.
4: Don't Wear Lace-Up Shoes at the Airport.
Queuing up to go through airport security with your bags. Not the most fun part of airport travel is it?
I'm talking about the bit where everyone lines up and starts taking all of their electronics out of their bags and putting them into a plastic box.
Know that there are never enough grey plastic boxes to go around. Never. It's just the way it is.
Wait your turn patiently.
Know that, yes, you do have to take your Kindle out of your bag, and yes, take your watch off, please.
Now, here's the thing, in some super security conscious airports they make you take your shoes off.
I'm travelling with my 17-year-old son.
PIcture it.
A six-foot teenage Heffalump. Huffing and puffing because, well, because he's a teenager and everything is hard work and embarrassing. Especially being asked to remove your shoes at the airport.
In front of people.
A line of irritated people behind him – important people you understand – all sighing and tutting and asking each other if it's really necessary to take their wedding rings off – discussing how they never had to do this before 911.
My teenage son, with his bum in the air while he wrestles with the laces.
Painful to watch. Excruciating.
Don't be like him. Take your shoes and socks off. Travel in flip flops until you get on the plane at least.
And make sure you've washed your feet.
But If You Have A Little Spare Cash…
Make sure you choose that make you feel lovely and are easy to take off.
These ballet flats are both elegant and comfortable and pack pretty much flat into your bag. Perfect for when you have to take your shoes on and off and on again …and then off.

a
5: Take Your Electric Toothbrush On Board
People just love to give you advice about travel, don't they? Unfortunately, half of what they tell you is utter tosh.
"You can't take an electric toothbrush on the plane. Not since the attack. The battery will explode, and the plane might blow up" they say. Even though they only ever go to the end of their road on holiday.
Rubbish.
You CAN take an electric toothbrush on board a plane as long as it is in your hand luggage.
Before knowing this brilliant hack, I would all too often find myself standing inside the plane toilet, trying desperately to squeeze out a smattering of toothpaste onto my finger to take the taste of wine healthy sparkling water away from my breath.
And then I found this wonderful airport hack. If in doubt, ask an airline person.
"Are we allowed to take electric toothbrushes on board a plane?" I enquired
"Yes", said the nice airport check-in person, " As long as it is in your hand luggage".
Perfect. No more furry teeth.
So there you have it. Five brilliant airport hacks that will save you stress and bother. If you know of someone that would enjoy this post, then please spread the love and share it for me!
Until then, happy travels!
This post was originally written by me for Quora.