As a family who travels, we are always on the lookout for unique travel necessities and gift ideas for our kids. Last year saw us backpacking around the world with our teenagers, my girl, aged 14 and our son who is 17.
We were on a strict budget so it was essential for us to keep our gifts to under $20.
I have compiled a list of 20 of my top choice, best travel gifs for kids 2020.
This post may contain affiliate links. They cost you nothing but we make a small commission. If you would like me to explain it further, please visit our disclaimer page.
For Pinterest!⇓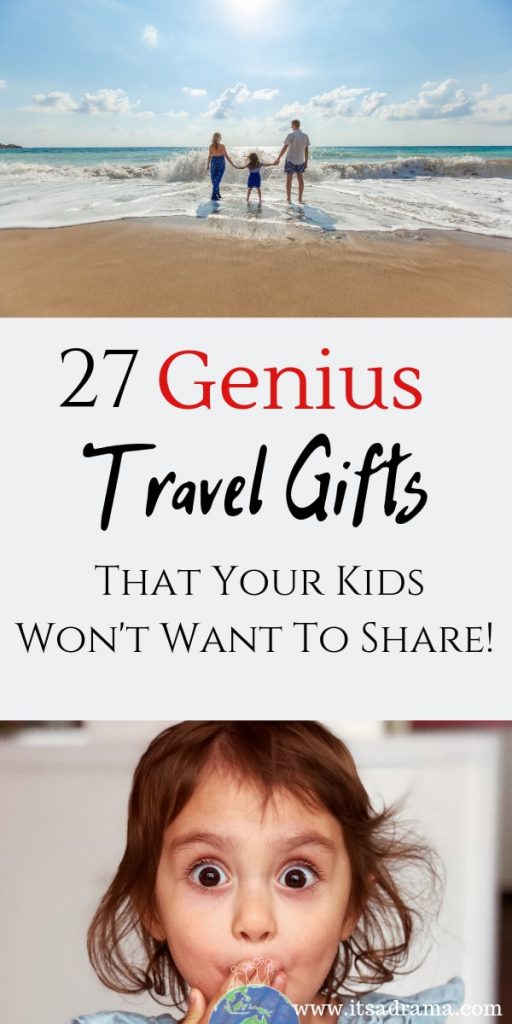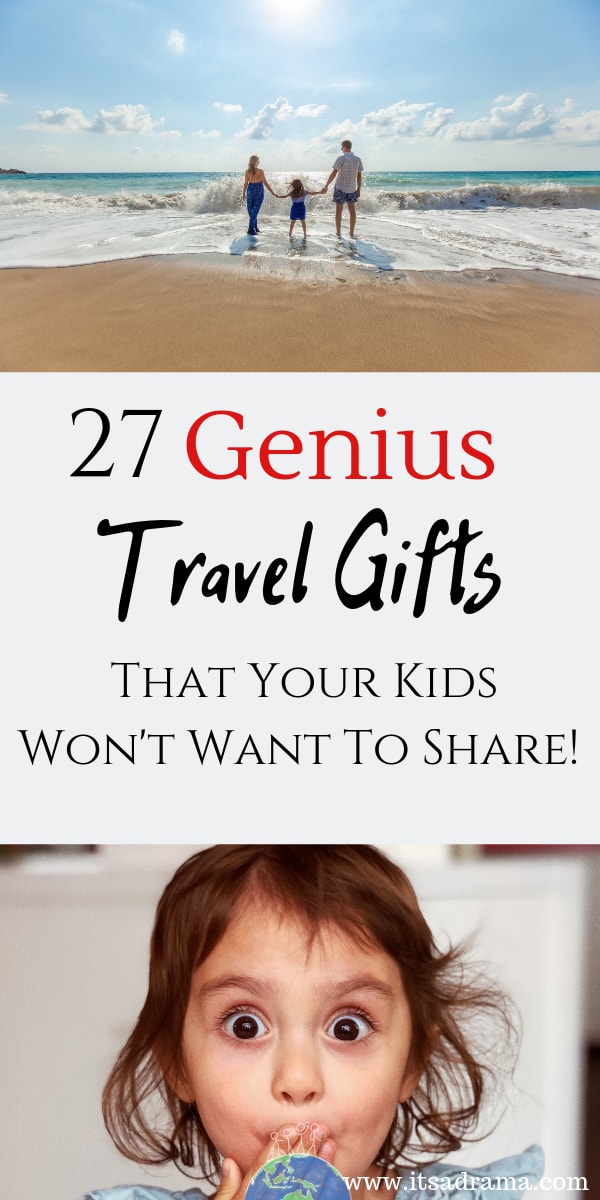 Remember not to underestimate younger children when buying gifts for them.
Kids from the ages of 12 years upwards like to receive presents that are more sophisticated than their little brother or sisters.
All of the items that I have listed below are suitable for the tween audience (age 11 and over) and would also be extremely well received by both of my teenagers. With both hands actually.
20 Travel Gifts For Kids 2020. Tweens and Teenagers. All Under $20.
a
I have put all of the gift ideas under separate headings according to what type of child you are buying for. 25 of the best travel gifts under $20 that every girl and boy, tween or teen will be over the moon to receive.
a
Gifts For Kids That Love To Write
#1 Travel Journal With a Twist
I LOVE this travel journal. In fact, I want to steal it. It is a three yearQ&A travel diary, beautifully illustrated and asking short questions about life.
How fabulous for the young traveller to be able to look back at their answers over the past three years and compare how they have grown since travelling.
— Click here for prices
#2 Adventure Travel Journal
a
My Travel Journal (Lonely Planet). This is one of those things that kids can have all to themselves.
My daughter is a big fan of journaling so this was the perfect travel gift for her. I like it because it's not too babyish for a 14-year-old girl but could also be a nice gift for kids as young as 8 — Click here for prices
aa
a
Gifts For The Travel Girl Who Loves To Feel Pampered
#3 Travel Cosmetics Bag
This pack of 2 Travel Cosmetic Bags is both stylish and practical for girls who travel.
I have a 14-year-old daughter and this would make the ideal gift for her as she loves to take everything into the bathroom with her!
Foldable, portable and lightweight, made from durable material — Click here for prices
Gift For The Globetrotting Girl Who Loves Style
#4 Inspiration Bracelet
I love this saying! You can not go wrong by giving this beautiful bracelet to any girl who is about to go globetrotting.
It is the perfect inspirational travel gift for the teen or tween girl — Click here for prices
a
#5 Gorgeous Flip- Flops
These gorgeous flip flops are the peak of comfiness and style and perfect for any teenage girl who is going to be on her feet a lot.
If you have ever worn before you will know what I mean about comfort.
These have got a padded yoga mat footbed. They are divine. These sandals can be quite pricey but there are lots of really lovely girly designs that are always in the sale for under $20 — Click here for prices
PIN THIS FOR LATER!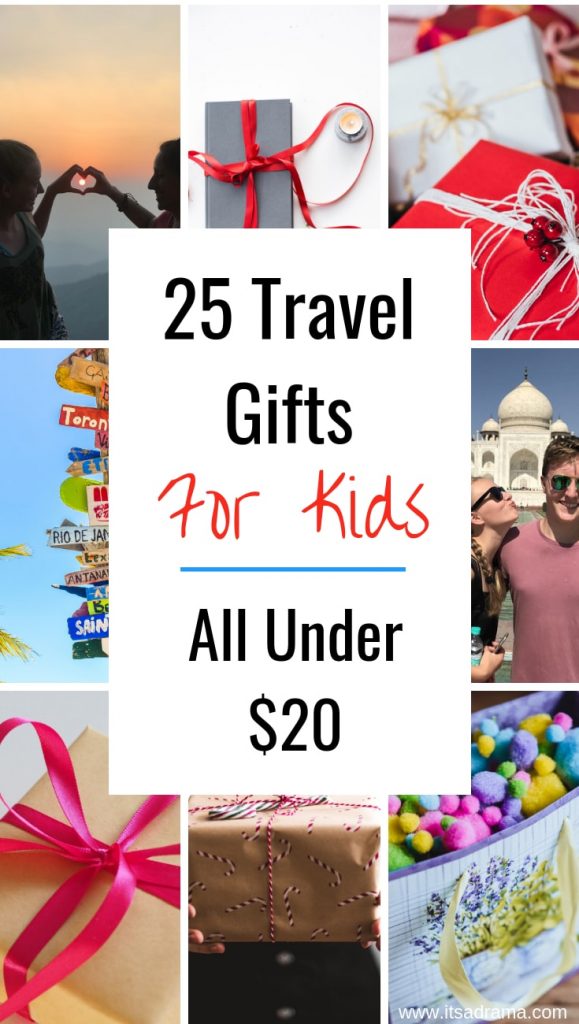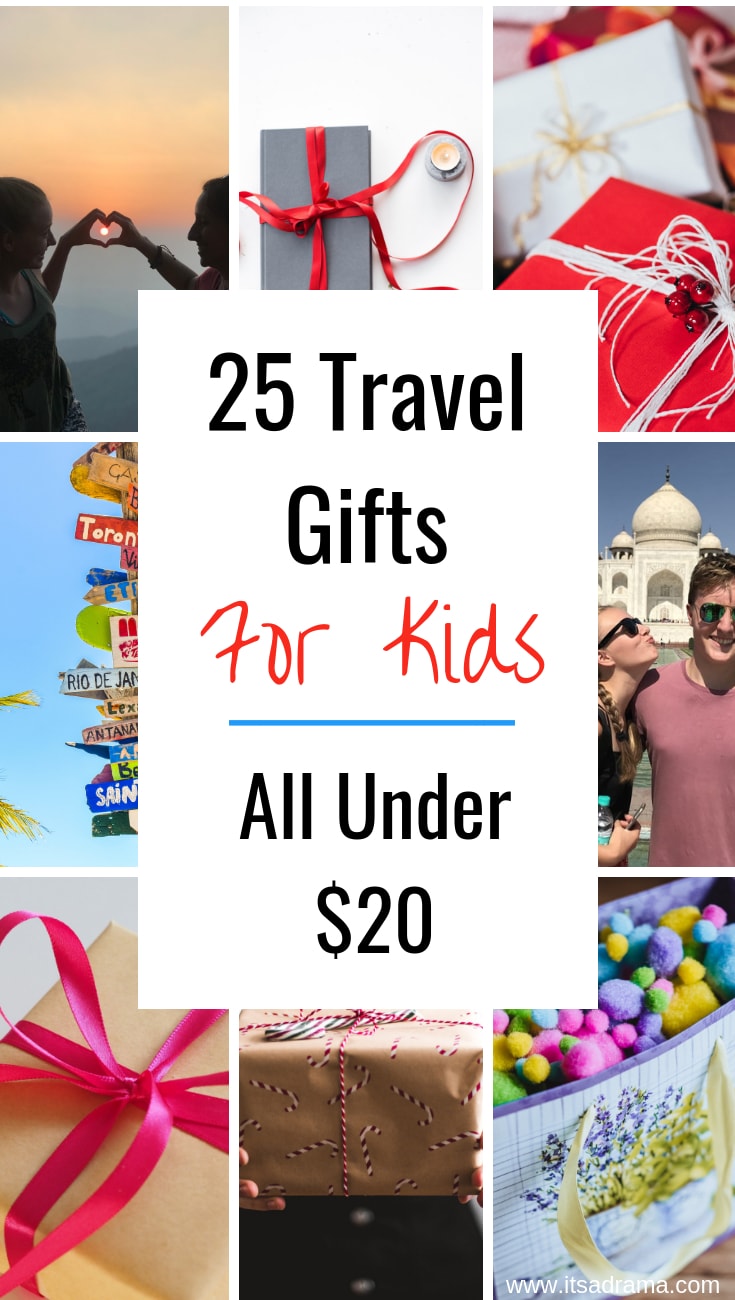 a
Gifts For Kids That Love Photography Or Making YouTube Videos.
#6 Portable Tripod
This lightweight tripod is the perfect travel gift for any young budding you tuber or photographer. I love that it is lightweight and even more importantly, that it is under $20! — Click here for prices
Travel Gifts For Kids That Love Minecraft.
#7 Minecraft on The Road
What child doesn't love Minecraft? My two kids lived and breathed this craze for many years so I'm an expert on what to buy.
The Ultimate Minecraft Secrets book is available as a Kindle edition or a paperback and will keep any kids who travelling on long journeys entertained for hours.
—Click here for prices
#8 Cuddly Minecraft Explorer
Designed For Minecraft Fans and aptly called The Happy Explorer, this Drownedstuffed toy from the Minecraft video game will be the perfect travel companion to any Minecraft loving child — Click here for prices
#9 The Perfect Travel Gift For Lego Loving Kids
The lego lover in the family will love that they can have their own lego bag for lunches on a day trip!
The bag has a foam-insulated compartment that is easy to clean — Click here for prices
Gifts For Kids That Love Travel Card Games.
Some do and some don't, but most kids will love playing card games when they are travelling. especially if there isn't any wifi or electronics to be had! Here are a couple of games that are perfect for all ages of kids are taking a road trip, camping or waiting around in an airport.
#10 Smack It!
Smack it! is EASY to learn and outrageously FUN to play.
This is a family game, perfect for travel, which can be played by 2 to 7 players, for kids age 6 +. Smack it! is a fast card game with an average playtime between 7 and 14 minutes — Click here for prices
#11 Uno
A Pack of Uno Cards has been a lifesaver on our trip. Sometimes, the smallest things are the best! — Click here for prices
a
#12 Bicycle Playing Cards
Bicycle Playing Cards are a must when travelling.
Cards are an amazing conversation starter when you meet other travelling families.
These are apparently the best playing cards out there. I have that on good authority from a teenager who knows! — Click here for prices
#13 Rubix Cube
I have it on strict instruction from my teenage son that this is the best Rubix Cube out there!
My son is 17 and is addicted to the Rubik Cube, which keeps me happy as it leads me to believe it is educational.
Seriously, this little cube has kept my girl and boy happy for hours while travelling. It is the perfect gift — Click here for prices
Save This Post To Pinterest!⇓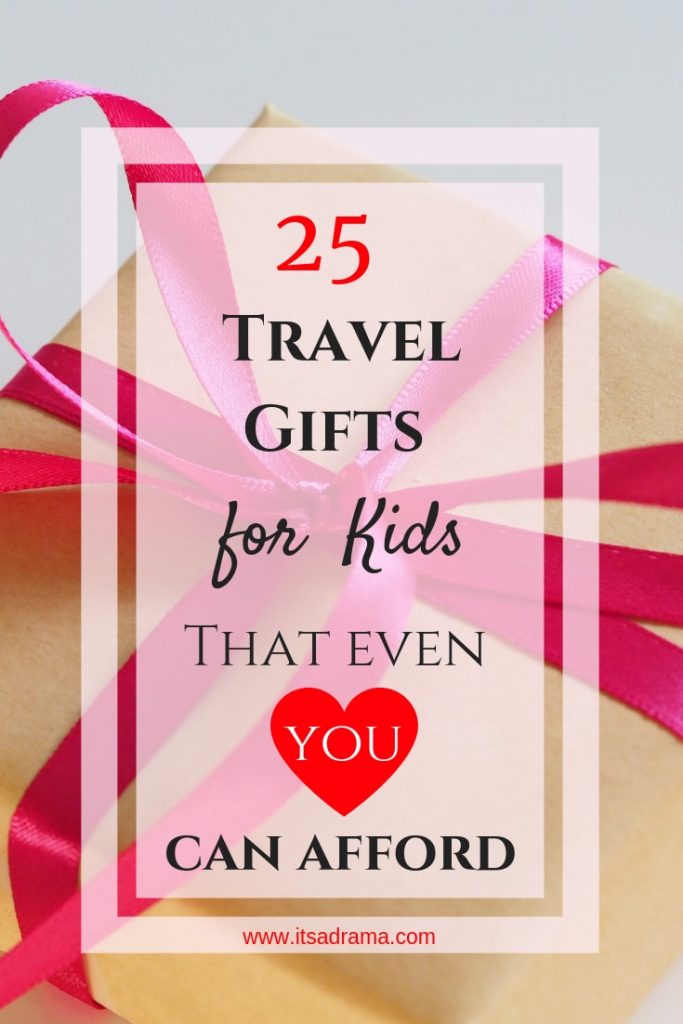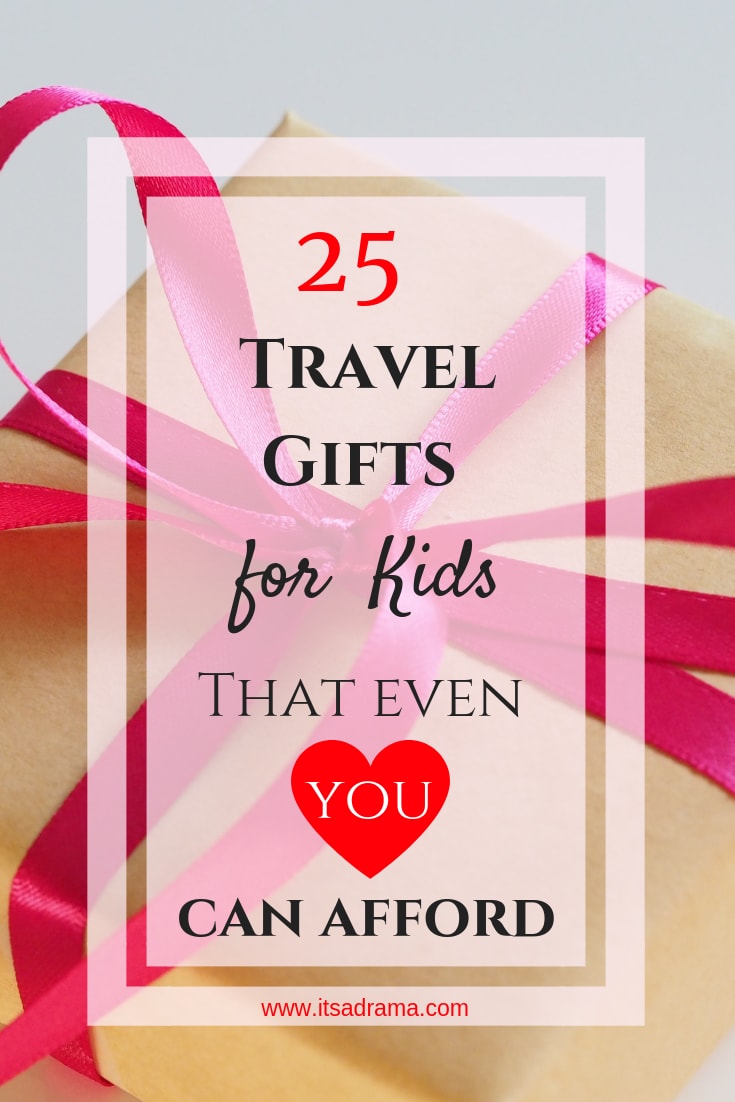 a
Travel Gifts For Kids That Like To Explore
#14 Headtorch
This travel headtorch is the perfect gift for any kid that likes to be out and about in the dark!
It is small enough for the backpack and really is one of those useful gifts that you will be thanked for.
This travel headtorch is waterproof and has both bright white or red light.
— Click here for prices
#15 Swiss Army Knife
For the older teenager who is travelling this is without a doubt a classic gift.
Swiss Army knives need no introduction. They are the worlds best pocket knives and to be able to grab one for under $20 is a bargain.
— Click here for prices
#16 Travel Binoculars
These high resolutions, shockproof travel binoculars are a little over our budget but STILL an amazing price.
They are small enough to pack into the side pocket of the pack.
— Click here for prices
a
Gifts For Kids Who Love To Make Music!
#17 Recorder
Use your discretion here and please make sure you ok with the parents if the child isn't yours!!
But, the Yamaha Soprano Recorder is perfect for those kids that like to make music whenever they travel. Fantastic price too.
— Click here for prices
a#
#18 Harmonica
This harmonica comes in its own travel case and (when played properly!) is the most relaxing sound to accompany any travel expedition.
— Click here for prices
Travel Books For Kids Who Love To Read.
#19 The Travel Book
The Travel Book, (written by the Lonely Planet team) is the only book that any travelling child will need.
It covers every country in the world and is beautifully illustrated — Click here for prices
a
For The Techy Kids With Phones & Tablets
#20 Pop Sockets For Phones And Tablets
This pop socket is a collapsible grip and stand for the phone or tablet that pops onto the back of the device allowing you to have one hand free (to do the dishes) and to stop the chances of the device being dropped.
Fabulous price and a BRILLIANT gift for all kids who travel with a device— Click here for prices
Other Related Posts For Gifts That You Will Love!
10 Travel gifts just for teenagers
Arrive Feeling Beautiful. 10 Plane essentials that you won't leave home without.
No More Fury Teeth. The best travel toothbrush for 2020
For Pinterest! ⇓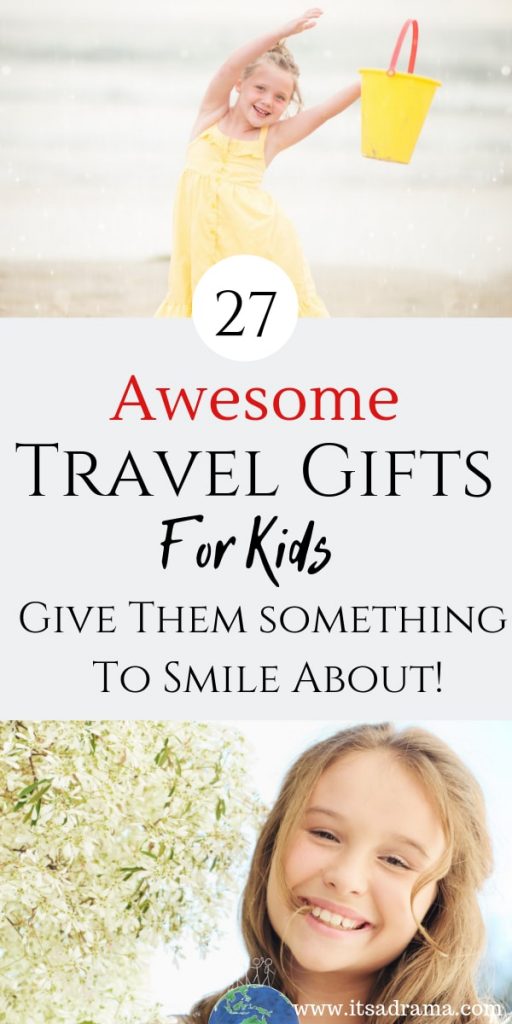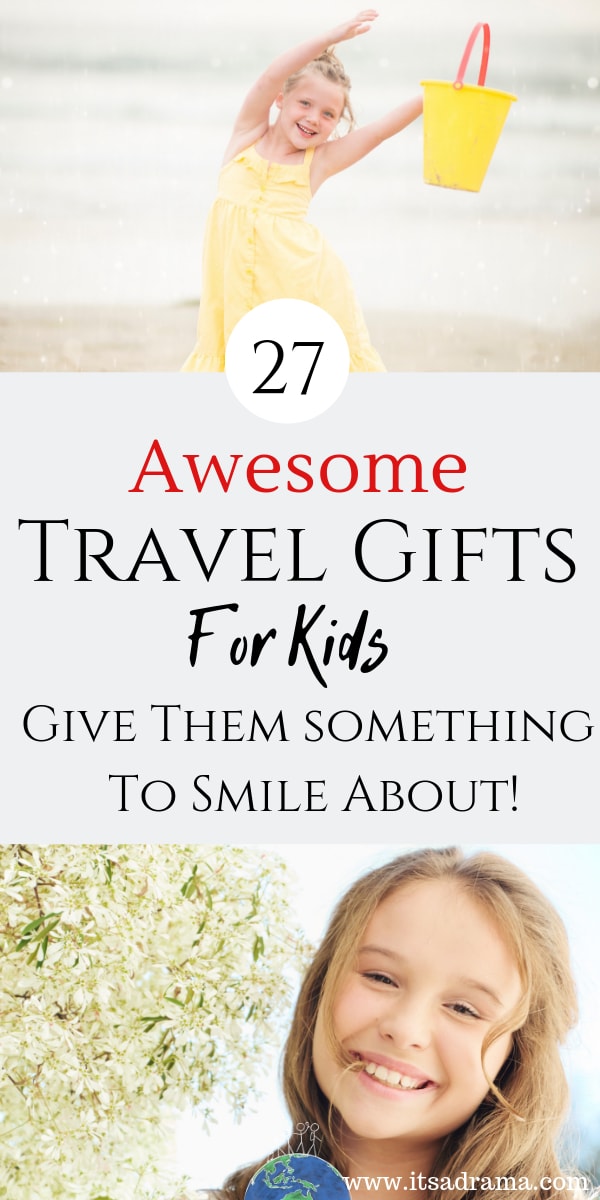 So there you have it, 20 of the best travel gifts for kids in 2020!
And proof that buying gifts for kids that love to travel doesn't have to expensive.
I will continue to add to the list as we come across more ideas until then, and remember! if you found this post useful then please share it with anyone who is looking for gift ideas for kids that love travelling!