Picking the best toothbrush for travel is a tricky business and a very personal one.
Your choice will depend on many factors. The length of your trip, your budget, and how much weight you are prepared to carry to the airport
And then there's the decision of whether to go for an electric or manual toothbrush? How about a portable travel toothbrush or a disposable toothbrush?
If you choose a manual toothbrush then you will have to be particularly thorough in your cleaning. If you go for the electric option you will be carrying extra batteries or an adapter to charge it.
Decisions, decisions.
This post contains affiliate links. It costs you nothing to use them but we make a small commission.
Best Travel Toothbrush (Manual) 2021
If you are planning a trip and are wanting to keep space to the maximum and weight to the minimum then this post will show you a number of options.
As a side note, make sure that you have the best purse for travel so that you can carry your toothbrush on your flight.
The best toothbrush 2020 for international travel.
Let's start with the best manual toothbrush options.

#1 Soft Charcoal Whitening Toothbrush
It's little odd at first brushing your teeth with a mouthful of black foam, but the results are amazing.
What is really important when using an abrasive such as charcoal is to apply it a gently as possible. The softer the toothbrush, the better.
This soft charcoal brush is the best soft toothbrush for applying tooth whitener.
Don't make the mistake of thinking the bristles are infused with charcoal. They are not. You would need to buy the charcoal powder separately.
The idea of this soft toothbrush is that the bristles are gentle enough and are compatible to use with the charcoal powder.
Click here for prices
---

#2 Soft Brush Oral B
Every person that I have spoken to about the Oral B Health toothbrush have only had positive things to say about them.
The bristles are soft enough for teenagers with braces and for sensitive gums.
For the price (a pack of four – perfect for a family who is set to travel) you won't find a better manual toothbrush.
Click here for prices
---

#3 45º Angled Travel Toothbrush
This manual toothbrush was designed by two Americans. A Dentist and a hygienist.
They put their heads together and invented this 45º angle toothbrush that gives an all-over better clean and improves gum health.
My daughter is a huge fan of this manual brush claiming it is the best toothbrush she has ever used.
She told me (in her words) "that the bristles feel as though they wrap around every one of my teeth and make them feel super clean".
Couldn't have described the MD Brush better myself!
— Click here for prices
---
a

#4 Foldable Toothbrush
This soft portable toothbrush folds down to the size of your thumb making it the ideal travel-size toothbrush and perfect for those who like to travel with very little.
This is the best folding toothbrush as it has a tri-fold design that enables the brush head to fold into the handle. This then becomes a cover for convenient and clean storage.
This portable toothbrush does have an annoying habit of trying to fold while you are using it, (it is, after all, a travel-size toothbrush) so certainly not something I would choose for long-term travel.
But, it is a handy solution to light travel and a great thing to have in your flight bag in case your bag goes missing. Or if you have onions for lunch — Click here for prices
---
a

#5 Disposable Toothbrush
These handy little single-use travel toothbrushes include a brush, a toothpick and toothpaste all in one
They are a brilliant travel accessory, especially if you intend to visit countries that do not have clean running water.
A disposable toothbrush is a must-have for those long-haul flights when you can't be bothered clambering over people to get to the bathroom.
The travel toothbrush with toothpaste is convenient and leaves your breath feeling fresh. The pick at the end enables you to remove any stray pieces of food.
Of course, a disposable toothbrush will never replace 'real' brushing, but I think this disposable toothbrush is a good option for those of you planning to climb Mt Everest or go on a long-haul flight — Click here for prices
---
a
Enjoying This Post? Pin It!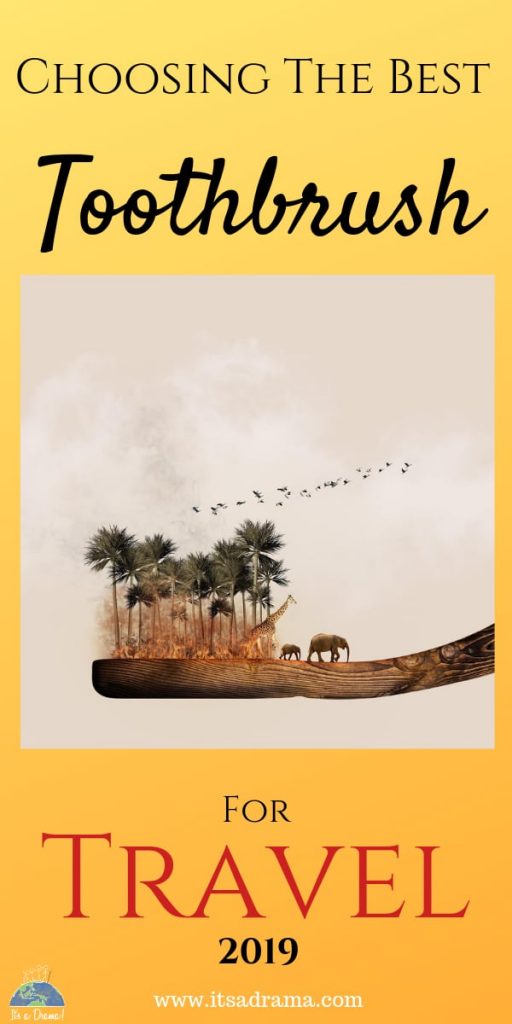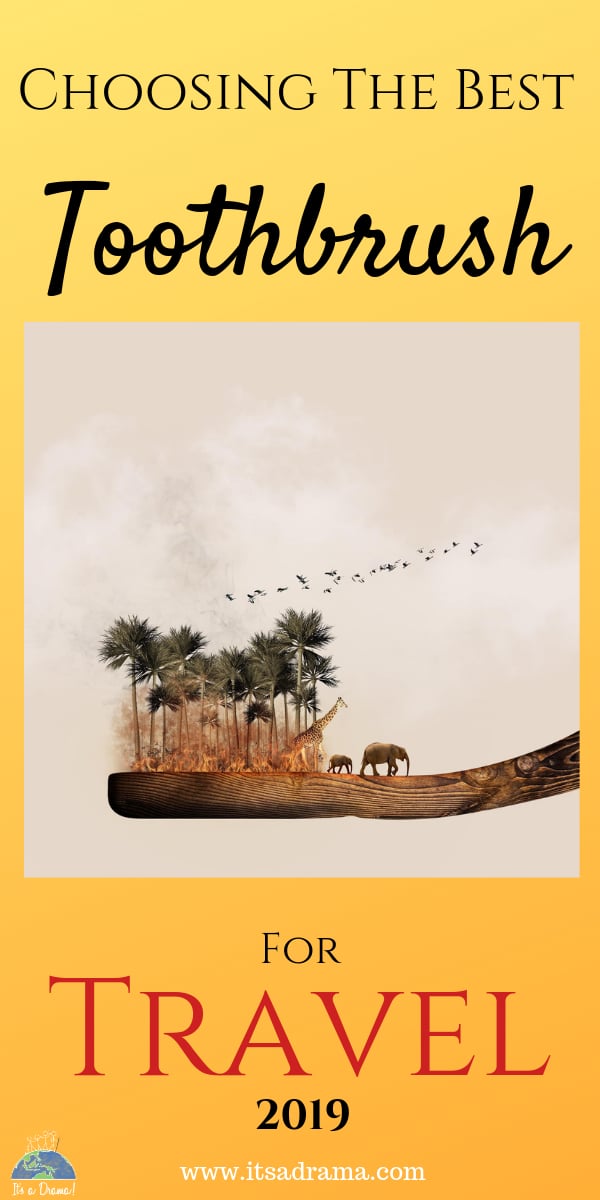 Best Travel Toothbrush (Battery) 2021
Lots of people swear by battery-operated toothbrushes for taking on vacation.
You can get a thorough clean without having to worry about extra leads and chargers.

#6 Philips Sonicare
The downside to having a battery toothbrush when you are travelling is the need to find batteries!
I'm sure this wouldn't be a problem in the US or Europe but it was always a bit of a hassle in Asia.
We found that the Philips Sonicare is the best battery toothbrush and is an excellent option for travel. If you are camping or are not sure of the electricity situation then a battery toothbrush is the one for you.
— Click here for prices
---
Best Travel Electric Toothbrush 2021

#7 Oral B Electric Toothbrush
Along with packing some secret plane essentials to help you feel gorgeous, there is nothing quite like giving your teeth a good brush to freshen you up.
The Oral-B Pro's charge will last for about 3 days (having been used 8 times a day by a family of 4 – I can testify) making it (in our opinion) the best electric toothbrush for travel in 2020.
If you are travelling solo you are going to get at least a week out of the Oral B Pro toothbrush without the need to charge.
If you are looking for a quality travel electric toothbrush without all the bells and whistles then this is the brush for you.
I really like that this is a black electric toothbrush. Here's why.
If you are backpacking (or moving around to different locations frequently) your toothbrush can get really grubby. Having a darker travel toothbrush body is a bonus.
The Oral-B Pro doesn't have any of the fancy pants bells and whistles that it's more expensive cousins have, such as the blue tooth and gum massage feature, but it does have a 30-second pulse to indicate that it's time to move onto the next section of your mouth and also a pressure sensor.
For an electric travel toothbrush of such quality, the price is superb, keeping you well under $50 — Click here for prices
#8

Fairywill PRO P11 Sonic
I only tried this toothbrush last month and due to the recent ban on travel I haven't been able to take it on a trip, BUT, my teenagers use it at home and here is why I am including it into this post.
Although the Fairywill is a great price and does what it says on the box, the key factor for making it into a travel toothbrush post is this:
The battery life on the Fairywill Pro is amazing.
If any of you out there have teenagers like me then you will know what I am talking about when I say teenage kids don't have time 'to charge' the toothbrush. It gets used and left on the sink.
Which is exactly what my kids did with this toothbrush. It was a month after first using this toothbrush they finally came to me and asked for the charger – 30 days! Which in my eyes makes this toothbrush just perfect for travel (and for lazy teenagers).
It's not the strongest of brushes but it does the job nicely (especially for those with more sensitive teeth) and for the price and the amazing charge convenience I think it's a great option – Click here for prices
---

#8 Philips Sonicare
*This electric toothbrush is perfect for those who have a problem with plaque buildup and is our personal favourite for the best electric toothbrush for travel*
We bought the Philips electric travel sonic toothbrush when we were in Hong Kong and it was the best decision we ever made.
We were reluctant to buy an electric travel toothbrush for travel because we knew that we would be going to Europe and we worried that the adaptor for the charger would weigh us down (check out our ultimate travel checklist so that you don't ever forget such important items again!)
After weighing up our options (haha! See what I did? Genius aren't I?) we decided that the health of our teeth and gums was far more important than a few extra pounds.
This electric travel sonic toothbrush boasts that it removes up to 6x more plaque than a manual toothbrush and I believe them.
Within just 2 weeks of using this brush, my teeth felt as though I had been to the hygienist — Click here for prices
---
25 gifts for kids that love to travel
Travelling with teenagers? 10 items that will make them happy and keep you sane!
How people on an ordinary wage afford to travel the world
8 Travel tips that you can safely ignore (because they're rubbish)
Arrive feeling gorgeous! 10 Travel essentials that you will never forget again
One More For Pinterest! ⇓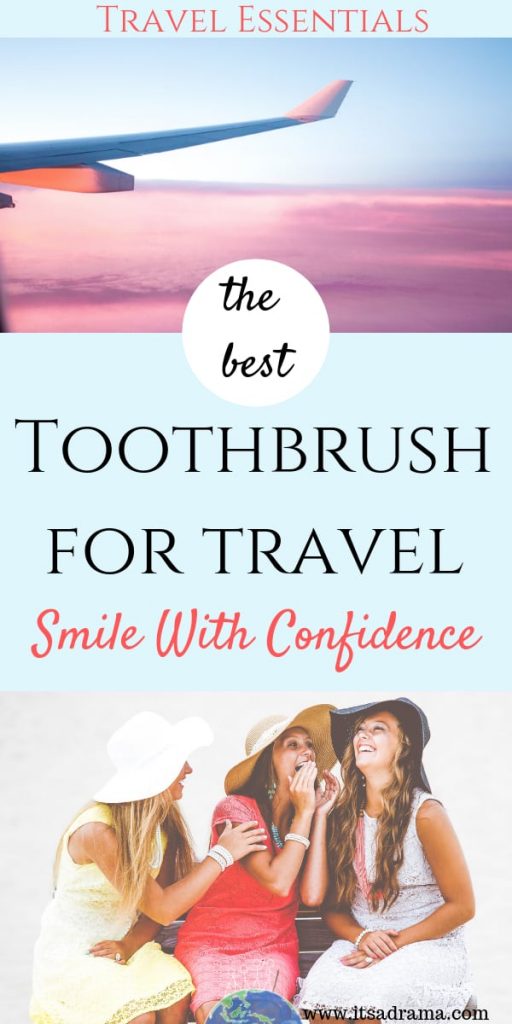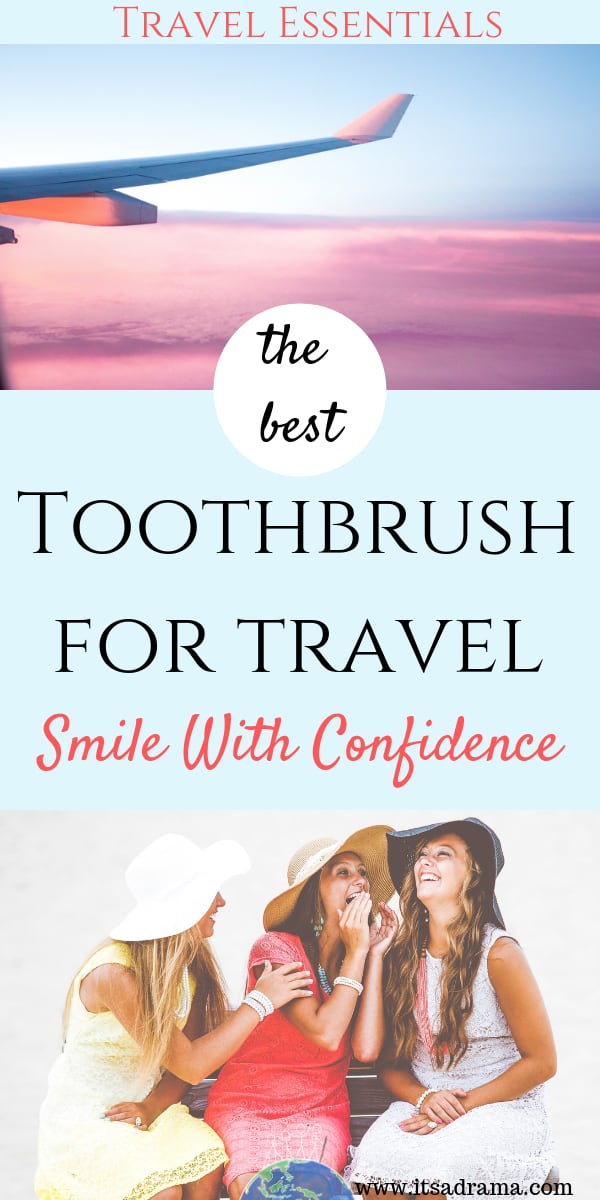 Can You Take An Electric Toothbrush On The Plane?
There seems to be some confusion as to whether or not you can take an electric toothbrush onto a plane.
If in doubt, ask the airline but speaking from experience, we have never had a problem taking a portable electric toothbrush onto a flight.
Q: Can I bring an electric toothbrush on a plane?
A: Yes. You can. We fly with Air NZ and here is their policy on taking a portable electric toothbrush on a flight.
Q: Can you take a battery-operated toothbrush on a plane?
A: Yes. You can. Read this if you need more reassurance.
To Sum Up: The Best Travel Toothbrush For 2021:
Remember, investing in the best toothbrush for travel will be more time (and cost) effective if you get it right in the first place. And remember, brush twice a day please and don't forget to floss!
Thank you for reading and please don't forget to share this post with someone else who is looking for the best toothbrush for travel!