If you are heading to Sri Lanka, then you will undoubtedly be looking for a beautiful beach in which to unwind and relax your weary bones. Mirissa beach is your perfect place.
We are a family of four currently travelling the world and we recently spent a month in Sri Lanka – two of those weeks were spent soaking up the sun on the beautiful Mirissa beach.
This post may contain affiliate links. They cost you nothing but we make a small commission.
Where is Mirissa Beach?
Mirissa is a small town on the south coast of Sri Lanka 150 Klimoteres south of Colombo. It belongs to the Matara District in the Southern Province. Running the entire length of the town lies the stunning Mirissa beach.
It takes approx 4 hours by train to get from Colombo from Mirissa, we took the magnificent train journey from Ella to Kandy and to be honest, the Colombo to Mirissa journey is probably a close second if you're looking for a beautiful scenic train route in Sri Lanka.
For the best views of the ocean, make sure you sit on the left of the train if you are coming from Colombo, and the right if going back to Colombo from Mirissa.
Related Posts That You Will Enjoy
Things to do in Ella, Sri Lanka, and one thing NOT to do
10 Travel essentials For the Plane that Will Make Your Flight Pure Bliss
PLEASE PIN THIS ⇓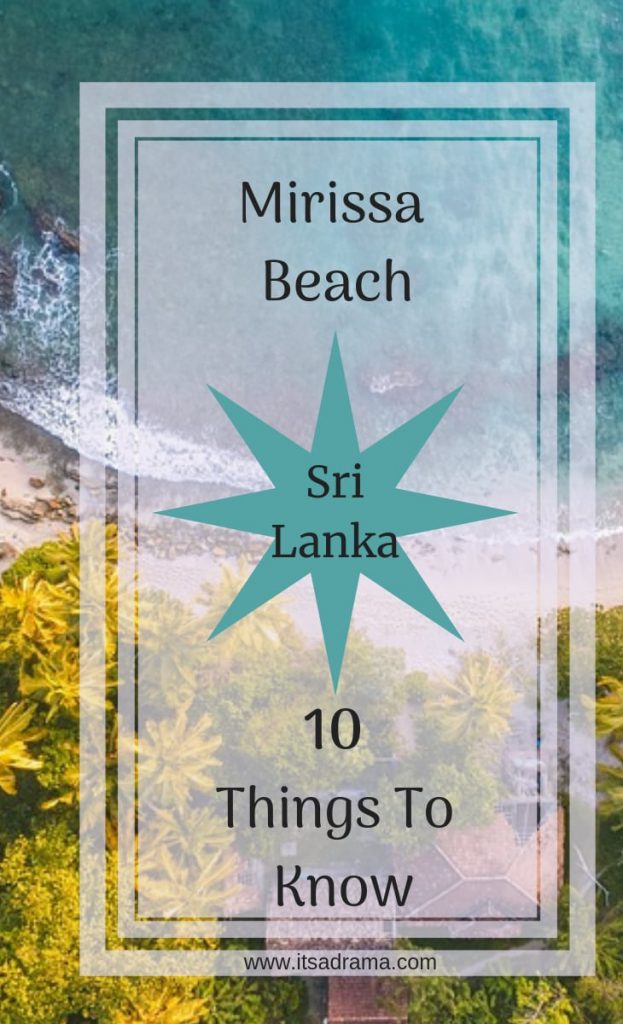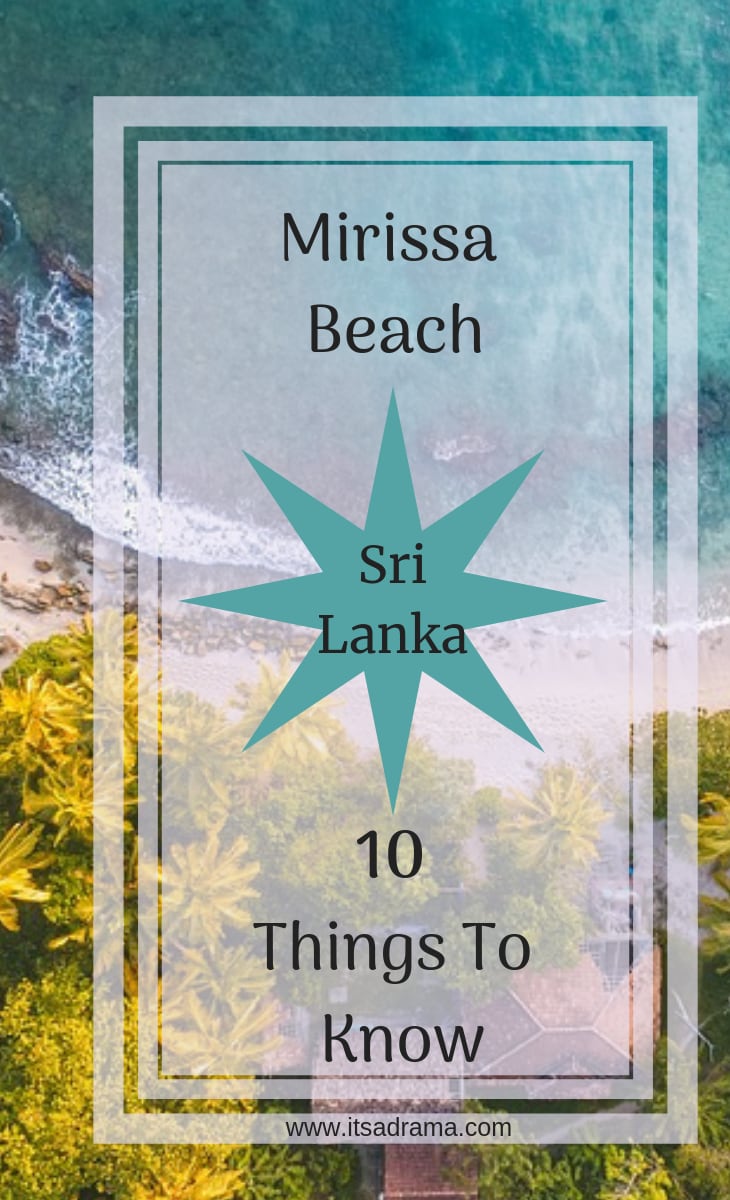 Best Things to do in Marissa (apart from go to the beach!)
There are lots of things to do in Mirissa such as fabulous whale watching tours or taking a day tour to the historic town of Galle, but we were travelling as a family of four and were keen to keep costs down, this being part of a big trip.
Instead of spending lots of money you could do this instead:
Take A Bus Ride Along The Coast Road From Mirissa.
You can easily get a bus from Mirissa to take you on a ride along the coast road. I highly recommend you do so. I am a big fan of public transport in Sri Lanka and the experience of taking a bus ride is one not to be missed.
There are two bus stops in Mirissa. You can ask someone where they are or just look out for the line of people looking as though they are waiting for a bus.
Hop onto the local bus and go south to Welligama, or west to Matara. Both are only about a ten-minute bus ride away and the fare is a cheap as chips. You can also take the train, but this is nowhere near as much fun. Taking a bus in Sri Lanka is a fabulous experience and one which everyone should do when visiting Sri Lanka.
Visit Welligma Town
Weligama is well worth a visit. There are some fabulous little apocathery shops dotted around as well as some friendly tea stands. Be warned though; most places shut up shop for prayer at around noon and won't open again until about 2 pm.
Remember to haggle for prices, even in the shops that look as though they wouldn't. They will, and they do.
The beach in Weligama is a big long stretch of white sand with a few fishing boats moored up. It is clean, but when we went, it was windy and didn't have the same quaintness of Mirissa beach. You also have to wade out quite a way to get to the deeper water. To me, it felt like a city beach, whereas Mirissa beach feels like a village beach. Go to both and choose for yourself.
Go Shopping in Matara City
If you go west on the bus, you will come to the town of Matara. It's a significant city in Sri Lanka but to be honest doesn't feel that big.
Matara is fabulous if, like us, you are looking for some new shoes and don't want to pay tourist prices, or a cheap bottle of rum – which again, I can highly recommend for stashing away in your hotel room for a nice little tipple in the evening.
There are many things to do from Matara, ones which I won't go into in this post but if you would like more information then check out this Matara info page.
Of course, if you want someone else to do all the planning for you, then you could also book a private tour. This tour takes in the beautiful town of Mirissa as well as other wonderful places around Sri Lanka.
Soak up the Sunshine on Mirissa Beach!
Marrissa beach is beautiful, it is safe and quiet, and simply, it is stunning.
10 Things You Need to Know About Mirissa Beach.
There are two parts to Mirissa beach. If you are on the main road face the beach. Go to the left if you are a laid-back hippie chick like me, or to the right if you want a bit more action (like my teenage son).
The beach is lined with restaurants and bars, but not in a rowdy way; they are all pretty low key and respectable. They sell alcoholic drinks (more popular to the right of the beach) and fresh coconut juice – which my son couldn't get enough of!
The best cafe on the beach for free wifi and the best cup of tea and breakfast in Mirrissa is called open world cafe. Be warned, it looks like a hippy shack rather like something out of the 1960s, but they do the best tea and snacks on the beach. There is free wifi which is always useful if you have kids – or if like me you are trying to write a travel blog!
The little man who serves you insists that you write your order down on his waiter's pad, and it takes forever for your food to arrive, but it is worth it. I promise.
Mirissa is popular with tourists. For some reason, everyone seems to shoot back to their hotel at around 6 pm to get ready for dinner, leaving the beach wonderfully deserted and the sunset in full view for you to enjoy with a glass of cold beer. So…
Try to move your body clock. Have a late lunch and take dinner at around 9 pm. This way you get to stay on the beach later and enjoy the sunset. You are also guaranteed a table on one of the surf front restaurants as most people have finished eating by 8.30pm. That's what we did and it worked out perfectly for is, no waiting for tables, no rushing. Just pure Sri Lankan life.
The sea is deliciously warm. My kids loved playing in the waves for hours, but be warned, the waves break hard and can get dangerous. Sadly, we heard of someone being taken to hospital with a dislocated shoulder due to a wave crashing down on them. Ouch!
You can hire a sunbed and umbrella from one of the cafes. You simply have to buy a drink and you're in for the day.
Buy the local fashion. You can buy one of the ultra Sri Lankan sarongs from one of the little clothes stalls that line the road opposite the beach. Don't bother bringing your own, they are so cheap that it's not worth it.
Going home. As you come off the beach, to the right, there will be a group of tuk-tuks waiting to carry you home. They are never more than 250 rupees if you are staying in Mirissa and are such fun. Feel the warm evening air blow on your face and remember how lucky you are to be in Sri Lanka.
Late at night. Here's a final tip for you and this one requires a little exercise. After you have eaten dinner at one of the many fabulous restaurants in Mirissa and it is dark, walk down Udupila Road until you lose the street lights. Don't worry, it is perfectly safe, we walked it every night. After about ten minutes, you will come to the rice fields. Now. Open your eyes and look at the hundreds of brightly lit fireflies that are surrounding you like fairies. I thought you'd appreciate that tip.
[et_bloom_inline optin_id=optin_2]
Related Posts That You Will Enjoy.
25 Things that took me by surprise about Sri Lanka.
The most beautiful train journey in Sri Lanka.
8 Travel Tips that you need to ignore. Because they are rubbish
Pissing my pants on a train in Sri Lanka. The Bog Post Diaries.
How do people on a regular wage afford to travel the world?
Should you go couchsurfing with kids? The good, the bad and the bucket.
For Pinterest ⇓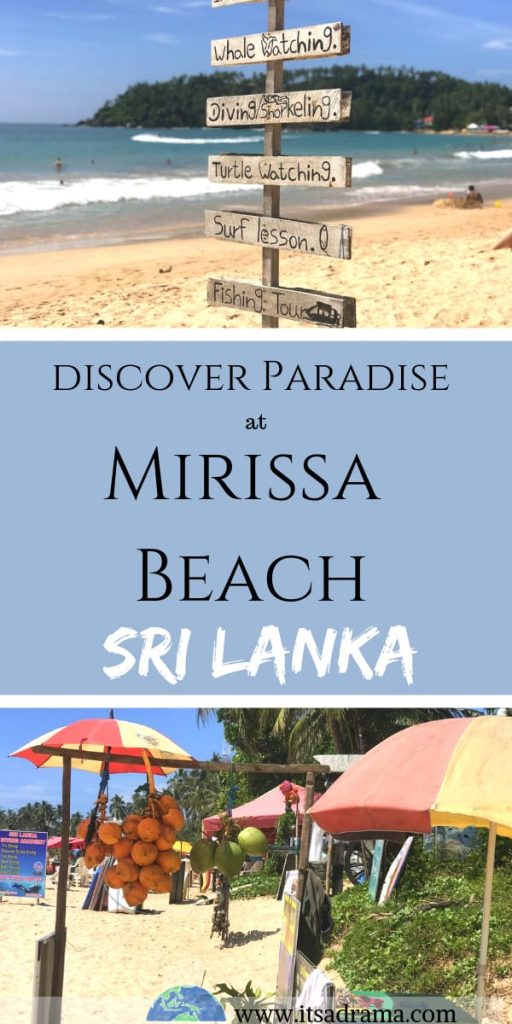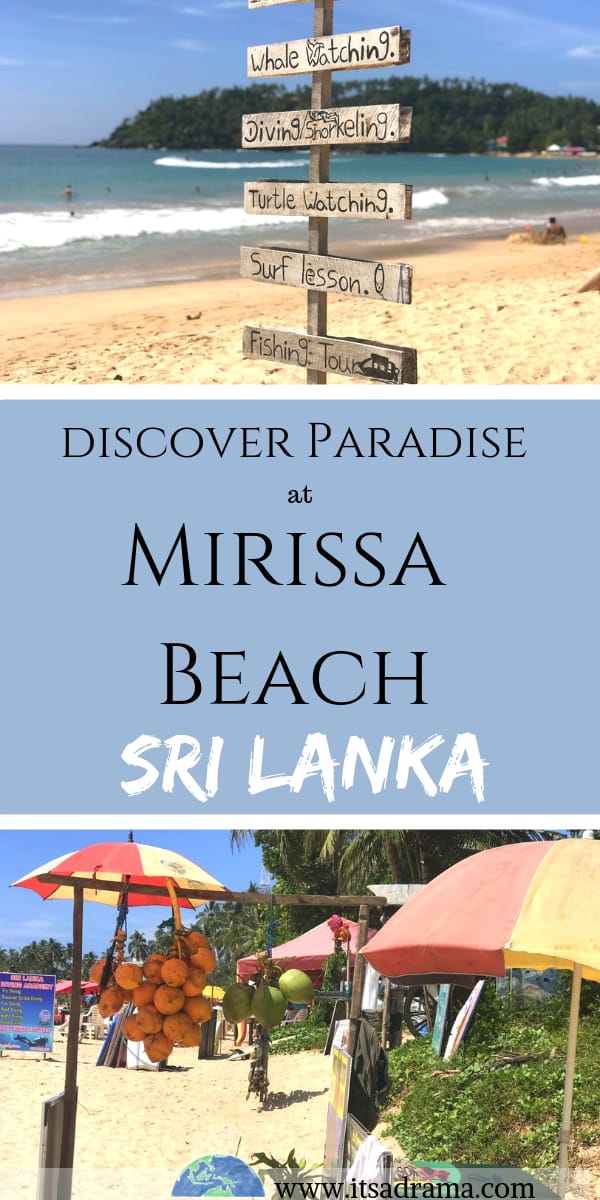 Enjoy your time in Sri Lanka, you are going to love it; especially if you are lucky enough to visit Mirissa beach. Remember what I said, left for the slower pace, right for the foxtrot! Message me and let me know which side you are going to choose. Enjoy!