So, you're visiting New York City at Christmas (lucky you!!) and are stuck for things to do.
Understandably so. Let's face it. You are in the most exciting city in the entire world, faced with an array of fabulous ways to spend your time.
And the last thing you want is to waste any time, make mistakes and blow money on things that left you feeling 'Meh'.
Do not worry, my friend. I've got you covered. If, by the end of reading this article, you are not busting with excitement and ideas about all the things to do in New York City at Christmas, then I'll shout you a bottle of Sherry.
This post may contain affiliate links. They cost you nothing but we make a small commission. If you would like me to explain it further, please visit our disclaimer page.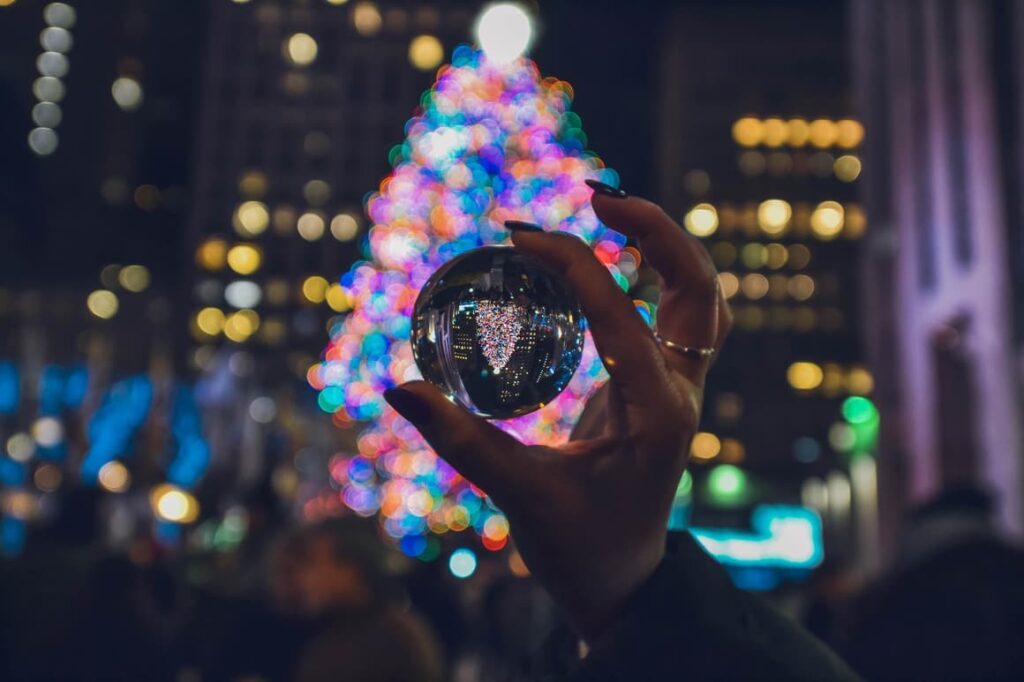 NYC For Christmas — Movie Style
New York City is the only place in the world that I have visited at Christmas, and not felt as though everything that has been portrayed in the movies was a big fat lie.
Not ever.
One time, I even saw a flying elf in red boots drinking egg nog.
We spent four days in NYC at Christmas time last year with our kids (who are teenagers) and it was truly magical.
Although we were on a tight budget, it was an unforgettable time – just gorgeous. We spent time in the very centre of the city and had fun going further afield and discovering some amazing things to do in Chelsea, New York City too.
If you are one of the lucky individuals who is going to be in New York for Christmas, then allow me to show you how to experience the city as they do in the movies.
It's a party trick of mine.
I can't guarantee that you'll end up looking like Meg Ryan but as long as you don't leave NYC resembling a Gremlin, then I know that I did my job properly!
Things to do for Christmas in New York City
Dyker Heights Holiday Lights Bus Tour
NYC at Christmas time has to begin with lights, and what better way to do that than by taking this fabulous guided tour! Hop onto a warm, comfortable bus and marvelling at the most beautiful Christmas lights in the whole world
Witness the festive decoration tradition that the residents have kept alive since the 1980s. Drive from Manhattan to Brooklyn with your family and get ready to see sights that will simply take your breath away…
Why Take This Magical NYC Light Tour?
Enjoy this lively Italian-American neighbourhood with your tour guide, who will take you to the two most illuminated streets in the area.
See Lucy Spata's house, which started the tradition of Dyker Lights in the '80s. Walk along the most spectacularly decorated houses.
Next, stop at the Brooklyn Bridge in DUMBO/Brooklyn Heights. Enjoy the view of the Manhattan Skyline and the Brooklyn Bridge for about 25 minutes. It's gorgeous!
I don't know how long it takes to decorate these houses so beautifully, but I'm sure glad that they do it! We LOVED this tour, and I think you will do too, especially if you are in NYC for Christmas with kids.
Click HERE To check out the tickets for this unforgettable Christmas light tour in NYC!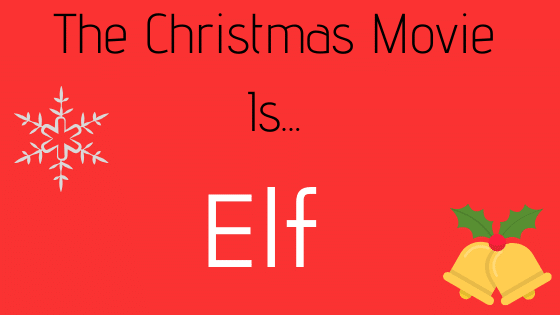 – Elf
(2003 starring Will Ferrel and James Caan. PG Comedy, Family, Fantasy)
After discovering he is a human, Buddy, who has been raised as an elf at the North Pole decides to travel to New York City to locate his real father.
Ice Skating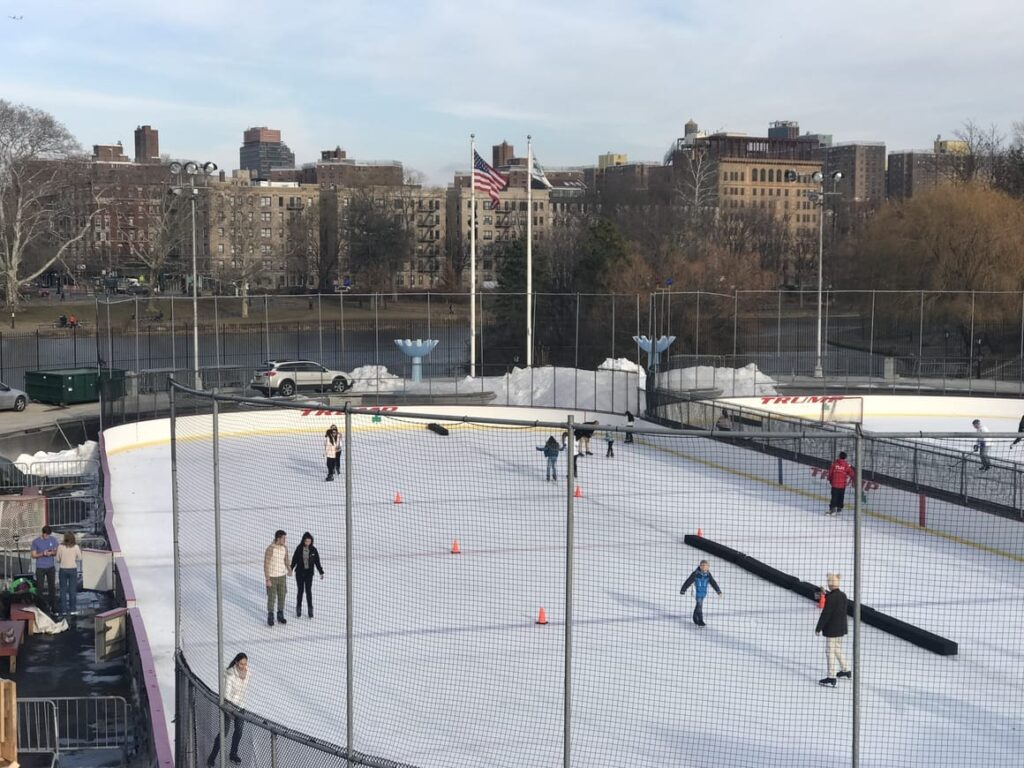 If you are looking for things to do for Christmas in New York City then, of course, skating has got to be up there on your list.
There are many places that you can take to the ice at holiday time in New York City but my favourite will always be the Lasker Rink in Central Park.
Although this isn't the most glamorous of ice skating rink it is more than half the price of the other swanky rinks – perfect if you are visiting New York City on a budget.
Even if you are wobbly on a pair of skates, the very tieing of the laces and holding onto to the side rails make for memories of many Christmas movies!
And of course, you get to treat yourself to hot mulled wine afterwards for giving it a go!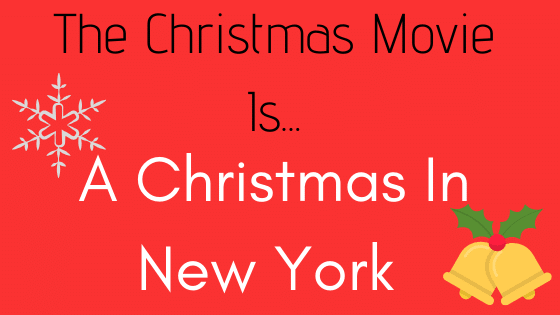 – A Christmas in New York
(2016 starring Ross McCall and Jaime Ray Newman. Romance)
Several guests are forced to come to terms with love and its countless complications over the course of one night in an upscale Manhattan hotel.
Central Park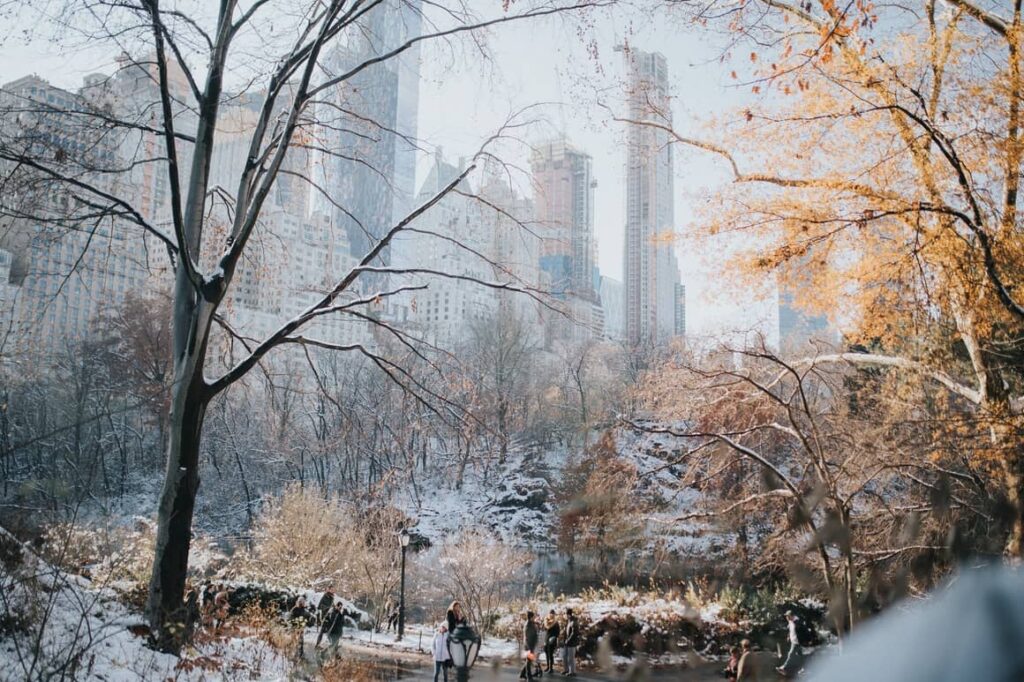 What's not to love about Central Park?
We have visited this gorgeous open space twice in the winter when the frost clings heavily onto the branches of the leafless trees, and each time I loved it.
Whether you take to one of the skating rinks, visit the zoo or listen to the free entertainment by the street musicians Central Park never fails to please.
Why not treat your group to a magical horse-drawn tour of the park. Wrap up warm and enjoy all that is happening around the park at Christmas time. Blankets are provided but I'd recommend taking a hot chocolate with you (just because you can!)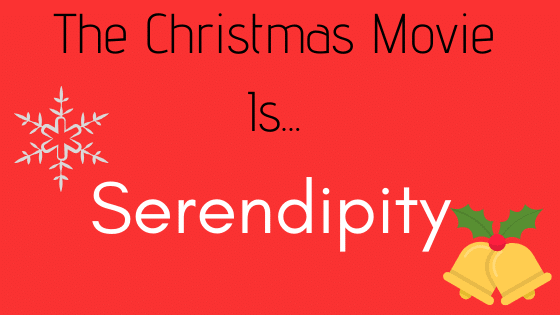 – Serendipity
(2001 starring John Cusack and Kate Beckinsale. PG Comedy, Romance)
A young man and woman search for each other years after the night they first met, fell in love, and separated, convinced that one day they'd end up together.
Click here to buy Serendipity on DVD
Radio City
If you are heading to New York City at Christmas time, then please don't miss the chance to experience the fabulous Rocketts at the Radio City Music Hall.
It is extra special in the holiday season, and the atmosphere inside the theatre is magical. We highly recommend you purchase your ticket and enjoy the show!
Head to New York's famous Radio City Music Hall for a night to remember with this outstanding ticket to the annual Christmas Spectacular. Join the Rockettes, Santa Claus, and the Toy Soldiers in this once-in-a-lifetime NYC Christmas experience.
See the Radio City Music Hall stage transform into a giant, magical canvas before your very eyes! Extending beyond the stage and onto the ceiling and walls, be amazed as the magic of Christmas surrounds you.
Enjoy the legendary Parade of the Wooden Soldiers, Santa's magical ride to his workshop at the North Pole, where playful rag dolls come to life, plus the re-enactment of the first Christmas in the Living Nativity.
Experience the annual Radio City Music Hall Christmas Spectacular starring the Radio City Rockettes. Enjoy Santa Claus, Toy Soldiers, a Nativity scene, famous NY department store windows, Rockefeller Christmas Tree, and more.
Make sure you make a wish under the huge Christmas tree outside. Apparently, they always come true!
Click HERE to get your tickets for the Christmas Spectacular Starring the Radio City Rockettes

– Home Alone 2 Lost in New York
(1992 starring Maucley Culkin and Joe Pesci. PG Comedy, Adventure)
A boy left home alone accidentally finds himself stranded in New York City with a pair of criminals on his tail.
Click here to buy Home Alone 2 on DVD
Macy's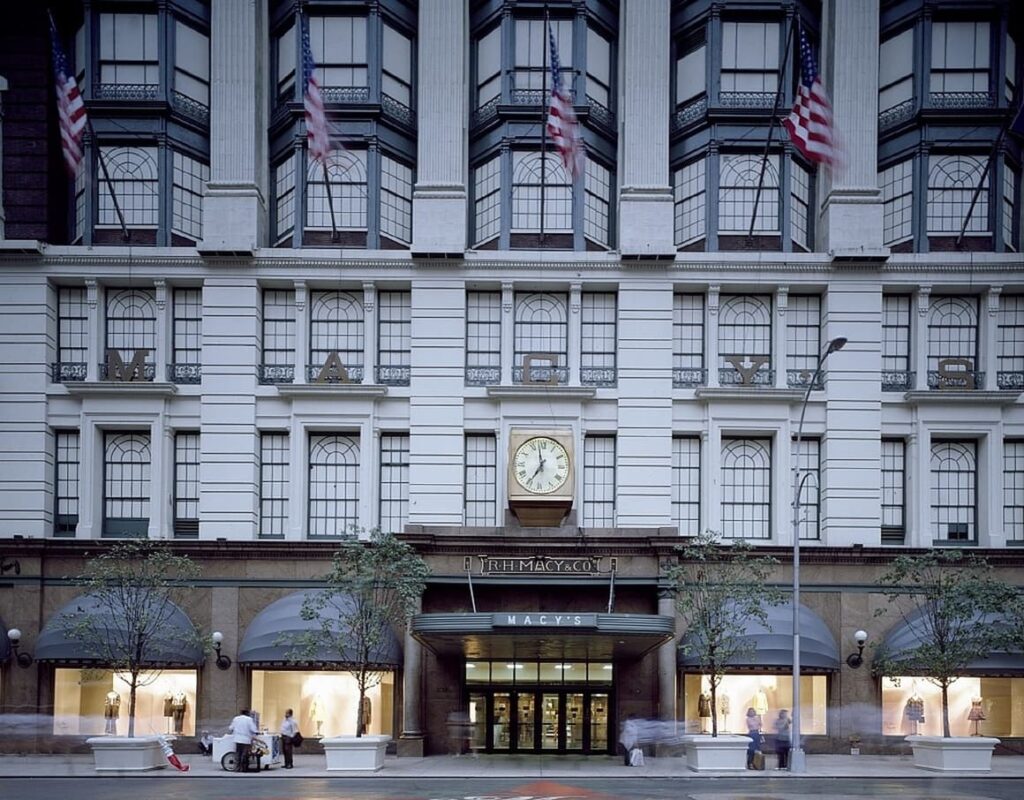 Even if you are just window shopping, make sure you take the time to go inside Maceys and soak up the atmosphere of the world-famous store.
Macy's window displays are famous at Christmas; take you time and move slowly along with the crowds admiring the scenes – this free holiday tradition is a must!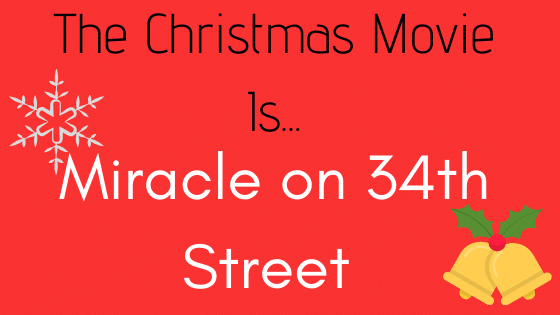 – Miracle on 34th Street
(1994 starring Richard Attenborough and Elizabeth Perkins. U Family, Fantasy)
A lawyer and a little girl must prove that a man claiming to be Santa Claus is the real thing.
Click here to buy Miracle on 34th Street in DVD
Take a Look at This Gorgeous Video Of NYC at Christmas
Rockafeller Centre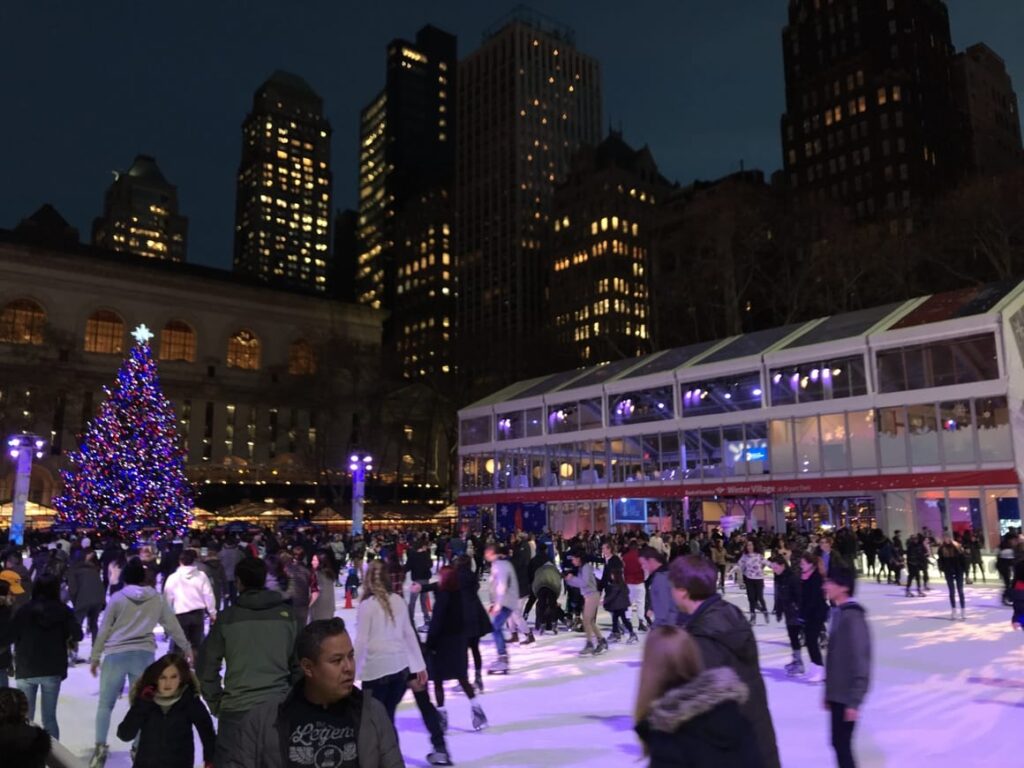 You can not possibly come to NYC at Christmas and miss the Rockefeller Centre!
Seeing the famous Christmas tree must be done.
Like it or not.
It's the law.
Be warned though, it is busy – don't bother skating here; the prices are extortionate and I doubt you'd get to put one foot in front of the other without bumping into someone else, but do it for the atmosphere. Christmas time here is truly magical.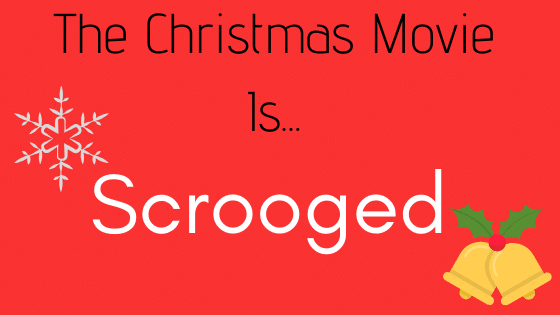 – Scrooged
(1998 starring Bill Murray and Karen Allen. PG Comedy, Drama, Fantasy)
A cynical television executive is haunted by three spirits bearing hard to ignore lessons on Christmas Eve.
Click here to buy Scrooged on DVD
China Town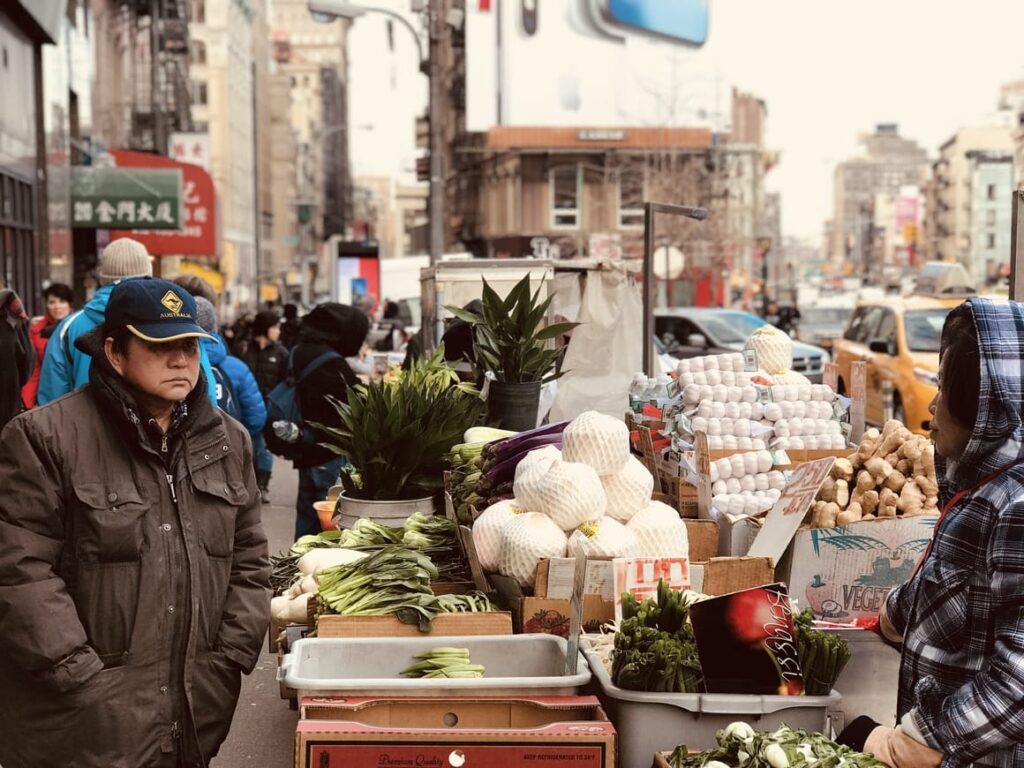 I love visiting China town in any city but New York China town is the best.
Although there isn't a Christmassy spirit in the air, China Town is one of my favourite places to go and buy little gifts for Christmas stockings.
Grab yourself some duck pancake rolls and a cup of hot cup of green tea while walking along the streets!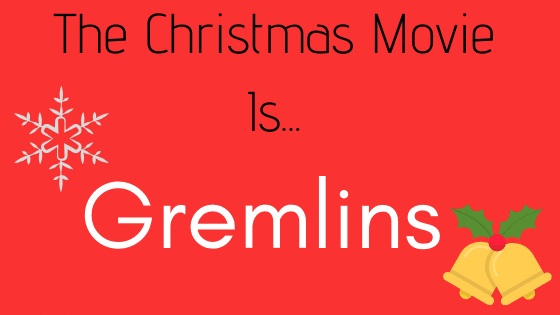 – Gremlins
(1984 Starring Zach Galligan and Phoebe Cates. 15 Comedy, Fantasy, Horror)
A father visits China Town in NYC at Christmas time and buys his son a pet which unleashes a horde of malevolently mischievous monsters on a small town.
Click here to buy Gremlins on DVD
Empire State Building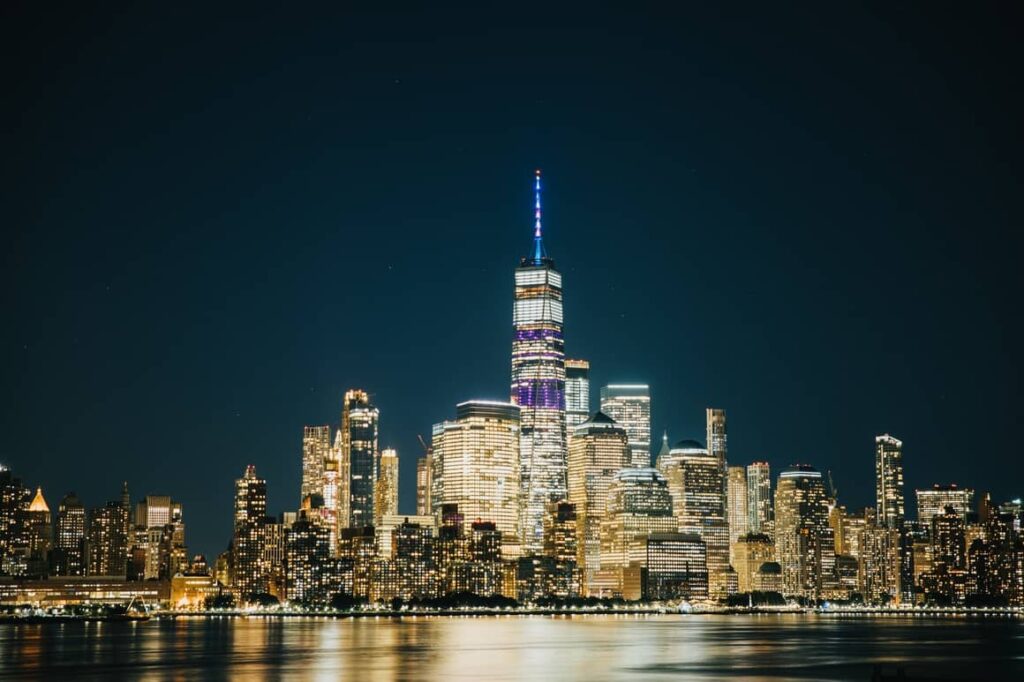 The views of the city from the top of the Empire State are truly breathtaking,
BUT
if you are visiting NYC for Christmas then take my advice…
If you haven't purchased one of the NYC Discount Passes (which up until 31 December allows early bird access into the Empire State Building
We made the mistake of NOT doing this and we were trapped in an endless line (three hours – I kid you not) full of aggravated people (three of them belonged to my group).
It isn't much more to pay for the skip the line ticket and will save your sanity (and time) on your winter experience of New York
TIP: If you would prefer to avoid the people and money then why not hop on the ferry to Staten Island and check out the view of the skyline for free!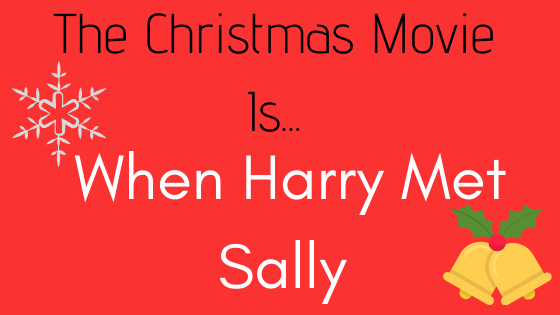 – When Harry Met Sally
(1989 Starring Meg Ryan and Billy Crystal. Comedy, Drama, Romance)
A couple who have known each other for years, and are very good friends, but they fear sex would ruin the friendship. Not officially classed as a Christmas film but lots of Christmas references and the couple meet ontop of the Empire State!
Click here to buy When Harry Met Sally on DVD
Watch A Radio Play In Greenwich Village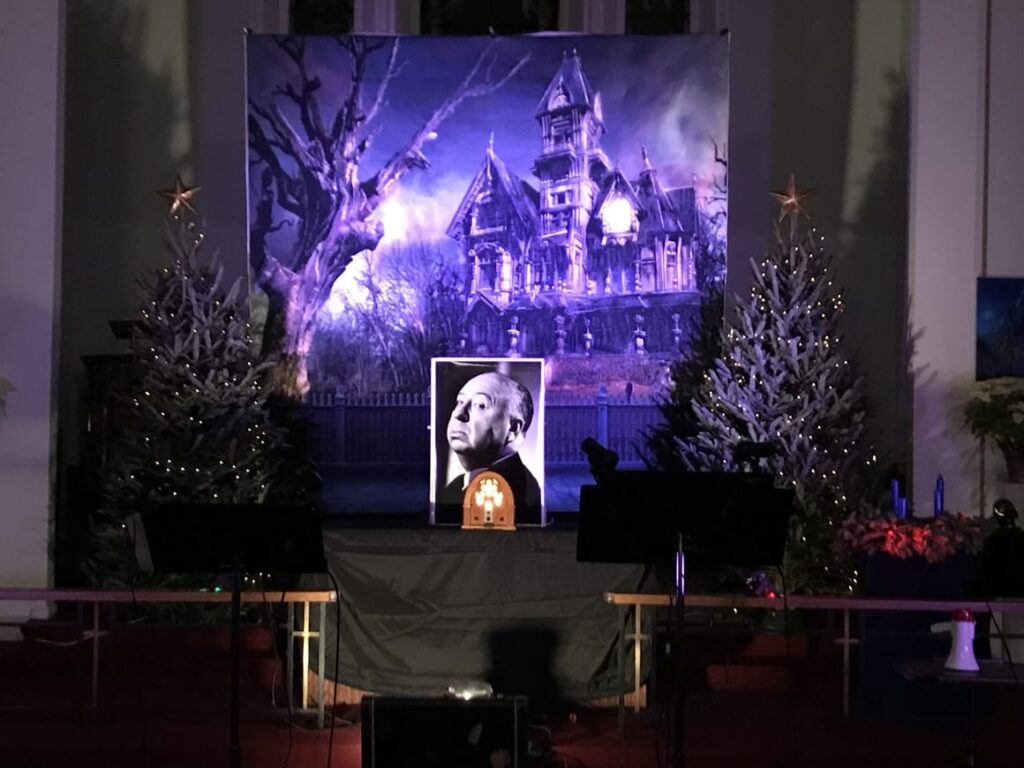 Everything about Greenwich village is cool. The restaurants, the people, the food.
Especially the food.
Why not book one of the famous food walking tours that explore Greenwich and feeds you with the most fabulous meals!
In the evening, why not book a piece of fringe theatre while in Greenwich village? We did just that and it was wonderful.
The church that the play was performed in was warm and lit with candles.
We were offered hot chocolate and cookies. The night was perfect and if you are looking for things to do for Christmas in New York City with your family then this will not disappoint!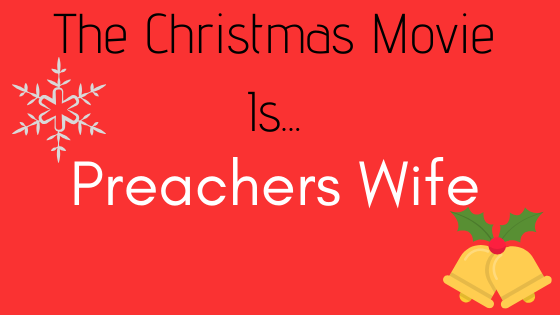 – Preachers Wife
(1996 Starring Denzel Washington and Whitney Houston. U Comedy, Drama, Fantasy)
An angel comes to Earth to help a preacher save his church and his family.
Click here to buy Preachers Wife on DVD
St Bartholemew's Church

Take the time to visit this beautiful church located on the east side of Park Avenue between 50th and 51st Street in Midtown Manhattan, in New York City.
At Christmas time there are candlelit carol services that you can attend in the church.
Even if you don't get to see one of the services, sit in the quiet for an hour; take a break from the hustle and bustle of the holiday rush in the city and breathe in the woody scent of pine and sandalwood that you can only ever truly experience in a church such as this.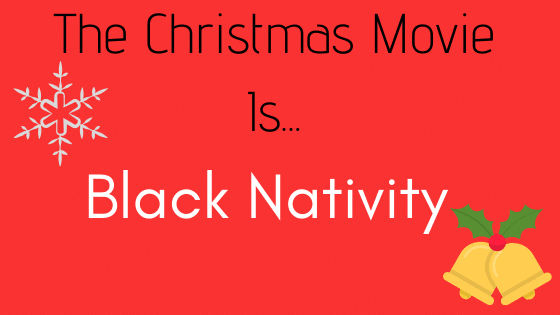 – Black Nativity
(2013 Starring Forest Whitaker and Angela Bassett. PG Drama, Family, Music)
A street-wise teen from Baltimore who has been raised by a single mother travels to New York City to spend the Christmas holiday with his estranged relatives, where he embarks on a surprising and inspirational journey.
Click here to buy Black Nativity on DVD
Making The Most Of Your Time In New York City at Christmas
There are hundreds of wonderful things to do in NYC at Christmas and that's the problem — too much choice!
Depending on the length of your stay we recommend investing in a NYC Discount Pass – having one of these cards in your possession means that you will save up to 55% on over 85 attractions in and around the city.
Click here for details on the NYC Discount Pass
Do's And Don't For NYC at Christmas
Don't be in a rush to get anywhere. Unless you have bought the fast pass tickets then there will be a wait.
Do enjoy the festive atmosphere in the line!
Don't Expect it to be snowing. The weather in NYC is cold, but the chance of it snowing is 12 – 15 %
Do dress warmly! It might not snow but it is brrr, cold! Now is your chance to wear those beautiful hats and long stylish coats and boots.
Don't come to NYC at Christmas time and be on a diet.
Grrr. There are far too many goodies to be had including chocolate puddings and hazelnut swirls, hot mulled wine and cheese topped gratin. Save the diet for another time.
Do try and eat everything you hear about!
Go to Harlem and find the deli that serves the BEST homemade cookies my family have ever tasted in their life, or find the takeaway noodle shop where the taste of the delicious noodles almost made me cry with happiness!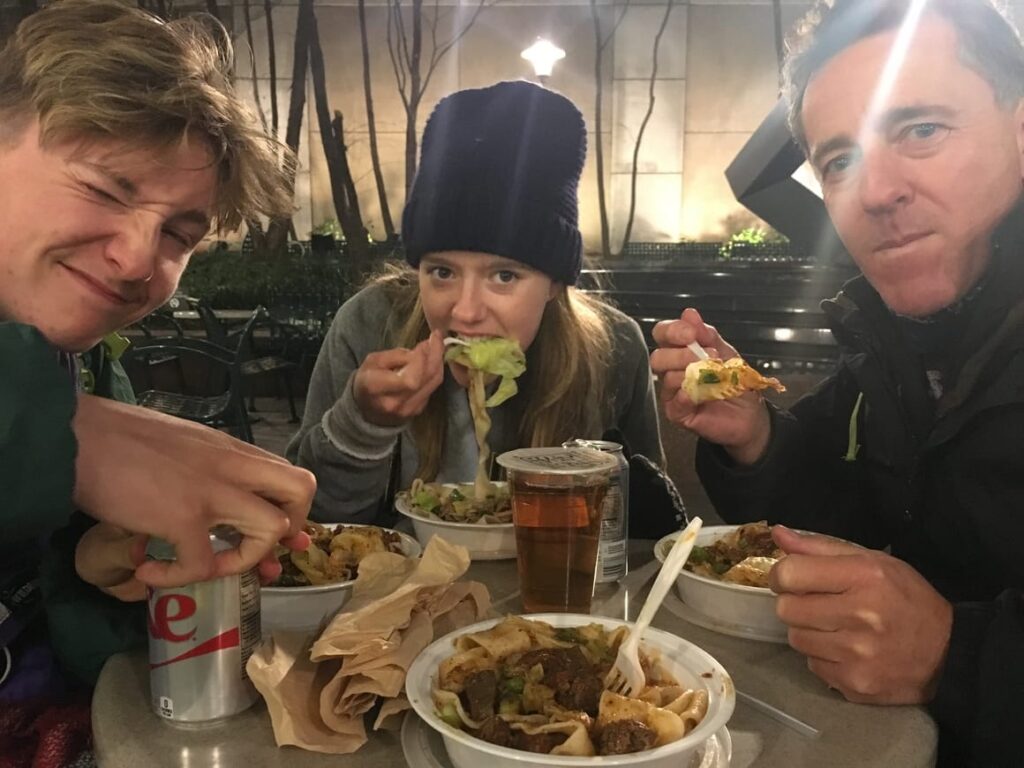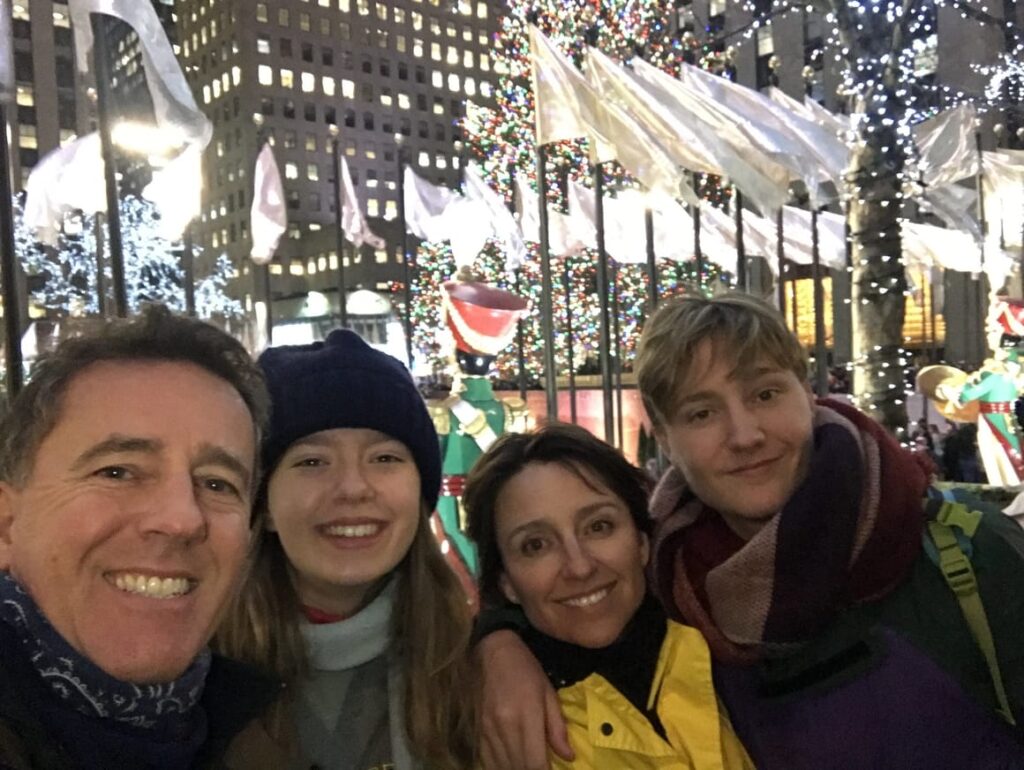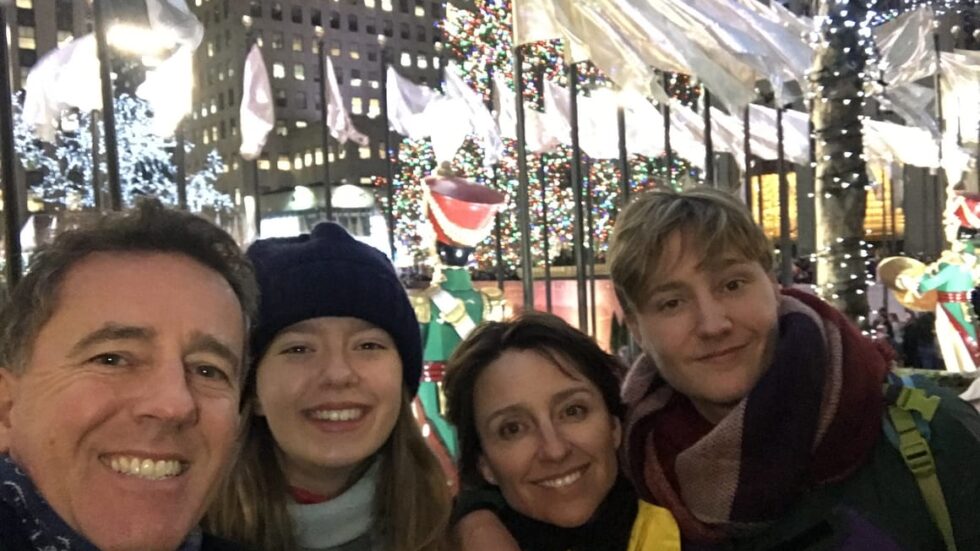 Related posts that you will enjoy!
Christmas in the snow or on the beach? 10 ways to decide
Taking a break from social media – 'cause you are the boss not the puppet
17 Underrated travel destinations (that are just gorgeous)
Arrive feeling beautiful. 10 plane essentials (that will leave you feeling stunning)
FOR PINTEREST! ⇓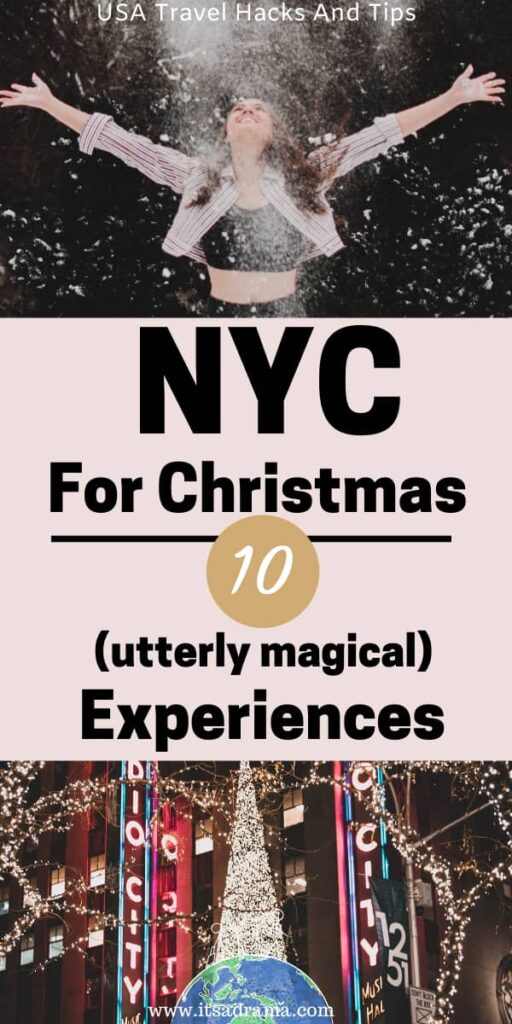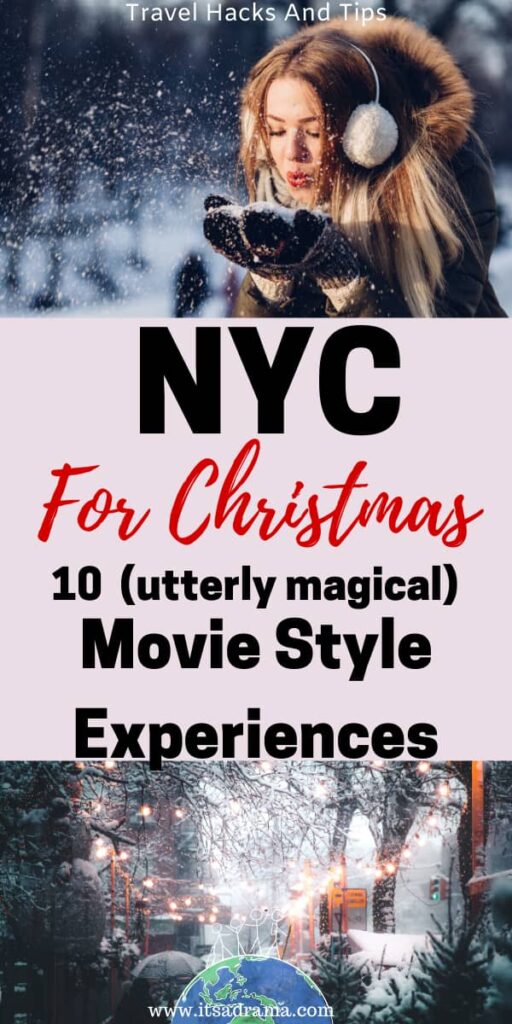 Would you love to travel to places like NYC more often but could use some tips on how to do it for a lot less? Then join me & I'll show you how!
If you enjoyed this movie-style post and you know of someone else who is going to be visiting NYC for Christmas, please share it with them!
And please let me know if there is something you would like me to add about holiday time in this gorgeous city. Comment below and let me know what you did that was special in NYC – I'd love to hear from you!