The New Year rolls in and along with it brings not just a string of resolutions but for some the adamant cries of how "That's it! Next year we are going away. Next year, we are going to have Christmas on the beach, often remarking that it would be cheaper if nothing else.
But would it be the same?
Maybe you're thinking of taking the big leap this year and emigrating? A quiet word of warning from someone who knows.
One of the first things people will remark on you when you tell them you are emigrating to the Southern hemisphere, in our case, New Zealand, will probably be "OOhh, Christmas on the beach. Oh no. That's just weird."
One day. One day of the year and yet the majority of us spend at least three months planning where we will be, what we will be doing and who we will be doing it with.
And the rest of the year paying for it.
It worries some people.
Take my own family, for example,  they genuinely believe that unless you are walking down a dark cobbled gas lit alley carrying an oversized goose and singing Hark the Herald Angels Sing, then it's just not Christmas.
We emigrated to New Zealand in 2000- and so have had the last eight years in the sunshine. But, as some of you know, we have spent the past few months planning the adventure of a lifetime, taking the kids (teenagers to be precise, they go mad if I call them kids). Teenagers. Youths. Young adults. Chilagers. Anyway, those two, my lovely Sonny and Tess – around the world. One of the main reasons we left in late November and headed to North America was so that we could show them a cold Christmas. Neither can remember living in England that well and they wanted snow. And snow is what they got.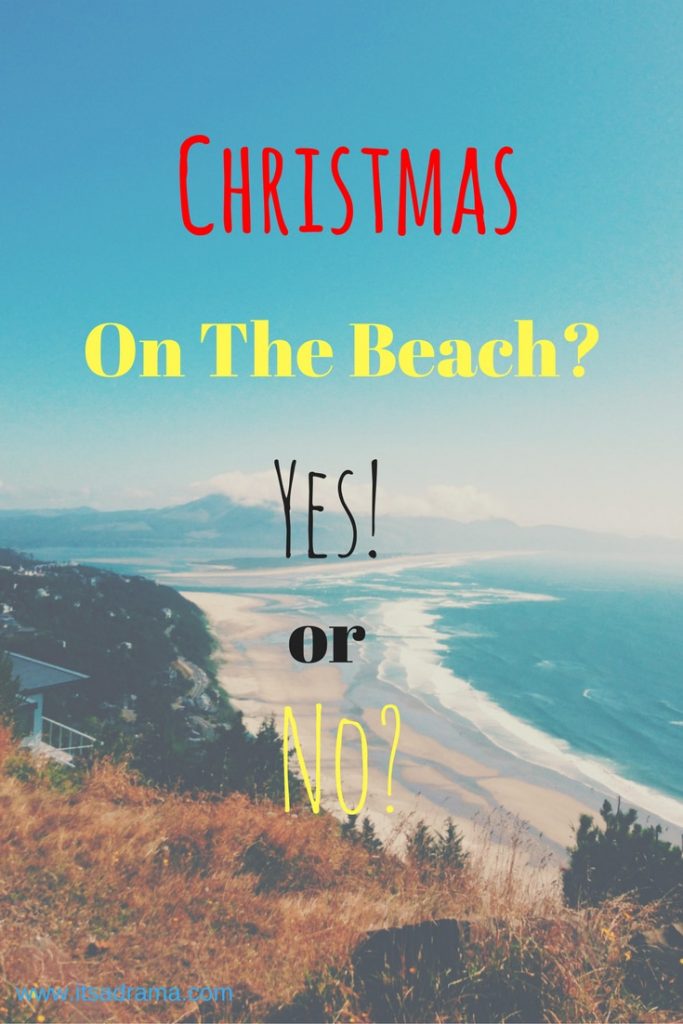 Christmas on The Beach Or in The Snow?
For those of you weighing up whether or not to spend Christmas 2018 on the beach, here are the main differences between a Southern and a Northern hemisphere.
Christmas on the beach. In our case,  New Zealand:
1: It's hot, So…
2: You can spend Christmas on the beach or get the water slide out in the garden. But…
3: The tree wilts and all the decorations fall off the branches which is extremely annoying. This is because in New Zealand you cut your own tree down (an amazing experience) right in the middle of the new growth cycle. I suppose you could go artificial but then you miss out on nearly chopping your leg off with the blunt saw. One of the many things I was to learn about living in New Zealand.
4: You eat outside. The best bit. I love eating outside. Who doesn't?
5: You drink less because you tend to go for long cool cocktails such as Iced tea rather than a big glass of milky Baileys. Honest.
6. The fact that the fire is not lit makes it a lot easier to explain to little kids at bedtime, how Santa is going to get down the chimney without burning his bum. Unfortunately though…
7: It's hard to get the kids to bed any earlier than 10 o'clock because it's still light outside. Meaning that you have to stay up bog eyed until the wee hours waiting for them to fall asleep.
8: The food is really easy. We usually have something on the BBQ. Of course, we do. You cant live down under and not throw something on the barbie at Christmas. Lots of people have ham and salads. We tend to have tiger prawns and maybe a steak. It just seems easier. Maybe it's because it's all outdoors and it's not as intense as standing in the kitchen. Not to mention…
9: It's less expensive. Where we are, in Taranaki at least, the build-up to Christmas is more about the coming of the summer and whether or not to start putting rose food on your flowers, and deciding if the sheep need shearing. Then, about a week before Christmas, you panic and think, sh*t. I'd better go and buy some pressies. By which point the shops have very little left. Luckily though…
10: It's summer so you can purchase beach toys which come in huge boxes looking extremely impressive on the big day. But…
11: By boxing day you are ready to get the tree down so that you can get to the beach and not look at the sun shining on your baubles any longer. Because…
12: It's hot.
Christmas in New York. In the Snow!
1: It's cold. And if you are as lucky as we were this year in New York, it might snow. Which means…
2: You can play fairytale in New York by the pogues on the radio-  really loud, and do the female harmony. While…
3: Drinking fancy spirits (because they are not a bloody rip off like they are in New Zealand.) Unfortunately, this results in you sounding nothing like the beautiful Kirsty MacColl – instead resembling the Irish drunk Shane MacGowan. No matter. It's Christmas. Remember…
4: You can light the fire, have a snooze, it feels so cosy. Careful though…
4: The tree will wilt if you put it too close to the fire (that has to be lit all day cause it's bloody freezing.)
5: You eat loads. And loads. And loads. You can't go out for a walk because it's just too cold. But you can wear big baggy pyjamas so you don't care. And even better…
6: It gets dark early, so you start drinking at four thirty. Meaning…
7: The little kids can be put to bed at half past three after being told that it is midnight and so they'd better get some shut-eye otherwise Father Christmas won't come. Leaving you to just…
7: Stay in and watch loads of telly without feeling as though you should be outside shearing the sheep or deadheading the roses.
8: Come boxing day you do your best to pretend its still Christmas because you are desperate for the celebrations to continue. After all, once Christmas is over, it's a long winter. Talking about which…
9: There is no boxing day. What's THAT all about?? Surely someone in the Whitehouse gave their servants boxes of Christmas gifts the day after Christmas? Come on America. Your people need a day off after the 25th to let the turkey go down. But I'll forgive you because…
10: It's cold and it's just…more Christmassy.
So Which is Best? Christmas in the Snow or on the Beach?
So which is best? They both have their pros and cons, and I still can't decide. If I could replicate the beautiful Christmas we have just experienced then I would choose Christmas in the snow over Christmas on the beach any day. But I think this was a lovely one-off. So,  I did what I always do when I can't make up my mind about something. I ask the kids.
What's the main difference between a cold Christmas and Christmas on the beach I asked?
The answer?
"Having a cold Christmas means that everyone comes together a lot more".
And it's true. They're right.
Again.
When it's hot, we are always outside. Someone at the BBQ, another down in the garden. Two on the trampoline. Him in the toilet.  But. When it's freezing outside you all tend to congregate in one place and either chat or watch something on tv, but you're always together.
Hmmm.
Note to oneself. Must learn to be more sociable with the kids when back home in New Zeland.
Whatever your preference, if you're thinking of moving to warmer climes and are questioning your decision because your friends and family are saying that Christmas on the beach is just not right, remember, its whatever you make it. Make it work wherever you are. You can always do what we did and ask an adorable family if they will show you how they do it in New York!
I'm looking forward to when my relatives can come and spend Christmas on the beach with us in New Zealand. I'm going to show them the other side of Christmas. The upside down Christmas.  Wellington boots for flip-flops. Turkey for prawns. Snow for sand. But, they must promise to bring the Baileys.
What about you? Have you done both? Which did you prefer? Whatever you choose to do this year, make it special. Happy New Year!
Liz x