Chiang Mai is an enchanting and beautiful city in Northen Thailand. A university city that buzzes with excitement and possibility. It is a destination that holds many unique strings to its bow – one of those being The Sticky Waterfall, also known as Bua Tong Waterfalls.
My family and I arrived in Chiang Mai after a long and sleepless night on the overnight train from Bangkok. It was October and it was hot.
Very hot.
We were all desperate for some cool shade and a place to relax – without spending a fortune. We spoke to a few locals and found the answer we were looking for.
The Sticky Waterfalls.
Sticky Waterfall Chiang Mai is a local secret. It is hidden in the Si Lanna National Park and makes the perfect day trip to escape for a few hours and relax in Thailand with the local people.
I have a secret travel tip that I want to share with you further down the post – (the one that everyone else misses!)
This post contains affiliate links. They cost you nothing but we make a small commission.
Enjoying This Post? Why Not Pin It?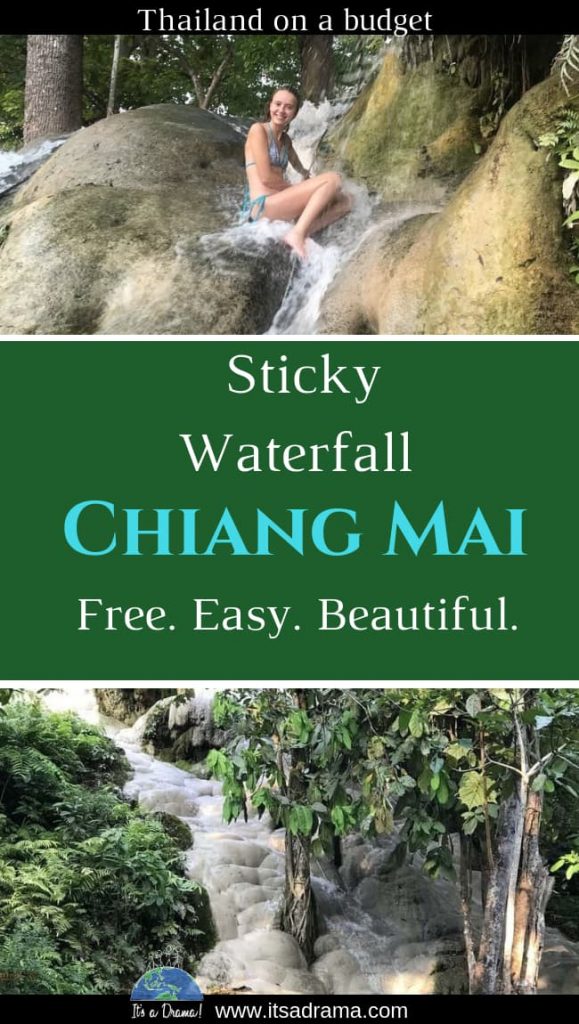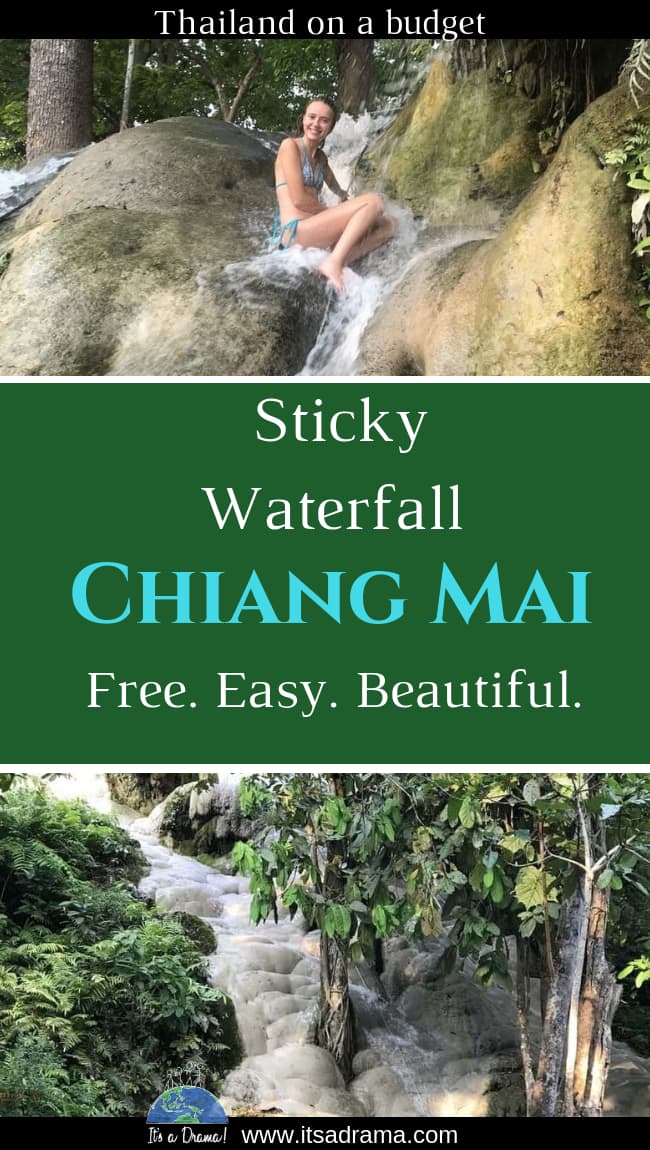 Science. What Makes The Sticky Waterfall in Chiang Mai Sticky?
The sticky waterfalls Chiang Mai is also known as Bua Tong.
This spectacular waterfall is supplied with fresh spring water containing a high amount of calcium carbonate. As the water cascades over the rocks calcium is deposited, which adds a non-slip surface to the rocks, meaning that you can literally walk up the fast flowing waterfall with your bare feet.
It is like walking up huge, cartoon boulders while water splashes down on you with quite a force. It is one of the most bizarre experiences we have ever encountered; you really do feel as though you have super powers!
How Much Do The Waterfalls Cost to Visit?
If there is one thing I love it is saving money while we travel. You're going to love this part.
To visit the sticky waterfall is absolutely FREE!
\NO parking charges, no entrance fees. Nothing. All Free. (I told you that would make you happy).
Are The Waterfalls Suitable for Young Kids?
Yes.
We are currently travelling around the world with our two teenagers aged 16 and 13 and they LOVED it. What's not to love? Any child over the age of 12 is going to be snapping some really cool photos to show their friends, and the younger ones are going to marvel at the fact that they can walk on water!
We saw local families with children as young as three or four, and they were all having a ball.
Obviously, caution must be taken around water and little children – you don't need me to tell you that – there are a few places where the rocks are covered with green algae. These parts ARE slippy, but luckily someone has very kindly put a strong rope down the waterfalls to hold onto in case you slip.
My son gave his toe a bash, but I think that was because he was showing off in front of his sister. It was only a scratch, nothing major. Warn older kids to be careful.
If you would feel better protecting your feet, do what my husband did and invest in some of these lightweight [easyazon_link identifier="B0749HJ5JG" locale="US" tag="itsadrama-20″]aqua shoes.[/easyazon_link] They weigh absolutely nothing and they will stop you from stubbing your toe.
As far as families go, I'd say this is one of the top places in Thailand to bring the kids.
There are clean toilet facilities, a place to grab a snack, a big open grass space in case you fancy a game of football and loads of shade from that hot Chiang Mai weather. Perfect!
Sticky Waterfall Chiang Mai Tour
If you would prefer to take a tour to the sticky waterfall then this tour combines the wonderful Doi Suthep Temple with a trip to the Chiang Mai sticky waterfall.
It is a full day trip taking 8 hours so the price is incredible value. Taking a tour like this one means that you don't have to worry about arranging transportation as they pick you up in an air-conditioned minivan from your hotel.
Your local guide will even stop at the local market where you can fill up on goodies for your picnic!
Click here to check out the prices of the tour to the Sticky waterfalls.
Apart From Climbing The Sticky Waterfall, What Else Is There To Do?
Take A Picnic
Have a picnic. Is there anything better than throwing a sarong or a towel onto the ground and cracking open all your picnic goodies? You will be in good company. All of the local families bring there own food and drink, and it is very sociable.
Enjoy The Scenery
Sit back and enjoy the scenery. The sticky falls have three different levels, and the views from each one are outstanding. Take Photos. If you are a photographer, you are in for a treat!
Explore The Area
The Sticky waterfall is nestled amongst the Si Lanna National Park. Besides climbing the waterfall, the surrounding landscape offers a fabulous opportunity to hike and explore.
There is nothing around you but the shady forests of Si Lanna National Park.
Si Lanna National park is an oasis of mountains and evergreen forest.
If you have finished climbing the waterfall and eaten your picnic, hop on your bike or into your car and drive a little further up the main road. Here you will find lots of places to stop off.
Take A Walk!
Take a walk along any of the woodland paths, and you will be rewarded with the divine smells of frangipani and magnolia mingling amongst the coniferous forest.
The Secret Ingredient That Makes Your Day At The Chiang Mai Sticky Waterfall Awesome!
If you are a foodie like me (and I'm guessing that if you are in Thailand then you are) you are going to love this little tip.
Although there is a little snack bar at the Waterfalls, I have something much better to offer you. Rather than bringing a picnic all the way from Chiang Mai (the food will get hot. It's a good hour or so drive) stop at the local market which is just ten minutes away from the entrance of the waterfalls. It is called Chedi Fresh Market.
If you are driving to the Sticky waterfalls from Chiang Mai, you will be taking the Highway 1001. Keep going along this road, and after about 45km you will see Chedi fresh market on the left. You cannot miss it. If you are with your guide ask them to make a stop.
There is no other significant market like this. It is a 90% food market with the odd stall selling clothes, and there are some fabulous street food stalls as well as fresh juice stands. Because it is well away from the tourists, you are going to pay local prices. Even better!
Directions To The Sticky Waterfall Chiang Mai (For Those Not A Taking a Tour)
Using an App.
a
Does anyone these days still use paper maps? My husband would die without his Google Maps App, and we would all be left standing gormlessly at the side of the road. If you haven't already got the google maps app get it. Now.
Type in the Sticky waterfall. It will come up.
Using My Directions
A
Sticky Waterfall is 50km North of Chiang Mai. You will need to take the 1001 Highway from Chiang Mai.
If you are on the Superhighway, the 1001 turn-off is on the north side of the highway, east of Chang Phuak Road.
It is VERY simple to get there.
I know that other blog posts say the falls are not well signposted but we had no problem whatsoever finding them.
There is a sign on the left-hand side, ten minutes or so after the market. Turn right there and drive down the twisty road for five minutes. You are there!
Related Posts That You Will Enjoy!
How we saved ten grand house sitting in Europe.
Couchsurfing. What is it and how to do it with kids
The travel bog diaries. Pumping my thighs in Thailand
Modes Of Transport to Take You to the Waterfalls.
Moped. You can hire a moped in Thailand for a very reasonable price. We paid 200 THB for the day. The petrol was 60 THB to fill the tank up. Although the roads in Chiang Mai city appear to be hectic, everyone is very courteous and people go with the flow. The road to the waterfalls is very wide and reasonably quiet, plus, it is a stunning drive.
Shared Taxi ( a Song Thaew). These red taxis will take a group of up to 11 of you to the waterfalls for 1,200 THB. That works out cheap if there are a lot of you!
Car Hire. Renting a car in Thailand comes in at about $10 a day.
Here's a little video we made on our trip to Sticky Waterfall in Chiang Mai!
A visit to the sticky waterfall in Chiang Mai Thailand. A look at budget things to do when in the city of Chiang Mai with kids. Travel blog.
PIN IT!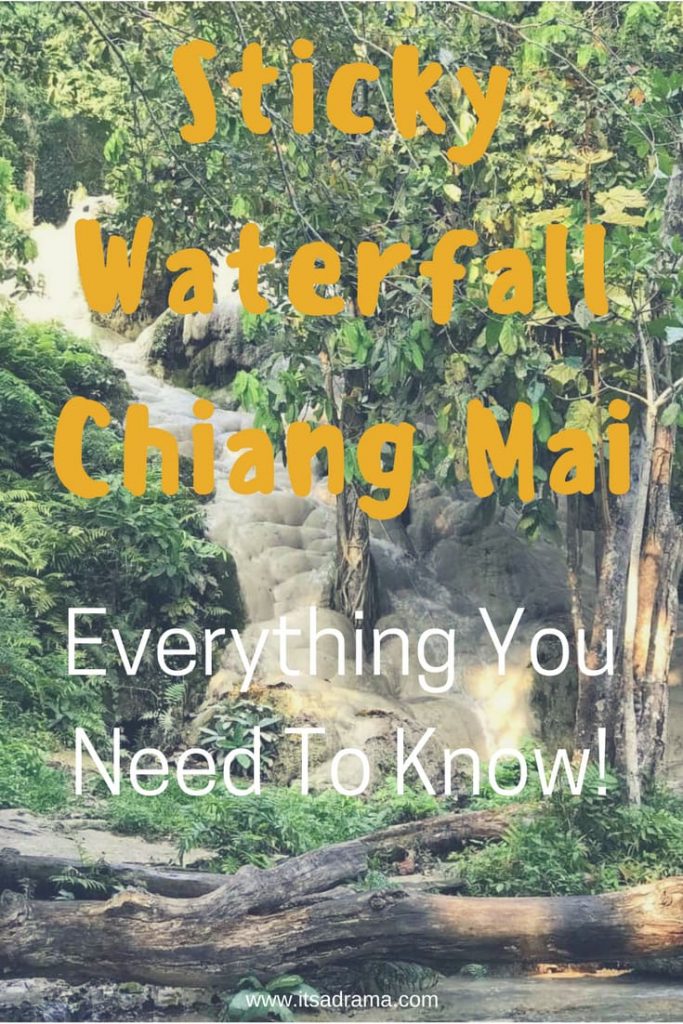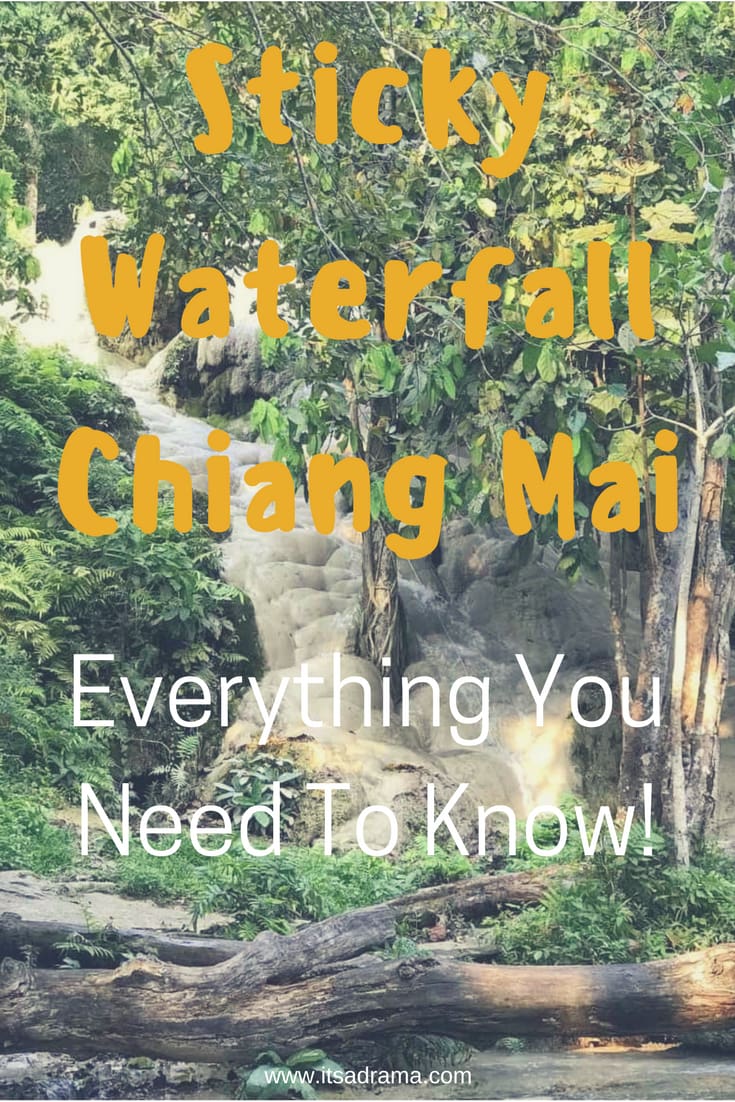 [et_bloom_inline optin_id=optin_2]
You are going to love the Sticky Waterfall in Chiang Mai, they are a free day out in Thailand that you will never forget. And remember what I said about the picnic. I can highly recommend the mix fruit smoothies!