You are in Vietnam, and after a few days of busy sightseeing in Hanoi, you wish to visit the remote mountain town of Mai Chau. Getting from Hanoi to Mai Chau is easy. But first, let's look at what you are expecting from your few days in this sleepy idyll. We took our two kids to Mai Chau and had a ball. But, there were a few things I wish someone writing a Vietnam travel blog had told me about…
So Why Do You Want to go to Mai Chau?
I'm guessing your reasons for wanting to visit Mai Chau are the same as mine were: 1: You want to experience some real Vietnam. 2: You have seen images of the countryside, and it looks idyllic. 3: Sleeping in a homestay stilt house sounds romantic and authentic. 4: You want to get away from tourists and crowds. 5: You want to get back to nature. 6: You want to experience homecooked Vietnamese food. Am I on the right track? Are you and me on the same page? Good. The great news is is that all of these things are true and you will get what you wanted when you visit this sleepy little town in Northen Vietnam. But. There is something else you need to know about Mai Chau. Something significant. I'll tell you about it later in this post. Please assume that this post contains affiliate links. They cost you nothing but we make a small commission. We are travelling around the world for a year with our two teenagers. I was desperate to experience all of the above with them, so we decided that to go to Mai Chau for four days would be perfect.
How to Travel To Mai Chau from Hanoi.
There is no train or plane. Leaving you with the following choices. 1: Top End: A private Taxi from one of the many tour operators in old town Hanoi. If there is a group of you, or if you are wealthy this would be the option for you. Cost 900,000 VND for car and driver. Duration from Hanoi to Mai Chau 3.5hrs 2: Mid Range: A Private Minibus. They pick you up from your hotel and drop you at your destination in Mai Chau. Book tickets at any of the tour companies in the old town that I mentioned above. Cost 478,000 VND per person. Check your exchange rate here. Duration from Hanoi to Mai Chau 4 hrs 3: Budget: Go to The Local Bus Station. Go to window 7. Ask for a ticket from Hanoi to Mai Chau over the counter. You will be directed to the correct bus bay and told to board your bus. Our bus went from stand 56. It is right at the back of the station and is clearly marked. The experience won't be the most comfortable, but it is the cheapest by far. 70,000 VND per person. Duration from Hanoi to Mai Chau 4.5 hrs
Bus Schedule From Hanoi to Mai Chau.
Buses depart from the main Bus station in Hanoi My Dinh bus station. 06.00, 07.30, 14.00, 14.30 If you miss one of these, there are buses to Hoa Binh that leave Hanoi every 15 minutes between 06:00 and 18:00 (about  50,000 VND) and from Hoa Binh bus station there are regular buses to Mai Chau. You will get off the bus at the side of the road in Mai Chau. From Mai Chau town it's a short walk (takes no more than fifteen minutes) or, if you prefer, 20,000 VND on a motorbike taxi to the villages. So you now have your ticket from Hanoi to Mai Chau. Let's say you choose the budget option like us. I'm guessing that if you are going to Mai Chau you are a traveller and travellers like to save money.
Taking The Bus From Hanoi To Mai Chau. What You Can Expect.
Some things you need to know about the bus from Hanoi to Mai Chau before you set off:
The bus is more like an oversized car that seats 28 people.There are two seats on the left, a corridor and a single seat on the right. All seems reasonable until more people clamber aboard with big bags, and you start to worry that they will be sitting on your knee. Not to worry. A little fold-out seat goes into the aisle between each row of seats. You have all been squashed like sardines into rows and the one in the middle has no headrest. No matter you think. Just smile and try and remember how much money you have saved.
The trunk of the bus is filled with boxes of chickens (yes, really) and what looks like a few UPS boxes. This bus apparently doubles as the local mail van. The boy who works on the bus alongside the driver will kindly try and ram your bags on top of the chickens. When it is quite obvious they are not going to fit he will insist that the passengers budge over and he will throw them on the back parcel shelf. Obscuring all rear view for the driver. It's cheap. Get on board.
The bus will stop once after about half an hour. You can get some snacks and go to the bathroom. I suggest bringing snacks with you. Don't ask me where you are going to put them, just bring them. If you are inclined to hunger and boredom. They will rip you off at the service stop. My son was charged 100,000 VND for three packets of crisps and a small bag of oranges. That's more than the ticket!  Bring your own snacks.
This one is important – so listen. The conductor – who is usually a teenage boy – will come around the bus asking for more money for the bags. He will say that they are oversized and that you need to pay more. Firmly say no. After quickly googling on my phone at the back of the bus I learned that this is apparently a scam that they try on often. We have just spent six weeks in India. I am quite aware of scams. When I flatly refused to pay any more, he just shrugged his shoulders and went away. Don't pay any more.
The bus will drop you off at the side of the road in Mai Chau. Don't worry. There is only one way to all the homesteads. You cant get lost. Show the address of your homestay to the driver's helper, and he will point you in the right direction. And That's it.
I almost stopped writing this post right now. I have given you the information you need to get from Hanoi to Mai Chau; I could quite easily have gone to bed and left you to discover what I found out by yourself. But I'm kind. Sort of. I just wanted you to know what you can expect in Mai Chau. That's all. ENJOYING THIS POST? PIN IT!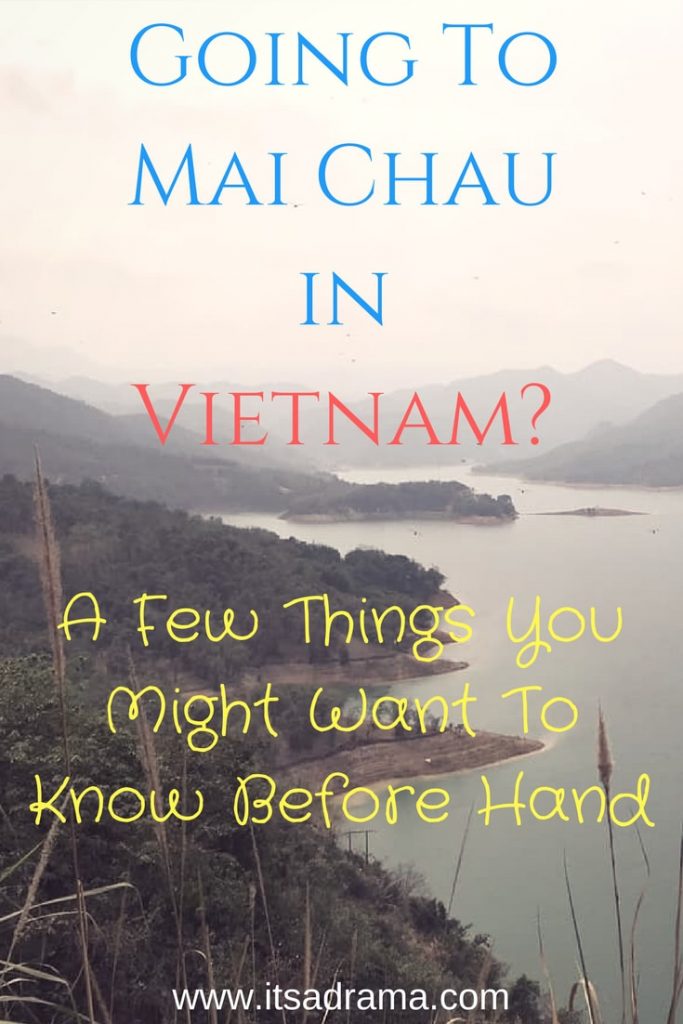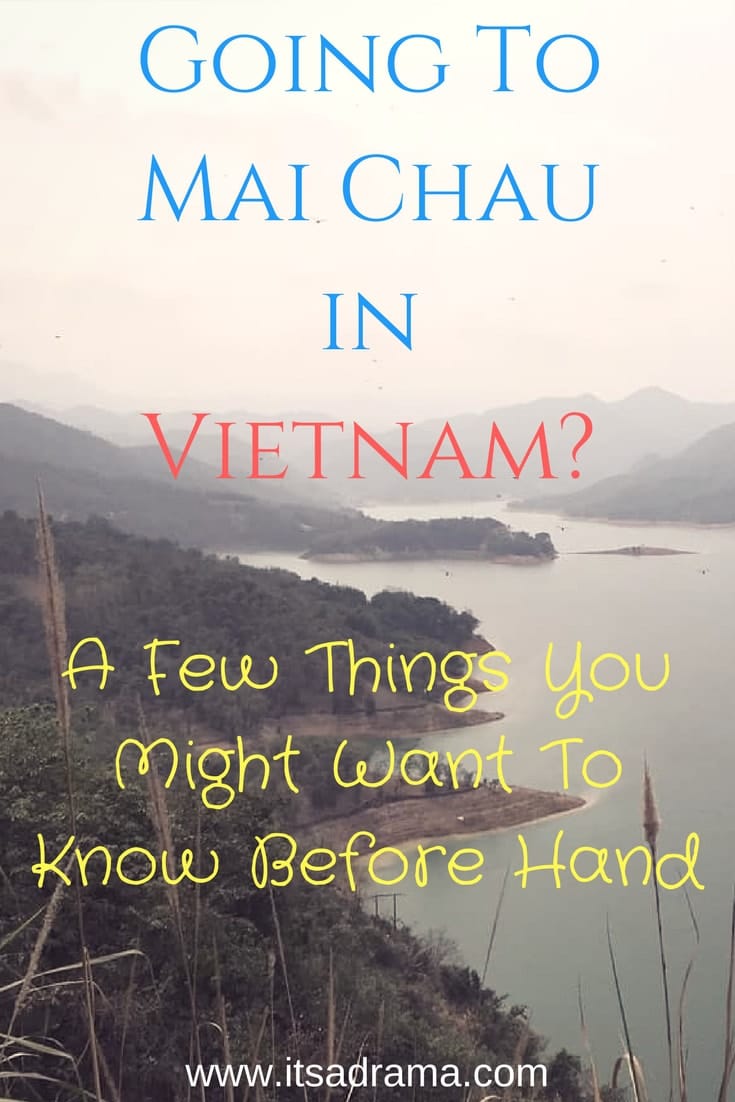 What You Can Expect From Mai Chau (And What The Vietnam Travel Blogs Don't Warn You About )
We knew nothing about Mai Chau before we travelled here. I hadn't read any blogs nor watched any vlogs. I expected it to be a sleepy little Vietnamese village with a few cows and lots of roosters. Somewhere where I could spend a few days unwinding after being in Hanoi.
 If you are staying in a homestay, then you will no doubt be staying in a stilt house in Lac Village. They are lovely and authentic. They have mosquito nets and thin futon beds to sleep on. Almost every single stilt house in the villages surrounding Mai Chau have tourist shops attached to them. These shops sell anything from the usual elephant printed trousers that I've seen since Sri Lanka, to weapons. Yes, weapons. If like my 16-year-old son, you are a weapon fanatic then you are going to love Mai Chau. There are some lovely artworks on sale and of course, the famous traditional style textiles. Nobody hassles you to buy anything. It's all very low key.
But. Things aren't cheap. Just be warned. We paid way over the top for three small cups of Chinese tea. A bunch of grapes set us back nearly $10 (yes, honestly.) Meals at the homestays seem to be the same all over the village. 100,000 VND per person. Check your exchange rate here. For that, you get a mixture of small homecooked dishes. We stayed at a traditional homestay. The food was lovely and tasty and you could help yourself to beer from the fridge. (15,000 VND). You can book it here. Make sure you bring enough cash. USD or VND the folks of Mai Chau will take either.
There is an ATM, but annoyingly, like a lot of ATMs in Vietnam, it will only give you a maximum of two million VND. Get your money from the Shinhan Bank ATM in Le Thai To Street in Hanoi.(It's opposite the Ho Hoan Kien Lake). You can get three million out, and the service charge is the lowest we've seen in Vietnam.
There are lots and lots and lots of cockerels. I love them, and I love the noise they make. Even very early in the morning. What I don't love is cockfighting. Be warned that this sport is practised in Mai Chau. I didn't know and was somewhat shocked.
Mai Chau is a beautiful, sleepy, and quiet Vietnamese town surrounded by even more somnolent villages. It is the perfect place to explore by foot, bike or moped. There are not masses for kids to do in Mai Chau apart from ride bikes and wander around the markets. The food isn't great, certainly not the best I've tasted in Vietnam but it is authentic.
What The Vietnam Travel Blogs Won't Tell You.
Mai Chau at the weekends is full of Vietnamese teenagers. Youth groups, high schools, music club, whatever. Just lots and lots of teenagers. And they are ROWDY. And they LOVE karaoke. If you are going to visit Mai Chau and you don't want to have your eardrums blown out or be unable to hold a conversation over a glass of beer between the hours of 5 pm and 11 pm, then I suggest you don't come at the weekend. Friday and Saturday nights are awful. Honestly, really bad. You have two options if you do decide to come from Hanoi to Mai Chau at the weekend. Get some extremely good travel earplugs or else get very drunk and join in. If you choose this option, I suggest you print off the lyrics to the Birdie Song. You're going to need them. Have you been to Mai Chau? What was your experience? Leave me a message below or come and join our facebook group and have a chat!