As a family, we travelled through Vietnam for six weeks.
Within this time we stayed in Hoi an, rolled in mud in the dark caves of Phong Nha and took a bus from Hanoi where we enjoyed staying in a Thai stilt house in the village of Mai Chau which is 150km west of the city of Hanoi.
This post may contain affiliate links. They cost you nothing but we make a small commission.
I don't want to pull the wool over your eyes and tell you that everything about travelling through Vietnam was perfect – there are a few Vietnamese scams that you have to be aware of – but once you get your head around those, you will find the country to be divine and the people even more so.
Staying In Mai Chau
We stayed at The Linh Soi homestay in Mai Chau and it was wonderful, I couldn't fault it. It is situated far enough out of the village to be quiet, but still within walking distance to everything such as the Mai Chau market and beautiful rooftop bars where you can sit and watch the sunset over the rice fields.
I won't lie. I was a little concerned about sleeping in a stilt house.
As I said, I am travelling with two big teenagers. I was worried that my son might put his gigantic feet through the delicate Thai bamboo ceiling or something.
I am in Mai Chau. What is a Thai Stilt House?
As the title suggests, a Thai stilt house is a house that was built by the Thai ethnic people living in Mai Chau. These houses are on stilts.
They are beautiful to look at and even more exciting to say that you've stayed in one.
But, before you let your imagination run away with you, let me explain a bit more about the whole experience. I imagined that we would be staying in a treehouse. Like Tarzan style.
Not quite.
We rented a room in a homestay in Mai Chau. Yes, it was on stilts, but no, unfortunately, I didn't get to play at being Jane and swing from the vines down to breakfast.
Here is a list of things that you can expect when staying in Thai stilt house in Mai Chau.
Yes the rooms are on stilts, and yes, they really are beautiful wooden buildings, but in reality, you have some hefty wooden stairs to take you to your room. And talking of rooms, the structure doesn't sway when you walk through the door, so those with a fear of heights are all good here.
The floors are made up of reed mattings. They are bouncy. Don't think you will be able to practice your aerobics up there, you won't.
Each person is given a very comfortable futon. I worried about this at first. We hadn't yet been to Japan and I was going off what the naysayers had told me. The thought of sleeping on a thin mattress brought fears of my husband's back giving way. Don't worry. they are super comfortable and where we stayed there was a pile of about ten futons in the corner of the room meaning that we could make our own princess and the pea beds.
Meals are not included in the price of the stay but the cost is so incredibly cheap you won't need to worry about it. Even we, who are travelling the world on $65 a day for four of us found it well within our budget.
Is a Stilt House Homestay Comfortable?
Yes. Very. Apart from the weekend karaoke that seems to fill the entire village from 7 pm until midnight, all was very peaceful. Try and avoid weekends if you like to turn in early.
If you are a couple, then you will be given a double futon. Remember, don't let the term futon put you off, these were some of the comfiest mattresses I've slept on in Asia.
You are given a mosquito net that covers the entire mattress. The host very cleverly hooks the nets to the beams in the roof and so you have no chance of being bitten, we sprayed ourself with insect repellant just in case. If you are interested, the only insect repellant I would ever recommend is this one. It is the only one that I like the smell of and it works.
There is obviously no air conditioning, impossible in a room with so many cracks and openings, but each room comes with at least two fans so you are kept cool.
No need for sleeping bags. You are provided with super-soft sheets and a blanket for the nights that are chilly.
There is plenty of natural light provided by the many windows. Be warned though, if you are travelling with little kids, these windows are low.
Enjoying This Post? Why Not Pin It!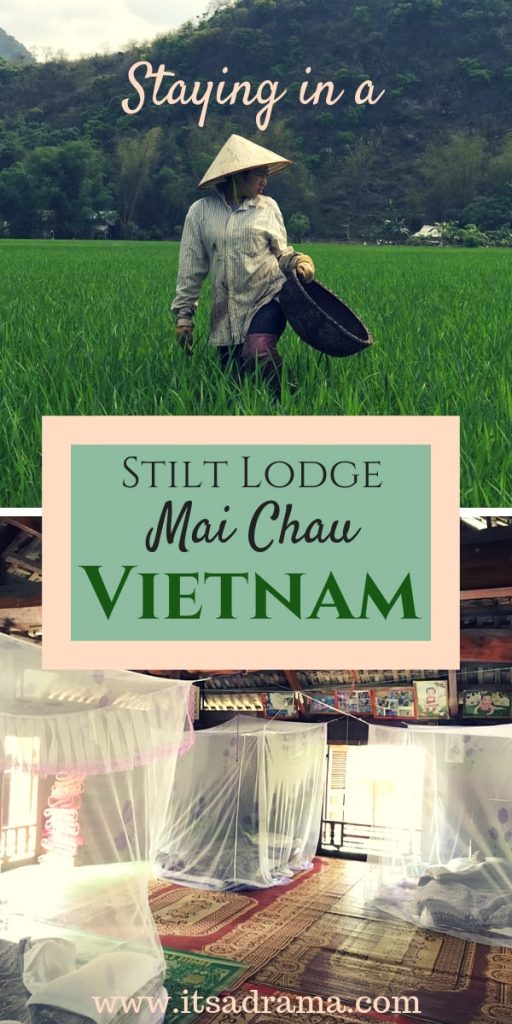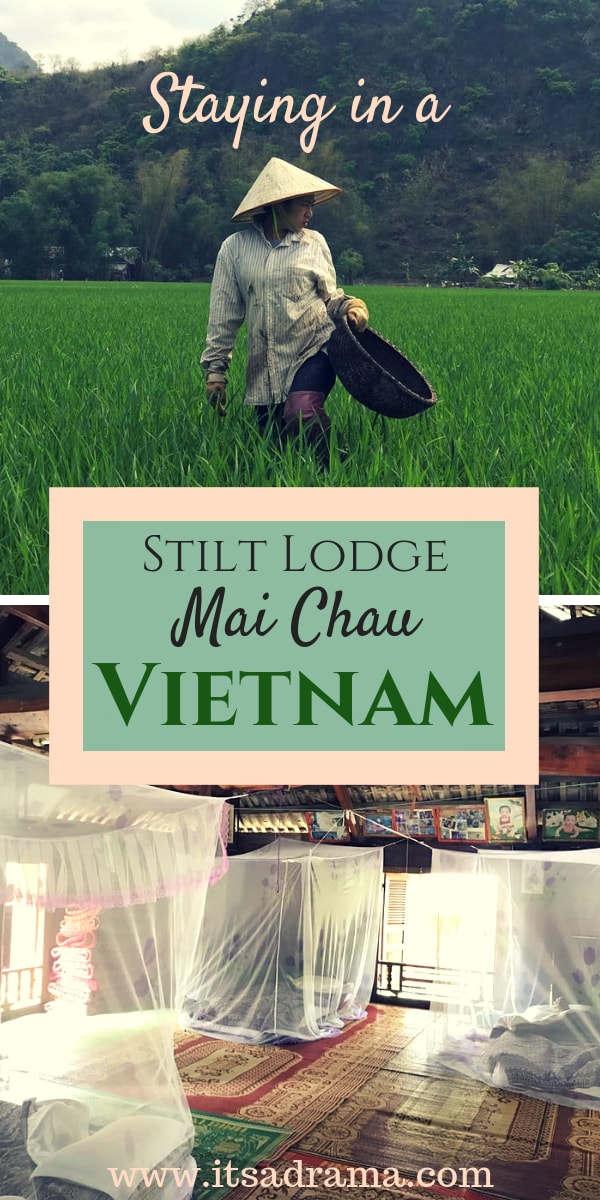 What Facilities Are Provided When staying In A Stilt House?
The village of Mai Chau is made up of lots and lots of Thai stilt houses and homestays. Weaved amongst them and sometimes underneath in their patio area are stalls that sell everything from yoga pants to weapons.
The streets are narrow and every single homestay has a restaurant attached to it.
Where we stayed, breakfast was included. You have the choice of either a western or an Asian style breakfast. Choose Asian. You get more and it's better.
Throughout the day at the homestay, you can help yourself to a cold beer or a cup of tea and simply write down what you have had on the tab provided. Lin Soi homestay has a huge patio area with hammocks overlooking the rice fields so I often spent a couple of hours or so relaxing there while the family went to the market to fantasise about buying machetes.
Each morning the host will ask you whether you will want dinner for that evening. There really isn't any point in eating anywhere else in my opinion. We checked out the menu of the other homestays and they were all pretty much the same. Dinner was plentiful and the food was ok. I wouldn't say it was the best food that I had in Vietnam but as I said, the options are limited.
Dinner and a beer at the homestay will cost you approximately $3 a person. I know. Amazing isn't it?
The bathroom facilities were a shared bathroom block. Cubicles with a shower and a toilet. All wonderfully clean and acceptable. We never had to wait for a shower and there was always lots of hot water.
Other Related Posts That You May Enjoy Reading
Hanoi to Phong Nha. How to get there.
Vietnam travel scams. 7 of the best to watch out for.
How do people on an ordinary wage afford to travel the world?
Taking the bus from Hanoi to Mai Chau
Love photography? The best drone for travel
25 Travel gifts for kids. All for under $20!
Publically weighed in Vietnam. The bog diaries.
And that is it!
Your guide to what it will be like when you pull out all of your adventure stops and stay in a Thai stilt house in Mai Chau! I know you are going to love it as much as we did.
Let me know what you thought in the comments below, until then, happy travelling in Vietnam!