New York City in winter is cold. Bitingly cold! So, if you're taking your trip in the fall or winter and are wondering what to wear to New York City so you'll look gorgeous and stylish while remaining warm, snug and dry, then look no further.
I have you covered. Up.
Here are 20 must-have clothing items for your winter trip to New York City: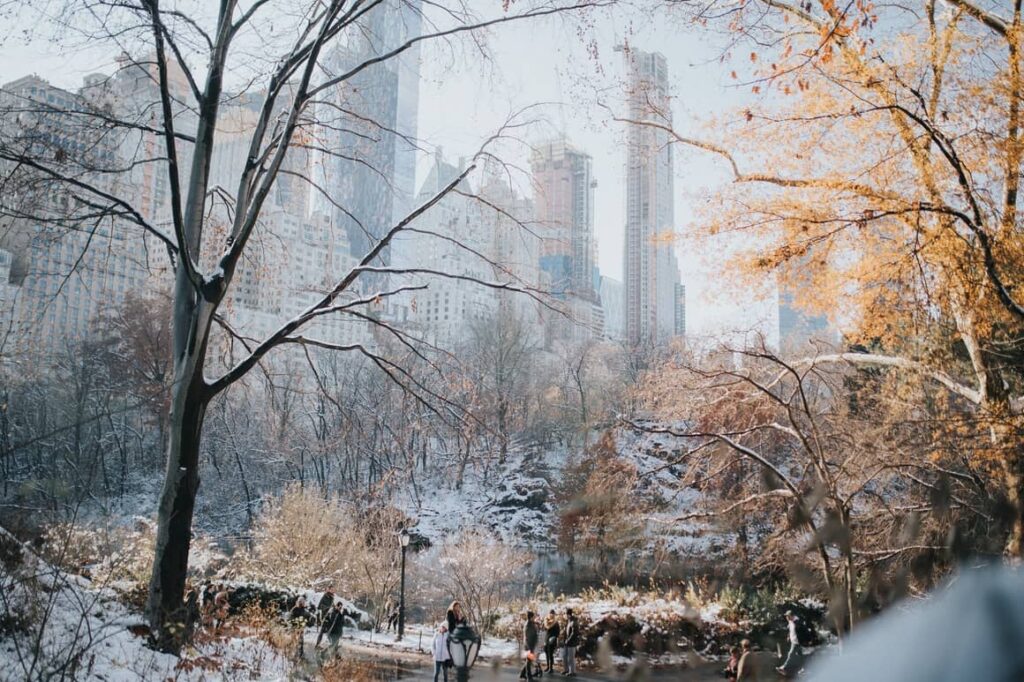 This post contains Amazon affiliate links. They cost you nothing but we make a small commission. If you would like me to explain it further, please visit our disclaimer page.
Visiting New York City in Winter. What to Expect.
New York City is the only place in the world you visit and instantly feel like you are on a movie set—glamorous, exciting, cool NYC.
If this is your first time visiting the Big Apple, you'll LOVE it.
I can help you with many things, such as things to do in Chelsea, and what to do in New York City when it rains.
I even have a secret up my sleeve for those parents with bigger kids… if you need to know how to take two greedy teenagers to New York on a budget (and manage to entertain them without spending your life savings), I'm your gal.
I have been to NYC many times, both with my hubby and as a family, and for some reason, whenever we visit, it is always in the fall or winter.
By now, I have the packing of clothes to wear in New York City down to fine art, and today, I'm here to share that knowledge with you.
Ready?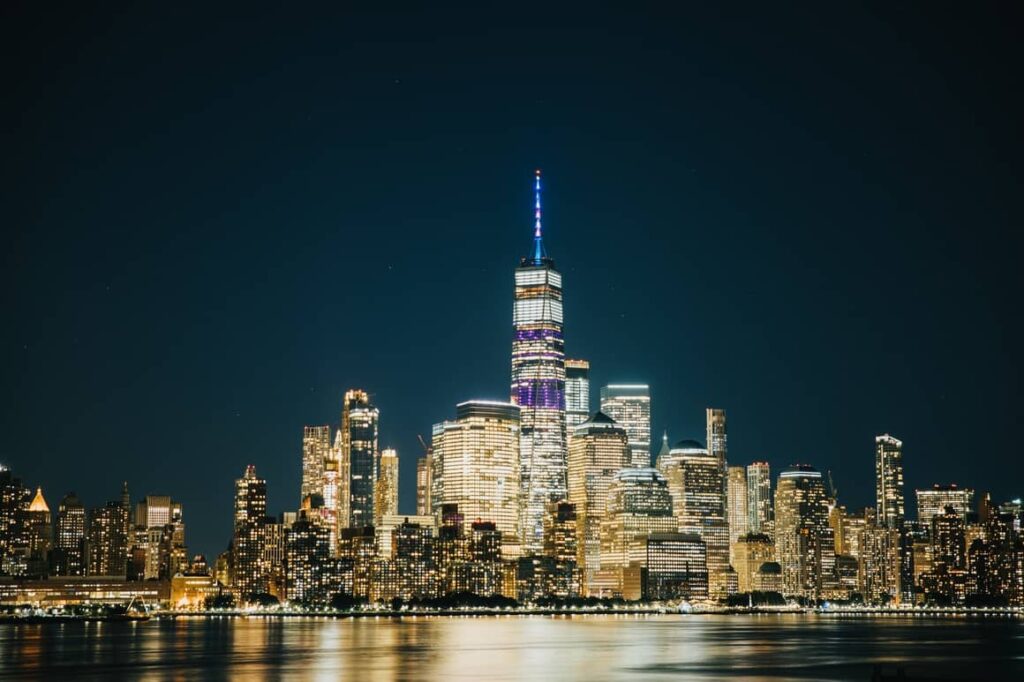 What To Pack For NYC in Winter. 19 Items You'll Be Glad Of
Let's start with the things that you will definitely want to pack for a winter trip to New York City.
The best advice I can give you when deciding on what clothes to pack for NYC is to prepare for all possibilities.
And layers.
Layers are the keyword when packing for a trip to NYC.
Honestly, New York changes her mind like – well, like the weather.
You can get up one morning to wet and windy, blowing a gale, and by lunchtime, you are in Central Park, basking under the crisp blue sky wearing only a fleece and your favourite pants (Which I'll share with you in a minute!).
What To Wear In The City of New York in Winter
Warm Winter Coat
Classic Trench Coat (but, even better, a waterproof one!)
Is there anything more classy than a black trench coat?
This gorgeous classic lapel coat not only looks the part, but it is waterproof and designed to keep you dry even when it rains.
The coat also has a double-breasted closure to shield you from strong winds. Perfect for those chilly New York City winters! — Click here for prices.
Down-filled, water-resistant longer style coat
This down-style coat is warm yet lightweight. And it's long, which means you don't have a freezing cold bottom!
Flexible at all the right points, providing additional air-loft, versatile fit, and maximum warmth and enjoyment. (Which, let's face it, ladies, is super important for those of us who tend to get hot and flustered when we step inside out of the cold!)
No more flapping and flustering. Just stylish and warm — Click here for prices.

I love, love, love this gorgeous dress coat. It screams class and style and is perfect for showing off your lovely curves.
It is fitted nicely at the top and flares out to an A-type skirt. It'd look fabulous with jeans and boots or tights and a skirt.
Hidden pockets, adjustable waistband, and front double buttons and buttons on the cuffs and back make this pea coat extra special — Click here for prices
If you are visiting New York City in April, know that it rains a lot! For this reason, I am recommending you pack a longer-style waterproof raincoat such as this one.
I love this loose-fitting waterproof jacket that could easily be dressed up with a scarf for a night out on the town — Click here for prices.

Fleece
The key to looking great and feeling comfortable on your NYC vacation is layering.
Pair this beautifully soft and comfortable fleece underneath a lightweight waterproof jacket, and you will be good to go — Click here for prices.

For those cold but beautiful sunny winter days in New York City, when you want to be snuggly, this chunky fleece is the perfect choice.
This soft teddy bear fleece is a super relaxed fit that will give you lots of space to breathe out and relax.
If you are visiting New York City in the fall, winter or spring, this gorgeous fleece is a must! — Click here for prices.
Long-Sleeved Tops
Take three long-sleeved tops that you can wear under a fleece on a windy day or to the pub in the evening.
This tunic-style top looks gorgeous with jeans and a poncho or layered over some warm leggings — Click here for prices
Short-Sleeved Top For Day Wear
I love this boat neck tee shirt because it is perfect for those days when the sun is shining, and you want to open your coat and breath. It is gathered at the tummy, making it very flattering.
This could be worn with a long cardigan for a night out on the tiles and would be equally suitable for warmer fall days sightseeing in NYC — Click here for prices
Dress Top (for the evening)
I LOVE this gorgeous casual crop top. It would be perfect to wear to the theatre in New York City.
It comes in a range of different colours and would look fabulous paired with skinny pants or some loose-fitting flowy trousers — Click here for prices
Chunky Cardigan
You will feel earthy, casual (and utterly gorgeous) in this chunky cardigan
Perfect for those blowy winter afternoons in NYC. Pair with some skinny jeans to look ready to soak up the NYC atmosphere — Click here for prices
Fleece Lined Leggings
We visited New York City in November and December, and I lived in these cosy leggings! They are perfect for keeping that Manhattan wind at bay.
Wear them underneath lightweight pants for a day sightseeing or else on their own with a long tunic, boots and scarf for an evening out in Chelsea — Click here for prices
Skinny Jeans (comfy and flattering ones)

You get to an age where you think skinny jeans will never again have a place in your wardrobe. Well, you are wrong – thanks to Levi!
These pull-on, shaping jeans make me want to love Levi forever.
These skinny jeans hold you in, hold you up, and, quite frankly, are the most comfortable jeans I have ever worn. You are going to LOVE wearing them in New York City. I promise. — Click here for prices
I bought a pair of these fleece-lined yoga pants as an excuse for "something to wear on the plane". We all know how important it is to pack plane essentials that make you feel comfy and gorgeous.
I swear I have hardly taken them off, and neither will you. They are divine.
These yoga dress pants are fitted through the hip and thigh, giving you a lovely and flattering shape. They have a wide-leg fit that looks great with pumps, flats or athletic shoes.
Take my word for it: You'll never have them off — Click here for prices
Would you love to travel more often but could do with a few (tried and tested) tips on how to do it for less? Join me!
Hats. Gloves and Scarves
Snuggly, warm, fleecy and cosy.
Not only that but this hat, scarf and glove set makes you feel like a million dollars as you brave the cold on a wintery cold day in New York— Click here for prices
Lightweight Dress Pants
I'd take one pair of comfortable pants to wear in New York City.
Always a good go-to for when you don't want to think too hard!
These stretchy pants are super comfy and have a flattering bootleg cut, meaning that they look just as good with hiking boots as they do dress shoes — Click here for prices
Beautiful (and versatile) Scarf
I love these snap scarves.
If you haven't yet worn one they are super soft scarves with little snaps on the ends that you can either put together or leave open and flowing.
They are hugely versatile and can keep you warm when the New York City wind gets a bit blowy, or they can dress up a plain white shirt into something a little special for a night out — Click here for prices
Cosy Legwarmers
Remember how much we used to LOVE wearing these? Well here they are again!
Pair these stylish and snug leg warmers pushed down with boots and jeans
and you'll feel every bit the stylish and divine woman you are!— Click here for prices
Comfy Shoes
You will absolutely LOVE these Sketchers walking shoe. They are the perfect shoes to pack for a winter vacation, to New York City.
They are super comfortable and paired with either skinny pants or boot-cut trousers, look great.
I also think that if you wore these with a little black dress and thick tights, they would look super cute —Click here for prices
Winter Boots
These stunning winter fully fur-lined snow knee-high boots are just what you need when you step out onto the New York City pavements in wintertime!

They are warm and cosy with a grippy sole, making you feel comfortable and chic at the same time.
Pair these with tights and a skirt or else skinny pants and a long coat. How very stylish and lovely — Click here for prices
These cute ankle boots are the perfect look for an evening out to a restaurant in NYC. Wear them with skinny pants and the leg warmers above (for that fabulous '80s look).
Pair this outfit with a scarf and a poncho, and hey presto! You're looking fabulous and feeling warm — Click here for prices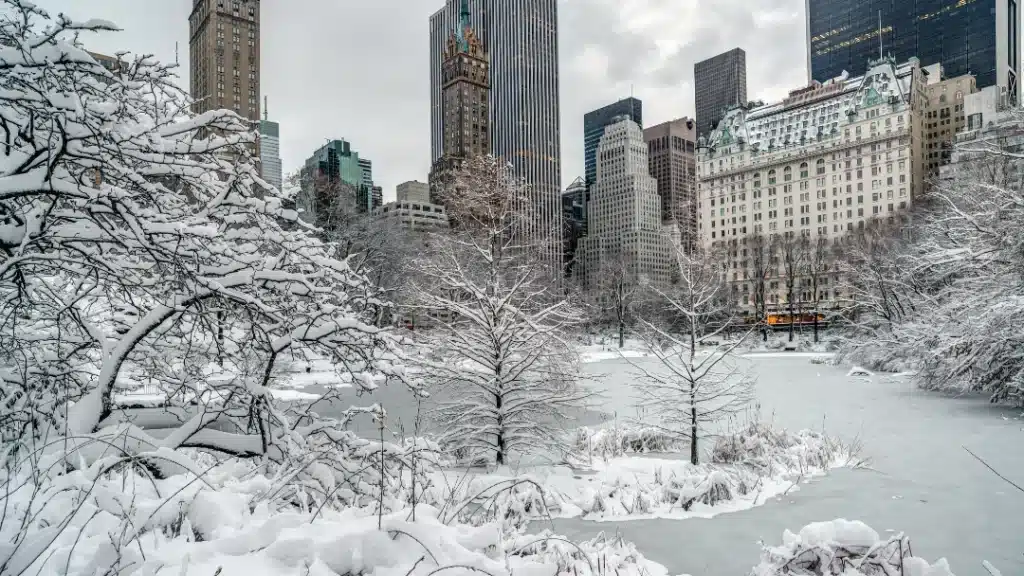 Would you love to travel more often but could do with a few (tried and tested) tips on how to do it for less? Join me!
Other Items You Need to Pack For New York City
Other than what you will need to pack for NYC to wear in fall or winter, there were a few other essentials that I was glad that we took with us when we visited NYC (that weren't mentioned in the travel books!)
Umbrella
Whatever season you visit New York, be sure you pack a travel umbrella. This is the best one on the market and you will thank me for the advice to take an umbrella to Ireland.
Brilliant in the wind and cities, this umbrella comes in lots of colours — Click here for prices
Day Bag
This cross-over anti-theft bag is not only stylish but it is super practical too.
(If travel purses are your things, check out my post on 21 gorgeous and practical travel purses.)
I have never experienced any crime while visiting NYC (thankfully), but it is always reassuring to know that your travel purse cannot be snatched — Click here for prices
Would you love to travel more often but could do with a few (tried and tested) tips on how to do it for less? Join me!
Related Posts That You Will Enjoy
Arrive feeling gorgeous. 10 Plane essentials that you will never leave home without again
Vacation Checklist. 39 ways to make things a little easier
What to do in Chelsea, New York City
What to do in New York City when it Rains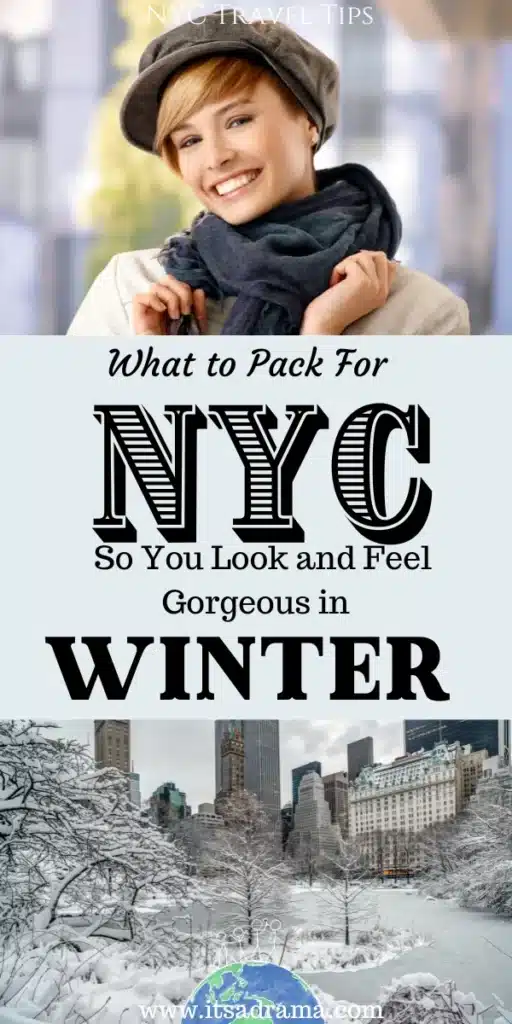 So, there you have it. Your complete guide on what to wear and pack for a fall or winter trip to the city of New York.
Have you been to New York City? Are you about to make your first trip to this gorgeous city?
If you can think of anything that you would like me to add to either the what to wear in New York in winter or what to pack for New York City, then leave me a comment below, and I will gladly add your suggestion!