This is an honest travelling family blog.
Warts and all.
Because I know that if you are considering travelling with your family – whatever age – you will have doubts that need to be addressed. You need answers, honest answers, not silly ancy pancy rubbish with pretty pictures.
Our kids were 16 and 13 when we dragged them from their warm beds and studies to accompany us on a trip around the world for a year.
And it was the best thing we have ever done. No regrets.
But it wasn't a straightforward decision. I had terrifying doubts. No matter how many people tried to reassure me that I was doing the right thing, I didn't actually know someone who had taken the plunge and travelled for a year with their kids. I had never come face to face with a living, breathing travelling family. I had read plenty of blogs on families travelling the world with kids, but they all seemed to be littlies. Not big kids like mine.
So I just had to hold shut my eyes, hold my nose and jump in the deep end.
For Pinterest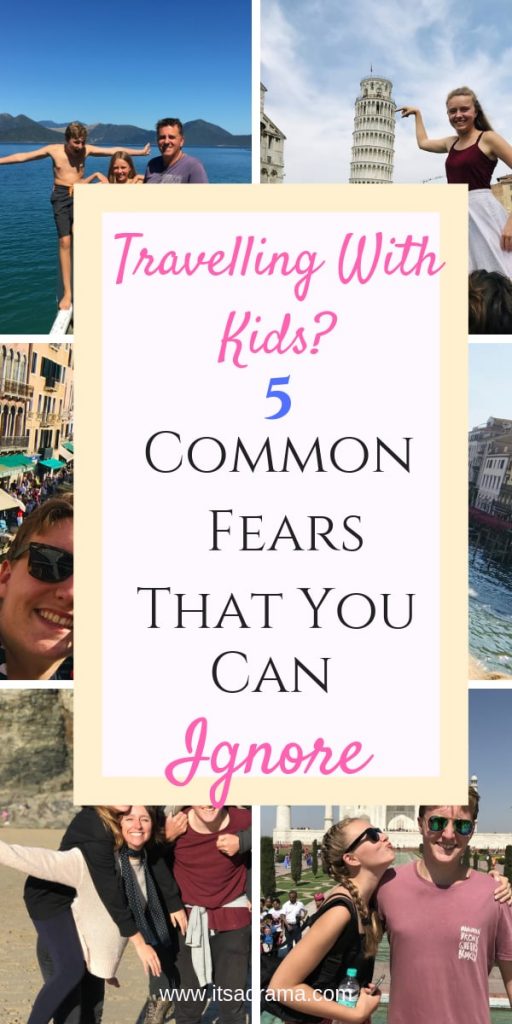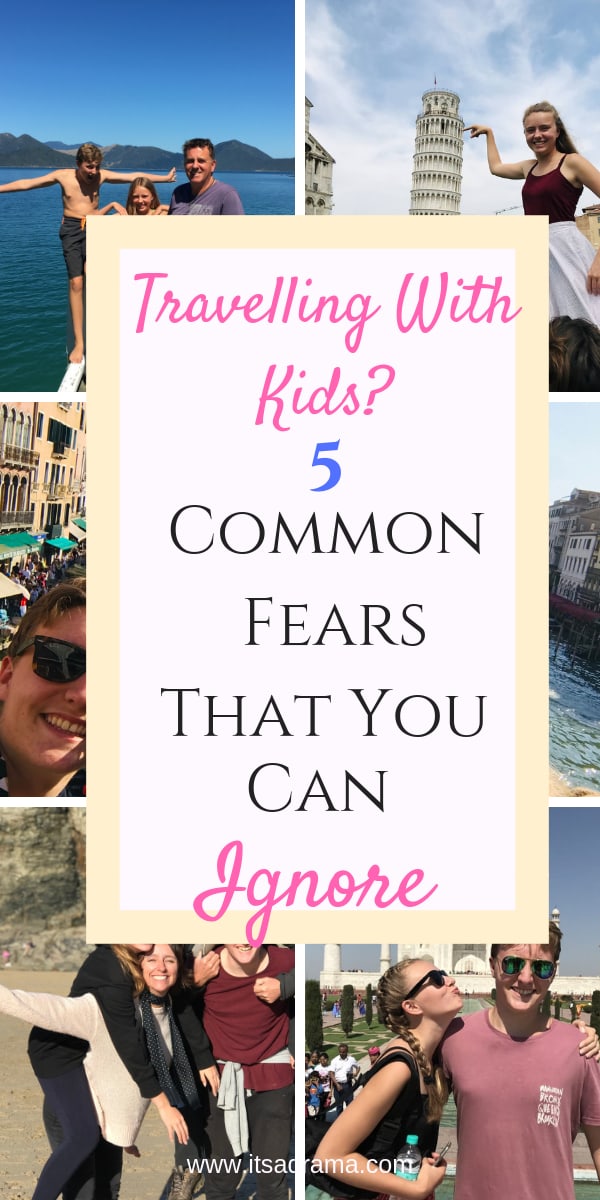 A Travelling Family Blog. In case You Are Doubting Your Decision.
I know for a fact that if you are about to embark on an adventure with your kids, be that an out of school three-week vacation or a full on around the world trip, you will be having the same niggling doubts as I had.
The reason I know this is because I was in your shoes a year ago. Plus, I have a suspicion that I might be psychic.
Here are the answers that you are looking for.
You are worried that the kids will miss their friends
When travelling as a family, there is a list of items you can't leave home without. Not if you value your sanity.
Kids communicate through that little device that's always strapped to the palm of their hand.
The one with the rose gold cover.
Lose that and you're dead. You might as well book yourself into that old people home forty years early, but keep the lifeline safe and allow your kids to communicate with it and you will discover that the friends are only a tweet, snap, or hashtag away.
They can facetime, put it on their story – do whatever it is they do. They won't disconnect from their friends. Fact.
Three weeks in and you will all hate each other's guts
Wrong. You will become closer than you can possibly imagine. We are a pretty tight family but I worried that after living in each other's pockets for 24 hours a day we would want to bash each other's head in.
We have had our moments I won't deny, but because we have been through so much together it has created an incredible bond that I never thought possible.
I think it comes from having to share a travel towel with your daughter because yours is filthy and screwed up at the bottom of your rucksack. Bonding gold.
3: No structure
You are concerned that without school here will be no structure and you don't want to spend the year being the activity organiser. The Netflix police.
You are becoming increasingly worried that given the mention of no school for a year your kids will blob out on the lilo and watch movies on their phones all day.
This will surprise you, but kids are incredibly resourceful. Yes, you will be desperate for them to recite their nine times tables, in Vietnamese, to anyone who will listen – but they will have other plans and you have to respect that. Bite your fingers hard – it helps.
They will teach themselves a host of new things – because they have the time to indulge their interests. In ten months, my son has taught himself animated graphics, website building, photography and editing. All of these skills would have taken him three years to learn in college. Ten months. He's a whizz.
The kids will fall behind with their studies
You can see it all now. You return home in a years time only to be told by the school authorities that your kids are being kicked all the way back to infant class because their wicked mother and father have ruined any chances they may have had of getting into the worlds best university.
Nope.
Your kids will learn more about life on a world trip than they will ever begin to learn in a classroom. They will witness things that others can only watch on Youtube. They will learn languages, speak to local people, eat foods with names they can't even pronounce. They will read. True, it might not be your choice of author but who cares? They are reading and learning.
And who says there's anything wrong with the Diary of a Wimpy Kid anyway?
Want to get to know me better? Sign up for my weekly newsletter and I'll send you my free 'how to make a change in your life' 8-page booklet.
[et_bloom_inline optin_id=optin_1]
The Kids Will Become Homesick
You are concerned that after shelling out a small fortune on the trip of a lifetime, your kids (or you), will become homesick and start blubbing to go home. If it's you. Man up. If it's the kids take it with a pinch of salt.
Last week my daughter dropped the bombshell that she was homesick. She was desperate to go home to New Zealand and never wants to set foot on an aeroplane ever again.
That was last week.
This week her world is fluffy once again and she is learning to play the ukulele so that she can earn money busking on her next trip.
Go figure.
25 gifts for kids that love to travel
Travelling with teenagers? 10 items that will make them happy and keep you sane!
How people on an ordinary wage afford to travel the world
8 Travel tips that you can safely ignore (because they're rubbish)
So the advice from this very real and active travelling family blog is this: If you are thinking about taking an extended trip with your kids is: JUST DO IT. You won't regret anything. Not ever. Do what makes you happy and don't fret unnecessarily. If I can do it, so can you.
Just don't forget the iPad. Or the phone. And if you can manage it, the computer.