We have been travelling the world as a family for exactly ten months. Living a life of full-time travel.
Within that time we have visited endless countries and slept in beds, sheds, and in vehicles that I wasn't sure we would come out of alive.
I'm not going to go into the ins and outs of where we've been and what we have done, just know that our long-term travel lifestyle has been incredible; I feel as though we have been to the end of the earth on a cloud.
If you want to know how to live a life of travel then I could write a book for you.
But there is one small niggle.
Not everyone in our family feels exactly like me.
Pin It For Later!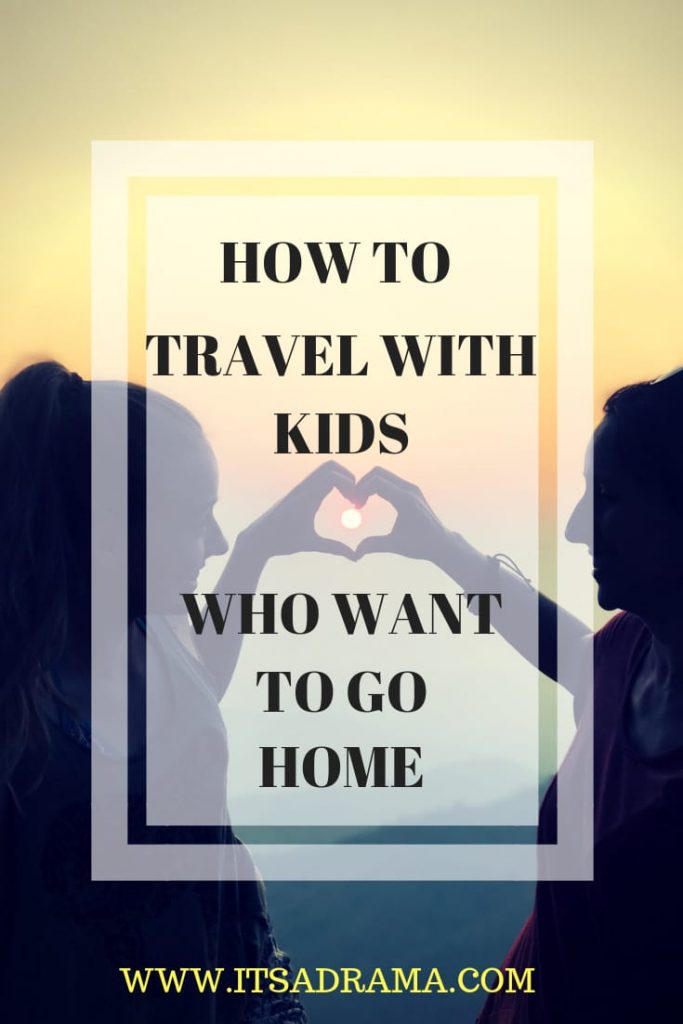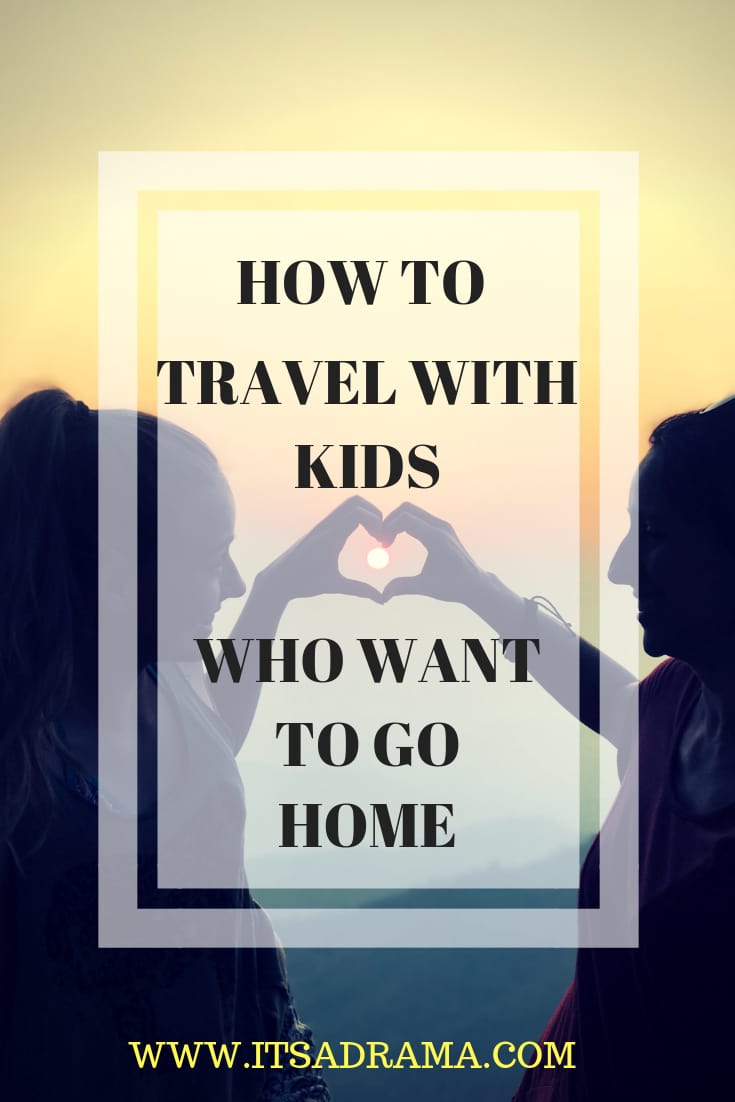 How to live a life of Travel When Someone In The Family Wants To Go Home.
I could continue living this glorious family travel lifestyle forever. I am loving it, and so is my husband Brian.
And we thought the kids were too, until recently when my daughter started to say: "two more months and then we can go home! I can't wait."
Not what you want to hear when you are trying to come up with a way to live this travel lifestyle forever.
Ok, I get it.
My girl, who has just turned fourteen, misses her friends. She longs for her room and her bed, she misses her grandma enormously, and I think she misses a routine. She is terrified of flying and doesn't care about seeing The Terracotta Army.
She just wants to go home and put her Jim Jams on; forever.
But I don't. And that's the problem.
"Don't You Miss Your Life In New Zealand?"
Of course, there are things I miss about home. My mum is one of them, my dog the other. Friends, the garden. But the rest?
Nah.
Luckily for me, my mum is the most supportive women on this planet, and she calls me often. She continually reassures me that everything is ok, that the house (that we are renting) is still standing and that the dog hasn't gained three stones and rolled off the cliff. My mum is wonderful, and I couldn't have done this without her.
And yes, I love New Zealand; there is nowhere else in the world that I would want to call 'home'. It's possibly one of the most beautiful places on earth, but I don't miss the house, the cleaning, the bills, the responsibility.
I don't miss the car and the petrol and the dread every time the monthly warrant of fitness comes around.
I don't miss the routine of making dinner every night and the lack of time that I always seemed to have because – like every other parent – I was busy driving my kids all over the bloody place.
Forgive me, this is a real heart pouring post, and you probably don't want to hear it, I just need to get it off my chest. You know how I like to talk.
Is Travelling with Two Kids Really That Perfect?
Look. You know me. I wouldn't lie to you.
There have been times on this trip when I have wanted to run down the street screaming; pulling my hair out in clumps and attempting to eat it.
There have been times when I have cried myself to sleep at night because I am convinced that I am the worst mother in the world and by bringing my two teenagers on this adventure I have ruined their lives forever.
I'm dramatic, I know.
We have argued. I have shouted. I have sulked. They have sided. At times it's been incredibly hard.
And that's to be expected. I am rapidly losing my hormones, and my daughter's bucket is overflowing. Not exactly a match made in heaven is it?
But still.
Travelling with my two kids has been the BEST thing I have ever done in my life.
If you are reading this and are contemplating travelling with your kids, please just do it. Do it right now.
If I had my time again, I would have gone eight years ago when my kids were 9 and 6, when we had just started to homeschool. How blissful. We could have had all that time together. Nothing flash, we could have hitchhiked and couchsurfed – it would have cost next to nothing.
If I had my way, I would never stop travelling. Not ever. I know this is easy to say when we have only been away for ten months. Perhaps two years down the line and I'd be craving a kettle that plugs into the wall and some velvet coathangers, but not at the moment. No.
4 Ways To Provide The Travel Lifestyle That You Love.
a
So what to do?
The kids are adamant that this was one of their mothers crazy and wonderful ideas (I have a lot of them) and that they did what was asked of them – they came along, played ball, and now she has done it so we can all be happy and go home. Forget all about it.
They are saying things like "this is what you want to do with your life, but it's not necessarily what we want."
Sorry kids. Not happening.
I have discovered a life that makes me incredibly happy. That I love. A life that suits us as a family.
But. There's my girl who wants to go home. And a son who is almost an adult.
So what to do?
Here are some ways to create harmony within a family who travel.
Travel For More Manageable Chunks.
I'm thinking of South America for three months. Or Africa.
Spend time in New Zealand but have plans for more travel in the pipeline.
It doesn't have to be years backpacking the world; it simply needs to be a life that involves travel and adventure. I've decided that I'm far too young to settle down.
Include Friends/Partners In The Crazy Travel Life.
Soon Sonny will get a girlfriend and will want to run away from me. Far, far away. What to do then?
I suppose I could always get myself fit and give her a chase. Perhaps set the dog on her.
I even thought about taking his partner with us. That might work. The only trouble is, We couchsurf and often have to share a room. How would she deal with her boyfriends mum snoring in her ear all night? I'd have to prep her beforehand. Must remember to point that out to her when I hold the Interview.
Creating An Online Business That Travels The World With You.
We could find a job that supports our travelling desire. A location independent way to make us money.
We don't need much. We are not extravagant with our spending. At a rough guess, this whole trip has cost us approx 50,000 NZD. That's about 25,000 pounds and 34,000 USD. Here's a breakdown of our costs to travel for the first four months.
Not a lot is it? Not for a year around the world for four people. Or five if the partner comes.
Some people wouldn't think twice about spending that on a new car.
If we can work out how to provide an independent location income stream, then our travelling lifestyle won't have to change. It would simply have to be bent. In order to suit.
The Business Of A Family Travel Blog.
I know plenty of bloggers that earn a lot of money from their writing.
My blogging friend and mentor has been travelling the world for five years with her kids. I know that her boys are younger than mine so she may not have come across the "this is your dream not mine" conversation, but she's doing it. She's giving her family the most incredible experience – all funded through her sheer hard work and determination in building a successful blogging business.
The trouble with me is that I like to write stories.
And I'm too bloody honest.
Instead of writing how to get to Rome on the bus I'd rather tell you about how shit it was when the security guard approached me in the posh perfume shop.
Must work on that.
Work Your Travel Lifestyle Around Your Family
Both of my kids want to go into acting. Anything to do with the theatre, and of course, Brian and I will do all we can to support them in this.
If we had an independent location business that paid our way, it would mean we could travel to so that they could go to auditions and be superstars.
We would house sit in London or Los Angeles.
They would just have to realise that their mother will be peeping through the red velvet curtains when they go for their auditions with Stephen Spielberg.
Related Posts That You Will Enjoy
Going home after a year of travel
Building your own online business and using freelancers to do stuff
Stop worrying about your teenagers. It's not worth it!
5 Fears you need to ignore about travelling with kids.
Travelling with teens? 10 travel items that you must have to keep you all sane.
25 Awesome travel gifts that you can buy for kids. All for under $20.
Well, that's it for me now. I won't go on any more until I have something to report.
But know this; this is not going to be the end of my gipsy lifestyle. I love it too much, we both do, Brian and me. And I know that the kids have loved it also. They just don't want to sleep on peoples couches around the world forever.
Next year will see me working out how to live a life of travel that suits us all. So keep your ear to the ground. I might have to change tact, but haven't I always told you that change is exciting? Now I am going to have to show you what it looks like once again.
If you are striving to work out how to live a life of travel but have kids who aren't quite ready for that, drop me a comment in the box below or sign up to my personal newsletter and let's chat. I'd love to see if I can help you!