You are in Alleppey in Kerala. Home of the well-advertized houseboat. You are maybe thinking of booking a houseboat or some other mode of transport to see the Kerela backwaters. But you want your experience to be unique. You don't want to be ripped off. You don't want to feel like just another tourist.
On arrival in Alleppey, Kerela, almost everyone you meet will try and get you to take a backwater tour with them. The restaurant owner, the tuk-tuk driver, the man selling the oranges. They all seem to be at it. This is all part of the fun of being in India and something our family got used to after spending six weeks backpacking around the country.
The various touts will work hard to sell you the Alleppey houseboat option. It's the most expensive. They will promise you that theirs is the best houseboat, the most genuine of all tours. They will also tell you that they 'give you very good local price'.  But we found, there are much better and cheaper options to see the backwaters of Kerela.
If you're like me, you won't want to hand over your hard-earned cash easily. You don't want to follow the crowd. You don't want to be told to wear a bright orange sticker and stand in line with all the other tourists. And you certainly don't want to feel as though you are going to get ripped off and spend your days moaning about it.
But at the same time, you don't want to be overly cautious and suspicious because then you end up missing out and not doing a tour at all for fear of making a mistake. There are many fabulous experiences to be had in India and you are going to have to allocate your money wisely so that you get to experience the best of them. We had a budget put aside for our bucket list dreams such as the Taj Mahal (which turned out to be nothing like I expected)  and a desert safari. The Kerela backwaters was also a romantic wish of mine.
This post contains affiliate links. They cost you nothing but we make a small commission.
What Are My Options When Wanting To Cruise The Kerala Backwaters?
It's a bit of a minefield cruising the backwaters of Kerala. But here's a rundown on what we found out after spending two weeks in Alleppey. Here are the answers to the questions that I wanted to ask people but didn't.
After much deliberation and research, we eventually booked a tour of the backwaters through our guest house, and I know that we didn't get ripped off. We stayed in Abru's Guesthouse while we were in Alleppey. It was a bargain and probably one of the cleanest and most spacious placed we stayed in India.
He only has two rooms so it's lovely and quiet but is close to all the good restaurants and only five minutes away from one of the most beautiful beaches in India.
You will also find a video of us experiencing our chosen tour at the end of this post. Please like and share it. It will make my 16 year old happy. He spent ages filming and editing it.
Kerala. Alleppey, and Houseboats.Tell Me More.
#1 What are the Kerala Backwaters?
Kerela is made up of 900 kilometres of canals rivers, lakes and inlets. Amidst this labyrinth of waterways, you will find many towns and cities that act as the starting point and end point to the famous backwater cruises.
#2: Why Alleppey?
Alleppey (confusingly also known as Alappuzha) is one of these cities. It is famous for being the starting point of the houseboat cruises. Actually, it's only the size of a large town, although it is listed as the sixth most populous city in the state of Kerala. Don't be put off by this title though. Alleppey is charming once you get to know your way around and is the perfect place to hire a houseboat or some other form of transport (which I'll tell you about next) to enable you to experience these beautiful waterways.
#3: Is a houseboat the only choice I have to cruise the Kerala backwaters?
No. You have various options. Here they are:
The Alleppey Public Water Taxi.
This government-run boat is the public taxi service that transports locals from their homes on both sides of the backwaters. It starts from the central ferry terminal, and you can catch it every couple of hours. The first one is at 5.50am, and the last one leaves at 16.15pm. Check these times though. This is India, and anything can happen. It's a great way to see Alleppey from the water and…
It's really cheap.
But. It will only go along the main waterways. Imagine a highway right down the centre of the waterways, and you're almost there. That's pretty much where the water taxi runs. They are too big to go down the little canals, but, as I said, they are incredibly cheap ( 15 to 40 Rupees per person), and if you really wanted to you could just stay on all day. As we did.
We stayed on the Alleppey water taxi for the whole round trip. We didn't know this is what we were doing, we just boarded and said round trip, please. Typical us and something that worries my teenagers incessantly. They became very wary of public transport in India after a couple of hair-raising experiences. Our bums were undoubtedly numb by the end of the day. It is a long time to be on the boat – five hours – but it only cost us about 100 rupees each (which is approx $1.50) Check the exchange rates here and we got to see some village life and experienced being with the locals. Remember, You won't see the intricate little waterways on the water taxi, but you see kids going to school and women going a few stops to meet up with neighbours. You can also sit and look at the houseboats in the traffic jam.
Note: If you sit on the top deck of a double-decker water taxi the price increases to almost three times. The conductor will try and convince you to sit up top. If you don't want to fry insist that you stay put and only pay the lower fee.
ENJOYING THIS POST? WHY NOT PIN IT!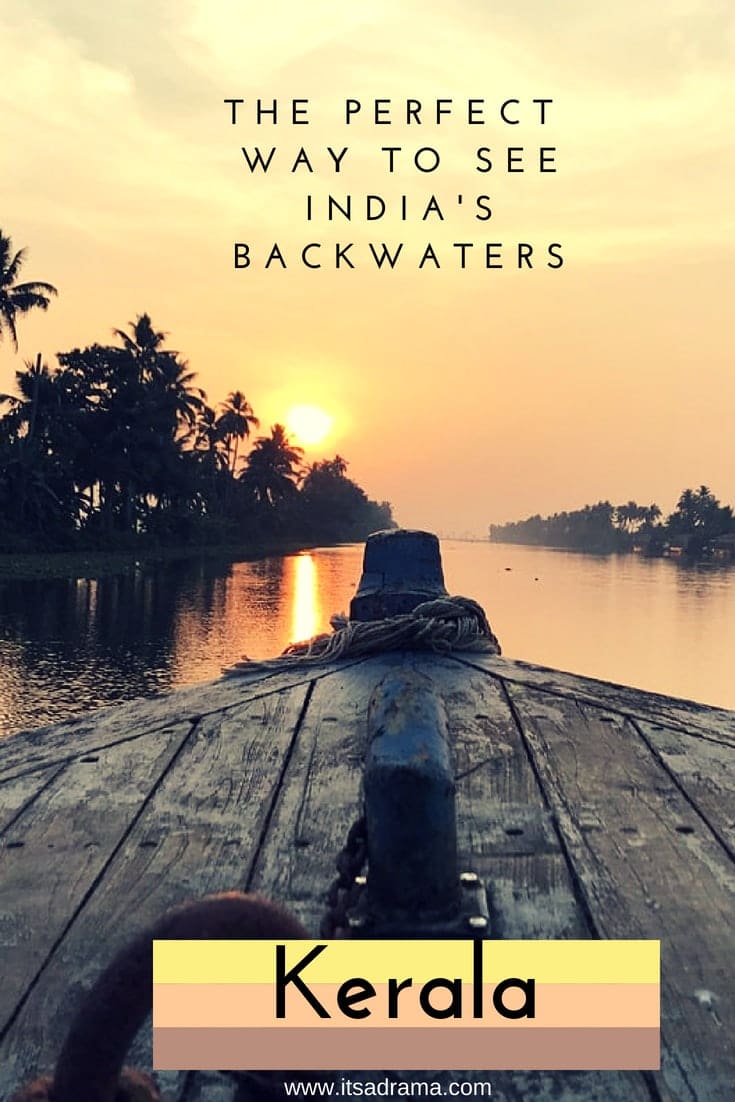 The Allepey Shikara.
Please know that we didn't experience these for ourselves. But we had friends who did. The following is based on ours and their observations.
These are a covered longboat with a roof. Seating between six and twenty-two people. Open at the sides and filled with reclining purple velvet-covered seats. I thought it was important to mention that the velvet is purple. If you're like me, you'll appreciate these details. If you've ever seen the series of "The Tudors", Henry travelled in one along the Thames. You get the picture. A bit posh, quite pricey. A little over the top for our liking but you might love it.
The price: We were quoted 800 rupees per person per hour. Not an option for us on a budget. Far too expensive. Again, they only take the broader waterways. Being too big to go down the backstreets. We never saw any on the smaller waterways. I don't like to say this but I will. You do look a bit pompous sitting there in your velvet lined longboat. Sorry, but its true.
The Alleppey Houseboat:
Again, not something we experienced personally as we didn't have the cash. I talked to others who had taken the houseboat, and I observed them from the water.
Originally, the Alleppey houseboat was the option we were considering – until we found out how much it cost -and then we fled, screaming down the street with our knickers on our heads. We were here in high season (January), and the price we were quoted was 5,000 rupees a person!
I'm so glad I didn't phone the bank and ask for an extension on the mortgage because after going on the waterways and seeing the houseboats with my own eyes, I realised how much we would have hated it. But that's just me. You might love it.
They come in various sizes depending on your family. They are usually covered in bamboo to make them look as though you are sleeping in a jungle hut – maybe in an attempt to feel more authentic. There are bedrooms of various extravagance, again, depending on how much you want to spend, a dining area with a view of the waterways, and a seated deck area at the front. Before you go getting all romantic on me take off your rose tinted glasses.
They are noisy and they smell of diesel. The smoke chugging out of the back of the boats was enough to put me off. My dream of sitting on the deck with my book disintegrated into a cloud of diesel fumes. Add to this that there are loads of houseboats, all chugging along together. It looked as though they were all in one big traffic jam. Granted, if you visit out of season, then you may get a section of the water to yourself but don't count on it.
The value for money was also an issue for us. The actual time spent cruising. The boats leave late morning. They stop after a couple of hours and moor up for lunch until three o'clock. Yes, they cook for you onboard but I wouldn't get too excited. We heard stories of the same Dahl curry and rice being served for breakfast, lunch and dinner. In saying that, if you pay more you are likely to get more. Just state what you want before you hand over the money.
After lunch, they continue down the highway and then moor up again at five o'clock for the evening. Five o'clock. That's a very early night considering you've just remortgaged your house. There you are, sitting on a boat unable to get off. With only the crew to speak to – and they will talk to you – which was another reason I didn't fancy it. Too sociable. Not my cup of tea. No thank you. But you may not be weird like me. In which case, pay the money and chat away.
In the morning they will feed you breakfast and then take you back from whence you came. At around 9 am. Seems a bit of a rip off to me but that might be your idea of enough, in which case, phone the bank.
The Alleppey Canoe:
This was our choice. This is the way that we saw the backwaters of Alleppey without splashing out on the much-publicised houseboat and for us, a family of four on a budget, who don't mind paying for something if it's going to be truly memorable – it was perfect.
Canoes vary in size. Ours sat four which was ideal for our family. Along the way we saw other canoes that seated six – although I must say,  they looked a bit cramped.
Canoes start from one of the local places along the backwater. Your guide will meet you at Alleppey and take you on the water taxi to his village. You will then walk along the waterway until you reach his home. Here you will receive breakfast (if this is the deal you have arranged beforehand) after which you will hop onto his canoe and he will take you around the more intricate waterways of the area.
Our canoe was covered with a bamboo roof which saved us from the blistering heat, and our seats were padded and super comfy with loads of legroom. I have heard others complain of wooden planks as seats. Perhaps ask before you book.
Our tour went from 9 am until 3 pm. Six hours including breakfast, lunch and a tea stop. The price was 1000 rupees per person. We also stopped for ice cream which was an extra 150 rupees. We bought our guide icecream and a cup of tea, although I saw other tourists at the tea shop and they didn't. It's up to you. I don't think its expected. Me, being the kind and generous woman that I am just couldn't stop myself.
By choosing the canoe option, you will get to see real village life. The beautiful jungle covered waterways are used as a launderette, a children's swimming pool, fishmongers, a dishwashing area, a hair washing area and a place for Herons to catch their lunch. It is both fascinating and humbling.
It is also an incredibly peaceful way to spend five hours. The lull of the canoe and the gentle dipping sound of the oar is enough to send you to sleep. It was heaven.
My teenagers took their kindles with them and read for a large portion of the trip. If you are travelling with kids, don't even think about leaving home without a Kindle.
You will not regret it. Yes, they are pricey, but I don't know what we have done without them. The internet in Asia is so hit and miss, but at least with the Kindle, you don't have to worry about wifi and the battery lasts for days. The kids were bought one each for Christmas, and it was the best presents they've ever received. Check out the ones we have here.
For breakfast, we were served an unusual concoction of peas in curry sauce, and some bread dumplings washed down with some ginger tea. Brian and I thought it was nice – sort of – but the kids struggled. It wasn't your usual breakfast. Just be aware of this. If you have kids and are a kind mother, maybe feed them beforehand. There are loads of bakeries in Alleppey that serve samosas or jam and cream buns.  If you are like me, however, tell them to suck it up and enjoy the experience.
Lunch was served on a banana leaf. It was fried fish and three different vegetable curries. Basic but authentic. It wasn't the most delicious thing I've eaten in India although lots of people rave on about how the quality of the food is amazing on the canoe tours. I thought it was just ok.
I was under the impression that after lunch we would be heading back out onto the canoe to see some more of the beautiful backwaters, but no, that was it. Know that after lunch you are done. This takes you to about three o'clock which, to be honest, is long enough. Im just greedy.
The guide will take you back to the water taxi pick up point. Be warned! You are expected to tip. We didn't. Not because we are from New Zealand and nobody tips for anything in New Zealand, nor because we are a family of four on a very tight budget, but because we didn't have anything less than two thousand rupees. We had bought our guide tea and ice cream but if you don't want to feel like a cheapskate as we did, make sure you break some big notes for a tip.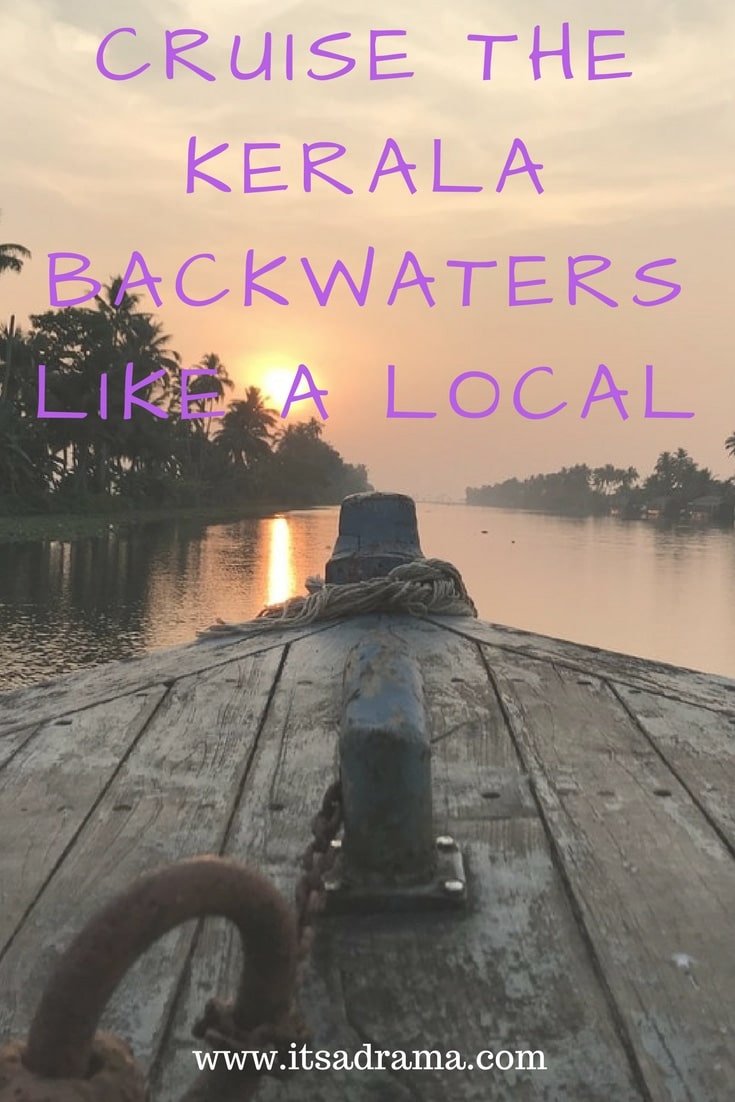 So, that was our experience of cruising the backwaters of Alleppey in Kerela without splashing out hundreds of dollars on a houseboat. It's almost a relief after you've done it because you can go on to further enjoy Allepey without feeling constantly haggled by tour touts.
Check Out Our Vlog On The Alleppey Canoe Experience!
In a nutshell.
Take The Alleppey Houseboat if you are feeling flush, and want to join the hoards of other tourists sitting comfortably in a big floating condo traffic jam. Take the Alleppey houseboat if you don't mind the noise and smell of a diesel engine. The only positive I can think of for the Alleppey houseboat is that if you are a big group, you will all be together.
Take the Shikara if you want to pretend you are Indian royalty. And you like the colour purple. Remember though; they don't go down the tiny waterways. Just the main waterways and some medium size ones. And they're pretty pricey.
Take the Water taxi if you are on a tight budget. If you want to experience the main waterways and some village life occurring on the side banks. Take the water taxi if you feel like spending the day on the water with the locals, watching local life. (Remember,  just ask the ticket guy for a round trip from Alleppey).
Take the Canoe if you want to travel in a peaceful, gentle way through the most intricate of the Kerela backwaters. Take the canoe if you have put aside a small budget for a once in a lifetime experience in India and know it will be well spent. Take the canoe if you want to spend time with a local family and let them cook for you. And take the canoe if you have a kindle for the kids and a bag stuffed with pastries.
We travelled extensively throughout India for 6 weeks on a tight budget. Because of this flight company. Skyscanner was able to fly internally saving us time and money. We flew out of Kochi and up to Bangalore for less than $100 for four of us.
When staying in India we used either booking.com or Agoda for all of our hotel bookings. I don't really have a preference over either. Agoda has good customer service and I think they often have more options. I like the fact that you can cancel up until the day before with booking.com and don't lose your money.
Apart from the hotel in Agra that I told you about, we never paid more than $30 for a room for 4 of us. This never included airconditioning or breakfast but all the rooms were large a
Let me know if this was helpful and remember to share if it was. And I'd love to hear whether you have already experienced the Kerela Backwaters and how you did it!