You are in Alleppey in Kerala. You are no doubt thinking of booking a houseboat or some other mode of transport to see the Kerela backwaters, but you want your experience to be unique.
You don't want to be ripped off.
You don't want to feel like just another tourist.
This post contains affiliate links. They cost you nothing but we make a small commission.
India, Alleppey and Houseboats.
India is a beautiful country and in my opinion, Alleppey is one of the worlds underrated destinations – it's simply gorgeous.
* My son and I made a podcast about our experience as a family in India. You can listen to that here.
On arrival in Alleppey, (or Alappuzha as it also referred to) almost everyone you meet will offer you tickets for a backwater tour.
The restaurant owner, the tuk-tuk driver, the man selling the oranges. They all seem to be at it. This is all part of the fun of being in India and something that our family of 4 got used to after spending six weeks backpacking around the country.
People tend to think that the only option for cruising the Kerala backwaters is by hiring a houseboat. This seems to be the most widely advertised. And the most expensive.
After spending two weeks in Alleppey we discovered there are better and cheaper options to see the backwaters of Kerala. That's why you are going to love this blog post. I've done all the hard work for you!
For Pinterest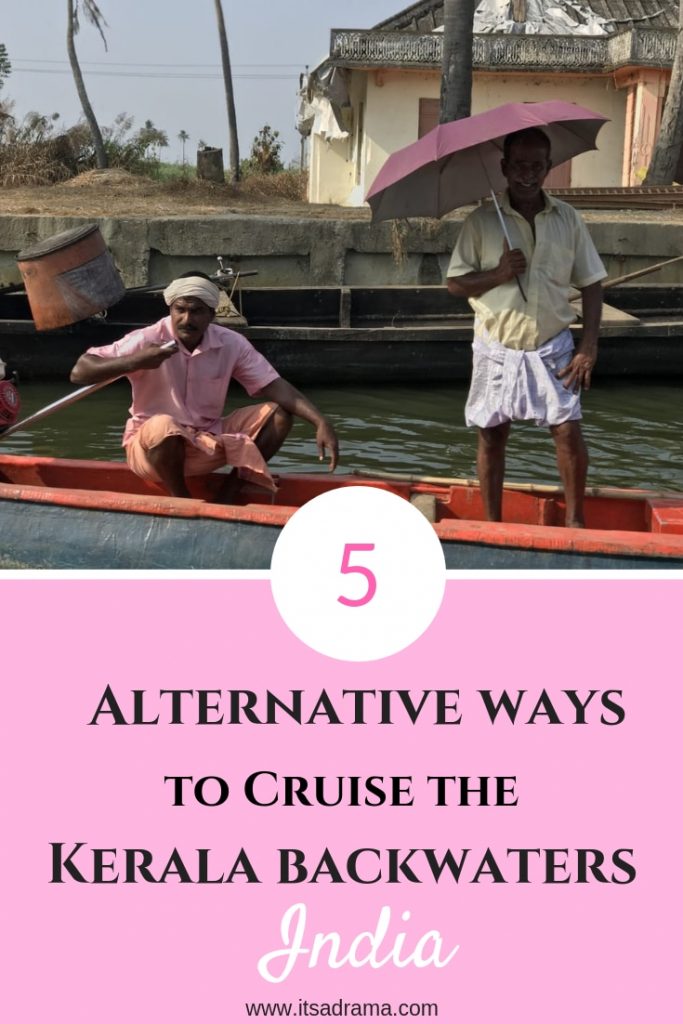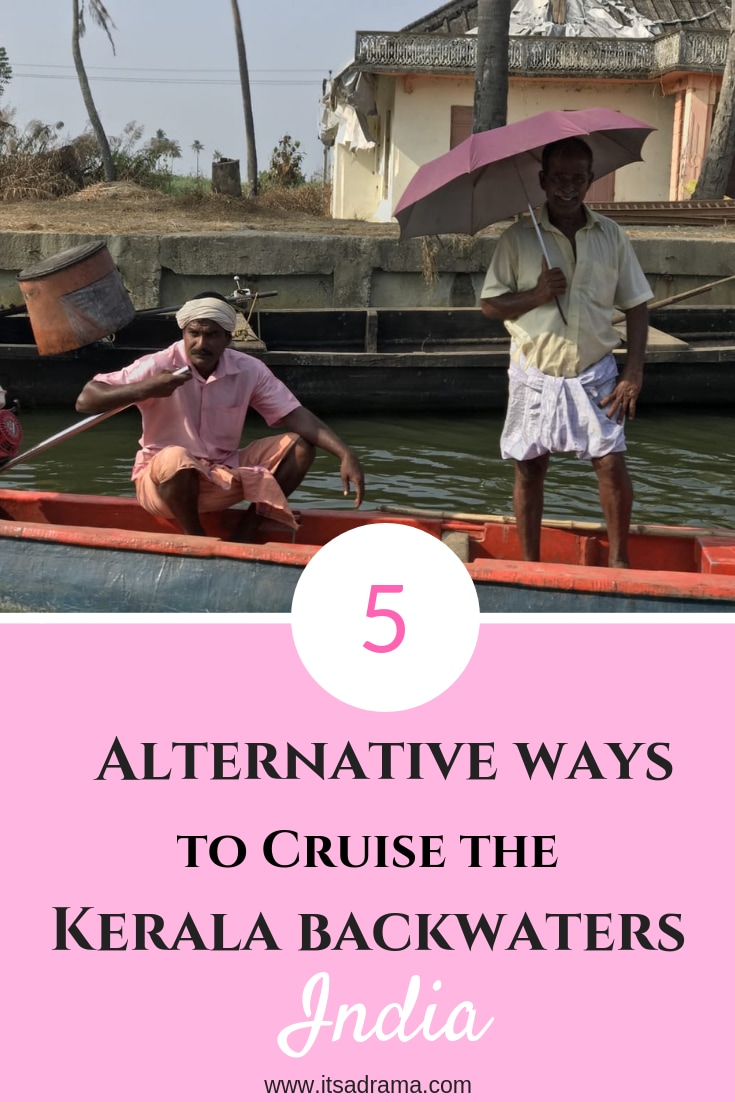 Related Posts That You May Enjoy
Want to experience paradise? India's most idyllic beaches.
Taking An Overnight Sleeper Bus In India. NOT For The Fainthearted.
8 Travel tips to ignore 'cause they're utter rubbish.
PODCAST Episode 10. Is India as scary as everyone makes it out to be?
What Are The Kerala Backwaters & Why Go To Alleppey To Hire A Houseboat?
Kerala is made up of 900 kilometres of canals rivers, lakes and inlets. Amidst this labyrinth of waterways, you will find many towns and cities that act as the starting point and endpoint to the famous backwater cruises.
People flock to this part of India to enjoy the magical experience of floating along these narrow waterways – often referred to as 'the Venice of the east' in India's greenest and cleanest state – Kerala.
Alleppey (now commonly known as Alappuzha) is the main gateway city for cruising the Kerala backwaters.
Alleppey is situated in the between Kochi and Kollam. It is famous for being the starting point of the houseboat cruises.
I can honestly say that after travelling all over India, the people of Alleppey hold the title for being the friendliest and most gentle people in the country. Even if you aren't looking to cruise along the backwaters, don't miss a chance to visit Kerala. It is simply mesmerizing.
Although Alleppey is listed as a city it feels more like a large town. A town that is totally charming once you get to know your way around. It is the perfect place to hire a houseboat or some other form of transport (which I'll tell you about next) to enable you to experience the beautiful Kerala waterways.
Is a Houseboat The Only choice I Have to Cruise The Kerala Backwaters? 30 Things To Consider.
a
No. You have a few options. Each one completely different, suiting various budgets.
Here they are:
The Alleppey Public Water Taxi.
This government-run boat is the public taxi service that transports locals from their homes on both sides of the backwaters. It starts from the central ferry terminal, and you can catch it every couple of hours. The first taxi runs at 5.50 am, and the last one leaves at 16.15 pm. Check these times though. This is India, and anything can happen. The public water taxi is a great way to see Alleppey from the water and…
But. It will only go along the main waterways. Imagine a highway right down the centre of the waterways, and you're almost there. That's pretty much where the water taxi runs. The water taxis are too big to go down the tiny canals, but, as I said, they are incredibly cheap ( 15 to 40 Rupees per person), and if you really wanted to you could just stay on all day.
If you choose to do the entire round trip and spend all day on the taxi, be aware that your bum will be numb by the end of the day. It is a long time to be on the boat – five hours – but it only cost us about 100 rupees each (which is approx $1.50) Check the exchange rates here and you will get to see some village life and experience being with the locals.
Remember, You won't see the intricate little waterways on the water taxi, but you will witness kids going to school and women going a few stops to meet up with neighbours. You can also sit and look at the houseboats in the traffic jam.
If you sit on the top deck of a double-decker water taxi the price increases to almost three times. The conductor will try and convince you to sit up top. Unless you have some very good sunscreen (it is hot on the top deck!) insist that you stay put and only pay the lower fee.
ENJOYING THIS POST? WHY NOT PIN IT!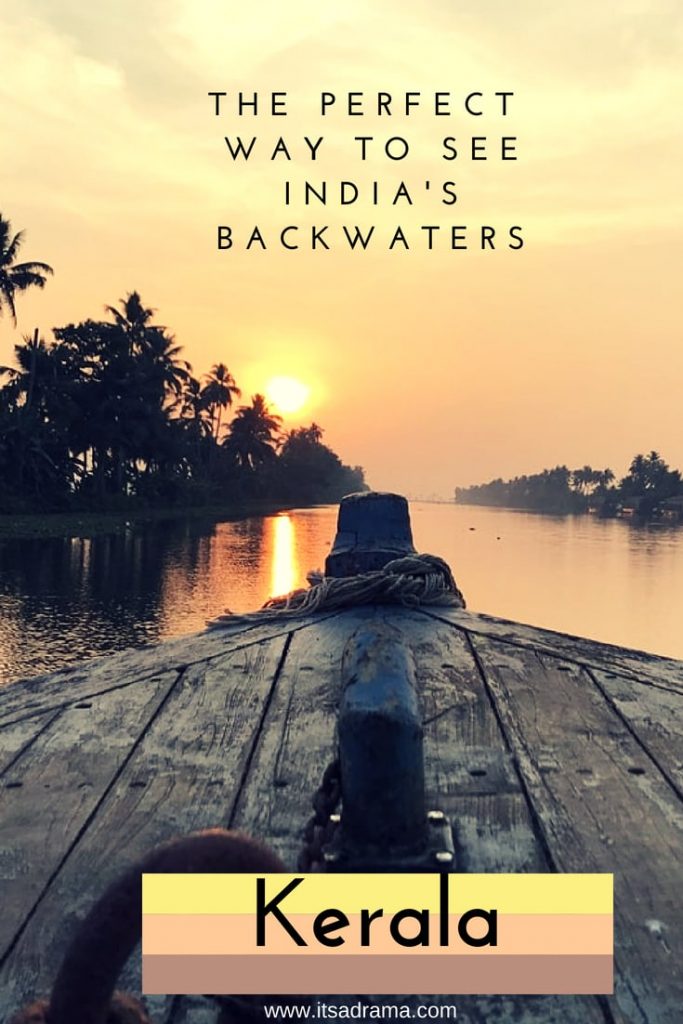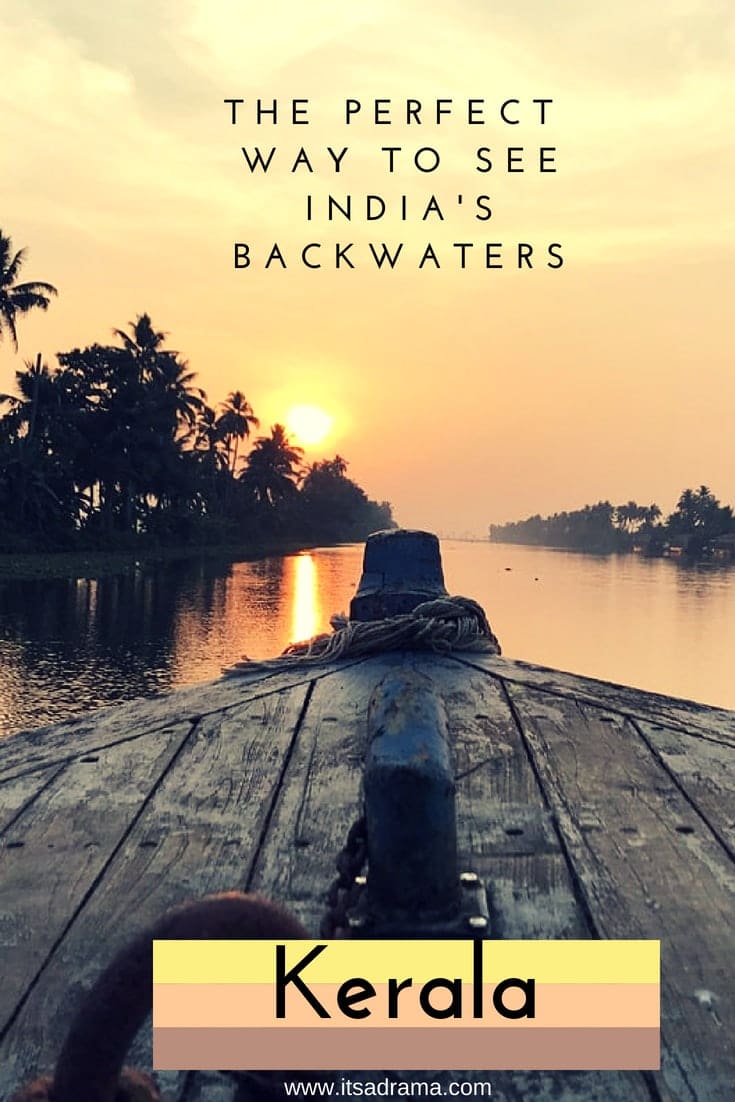 The Allepey Shikara.
Please know that we didn't experience these for ourselves. But we had friends who did. The following is based on our observations and their experience.
These are a covered longboat with a roof. Seating between six and twenty-two people. Open at the sides and filled with reclining purple velvet-covered seats. I thought it was important to mention that the velvet is purple. If you're like me, you'll appreciate these details. A bit posh, quite pricey. A little over the top for our liking but you might love it.
The price: We were quoted 800 rupees per person per hour. Not an option for us on a budget. Far too expensive.
Like the water taxis, the Shikara's only take the broader waterways. Being too big to go down the backstreets. We never saw any on the smaller waterways. I don't like to say this but I will. You do look a bit pompous sitting there in your velvet-lined longboat. Sorry, but it's true.
The Alleppey Houseboat:
Again, not something we experienced personally as we didn't have the cash. We talked to others who had taken the houseboat, and, more importantly, we observed them from the water.
Originally, the Alleppey houseboat was the option we were considering – until we found out how much it cost -and then we fled, screaming down the street with our knickers on our heads. We were here in high season (January), and the price we were quoted was 5,000 rupees a person!
I'm so glad I didn't phone the bank and ask for an extension on the mortgage because after going on the waterways and seeing the houseboats with my own eyes, I realised how much we would have disliked it. But that's just me. You might love it.
Houseboats come in various sizes depending on your family. They are usually covered in bamboo to make them look as though you are sleeping in a jungle hut – maybe in an attempt to feel more authentic. There are bedrooms of various extravagance, again, depending on how much money you want to spend, a dining area with a view of the waterways, and a seated deck area at the front.
You can hire a houseboat for as little as a day or for up to a week.
Sorry to be the bearer of bad news but before you go getting all romantic on me, take off your rose-tinted glasses.
The houseboats that we saw in Alleppey were noisy and smelled of diesel. The smoke chugging out of the back of the boats was enough to put me off. My dream of sitting on the deck with my book disintegrated into a cloud of diesel fumes.
Add to this that there are loads of houseboats, all chugging along together. It looked as though they were all in one big traffic jam. Granted, if you visit out of season, then you may get a section of the water to yourself but don't count on it.
The value for money was also an issue for us. The actual time spent cruising. The boats leave late morning. They stop after a couple of hours and moor up for lunch until three o'clock. Yes, they cook for you onboard but I wouldn't get too excited. We heard stories of the same Dahl curry and rice being served for breakfast, lunch and dinner. In saying that, if you pay more you are likely to get more. Just state what you want before you hand over the money.
After lunch, the houseboats continue down the highway and then moor up again at five o'clock for the evening. Five o'clock. That's a very early night considering you've just remortgaged your house. There you are, sitting on a boat unable to get off. With only the crew to speak to – and they will talk to you – which was another reason I didn't fancy it. Too sociable. Not my cup of tea. No thank you. But you may not be weird like me. In which case, pay the money and chat away.
In the morning they will feed you breakfast and then take you back from whence you came. At around 9 am. Seems a bit of a rip off to me, but that might be your idea of enough, in which case, phone the bank.
The Alleppey Canoe In Kerala. All Of The Details:
This was our choice. This is the way that we saw the backwaters of Alleppey without splashing out on the much-publicised houseboat and for us, a family of four on a budget, it was perfect.
Canoes vary in size. Ours sat four which was ideal for our family. Along the way we saw other canoes that seated six – although I must say, they looked a bit cramped.
Canoes start from one of the local places along the backwater. Your guide will meet you at Alleppey and take you on the water taxi to his village. You will then walk along the waterway until you reach his home. Here you will receive breakfast (if this is the deal you have arranged beforehand) after which you will hop onto his canoe and he will take you around the more intricate waterways of the area.
Our canoe was covered with a bamboo roof which saved us from the blistering heat, and our seats were padded and super comfy with loads of legroom. I have heard others complain of wooden planks as seats. Perhaps ask before you book.
Our tour went from 9 am until 3 pm. Six hours including breakfast, lunch and a tea stop.
The price was 1000 rupees per person. We also stopped for ice cream which was an extra 150 rupees. We bought our guide ice cream and a cup of tea, although I saw other tourists at the tea shop and they didn't. It's up to you. I don't think it's expected. Me, being the kind and generous woman that I am just couldn't help myself.
By choosing the canoe option, you will get to see real village life. The beautiful jungle-covered waterways are used as a launderette, a children's swimming pool, fishmongers, a dishwashing area, a hair washing area and a place for Herons to catch their lunch. It is both fascinating and humbling.
Hiring a canoe and guide is also an incredibly peaceful way to spend five hours. The lull of the canoe and the gentle dipping sound of the oar is enough to send you to sleep. It was heaven.
My teenagers took their kindles with them and read for a large portion of the trip. If you are travelling with kids, don't even think about leaving home without a Kindle when you cruise the backwaters.
For breakfast, we were served an unusual concoction of peas in curry sauce, and some bread dumplings. All washed down with some ginger tea. Brian and I thought it was tasty but the kids struggled. It wasn't your usual breakfast. Just be aware of this. If you have kids and are a kind mother, maybe feed them beforehand. There are loads of bakeries in Alleppey that serve samosas or jam and cream buns. If you are like me, however, tell them to suck it up and enjoy the experience.
Lunch was served on a banana leaf. It was fried fish and three different vegetable curries. Basic but authentic. It wasn't the most delicious thing I've eaten in India although lots of people rave on about how the quality of the food is amazing on the canoe tours. I thought it was just ok, but hey, you're not doing this for the food.
I was under the impression that after lunch we would be heading back out onto the canoe to see some more of the beautiful backwaters, but no, that was it. Know that after lunch you are done. This takes you to about three o'clock which, to be honest, is long enough. I'm just greedy.
The guide will take you back to the water taxi pick up point. Be warned! You are expected to tip. We didn't. Not because we are from New Zealand and nobody tips for anything in New Zealand, nor because we are a family of four on a very tight budget, but because we didn't have anything less than two thousand rupees. We had bought our guide tea and ice cream but if you don't want to feel like a cheapskate as we did, make sure you break some big notes for a tip. Ps: We did go back to him with a smaller note later in the week!
And that was our experience of cruising the backwaters of Alleppey in Kerela without splashing out hundreds of dollars on a houseboat. It's almost a relief after you've done it because you can go on to further enjoy Alleppey without feeling constantly haggled by tour touts.
Check Out Our Vlog On The Alleppey Canoe Experience!
Just So That We Are Clear. Alleppey Cruising Options In a Nutshell.
Take The Alleppey Houseboat if you are feeling flush, and want to join the hoards of other tourists sitting comfortably in a big floating condo traffic jam. Take the Alleppey houseboat if you don't mind the noise and smell of a diesel engine. The only positive I can think of for the Alleppey houseboat is that if you are a big group, you will all be together.
Take the Shikara if you want to pretend you are Indian royalty. And you like the colour purple. Remember though; they don't go down the tiny waterways. Just the main waterways and some medium-size ones. And they're pretty pricey.
Take the Water taxi if you are on a tight budget. If you want to experience the main waterways and some village life occurring on the side banks. Take the water taxi if you feel like spending the day on the water with the locals, watching local life. (Remember, just ask the ticket guy for a round trip from Alleppey).
Take the Canoe if you want to travel in a peaceful, gentle way through the most intricate of the Kerela backwaters. Take the canoe if you have put aside a small budget for a once in a lifetime experience in India and know it will be well spent. Take the canoe if you want to spend time with a local family and let them cook for you. And take the canoe if you have a kindle for the kids and a bag stuffed with pastries.
One More For Pinterest ⇓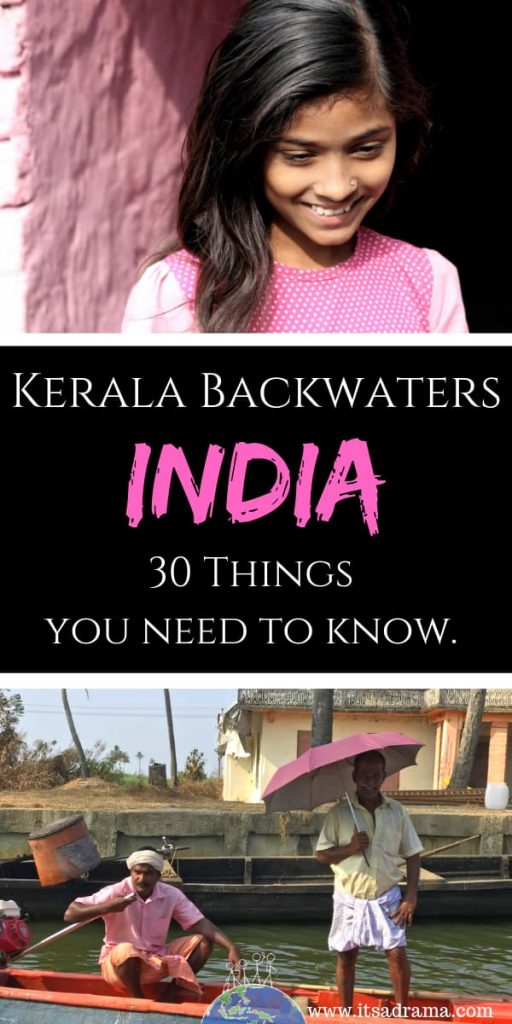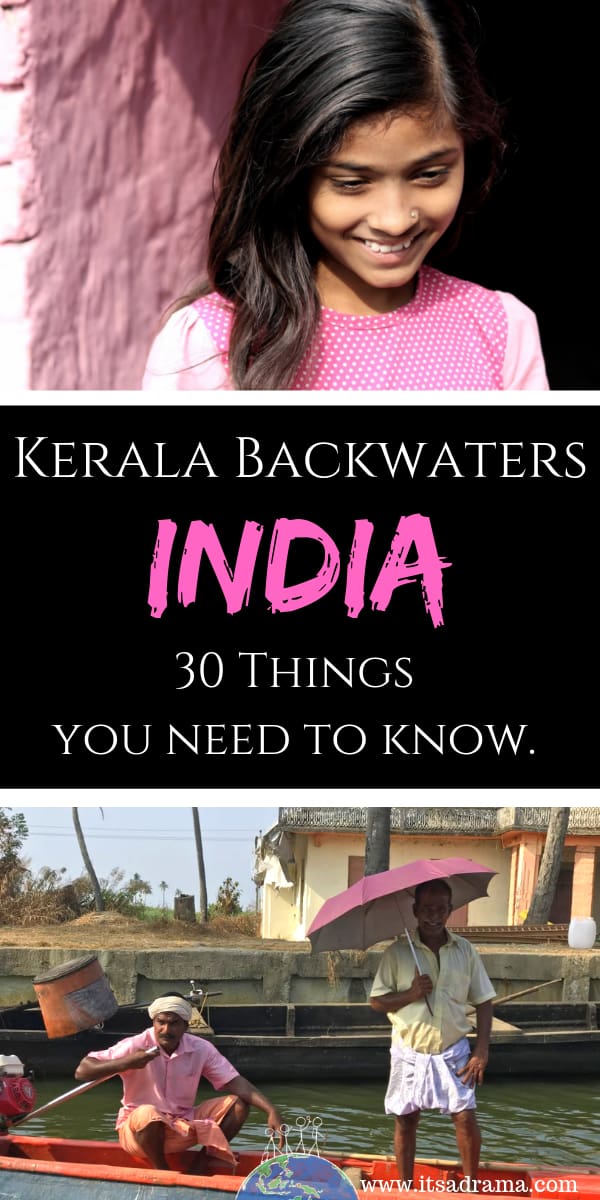 A Few Last Minute Travel Tips For When You Are In India.
You are going to love India. we adored it. But it would have been easier if I knew then what I know now!
Transport Tips in India
We travelled extensively throughout India for 6 weeks on a tight budget. We have taken planes, trains and overnight buses. We would not hesitate to use 12GoAsia for booking everything transport-related online.
At first, we tried to do everything yourself but honestly, in India, don't bother. Let this company arrange all of your tickets for you. They are brilliant.
Where Did We Stay And Where Did We Book Our Canoe Tour?
The place that we stayed in was Abu's Guesthouse and I can't recommend it highly enough. We booked two rooms one for us and one for the kids.
The guesthouse is in a lovely part of town and very close to the best restaurant in Alleppey (Hassan's family restaurant. You'll find it on Trip Advisor.)
The Guest House is also where we booked our tour. Speak to the owner (his name is Jestin) and tell him that you want to book a tour. He does all of the options that we have spoken about.
If you are a large group and are convinced you would like to try a houseboat for the Kerala backwaters book your tours with Get your Guide. They are the only tour guides that we use.
More Related Posts That I Think You'll Enjoy!
25 Things You Will Never say When Backpacking Through India
Visiting The Taj Mahal. The One Thing That Nobody Told Me About
Podcast #10. Is India REALLY as scary as it's made out to be?
How People On A Regular Wage Afford To Travel The World.
25 Awesome Travel Gifts For Kids. All For Under $20!
I hope you have enjoyed this post on the alternatives to taking an Alleppey houseboat. You have plenty of options. Choose which one suits you and your budget.
And I'd love to hear whether you have already experienced the Kerela Backwaters and how you did it! Keep in touch and happy travels!