There are many things I discovered while travelling in India, things that no guidebook or India travel blog could ever have told me about. One of those things being the hell that is the overnight sleeper bus. I'm sorry India. I loved your country with all my heart, but your sleeper buses?
Bloody hell.

The India Sleeper Bus.
Taking an overnight sleeper bus in India is not for the fainthearted. Nor is it for those who cherish their sleep. But if you want to save on a nights accommodation and travel a long distance in India for not much more than $10, then go for it. The overnight sleeper bus might just be for you.
Let's face it. You are only going to book the coach because:
a) every other mode of transport is full or
b) you're on a tight budget.
We are a family of four travelling the world, we are doing everything in our power to save money and have authentic experiences.
Apparently, this includes taking horrific public transportation so that we can reward ourselves by seeking out India's most beautiful beaches and proceeding to lay on them for three weeks. Sometimes, I wish I'd just been born rich.
If you are backpacking in India and your group is larger than one, know that the trains book up quickly. Unless you want to go third class on the train – and even my kids wouldn't agree to that – then you will inevitably have to take an overnight sleeper bus or coach.
We took the sleeper bus from Mysore to Gokarna after spending a couple of days cruising the Kerala backwaters. If you want to make the same bus trip here are your options:
Travelling Through India. Your Transport Options.
There is only one company that I trust with booking planes trains and automobiles in India and that is 12GoAsia. They are super efficient, competitively priced and very, very easy to deal with. If you need to book tickets then I suggest you click through here and check out your options in India
Flying.
Flying in India is very cost effective, especially if you are a family.
(Please remember, this transport review is for Mysore/Mysuru to Gokarna. There are no flights for this route. Not that we could probably afford them anyway. Just saying).
The Train.
The train was our preferred choice of travel, but we had left it too late which was a shame. We had a fabulous experience of the train when we took the sleeper from Jaipur to Agra to see the Taj Mahal and wanted to use the train again. Unfortunately, when we tried to book for this trip they were full.
If you're organised use 12GoAsia to book seats for you in advance, they are a fabulous company who deal with all the annoying things like booking a train, bus and internal  flight tickets in India
Then write to me and tell me how I can be organised like you.
Normal Government bus.
The red ones with millions of bodies hanging out of the windows. Leaves at 6 am and will take roughly 12 hours. This local bus is your cheapest option, but I just couldn't face it. It's a long way to go with a groin in your face.
Car
You can hire a car of course, but we haven't got a deathwish, so we didn't bother. Just being a bus passenger on the Indian roads is enough to give me a heart attack, I can't imagine being in the driver's seat and seeing one of those maniacs in a bus veering towards me.
Leaving You With… The India Sleeper Bus.
Organised by Sheera travel. It's a big blue double-decker bus that departs at 9 pm from opposite the bus station in Mysuru. The central bus station with the archway outside. We booked our tickets the day before through an agent for KRSTC. The official Indian website for online bus travel.
If you don't want to do it yourself online through KRTC, and you like chatting to Indian people in little offices, there are loads of kiosks and shops dotted around Mysuru so you won't have any trouble finding someone to book tickets for you.
And finally, if you would prefer to use an online agent to book tickets for you – as I said, click here to use 12GoAsia. They are the best online booking agent in India.
This is what we did. Be warned though, we booked the day before, and there were only eights seats left in random places on the coach, so try not to cut it as fine as we did if you want seats together.
Which Option Did We Choose?
We opted for the overnight sleeper bus. Of course, we did. We are in India. We are up for an adventure!
Here's how they describe the bus as on the website:
Sleeper. Non a/c. 2/1
Let me explain.
Goes overnight – naturally – no air conditioning but this is a plus, not a minus. There are windows on both the top and bottom bunk. You can pull these open to let in air (yes, there is also smell and noise, but you can deal with that. Think of the money you are saving.)
2/1. This description means merely that on one side of the bus are double beds for two people, and on the other side, there are rows of singles.
If you are the organised sort – and I urge you to try to be in India –  you will end up with little other option than to take a bus.
Pros of Getting an Overnight Sleeper Bus in India. (What every India Travel Blog Should Tell You).
It's cheap. We paid 700 Rupees each. Check out the exchange rate here but its about $11.
 You save on a nights accommodation. Saving money always makes those travelling through India happy.
 There is a bed. But there is no top sheet –  only a bottom one covering the mattress. We used our trusty sleeping bags. We have two. One silk liner for hot nights and a duck down feather one for chilly nights and when we need a little luxury.
There is a built-in pillow. Although the mattress was comfy enough we concluded that all Indian people must be short with small feet. My husband can't find a pair of sandals over size 10 and the beds tend to be far too short for my son's legs. Note to oneself. Must stop feeding my son so much while in India.
Curtains for privacy. Yes, they flutter in the air when the windows are fully opened exposing you to the stranger laying opposite, but they do give a certain degree of separateness. Its better than nothing.
Apart from the two double bunks at the back of the bus (and guess which clever clogs booked these), all the other bunks have a built-in shelf at the end of the bed to put your belongings onto.
Don't book the back berths unless you want to sleep (or lay awake for twelve hours) with your computer bag and water bottles weighing on your numb legs. Just saying.
You can sit up and read. Even my son who is almost six foot could just about sit up without hitting his head.
It's great if you're an insomniac because for one night of your life you won't feel any different to everyone else around you.
 It's an experience that you will be able to brag to your Grandkids about. A sleeper bus is real hardcore Indian travel experience.
Cons of Getting an Overnight Indian Sleeper Bus. (What a Travel Blog Might Forget to mention)
 You won't sleep. Not a wink. Don't believe for one minute that you are a heavy sleeper and go telling people that you can get shut-eye through anything. Believe me. You. Won't. Sleep.
 Imagine going on a rickety old roller coaster, only you are lying down –  and you don't have a harness on or any shoes. Oh, and it's in the dark, and you're in a sleeping bag (if you're lucky) You're almost there on an Indian overnight sleeper bus.
 There are no toilets. But annoyingly they stop the bus in the middle of the night which is bizarre. Not only does the coach stop but the driver walks up and down the bus shouting for everyone to get off. A bit like Hitler. He then flings open the flimsy blue curtain, peering in to see if you are asleep. Which of course you aren't.
If you are a woman, you are in luck; there is a squat toilet. (Read about my experience with squat toilets here) But if you are a man you are expected to stand at the side of the road and, well, just be a real man. Have a spit while you're at it.
 You are in very close proximity to other strangers. The man who was two berths down from us had a bucket with him. And he used it. I was slightly jealous of his facilities actually.
As you can see, because  I am trying to be adventurous and jolly, there are more positives than negatives. It's just the way I am. What can I say? But would I travel in an overnight sleeper bus through India again? Honestly? Probably not. Let me rephrase that. Only if I was desperate. Actually. Never again. I don't cope well without sleep, and more importantly neither do my teenagers.
Yes, it was cheap, and it's like anything, once you've done it you tend to look back with rose-tinted glasses. "It wasn't that bad" you'll say, with a glass of wine in your hand. But, without a doubt, If I could, I would use another mode of transport, quite purely for the fact that I need my sleep.
So Why Don't You Sleep on a Sleeper Bus?
Because there are thousands of potholes all over the place. The highways are in poor condition, and everyone on the road has a license that says 'I'm the boss of this road so get the hell out of my way'. The sound of horns is unbearable at 3 am.
BUT.
If you don't have much money and need to get from a to b, and you feel like staying up all night to catch up on that book you've been waiting to read, then take the sleeper.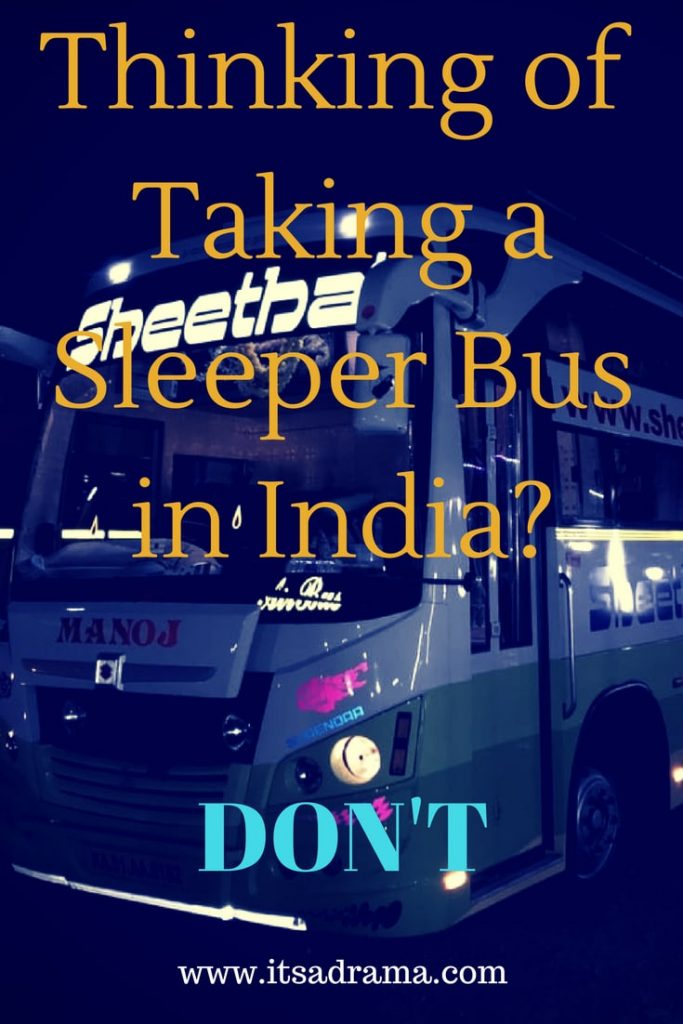 My India Travel Blog Diary. What my Experience on The Sleeper Bus was Like:
Just a tip from someone who knows. Don't do what I did. Don't think 'I'll leave my contact lenses in so that I can get straight up in the morning'.
No.
Don't do that.
When the coach screeched to a halt in the wee hours of the morning and the driver who barked at everyone to 'Get off! Quickly! The bus need go!' I opened my eyes to cloudy, dry contact lenses.
Imagine if you will an old woman with cataracts rolling dazed and confused off the top bunk – nearly crashing into the bucket that had most certainly been used by the man in the next bed – and you'll never leave your contact lenses in on an overnight sleeper coach in India ever again.
My advice to you if you are thinking of taking an overnight sleeper bus in India?
Don't.
Get organised. Take the train.
And remember your glasses.