Iloved backpacking in India. I sit and think about all of the challenges we faced traveling around India as a family for six weeks and I smile a satisfied smile. If you can go backpacking in India you can do anything in the whole wide world.
India is one of those places that constantly takes you by surprise. Just when you think you are used to sharing the road with cows and eating your dinner with your fingers another little foreign custom pops up and you are thrown back to square one. India and her many layers. Each one, a thrilling enchanting experience all of its own.
This post contains affiliate links. They cost you nothing but we make a small commission.
I'm a bit of a romantic. Or so my kids tell me anyway. "Stop glamourizing everything," my son says to me when I start reminiscing about our backpacking adventure.
But I did love it. Every single bit of it. The beautiful tour of the backwaters in Kerela the serene beaches around Gokarna, the craziness of Rajasthan and the splendour of seeing the Taj Mahal in Uttar Pradesh for the first time.
In saying that, Six weeks was probably long enough. I don't think the kids could have handled much more of me and my Julia Roberts fantasy.
I remember vividly the things that each one of us went through while we navigated ourselves around the country that is India – how could you forget an experience like that?
I thought it might help you in your preparations to visit this wonderful country if you were given a kind of pre-warning. A little insight lets say. A gift from a 47-year-old woman who navigated India with her YouTube-loving 16-year-old son, her terrified 13-year-old daughter and her overly cautious 54-year-old husband.
A list of things you will never say while backpacking in India.
5 Things You'd Never Hear me Say While Backpacking in India.
1: Put the Radio On. It's Too Quiet.
India is noise.
Whether it's the morning prayers being broadcast over the tinny tannoy, the tuk-tuk drivers shouting across the street to you about how they have the cheapest fare or the constant beeping of horns, there is always a hum. You can't seem to get away from it. And for some strange reason, you don't want to.
I'm surprised that I loved it so much, being a recluse who loves to spend hours alone with her dog, but I did. Once you leave India you will miss that hum. Just you wait and see.
A
2: I Bought too Many Clothes with Me.
You put something on in India and within twenty minutes it's grubby. Yes, you can send it to the washerwoman and have the bamboo scaped out of your best cotton top with a rock at the side of the river, but other than that, best to have a nice big supply of clothes. Or at least bring enough money to buy new ones once you are here. What I could never understand is how the Indian women always looked so spotless in their flowing saris, while I resembled a dosser who hadn't seen the inside of a launderette for a month.
3: I Don't Miss Wine at All.
Bloody hell. India was the one country where I didn't drink one drop of wine. What with the religious taboo surrounding alcohol and the fact that we tended to eat at local joints where a jug of lukewarm tea was standard, I remained wine free for six weeks. I wish I could tell you that I felt better for it but I'd be lying. Apart from saving money in India, there is nothing else good to say about not being able to indulge in a glass of your favourite tipple.
*Since writing this post I have been told that alcohol is in fact, very easy to find in India. Well, either I wasn't looking hard enough or someone is playing tricks on me. I will just have to return on a wine hunt.
Lock up your alcohol India, I'm coming back.
4: Let's See If We Can Find a Mall.
I despise Malls, so India was perfect for me. Apart from the big cities like Dehli and Mumbai, the closest we came to a proper shop was a fabulous Indian department store that resembled Grace Brothers from 'Are You Being Served'. I bought a pair of purple pants from there that Brian thought were hideous.
5: Could I Have a Knife and Fork, Please?
What can I say? I was the only one in our family who actually loved eating with their fingers in India which is pretty ironic considering I've spent the last sixteen years telling my kids to use a knife and fork and keep their fingers out of their food.
Every Indian eatery provides handwashing facilities which I thought was incredibly hygienic and I loved feeling the texture of the food in my fingers. Even if I did end up with half of my dinner on the floor.
ENJOYING THIS POST? PIN IT!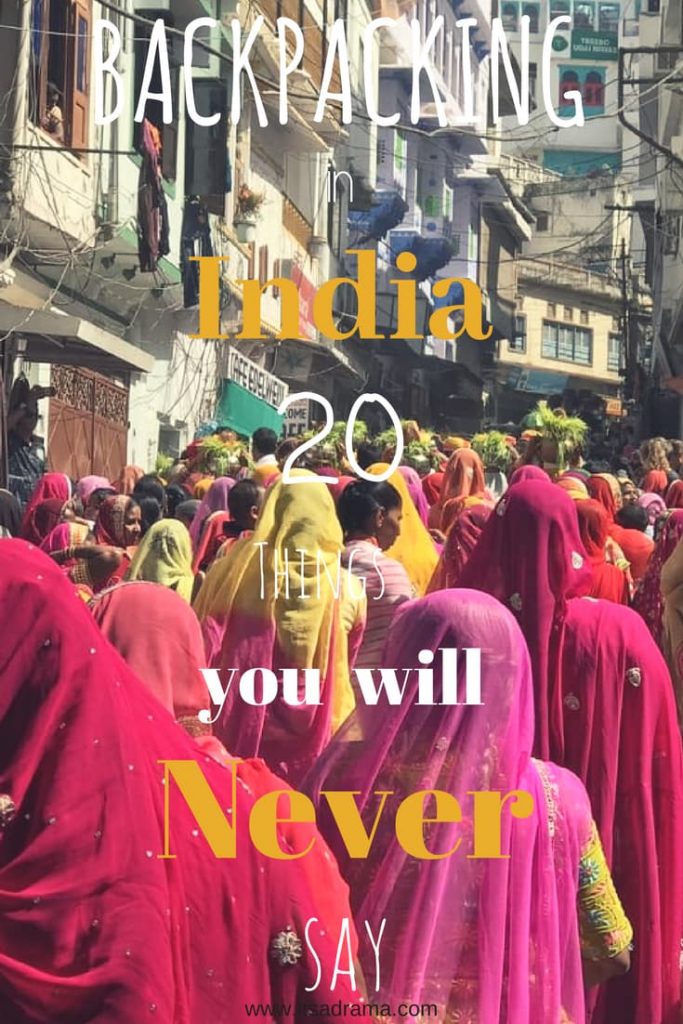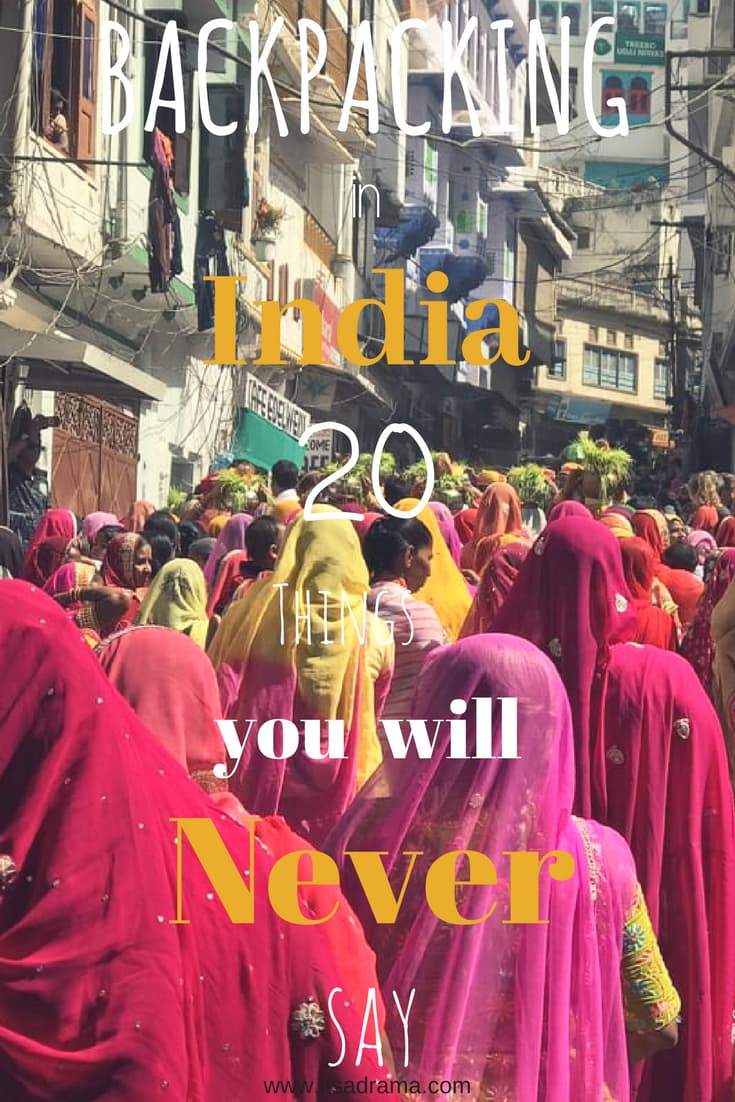 5 Things You'd Never Hear my Husband Say in India:
1: This Google Maps App is a Waste of Time.
How did we all manage without google maps? In places like Rajasthan where the streets are a labyrinth of squiggly lanes, I can't think how we would have found our hotels – that were always some dodgy deal down a side street.
If you haven't got the app get it now. And if you are travelling with your husband be prepared to never, ever get to use it.
2: I Shouldn't Have Bothered Bringing my Reading Glasses To India.
If you're over 50 and you are travelling the world, bring your glasses. Nobody likes a squinter. But, if you forget to pack them and find yourself in India wondering around like Colonel Blink, know that glasses and contact lenses are extremely cheap and of excellent quality.
We ordered two new sets of glasses and six months worth of contact lenses and the cost was less than one pair of reading glasses in New Zealand. What a bargain.
3: I Like Being Sober.
Of course, being a man, Brian could quite easily have ordered a couple of Old Monks and got away with it. But there was no way that was going to happen. Bad enough that I have to have cold tea with my curry without watching my husband getting plastered on rum beside me.
4: Turn the Aircon Off.
You don't need me to tell you that India is roasting hot. We went in January which is wintertime in India and the temperature was still pretty intense. We emigrated to New Zealand almost ten years ago so we are quite aware of how hot places can be.
We are travelling on a tight budget so the places we stayed in never included air conditioning. Apart from the one posh hotel that we splashed out on in Agra while we were visiting the Taj Mahal nowhere else included air conditioning in the price of the room.
5: Let's Ask Someone for Directions.
What is it with men and directions? I never had a problem with going up to someone in the street in India and asking, 'train station please?'. The people in India are incredibly friendly and can't wait to help you.
Yes, they will sometimes stare at you as though you are from out of space. Yes, they will ask you for a selfie and invite their extended family and the butcher to be part of it and yes, they will want to know if you are a doctor or a YouTube sensation and inquire as to how much this trip is costing you and how on earth you can afford it. But. At least you get to know where the train station is.
Here's a short cinematic that my son made of India. If you have any doubts about backpacking around this beautiful country watch this video. If this doesn't convince you to go to India, nothing will.
Things You'd Never Hear a Teenage Boy Say in India.
1: I hope it's a Squat Toilet and Not a Western Jobby.
India. And public toilets. What can I say? It's no secret that they're often pongy, especially on trains, and don't get me started on public toilets in the street. You just… Don't. Just hold it in.
The hotels that we stayed in were all western-style toilets, and very clean. Of course, there is no toilet paper, just a tap and a bucket. If you are staying somewhere slightly upmarket you will be rewarded with a bum wash spray. A word of advice. Don't do what I did in Sri Lanka and wear your yoga pants to the squat toilet. It was not a pretty outcome.
2: I'm Just off to Clean My Teeth.
Teenager sons and teeth are a battle at the best of times but take a 16-year-old to India and tell him that if he puts the tap water in his mouth he will probably become ill, then you may find that the teeth take a back seat.
Cleaning your teeth in India requires a little effort when you are a sixteen-year-old tourist. The teenager must pick up a bottle of water and pour it onto his toothbrush. How can he do this when he is holding his phone? Make sure you buy the best toothbrush for travelling. Here are our top choices.
3: I'm Just Going for a Walk Around by Myself.
My 16-year-old is a bit of a loner and loves time by himself. which might explain why he is going slowly insane being trapped with the three of us for 24 hours a day. Sonny attempted to escape a couple of times while in India but on each occasion, he was met with either a proposal of marriage, the offer to start a hotel business or an invitation to sit on a tuk-tuk drivers knee and drive really fast.
Personally, I would have taken all three gladly.
4: Can we Take The Sleeper Bus Tonight?
I honestly thought that my teenage son would love the adventure of when we took the Indian sleeper bus. I was wrong. This form of transport is not for the fainthearted. You do not sleep. Not one tiny bit. If getting inside a giant tumble drier next to a man with a bucket is your idea of comfort then you may enjoy the India sleeper coaches.
My son? He'd rather fly first class.
5: You Don't Need to Hotspot Me. It will Use All of Your Data.
Luckily for those travelling with teenagers, India is superb when it comes to wifi. I'd go as far as to say it was the best wifi we found in Asia.
Every hotel that we stayed in offered free internet. Not like Sri Lanka where the internet would last about 5 minutes and then just turn off without notice. Never to be seen again. Mobile Data plans are cheap in India.
Things You'd Never Hear a Teenage Girl Say in India:
1: I Love the Way Everyone Stares at Me.
This drove my 13-year-old daughter absolutely insane. Here's the thing. In all of the countries that we visited in Asia, India was the one country in which we never felt threatened or unsafe. Not ever.
But.
Young Indian men do tend to openly stare at young foreign tourists. And being from New Zealand my daughter was not used to it.
I explained to her that it was probably because they are genuinely curious and intrigued – either that or they just couldn't believe how much her mother looked like Julia Roberts, but no. She didn't like the attention.
As a result, whenever I spotted a group of young guys staring at my girl I would give them the stare.
The stare that middle-aged Mothers are really good at.
The one that would melt ice. That one. This was guaranteed to send them running to the hills in terror.
2: Shall we Just Walk?
You can't walk in India. Well, you can, of course, you can, but you will be sharing the road with lots and lots of other people. And cows. And tuk-tuk drivers swerving to miss you, and stray dogs looking for a pat and a bite of your samosa.
I loved it. I adored the madness and the noise. My daughter? Not so much.
The suggestion of walking anywhere left my teenage daughter willing to sell her iPhone for the chance to jump into an Uber.
3: Can I Buy a Sari?
The joy of travelling the world for a teenage girl is the promise of being able to indulge in some retail therapy. Indian clothes didn't tick the boxes for my 13-year-old. As I said, I wouldn't take her to one of the fashionable malls, so it was the roadside market or nothing. Yes, the clothes are super cheap but unless you are a middle-aged hippie wannabe like me, teenagers won't be that impressed.
4: Can I Have The Aubergine Curry?
My girl is a big carnivore and this proved to be a problem for her in India. Due to her mothers' paranoia over the freshness of what meat was on offer, my daughter spent 6 weeks being vegetarian. I wish I could tell you that she flourished through this diet and all was well. Unfortunately, she lived off fried rice and chow mein and sent me into a frenzy every time she said paneer cheese was disgusting. What can I say? She's thirteen.
5: I Think I'll Wear my Short Shorts Today.
Coming from New Zealand where every young girl lives in jandals, shorts and a singlet, my teenage girl found Indias dress code challenging. By travelling the world as a family you get to learn about, and respect, the traditions and beliefs of each country. It's all part of the fun, but this was sometimes frustrating for my teenager when it was boiling hot outside and she had to wear long trousers and a sarong to cover her skin. She loved it when we spent a few weeks on the beach and she could finally shed some layers.
You are going to LOVE India. I really believe that going down the backpacking route is the only way to experience this wonderful country for the first time. Imagine what stories you are going to be able to tell over a good bottle of wine when you return. And remember, if it was easy, everyone would do it. And they don't.
Because they have got their heads screwed on.
Just kidding.
India is a beautiful, enchanting country. You will never understand this until you have been and experienced it for yourself. Just go. You will adore it.
For Pinterest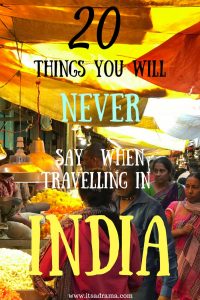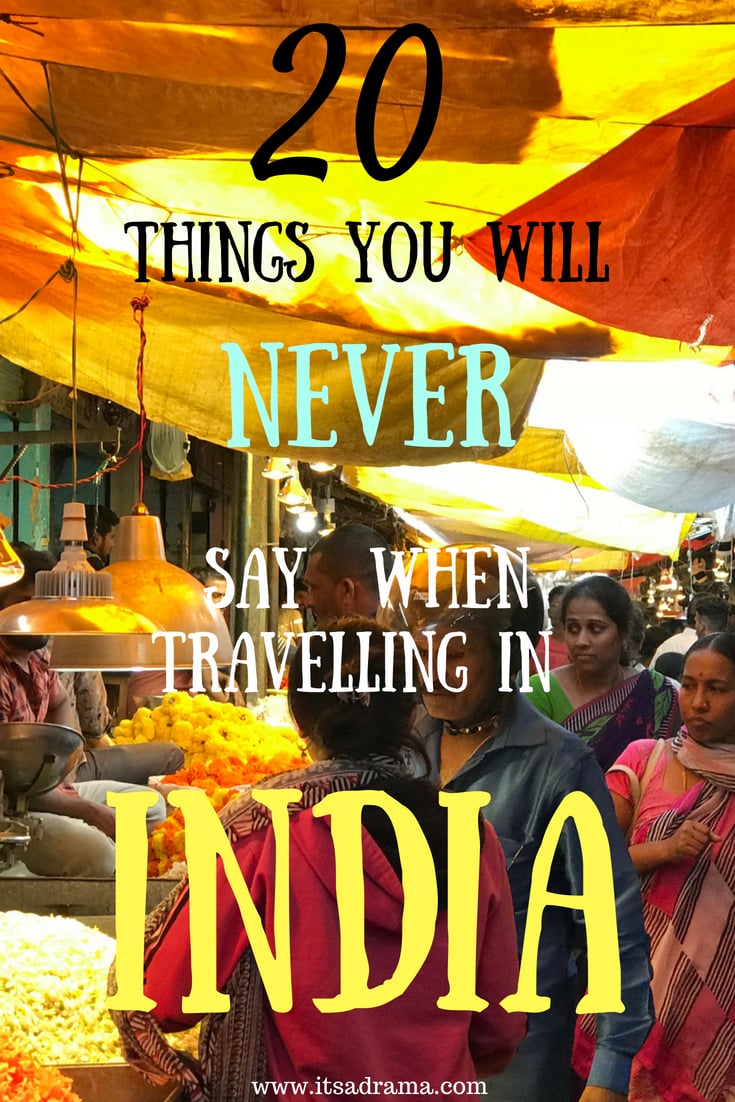 Related Post That you will Enjoy!
Taking an Indian sleeper bus. Not for the fainthearted
How people on an ordinary wage afford to travel
8 travel tips that you can ignore 'because they're crap
How to travel with kids and stay sane
25 travel gifts for under $20 that your kids will love!
10 Brilliant Travel Essentials for the plane
I hope you enjoyed this lighthearted post on backpacking in India. If you have been to India, please let me know some of the things you never said or maybe some of the things that you always said!
Happy travels!