Being on a budget in New Zealand doesn't mean you can't spend your days soaking and relaxing like a millionaire, with or without kids. There is a false misconception that New Zealand is an expensive place to live, but if you know where to look then there is bucket loads of free stuff; perfect for the budget traveller.
If you're looking for family-friendly natural hot springs in New Zealand, Rotorua has two of the best. One will cost you very little, and the other is entirely free – the perfect solution to travelling on a budget in New Zealand.
My family and I have been living in New Zealand for the past decade.
Before we emigrated to New Zealand we lived in the Roman city of Bath in the Uk. As a result of this, I am somewhat obsessed with the romantic notion of bathing up to my neck in hot open-air thermal pools.
There is nothing more relaxing than submerging yourself into deep water and feeling all those aches and pains of the day melt away.
Because of our decision to drop down to one income while we homeschooled both of our children, we are always on the lookout for things that are free to do in New Zealand.
Or at the very least, budget.
Luckily, New Zealand is one of the best places in the world for those looking for beautiful activities that don't cost a penny.
For Pinterest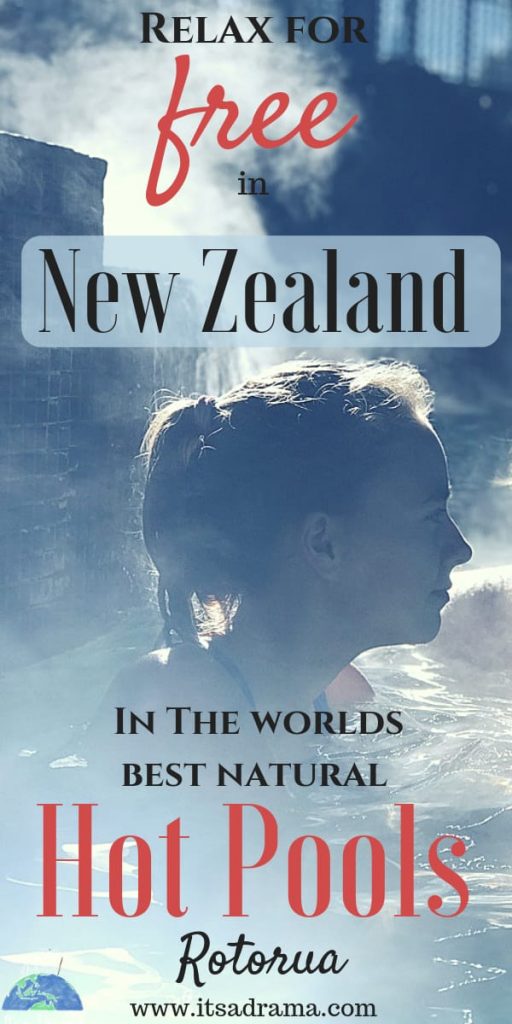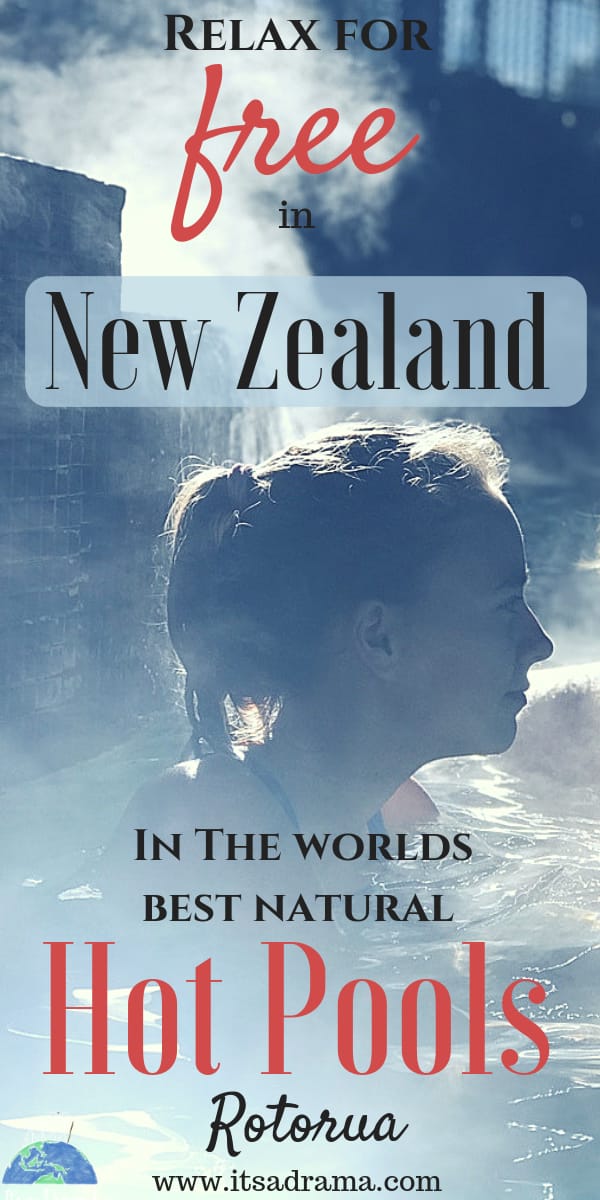 Rotorua is up there as one of New Zealand's top destinations to visit and rightly so. The place is steeped in Maori history and culture; the scenery is out of this world, ranging from serene hidden lakes of vivid turquoise blue to dramatic volcanoes- snow-capped in winter and home to wildflowers in summer.
Rotorua is perfect for families. Especially teenagers, but with adrenaline filled activities touted on every street corner, before long your purse feels somewhat empty.
These two family-friendly natural thermal hot pools are the best in Rotorua. After trying both natural hot pool experiences, the paid version and the free version, I'm going to share with you the pros and cons of each.
If you find yourself on a budget in New Zealand but long for a day to soak and relax, read on.
You will need a car for both of these hot pools.
On a Budget in New Zealand? 2 of the Best Natural Thermal Hot Spring In Rotorua.
Before we discovered our new favourite place, we would visit these pools every time we were in Rotorua.
Waikite Valley Thermal Pools sits 25 minutes South of Rotorua off SH5.
WAIKITE VALLEY THERMAL POOLS
The Pros:
Set in a Beautiful Location.
Once off the highway you twist and turn through farmland, down a hill into a beautiful valley. The first impression is that of a swimming pool complex set in the jungle. New Zealanders call it bush, but although we emigrated here eight years ago, I still think of it as jungle-like. The swaying palms, the mass of green, the sounds of all the exotic birds. 
There are Changing Rooms and Showers.
When travelling with teenagers -especially those of that particular age who have to wrap a towel around themselves to do their shoelaces up, then you may appreciate this luxury. They are basic, but they are clean.
There is a Café
If your kids are anything like my two gannets, then this will be a top priority. I was always too tight to spend money for lunch, we'd take a picnic (there are picnic tables dotted around), but it's nice to be able to get a coffee. If I really couldn't be bothered arguing I'd succumb to a portion of fries and some sauce.
 Different Pools to Try.
There are eight different pools to try, all varying in temperature. There is a swimming pool which is 20 degrees for the kids to lay in.
If you do have older children that don't require constant supervision (New Zealand tends to put this age at 8), then you can slip away to another pool while they hang out somewhere else eating their fries and bothering other people.
There is a pool with a sign saying "Quiet or else"; something like that, but I find that if you show teenagers a sign that says 'quiet' they will just have to think of the most hilarious YOUTube video they have ever seen and insist on wetting themselves loudly while they discuss it.
There is a Campsite Next Door.
For $22 you can pitch your tent and enjoy the pools for free. We have never done this as we've always stayed closer to Rotorua itself, but I would imagine it's an exceptional place to stay.
There Are Private Pools To Hire (at an
extra cost

).

 
Obviously, we didn't go for this option. I can only just about push to a portion of fries, I'm not about to spend extra money on a private pool. Anyway, I would imagine they'd be quite claustrophobic, but, if that's your idea of bliss, then this is a big pro for you.
WAIKITE VALLEY THERMAL POOLS
So you know what to expect I will give you the things that annoyed me and might do the same to you. Just so that we are clear.
The Cons:
The Cost.
At $22 for an adult $9.00 per child(5-15)  and $3 under 5s, it's not too bad. In fact, it's very reasonable compared to some of the more prominent swankier hot pools in Rotorua. But, for three adults and one child, we didn't get much change out of $80.
It Feels Like a Swimming Pool.
Yes, there are the little nooks and crannies dotted around but this is a public pool and so has a very open feel to it. The pools are filled with other people. And other peoples kids. Unless you go off season (avoid January if possible, New Zealand summer holidays) you are likely to have to share.
The Café:
Yes, I know that this was also a pro, but you have to remember, with convenience comes the smell of deep-fried food. It's a little off-putting when you're trying to pretend you are Signory Weaver in her gorilla sanctuary and all you can smell is chip fat. Not the most romantic of smells.
The Health and Safety Restrictions.
You are not allowed to take food or drink into the hot pools.
Yes, I understand why. Who wants my teenage son sitting next to you with his curly fries? But a nice cup of tea or sparkling white wine wouldn't go amiss.
And yes, I know that you get dehydrated when in hot pools, I'm a big girl. Just saying.
And then, we discovered our idea of paradise in the form of natural hot pools. And not only were these pools heaven on earth, but they were also FREE!  Perfect for a family on a budget in New Zealand. I promised you the pros and cons of both and that's what you'll get.
Related posts That you will Enjoy
Plane essentials. 10 things that everyone should fly with to arrive feeling wonderful.
Travel with kids. How to stay sane before wine o clock
Kerosene Creek. One Of The Best Free Natural Hot Springs In New Zealand
Kerosene Creek is situated 35 minutes from Rotorua (in the opposite direction to the other ones). Take SH5. Turn off at Walotapu Road and continue down the gravel path for about 2km.
The Pros:
Need I say more when you are on a budget in New Zealand?
You Become a Real New Zealand Local.
Kerosene Creek isn't somewhere where tourists arrive by the coach load.
You'll probably see a couple of Jucy campers and some teenagers in their Dads' car.
If you've been brave enough to drive your car down an unsealed road (this just means there isn't any tarmac on it) without worrying about the suspension, then you can pat yourself on the back and class yourself as one of the locals.
The Beauty, The Hot Pools And The Surrounding
Get out of your car and follow the little signs along the riverside path.
From the moment you duck your heads and enter onto the pathway, you will be met by the sight of steam rising from a magical babbling river. Ferns hang down onto the path enticing you to step further. It's an easy walk.
Take your time and meander down to the pools.
In springtime the banks are covered in tiny pink and white flowers and the new korus (The coiled up new leaves of the ferns. A symbol of New Zealand) are a vivid green. The beauty charms you from the first step.
If this is budget New Zealand you will be wanting some more…
The Water And The Natural Pools
Picture a steaming river, tumbling over moss-covered boulders. The noise of a low gurgling temptress calming you.(Ignore the teenagers asking you where the café is).
The pools entice you to walk a little further. The path snakes its way through a mass of tropical foliage. Eventually tumbling down a steep bank and creating the most exquisite waterfall. From here the hot water swirls into a vast hot pool.
This, my friend, is where you are going to bathe.
 People
Yes, there are going to be a few people, but the ones that are there are there for the same reason as you. To relax and to be in nature.
My two teenagers were speechless for the entire time that we were there (Ok maybe for the first 10 minutes). These natural pools will impress you believe me.
The magical surroundings have a clear effect on everybody. People tend to speak in hushed tones so as not to break the moment. Even my two didn't pull their YouTube trick. You will love it. It is heaven.
 The Waterfall
Once in the natural hot pool, you can move to different places with varying degrees of temperature.
There is a huge log that you can sit against and grab a somewhat well-needed break from the heat. At the deeper end of the pool (still only came up to my chest and I'm of medium height) is the waterfall.
Remember the chocolate flake advert on TV? Well, this is that. It is beautiful. It's hot, but not scalding. You can stay under it for about 30 seconds before heading back to a cooler part of the pool.
No Restrictions At This Free Hot Spring In New Zealand
Because you are a responsible adult, it is left to you to decide whether you would like to take an iced beer or a can of coke into the steaming pool.
You can take a cool box down to Kerosene Creek with you and fill it with something cold and sparkly. This just completes this experience of perfectness.
Private Pools.
Anywhere along the riverside that takes your fancy – hop in! Your own private hot pool.
Sit and splash your legs if the water isn't deep enough and feel the fresh New Zealand air swirling around your shoulders.
You will have all the privacy you need here. My son took himself off upstream to build a dam or something.
CONS:
Nowhere to Get Changed Other Than Behind a Bush.
You will have to get changed in the carpark. If, like me,  you have self-conscious kids just tell them to get changed in the car.
It's funny how they can suddenly become contortionist when there's a chance someone might see their pants.
You Can't See Your Car From The Pools.
There are signs warning motorist about thieves in the area which can be quiet unnerving, especially if you are new to the country.
We have lived in New Zealand for eight years, and nobody has ever broken into our car, but be sensible.
Don't leave anything valuable in the car that can be seen. Take it with you. You can leave it up on the bank beside the pools.
A Rather Big Step Down, Onto a Log, Into the Water.
If you are lucky, as I was, a gorgeous Italian backpacker will hold out his hand to steady you. If not, be aware that it can be a bit of a tricky step-down.
I can't quite believe I'm writing this. Twenty years ago I would have dive bombed in. Now I have to rely on an Italian. Honestly.
It Might be Too Hot For Little Kids.
Use your common sense. It will probably be too hot for babies.
That's not to say you can't sit on the side of the trickling pools and find a cooler spot. Just be aware.
Don't be scared of going for the slightly rough and ready Kerosene Creek. They are stunning, everyone is super friendly, and because these hot pools are free you are going to have enough money to sit and sip wine over dinner.
If you are more comfortable going with the paid version, you won't be disappointed. You won't have as much of an adventure, but you won't be disappointed.
Related posts That you will Enjoy
Snobby Britain. The real reason we emigrated.
A New Zealand travel blog. 10 Things that may surprise you about New Zealand
Christmas on the beach or in the snow? 10 Weird things that you will have to consider
How we left everything behind for a year to backpack the world with our two kids
So there you have it! My two recommendations for Rotorua natural thermal hot pools when travelling on a budget in  New Zealand. Two very different experiences. But both special. You decide which one would most suit your family.I would love it if you could comment below and let me know what you thought of both. Happy travels!