W
hen you think of New Zealand, one of the
most beautiful places on earth,
a few things come to mind.
The Hobbit, sheep, the weird kiwi slang words, nature, green and last but not least; cost. Money. Expense. But much does it really cost to live in New Zealand?
What are the most expensive items?
The cheapest?
How much money you will need if you're planning to visit or (even better) thinking of moving to New Zealand?
This post may contain affiliate links. They cost you nothing but we make a small commission. If you would like me to explain it further, please visit our disclaimer page.
Living in New Zealand
New Zealand. For the past ten years, we have been lucky enough to call this gorgeous, sometimes underrated country, home.
We raised our two kids in New Zealand, built our own home on a very steep hill, and become the proud parent owners to five sheep.
We now consider ourselves to be true kiwis.
We made our move to New Zealand in 2009 from the Uk. We left the very posh city of Bath for greener pastures and little men with bells on their feet.
If you live in Bath, you have to at least pretend to be posh. I found the best way to do this was to pronounce Bath as Barrth. But in the end, I got bored with this and chose to live somewhere less pompous.
New Zealand Quirkiness
I absolutely love living in New Zealand, with its quirky little ways that have taken me ten years to get used to.
And taking into account that we have to spend Christmas in New Zealand squinting at the telly because the sun is streaming through my often dirty windows.
Even so.
I wouldn't care if it was a million dollars a week to live here. I'd make it so. I'd sell the kids or else become a sheep shearer or a plumber. They make stacks of cash in New Zealand.
But, like anywhere in the world, New Zealand has its pros and cons.
Nowhere is perfect (although in saying that I think where we live, Taranaki, on the North Island of New Zealand, comes quite close).
Check out what it is like to live in Taranaki New Zealand in our video below 🙂
Do You Want To Know The Best Month to Visit New Zealand?
Then read my post on the best time to visit New Zealand
If you are travelling to New Zealand or, even better thinking about following your dream and emigrating to the land of the long white cloud, then let me fill you in on a few things about the cost of living.
Give you a couple of inside tips and answer the ever arising question 'is New Zealand expensive to live?'.
How Much Does It Cost To Live In New Zealand? The Truth.
If you plan moving to New Zealand with your family then you will need to work. Unless you are a millionaire, in which case, leave your number in the comments below.
There is a huge miss conception about the wages being rubbish in New Zealand.
Speaking from personal experience, we have always had a very nice standard of living in New Zealand.
Yes, we tend to spend our holiday's glamping in a New Zealand bus rather than staying in a posh hotel, but that comes down to choice – not because we're on a cr*p wage.
No sir.
Before we decided to throw our lives in the air and start something new, my husband was a gas fitter and plumber and we never found the wages to be any lower than the UK.; quite the opposite in fact.
We Talked About The Cost of Living In New Zealand on our Podcast
If you are a multi-tasker and would like to listen to a twenty-minute podcast that my son and I made about the cost of living in New Zealand then click below and listen to the podcast as you read!
a
a
If you are more of a visual person then there is VLOG further down the page!
Back to the post.
Remember that all these figures are in NZD and are approximate.
All figures as of 2020
The Average Wage In New Zealand
I will start with tradesmen. As I said, my hubby was a gas fitter and plumber. He had his own company – the one he sold so that we could afford to go around the world. Annywwayyy.
Plumber / Electrician / Builder
NZD 58,000 – NZD 65,000 per annum. (approx 43,000 USD)
Bear in mind that this is the wage a tradesperson can expect to be paid if they work for a company. If you call a plumber out to fix your tap, you will be charged in the region of NZD 70 – NZD 80 per hour. (approx USD 51) I know. Why do you think I married him?
All tradesman in New Zealand must be fully qualified for NZ regulations. Not like the UK where any Tom, Dick and Harry can take a swing a hammer at your garden shed.
a
Teacher
NZD 47,000 for a graduate high school teacher (approx 32,000 USD)
NZD 55,000 High school teacher with 2 – 5 years experience (approx 37,500 USD)
NZD 65,000 for high school teachers with more than five years of experience (approx 44,000 USD)
NZD 56,000 for a primary school teacher (approx 38,000 USD)
Retail Assistant
NZD 35,000 (approx 24,000 USD)
Dentist
NZD 85,000 – NZD 186,000 is what dentists with more than three years experience can expect to earn. (approx 58,000 – 127,000 USD)
GP
NZD 95,000 – NZD 250,000 per annum (approx 65,000 – 170,000 USD)
If you would like to know more about the average wages in New Zealand check out Careers NZ website.
Save This To Pinterest ⇓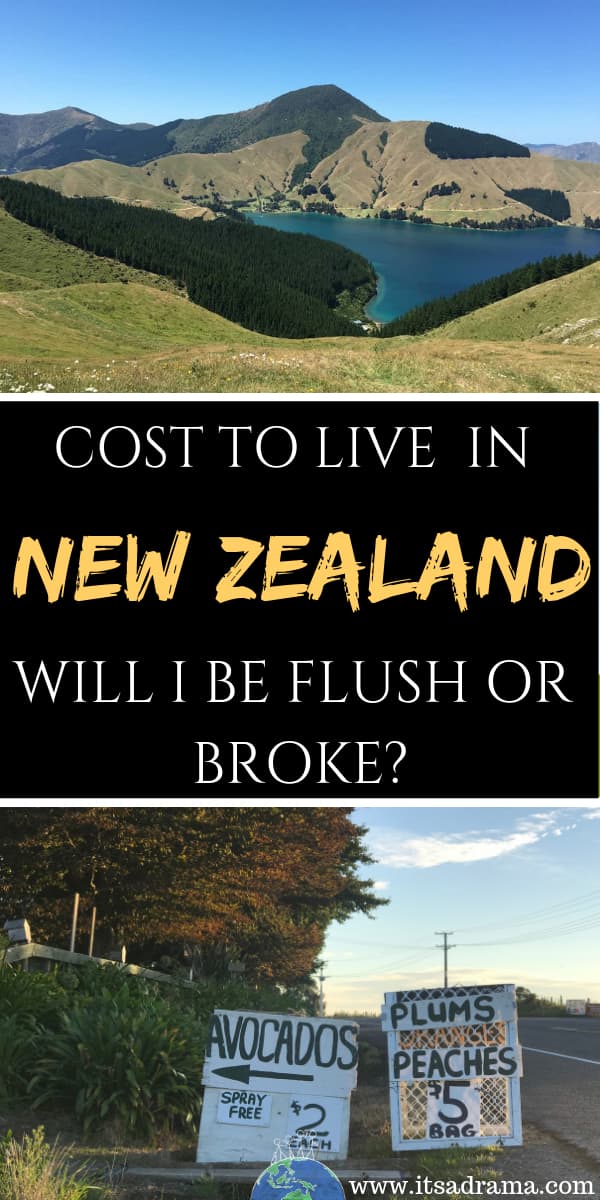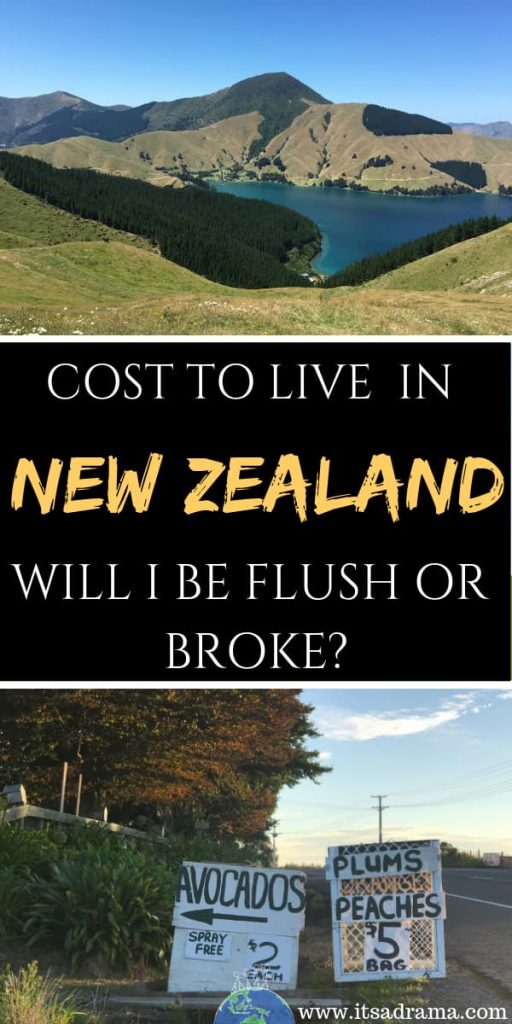 Paying Tax In New Zealand
33% for an income of over NZD 70,000 is New Zealand's top personal tax rate.
30% on income between $ 48,000 NZD and $70,000 NZD
17.5% on income between $14,000 NZD – $48,000 NZD
10.5% on income up to $14,000 NZD
New Zealand also has a tax on consumption called GST. (VAT in the UK). This is a flat 15% but is not charged on residential rents and financial services.
If you would like to know more about the tax rate in New Zealand check out this website.
One of the things I love the most about living in Ne Zealand is that everyone is extremely positive.
Don't be surprised to be met by "yeah! Go for it mate!" should you decide to start your own business.
People often talk about the tall poppy syndrome that is prevalent in New Zealand but to be honest I have never experienced it. Maybe I'm just not tall enough yet.
Health Care In New Zealand
Funny isn't it? When I lived in the Uk with its free National health, I was a hypochondriac.
I went to the doctor's surgery for a pass time. Twenty minutes until the next bus? I'll go and see the doctor and ask him why my toe is getting bigger.
Since moving to New Zealand, where you have to pay to see the doctor, I find I am suddenly cured of all illnesses and have never been in better health. Even my toe has shrunk.
Wonderful.
$50 NZD is the average cost to see the doctor. Yes, it's expensive compared to the UK, but for this cost, you actually get time to sit and chat properly to your GP. You don't feel rushed (approx 34 USD)
Free for children under 13
$5 NZD for a prescription from the pharmacy (approx 3.40 USD)
Hospital treatment is free in New Zealand for those eligible for health care services (residents of New Zealand). Nobody can be refused emergency care because they are unable to pay, but if you are not a New Zealand resident, you may have to pay for some services.
The Cost of Housing In New Zealand
Since we arrived in New Zealand ten years ago, property prices in New Zealand have continued to rise.
If only I had had some magical powers and had invested some money into a one-bedroom apartment in Auckland ten years ago. I would now be sitting on a gold mine and wouldn't have to worry about my daughter's loo roll fetish.
Alas, I am not a fortune teller, and so I continue to frown when my teenage son takes two long showers a day and racks up my gas bill.
Buying A House in New Zealand
Average Property Price NZD 560,000 (approx 383,000 USD)
This would only just get you a small apartment in Auckland but could see you living in a house on a few acres of land in the region of Taranaki – where I live.
If you are serious about saving money on a property why not consider building and living in a tiny house in New Zealand? A friend of mine is doing just that and she is saving herself a fortune!
Renting A House In New Zealand
NZD 350.00 Per week. The average cost to rent a house in the North Island of New Zealand (approx 239 USD)
NZD 560 Per week. The average cost you can expect to pay if you rent in Auckland (approx 380 USD)
NZD 500 Per week. The average cost you can expect to pay if you rent in Wellington (approx 340 USD)
Related Posts That You Will Enjoy!
Moving to New Zealand. A few home truths we didn't expect.
What's it like to live in New Zealand? (by a teenager and his mum) PODCAST
Building (and living in) a tiny house in New Zealand
How we saved ten grand on accommodation while traveling
Christmas in New Zealand. Weird or wonderful?
Cost Of Utility Bills In New Zealand
I am giving you the cost of how much my family spends on utility bills in New Zealand.
We are a family of four with two teenagers who insist on staying in the shower for hours on end and making piles of washing by never reusing the same towel.
Household Gas Costs In New Zealand
For us, this is an expensive utility as we live in the country and don't have mains gas, meaning that we have to use gas bottles.
NZD 150 Per month is how much we spend on average on gas – don't forget we are on bottled gas which is more expensive (approx 102 USD)
NZD 100 Per month if you are on mains gas (approx 68 USD)
Electricity Costs In New Zealand
NZD 100 Per week (approx 68 USD) is what my family spends on average.
We have changed every lightbulb in the house to low energy, and we only use the dishwasher once a day.
We never use the tumble drier if we can help it (this, along with a few other weird habits, is one of my new found New Zealand traits.) Kiwis will only ever use the tumble drier if the washing line has been flooded so deeply underground that they have no other choice
Tumble drier or no tumble drier; we still can't get our bloody bill down.
My mum, on the other hand, brags that she only pays NZD 70 Per week on BOTH gas AND electricity. I suspect she might be saying that to get me mad but I can't be sure. You'd have to ask her (approx 48 USD)
You can use this NZ company to compare power plans; apparently they may be able to help save you a few bucks.
Watch Our Vlog Where We Take You Around New Zealand To Check Out The Costs!
Rates
NZD 3620.00 is what the average household pay per year in rates (approx 2,500 USD)
Cell Phone
We have cut our home phone off this year. Nobody ever called us apart from annoying insurance companies, so it's gone.
NZD 175 Per Month. Again, I'm telling you how much we spend. This amount will give you unlimited mobile data for four phones (approx 120 USD)
a
Transport Costs In New Zealand

Driving Costs In New Zealand
Like anywhere in the world, you can pick up a second-hand banger for next to nothing.
We drove around in a seven-seater Delica for years and years when the kids were small. It was like a pig pen on wheels, and I loved it. We paid about NZD 4000 for it and spent what felt like about a million dollars a month to keep it on the road.
NZD 36,000 For a new Ford Focus (approx 25,000 USD)
NZD 90 Per year. car registration (approx 61 USD)
NZD 50 Per year WOF. Warrant of fitness. On older cars you need this done twice a year (approx 34 USD) Find out more about car costs here
NZD 2.25 is how much a litre of petrol will cost you (approx 1.54 USD) This website has the very latest up to date petrol and diesel prices
NZD 1.09 for a litre of diesel but in New Zealand diesel users are slapped with road user charge. This is calculated by the kilometre (approx .74 USD)
Insurance. Insurance isn't compulsive in New Zealand. I know. How strange is that? This is a controversial subject amongst the New Zealanders making it a great dinner party go-to subject for when the conversation runs dry.
If you do choose to get insurance (please do), it will cost you approx NZD 500 a year (approx 340 USD)
NZD 192.00 Monthly ticket on public transport. If you live in Auckland, this is what you can expect to pay to get around (approx 131 USD)
Domestic Flights in New Zealand
Many people tend to fly from city to city within New Zealand rather than drive.
There are very few major highways in New Zealand and so driving can take longer on those squiggly, scenic roads.
If you would like to save time on travel you can pick up a flight from I want that flight NZ from Auckland to Wellington for as little as NZD 49. This is the go-to search engine for flights to, and around New Zealand. They will compare prices of all available flights and give you the cheapest (approx 33 USD)
You can also check out Grab a Seat which is operated by New Zealand Airways.
Cost of Groceries in New Zealand
One of the lovely things about living in New Zealand is that people tend to eat the fruit and vegetables that are in season.
As a side note, I must just mention that New Zealander's don't call them vegetables like the rest of the world.
No. The kiwis have their own slang words and the one for vegetables is 'veggies'.
Fruit and 'Veggies'
Kiwis don't say vegetables.
They say 'veggies'. It is one of the many New Zealand slang words that you will have to familiarize yourself with before you get her.
The summer will see families stocking up on fresh strawberries and avocados while the winter will bring about lots of root vegetable stews and soups.
It took a while to get used to coming from a country where everything is available all of the time.
Along with roadside stalls that sell seasonal produce, there are butchers, fishmongers and fruit and veg shops in New Zealand.
Supermarkets are excellent and depending on where you shop will fluctuate. New Zealand tip for you – shop at Pac'n'Save when getting your groceries. It's not quite as fancy and as pleasant as some of the other supermarkets, but you won't beat them for price.
1 Litre (1 qt) whole fat milk – NZD 2.17 (approx 1.48 USD)
12 Free range eggs – NZD 7 (approx 4.80 USD)
500g Chicken breast boneless – NZD 7 (approx 4.80 USD)
1kg Tomatoes (2 Ib) – NZD 6 (approx 4 USD)
500g (16 oz) Local cheese – NZD 8 (approx 5.40 USD)
1 kg (2 lb) potatoes – NZD 3.40 (approx 2.30 USD)
Bottle of house wine – NZD 13 (approx 9 USD)
Beer 0.5L (16 oz) – NZD 6 (approx 4 USD)
Nex,t you could read and listen to…
Moving to New Zealand. What you will miss. (Sorry, but it's true)
Raising a family in New Zealand. Will they be bored senseless?
Visiting New Zealand from America. So? Wadda Ya Think? (Podcast Interview with a New Yorker)
How old is too old to travel? Podcast interview with an 86 year old American who flew to New Zealand in 2020.
Eating Out In New Zealand. How Much?
New Zealand has some fabulous restaurants ranging from Italian, fusion, Indian and everything in between.
Kiwis are very social, much more so than us Brits who cry when the phone rings.
New Zealand folk tend to invite big groups of people over to their house for a meal. All very nice and happy but don't be shocked if you are asked to bring a plate.
This is the norm in New Zealand. And no, they don't mean an empty one. If you are visiting New Zealand from America then this might not be a shock to you, but as I said, us Brits are very antis social.
Ask the host what you can bring, and they will usually say a salad, a dessert or a plate of meat for the BBQ.
I have to admit; I took umbrage to this when I first emigrated. In the UK if you are asked to dinner at someone's house, all you will take is a bottle of wine. A cheap one at that. And maybe some after eight mints if you are posh.
NZD 80 for a nice meal for two, including wine – obviously (approx 55 USD)
NZD 40 will get you eggs benedict for two and a couple of cappuccinos for breakfast (approx 27 USD)
NZD 50 will get you two woodfired pizzas and a couple of beers in a pizzeria (approx 34 USD)
Entertainment In New Zealand
There is so much to do in New Zealand, mostly based around nature and lots of it is free.
You can soak for hours on end in some of New Zealand's most idyllic hot pools, and it will cost you absolutely nothing. Even the car park is free.
If you are willing to take advantage of the free stuff then it makes raising kids in New Zealand a massive deal cheaper than elsewhere.
Should you wish to go Bungy Jumping or to dive out of a plane, then that is up to you. I have never had the urge, but then again I'm a scaredy-cat.
NZD 460 This will get you a tandem skydive out of a plane in Queenstown over the Remarkables. Truly unforgettable (Approx 314 USD)
NZD 12 per person for a trip to the cinema. Taranaki prices. (Approx 8 USD)
NZD 3 for your kids to spend all day at the swimming pool (approx 2 USD)
NZD 12 per person at the bowling alley. Taranaki prices. (Approx 8 USD)
NZD 100 per person for top seats at a live theatre performance (approx 68 USD)
One Last One For Pinterest! ⇓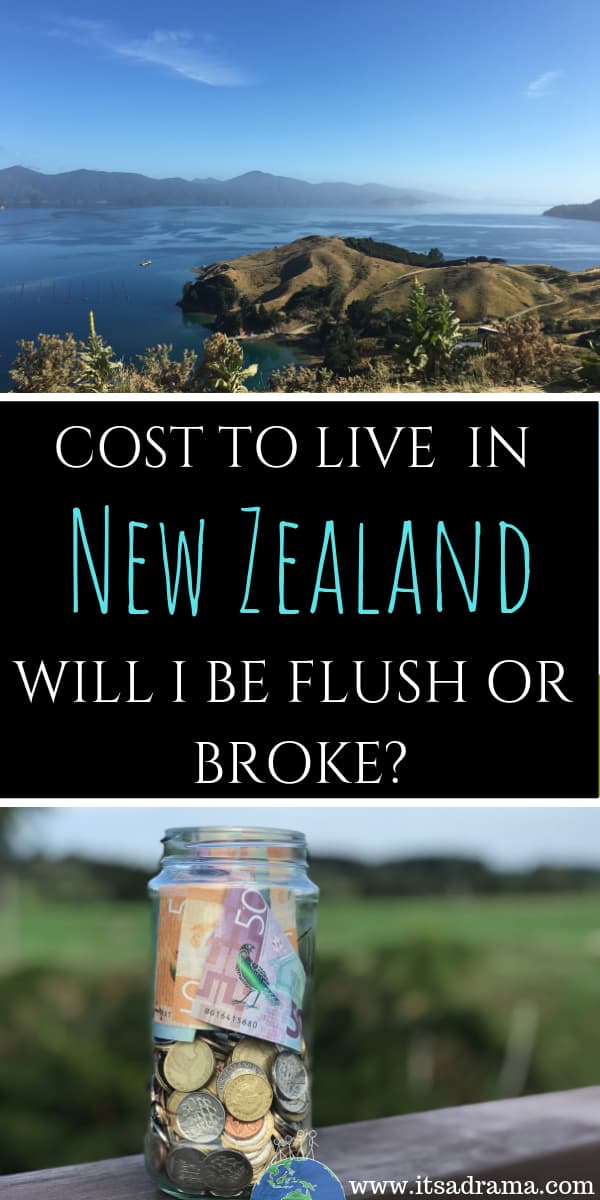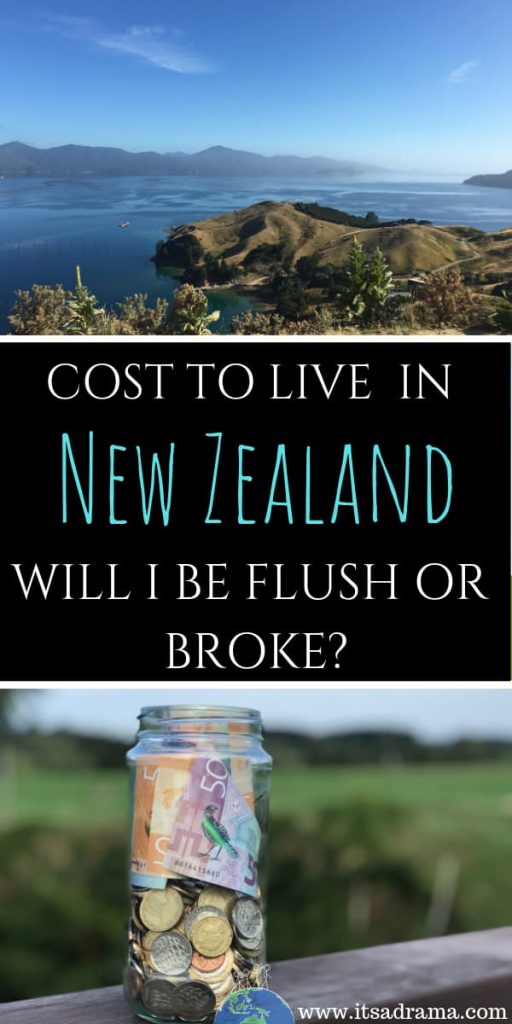 Related Posts That You Will Enjoy
Christmas in New Zealand. What it's REALLY like (a PODCAST)
The difference between Christmas in New Zealand and a cold country
Emigrating to New Zealand. Will you really be living the dream?
Things to know about New Zealand in advance (so you don't look like a muppet)
Kiwi slang. Learn these 40 words so that you don't get accused of being a muppet
Cost to Live In New Zealand Summed Up
There you have it then!
The real cost to live in New Zealand. I hope you have enjoyed the post and are now a little clearer on what you can expect to pay for things. Do you live in New Zealand or are you hoping to visit? Let me know in the comments below and PLEASE! Don't forget to share this post!