I have been living in New Zealand with my family for the past ten years, and only now am I finally learning what life in New Zealand is really like.
The New Zealand slang, the customs, cost of living, the fact that you don't moan about the weather and last but not least not turning your nose up to theNew Zealand food.
I know. What can I say? I'm slow. And a Brit.
This post may contain affiliate links. They cost you nothing but we make a small commission. If you would like me to explain it further, please visit our disclaimer page.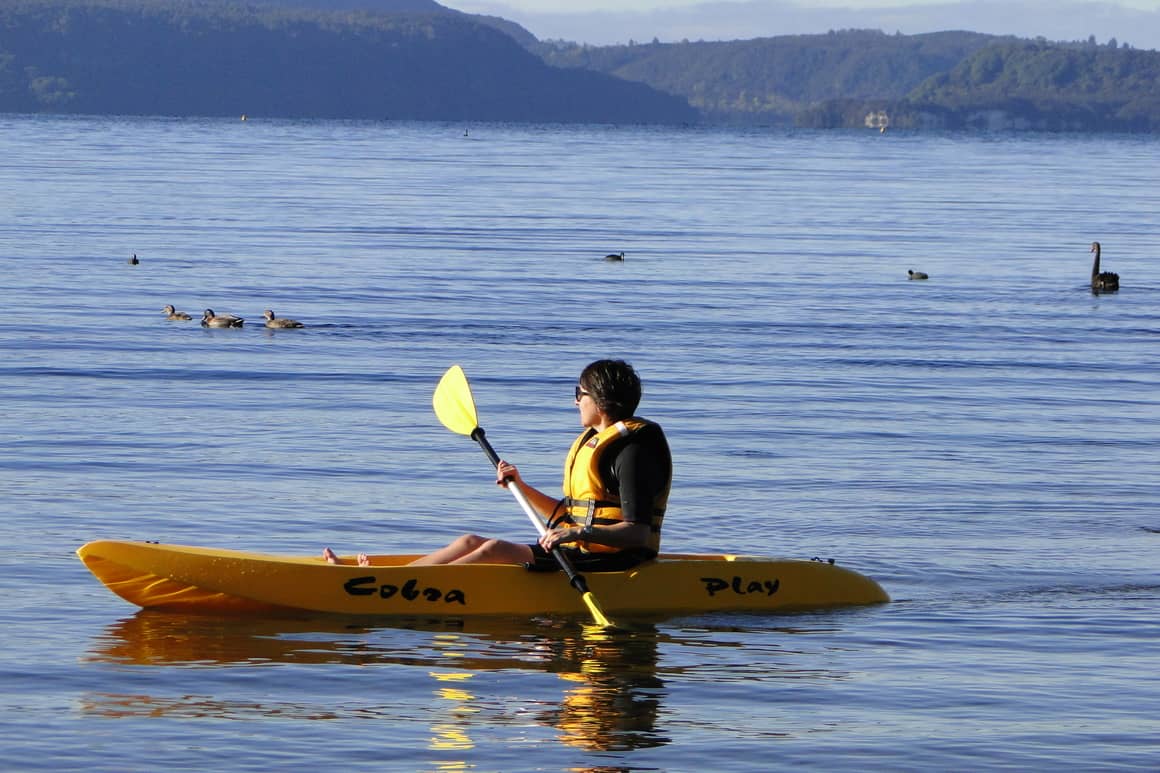 Do You LOVE New Zealand? Sign up below and I will send you my FREE Moving to and Living in New Zealand Guide. A 5 Part Video Series!
New Zealand. A Few Facts To Know Before You Live Here
New Zealand, can be found hiding in the southwestern Pacific Ocean. Keeping itself out of trouble.
It is made up of two islands – The North and South both of which have a combined population of 4.8 million people and approximately 29 million sheep.
Approximately 11 hours by plane from southeast Asia, 12 hours from North and South America and 24 hours from Europe, New Zealand is a bloody long way from anywhere.
(Except for Australia and even they are 2,500 miles away and pretend not to like us).
Raising my kids in New Zealand was the best decision we ever made. It really was.
Yes, like every country New Zealand it has its pros and cons, but on the whole, I think you'll find it divine.
(After you have learned a few dos and don'ts and have prepared yourself for the things that you'll miss if you ever make the move to New Zealand ).


Why Not Listen To Our Podcast on Living in New Zealand While You Read!
Living in New Zealand. 21 Ways To Avoid Looking Like a Muppet).
It's easy to think that because New Zealand is an English speaking country (hmm… a little more on the New Zealand slang words later in the post) you will simply turn up and carry on like normal.
Wrong.
There are certain things you need to know about life in New Zealand. Here's a few of them:
When in New Zealand…
1. Don't Worry
Kiwi's don't say 'no worries' in almost every sentence for nothing. If you have a problem in New Zealand someone will help you, just ask. Kiwi's (as they like to be known) are the friendliest bunch of people you will ever come across.
If you really can't find anybody to help you, send me a message, I'll be there as quickly as I can.
2. Don't forget your sunscreen
I'm no scientist so forgive my pigeon explanations, but apparently, there are a few reasons for this scorching of the skin. The ozone layer is thinner in New Zealand so it lets more of the burning UV rays through.
The position of the Earth in relation to the sun; countries in the southern hemisphere move closer to the sun than those in the Northern hemisphere.
Pollution is lower in the Southern Hemisphere again, unable to act as a blocker to some of those burning UV rays.
Anyway, just don't forget your sunscreen.
3. If you are from Britain, don't be offended if you get called Pom
I emigrated with my family to New Zealand from Britain ten years ago, and I'll admit when I first heard this term I was slightly taken aback. But rest assured, it's not meant as an insult. The kiwis have lots of affectionate slang words that they use. New Zealander's are known as kiwi's, Brits are known as poms. Simple.
4. Don't fret if you forget your shoes
You will not be given a second glance if you walk anywhere in New Zealand in bare feet. Don't ask me how they do it. Ten years on and I'm still unable to walk on gravel without crying.
Related Posts That You Will Enjoy!
Moving to New Zealand. What You'll Miss (especially if you're from the US)
On a budget in New Zealand? Two hot pools. One very cheap and the other FREE!
Taranaki, New Zealand. The second best region in the world to live
Christmas on the beach in NZ or in the snow in America?
Snobby Britain. The real reason we emigrated to New Zealand
a
5. Don't say you can't tell the difference between a New Zealand accent and an Australian one
6. Don't ask for a latte coffee ask for a flat white
New Zealand claims to have invented this milky coffee drink. It's like a latte but smaller and with a higher proportion of espresso coffee to milk and it is loovverrly.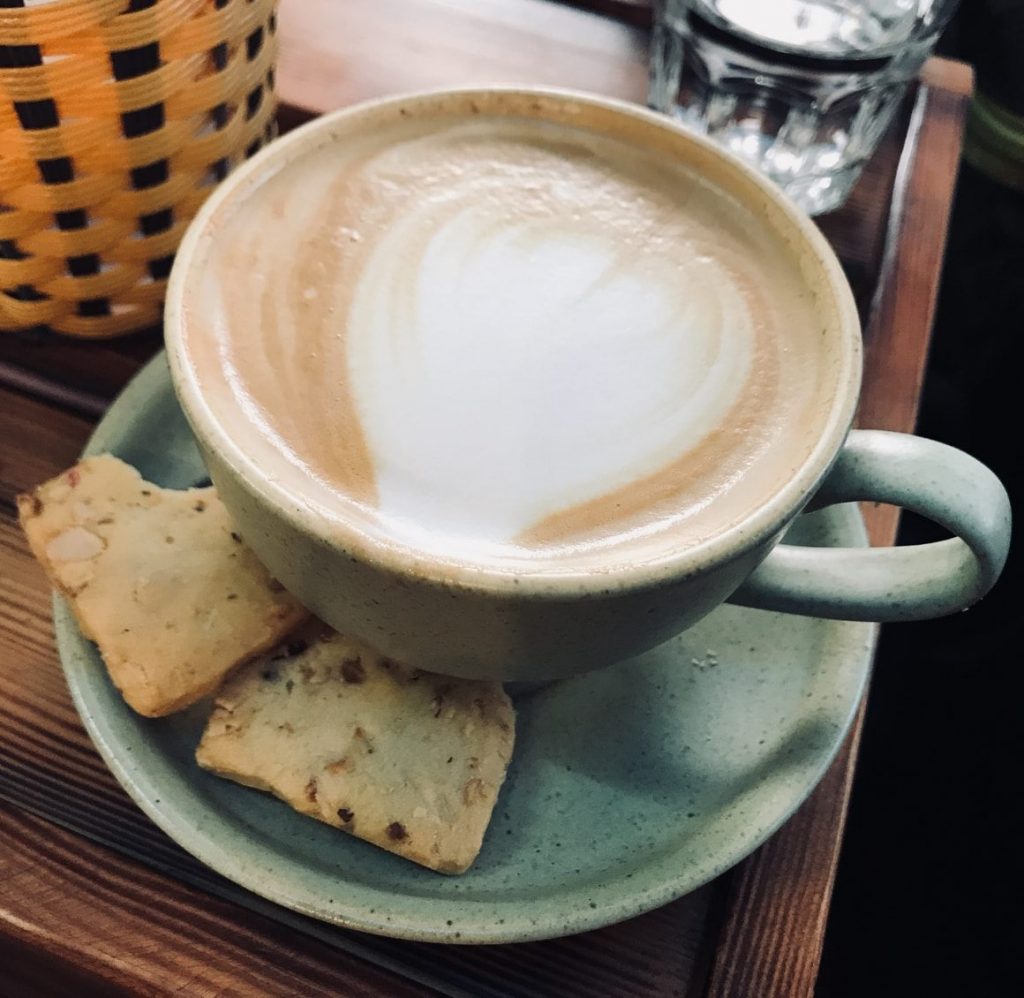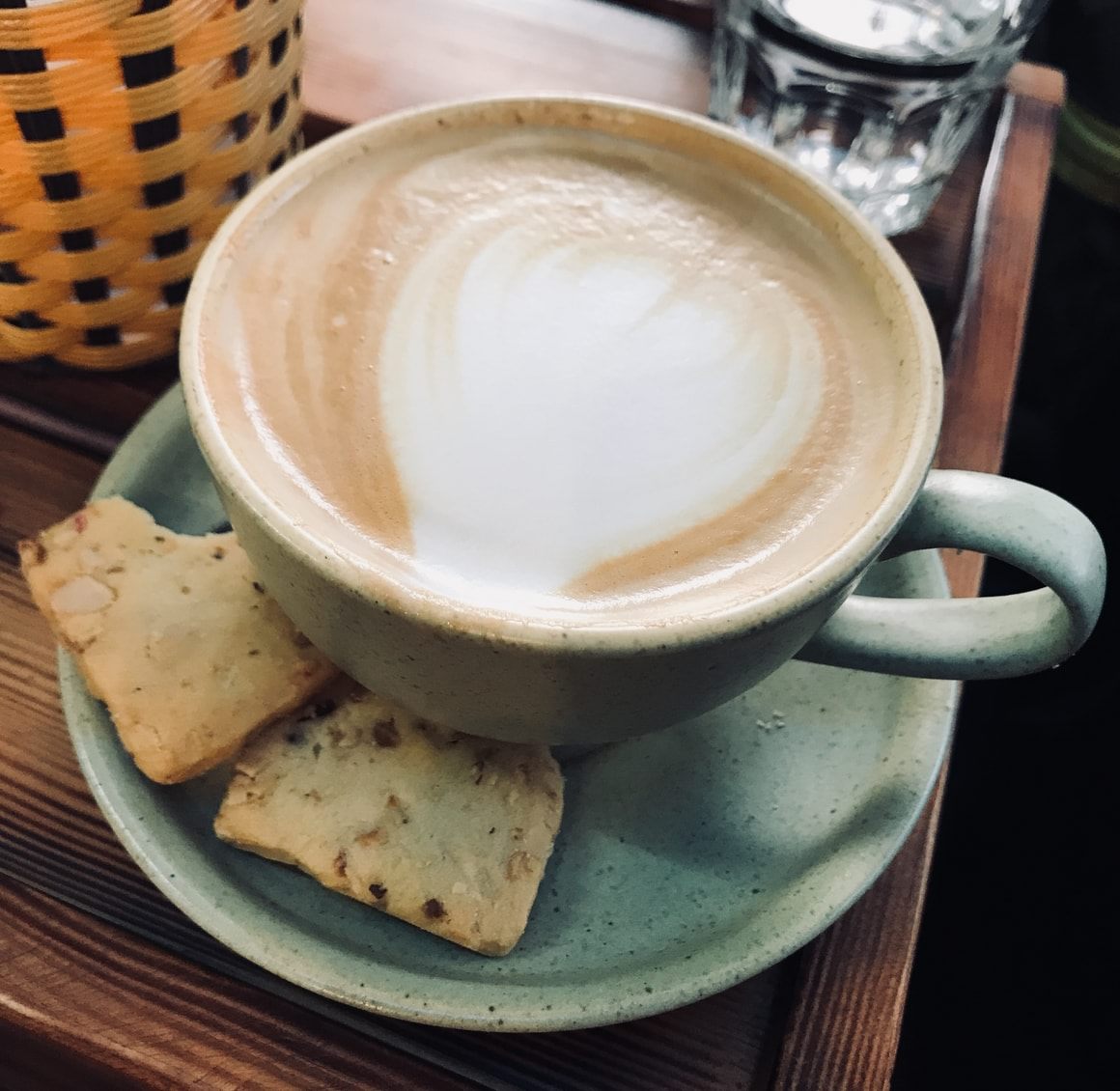 7. Don't ignore the local lingo in New Zealand (here is a speed lesson to help you out)
The New Zealand slang takes a little getting used to but don't worry, you'll crack it soon enough! Until then, know that you don't say…
8. Don't say hiking; it's tramping
And you will do a lot of it in New Zealand.
9. Don't say the forest; it's the bush
And there are no bears or snakes so it's nice and safe and in some bush, you get to sit in beautiful hot springs like these ones below ⇓
10. Don't say vest; it's a singlet
Don't forget your sunscreen.
11. Don't say Wellies; say Gumboots
And apparently, they look better when worn with shorts.
12. Don't say Flipflops; say Jandals
Don't wear them while driving. They can cause accidents. Best to go bare feet so you can feel the pedals, oh no… wait. That's illegal in New Zealand.
Ok then, just wear your gumboots.
13. Don't say, sweets; say lollies
I always thought that a lolly was a lollypop but no, in New Zealand, the name lollies is applied to all sugary treats wrapped in cellophane.
14. Don't say fries; say hot chips.
You'll pay around $2 for a scoop.
Do You LOVE New Zealand? Sign up below and I will send you my FREE Moving to and Living in New Zealand Guide. A 5 Part Video Series!


15. Don't say crisps; say chips. (confusing for the British)
But you can't get a good cheese and onion flavour; so I'm always sad.
16. Don't say corner shop; say the Dairy.
Don't mistake this for a shop full of cows and milking maids on stools. The dairy is a normal convenience store that sells groceries and plastic frisbees.
Enjoying this post? Save it to Pinterest ⇓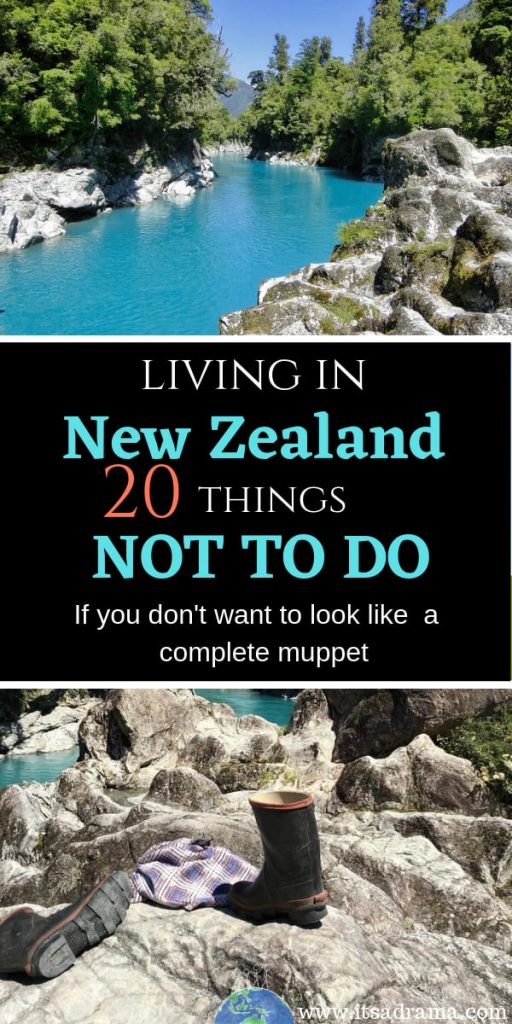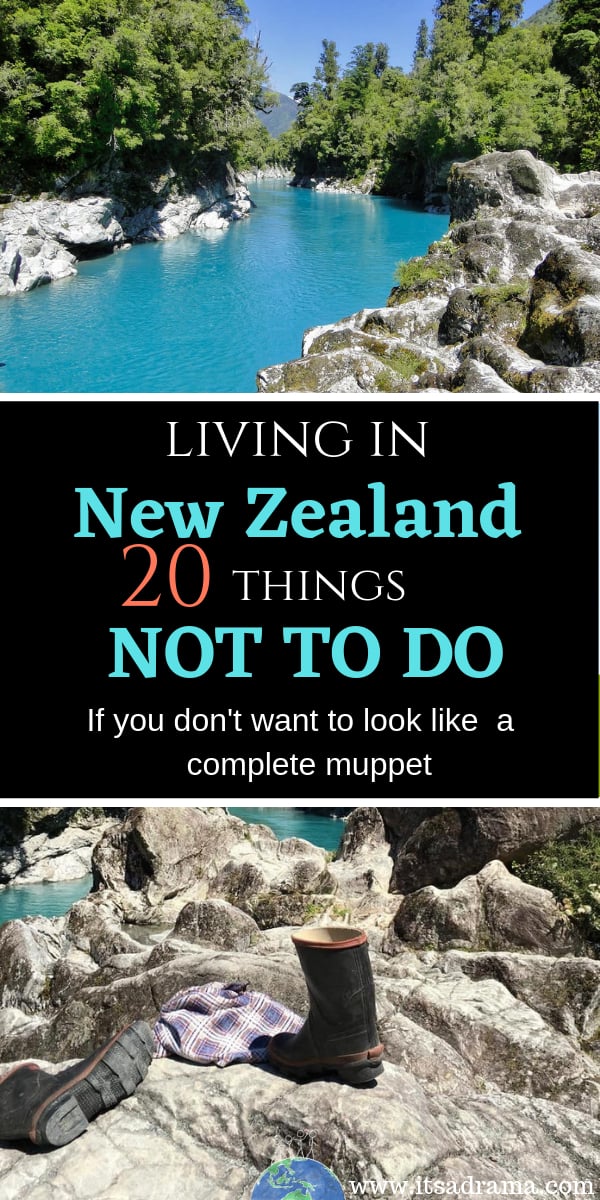 17. Don't make sheep jokes
They're a bit old and not funny. Just saying.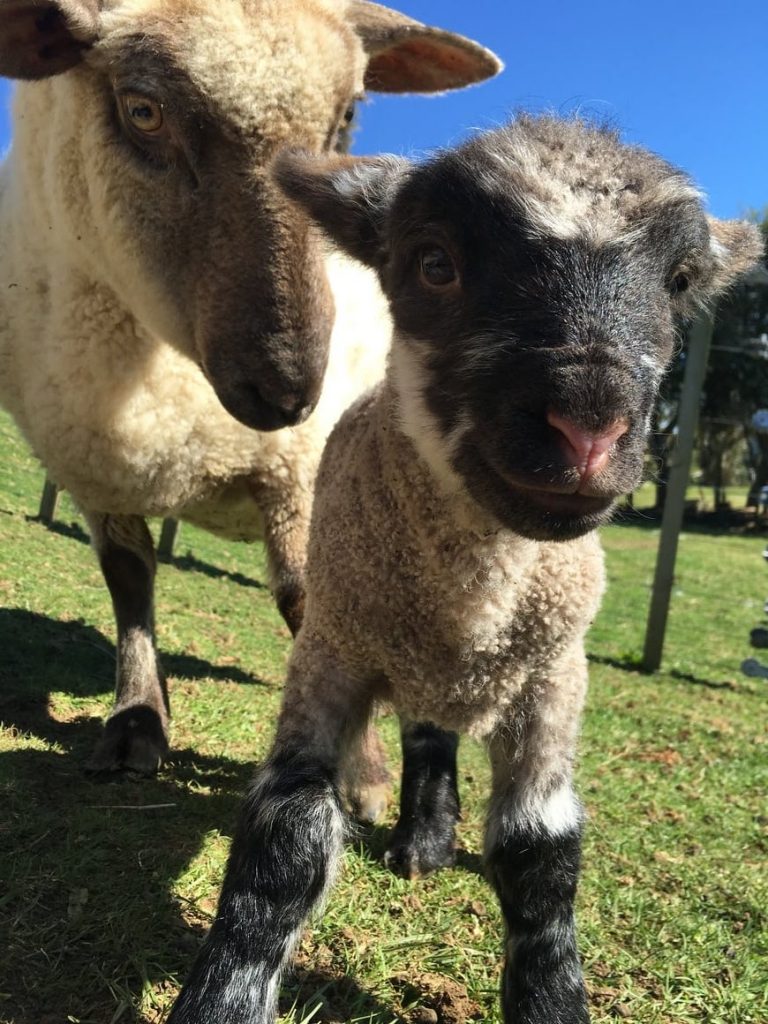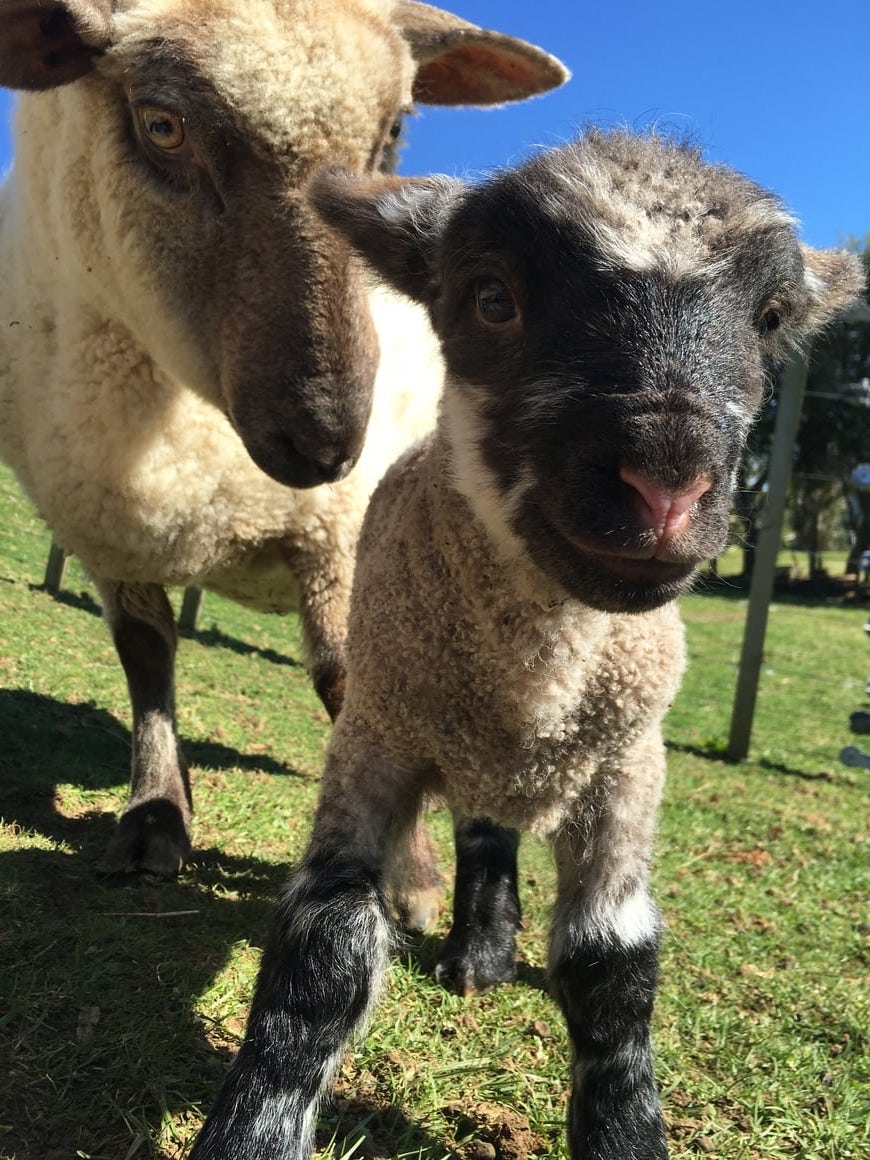 18. Don't ask for salt and vinegar on your fish and chips
Well, you can ask for salt but don't bother asking for vinegar – you won't get it. And the server will look at you gone out. Which is very confusing seeing as it was the British who brought the fish 'n' chip idea over to New Zealand in the first place. You'd have thought they'd have remembered the Sarsons. Not so.
Also, if you are not keen on chicken salt (I know, don't ask) let the server know. Sometimes they will put it on without asking. Lots of it. New Zealand food takes a bit of getting used to and chicken salt is up there on the weird list.
Want to see more of Taranaki, New Zealand? Check out our video!
19. Don't forget that in New Zealand we drive on the left
New Zealander's are the most placid race on earth but once they get behind the wheel and they let rip. You won't find the same courtesy as you would in America or the UK for example.
Don't expect that because you are standing at a zebra crossing the drivers will stop for you. They won't. Not unless they have run out of petrol.
20. Don't ignore the possibility of Housesitting!
Depending on what time of year you visit New Zealand, accommodation can be pricey (or buy. or both).
If you are on a budget and coming to New Zealand then do NOT overlook the possibility of Housesitting!
I can not speak highly enough about Housesitting. It is the best thing in the world if you want to travel more, experience lots and spend less (and New Zealand always has loads of housesitting opportunities!)
The initial 'looking part' is free. You can oggle all of the beautiful houses around New Zealand that are waiting for YOU to look after them. Take a sneak peek here! (As I say, looking is completely free, so gander to your heart's content).
Then, if you are serious about using Housesitting as a tool to travel the world for free (as we do), you can use my exclusive discount code to save yourself 20% by Clicking here.
It costs a small fee to sign up for a year and twice a day you will be sent a list of available places around the world including New Zealand.
I have enclosed a screenshot that I received this morning and you can click here to see all the current house sits in New Zealand.
21. And finally…Don't forget to enjoy yourself!
New Zealand is a long way from the rest of the world, so make sure that when you get here you enjoy it!
So if you are thinking of living in New Zealand, or if you were wondering what life in this little country is like, then hopefully you are a bit wiser. Come to New Zealand, you will absolutely love it – I loved it so much, I never left! Remember, if you liked this post, PLEASE share it with your friends – they like quality content!
Next, you could read…
Raising a family in New Zealand. Is it as boring as some people say?
Cost to live in New Zealand. Just how far will your $$$ stretch?
Do You LOVE New Zealand? Sign up below and I will send you my FREE Moving to and Living in New Zealand Guide. A 5 Part Video Series!