We have just spent 6 weeks backpacking through Vietnam as a family and we absolutely loved it. We flew into Hanoi, took the bus to Mai Chai and then took a sleeper train from Hanoi to Phong Nha.
This post may contain affiliate links. They cost you nothing but we make a small commission.
I am so glad that we made the effort and spent a few days in the rustic village of Mai Chau, it was beautiful. Yes, they had the Karaoke championships going on in the next field next to us, but we stayed up late drinking beer and playing cards.
We figured if you can't beat them, join them.
Visiting Mai Chau in Vietnam. Karaoke and all.
Why everyone should sleep in a stilt house in Vietnam.
For Pinterest.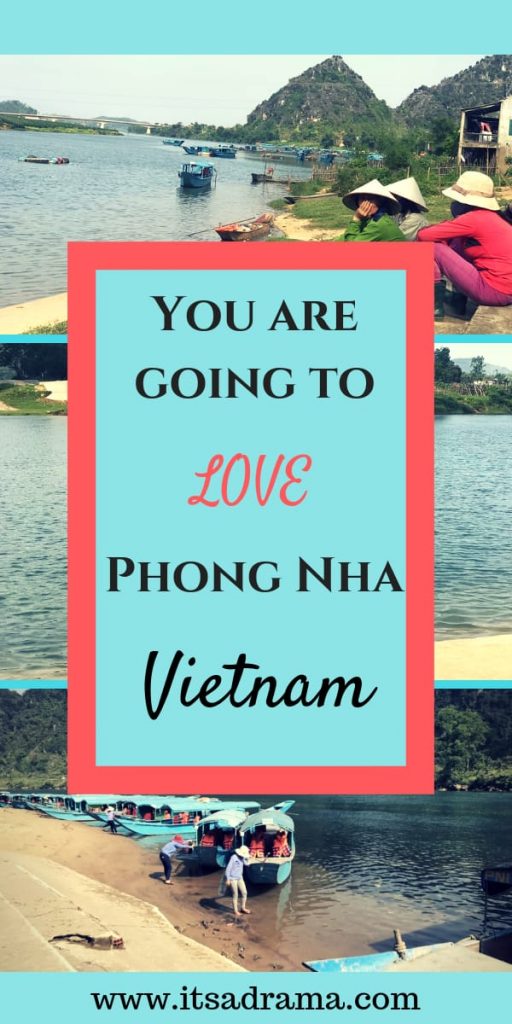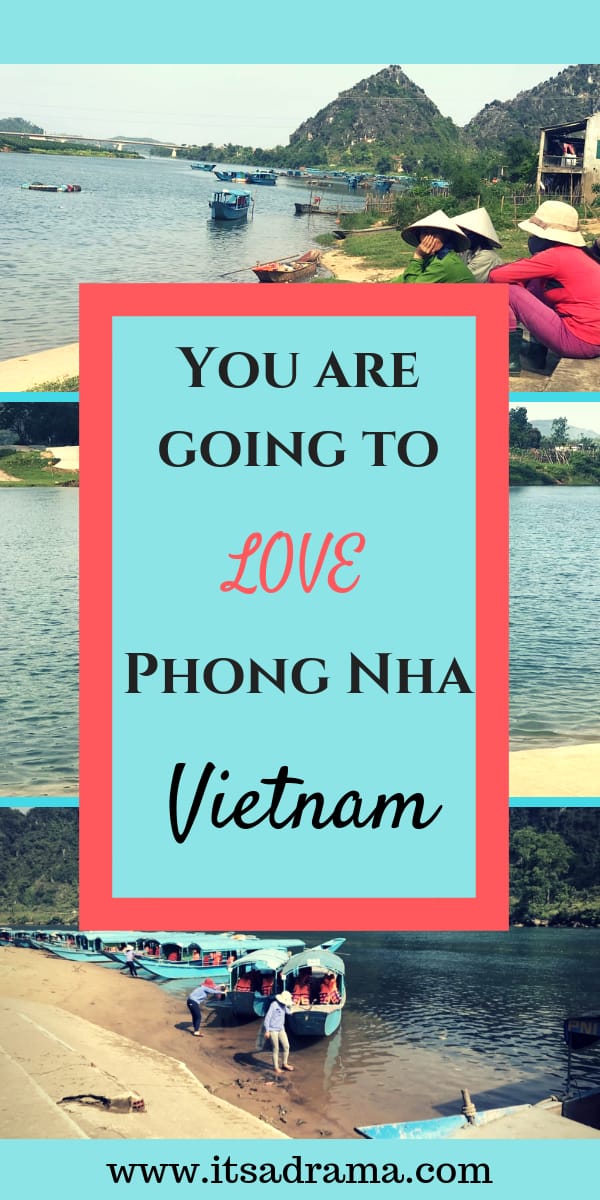 Phong Nha in Vietnam
Phong Nha is one of those places in Vietnam that is slightly out of the way but is very much worth the effort.
If you are traveling in Vietnam with kids know that they love Phong Nha. There is loads to do and they will thank you forever if you take them to the fabulous dark caves and let them ride the amazing zip wires.
More on that later.
You are probably going to Phong Nha for the same reasons as we did. To experience a beautiful and not so touristy part of Vietnam and to explore the famous Dark Caves. Let me tell you the trip is absolutely worth it. In my opinion, Phong Nah is one of the worlds underrated destinations.
Maybe I shouldn't say that too loudly or else everyone will go and then it won't be the same.
So I'll just tell you. Keep it to yourself, ok?
I am going to walk you through the process of getting to Phong Nha from Hanoi. It's a subject that remains a little grey on the internet so I hope it helps.
Getting from Hanoi to Phong Nha.
You have a couple of options here. Depending on two things. Time and budget. We had a lot of the first and very little of the second but you may be different. Here are your choices.
Take a Tour
I have chosen to show you this particular tour from Hanoi to Phong Nha as I think for what you get it is fabulous value.
This two-day tour includes taking a sleeper bus from Hanoi (more on that later in the post), a nights accommodation in Phong Nha and entry to the Dark Caves. You also get lunch and a tour guide. Pretty good value for those who can't be bothered with the hassle of planning a trip and have two days to spare. Check prices below.
Fly
Price p/p: Excluding taxi to and from the airport 3107.VND ($135)
1h 30m
You can fly from Hanoi to Dong Hoi and then get a taxi (or if you stay at a homestay they sometimes provide a free airport shuttle). Flight are once a day. Check the cheapest day to fly using Skyscanner.
Sleeper Train
Price p/p: approx 975 VNB ($43)
9h 40m
This was our choice. We chose to take the sleeper train so that we could save on a nights accommodation. Every penny counts and all that.
We had our own private compartment and it was super comfortable. Yes, my daughter complained that it was too noisy and hot but I ignored her, after a year on the road I have come to learn that she would have a bad nights sleep if she was on the princess and the peas mattress in the Ritz. She's 14. Need I say more?
The toilets were clean and so was the bedding that was provided. I love taking sleeper trains and this train was no exception.
You can check the timetable and book your train tickets from Hanoi to Dong Hoi here using 12GoAsia.
Bus
Price p/p: Approx 468 VND ($22)
10h 30m
There are several buses, both sleeper buses and day buses.
The bus takes you directly from Hanoi to Phong Nha so that you don't have to take an extra taxi or bus from Dong Hoi. This means that this option works out to be the cheapest and easiest. It wasn't a choice for us. I had a bad sleeper bus experience in India. I didn't want to take the risk.
If you would like to take the bus direct to Phong Nha from Hanoi then check out the schedule and fares here.
How to Get From Dong Hoi to Phong Nha.
Now, this is where you will get everyone telling you that this is either hard or very expensive. You will find that people love to give you crap travel tips when you are travelling. It's usually because they have never done what you are about to do. Ignore them. Take it from me, getting from Dong Hoi to Phong Nha is neither hard nor expensive.
It is easy and cheap.
Here's what to do.
Get off the train in Dong Nha. It will be early morning if you have taken the sleeper train. Enjoy the early morning atmosphere of this Vietnamese town waking up and getting started.
You will be told by taxi drivers at the station that you either need to get a ride to the bus station or take a taxi to Phog Nha. We didn't do either. It's up to you. But know that it's only a five-minute walk to the bus station and taking a bus to Phong Nha is a lot cheaper than taking a taxi. There are no Ubers in Dong Hoi.
You will walk through a fabulous little market selling food, fruit and tea. Enjoy the friendliness of these local Vietnamese people who don't see tourists very often.
Go to the window at the bus station and ask for the price of a ticket to Phong Nha. It gets a bit weird here – I suspect it is one of Vietnam's cheeky scams that they like to try to on tourists. You can't buy a ticket from the bus station, you buy it on the bus once you get on. BUT. If you know the official price beforehand then you will know not to pay more once on the bus. Are you with me? Good.
Over the road (and down a bit) from the bus station is the BEST little bakery serving the most delicious (and cheap) Banh Mi ever. Don't miss it. It makes a perfect breakfast after a long train journey.
The bus number you want is B4. These local buses run at 05.20, 06.00, 07.10, 08.00 and then every hour (no bus at 12 though) until 17.00. These buses don't leave from inside the bus station (far too easy) no, they pick you up outside. Ours actually picked us up outside the cafe we were sitting at. When you see the bus (B4) flag it down and it will stop. Hop on and pay. Easy peasy. Don't worry, when the driver sees a tourist they automatically stop the bus so there is no chance of you missing it.
Where To Stay In Phong Nha.
You will not have a problem finding somewhere to stay in Phong Nha if anything it will be the opposite. Everyone is touting for your business. Because we wanted a big room and are travelling as a family we decided to book a homestay.
If I'm honest with you, I worried that the centre of Phong Nha might be a bit party central for us. But after spending a few evenings in restaurants on the main strip, my fears were proved unjustified. Everyone is very laid back and fairly low key.
We stayed at Tuan Garden House and it was wonderful. Just what we needed to relax. I won't do a full blow review of the place here but let me say that I can't recommend it enough if you are looking for a peaceful place in paradise. Check out the prices here.
What is There To Do In Phong Nha?
Where do I start? Phong Nha is an outdoor lovers paradise. For those on a budget like us, here are a few things that you will enjoy doing in Phong Nha without breaking the bank.
Grab a pedal bike and cycle around the many scenic roads. I recommend the 30-minute cycle to the pub with the cold beer the best sunset bar in Phong Nha.
Visit the botanical gardens.
Relax with a coffee (my choice – always) by the river and watch the fishing boats.
Hire a moped and explore the beautiful countryside.
Eat fabulous food at one of the many restaurants in Phong Nha. (So cheap too!)
Visiting The Dark Caves In Phong Nha.
I couldn't leave without telling you about our experience of the Dark Caves. There are lots of places in the centre of Phong Nah that will sell you a tour. Or, if you are on a budget, you can do as we did and arrange it yourself. Simply pay the public price at the door. Make sure you take the full access tour, otherwise you will miss the experience of the caves. Check your currency conversion here.
How To Get To The Dark Caves From Phong Nha.
We hired a moped from our homestay and drove out to the Dark Caves. The caves are approx a twenty-minute ride from the centre of Phong Nha. Use google maps or ask someone for directions. There aren't that many roads in Phong Nha, you can't get lost.
When we got there we were told that we would be put with a group of other people and were to wait for 30 minutes.
I'll be honest with you here. Initially, I agreed to a trip to the dark caves to keep my husband and teenagers happy.
Stripping down to my swimsuit and hanging with a load of beautiful young girls leaves me feeling rather clammy. I wrote an entry in my personal diary about the whole stripping off ordeal here.
But actually, I loved it. It was incredible fun.
There is are lots of three different zip wires for all levels.
The water is warm and you have a life jacket.
There are warm showers and changing rooms.
You get to go in a kayak and paddle to the cave mouth opening.
There are lots of opportunities for jumping into the water. If, like my kids, you find that kind of thing great fun.
The caves are AMAZING. Truly, incredible. They are dark. Very dark. In fact I have NEVER in my life been in such a dark place. (Apart from when I failed my A-levels and had to tell my dad.)
You can bathe and float in the mud. And the beauty of it is, it's said to be excellent for the skin. Yay!
A little video that my lovely teenage son made of me tackling the zip wire at the Dark Caves!
An honest travel blog about a woman and what it really looks like to travel the world with two teenagers and no wine.
You will really, really love the dark caves in Phong Nha. Do not miss them under any circumstance or you'll have me to answer to.
Related Posts That you will Enjoy
Travel checklist. 38 Things that you need to do before you board the plane.
7 Sneaky Vietnamese scams you need to watch out for
8 Travel tips you can safely ignore. 'Cause they're crap.
How people on a regular wage afford to travel the world
Traveling with kids. Tips to keep you sane before wine o clock.
And that's about it.
Going from Hanoi to Phong Nha and what to expect once you get there. I hope you found this post helpful. If you are on your way to Phong Nha, drop me a comment below and let me know how you enjoyed it. Until then, happy travels!