With the way things are in the world (at the moment) if you asked most people when was the best time to visit New Zealand they would say right now.
As I write this in November 2021, the borders to New Zealand remain closed.
But.
Although things are looking a little rough around the edges and rather doom and gloomy when it comes to travel, it won't always be this way.
So we need to get you prepared.
This post may contain affiliate links. They cost you nothing but we make a small commission. If you would like me to explain it further, please visit our disclaimer page.
The Best Time To Visit New Zealand
The last thing you want when you finally get to book that trip of a lifetime to New Zealand (or perhaps you are thinking of making a move to New Zealand) is to arrive and find out that the kids are off school and every hotel is fully booked.
But that's not going to happen because I am here to share with you which month is the best time to visit New Zealand.
(I'll give you a clue… New Zealand is the perfect place to visit at ANY time of the year!)
My family and I have been living in New Zealand for the past eleven years.
In 2009 we made the move to New Zealand from the UK and have been exploring this beautiful country ever since.
Why Visit New Zealand? (And When Is the Best Time To Go?)
New Zealand is one of the most unique travel destinations in the world. It is also (in my opinion) one of the best places to raise your kids.
Not only does this country of almost five million habitants and twenty-seven million sheep, gorgeous scenery, a fabulous climate and coffee to die for; it gives you a certain 'feeling'.
(A bit woo I know but stay with me here).
The feeling in New Zealand is that of openness. Of space and freedom.
The minute you step foot onto New Zealand soil you will feel welcomed. You will feel it.
Plus, we have little hobbits and houses made of moss.
And yes, while it's true, that the use of New Zealand slang words are sometimes hard to get your head around, and the New Zealand food is a bit weird; the people are friendly, down to earth and lovely.
And that's important.
New Zealand living is not perfect but it comes pretty close.
New Zealand is a relatively safe country, and, due to its diversity, is an all-year-round destination with each month bringing something special (and exciting) for those who make the trip down here.
Visiting New Zealand in the Summer Months (Dec/Jan/Feb)
Q: Which airline offers the best deals to and around New Zealand?
A: We always use kiwi.com. The website is very clear and easy to use and the customer service is fab.
January
January is a wonderful month to visit New Zealand, but do bear in mind that it is the busiest of all months too due to it being the school summer holidays; meaning that prices for accommodation are at their highest.
January is the height of summer in New Zealand which means there are lots of outdoor celebrations around the country making it one of the best times to visit New Zealand if you have a family.
I have to give a shout out to the BEST festival of all time – The Festival Of Lights held at the park in New Plymouth, Taranaki.
If you can get to the region of Taranaki (which I highly recommend and not just because I live there!), do so. It is on the West Coast of the North Island and is stunning. (It was also voted the second-best place in the world to visit).
Throughout January, Taranaki hosts a month-long affair when the park in New Plymouth is adorned with fairy lights and filled with lots of outdoor concerts and open-air cinema screenings.
The best part of all is that it is absolutely FREE! Yay!
While the cost to live in New Zealand may be slightly higher than other parts of the world, you will always find plenty of free things to do.
(Check out this video of the hot pools we visit in Taupo, New Zealand – Completely free and stunning!)
The school kids are on holiday for the entire month of January and around the country families are seeking out the best spots on the campsites.
Either that or they're dragging their trailers behind them to the nearest bach (another kiwi slang word for a holiday home by the beach!)
January sees lots of beach activity (obviously because of the school holidays).
It gets dark at about 9.15 pm in January in New Zealand

The temperature in January in New Zealand is approx 20 – 25 ºc
February (and some say the time of year to visit New Zealand)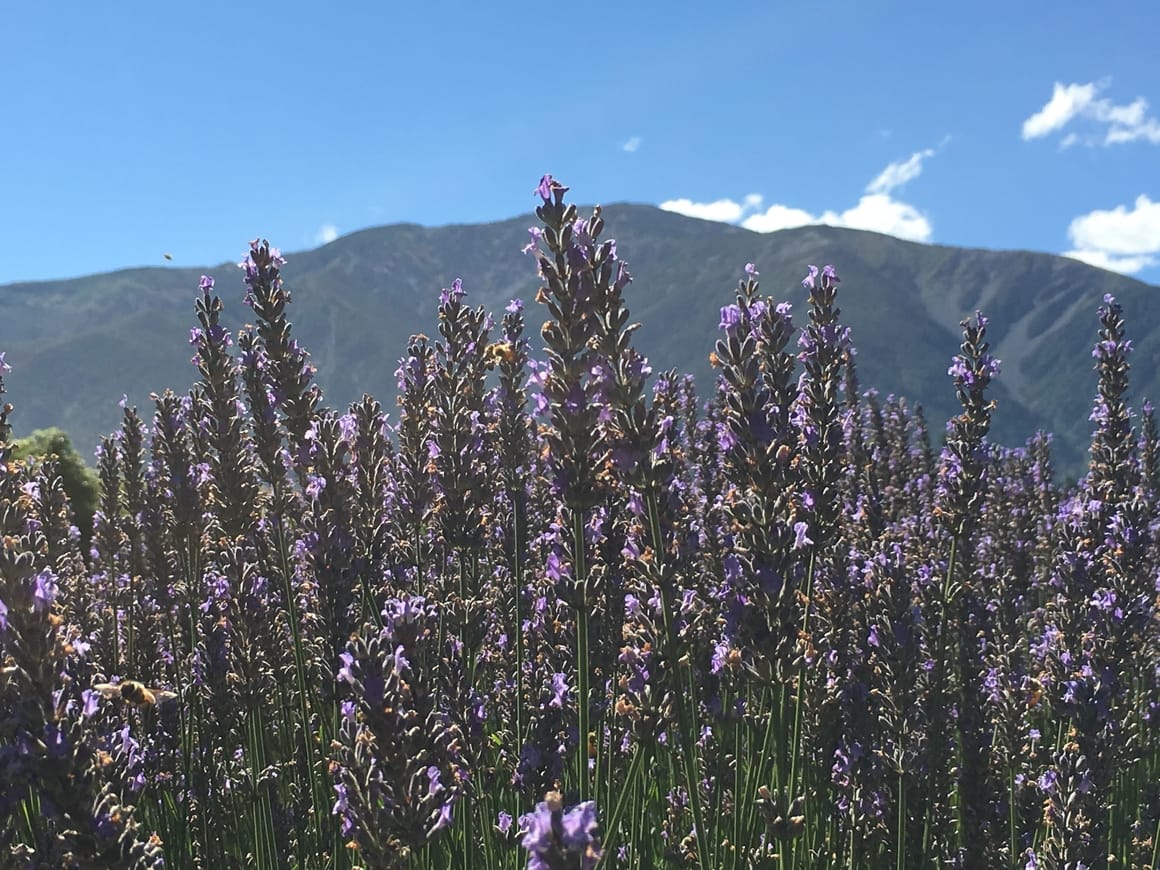 New Zealand in February is divine and is my favourite month to travel in New Zealand.
The kids are back at school, and the weather in February is balmy and calm with the sea is warm meaning that February is often said to be the best time of year to visit New Zealand.
February sees skies that are clear and nights that are starry and everyone is relaxed and happy in February in New Zealand! (could it be that we are all happy the kids have gone back to school?!)
Long warm day sees the kids running home from school and heading down to the beach or to the local river as quickly as possible to swim.
People are back at work, and so you will stand a far better chance of getting that sweet spot on the campsite.
The bach accommodation is still pricey as it's still summer, but availability is better.
It gets dark at around 9 pm in February

The average temp in Feb: 20 -25ºC
Visiting New Zealand in Autumn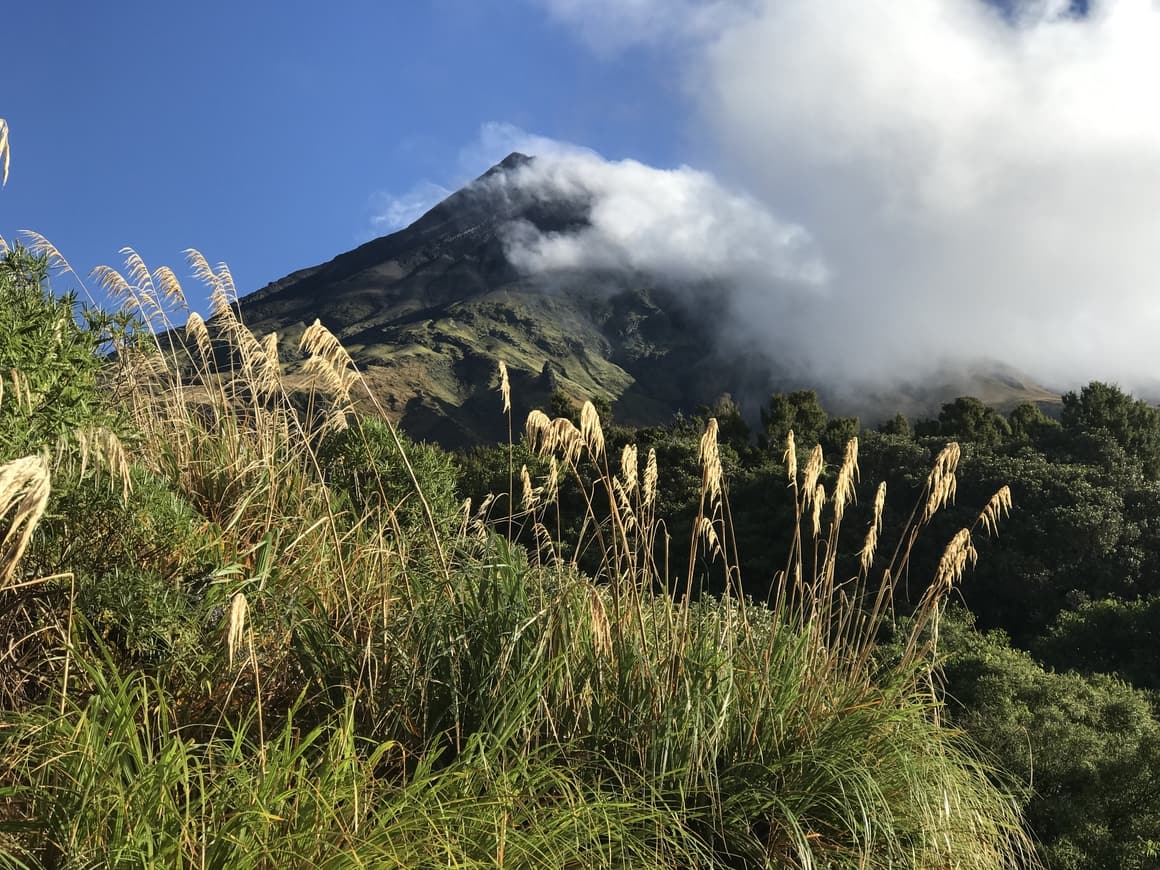 Q: Where is the best place to book accommodation in New Zealand?
A: You can try bookabach if you have a large group and are looking for something by the sea (although these can be quite pricy).
You can't go wrong with booking.com for hotels. We are also big fans of New Zealand Airbnb's, they are always excellent.
Click here to check out some lovely Airbnb accommodation options in New Zealand.
Do You LOVE New Zealand? Sign up below and I will send you my FREE Moving to and Living in New Zealand Guide. A 5 Part Video Series!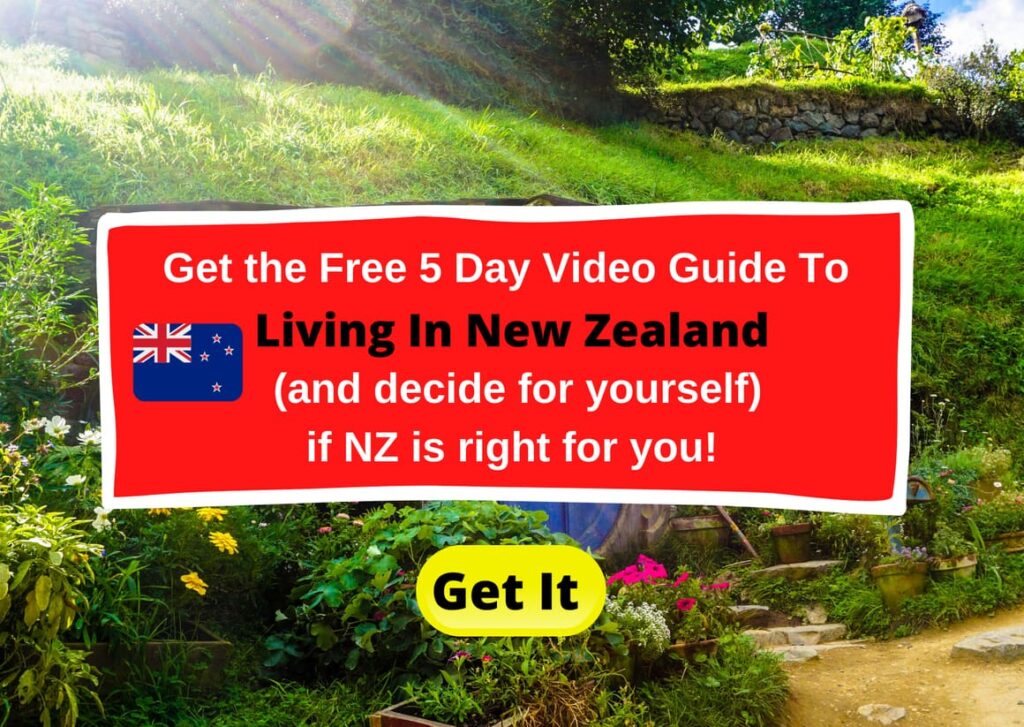 March in New Zealand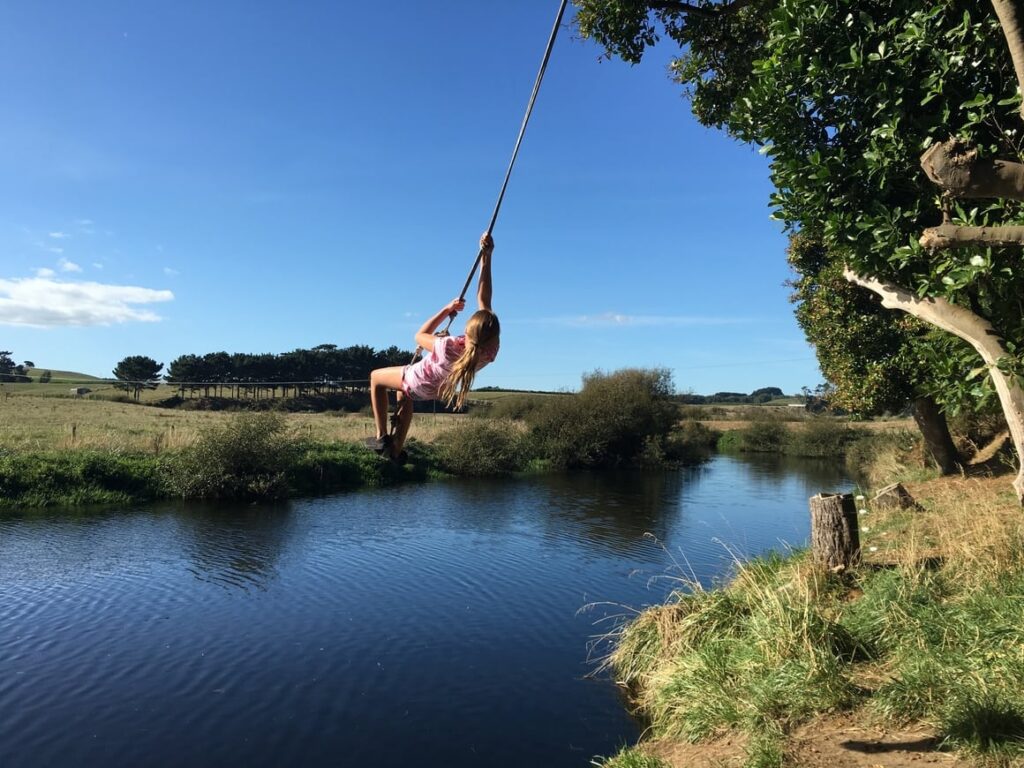 20th March 2020 is officially the start of autumn in New Zealand and although the days are still very warm and calm, the nights are getting cooler. I
f you sit outside in the evening, you will need a fleece.
Although there is still plenty of sunshine around, in some regions you will notice that the kiwis start mentioning the end of summer and start preparing for the colder months.
WOMAD festival is held in March in Taranaki, bringing hoards of world music lovers to the region.
Prices will now drop on accommodations, and you will certainly get that spot on the campsite.
March is the best month to visit New Zealand if you desire for no crowds but guaranteed weather.
It gets dark at around 8.10 pm in March

The average temperatures in March are around 17 – 21º C
Check out the video of what kids to do in the autumn in New Zealand!
April in New Zealand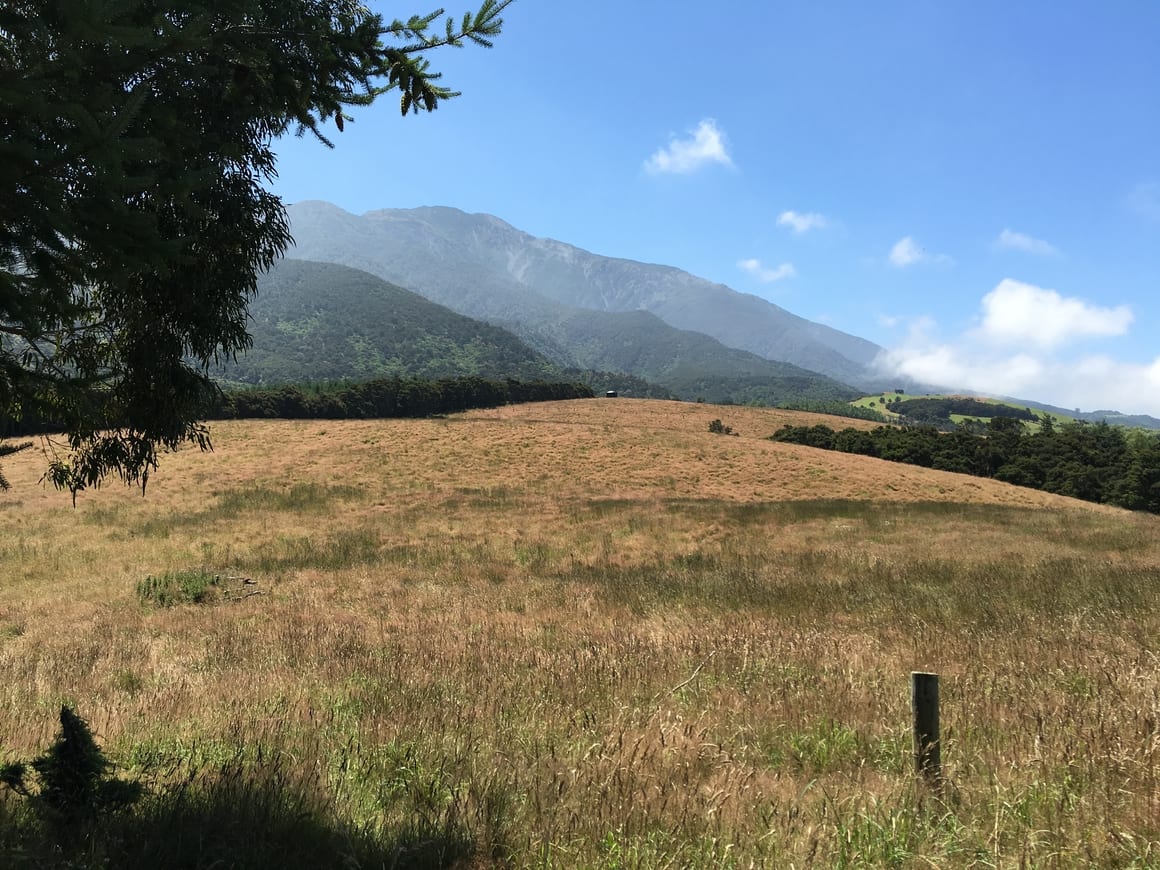 April is the perfect month to visit New Zealand if you are into hiking.
The trails are quiet, and while the days are sunny, you will be kept at just the right temperature if you wear a few thin layers.
Like March, April can have lots of sunny, warm days, but it tends to be chilly at night.
Try and get down to Arrowtown in the South Island to experience the beautiful autumn colours. While you are there be sure to visit Wanaka.
Lots of tours offer discount ticket prices at this time of year so keep your eye on last-minute deals.
Be aware that the schools break up for two weeks from the 10 April to 27 April so if you are booking accommodation check out the dates of their holidays to keep prices down.
Gets dark at around 6.00 pm
The average temperatures in April are 17 – 21ºC
May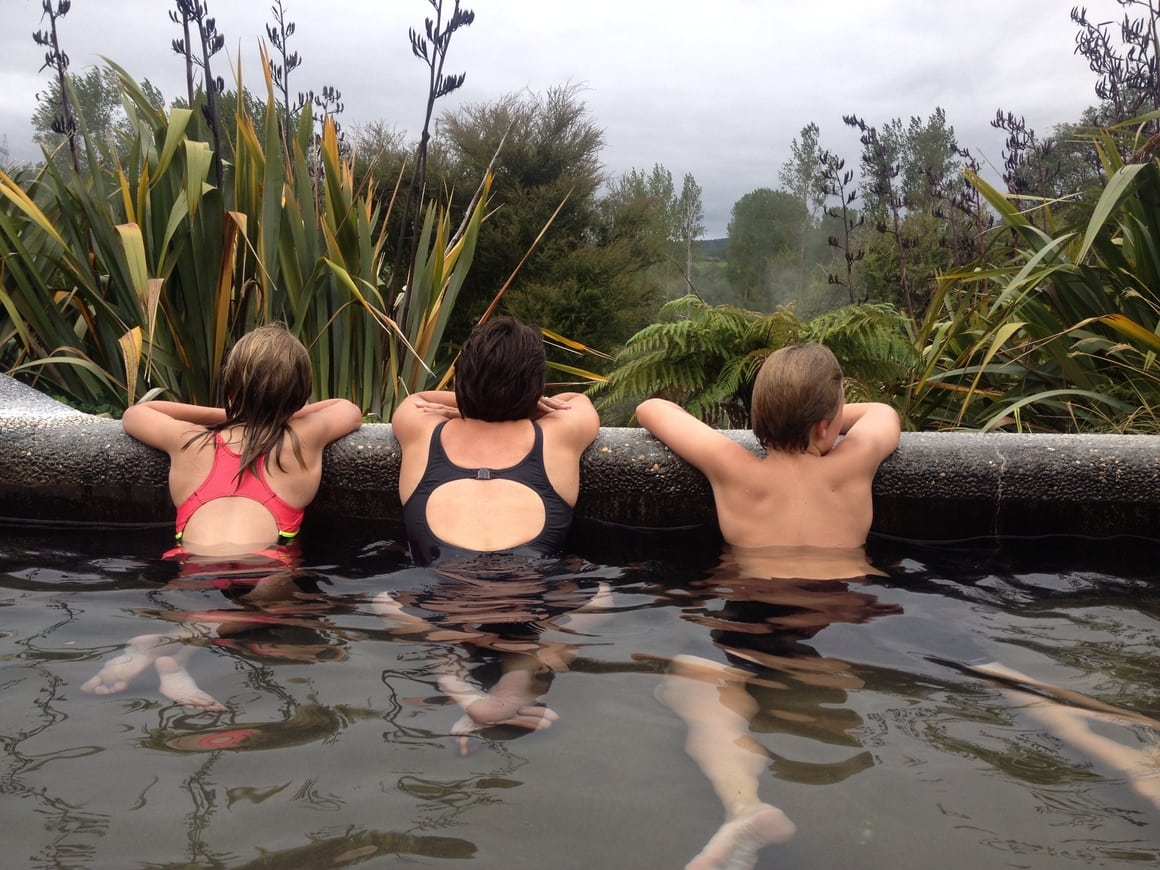 Officially the last month of autumn, May is a great time to visit New Zealand.
You will have almost everywhere to yourself, and you can still see some beautiful autumn colours in some parts of the country.
Do make sure you pack some warm clothes, although in saying that, remember, New Zealand is famous for four seasons in one day – you'll no doubt put your hat and gloves on in the morning, and will wish you were wearing a tee-shirt by lunchtime!
Always dress in layers in New Zealand.
I have lived here for ten years, and I'm still only getting the hang of the weather and the layer thing.
If you are into comedy, then you will love the New Zealand International Comedy Festival held in Auckland and Wellington.
If you are in the mountainous region of the South, then you may see some pretty snow.
Gets dark at around 5.40 pm
The average temperatures in May 17 – 21ºC
Visiting New Zealand in Winter – June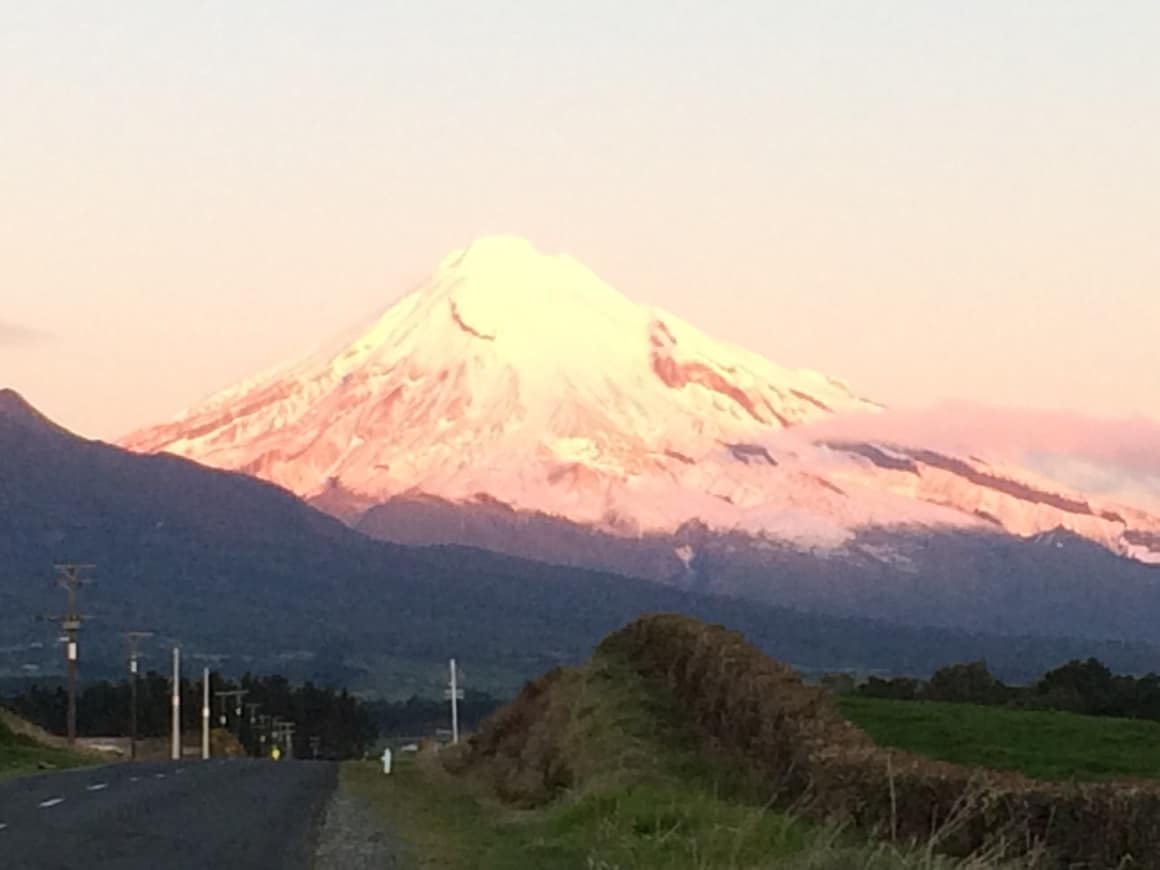 June is officially wintertime in New Zealand and can be the prettiest months of all to travel to New Zealand.
While June is the beginning of the snow sports season in New Zealand, other regions see June as one of the cheapest months to travel New Zealand— making it perfect for those on a budget.
A note on snow sports. If you are looking to travel to New Zealand for skiing and are wondering when are the best conditions, wait until July, Aug or September. The snow is more consistent.
If you head down to Queenstown, you will experience the Queenstown Winter Festival. A week-long event to celebrate the beginning of winter. (I told you the Kiwis saw the good in everything!)
Accommodation prices are the cheapest at this time of the year (as long as you stay away from the ski fields) so you can bag yourself a gorgeous batch by Lake Taupo for around $250 a night.
Light the log fire and enjoy the peace that New Zealand has in June.
The British and American ex-pats very often celebrate the 21st June as 'Christmas day'. They rent a cabin in the mountains somewhere and put a Christmas tree up.
It's all a bit weird if you ask me, but I suppose it gives you an excuse for a party, so that's all good and the kiwis don't bat an eyelid, as you may find out, they have lots of funny little ways of their own.
Gets dark at around 5.10 pm
The average temperatures are 12 – 16ºC
July
Even the kiwis admit that July is cold in New Zealand – and to get them to do that is not easy!
Putting the cold weather aside, July is still a beautiful month to visit New Zealand.
I will assume you are not coming for the snow and are taking advantage of the cheapest, quietest (and coolest!) month in New Zealand.
July is another holiday for the kids 3 July – 20 July 2020 – try and time your holiday away from that to save you even more money.
The beaches on the East and West coast of New Zealand's North Island are all beautiful and deserted in the wintertime. If you are an artist or a writer the colours are moody and atmospheric.
July is gorgeous in so many ways.
Getting in July dark at around 5.20 pm
The average temp in July 12 – 16ºC
Do You LOVE New Zealand? Sign up below and I will send you my FREE Moving to and Living in New Zealand Guide. A 5 Part Video Series!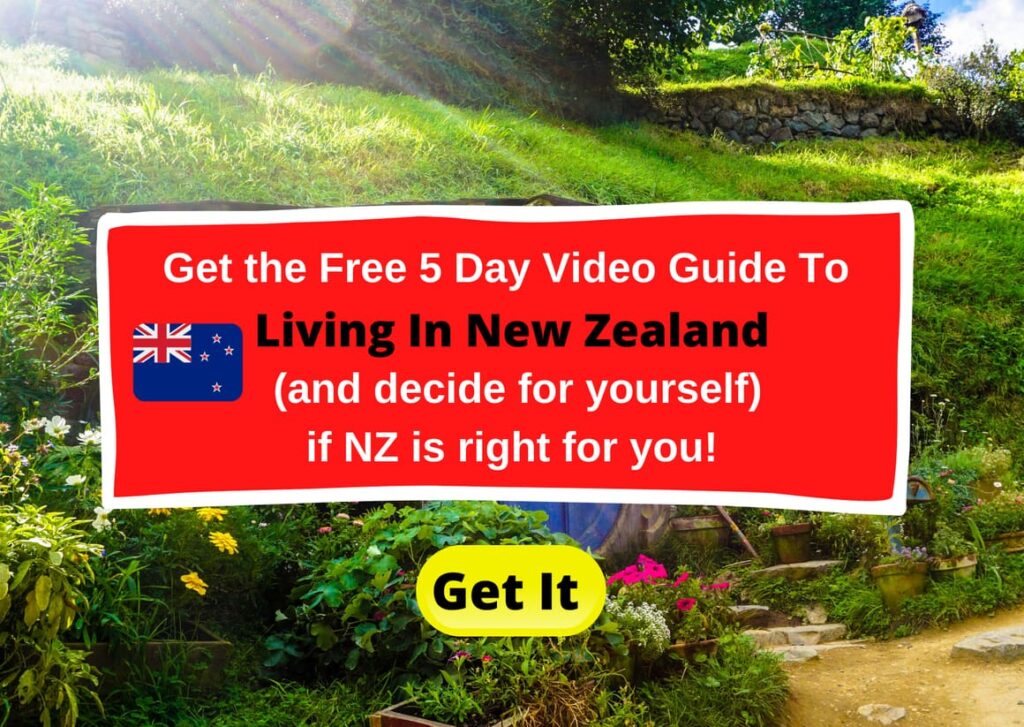 August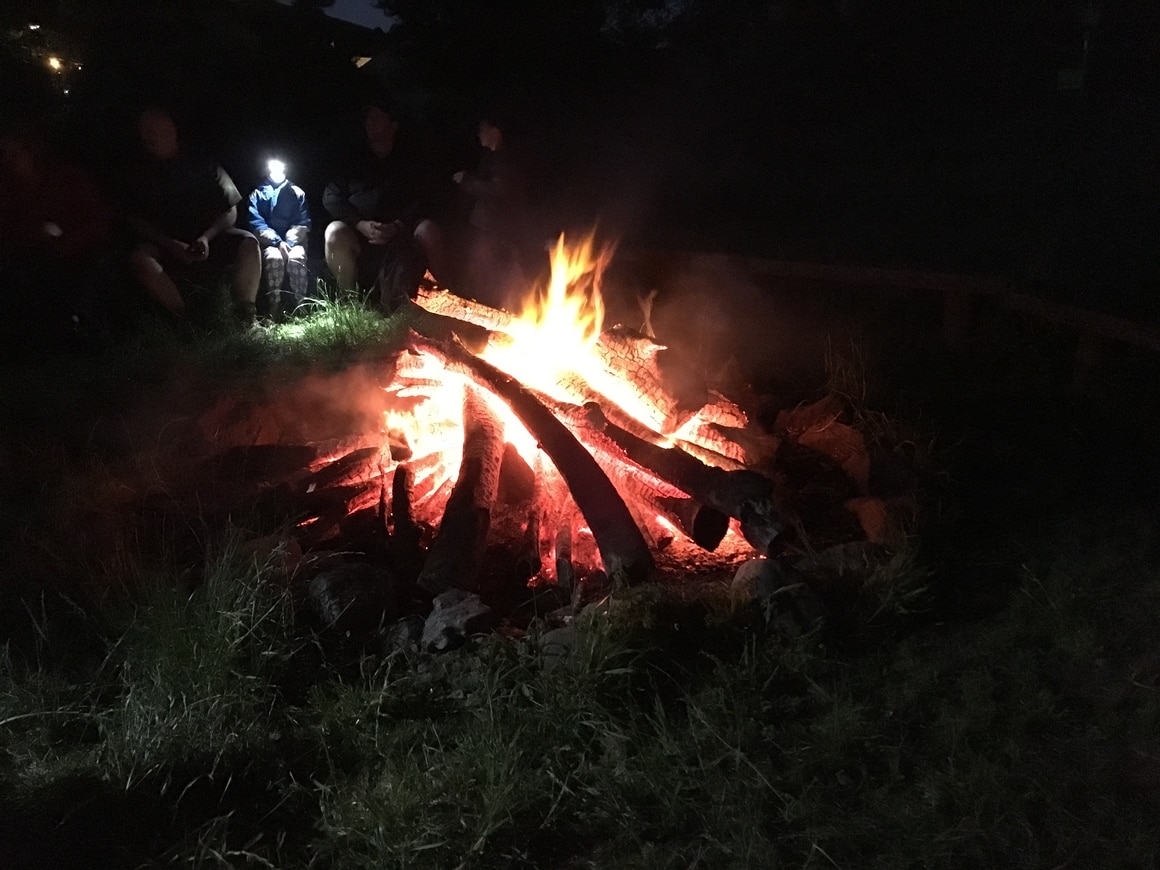 Winter in New Zealand still requires that you wear sunscreen and August is no exception.
Days in August can be beautiful and because of the suns intensity, you will still burn – especially around the reflective snowy mountains.
If you have booked some adventure activities such as sky diving or bungee jumping (how brave you are!) then be prepared to be flexible.
The weather can change within a few hours, and your activity will be cancelled until finer weather permits.
Enjoy one of New Zealand's famous flat white coffees by sitting in one of the many coffee shops around the country and watching the world go by. Experience what New Zealand living is all about!
Know that New Zealand coffee is fabulous (that's a not very well advertised New Zealand travel tip for you!)
If you are a foodie, then you will love Wellington on a Plate. This is a two-week-long festival of food-tasting events happening during mid-August.
Attend some cooking workshops or treat your taste buds to some Kiwi cuisine.
Getting dark around 5.50 pm
Average temperatures in August in New Zealand 12 – 16ºC
Ever Wonder What It Would Be Like To Live In New Zealand? Why Not Listen To Our Podcast Episode – The Pros & Cons Of Living In New Zealand!
Visiting New Zealand in Spring
September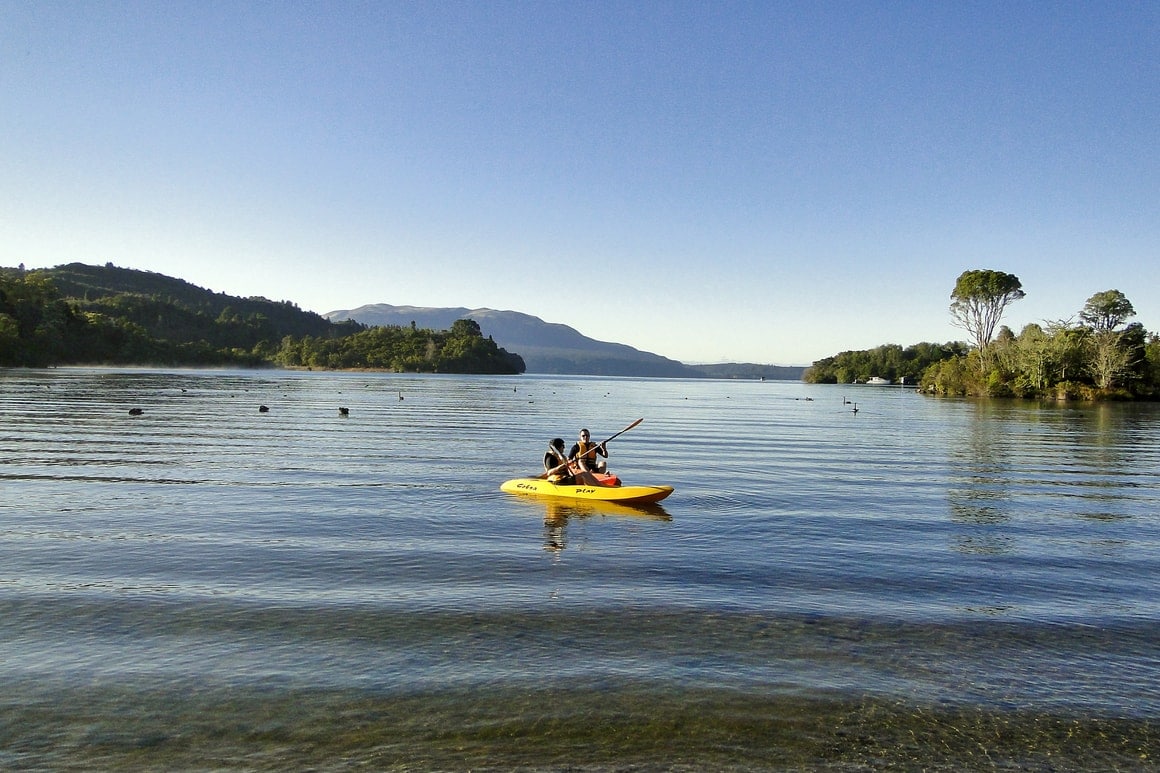 Hurray! Spring is here in New Zealand! And although the weather is still cool, the days are getting longer and brighter making this month one of the best times to go to New Zealand.
September in Taranaki (where I live) means you can ski and surf on the same day. The snow is still good, and the water will have sunshine on the waves!
September is the time when New Zealand finally wakes up again with some outdoor festivals to enjoy.
If you enjoy seafood and all things about the ocean, then get down to Whitianga Scallops Festival or the West Coast White Bait Festival. Or, celebrate spring at Hastings Spring Festival or the Alexandra Spring Festival.
Gets dark around 6.20 pm
Average temperatures 16 – 19ºC
New Zealand in October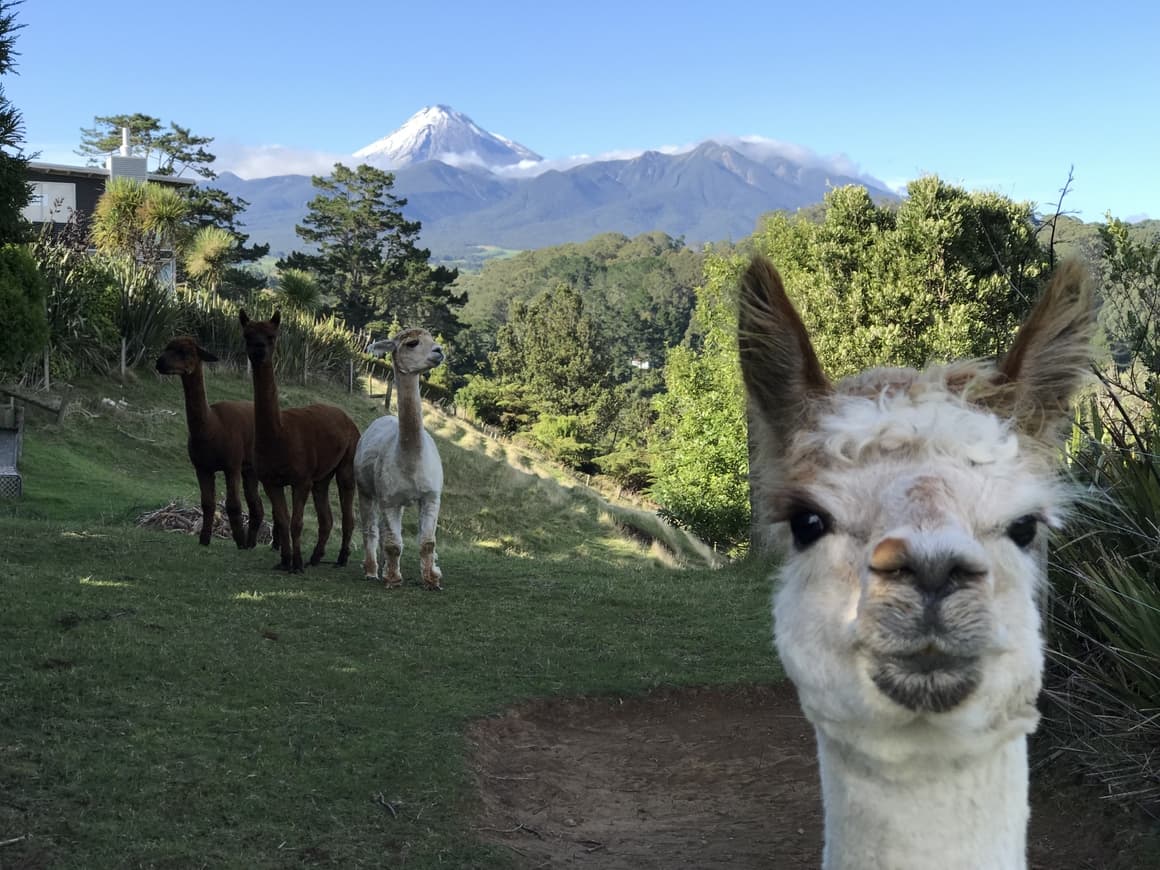 Those pesky kids are taking another two weeks holiday in October (honestly, it feels as though they are off more than they are there!). Avoid the dates 26 Sept – 11 October for better deals.
Spring is in full spring (haha!) in New Zealand.
The lambs are jumping around in the fields, and there is a smell of excitement in the air.
Lots of beautiful flowers start to appear, and the eldest son is told to start cutting the grass once more.
If gardens are your thing, then don't miss the Taranaki Garden Festival where hundreds of local gardeners open their gates to show off their hard work.
It is a wonderful festival and very much worth seeing if you have (or, like me, wish you had) green fingers.
Getting dark at 7.30 pm
New Zealand in October weather sees average temperatures 16 – 19ºC
November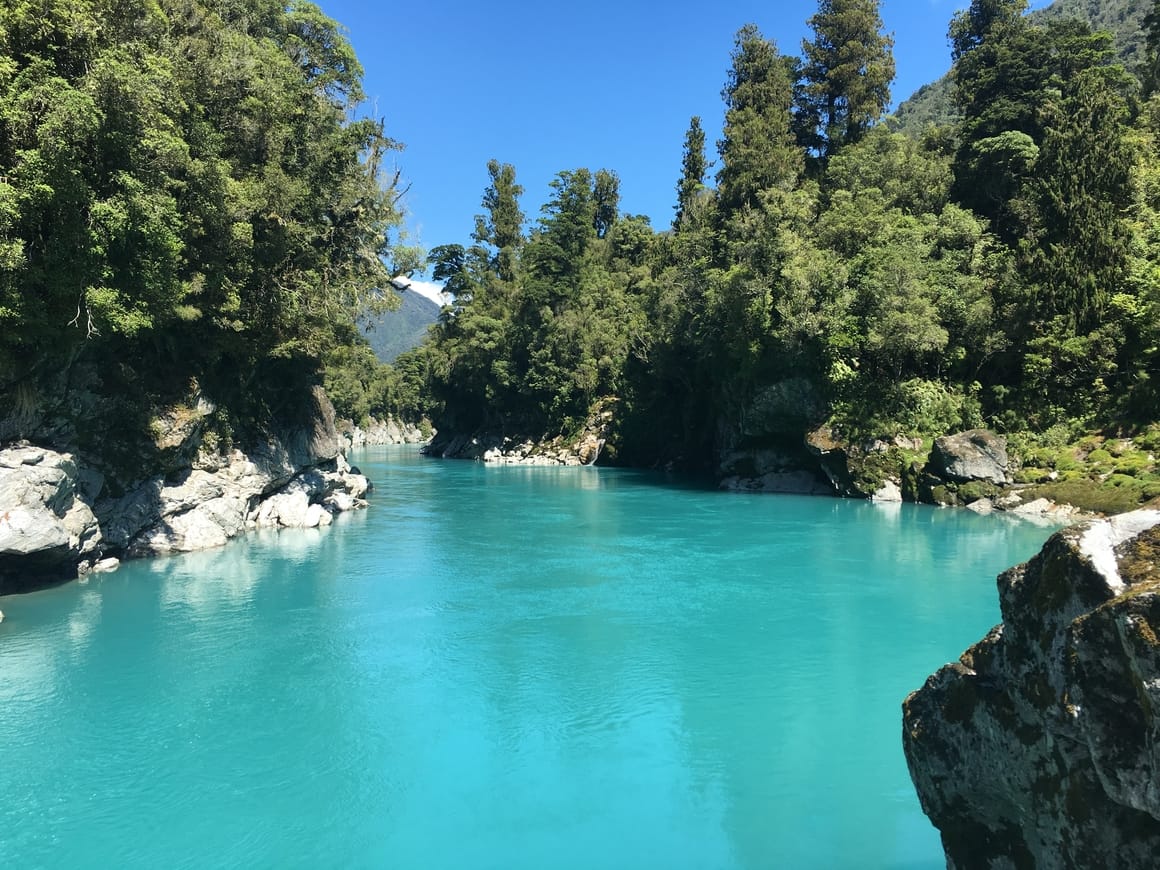 I LOVE November in New Zealand.
Not only are the days getting longer and sunnier but there is a feeling of excitement in the air as everyone knows that a long hot summer is hopefully on its way!
Places are still lovely and quiet, so you book some beautiful places right on the beach for bargain prices.
Milford Sound – One of New Zealand's most popular sights, is much quieter in November and it's one of the seasons with less rain, so it's a great chance to see the fiord on a clear day! If you can, don't miss it.
Getting dark at 8.10 pm
Average temperatures 16 – 19ºC
December (first month of summer in New Zealand)
December is all about Christmas in New Zealand, and Christmas means summer, the beach, BBQs and friends.
Take advantage of good deals on accommodation before the kids break up from school (again). This varies but usually starts around the 20th of December.
Although the weather can be changeable in December, there hasn't been one year in the whole ten years that I've lived in New Zealand that it hasn't been roasting hot when we put out Christmas tree up!
Now is the time to head to the shady walks of the National Parks and experience some warm shade.
There are lots and lots of festivals on in and around December, all celebrating the run-up to the big day.
Compared to England, Christmas in New Zealand is quite a subdued affair. Families tend to have food outdoors if possible and play games out on the lawn with the kids.
Getting dark at 9.45 pm
Average temperatures 20 – 25ºC
FAQ About Visiting New Zealand
Q: What is the cheapest month to fly to New Zealand?
A: Searching through a number of flights, May is the cheapest month to fly to New Zealand.
Q: Is New Zealand expensive?
A: It depends where you go. If you plan on visiting Queenstown, Wellington or Auckland and are staying in a lodge overlooking the sea, eating out at fancy restaurants every night then yes, your wallet may take a dent!
Try to see the parts of New Zealand that others don't make the effort to see (like Taranaki) and you will be pleasantly surprised at how reasonable prices are. Check out my post cost to live in New Zealand to learn more, or, listen to our podcast: New Zealand. Will, it cost me a fortune to visit?
Q: Do I need a visa for New Zealand?
A: British citizens can enter New Zealand as a visitor for up to six months as long as you have an onward ticket.
If you are moving to New Zealand from the US then Citizens can enter New Zealand without a visa for up to 90 days however, New Zealand recently introduced an electronic travel authority, commonly known as the eTA that is required of 59 countries (including America) before they can enter New Zealand.
The process is a relatively cheap and simple procedure- you can obtain the eTA online
.
Related Posts That you Will Enjoy!
What you'll miss when you move to New Zealand
Raising your kids in New Zealand (will they love it or be bored senseless?)
Living in New Zealand. The Pro's and Con's (podcast)
Cost to live in New Zealand. Will I be Flush or Skint?
New Zealand. Will you really be living the dream?
Moving to New Zealand. 7 Hoops You have to Jump Through
The Bog Post Diaries. How to Be a Bullshitter and Succeed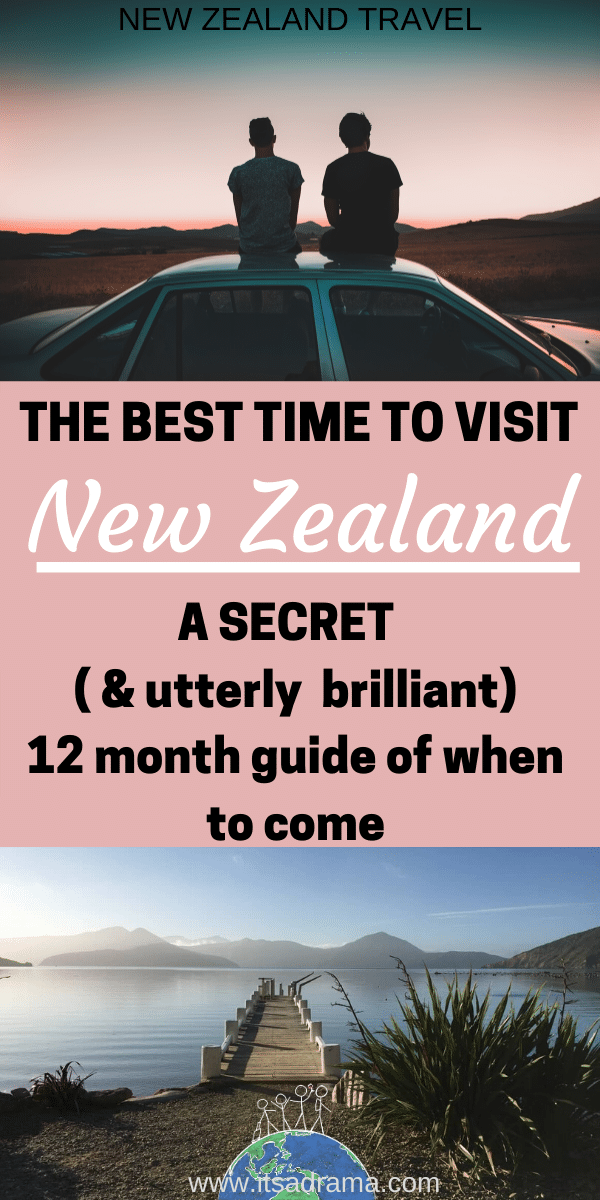 To Sum Up, When IS The Best Time To Visit New Zealand?
Anytime!
I hope you enjoyed this guide to each month and are somewhat clearer as to which is the best time to visit New Zealand – as I was writing this I was thinking "oh! I can't wait until that month!" And as I said, any month in the best time to travel to the gorgeous country that is New Zealand.
And if you get to Taranaki, look me up please (I really mean that) and if there is anything else I can help you with I will.
If you know of anyone else that is planning to travel to New Zealand and is wondering when the best time to visit is, then please be kind and share this post.
Kia Kaha my friend.