One of the most embarrassing moments of my life was when I was cautioned by the police in Italy (in front of my kids – even worse) for eating ice cream in Piazza San Marco, Venice.
You see, when planning our family trip to Italy I had done plenty of research on what to do in Venice but had totally neglected the no – no's.
The things that might get us into trouble.
Into a spot of bother.
This post may contain affiliate links. They cost you nothing, but we make a small commission. If you would like me to explain it further, please visit our disclaimer page.
We have spent many, many months in Italy (and have learned a lot of Italian mistakes along the way!)
We have been backpacking with our kids, spent six weeks housesitting in Tuscany, explored off the beaten track churches in Florence and wandered around the ruins of Pompeii. But of all the places we have vivited in Italy, Venice was our number one favourite.
Even if I did almost end up in jail.
Actuallky, if I'm totally honest with you, I quite enjoyed my run-in with the police. When you get to my age, any excitement is welcome.
But in case you would rather not spend your Italian vacation banged up in a cell, here are the things I wouldn't advise doing and some of the best things to do in Venice instead.
9 Massive Venice Italy No-No's (& Things to Do in Venice Instead)
1: Don't feed the pigeons
Not only is it against the law, but the pigeons can get very aggressive.
And let's face it. It's not really the look you want, is it? You, in your latest gorgeous Italian holiday outfit being attacked from all sides and pooped on by a bunch of flying rats.
# Instead: Things to do for animal lovers in Venice
Look out for one of the many one hundred bird species that are to be found along the Venice lagoons.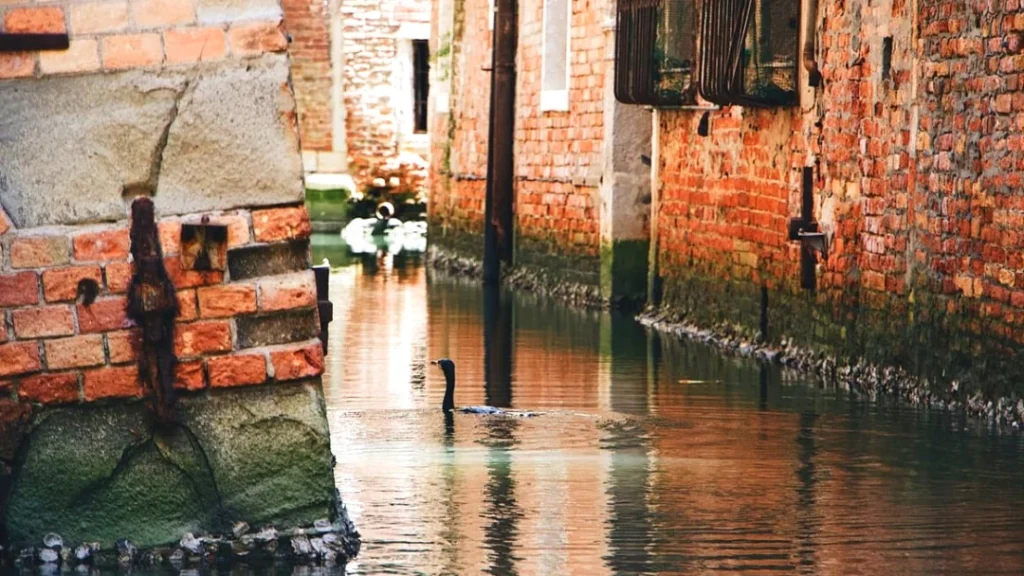 If you are a cat lover, visit the legendary Acqua Alta Bookstore.
Not only is this the most unique and picturesque of bookstores ever to be found in Venice (or indeed Italy!), but the place is full of cats!
My son was in heaven as he is the cat lover in our family; lounging outside in the sunshine or twisting their bodies around your ankles as you browse the books, these local Venetician pet cats are something of a talking point!
2: Don't Put Your Feet in the Water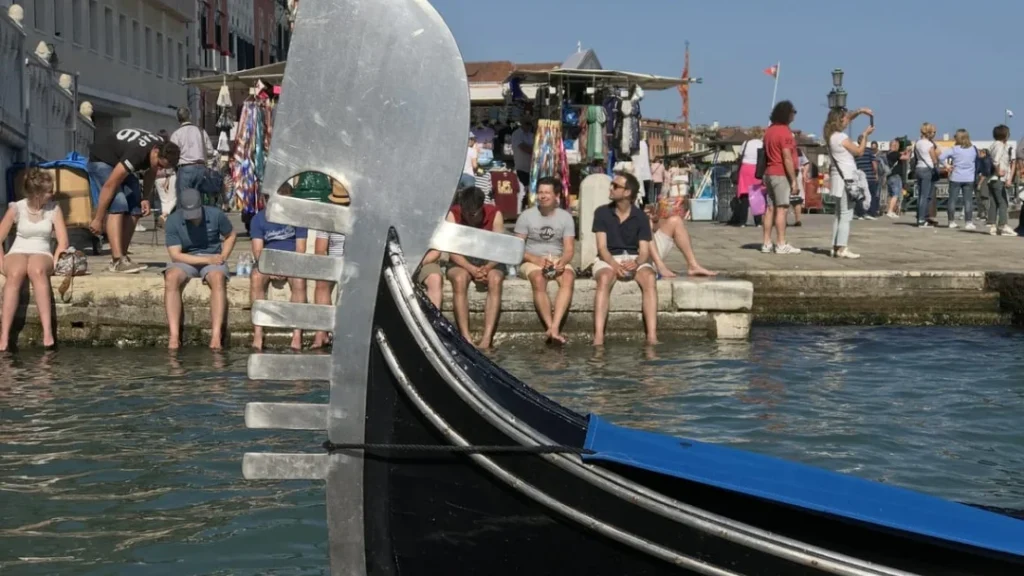 When we visited Venice in May, it was boiling hot. We sat beside the canal and dipped out feet into the water to cool off.
I was later told by a local that the water is full of germs and it wasn't hygienic.
I'm glad to say that none of our toes fell off and we didn't get any nasty foot disease – all the same, best to stay away from putting bodily parts into the water.
The Venice police recently fined two tourists 400 euros each for swimming in the canals.
Ouch. I think I'd rather lose a toe.
#Instead: How to stay cool in Venice
Find a shady spot to cool off.
Drink plenty of water (see further down the post).
Don't overdress. You don't want to end up carrying three fleecy sweaters around with you in case it turns cold and as a result, suffer from heat exhaustion.
If in doubt, check my post on things to wear in Italy.
3: Don't Ignore Housesitting in Italy
I know you won't be expecting this Italy tip, so I'm sharing it with you. (So I can feel like Santa Claus!)
We are big fans of housesitting, but up until five years ago, I had no idea it existed. And boy, have I made the most of that knowledge since then.
We are big fans of housesitting. We estimated that while housesitting throughout Europe, we saved ourselves approximately ten grand.
Honestly, I can't understand why more people don't do this!
It's VERY straightforward: You can sign up for FREE here to check out the beautiful properties in Italy and around the world, and then, if you wish to join TrustedHusesitters (and let's face it, why wouldn't you??), you can use my exclusive discount code to save yourself 25% on the yearly subscription by Clicking here.
From there, you make a profile, and then twice a day, you are sent emails (such as the screenshot from my phone below) listing available properties in Italy!
Mamma Mia, it's easy!!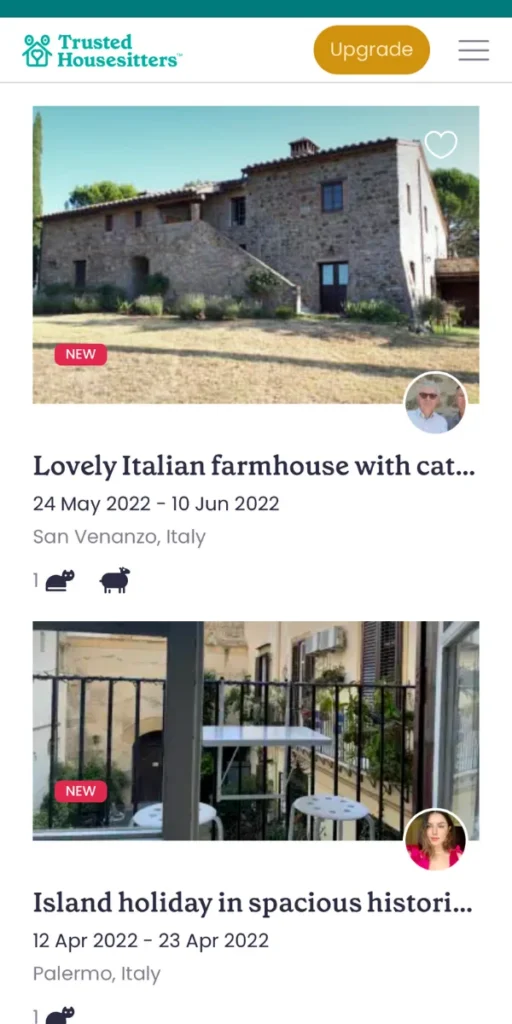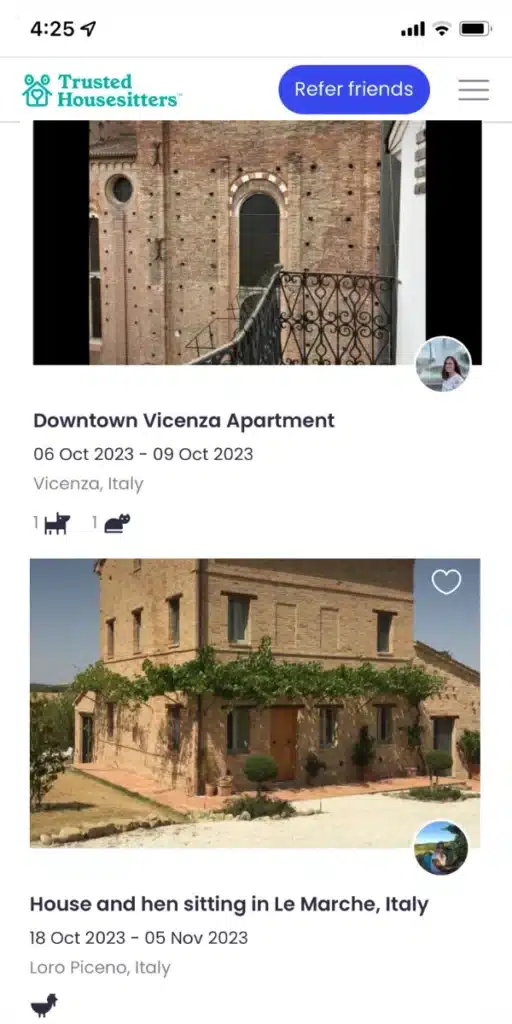 Housesitting in Italy
The screenshots above are an example of the kind of emails that I get on a regular basis alerting me of the new house sits in Italy.
Even if you have never done anything like this before, at least consider housesitting!
If I can do it with two teenagers in tow, then anyone can. You will save a fortune and get to stay in places that are unbelievable.
If you are a pet lover and want to see places such as Venice as a local (and also want to save yourself a stash of money), then at least consider it.
It's not hard and is a fabulous way to experience living in beautiful parts of Italy (including Venice) in return for looking after someone's property (and maybe a pet!)
Click here to see all of the current house-sits in Italy, and should you wish to join, use my 25% DISCOUNT CODE for a hefty reduction!
4: Don't wait in line for hours at Venice Marco Polo Airport
You didn't come all the way to Venice on a vacation of a lifetime to spend your first few hours standing in line waiting for a bus or an Uber to show up.
No…
#Instead: Book a Marco Polo Airport Water Taxi Transfer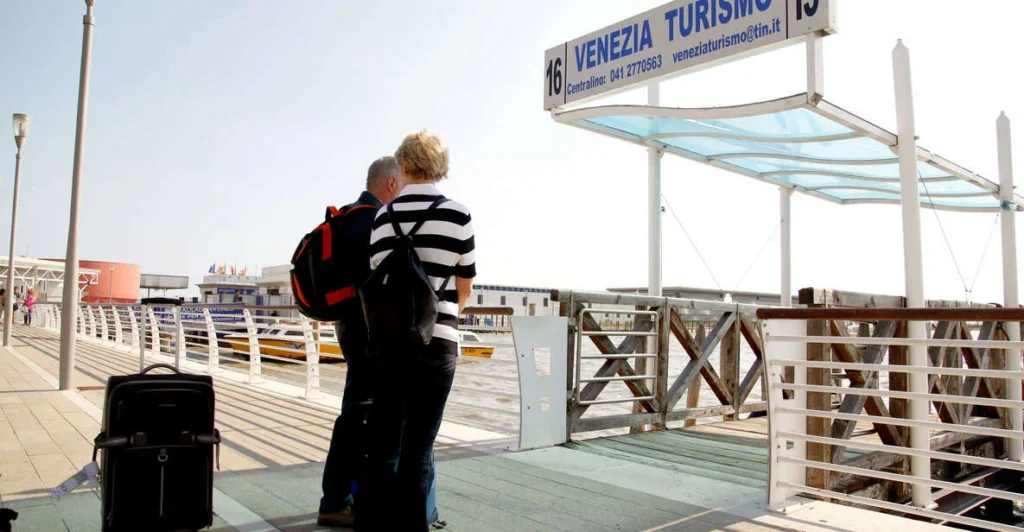 Make sure that your arrival in Venice is truly unforgettable (and surprisingly affordable) by taking a water taxi transfer to your hotel from Venice Marco Polo International Airport (VCE).
What better way to start your vacation than by experiencing Venice from the water in the comfort of a water taxi!
This is such a divine experience and gives you the best of both worlds…You arrive at your hotel in comfort and style and you have already seen this beautiful city from the best place – the water!
Check out the water taxi transfer here.
5: Don't expect Venice to stink
We have all experienced 'do-gooders' giving us rubbish travel advice on places that they usually haven't even visited.
Someone told us to expect a pong to come from the canals in Venice.
Not true.
If anything, the water smells of sea salt and is pleasant.
Yes, I get that in the middle of the summer, when the water level is low, then it may have a whiff, but we visited Venice in May and there was no smell at all.
# Instead: When In Venice, smell this…
The Perfume Museum in Palazzo Mocenigo is a must-do museum for those who love to use their sense of smell.
You will find this delightful museum tucked away from the usually crowded streets.
I can't recommend it highly enough to experience a real slice of Venice and spend the afternoon smelling sweet delights and studying costumes.
6: Don't Visit Piazza San Marco at midday (not if you suffer from claustrophobia)
Piazza San Marco is particularly busy in the mid-morning through to the afternoon. Best to avoid if you don't like crowds.
And for goodness sake, don't eat ice cream. I can tell you from experience that eating food (even ice cream) while standing in Piazza San Marco is against the law.
You've been told.
Here's a 13-second video of us walking through the square to give you an idea of how busy it is!
#Instead: Things to do in Venice at night
As soon as the sun goes down, something wonderful happens in Venice.
The crowds disappear, and there is a sense of beautiful calm that spreads across the city.
Don't expect to party all night in Venice. This is not the place for that.
You'll be lucky to get something to eat after 10.30, and finding a bar that will serve you alcohol after midnight is nigh on impossible.
So here's what to do.
Book a moonlight Venice tour
Take a stroll through the streets of Venice at night. It is truly magical, especially through the squares.
If you prefer some company, you can book this fabulous Venice nighttime walking tour.
Or, if you prefer to experience a romantic gondola ride under the stars then why not book a moonlight gondola tour such as this one.
Click here to check out the gondola tour under the stars.
7: Don't Sit Down For a Coffee in Piazza San Marco Square
We have travelled all over Italy as a family, and my biggest gripe is when people get ripped off. It drives me insane.
Unless you are made of money (which, if you are anything like us and traveling with kids, then you are not), avoid having a coffee in one of the touristy cafes.
It's really not worth it.
Piazza San Marco is renowned for its pricy coffee. Not only do you pay over the top for your drink you are whacked with a surcharge for listening to the musicians while they play beside you.
I know. How cheeky.
#Instead: Things To Do In Venice when hunger strikes
This is one of my all-time favourite Italy travel tips.
Pop into a local bakery, pick up some delicious bread, next stop by a delicatessen or a market if there is one nearby and get some meats or cheese.
One delicious picnic lunch for a fraction of the cost.
Wander down one of the many streets, and it won't be long before you come across a bakery. If in doubt, ask a local if you can find one (they are as rare as rocking horse poo, apparently).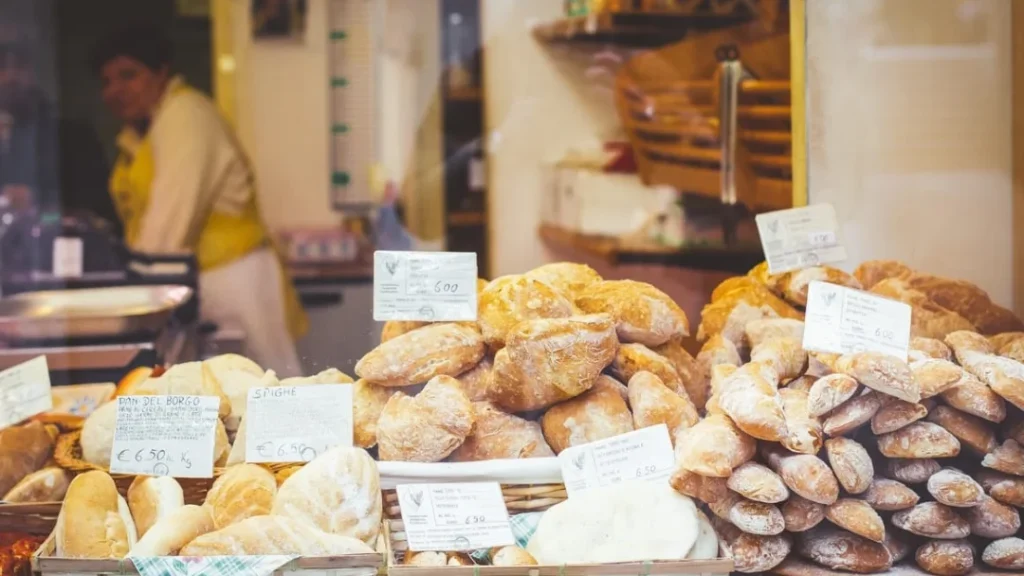 If you really need a sit-down and the idea of a picnic is too much trouble then lookout for a 'bacaro.'
The Bacaro is the Italian version of a pit stop tavern.
These pubs are the places to head to if you want good, simple Italian fare. No fancy menus (some often just chalkboards with a couple of daily specials), but it is where the locals eat, and you can guarantee it will be authentic and delicious.
Would you love to travel to Italy more often but could use some tips on how to do it for a lot less? Then join me & I'll show you how!
8: Don't Rush
You will notice that most tourists are in a rush to 'do' Venice. The minute you step onto the cobbled streets it's like a race to see who can walk the fasted without bumping into someone.
It's horrible.
#Instead: How to take things slowly in Venice
Take your time. Even if that means only seeing half of the things that you set out to see.
Remember, quality or quantity and all that.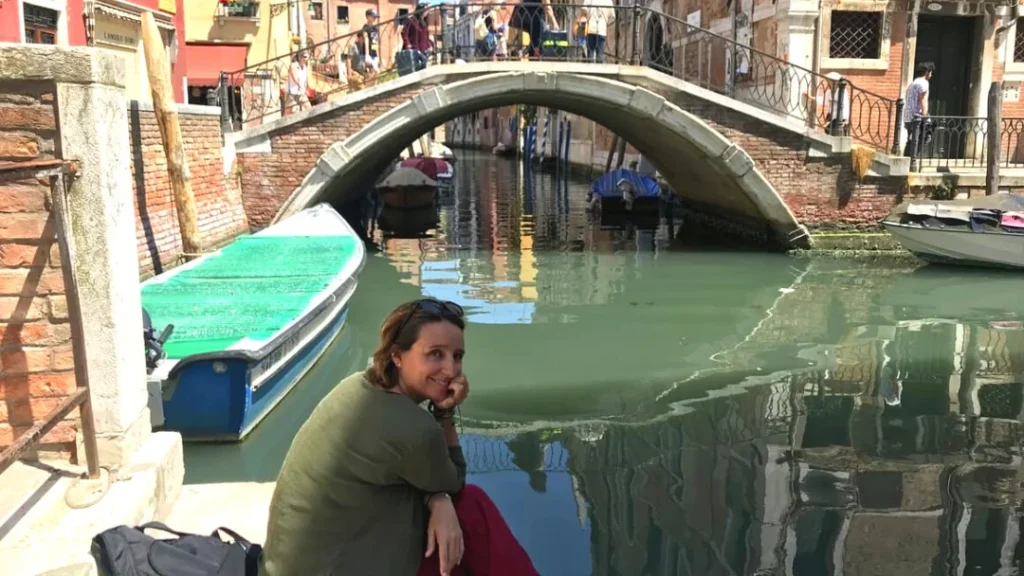 Here Is A Video My Son Made On How To Take Things Slowly In Italy
Would you love to travel more for a lot less? Then let me show you how! Join my FREE newsletter, and I will send you a complimentary copy of my ebook "Travel More, Travel Better, Pay Less". I look forward to getting to know you better!
9: Don't waste your money on bottled water in Venice
You will pay over the tops for bottled water from any seller in Venice and there isn't any need.
#Instead: When you get thirsty in Venice
Drink from any of the water fountains in the many squares in Venice.
Even better, bring your own water bottle and fill up with Venice water. We always use this collapsible water bottle when we travel because it squashes down to almost nothing and fits into our bag when not in use.
The tap water in Venice is perfectly safe to drink, it is fresh and tastes great!
10: Don't just stick to the usual Venice quarters
It is so easy to come to Venice and stay around the crowds.
I'm not sure why people do this – maybe it is a fear of missing out on something exciting or perhaps feeling safer in numbers.
And others think that if it's not in the guide book, then it's not worth seeing.
So not true.
# Instead: Districts to visit in Venice
The Castello District
Venice is the ideal city to explore on foot. You can walk from one end of Venice to the other in about an hour so there is no excuse to stay just in one area.
And it gives you a good reason to walk that pasta lunch off!
The Castello district is a beautiful and often overlooked district of Venice. Here you will find big open spaces and beautiful gardens. If you have an hour or two, wander around and get lost in this mystical area of Venice.
To give you an idea of the main six districts in Venice, you have:
San Marco – the tourist hot-spot. Selfie seekers galore.
Cannaregio – mostly quiet residential area. be respectful. refrain from taking photos.
Castello – stretches from the tourist centre to the public gardens in the east (and in my opinion is the loveliest of the districts).
Dorsoduro – studenty and very arty in the West of Venice.
San Polo – a small district at the top of the Grand Canal. here you will find the busy Rialto markets.
Santa Croce – This district includes the busy bus terminus and also some quiet lanes.
11: Don't Ignore The Walking Rules
Walk on the right; otherwise, you will cause a traffic jam.
You must not ride a bike through Venice – not even push a bike along. Totally forbidden.
Here's one I didn't know about when we visited Venice for the first time – and one of the many mistakes I made when planning our first trip to Italy.
Do not linger on the bridges!
You will get dirty looks, tutted at, bashed into and even worse, moved on by the police.
Keep moving.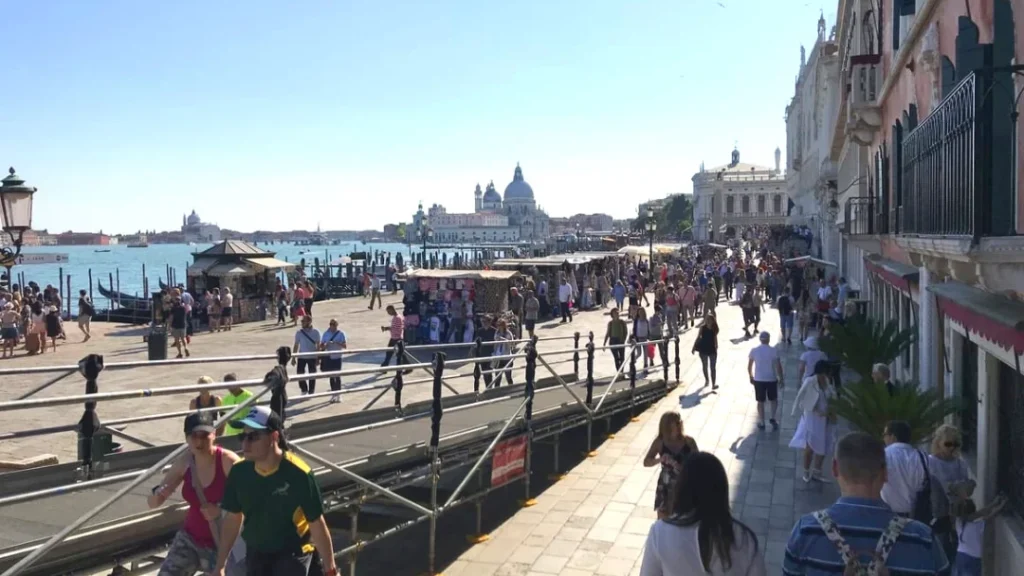 # Instead: Things to do in Venice if you want to linger and stroll.
Book a walking tour.
These fabulous (and very reasonably priced) Venice walking tours are led by local guides meaning that you get to see parts of Venice you might not otherwise have known about.
And for those who like safety in numbers, you don't have to worry about getting told off by a local for 'lingering' too long!
Click here to see the best walking tours in Venice.
Take a rest on a red bench
You may not have noticed, but Venice is filled with these beautiful secrets (and always in pristine condition) red benches.
They are often placed in the greener parts of Venice under the shade of trees or overlooking a gorgeous and understated view.
These benches are a haven to both tourists and Venetians alike; they are protected areas and offer the chance for the weary walker to take a breather, read the newspaper or simply sit and soak up the wonderful atmosphere that is Venice.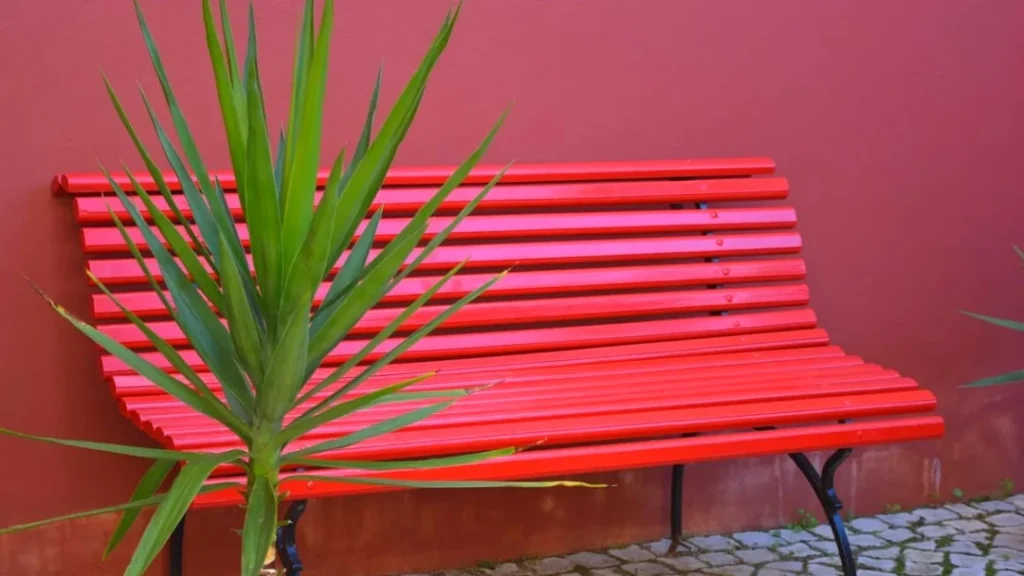 12: Don't Forget To Take a Book That Features Venice!

While there are many books about travel I could recommend you read while taking your Italy vacation, there is one in particular that I am going to recommend. The Travel Bog Diaries!
Here's why I think you will LOVE the Travel Bog Diaries.
1: If you are this far down the post, then you obviously like my style of writing.
2: You are a woman, and this book was written for you.
3: You are a man buying clothes for his partner. You're nice. You're allowed to read this book.
4: You love Italy. There are two chapters within this book dedicated entirely to Italy. One was written from Venice, the other from Pompeii.
5: It's as FUNNY as hell.
6: It was written by MEEEEE!! (Sorry. Couldn't resist..!)
Click HERE to see The Travel Bog Diaries. One Woman's hilarious confessions of Surviving Family World Travel!
Related Posts That You Will Enjoy
Going on vacation. 39 Easy peasy things to make it better
Visiting Pompeii. The only way to do it
A hidden spot in Florence that the locals don't share
Mama Mia. 20 Italy mistakes that you NEVER want to make
25 Italy travel tips that will make your trip as smooth as cafe crema
What to wear in Italy so you look utterly gorgeous.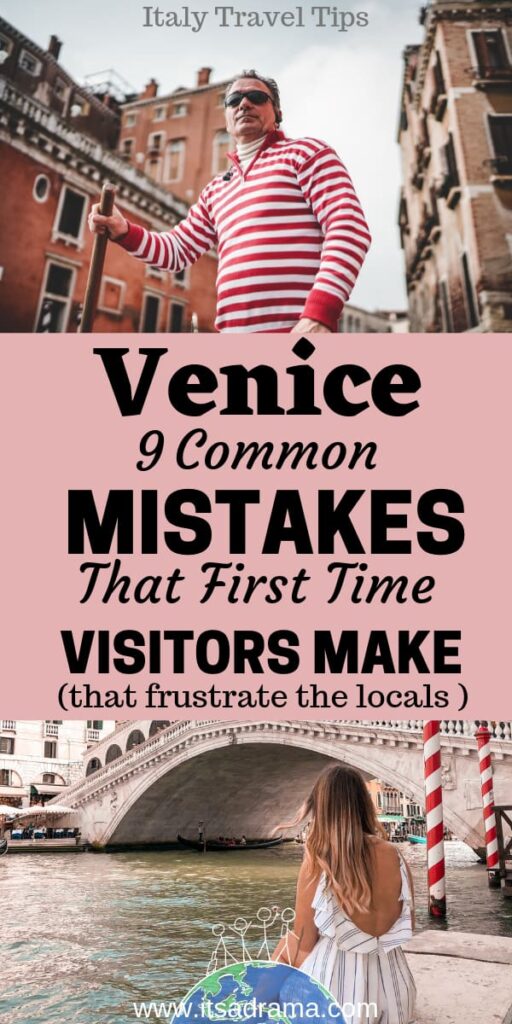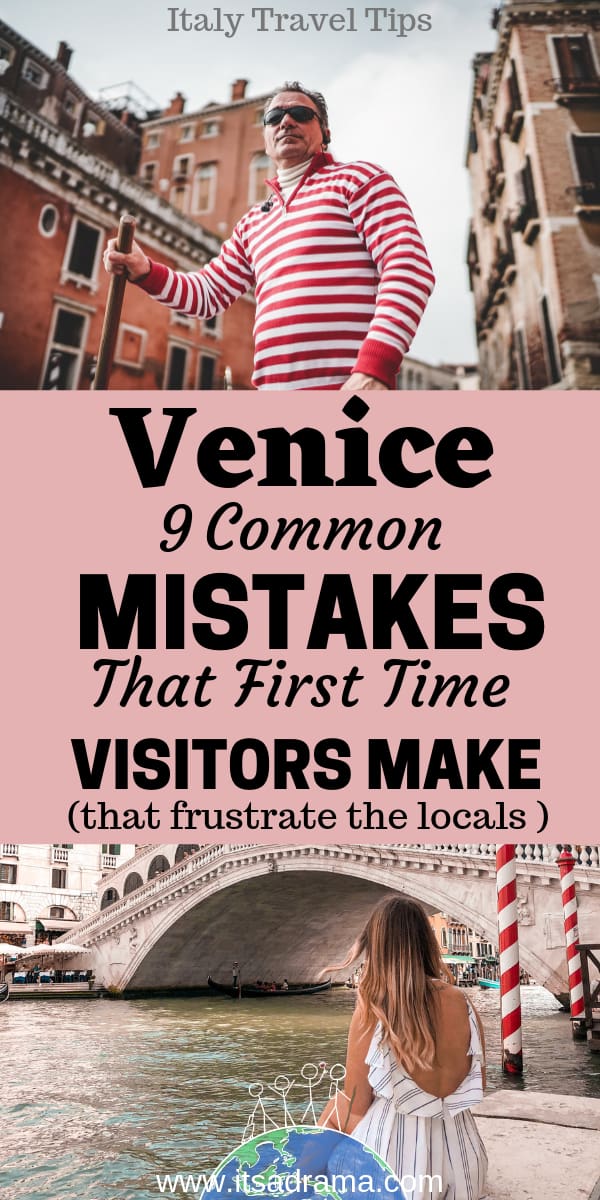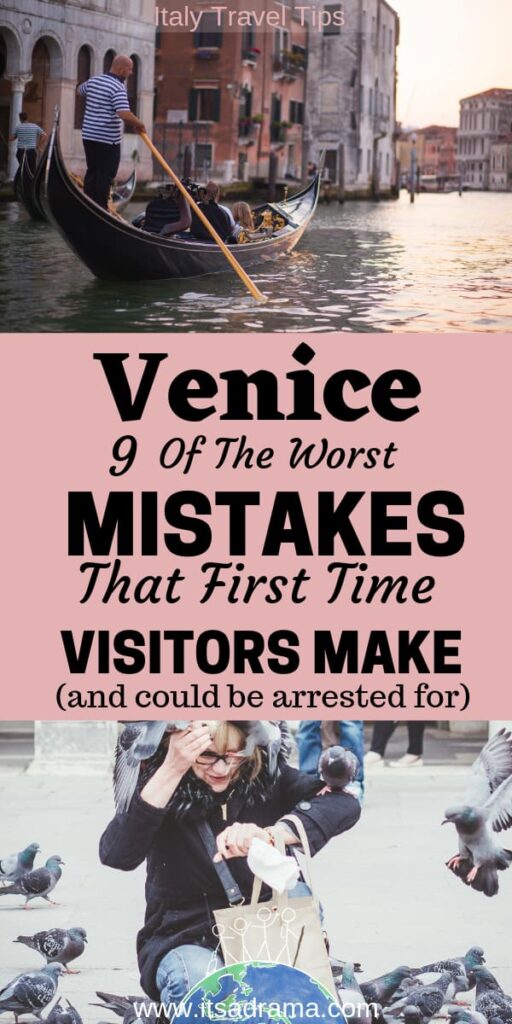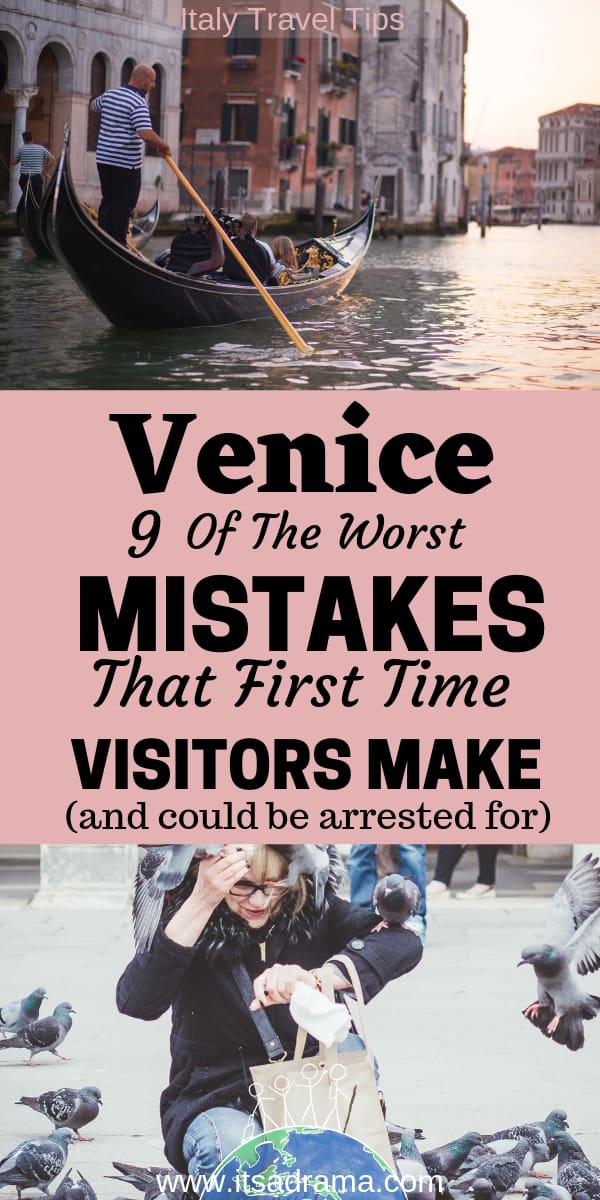 Venice Travel Tips (one more time)
So just to be clear.
When in Venice. Repeat after me:
No lingering, no bathing, no getting ripped off, no eating at places where there is a five-piece band standing by your table and whatever you do – stay away from those bloody pigeons!
Venice Travel Insurance
If you are visiting Venice, Italy and are an Australian or EU citizen (also Switzerland, Norway & Iceland), then you are covered for most medical care and hospital requirements — just make sure you get your EHIC card before you leave.
For all other countries, including the USA, New Zealand and Canada, anything other than a medical emergency treatment we have to pay for.
Italy Travel Insurance
🟩 looking for the BEST Italy Travel Insurance? There is only one company that we use (and only ever use when we travel), and that is World Nomads. Over the years, we've made three claims (sorry, guys), and each time the service has been superb.
Click here to find out what unbeatable value you can expect when you book insurance for your trip to Italy.
Please note: We receive a fee when you get a quote from World Nomads using this link. We do not represent World Nomads. This is not a recommendation to buy travel insurance.
Ok then. We are done.
You are all set to go to Venice, and I can relax knowing that you'll be ok and aren't going to make a fool of yourself as I did?!
Remember, if you know someone who is visiting Italy soon and needs to be reminded of things to do in Venice (and, more importantly, things NOT to do) then please share this post with them. Enjoy Italy!