Who doesn't want to look like a gorgeous Italian? Let's face it – they have to be the most beautiful people on the planet.
If you are heading over to Europe and are wondering what to wear in Italy, then I have just the post for you.
We have spent many, many months in Italy (and have learned a lot of Italian mistakes along the way!)
We have been backpacking with our kids, had weekends in Rome, spent months drinking wine and eating fabulous food in Tuscany, and (I wasn't going to share this) were cautioned by the police in Saint Marks Square for not knowing the dos and don'ts in Venice.
Wherever you are planning to visit in Italy, be it exploring the ruins of Pompeii, visiting San Gimignano in Tuscany, or searching out a hidden spot in Florence, know that you must not only look gorgeous but feel comfortable too.
With a few Italy tips, we will send you off to Italy wearing outfits that will make you look like a movie star and feel every bit as relaxed!
This post contains Amazon affiliate links. They cost you nothing, but we make a small commission. If you would like me to explain it further, please visit our disclaimer page.
What To Wear In Italy So That You Feel Totally Gorgeous & Relaxed
Italians are the Queens of style, and their secret to looking so good is that whatever they wear, they never look as though they are trying.
No try-hards in Italy, thank you very much.
When deciding what to pack for Italy, try to keep things simple and comfortable.
Don't buy clothes in too many colours that will clash and look gaudy, instead opt for classic colours, black, white, cream, navy, olive green, mustard yellow, sandstone pink and shades of grey.
You won't go wrong with those.
Clothes To Wear In Italy
When packing for your trip to Italy bear in mind that you only want to pack what you will wear. I was surprised at how reasonable the Italian clothes were, so save some space in your luggage for clothes to bring home.
1: Shorts
Bring two pairs of shorts. One pair for relaxing and sightseeing and one that you can dress up.
You can guarantee that if an Italian wears shorts, they will be black.
These cheeky black scalloped lightweight shorts are light to carry and easy to wear. They are flattering and cool and could be dressed up with ballet flats or heels — Click here for prices.
If you prefer denim shorts, then I love these high waist 1980's shorts.
Because of the high, elasticated waist they are incredibly flattering and comfortable and give you the longer leg for a slimming look — Click here to check prices
2: Tops to Wear in Italy
Take no more than 3 tops with you on your Italy trip and make sure they are ones that you can mix and match.
I advise packing two lightweight cami tops for when you visit Italy. This cami top is chiffon and hangs beautifully. It will pair easily with everything else that you pack — Click here for prices
This lovely top is so very Italian and is the perfect thing to wear in the evenings while sitting people watching! It comes in lots of gorgeous earthy colours — Click here to check prices.
How gorgeous is this off the shoulder white loose top? The perfect mix between sexy and classy — Click here for prices
If you are visiting Italy in the Autumn or winter (or even spring on a cool night) then you are going to look absolutely gorgeous in this turtle neck long sweater.
How Italian is this? I love it.
Paired with skinny black jeans and flats or dressed up with ankle boots and a poncho for those cold wintery afternoons, you can't get more of an Italian look than this — Click here to check prices
I love V neck tops – they are incredibly flattering and this gorgeous soft pink style blouse with the wide sleeves is perfect for Italy, it cries out class!
Also available in black and white, Wear this with slim-fitting pants or a tight skirt. — Click here for prices
3: Pants to Wear in Italy
Take no more than three pairs of pants to Italy.

Take a pair of ultra-stretch comfy skinny pants and pair them with a loose baggy top (as above). you won't go wrong with this look in Italy — Click here for prices
For the summer months, these high waisted cropped pants are perfect. Gorgeous colour too. Lightweight, comfortable and stylish — Click here for prices
Off to the opera or a nice restaurant in Italy? These high waisted and wide-legged, pants would look great with either heels or flats and a cami top and shawl — Click here for prices
4: Skirts to Wear in Italy
Take two Skirts to Italy.

Coupled with a tank top and shawl or an off the shoulder blouse this skirt is as classy as they get — Click here for prices

5: Dresses to wear in Italy
If you are a dress girl then I would take two or three dresses to Italy.
This gorgeous little black dress is the ultimate in glamour. The perfect mix of elegance and fun — Click here to check out prices.
If you are planning a trip to Italy in the summer then know that it will be hot. This beautiful dress is perfect for wandering around the city and paired with a shawl or cardigan is perfect for those balmy nights —Click here for prices
I am in LOVE with this shift dress.
It oozes Italian chic. The sleaves are flattering and the V neck is perfect for showcasing a tan and a piece of jewellery. I am wondering the streets of Venice just looking at this dress! — Click here to check prices
This ruffle swing dress would look just as fabulous at the beach (for the warmer months) or – if you are wanting to go totally chic with a pair of laced boots and a cute cropped jacket and scarf. Love the colour selection – so very Italian — Click here to check prices
Be warned!! If you buy this dress to wear in Italy you will probably NEVER take it off! It has to be the comfiest (and altogether flattering) dress on the market. It is made of super-soft stretchy material and comes in loads of different colours.
It is the perfect length for those who are conscious about their legs; but with the split at the side gives a flirty, stylish touch. Gorgeous sleeves too – very flattering for those of us with bigger than we'd like top of the arms! —Click here for prices
6: Shawl/ Poncho
Wherever you travel you should always carry a shawl and Italy is no exception. You will love this versatile wrap for short-sleeved dresses or tops. Remember, when you enter a church in Italy, you must cover your shoulders — Click here for prices
A beautiful scarf should be on the top of your travel checklist when deciding on what to pack for Italy. You can dress any outfit up with it — Click here to check prices
I don't go ANYWHERE without my black poncho, and if you are taking off to Italy, then this item is a MUST.
What better way than to hide a multitude of sins underneath this beautiful, (and so very Italian) pure cashmere poncho. I love it and so will you.
It comes in lots of different shades but personally, I think black is the only way to go in Italy.
Pair it with little ankle boots and jeans in the autumn or winter in Italy and you will look (and feel) utterly divine — Click here to check prices
7: Jacket
Take either a stylish poncho for rainproofing or else a lightweight jacket. Unless you are travelling to Italy in the wintertime there really is no point in taking a coat. You won't wear it in the summer months.
This lightweight waterproof jacket is something you may want to consider for those cooler evenings or if you plan on spending time in the Italian hills, not the most stylish of coats but practical all the same — Click here for prices.
8: Underwear
When packing for Italy take a pair of knickers each day and two bras. I love love, LOVE these travel knickers. They are 95% cotton and are the comfiest underwear I own.
They have a soft and stretchy double-layer waistband, perfect for those days when your tummy is bloated.
Honestly, take my word for it. Buy these knickers and you'll wear nothing else. Ever. —Click here for prices.

9: Swimsuit
A gorgeous swimsuit, a large sun hat and some dark shades will see you looking (and feeling) the height of glam.
This push up one-piece swimsuit with full tummy support is classic, comfortable and flattering — Click here for prices
A halter neck is always flattering and this swimsuit comes in lots of lovely colours love the cheeky opaque strip that reveals just enough to look classy— Click here for prices
Shoes To Wear In Italy
10: Comfortable Day Shoes
You will be doing a lot of pounding the pavement while in Italy and these sketcher shoes will provide you with miles of comfort — Click here to check prices.
11: Best Travel Sandals (Ever)
If you have never owned a pair of Birkenstock sandals then oh Mama…you're in for a treat!
When you first try them on you're like: 'Meh? What's all the fuss about?' And then…after two weeks or so…you're saying: 'WHERE are my Birkenstocks??!'
If you could only choose one pair of comfortable shoes for Italy then this is your pair. Lots of different colours, super comfortable and stylish — Click here for prices.
12: Heels For The Evening
If you want to take heels to Italy then I would go for these classy, simple and elegant low heeled pumps. Lots of cobbled streets in Italy so be careful! — Click here for prices
13: All-In-One Sandal

If you would prefer a cross between a flip flop and a walking shoe then you won't go wrong with taking these Clarke's sandals to Italy with you — Click here for prices.
15: Cute Ankle Boots

If you are taking a winter, autumn or spring Italy vacation then take a pair of these cute ankle boots.
For the price, they are stunning and look every bit Italian. They would look perfect paired with skinny jeans or a long dress and short jacket (with scarf placed perfectly around your neck!) — Click here for prices
I LOVE, LOVE, LOVE these gorgeous lace-up boots.
They come in black too but I think for that Italian look, these would look fabulous with a short dress and tights or some skinny black pants and a poncho — Click here to check prices
Sun Protection In Italy
If you are visiting Italy in the summer months (between May and September), then it will be hot and you will have to think about what to wear in order to protect yourself from the rays!
14: Hats to Wear in Italy
A lightweight hat with a foldable brim is a must when travelling in Italy. This one is simple and elegant — Click here for prices
If you are a 'bigger is better' kind of girl then you will love this wide-brimmed hat, it is very Sophie Loren and would be perfect for walking around Italy! — Click here for prices.
15: Cover Up For The Beach
Perfect for those Italian beaches, this cover-up dress is very boho and comes in a beautiful shade of cream. Pair it with skinny black jeans, a hat and some flip flops for the evening boho look — Click here for prices
16: Travel Umbrella For Shade
If you are doing a lot of standing in line then, believe me, you will thank me for this tip!
This is the perfect travel umbrella, fabulous in the wind and for sun protection — Click here for prices
17: Sunscreen

Do I have to tell you about protecting your skin in Italy? I thought not.
If you do find yourself caught out with sunburn in Itlay then use this travel sunburn relief tip. You'll thank me for it.
I love this sunscreen, it is fabulously priced, easy to rub in and has a tropical smell, just wearing it makes me feel Italian!— Click here for prices
18: Sunglasses
Don't bother taking expensive sunglasses with you to Italy, you will either scratch them or leave them on a bench somewhere. Instead, I advise you to buy a couple of these gorgeous (but cheap) polarized UV400 sunglasses they are oversized and look very gorgeous (and Italian!)— Click here for prices
Bags For Wearing In Italy
19: Leather Handbag
This buffalo leather handbag is simply gorgeous. It oozes class and Italian charm and for the price, I don't think you'll find a better genuine leather handbag and this would look beautiful paired with an off the shoulder black or white top— Click here for prices
20: Anti Theft Handbag
Personally, I have never experienced pickpockets in Italy, but I know that there are stories about this happening, so if you would rather be safe than sorry, then this cross-body anti-theft bag is the bag for you.
Not totally unglamorous either, which is a bonus! — Click here for prices.
Would you love to travel more for a lot less? Then let me show you how! Join my FREE newsletter, and I will send you a free, complimentary copy of my ebook "Travel More, Travel Better, Pay Less".
I look forward to getting to know you better!
Books for Reading in Italy!
While there are many books about travel I could recommend you read while taking your Italy vacation, there is one in particular that I am going to recommend. The Travel Bog Diaries!
Here's why I think you will LOVE the Travel Bog Diaries.
1: If you are this far down the post, then you obviously like my style of writing.
2: You are a woman, and this book was written for you.
3: You are a man buying clothes for his partner. You're nice. You're allowed to read this book.
4: You love Italy. There are two chapters within this book dedicated entirely to Italy. One was written from Venice, the other from Pompeii.
5: It's as FUNNY as hell.
6: It was written by MEEEEE!! (Sorry. Couldn't resist..!)
Before you go, BEST Italy Tip Ever. Don't Ignore Housesitting!
We are big fans of housesitting. We estimated that while housesitting throughout Europe, we saved ourselves approximately ten grand.
Honestly, I can't understand why more people don't do this!
It's VERY straightforward: You can sign up for TrustedHousesitters FREE here to check out the beautiful properties in Italy and around the world, and then, if you wish to join (and let's face it, why wouldn't you??), you can use my exclusive discount code to save yourself 25% on the yearly subscription by Clicking here.
From there, you make a profile, and then twice a day, you are sent emails (such as the screenshot from my phone below) listing available properties in Italy!
Mamma Mia it's easy!!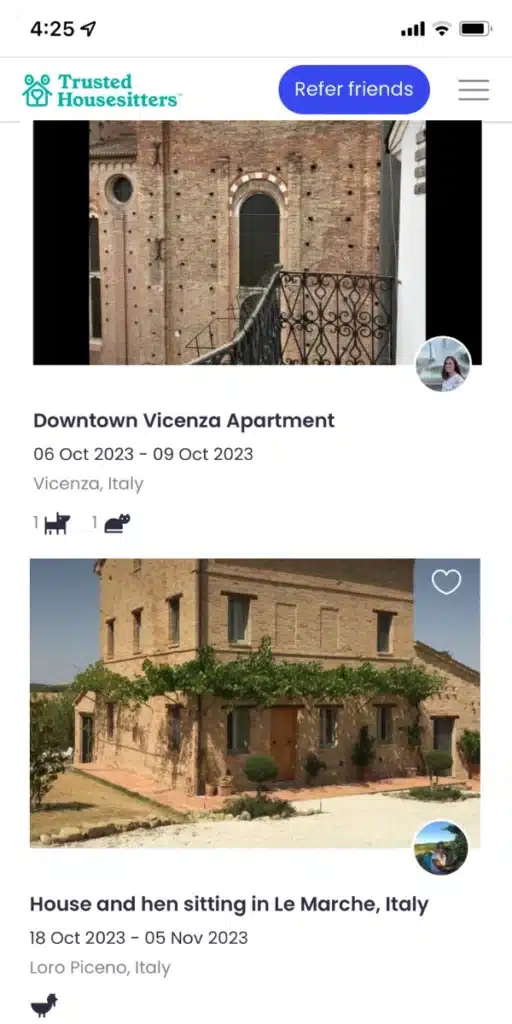 This is one of the emails that I get twice a day. At least consider housesitting! You will save a fortune and get to stay in places that are unbelievable!
If you are planning a trip to Italy, do not rule out the possibility of Housesitting!
It's not hard and is a fabulous way to experience living in beautiful parts of Italy in return for looking after someone's property (and maybe a pet!)
Click here to see more housesits in Italy.
Italy Travel Insurance
🟩 looking for the BEST Italy Travel Insurance? There is only one company that we use (and only ever use when we travel), and that is World Nomads. Over the years, we've made three claims (sorry, guys), and each time the service has been superb.
Click here to find out what unbeatable value you can expect when you book insurance for your trip to Italy.
Please note: We receive a fee when you get a quote from World Nomads using this link. We do not represent World Nomads. This is not a recommendation to buy travel insurance.
Related Posts That You Will Enjoy
21 Travel Purses That Are Both Gorgeous & Practical
Planning a Trip To Italy. Mama Mia! Don't Make These Mistakes!
Italy Travel Tips. What The Locals Don't Want You To Know
Arrive Feeling Beautiful. 10 Essentials Fort The Plane That You Will Never Forget Again
Enjoyed This Post? Save It To Pinterest!⇓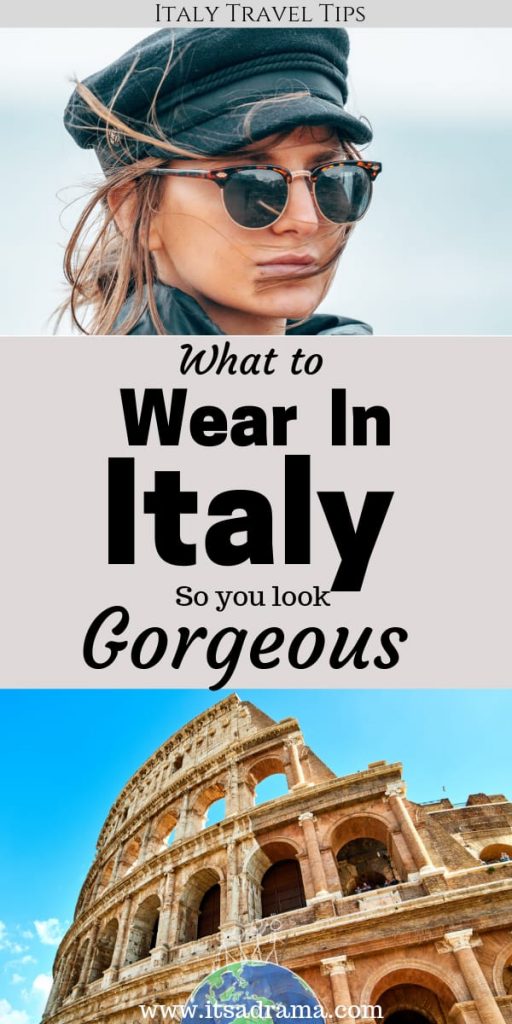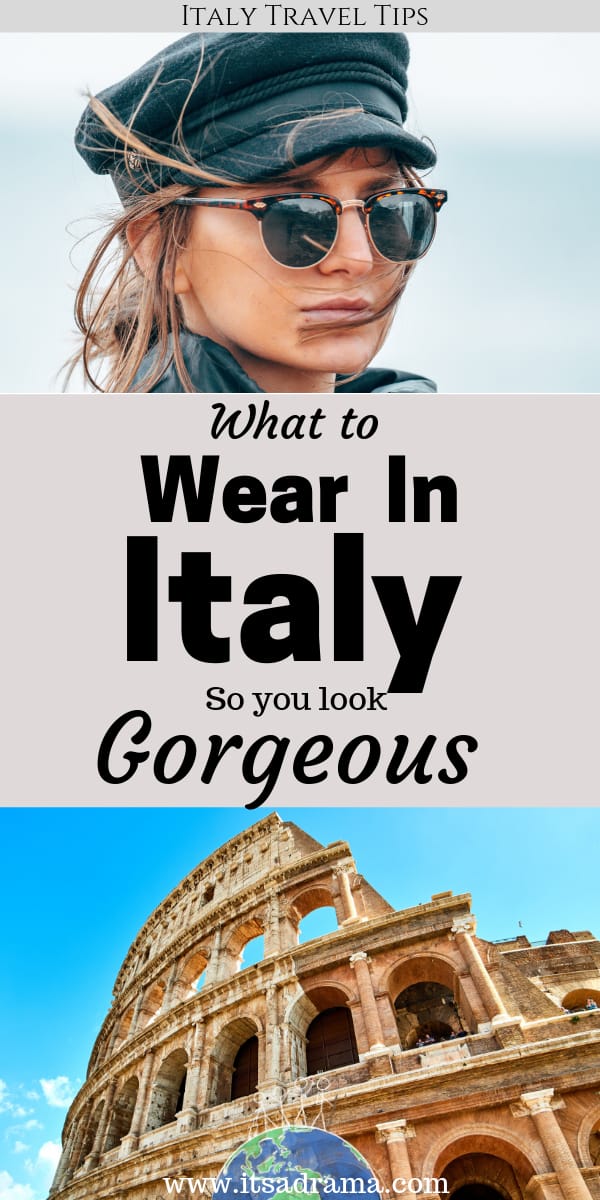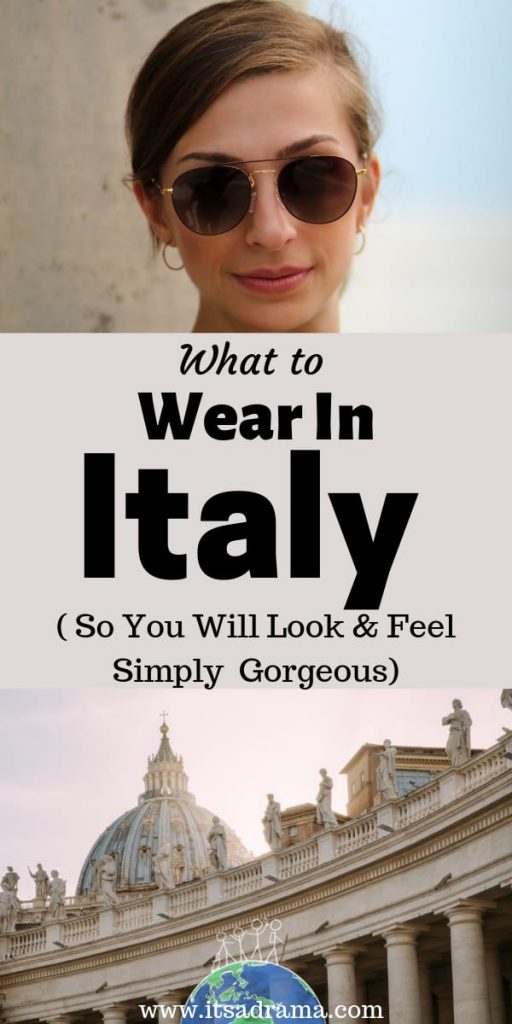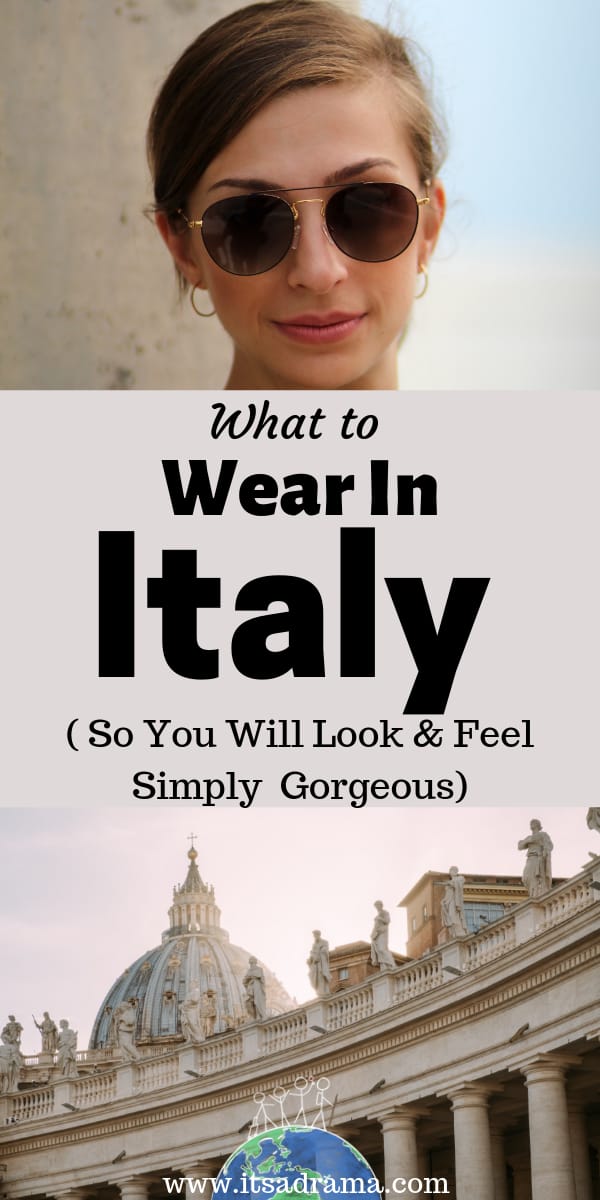 There you have it!
The 20 essential items you should pack when you find yourself asking what to wear in Italy.
Now, Off You Go To Plan What To Wear in Italy!
Italy is a fabulous country – you will have a ball.
I'd love it if you could comment below and tell me if I missed an essential that I could add to this post and remember!
If you enjoyed this post, then PLEASE share it with someone else who is traveling to Italy and is also wondering what to wear! Ciao!