San Gimignano is a charming medieval hilltop town nestled in the heart of Tuscany, Italy.
It is an absolute must-visit destination for travellers seeking an authentic Italian experience, and in my (humble) opinion, it is one of the most beautiful places in the world.
Known for its well-preserved architecture, picturesque landscapes, and rich cultural heritage, San Gimignano seemingly has it all…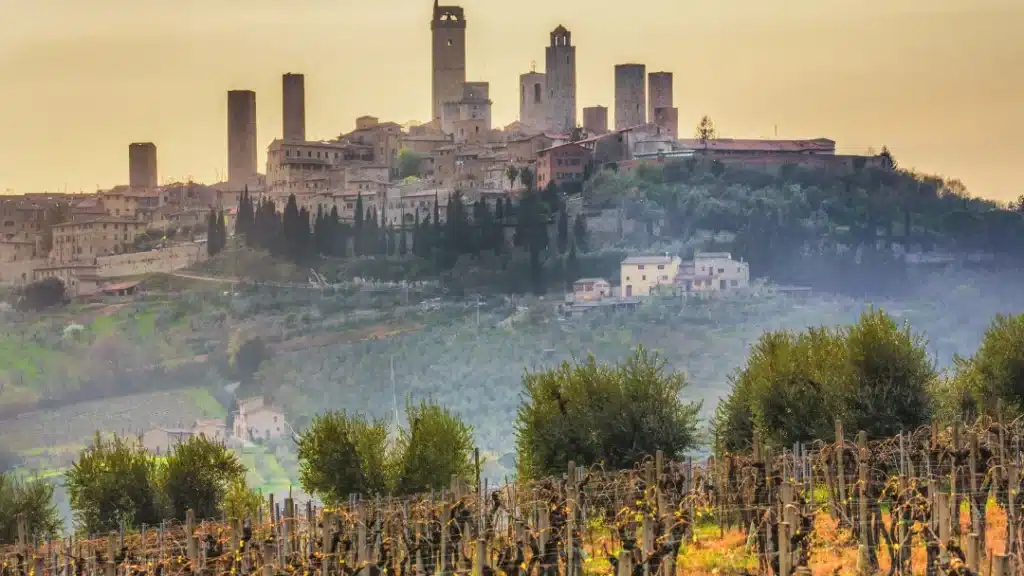 We are currently staying in Tuscany, Italy. In a beautiful seaside town called Porto Santo Stefano.
We are here for six weeks – housesitting (more on that in a minute) and have spent a great deal of time writing about Italy travel tips and creating podcasts and videos about travelling this fabulous country.
So guess what did we do this week?
We drove for two hours to spend the day exploring the quaint, much-talked-about, beautiful town of San Gimignano.
And because we love you…
When we returned home (to our housesit), we made a podcast for you. To share our very real and honest thoughts on what WE thought of the famous San Giamingnio and whether we thought it was worth the two-hour drive through Tuscany.
But.
Before you listen to this brilliant husband and wife podcast, here are a few facts about San Gimignano in Tuscany, along with five compelling reasons why you should (perhaps) consider adding San Gimignano to your travel itinerary.
Or not.
This post may contain affiliate links. They cost you nothing, but we make a small commission. Please see our Disclaimer page for more details.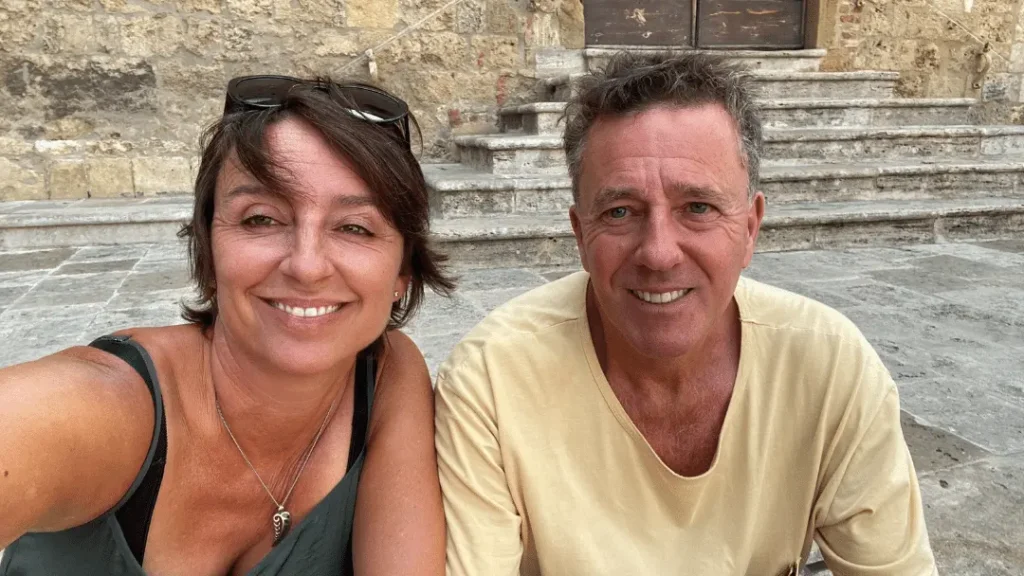 5 Compelling Reasons to Visit San Gimignano in Tuscany
(Then we will give you our thoughts after visiting later in the post!)
Ready? Let's go!
1: Captivating Medieval Architecture
San Gimignano is often referred to as the "Medieval Manhattan" due to its iconic towers that punctuate the skyline. During the medieval era, wealthy families competed to build the tallest towers as symbols of power and prestige.
Imagine that.
Talk about keeping up with the Joneses…and there's me worrying if my Wheelie Bin is as clean as the bloke next door.
While originally, there were 72 towers, only 14 have survived to this day. As you wander through the narrow cobblestone streets, you'll be transported back in time, marvelling at the architectural marvels and the unique skyline.
Don't miss the opportunity to climb the Torre Grossa, the tallest tower, for a breathtaking panoramic view of the town and surrounding countryside.
2: San Gimignano is a UNESCO World Heritage Site
In recognition of its exceptional cultural significance (and because the neighbours had spent years competing against each other), San Gimignano was designated as a UNESCO World Heritage Site in 1990.
The town's well-preserved medieval architecture, including its towers, palaces, and churches, provides a glimpse into the past.
Stroll through Piazza del Duomo, the main square, and admire the breathtaking Cathedral of Santa Maria Assunta with its exquisite frescoes.
Visit the Town Hall and the Palazzo del Popolo to delve deeper into the town's history and appreciate its artistic treasures.
3: Artistic Treasures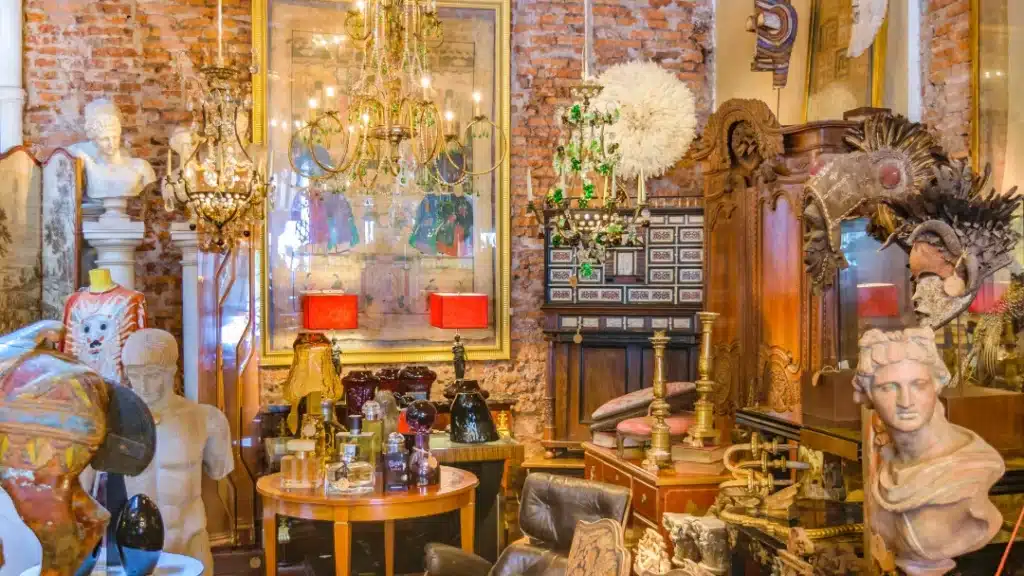 San Gimignano is a haven for art enthusiasts. The minute you arrive, you will feel it. Be sure to wear a long flowing dress (and if you can manage it), a headband and a large pair of sunnies.
That way, you'll definitely feel the part.
The town boasts several art galleries and museums that house works by renowned artists such as Benozzo Gozzoli and Filippino Lippi, and there are, of course, lots of gorgeous shops selling beautiful things that are really expensive.
But this is Italy. So we won't complain too loudly.
4: Enchanting Tuscan Countryside (Liz's favourite bit)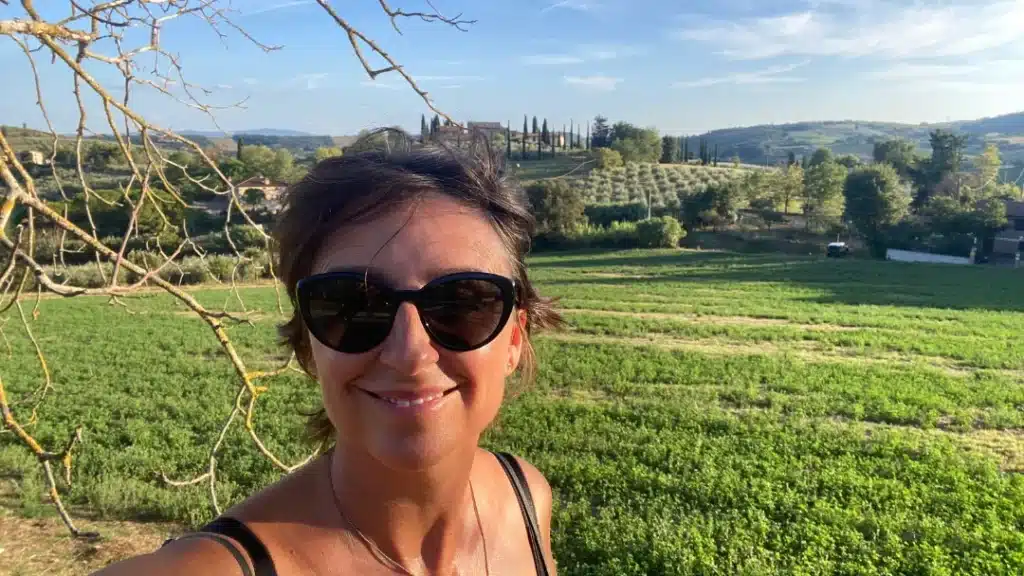 Surrounded by rolling hills, vineyards, and olive groves, San Gimignano is situated in one of the most breathtaking landscapes in Tuscany.
Take a leisurely walk or rent a bicycle to explore the idyllic countryside and immerse yourself in the region's natural beauty.
Indulge in wine-tasting tours at the local vineyards, sample the world-renowned Vernaccia di San Gimignano white wine, and savour traditional Tuscan cuisine.
The tranquil beauty of the Tuscan countryside is sure to leave you captivated and rejuvenated.
This was actually Liz's favourite part of the day; watching the sunset over the Tuscan hills.
Would you love to travel Italy more for a lot less? Then let me show you how! Join my FREE newsletter, and I will send you a complimentary copy of my ebook "Travel More, Travel Better, Pay Less". I look forward to getting to know you better!
Tuscan Festivals and Traditions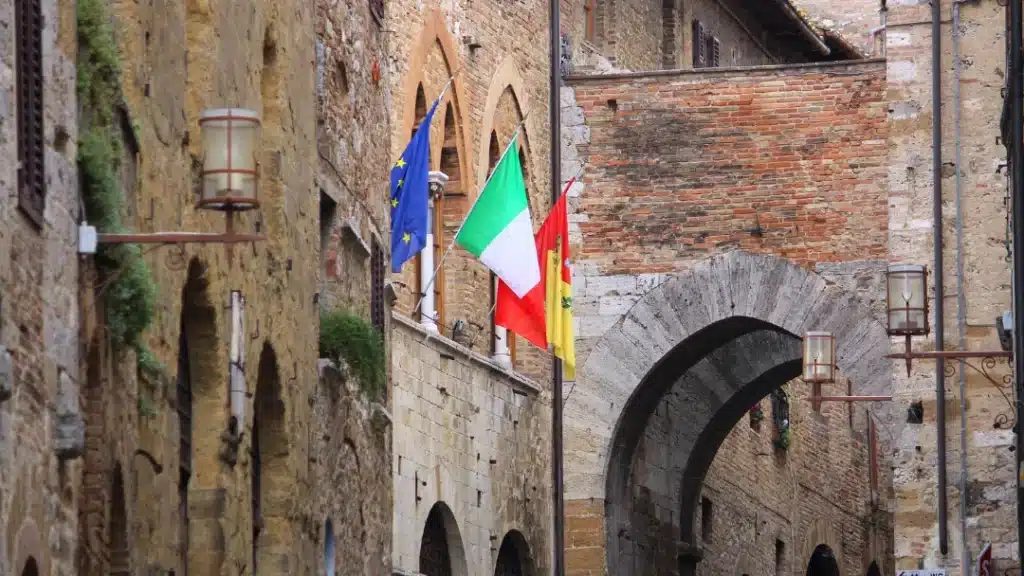 San Gimignano comes alive with vibrant festivals and traditions throughout the year, providing visitors with a chance to witness the town's rich cultural heritage.
The Ferie delle Messi, held in June, is a medieval festival where locals dress in period costumes, showcasing ancient crafts, music, and games.
The Vernaccia di San Gimignano Wine Festival in August is a celebration of the local wine, offering tastings, parades, and live performances.
Immerse yourself in these festivities, and you'll gain a deeper understanding of San Gimignano's traditions and sense of community.
Visiting San Gimignano in Tuscany, Italy. Were We Wrong?
So there you have it! Now you know why we were compelled to visit this beautiful town.
With its gorgeous medieval architecture, status as a UNESCO World Heritage Site, rich artistic heritage, stunning countryside, and lively festivals, San Gimignano seems to be the perfect destination to satisfy every traveller's wanderlust.
But was San Gimignano worth the drive? (And the money). Would we do it again? What would we do differently?
Let's jump into this week's podcast episode to find out…
Listen To The Podcast NOW!
Have You Read My Hilarious New Travel Memoir?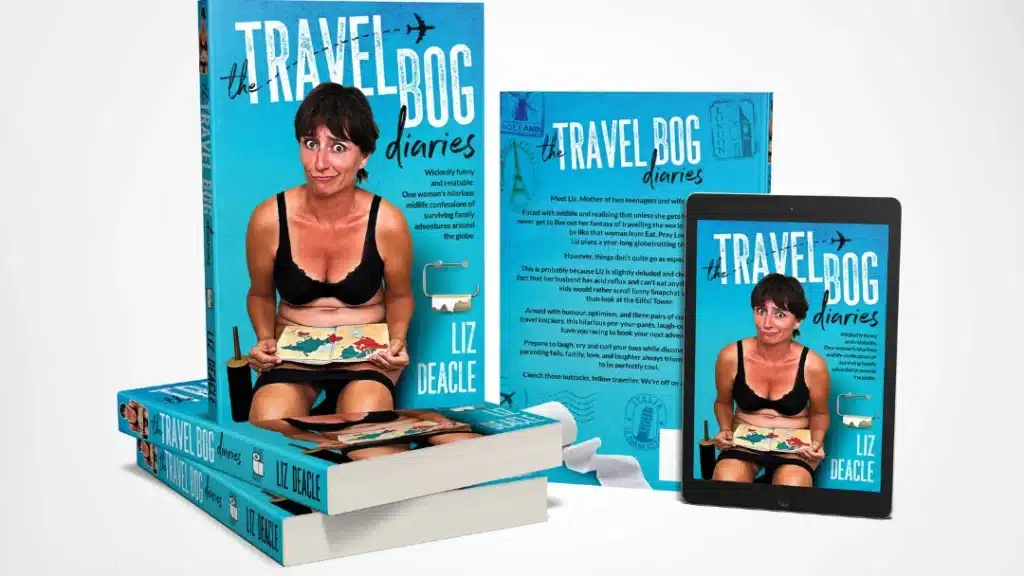 It is here! The Travel Bog Diaries!
If you are a traveler and love to laugh, then you will want to read this fabulous book!
It tells how an ordinary woman (me) took her husband and two teenagers and did something extraordinary (some may say bonkers) with them:
She travelled the world for a year on a budget of $70 a day.
As wonderful as it was, it was FAR from Instagrammy, and lots of hilariously embarrassing mistakes happened as this family trotted around the world.
But rather than keep these stories to herself, Liz decided to write them down.
Reveal what it REALLY looks like when you travel the world with your phone-addicted teenagers and your husband who complains that foreign food is too spicy…
If you have ever dreamed of travelling the world with your family, then do yourself a favour and grab a copy of this fabulous book. You will LOVE it!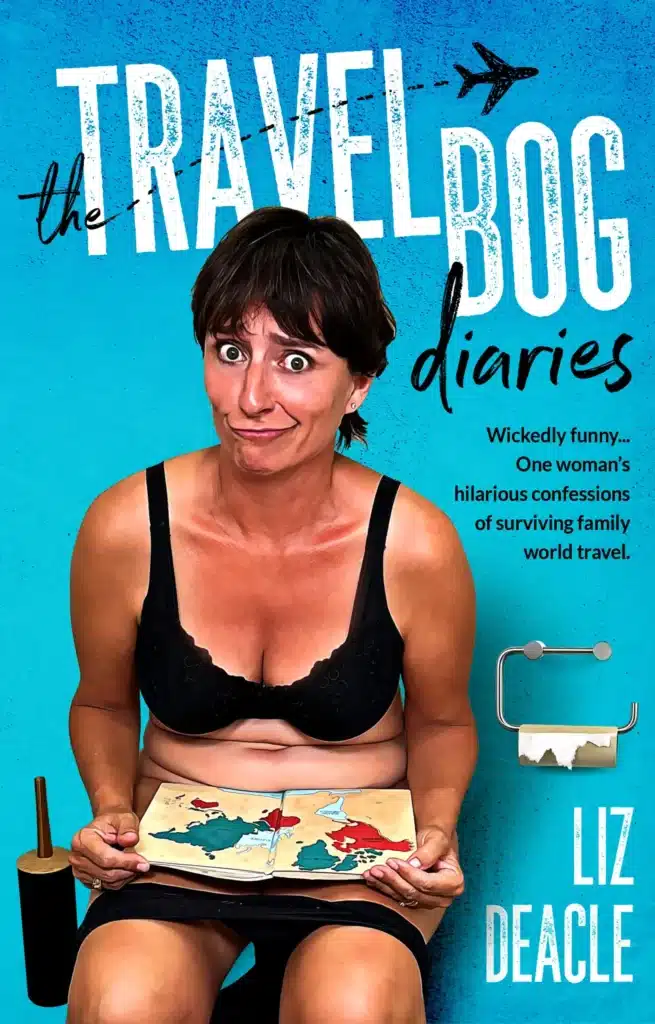 We are Housesitting in Tuscany, Italy. For SIX Weeks
If you have been following this blog or listening to our podcast for a while, you will know that we are writing this post from Tuscany in Italy.
We are housesitting in Italy (for six weeks!). In know, It has been heaven. Magical. Bellissimo.
But here's the thing.
When you are staying in Italy for six weeks, you tend to live like a local. Do as they do.
And locals do not take day trips to towns around the region.
No.
Locals go to the beach before midday to swim. Drink coffee in a terrace cafe, and people-watch. Buy fish from the fresh fish stall and take two hours to eat their lunch.
And so, that's how we have been spending our days, too!
But. We know how much you love to know about the towns around Italy. And we would not be doing our jobs as Italy travel bloggers/podcasters/ if we did the same thing every day…
So, this week we decided to stop being so boring and predictable and instead go out and explore. Like proper tourists.
Because this is obviously the best thing to do when you're spending six weeks in Italy.
Or is it??
In this week's It's Drama Podcast episode, find out all about:
Was San Gimignano worth the two-hour drive?
Why we felt a bit ripped off in San Gimignano
How Americans manage to make everything seem so damn awesome
Why this restaurant in a housing estate made Liz cry…
We LOVE Housesitting. Want to Try it too?
If you have been following this podcast for a while, then you will know that we have just returned for six months in Europe and Asia.
While we were there, we did a lot of housesitting.
We are constantly asked how we did this and if we can share the website that we used. So here it is:
The initial 'looking part' is free. You can oggle all of the beautiful houses and gorgeous pets in Italy that are waiting for YOU to look after them. Take a sneak peek here! (As I say, looking is completely free, so gander to your heart's content).
Then, if you are serious about using TrustedHousesitters as a tool to travel the world (as we do), you can use my exclusive discount code to save yourself 25% by Clicking here.
Still not sure about paying for a Housesitting membership?
Remember that the cost of a yearly membership (approx $80 using the discount code above) will be paid back (and more) on the first housesitting night. It really is that simple!
Links Mentioned in the Show:
Sign up to TrustedHousesitters HERE to get your 25% discount!
San Gimignano, where we went for our day trip!
Galeone Bar, where we get brilliant coffee and Aperitivo
Plaza Bistro in Obrbatello that we raved about