Pompeii. History, mystery, ruins, intrigue. Perfect material for a first-time visitor like me, desperate for the sights to live up to her expectations. I wanted to write a Pompeii travel blog but  I secretly feared that the ancient ruins wouldn't deliver the goods.
I thought it may be another overpriced tourist attraction.
In my head, Pompeii was going to be a small little street with some glass frontage to protect the hoards of tourists from touching the precious remains from over 2000 years ago.
The reality couldn't have been more different. I know now that Pompeii is one of those underrated destinations.
Let me explain
This post contains affiliate links. They cost you nothing but if you use them we make a small commission.
Pompeii Travel Blog. A Short History Lesson.
Once upon a time, there was a city called Pompeii that resided in the country of Italy. It was a glorious city with over 2000 inhabitants, shops houses, an amphitheatre an arena for which hoards of gladiators would compete for their lives in front of crowds of cheering onlookers.
The city of Pompeii had gardens, a school, a brothel, water fountains, public swimming pools and was the playground of the rich Roman folk.
A vast city that sat proudly in the south of Italy, looking out to the Mediterranian from the South and nestled, underneath the shadow of the enormous Mt Vesuvius to the North.
In 79 AD, there was no such word as volcano. The name was created afterwards. Derived from the word Vulcan – the Roman God of flame and metal forgery meaning that the people of Pompeii were completely ignorant to the fact that their city sat beneath a gigantic time bomb that towered above them. A rumbling, churning volcano, waiting to explode.
And on August 24 in 79 AD, that's just what the nameless shape did.
Mt Vesuvius erupted, seething lava from every crevice possible for a long 24 hours. It was fateful for the residents of Pompeii that on that day, the wind happened to be blowing in a Northwesterly direction, straight over to their city.
Spluttering hot rocks and sending plumes and clouds of volcanic cinder and embers over the Pompeii. Thick grey ash raining over the city and its people. Chocking and suffocating everyone and thing in its wake. The unbearable heat from the explosion and the blanket of deathly ash left the city of Pompeii and all of its inhabitants buried.
And preserved.
Fast forward almost two thousand years later to the year 1748. A group of builders were clearing a site to build a palace for King Charles III. Imagine their astonishment when they began to uncover an entire city, stone by stone.
I bet that gave them something to talk about on their tea break.
And so began the ongoing excavation of the city of Pompeii.
As a child, I remember the stories of Pompeii. How people and dogs had been uncovered. The boy with the loaf of bread in his hand, his face contorted as he fled for his life. It stayed in my memory for forty years.
I have homeschooled my kids for the past nine years and the chance to take them both to see ancient Pompeii was one I was determined not to miss. I told them there were dead bodies to be seen an I've never seen them jump so quickly into the car.
Talking of my kids, take a look at this 3-minute video of Pompeii that Sonny made. It captures the place perfectly.
If you enjoyed please leave your thoughts in the comments below!
For Pinterest ⇓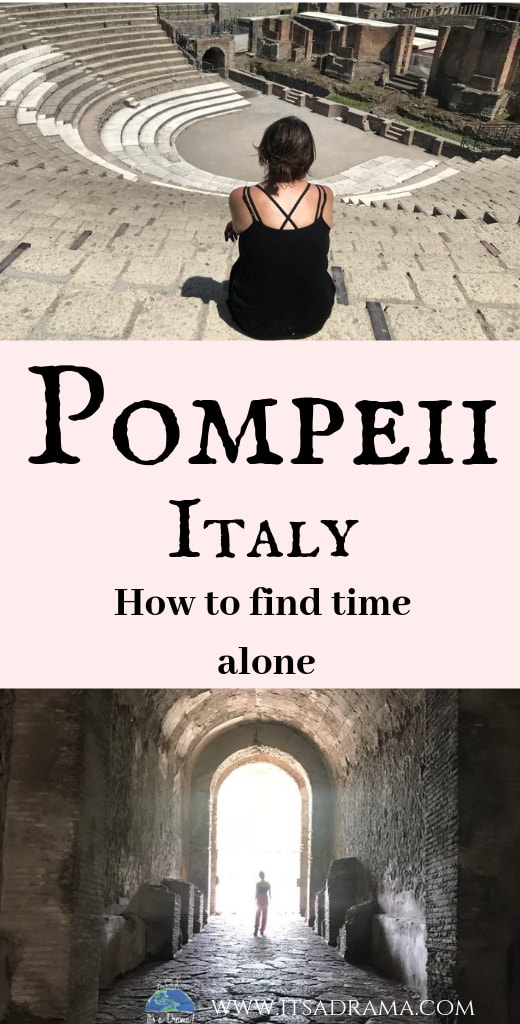 Transport Options for Getting to Pompei:
Train: From Napoli. Get off at Pompeii Santuario. You can see all you need to know about the train from Naples to Pompeii here.
Bus: From Naples. Run by ANM. Check out the bus schedules here.
Drive: From Naples Motorway A3. Take the exit to Pompeii ovest. Salerno to Pompeii take the first Pompeii exit.
We are travelling the world with our teenagers for a year and so are always looking for ways to save money. To do things as cheaply as possible. After doing the calculations using apps such as the brilliant Rome2rio it became apparent that when travelling with four it is cheaper to hire a car.
I won't go too deeply about it in this post, but if you get excellent insurance as we did, the insurance excess on the vehicle is already covered, making car hire a more economical option compared to everything else.
Parking Near The Ruins of Pompeii.
Don't worry about parking when you get to Pompeii. It's easy. There are loads of carparks touting for your business.
Some offer free parking if you eat at their restaurant or stay at their campsite.
We parked the car park attached to the Restaurant Versuvius. It is a five-minute walk to the ruins and is guarded at the entrance so you can relax knowing that your car window won't get smashed. They also have clean toilets and if you eat lunch or dinner your parking fee will be waived.
It cost 10 Euros for the day. This is the going rate, don't pay any more. If you want to know more inside tips about visiting Europe then go to this post.
Just be aware that Pompeii is a bit rough around the edges. We were approached a couple of times by a husband and wife team asking for money and food.
We had been warned by a local host while we were couch surfing that there are folks in Naples and Pompei that think nothing of snatching your watch off your wrist or your bag from over our shoulder. I'm not meaning to put a downer on your trip, just be careful.
Don't think of parking your car on a side street; it might not be there when you get back.
IF YOU ARE ENJOYING THIS POST PLEASE PIN IT!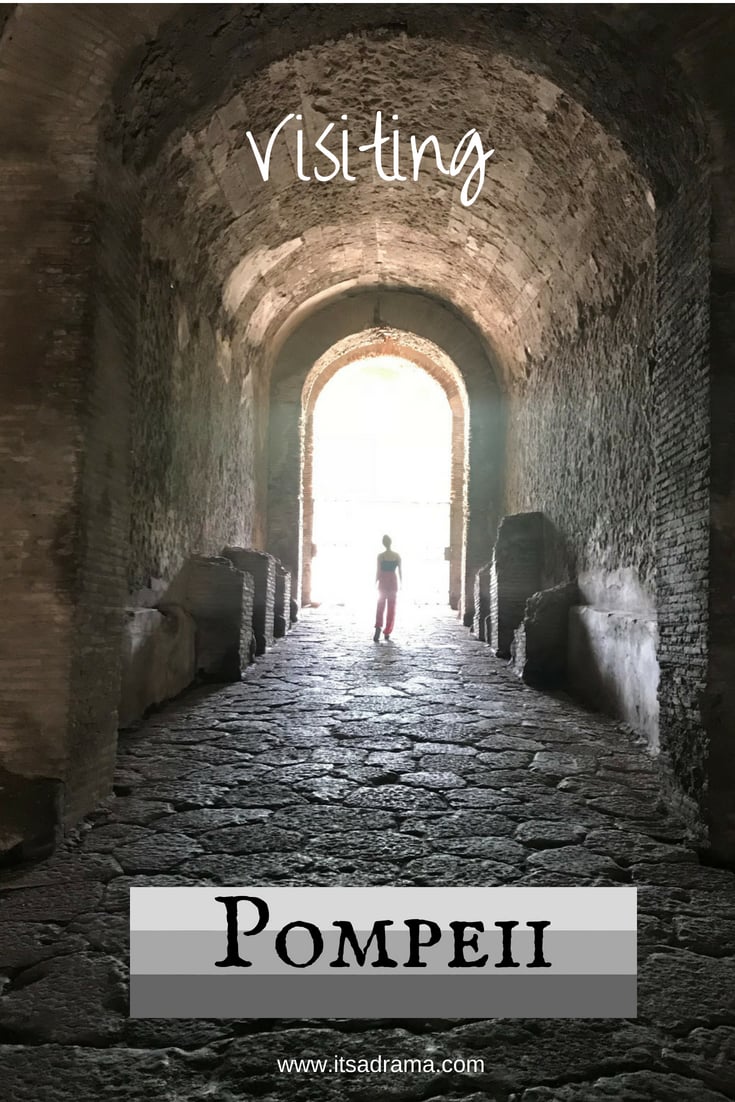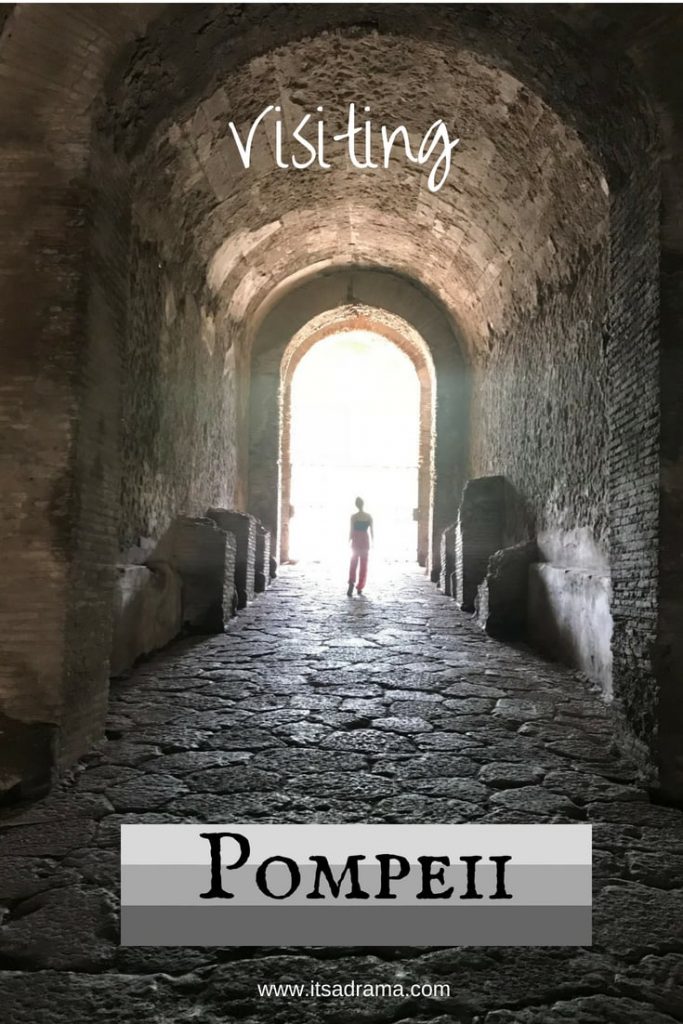 The cost to Enter Pompeii
Kids under 18 are free!
Adults cost 15 euros. Credit cards are accepted.
 A Little Bonus Tip – How to visit the ruins of Pompei for free! Plan your visit to coincide with the first Sunday of any month and you won't pay a cent to enter the Pompei ruins. What a bargain!
Entrance to The Ruins of Pompeii.
There are three different entrances into Pompei ruins.
Porta Marina. Use this entrance if you have arrived by train (the railway station is opposite) If you need an ATM, or if you want to see the Forum first. (It's the closest entrance).
Piazza Esedra. (next to Porta Marina)
Piazza Anfiteatro. In the town of Pompeii. About 15 minutes walk to the East.
Opening Times to Pompeii Site
Open: Everyday apart from 25 December, 1 January and 1 May.
Opening times: (April – Oct)      9.00 – 19.30. Last entry 18.00.
(Nov – March)  9.00 – 17.00. Last entry 15.30.
Guided tours of Pompeii.
Guided tours organised by the Pompeii Archaeological park can be requested at the tourist guide desks of Porta Marina (information Office)  and Piazza Esedra from 9 am – 1 pm. The costs are around 115 Euros. Remember though, if you choose this option you will be with a large group.
If you prefer a more personal guide, Get My Guide is the best there is. They offer various options but this private two-hour tour gets you a friendly, knowledgeable guide all to yourself and you get to skip the line.

The site of Pompeii is huge. You could spend two or three days there and still not see everything. Hopefully, the answers in this travel blog will make for a stress-free day. Mine certainly was.
15 Tips To Ensure Your Trip to Pompeii Is As Special As You Dreamed It Would Be.
What will I eat if I'm there for the entire day? I'm going to be starving!
The entrance to Porta Marina has stalls selling fresh fruit juice, coffee and snacks. They are very reasonably priced. Alternatively, There are designated picnic areas close to Piazza Anfiteatro and Casina dell' Aquila but we saw people eating their sandwiches in the cool shadows of the amphitheatre.
Remember though, keep your lunch small enough to fit into a bag no bigger than 30 x 30 x 15 cm otherwise you will be asked to leave your bag at the entrance in a locker  (for free).
I only have a few Euros in cash. How will I tip my guide?
There is an ATM at the entrance of Porta Marina. Remember, credit cards are accepted for the entrance payment.
I don't want to carry lots of water bottles of water around with me. Will I die of thirst?
There are small water fountains around the site and the water is deliciously cold and perfectly safe to drink. Save money and take an empty water bottle and fill up as you go.
What should I wear?
Wear comfortable shoes. You are going to be walking all day and the cobblestone streets are hard going on your feet. No high heels please ladies.
Isn't the place is heaving with tourists? I'm worried that I won't get the full experience.
Even with the many school groups, tourists and guides with their brightly coloured flags held high above their heads, there is still masses of space and plenty of opportunities to get away from the crowds.
Can I take the kids to Pompeii?
Teenagers will love it. They just will. There are bodies and everything.
If you are considering taking babies I'd choose a sling rather than a pushchair due to the uneven cobblestones. It's not impossible with a pram (we saw people doing it) but it will be a bumpy ride. Primary age kids will love playing in the amphitheatre and practising with their loud voices. Not too loud mind you. You don't want to be kicked out.
Download the app of Pompeii from the App Store. Kids (and adults)  love the  images of how Pompeii would have looked. It will keep them entertained while you enjoy your lunch in peace amongst the ruins.
What's it like in the summer?
It's hot and exposed. Consider taking an umbrella for shade. If not, certainly wear a hat, sunscreen and don't forget your sunglasses.
Where are the bodies of Pompeii?
If you have teenagers like me, they are going to want to see the bodies before anything else. You can't blame them really. Let's face it, it's probably the only reason they agreed to come.
But remember, the bodies aren't the real bodies. The real ones decomposed long ago. What you are seeing is a  cast of the original shapes of those poor souls. After the organs, skin and clothes decomposed, plaster of Paris was poured into the shell of the hardened volcanic material that surrounded it. This article goes into further detail should you wish to argue your point with the kids.
You will find the bodies in the building number 16 close to the entrance Piazza Anfiteatro and building number 17 which is closest to the Porta Marina entrance. Get a free map from any of the three entrances. The symbol of the body laying down signifies where you can find the bodies.
 Are there lots of rules and restrictions?
Compared to other historic sites in Europe, Pompeii is wonderfully relaxed. You are free to wander around the streets and into the buildings of this ancient wonder. Make sure that when entering the houses with murals on the walls you don't touch or use flash photography. As I say to the kids, look with your eyes, not your hands.
Can I smoke while I enjoy the ruins of Pompeii?
No. You will have to leave the site if you are desperate for a cigarette. Get a pass from Piazzo Inferno. It will allow you to come back in again.
How about photos and videos? Any restrictions?
Take as many photos as you like. Just don't use your flash when you are inside the houses with murals.
If in doubt, ask one of the security people who are there to help. They appear to be a bit unfriendly at first. They stand at the doorways of the houses with murals shouting at people who haven't read this travel blog,  'Don't tach!' (in an annoyingly sexy Italian accent). They are actually very nice when you talk to them, ask them anything you need to know.
Is it possible to escape the crowds?
Yes. Absolutely. Don't miss the little places off the beaten track within the site of Pompeii. All the tourists head for the amphitheatre and the stadium – and yes, these are a must-see, but there are some wonderful little places waiting to be explored such as the local bakery or the horse's stables.
After you are done with your guide go and seek them out. You will probably have the place to yourself. Sit and relax. Send the family back off to the bodies if need be. You need to be alone in order to appreciate the feel of this special place.
But I can't afford a guide! How will I know what I'm looking at?
If you can't afford a guide hang around the big groups and you'll easily hear all the information for free. If you have time, I recommend you read this book on Pompeii It will make your visit all the more enjoyable.
How much will I see in a day?
Slow down and take it all in. Better to see four or five ruins slowly, than to race around a hundred buildings so you can say that you have 'done' them.
Notice how the wheels of the carts have worn away the large cobblestone roads. Take time to place your hand in the very spot that thousands of others, years ago, placed theirs on the side of the fountain while bending over to take a drink. Feel how smooth the stone is as a result of it.
So, is Pompeii worth the money? Is it as special as everyone says it is?
You are going to love Pompeii. It's impossible not to.
Related Posts That You Will Enjoy
One beautiful (and free) place in  Florence that nobody seems to know about. 
Housesitting in Europe. How we saved ten grand.
How people on a regular wage afford to travel the world
Arrive looking beautiful. 10 Travel essentials For The Plane That You Won't Want To Travel Without
There are not many places in the world that you can meander quite freely through such wonderful history. If you have had it on your bucket list for years like me I promise, it will not disappoint you.
Take your time, stand in the middle of the arena. Take your sunglasses off and feel the heat. Imagine the noise of the crowd as the gladiators entered the stadium. Look up at the huge bulk that is Mount Vesuvius looming behind you and picture what happened. Yes.  Pompeii is worth it.
I hope this travel blog has answered some of your questions about visiting Pompeii. If you are in Italy and you have 15 Euros, go. Take the kids, they go FREE. You will never forget it.  For me, it was worth the forty years wait.  Let me know what you thought of Pompeii, or if you have already been if you loved it as much as me.
.