Do you long to get away from the crowds? See Italy as it should be seen? To discover Florence off the beaten track means that you will get to experience the best of what this gorgeous Italian city has to offer but without the crowds.
And the flag holders.
This post may contain affiliate links. They cost you nothing but we make a small commission.
Visiting Florence
Florence (Firenze) is the capital city of the region of Tuscany and is one of the most beautiful places on earth.
If you've never been to this part of Italy before then you are in for a treat.
It is the perfect European city for families with young kids, couples looking for romance or a hideaway to get away by yourself and soak up this special piece if Italy.
Florence holds in its arms many masterpieces of both architecture and Renaissance art, along with world-class restaurants and fabulous romantic sunsets. No wonder then that it is often voted as being one of the most beautiful places in the world to visit.
But, to see this city as it deserves to be seen you need to be adventurous and do things differently.
Oozing charm, and with almost every street you turn down making you feel as though you have been transported on to the set of a Merchant Ivory Production Florence also has plenty of non-touristy things to offer those willing to look.
And one of those secrets is what I want to share with you.
But Firstly. Visiting Florence? You'll Thank Me for This.
Florence: Uffizi Gallery Timed Entrance Ticket
There is nothing worse than spending your vacation time standing around in line and that's why I'm sharing this little tip with you.
For not much more than $20 each, you will get to enjoy priority entry to Italy's greatest art treasures with a reserved entrance ticket to the Uffizi Gallery in Florence.
See masterpieces by Michelangelo, Da Vinci, and Giotto, and spend as much time as you like gazing at Botticelli's "Birth of Venus."
Some things are worth paying for and this pass is one of them! Escape the hassle and hurry of organized group tours, and explore at your own pace. (And just so that you know, you are free to stay inside the museum for as long as you like.)
Get your fast pass here.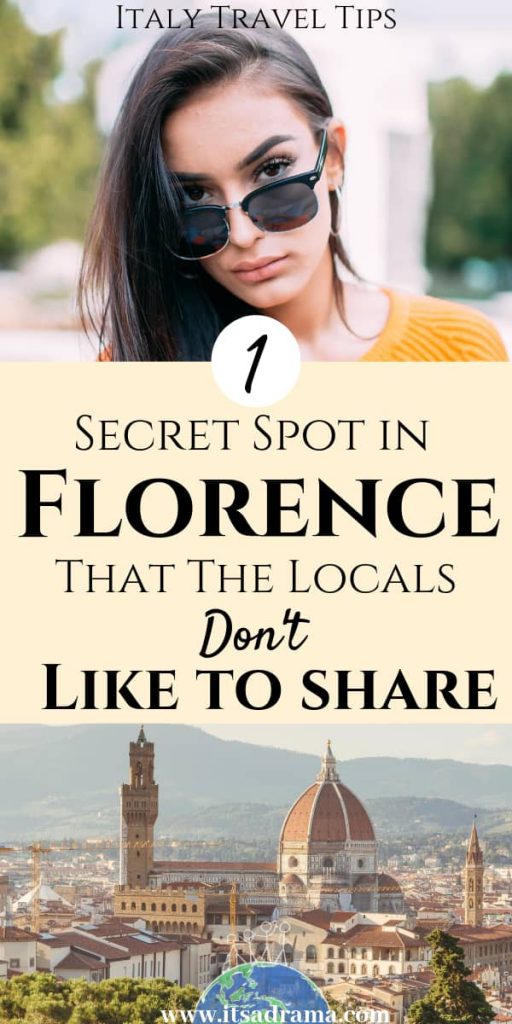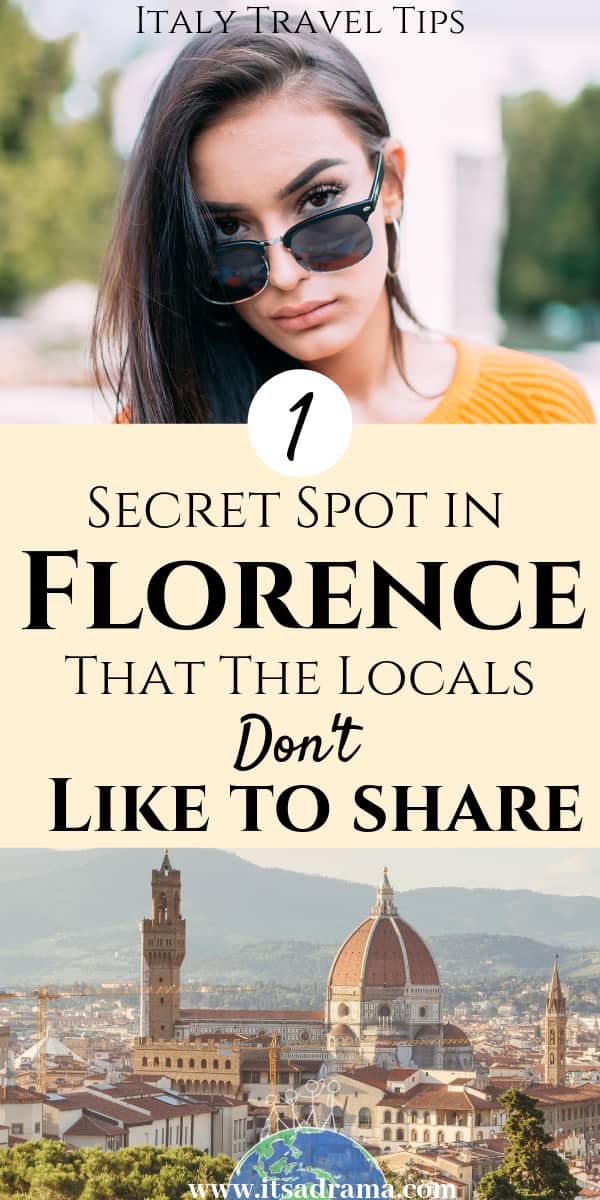 Florence off the Beaten Track. One Secret That You'll Love
Everyone wants a dream vacation in Italy, and this is very, very possible – even on a tight budget.
Read these 35 tips on what to expect in Italy and get ready to have the time of your life in Italy.
Like many beautiful European cities, Florence is a popular tourist destination, and if you insist on only heading to the places listed in your guidebooks or on travel blogs, you will find yourself competing for some space to breathe.
And that's not what Florence is all about.
An Alternative to Piazzale Michelangelo
Ask people where to go to get the best view of Florence, and you will most certainly be pointed in the direction of the ever-popular Piazzale Michelangelo.
And up you will go, with every other tourist in Florence.
And yes, you will find a wonderful view, but you will also find very little shade and nowhere to stand for a selfie without other people invading your space.
Piazzale Michelangelo is crowded, no matter what time of day you visit.
We visited Florence after spending a few days in Pompeii and, like everyone else, thought that the only way to view the city was by following the crowds and heading to PM.
We are currently travelling the world with our two teenagers, aged 17 and 14 and to convince them to get up early and walk up a steep hill was not easy.
But up we climbed. Twice in fact. Once in the early morning and again on a beautiful evening.
And both times it was crowded and full of tourists and their cameras. So we decided to investigate other ways to see Florence. As the locals would see it.
Florence off the beaten path.
Housesitting In Florence, Italy
We were told about this secret gem by a host while we were housesitting in Florence.
That's why I love housesitting so much. Not only do you get to stay in idyllic Italian properties for free, but you also get inside information that is priceless.
If you have never dabbled in the world of housesitting then I urge you to give it a go and use my exclusive discount code to save yourself 20% by Clicking here.
We saved ourselves almost ten thousand dollars in the summer of last year when we were housesitting throughout Europe.
Don't go thinking that housesitting is for seasoned travellers – it is so not. It is a way to see the world at your own pace and without having to spend a penny.
Check out the Italian house sits here – the house we looked after in Florence was divine.
Ok. Back to the secret place that I'm going to share with you, (you are going to thank me for this tip, I promise!).
I accept wine through the post.
ENJOYING THIS POST? PIN IT! ⇓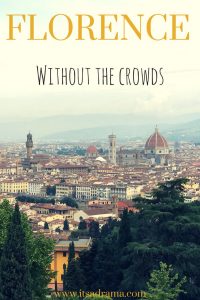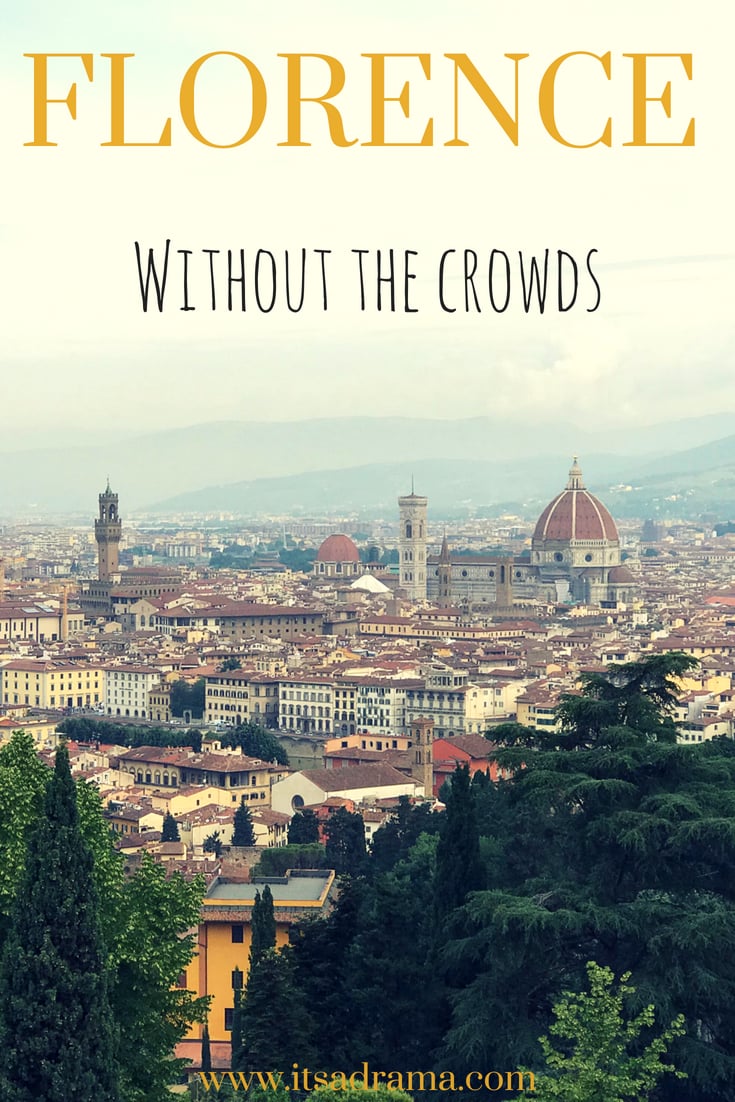 And The Best View Of Florence can Be seen From…
The Church of San Miniato al Monte!
Ten minutes further up the hill from Piazzale Michelangelo, where the throng of tourists are snapping away with their cameras and selfie sticks, sits the beautiful Church of San Miniato al Monte and it's adjoining cemetery Cimitero Della Porte Sante – meaning cemetery of the holy doors.
Construction on this majestic Tuscan church started in 1015 and is said to be one of the most scenic churches in Italy.
The ancient building is perched atop one of the highest points in Florence meaning those who make the effort to make the further ten-minute climb will be rewarded with the most stunning views of Florence.
Driving to the Best View in Florence (& Parking)
If you are driving in Florence and want to visit the Cimitero Delle Porte Sante then use the map above or download the Google Maps App.
That way you won't get lost. It's very simple to find.
There are a handful of FREE parking spaces outside of the cemetery. Just a handful mind. To ensure that you snag one of them, do as we did and arrive before 9 am.
If you have kids then it won't be easy, but persevere. Use bribery if necessary. Only by getting up early will you see the city view in all of its morning splendour (and grab yourself a free parking space).
Know that there is also no time limit on the parking spaces, so if you wish you could park here and walk down to the city for the day, saving you a fortune on parking meters.
Taking A Tour To The Church Of San Miniato al Monte
If you aren't driving in Florence and would like a guide to take you to this fabulous viewpoint, I suggest this tour of Florence.
They will walk with you to the church and fill you in on all the local history along the way, which is always lovely when you hear it from a local.
PS. We LOVE Housesitting. Want to Try it too?
If you have been following this podcast for a while, then you will know that we have just returned from six months in Europe and Asia.
While we were there, we did a lot of housesitting. We are constantly asked how we did this and if we can share the website that we used. So here it is:
The initial 'looking part' is free. You can oggle all of the beautiful houses around the world that are waiting for YOU to look after them. Take a sneak peek here! (As I say, looking is completely free, so gander to your heart's content).
Then, if you are serious about using Housesitting as a tool to travel the world for free (as we do), you can use my exclusive discount code to save yourself 20% by Clicking here.
Still not sure about paying for a Housesitting membership? Remember that the cost of a yearly membership (approx $80 using the discount code above) will be paid back (and more) on the first housesitting night. It really is that simple!
Related Posts That You Will Enjoy
Housesitting in Europe. How we saved ten grand
Optimist or pessimist. Which kind of traveller are you?
Dress like an Italian. Ponchos. The most stylish way to face the weather
A
Enjoy The Tranquility of The Cemetary & The Church in Florence.
Once you have marvelled at the outstanding view and the fact that you don't have to pay for parking, make sure you take your time to wander around the gorgeous cemetery and church. Be aware that when you visit sacred places in Italy, you must cover your bare skin up.
Check out my post on what to wear in Italy, and you will be all good to go.
Amongst the many ornate and hugely expensive headstones and family tombs, you will find the grave of the famous Pinocchio author Carlo Collodi.
There is a small gift shop where, if you are a fan of the little wooden puppet, you can buy some memorabilia.
If you happen to be visiting in May, as we were, you will be treated to the divine smell of jasmine flowers as you wander around the grounds.
The Church will leave you breathless. Literally. It is so beautiful.
The old stone floors and the Romanesque elements create a sense of time standing still.
No words that I write here will do this exquisite church justice. You must witness the vastness, the mosaics and the marble inlay that runs along the floor of the central pavement that feels cold to your feet, the echoes -even when you whisper, the history of what has gone before, for yourself.
Related Posts That You Will Enjoy
Arrive feeling beautiful. 10 Plane essentials that you will never leave home without again
How people on a regular wage afford to travel the world
Couchsurfing with kids. The good, the bad and the bucket
The ultimate travel checklist. 35 Things to remember before you leave for Italy
PIN IT TO PINTEREST ↓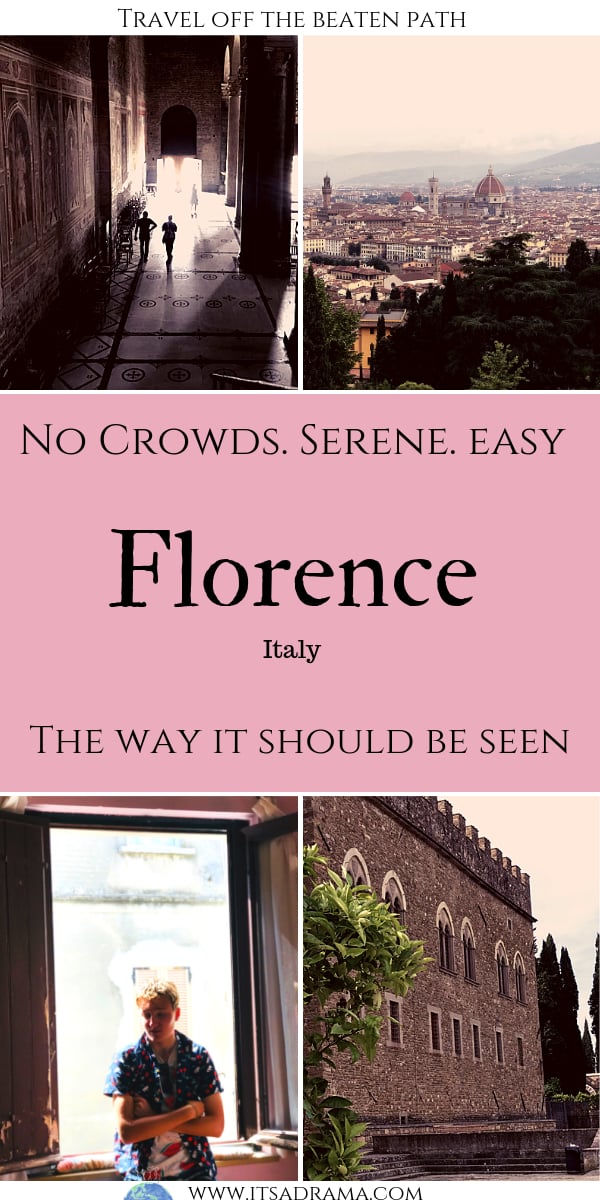 Summing Up Florence off The Beaten Track
So there you have it.
My secret shared. How to see Florence off the beaten track.
By doing it this way, not only will you capture the best view and experience the splendour of one of the most beautiful churches and cemeteries in Italy, you will save yourself money on parking and give your thighs an extra ten-minute workout. And that's no bad thing!
Leave me a comment and let me know what you thought of Florence. Have you discovered an off the beaten track gem in Italy?