If you've never been to Florence then you are in for a treat. Florence (Firenze) is the capital city of the region of Tuscany. It holds in its arms many masterpieces of both architecture and Renaissance art, along with world-class restaurants and fabulous sunsets. But to see this city as it deserves to be seen you need to be adventurous and do things differently. To discover Florence off the beaten track will mean that you get to experience the best of what this city has to offer, without the crowds.
Florence is utterly charming, with almost every street you turn down making you feel as though you have been transported on to the set of a Merchant Ivory Production.
But, like many beautiful European cities, Florence is a popular tourist destination and if you insist on heading to only the places listed in your guidebooks or on travel blogs you will find yourself competing for some space to breathe.
Florence off the beaten track. An Alternative to Piazzale Michelangelo.
Ask people where to go to get the best view of Florence, and you will most certainly be pointed in the direction of the ever popular Piazzale Michelangelo. And up you will go, with every other tourist in Florence.
And yes, you will find a wonderful view but you will also find very little shade and nowhere to stand for a selfie without other people invading your space. Piazzale Michelangelo is crowded, no matter what time of day you visit.
We visited Florence after spending a few days in Pompeii and like everyone else thought that the only way to view the city was by following the crowds and heading to PM.
We are currently travelling the world with our two teenagers aged 17 and 14 and to convince them to get up early and walk up a steep hill was not easy. But up we climbed. Twice in fact. Once in the early morning and again on a beautiful evening. And both times it was crowded and full of tourists and their cameras.
So we decided to investigate other ways to see Florence. As the locals would see it. Florence off the beaten track.
The Best View of Florence. A local Secret.
We were told about this secret gem by a host we were staying with when we were couchsurfing in Florence. That's why I love couchsurfing so much, the inside information you receive is priceless. But you probably have no intention of following my lead and sleeping in a strangers house, so, I am willing to share the information he gave to me with you. You are going to thank me for it. (I accept wine through the post).
ENJOYING THIS POST? PIN IT!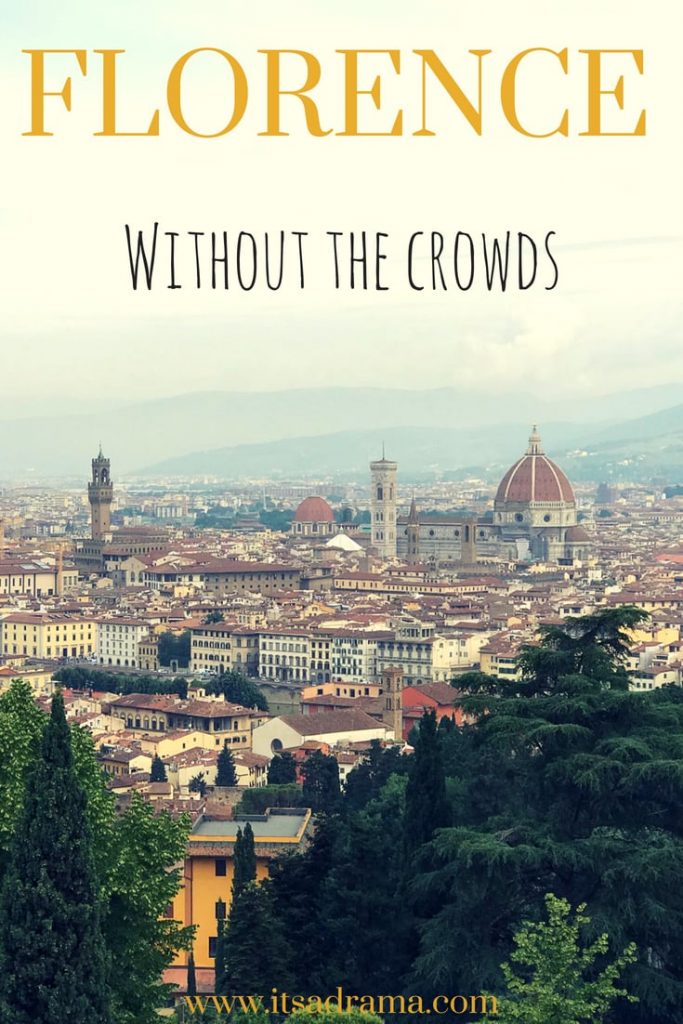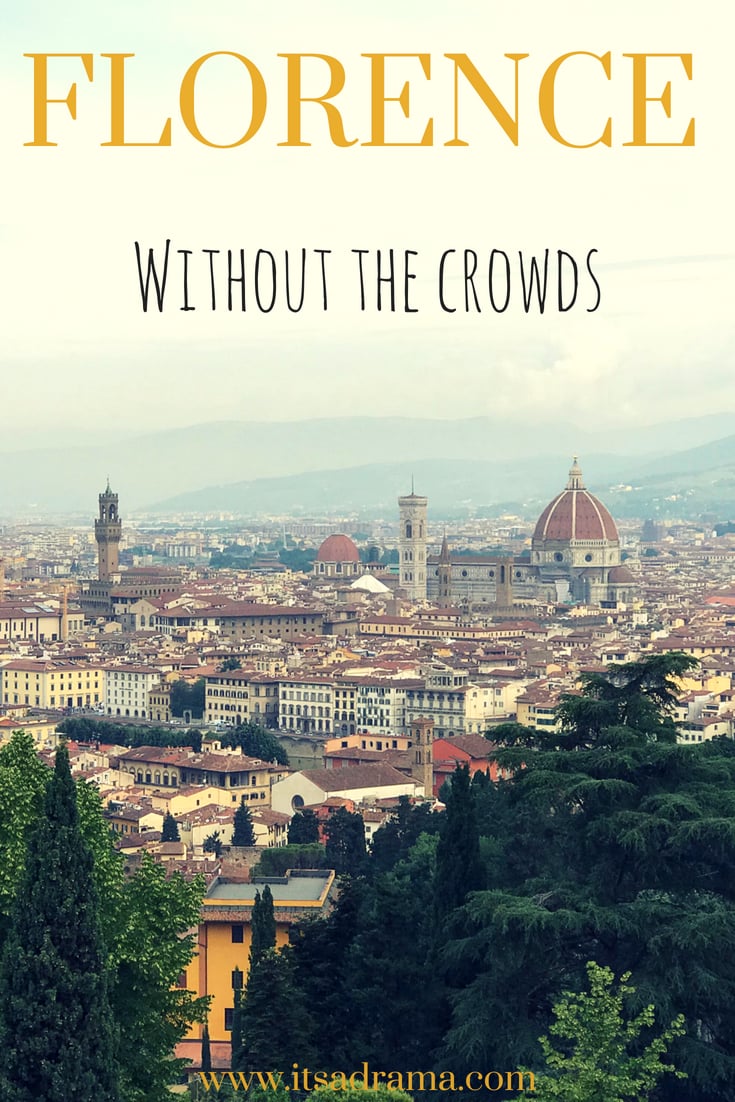 The Church of San Miniato al Monte.
Ten minutes further up the hill from Piazzale Michelangelo, where the throng of tourists are snapping away with their cameras and selfie sticks,  sits the beautiful Church of San Miniato al Monte and it's adjoining cemetery Cimitero Della Porte Sante -meaning cemetery of the holy doors.
Construction on this majestic Tuscan church started in 1015 and is said to be one of the most scenic churches in Italy. The ancient building is perched atop one of the highest points in Florence meaning those who make the effort to make the further ten-minute climb will be rewarded with the most stunning views of Florence.
Driving to the Best View in Florence
If you are driving in Florence and want to visit the Cimitero Delle Porte Sante then either use the map above or download the Google Maps App from Itunes here. That way you won't get lost. It's very simple to find.
There are a handful of FREE parking spaces outside of the cemetery. To ensure that you snag one of them, do as we did and arrive before 9 am. If you have kids then it won't be easy but persevere. Use bribery if necessary. Only by getting up early will you see the city view in all of its morning splendour (and grab yourself a free parking space).
Know that there is also no time limit on the parking spaces, so if you wish you could park here and walk down to the city for the day saving you a fortune on parking meters.
Taking A Tour Off The Beaten Track In Florence.
This tour has got to be THE coolest way to see Florence. And the best value for money. The little red Vespa tour takes you up to the cemetery and off the beaten track to capture the views without the crowds.
If you are a regular reader of this blog then you will know that  I'm a bit of a romantic and doing this tour with Get Your Guide is about as romantic as it gets.
To whizz around the city of Florence on the back of a Vespa with your loved one (or even your best friend!) would be glorious. Obviously, with two kids in tow, I never got the chance to live out my Italian Vespa fantasy, but there's always next time.
A
Enjoying The Tranquility of The Cemetary and The Church.
a
Once you have marvelled at the outstanding view and the fact that you don't have to pay for parking, make sure you take your time to wander around the gorgeous cemetery and church.
Amongst the many ornate and hugely expensive headstones and family tombs, you will find the grave of the famous Pinocchio author Carlo Collodi. There is a small gift shop where, if you are a fan of the little wooden puppet, you can buy some memorabilia.
If you happen to be visiting in May as we were, you will be treated to the divine smell of jasmine flowers as you wander around the grounds.
The Church will leave you breathless. The old stone floors and the Romanesque elements create a sense of time standing still. No words that I write here will do this exquisite church justice. You must witness the vastness, the mosaics and the marble inlay that runs along the floor of the central pavement that feels cold to your feet, the echoes -even when you whisper, the history of what has gone before, for yourself.
So there you have it. My secret shared of how to see Florence off the beaten track. By doing it this way, not only will you capture the best view and experience the splendour of one of the most beautiful churches and cemeteries in Italy, you will save yourself money on parking an give your thighs an extra ten minute work out. And that's no bad thing!