Visiting European cities with kids, whatever their ages, doesn't necessarily have to be challenging. But it does mean that you have to take more than yourselves into consideration when deciding which city will be the best one to visit. Here are my top three recommendations for the best European cities for kids and parents to visit in 2018.
Best European Cities For Kids, Children or Teenagers.
a
If you have kids under the age of 12, you are going to have to take into account that they will be bored senseless with cities that hold nothing but museums and art galleries.
I'm talking from experience here – I have a 16 and a 13-year-old. Bigger kids can handle a day – max – looking at the buildings that you consider to be educational. They may even push to a day and a half if you bribe them, but that's it.
This post contains affiliate links. They cost you nothing but we make a small commission. All links are only sites that we use and recommend.
That trip to Paris with the hubby certainly won't have the same appeal as when you have a couple of kids trailing behind you asking 'when can we go back to the hotel' and 'is there any wifi?'
It is essential, therefore, that you plan your next city break with the kids carefully and ask yourself which are the best European cities to visit and how will they tick the boxes for the parents as well as the children.
We have been backpacking through Asia for the past four months with our two teenagers and have visited a host of cities including Colombo in Sri Lanka and Agra in India. But, as we are leaving Asia in a few months we are in the throws of planning our European destinations.
So, where to visit next? Here's a list of the best European cities that we will be taking the kids to.
What are the three best European Cities To Visit With Kids and Why?
Prague:
The food.
Kids love to eat. They really do. If you are the parent of an older child, you will know the all to familiar sound of "I'm hungry". (Its the one that comes before "I'm bored). Prague is full of beautiful street cafes all serving up delicious delicacies such as roast pork with dumplings, fruit dumplings and apple strudel.
The beer is superb too, which is always essential for tired mummy's and daddy's while resting their feet at the cafe. Check out the best places to eat here and for good deals on Prague accommodation, I would recommend trying Booking.com first. They have loads of honest, verified reviews and tend to be good on price.
And The Lennon Wall.
Be sure to take a pack of coloured chalks packed away with you in your case. The kids (and you) are going to love visiting this peace wall and adding their graffiti to it. It is something for kids of all ages to enjoy. There are also fabulous buskers playing Lennon music. You will love it.
Where is Prague?
Prague is the capital city of the Czech Republic and is nicknamed the 'City of a Hundred Spires'.
The Czech Republic is snuggled between Germany, Poland, Slovakia and Austria.
How To Get There.
Prague is a 2-hour flight from London and flights depart over 12 times a day.
New York to Prague is approx a ten-hour flight.
LA to Prague is approx 14 hours.
Compare flights to Prague using Skyscanner. It will save you a lot of time and money. Check it out here.
 Athens.
 The Drama.
I know I said that kids get bored walking around museums and art galleries, but this is the Acropolis.
It's big. It's outdoors, and this is where kids, young and old can explore and lose themselves in their imagination for a couple of hours. It is stunning at any time of the day but especially at sunset when this beautiful structure takes on a magical hue.
The kids will be drawn to it like a magnet. Let's not also forget that climbing up to the Acropolis will tire the kids out no end. Leaving you to be able to enjoy a glass of Retsina in a local taverna while they play a game on their phones (because let's face it. That's what kids love to do the most.)
And The Island of Aegina.
There aren't many cities in Europe where you can take in historic ruins in the morning and frolic  in the sea in the afternoon.
What child, of any age, doesn't love the promise of a trip to the beach for a few hours? The island of Aegina is a forty minute ferry ride away from the port of Piraeus. When the kids are fed up with the heat, throw a few cheese pies in a bag and head over to the white sandy beaches. You deserve it after all of that climbing!
Check out the best deals on weekend hotels here.
Where is Athens?
Athens is the capital of Greece. Greece has the Mediterranean Sea on one side and the Aegean Sea on the other.
Greece sits at the bottom of three countries: Albania, Macedonia and Bulgaria.
How to Get There.
London to Athens. More than ten flights a day four hours in duration.
NYC to Athens. One flight a day, approx 10 hours.
LA to Athens. Approx 15 hour flight.
Check out flights to Athens here.
Budapest.
Why? The Thermal Baths.
Remember when you took little kids on holiday and all they wanted to do was head to the nearest swimming pool? They never really lose that excitement, only now, those same teenagers wish for something a little more sophisticated. Somewhere they can not only have fun but also take a killer Instagram photo too.
The Szechenyi Thermal Baths are just the ticket. They date back to 1881, so there's a lot of history thrown in for you to talk about if you so wish. Or, if you are like me, you can pretend to be asleep so that they won't disturb you.
You and your kids are going to love Budapest. It is one of the classiest cities in Europe.
And The Markets.
Something I have discovered since travelling with my kids is that they love markets. Somewhat ironic, as since I have become older (ish), they get on my nerves. However, this is about the kids and what they want so yes, the markets in Budapest are magnificent. From farmers markets to flea markets your kids (and you, if you aren't a misery like me) are going to love Budapest markets.
Where is Budapest?
Budapest is the capital city of Hungary (not to be confused with Bucharest which is the capital city of Romania).
Hungary is bordered by seven other countries: Austria, Slovakia, Ukraine, Romania, Serbia, Slovenia and Croatia.
How to Get There:
There are thirteen flights a day from London to Budapest and it takes approx 2h 30m. Flying from London? Check out prices here.
NYC to Budapest is approx 10 hours in duration.
LA to Budapest is approx 13.5 hours.
Flying from the US? Check out prices here
So, that's my pick of the three best European cities for kids suggestions. And the reasons why we will be heading there in a couple of months. I think it's imperative that it's not all about the kids – let's not forget that it is we who have worked all year to take them here after all. Just saying. I think you'll find that these European cities provide for both parents and children. Perfect.
If you like this post. PIN IT!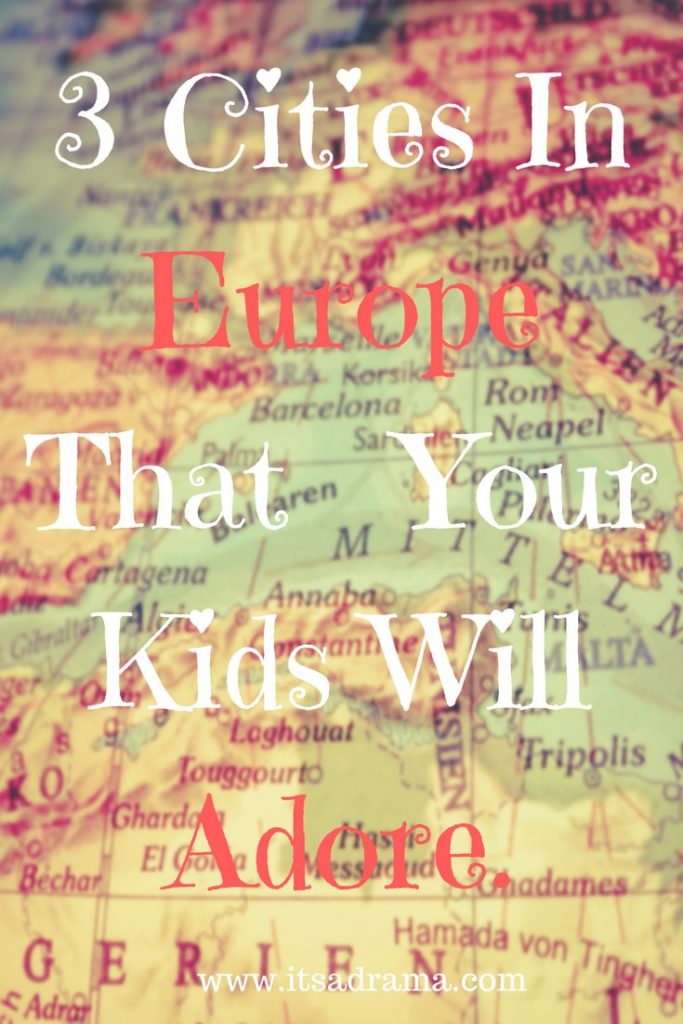 So, those are my three recommendations for the best European cities for kids. Remember, if you are travelling with teenagers like us, you might want to check out my travelling with teenagers post. It tells you the things you shouldn't leave home without.
Have a fabulous time in whichever European city you choose to visit and remember, giving them their phones for an hour while you have a glass of wine and a chat always makes for a happy family holiday. Enjoy!