Visiting European cities with kids, whatever their ages, is exciting.
While it is true that taking little children to grown-up places can seem overwhelming, if you pick the right destination, the best activities (that both parents and kids will enjoy), everyone in the family will be happy.
I have two kids (they're teenagers now – I get told off if I call them kids) but as a family of four who, before emigrating to New Zealand, used to live in the Uk, (when my kids were 7 and 10 ) we have spent a great deal of time exploring various places throughout Europe.
We have been to Ireland with our kids, France, Spain, Greece and Italy and after much consideration, I think I can safely say which European cities are the best for kids.
This post may contain affiliate links. They cost you nothing but we make a small commission. If you would like me to explain it further, please visit our disclaimer page.
What makes a 'Successful Family Vacation'?
I won't lie to you; when my husband and I travel we like to make sure our needs are met as well as the kids.
I think that's super important. We have travelled a great deal as a family and I have learned from my mistakes.
Let's be honest.
Who wants to shed out a bucket load of cash taking kids to a so-called 'family-friendly destination' only to get there and find yourself bored to tears; stood for hours on end watching your kids whizz past on the merry go round in Barcelona which, quite frankly, they could have done for free back home at the local park?
Uh uh. Not me.
A successful family vacation needs to address the needs of everyone; kids, parents and in my case – the bank manager, and that usually only happens when you do your homework and find some unique destinations.
Hopefully, this guide will give you the best of both worlds. Parents and children visiting these European cities will all have a happy time without having to spend a fortune. It is my job to make sure that you love Europe, as well as the kids.
Before we start! Remember to give your brain a little space by using our travel planning checklist for a smoother vacation!
Best European Cities For Kids. Babies Through to Teenagers.
Babies
Taking babies anywhere in Europe is pretty easy.
I didn't know this at the time but once my kids grew up I looked back with fond memories. Reminiscing of the times when all I had to worry about was whether or not there were baby changing facilities in the bathrooms and a ramp for my buggy.
If you are travelling with babies, use this guide as good to go. The hotels that I have mentioned are all family-friendly. Enjoy travelling with babies and remember: take an extra dummy.
Toddlers
Been there, done that.
Little Darlings.
Want to know the best European cities for toddlers? Any which one that takes your fancy.
I mean that.
Toddlers either will or they won't – depending on their mood and which way the wind is blowing. What might be wonderful on day one can be a disaster on day three.
If you are taking toddlers to Europe then please – do what makes you happy because guess what? When Mummys are happy – toddlers are happy!
(And I hate to break it to you, but all that money on fancy theme parks and kiddy themed restaurants? They don't remember any of it once they get past the age of 4 – so annoying).
Please take this opportunity to give yourself a break. Enjoy this guide – all of the hotels are perfect for toddlers and the tours are all children friendly.
Kids Under 12
Great age to travel to Europe with your kids. But remember:
If you have kids under the age of 12, you are going to have to take into account that they will become bored quickly if they are taken to hot European cities that offer little else other than museums and art galleries.
Kids under the age of 12 love water, games and live performances that tell stories. They love to learn about places through intelligent interaction.
And of course, they love ice cream. Every one of the cities in this guide has all of those things.
Teenagers (12+)
Probably the best time to take the kids to see Europe because everything will sink in and you can do the more grown-up activities. Plus they also get to realise how good the wifi is at home.
Don't overload on the museums and art galleries with teenagers.
Teenage kids can handle a day or two – max, looking at the buildings that you consider to be educational. But be warned! If you tell them it's educational you will blow your cover and they won't be interested.
I'm using my kids as an example here. I have homeschooled them both for the past ten years and if they suspect for one minute that I'm trying to squeeze something remotely educational into their free time they run a mile.
But.
Tell teenage kids that the museum or tour they are about to see contains something scarey or has 'adult exhibits' and they will run to the front of the queue.
Believe me. It's true.
As soon as my kids knew there were mummified bodies at Pompeii they were up at the crack of dawn with their backpacks on raring to go.
For Pinterest ⇓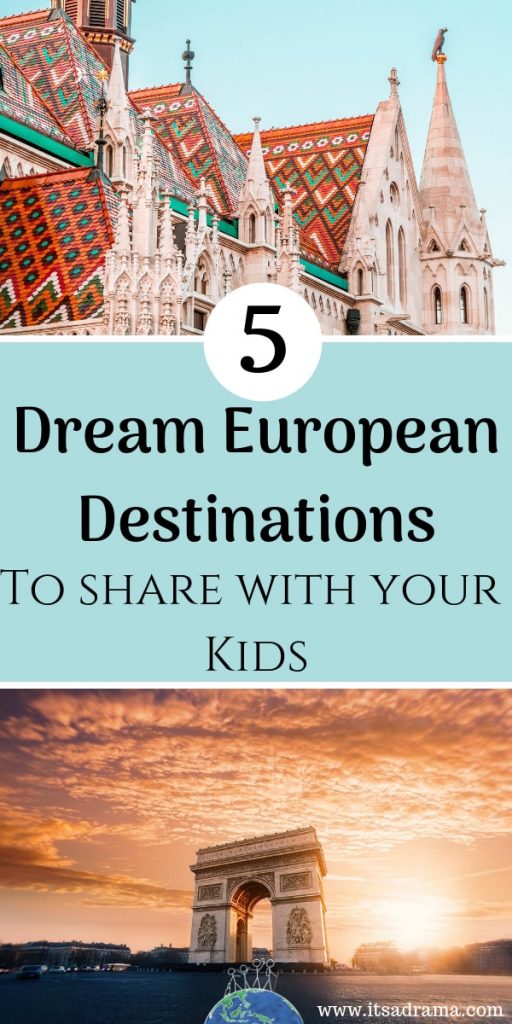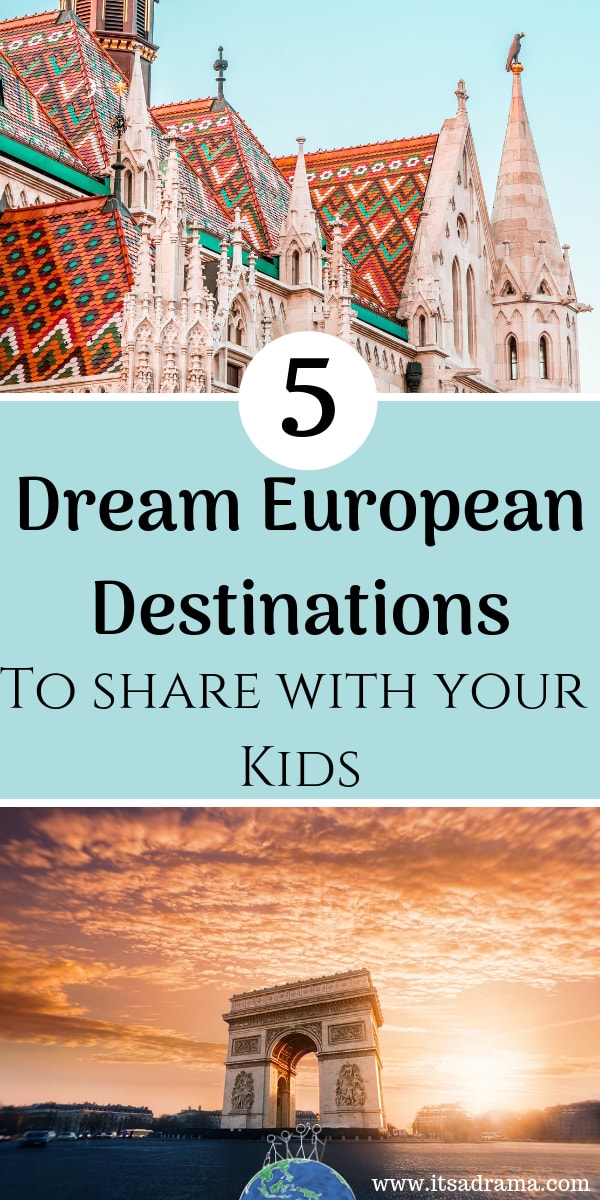 Finding The Cheapest Flights To Europe
Oh! The joy of finding the cheapest flight to Europe.
In the last ten years, my family and I have flown all around the world and have booked hundreds and hundreds of flights.
I have tried every airport hack in the book to get the best deal on flights but still, I come back to the same search engine every time as it can never be beaten on price.
Lots of other travel bloggers will tell you to use Skyscanner and yes, although I do have an affiliate for Skyscanner, I am still not going to recommend them to you because I think that Google Flights is a far better search engine and consistently brings up cheaper flights.
Don't bother messing about with anything else; you're too busy with the kids. You won't find better than Google Flights. So, no affiliate link, just honest advice.
Now that you've sorted your flights, let's see which are the best cities to visit in Europe with a family.
Which Are The Best Cities For Kids In Europe And Why?
Florence:
Where is Florence?
Florence is the capital of the Tuscany region in Italy. Firenze ( Italian for Florence) is an important city in Italian fashion.
Italy sits in the middle of the Mediterranean sea and shares open borders with the countries: France, Switzerland, Austria and Slovenia.
Why Florence With Kids?
We have travelled all over Italy with our kids and so it was hard to pick one particular city.
My teenagers loved Naples and Rome, but, after a family discussion, we decided that of all the cities where we had spent time in Italy, the gorgeous city of Florence has to be the one that we all loved the most. Here's why.
Busy But Calm
Unlike the other major cities in Europe, Florence has an almost village-like feel to it. There are many places that you can escape and be on your own.
Why not take the kids for a run around at the Boboli Gardens or, if you are feeling sociable and want to people watch put yourself in the hustle and bustle of things and walk through the Piazza Della Signoria.
Pizza and Gelato
Of all the cities in Italy, the pizza was the tastiest and the gelato was the biggest in Florence! Your kids are going to love both of these treats. If you are trying to convince your not-so-keen children to visit the Statue of David, tell them about the pizza shop that is around the corner!
Gelateria dei Neri is where you will want to be heading for ice cream – this place is the best in Florence.
Best Walking Tour For Families.
We are a big fan of family walking tours. The kids get to ask lots of questions and find out so much about the city.
Make sure the tour that you book isn't too long, three hours max is about enough for kids – whatever their age, and be sure to pick a company that is just geared towards kids.
Florence offers one of the best walking tours that cater just to families. I'm not sure why every city in the world doesn't do this. It's so nice to be able to relax with other families.
This family walking tour is fabulous. You are taken for a two and a half-hour walk around the streets of Florence by a child loving tour guide.
Be sure to do this tour at the start of your vacation. Kids like familiarity and so taking a tour like this will help them to see where they are and what is around them.
Click here to check out this Florence walking tour for kids
Best Place To Stay With Kids In Florence
Sometimes it's easier to go self-catering with kids and in a city like Florence which is packed with so many family-friendly restaurants, this would always be our choice.
We love Apartments La Farina which is just 1km away from the centre of Florence. The rooms are spacious, immaculate and very reasonably priced. They have everything you need in the kitchen and La Ferina also has the added bonus of free parking.
Perfect for those who are touring and wish to see the city of Florence on foot!

Fun Facts About Florence For The kids:
Florence was the first city in Europe to have paved roads.
Hitler refused to destroy The Ponte Vecchio Bridge in WW2 saying it was far too beautiful.
Pinocchio was from Florence and so was Carlo Lorenzini, the author who created him.
Prague
Where is Prague?
Prague is the capital city of the Czech Republic and is nicknamed the 'City of a Hundred Spires'.
The Czech Republic is snuggled between Germany, Poland, Slovakia and Austria
Why Prague With Kids?
The Food
Kids love to eat. They really do. If you are the parent of an older child, you will know the all to familiar sound of "I'm hungry". (It's the one that comes before I'm bored).
Prague is full of beautiful street cafes all serving up delicious delicacies such as roast pork with dumplings, fruit dumplings and apple strudel.
The food in Prague is delicious and both you and the kids will never forget the meals you will share here.
The beer is superb too, which is always essential for tired mummy's and daddy's when resting their feet at the cafe.
Medieval Performances, More Food, Jugglers and Sword Fighting Show!
If you take your kids to Prague be sure to check out this amazing underground medieval feast and show. Both you and the kids will love feasting on a delicious 5-course meal while watching performers from your table.
I love that this company caters to kids with specially prepared kids food while giving a choice of 6 different menus to the adults. I must mention that you can also drink your fill from the unlimited beer, wine, and soft drinks available.
This is a truly different and entertaining way to spend an evening in Prague, and one's that guaranteed to take you back in time and keep the kids talking about Prague for a long time!
Click here for the Prague for kids tour
The Lennon Wall
Be sure to take a pack of coloured chalks packed away with you in your case. The kids (and you) are going to love visiting this peace wall and adding their graffiti to it. It is something for kids of all ages to enjoy.
There are also fabulous buskers playing Lennon music. You will love it.
Best Family Accommodation in Prague
If you are looking for the perfect place to stay with kids in Prague then you are going to love the Vila Trebonise
This small but lovely family hotel is located in a calm part of Prague and has a swimming pool, sauna and beautiful Italian gardens. The breakfast is included and is delicious. we love their family rooms which are spacious yet quirky. Check them out if you are going to Prague, you won't be disappointed.

Fun Facts About Prague For The kids:
Prague is home to the LARGEST castle in the world, and which kids don't love castles?!
The famous Charles Bridge in Prague is haunted by lots of ghosts.
The people of Prague drink more beer than anyone else in the world (pro-rata).
Prague Zoo is said to be one of the best in Europe
The film Casino Royale (2006) was filmed mostly in Prague
Save This Post To Pinterest!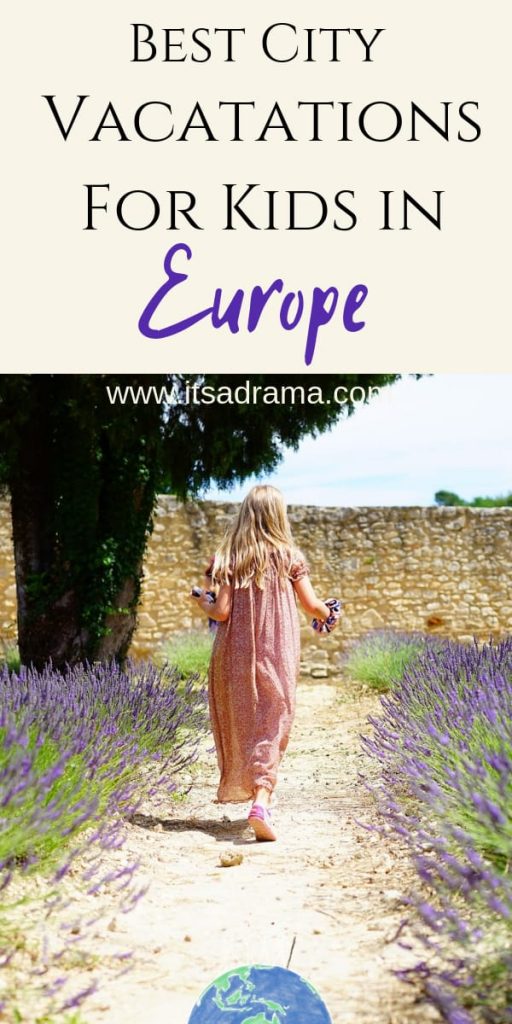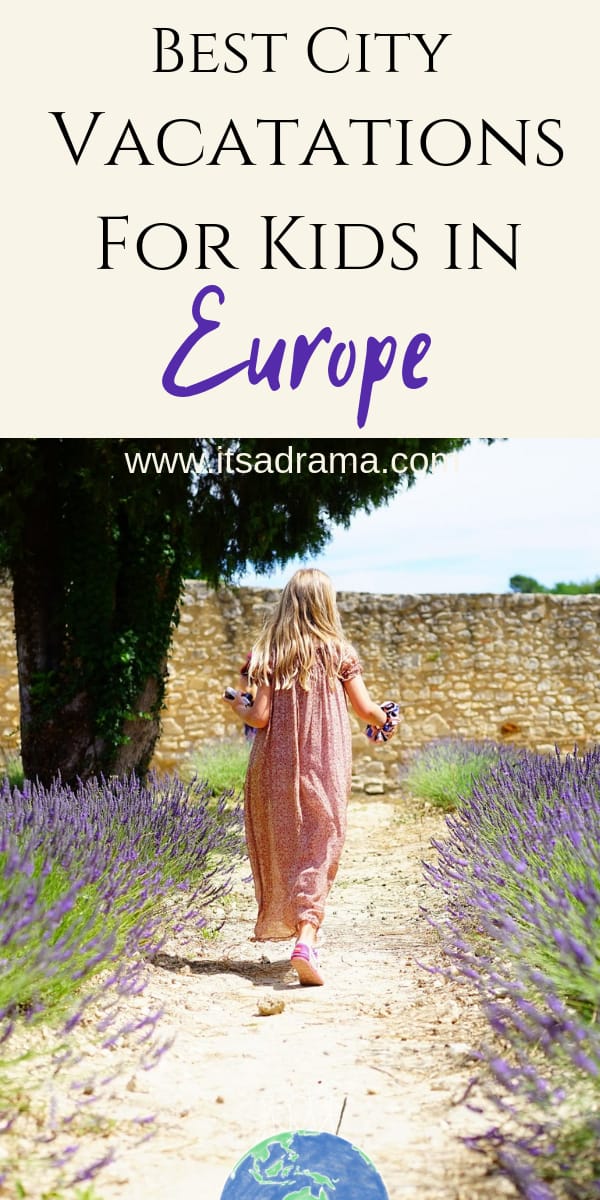 Athens
Where is Athens?
Athens is the capital of Greece. Greece has the Mediterranean Sea on one side and the Aegean Sea on the other.
Greece sits at the bottom of three countries: Albania, Macedonia and Bulgaria.
Why Athens With Kids?
The Drama Of The Acropolis
I know I said that kids get bored walking around museums and art galleries but. This is different. This is the Acropolis.
It's big. It's outdoors, and this is where kids, young and old can explore and lose themselves in their imagination for a couple of hours.
It is stunning at any time of the day but especially at sunset when this beautiful structure takes on a magical hue.
The kids will be drawn to it like a magnet. Let's not also forget that climbing up to the Acropolis will tire the kids out no end. Leaving you to be able to enjoy a glass of Retsina in a local taverna while they play a game on their phones (because let's face it. That's what kids love to do the most.)
A Trip to Delphi
My kids know this story a lot better than me, but it goes something like this:
According to Greek legend, in ancient times, Delphi was the original home of Python – the serpent son of Mother Earth and Poseidon. Greek legend has it that one day, Apollo came riding to Delphi (on the back of a dolphin) and slay the python who was then buried in the omphalos – the belly button of the world.
For many years people came to Delphi to consult the oracle with any problems they needed solving and to also celebrate the Pythian games.
Legend or no legend, both you and the kids will love the atmospheric grounds that move you with the history buried with each and every stone.
Do not miss a day trip to Delphi. You can ckeck out more details of the Delphi day tour here.
A Boat Trip To The Island of Aegina
There aren't many cities in Europe where you can take in historic ruins in the morning and frolic in the sea in the afternoon.
What child, of any age, doesn't love the promise of a trip to the beach for a few hours?
The island of Aegina is a forty-minute ferry ride away from the port of Piraeus. When the kids are fed up with the heat, throw a few cheese pies in a bag and head over to the white sandy beaches. You deserve it after all of that climbing!
Best Family Accommodation in Athens
We love the Electra Metropolis Hotel in Athens. It has a fabulous view of the Acropolis, large family rooms and best of all? a rooftop pool with a waterfall feature that the kids will love!

Fun Facts For The kids About Athens
The ancient Olympic Games were never held in Athens
Athens is approx 3400 years old. Europes oldest capital and probably one of the worlds oldest cities
Athens has the most theatrical stages in the world
Related Posts That You Will Enjoy!
25 Travel Gifts for kids – all under $20
Housesitting in Europe. How we saved ten grand
5 Fears you need to ignore when travelling with kids
Stop worrying about your teenagers, I dare you.
Get off your flight looking gorgeous. 10 Plane essentials that you'll never again fly without.
Budapest
Where is Budapest?
Budapest is the capital city of Hungary (not to be confused with Bucharest which is the capital city of Romania).
Hungary is bordered by seven other countries: Austria, Slovakia, Ukraine, Romania, Serbia, Slovenia and Croatia.
Why Budapest With Kids?
Thermal Baths
Remember how I told you that when you take little kids on holiday and all they want to do is head to the nearest swimming pool? Well, the same applies to older kids too!
They never really lose that excitement, only now, those same teenagers wish for something a little more sophisticated – somewhere they can not only have fun but also take a killer Instagram photo too.
Welcome to Budapest. The dream place in Europe that you are going to want to check out with kids.
The Szechenyi Thermal Baths are perfect for both kids and their parents.
The baths date back to 1881, so there's a lot of history thrown in for you to talk about if you so wish.
Under neo-Baroque domes, you'll find steam rooms, saunas and spring-fed baths.
Book your fast track ticket into the Szechenyi Thermal Pools here
I promise you and your kids are going to love Budapest. It is one of the classiest cities in Europe.
The Markets
Something I have discovered since travelling with my kids is that they love markets and the markets in Budapest are magnificent.
From farmers markets to flea markets your kids are going to love Budapest markets.
Budapest is even more beautiful at night. The lights twinkle and the streets look like something from a fairytale. The people are super friendly in this city and are very keen to make families feel special.
If you have little people with tired legs (or in my case big huge people who are lazy) take a break from walking around and hop onto the open-top bus. Book the Hop on Hop off Budapest Bus here.
One of our favourite things to do was to get a delicious pastry and a coffee, sit at the top of the bus at twilight and watch the city below. Just beautiful.
Where To Stay With Kids In Budapest
Kids love the water and what better way to make them happy than to take them to a hotel with an onsite waterpark! The Aquaworld Resort Hotel is every kid's dream and parents too will not be disappointed.
There are two restaurants and in house spas, the rooms are luxurious meaning that although the kids think that this is all for them; the adults can secretly relax and enjoy this family hotel too!

Fun Facts About Budapest For The Kids:
In Budapest, 99% of adults can read
The Budapest zoo is one of the oldest zoos in the world. It opened in 1865.
The makers of the film 'Evita' starring Madonna, used Budapest in their film and disguised it as the Argentinian capital, Buenos Aires.
For The Pinterest Lovers! ⇓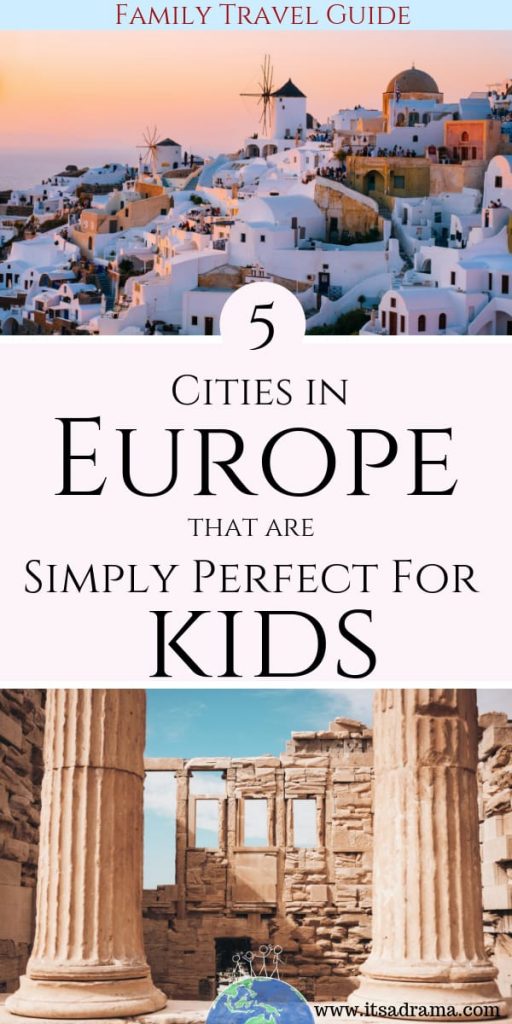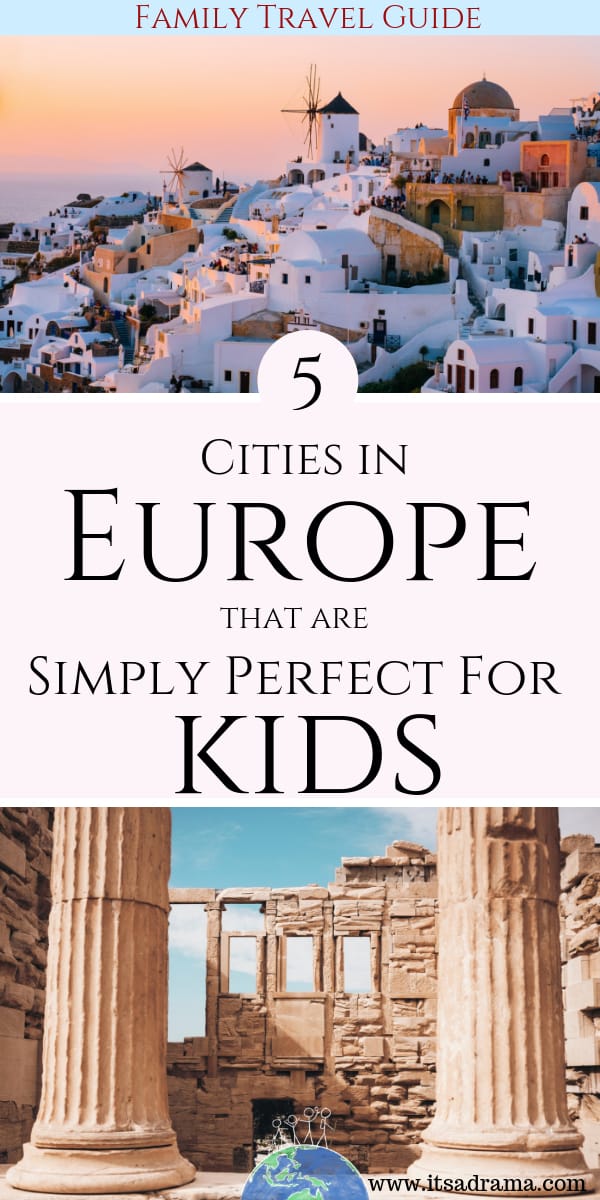 Paris
Where is Paris?
Paris is the capital city of France. Paris is known for its architectural landmarks and museums. The Louvre was the most visited art museum in the world last year.
France borders Andora, Germany, Italy, Belgium, Monaco, Luxembourg, Spain and Switzerland.
Why Paris With Kids?
The Food
The food could not fail to impress any child. This is a country where they eat chocolate bread for breakfast, fresh crunchy baguettes for lunch and french fries and steak for dinner. Which kid isn't going to love that?!
Explosion Of Senses
Paris is an explosion for any child's senses. With the smell of delicious pastries wafting out from the street cafe's, the towering Eifell tower beautifully lit at night, to Notre Dam.
If your kids are as Disney mad as mine are then this giant cathedral will not disappoint.
Weave your way along the Seine taking in the street performers along the way.
On a budget in Paris? Grab a picnic from one of the many convenience stores. With a baguette, some cheese, and a punnet of fruit, you will have yourself a feast to eat while you sit on the steps by the river and watch Paris life go by.
The History
Every child has one story or film that originates from Paris. The Hunchback of Notre Dame, Les Miserables, Madelaine, Ratatouille the list goes on and on.
I don't know who was more excited when we took our kids to Paris for the first time – us or them! Every corner you turn there will be something that reminds them of the movies or a book that they have read.
Perfect For Those Kids That Love Darker Things
For older kids or those that don't scare easily, we recommend taking the fabulous Paris Catacombs Tour. This tour allows you to explore a darker side of Paris as you walk through tunnels dug out in the Middle Ages.
The Paris Catacombs were originally a quarry with hundreds of kilometres of tunnels burrowed beneath the streets of Paris. When the cemeteries of Paris became overfilled, the city started moving the dead into the Catacombs.
Both of my kids couldn't get enough of this tour, they loved it.
Click here for more details of this fabulous tour!
Versailles
One of the easiest day trips from Paris is to the Palace of Versailles.
If your kids would like to see where the infamous Marie Antoinette lived before she lost her head then do not miss the chance to go to this beautiful Palace, you will not be disappointed.
Just wandering around the rooms gives you a feel of how the royalty of France conducted their everyday affairs,
Don't be worried about taking little kids to Versailles. There are lots of big halls, plenty of outside space and everyone is listening to an audio guide so if your kids do decide to play up they won't be heard!
We went to Versailles with the kids in the afternoon, the crowds had disappeared and we were glad to get out of the scorching sun of the July heat.
You can also head to the grounds of the park in Versailles (which is free) and eat a picnic. There are plenty of shady spots to relax before heading back up to the Palace.
Book a tour to Versailles here. You will have a fabulous day and it is great for the kids to get out of the city and into the country.
Where To Stay In Paris With Kids
You don't need me to tell you that Paris is one of the most expensive cities in Europe. If you are travelling with more than one child in your family then I suggest you use an 'aparthotel'.
These are hotels that provide self-contained apartments and are perfect for those with families who like their own space and freedom to have home facilities in their room.
Our favourite is Hotel Residence Montebello. You can get a one-bedroom apartment that sleeps four for less than $200. The rooms are clean and fresh and the hotel is in a super location.

Fun Facts About Paris For Kids
It is believed that in the entire city of Paris there is only one stop sign. See if you can find more!
There are three replicas of the Statue of Liberty in Paris.
You have to climb 1665 steps to reach the top of the Eiffel Tower.
So, that's my pick of the best European cities for kids! I hope you enjoyed this post and if you would like me to add any further suggestions let me know in the comments! And PLEASE! Don't forget to share this with anyone who may enjoy it as much as you did!
Have a fabulous time in whichever European city you choose to visit and remember, giving them their phones for an hour while you have a glass of wine and a chat always makes for a happy family holiday. Enjoy!