The word backpacking and Japan are not often used in the same sentence. It is assumed that the country is far too expensive to accommodate the lowly backpacker.
But it's not true. Backpacking Japan is the best and very, very do-able on a limited budget.
Not only that, travelling in Japan without much money doesn't mean you have to compromise. Take it from me
This post may contain affiliate links. They cost you nothing but we make a small commission. If you would like me to explain it further, please visit our disclaimer page.
Backpacking In Japan. Our Experience
We (me, hubby and the kids) have just spent a month backpacking around Japan. Our budget was $75 a day for the four of us.
I heard that gulp.
Of all the countries that we backpacked through, Japan, which has to be one of the most beautiful places on earth, remains our firm favourite.
The people are just beautiful which was a huge surprise to us – we were told that the Japanese are quite reserved with Westerners.
Not true.
The people that we met in Japan were all so kind and couldn't do enough for us.
They never once laughed when we wore our toilet slippers into the house, no, instead, in their very Japanese way, they whispered into our ear – gave us some inside tips on what not to do in Japan so that we didn't continue to make complete wallies of ourselves.
Then there's the food and the beautiful countryside; really, Japan will take your breath away – but not your budget.
Here's why you are going to love Japan if you are on a budget but still want to be a bit posh.
10 Reasons Why You're Going To love Backpacking In Japan
Backpacker Accommodation In Japan
Japan is full of fantastic budget accommodation options, from trendy pods to boutique city view escapes. Perfect for the globe-trotting backpacker.
If you know the places that you plan to visit, then I would suggest arranging your accommodation as quickly as possible. Here are some of the best that won't hurt your wallet.
If You Would Like To Know How you Can Travel to Places Like Japan Without It costing You a Fortune Then Sign Up To Grab Our Free E-Book!
Hostels In Japan
There are many hostels in Japan but be warned; the best ones fill up very quickly so book ahead.
Tokyo is always hugely popular, especially amongst backpackers looking for the best central place. If you fancy splashing out while you are in the capital, try the Space Hostel it is a little more pricey than the rest of the backpackers, but it is super chilled with a stunning viewing deck on the roof for you to take in the skyline of Tokyo.
Hiroshima will no doubt be on your list of places to see, I know it was ours. You will not be disappointed, and luckily there are many hostels to choose from.
If you are looking for the best all-round hostel, then you really can't beat K's House in Hiroshima. K's is a chain of hostels that are all over Japan, and their reputation is impeccable. Be sure to book in advance though; it's popular!
Couchsurfing in Japan
When we were travelling through Japan we found that with four people even the budget hostels were too much for us, so I'm going to let you into a secret that you are going to LOVE and will want to thank me forevermore for.
Couchsurfing in Japan was the highlight of our 12-month couchsurfing experience on our round the world trip.
There is an extensive network of couchsurfers in Japan. We stayed with six different families while we were travelling through Japan and all of them were wonderful and gracious hosts.
Couchsurfing in Japan is like nothing else you will ever experience.
We are a family of four, and we didn't pay for one night's accommodation for the entire stay in Japan. Instead, we couchsurfed which enabled us to see parts of Japan that we would never have otherwise been able to see.
The couchsurfing movement is massive, and it seems that Japan is way up there at the top of the league.
Listen here to our PODCAST about couchsurfing as a family
Pin This For Later!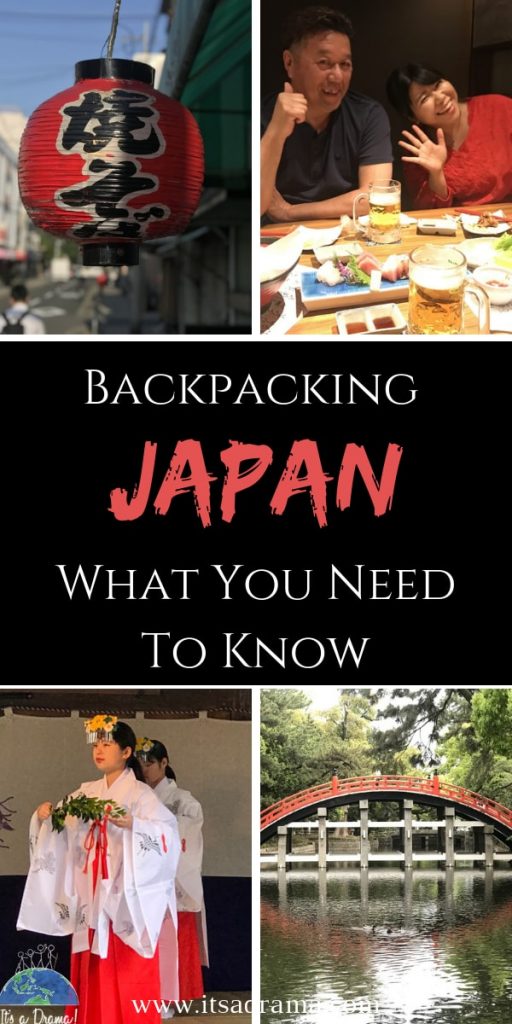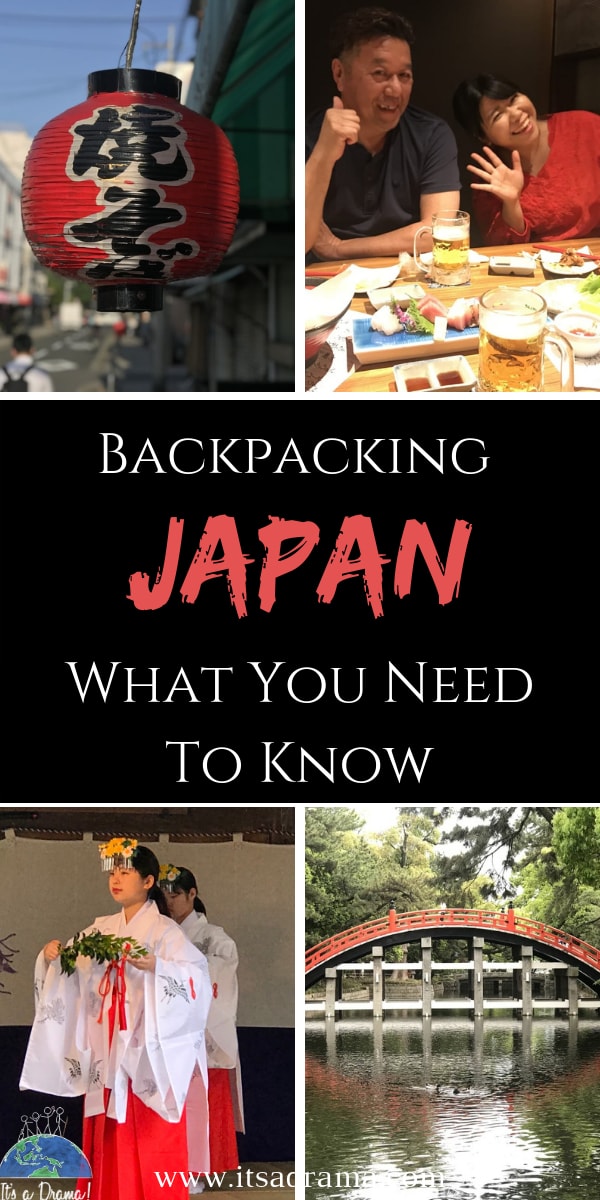 Eating In Style As A Backpacker In Japan
When we told people that we planned on spending a month in Japan, we were met with gasps of horror. How on earth would a family of four (with two teenagers) survive on our measly budget?
Easy!
Street Food
Although Japan doesn't have the ridiculously cheap street food that Vietnam or Thailand boasts, it does have plenty of stalls where you can get tasty bites for very little money.
The fresh prawn and chicken filled dumplings were no more than a couple of dollars and were a plentiful snack.
Noodles
The famous ramen noodles are of course everywhere, and depending on which establishment you choose to eat them from you will have no problem filling up on a bowl of Japanese goodness for less than the cost of a Mcdonalds.
Speaking of fast food, be warned. Pizza Hut is not cheap! We live in New Zealand where you can get a $5 pizza which is ample and affordable. Don't even think about trying to do that in Japan. You will not eat pizza in Japan for less than $50.
You're a backpacker. You can't afford it. Wait until you get back to your own country for fast food.
7-Eleven
Japan has a secret food weapon that we discovered very quickly. The 7-eleven stores that are on almost every corner in Japan are a backpacker's best friend.
Don't be fooled. These are not like the 7-Elevens that you find in the rest of the world. These are Japanese 7- Elevens And they are fantastic.
From these stores you will find perfectly made up sandwiches, as fresh as fresh can be, ready meals (that you can heat up in the microwaves that are conveniently provided in every store) hot and cold drinks and delicious desserts.
If you are backpacking around Japan, you are going to love this convenience store.
Sushi
You can't go to Japan and not experience the sushi, and just because you are backpacking it doesn't mean that you won't be able to afford to eat it!
Head over to Hama Zushi to experience some of the best conveyor belt sushi in Japan. If you have kids with you, then they are going to love this Japanese fast food restaurant.
You take a seat in a booth, pick what sushi you would like from the tv screen at your table and then wait for your dish to come by on the conveyor belt!
It is an experience in itself and costs not much more than a regular meal. I think we paid $45 for the four of us including drinks.
Transport Options in Japan.
While it's true that transport was where most of our budget was spent, it was worth every penny.
The bullet train is something of a one-off, and so we were intent on riding it. Lucky for you though, there are many options for transporting yourself around Japan
The Train
There is no reason why travelling in Japan has to be expensive. We splashed out and bought the rail passes, but this was because my son and husband are fast train freaks.
Yes, taking the rail pass will take you over your budget. We didn't mind because we made it up by not paying for any accommodation, but you know what you can and can't afford and must decide if you think you will get enough value form a Japan Rail Pass.
Renting a Car.
If we hadn't been so keen to experience the trains, then this would have been our cheapest option to travel around Japan. If there are four of you, then this is a no-brainer.
People tried to talk us out of hiring a car in Japan, saying that the tolls were extortionate and the traffic was crazy. After speaking with many locals, I found both counts to be greatly exaggerated. Check out all you need to know about hiring a car in Japan here.
Check Out Our Video (and you'll see what a Japanese Bus is like!)
The Bus
You have two options when it comes to using the bus. You can choose to buy the Japan Bus Pass which, although more expensive, gives you the opportunity of taking sleeper buses and saving on accommodation.
Or, you can use the highway bus. This option is the most economical way to travel in Japan, and while not as fast as the train, the cost is approximately half. The Highway bus is a good option if you have more time than money.
Hitchhiking
I'll be honest, I didn't see one hitchhiker while in Japan, but that's not to say that you couldn't do it. I would imagine that Japan would be a perfectly safe place to hitchhike – although in saying that, please be careful and don't get into cars alone.
For Pinterest ⇓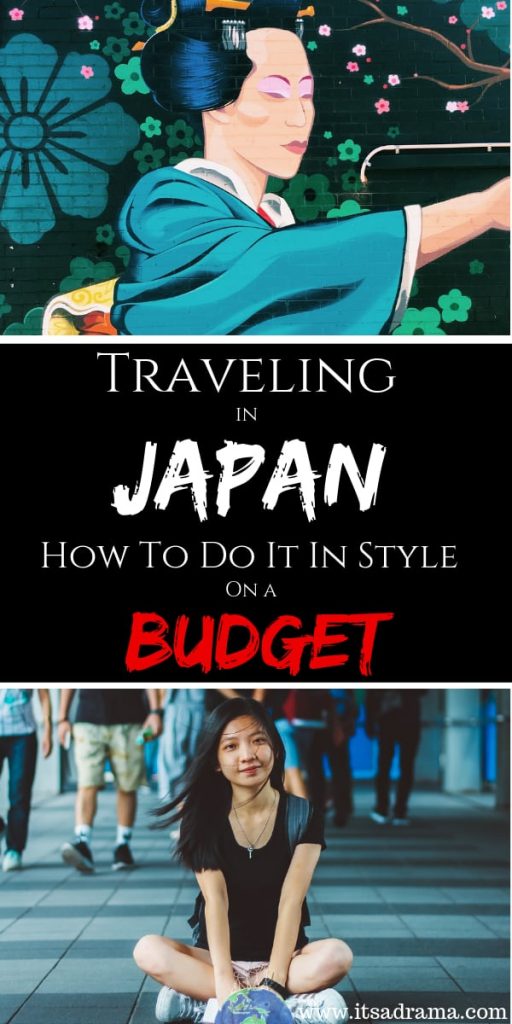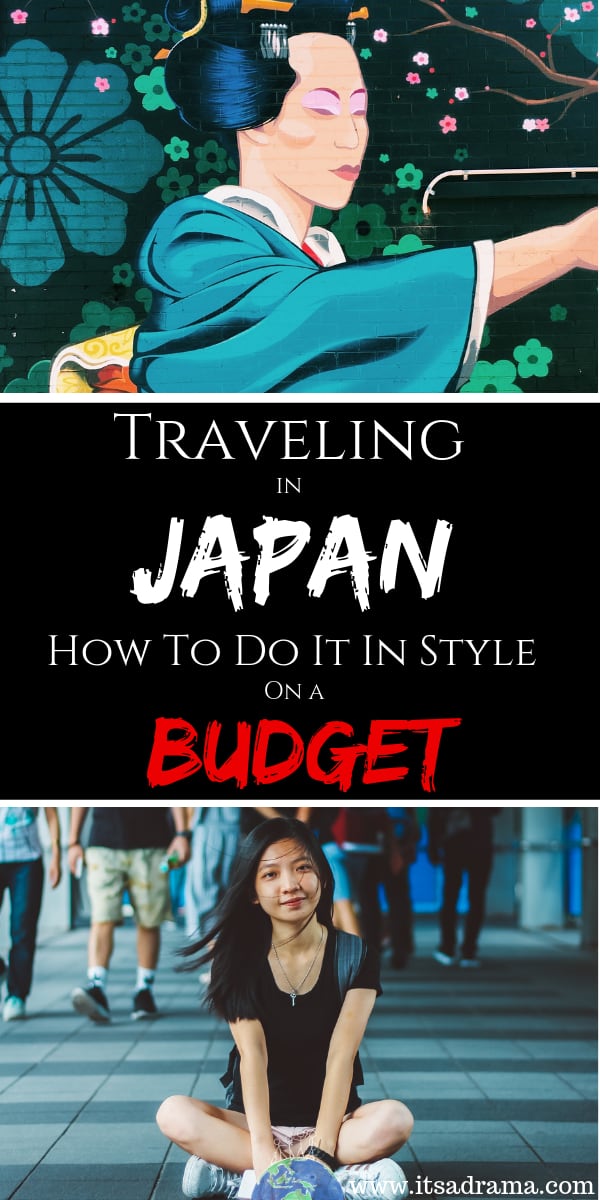 Activities On A Backpackers Budget
You are going to love exploring Japan. There are a wealth of museums, gardens, beaches and parks that are either free or else very budget-friendly, all fantastic and cheap, perfect for the backpacker!
I'm not great at social media so if you would like to follow our travels and keep in touch by way of a private newsletter then drop me your name below. I send out emails roughly every week 🙂
[et_bloom_inline optin_id=optin_2]
5 Things That People Told Us About Japan (That Turned Out To Be Utter Rubbish)
As a little bonus tip, I want to share with you the things that people worried me with when I told them I was taking two kids to Japan.
It's expensive. No. It's no more expensive than Croatia or Edinburgh.
It always rains. Not true. We visited Japan in May and we had a couple of showers. I advise you to pack a travel rain poncho for when you visit Japan. They are cheap and everyone wears them.
Nobody speaks English. Not true, even in the depths of the countryside we managed to get by with pigeon English. In the major cities, you will always find an English speaker.
Japan is futuristic and full of neon. No, and yes. Yes, there is neon in Tokyo, of course, there is, and yes, the Japanese seem a hundred years ahead of the Western world, but there are also many, many places where you go and feel as though you have stepped back in time three hundred years.
Everybody eats sushi. Nope. This is like saying the British eat fish and chips every night. The Japanese diet is very varied, and like the rest of the world, the everyday working family can't afford to eat sushi every night.
The Japanese are always on their phones. Japan was the only country in the world that we visited (and we went to 24) were talking on a cell phone on the train is banned. It was deliciously quiet and relaxing.
Related Posts That You Will Enjoy
Arrive in Japan feeling gorgeous. 10 Brilliant travel essentials for the plane.
Japan. Why I'm in love with your toilets
How people afford to travel the world on a regular wage
Leaving everything behind for a year and traveling the world
The perfect pants for a long flight. 12 of the best
8 Travel tips that you need to ignore 'cause they are rubbish
I hope you have enjoyed this backpacking in Japan guide and it has given you everything you need to go off and have your adventure! If there is anything more you would like to know then please drop me a comment or email me!