Remember when rain ponchos were the ugliest thing in the world?
Long, plastic, see-through monstrosities that only someone very desperate to keep dry would wear?
Well, lucky for us travellers, things have moved along in the world of ponchos. Now we are searching out the best rain ponchos on the market so we too can stay dry and look utterly stylish too!
This post may contain affiliate links. They cost you nothing but we make a small commission. If you would like me to explain it further, please visit our disclaimer page.
Go to any European city and you will notice that it is no longer acceptable to walk around looking like a drowned rat.
I observed the new rain poncho phenomena on a recent month-long trip to Italy where, as soon as it started to rain slightly, those who were organised pulled out their beautiful ponchos, and those who were not – like me- stood there getting saturated and looking soggy.
Not a good look.
Especially if you are having a romantic weekend in Paris and want to look as gorgeous as possible.
So here we are. A range of ponchos that will be on the top of your essential travel checklist for the next time you travel.
7 Of The Best Rain Ponchos For Your Next Wet Day

1: Sepharose Rain Poncho
I love this spotty rain poncho. If it is at all possible to make these clothing items look stylish, Sepharose succeeded!
The material is the same as umbrella material so think supple and very waterproof.
Perfect for when you take a vacation to a country where it is guaranteed to rain on and off. I'm thinking of our l Ireland trip – the weather was very temperamental, to say the least.
This rain poncho is best for very large people as the size comes up really roomy. Perfect for if you want to carry a backpack under the poncho or you've eaten too much pasta in Florence.
Perhaps not so good if you are very petite but certainly for the size 12 and upwards.
37 lovely colours.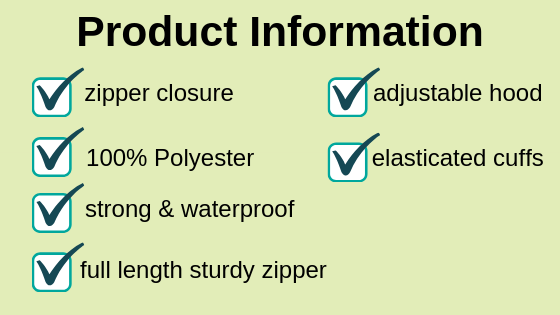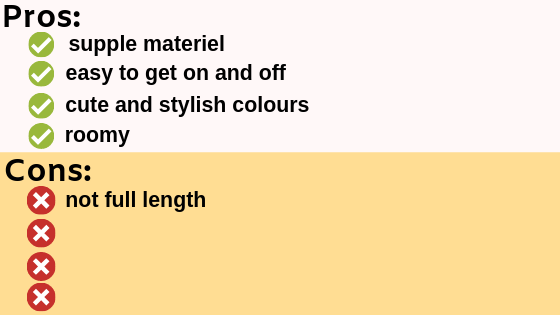 ---

2: Anyoo Waterproof Poncho
There are a couple of features that make this Anyoo rain poncho stand out from the rest.
These ponchos are unisex and are designed for those who wish to be particularly active and take bike rides in all weather.
With this in mind, this poncho has elasticated thumb loops to stop it being blown up in the wind on rainy bike ride day.
The poncho is reusable and comes in lots of different colours, including plain for the more serious bikers to bright and funky for those who want to bring a little pizazz to their wet bike ride!
There is an attached inside 'media pocket' to protect electronics which is super handy – especially if you are traveling with kids – or in my case teenagers.
There are three snap closures on each side of the poncho to create sleeves for ease of movement. This feature proves invaluable if you have a mini emergency situation while traveling and want to open the poncho right out and use it as a mini tarpaulin!
Fully waterproof zip
Be aware that due to this poncho having so much excess materiel, when you ride over 5km an hour the back tends to fly up (think Batman).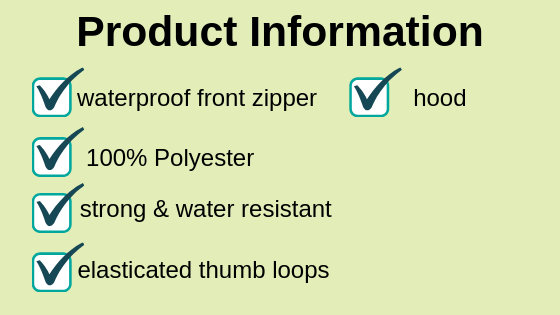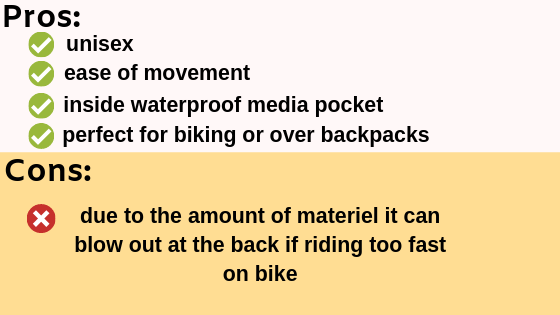 ---

3: Andake Rain Poncho
If you wear glasses like me then you are going to LOVE this Andake rain poncho!
This genius design comes with a see-through baffle – which is a transparent cover in front of the cap, providing unrestricted visibility and ensuring that rain does not flow down into your collar.
There is velcro on both sides of the poncho which forms sleeves and prevents them from slipping.
I can't say enough good things about this poncho.
It may not be the most stylish rain poncho in the world, but for keeping you dry you will not beat the Andake poncho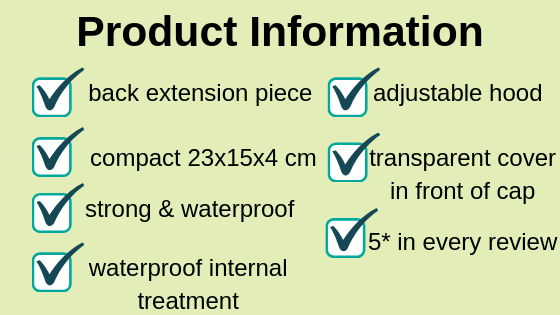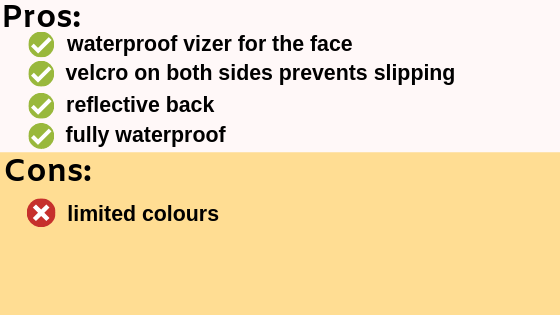 ---

4: QZUnique Rain Poncho
This cute lightweight poncho packs down small enough to carry in a purse or backpack and is marketed as "one size fits all."
I think that this poncho would be better suited to shorter, more petite women. If you are tall or wide, you may find it lacks in coverage.
There are ties on the hood and these are made of cloth rather than plastic giving you a sense of comfort.
If you are into bags then you will like the added feature that this poncho brings, it comes in its own stylish tote bag – made of the same material as the poncho. It also has a stuff sack.
Talking of material, this poncho is made from polyester pongee. This material is said to be softer, but more importantly, quieter when you move around – so no rustling of the poncho when you are trying to remain inconspicuous!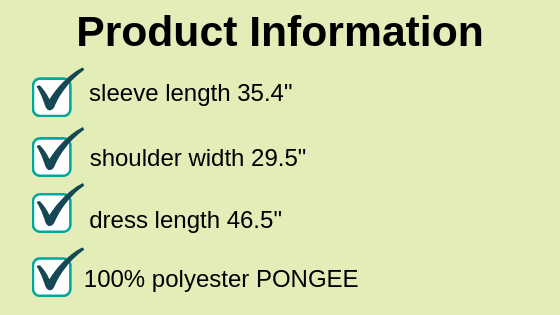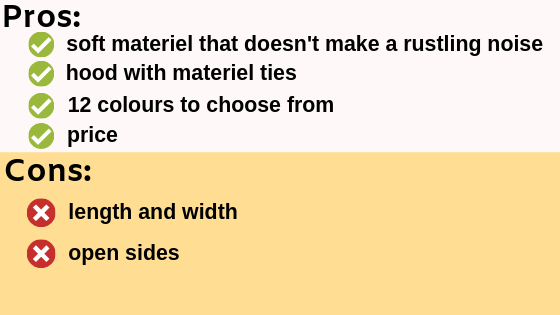 ---

5: Terra Hiker Rain Poncho
The Terra Hiker rain poncho is ideal if you are hiking or backpacking and is marketed as a multi-purpose poncho. It is lightweight and easy to fold and pack away.
Use this Terra Hiker rain poncho as a way to keep you dry while hiking, as a picnic mat for the muddy ground while you are relaxing by the river or, when used with a few bits of rope, as a sunshade when you find the heat too much to take!
There are snaps on both sides of the cuffs for extra comfort and this poncho comes in four different colours.
Best For Hiking And For Those With A Sense Of Adventure!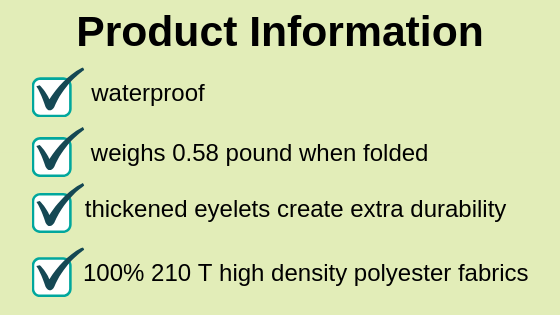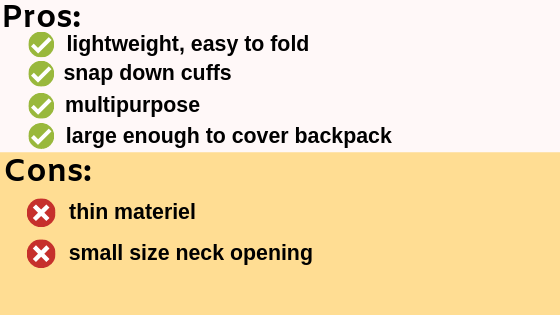 ---

6: Charles River Women's Rain Poncho
Charles rivers ponchos one of the most stylish looking ponchos and are made from a different material – one that proves durable and comfortable at the same time.
Made from wind and waterproof New Englander polyurethane which is bonded to a knit backing, providing additional fabric strength. Perfect for those heavy travelling days when the weather won't make it's mind up.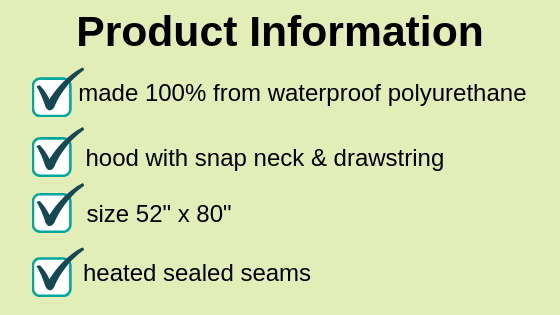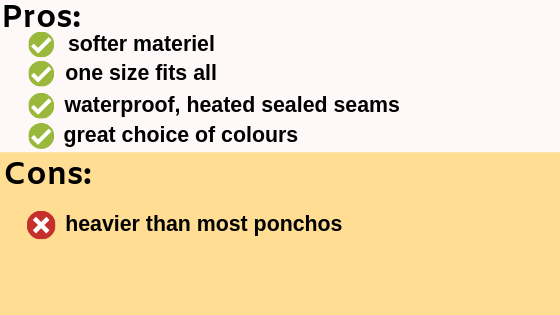 ---

7: SoTeer Rain Poncho
I had to include this SoTeer Poncho because I think it must be one of the most stylish ponchos on the market.
I LOVE the soft pretty colours – every single one. My favourite is the green and pink one – but they are all gorgeous.
These ponchos would look beautiful in Paris or Italy, they are so stylish – more like a Parisien cape than a poncho.
The batwing style is flattering and unusual. I love it.
I am raving about it because it looks so much like a coat but with the benefits of the poncho. Very important for when you are trying to remain gorgeous in the rain!
A zipper and button front.
Two pockets – which any woman knows is essential!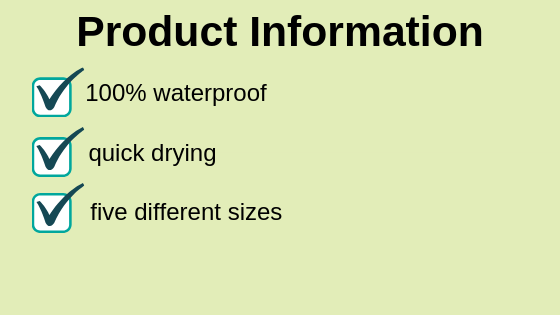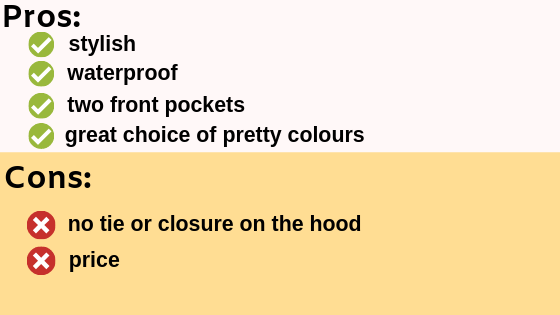 ---
The Difference Between A Rain Poncho And A Waterproof Jacket
Having just spent the last year backpacking around the world I can safely tell you the difference between the rain jacket and the poncho and why and when you need both.
If you are travelling to somewhere cold – NYC at Christmas time for example, then the poncho is not for you. Take a rain jacket, wear thin layers and you will be both warm and dry.
If however, you are visiting Europe or Asia (we spent three weeks in Japan last year and the poncho was perfect) in the spring or summer, then go for the poncho.
Poncho's are easy to take on and off and pack away.
Raincoats are quite cumbersome.
Ponchos are usually open at the sides meaning you won't overheat but they can be draughty.
Ponchos are baggy meaning that you can wear your favourite jersey underneath – rain jackets are a little more restricting.
Ponchos are all the rage. Combine with a gorgeous travel umbrella and you will be more than prepared for your next city break!
Related posts That you Will Enjoy
Best travel toothbrush. Less plaque build up on vacation
Best natural deodorant that actually works on stress sweats.
The best pants for travel. No more yanking and squirming.
How to save ten grand on accommodation in Europe. Housesitting, why you will love it.
Arrive feeling gorgeous. 10 travel essentials you will never fly without again.
Save This Post To Pinterest!⇓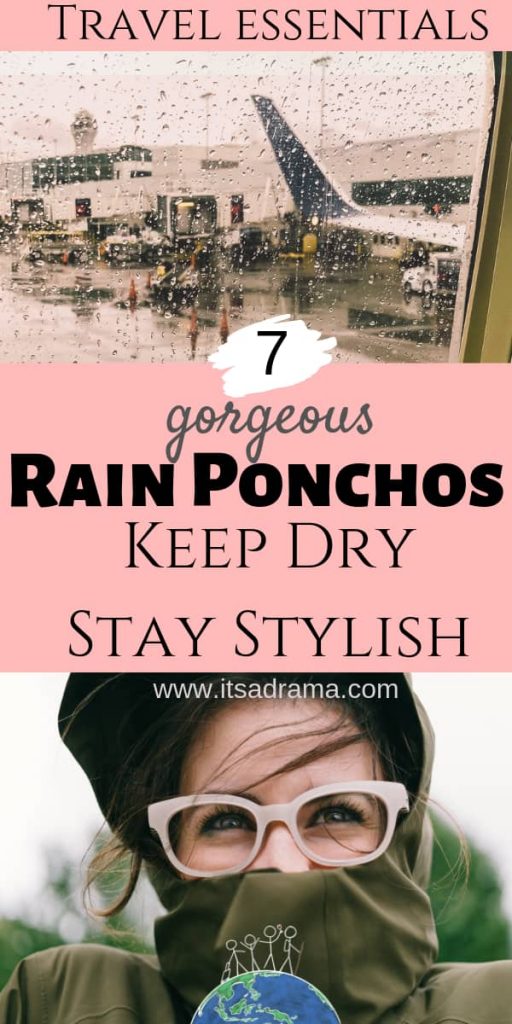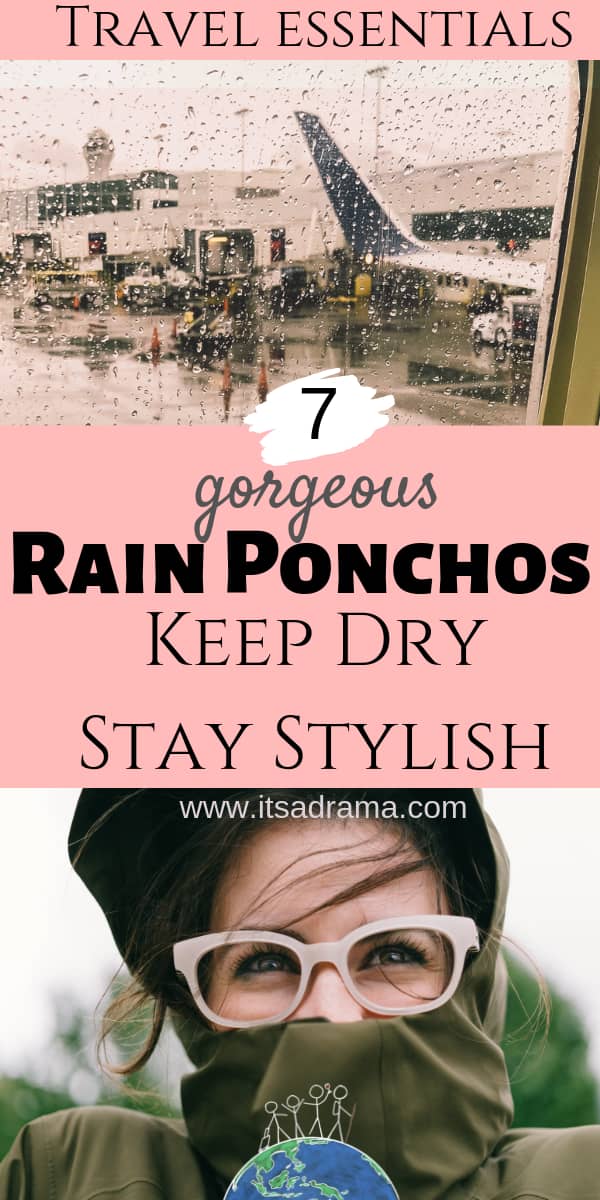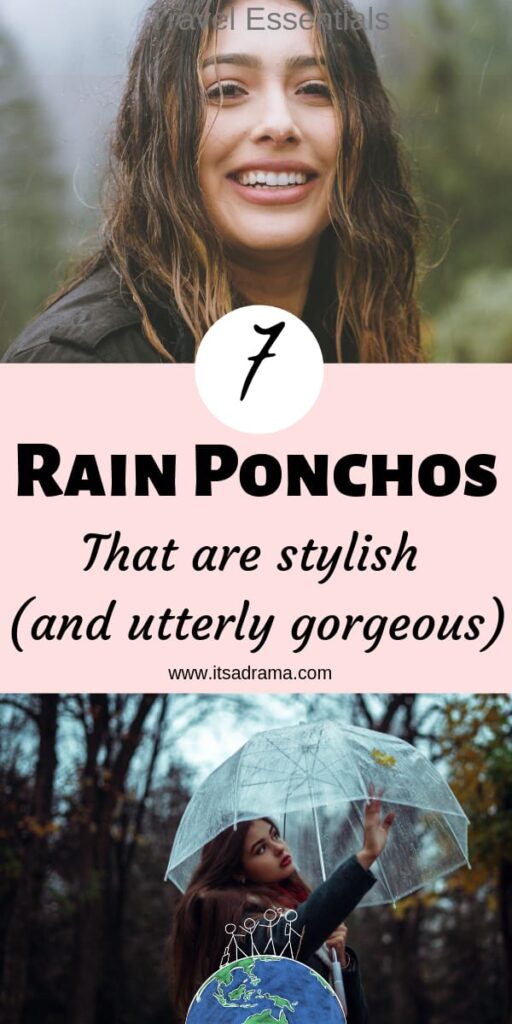 Have I Convinced You That The Best Thing To Travel With is a Rain Ponchos?
You have to agree that the lowly poncho is no longer something to be embarrassed about – rather celebrated!
With this wide range of styles and colours, there is absolutely no excuse for soggy clothes and running mascara.
Hopefully, you will find the best rain poncho that will suit you and you will have a long and happy relationship – let me know how you go and don't forget to share this post with someone who will love it as much as you!
We LOVE Housesitting. Want to Try it too?
If you have been following this podcast for a while, then you will know that we have just returned from six months in Europe and Asia. While we were there, we did a lot of housesitting. We are constantly asked how we did this and if we can share the website that we used. So here it is:
The initial 'looking part' is free. You can oggle all of the beautiful houses around the world that are waiting for YOU to look after them. Take a sneak peek here! (As I say, looking is completely free, so gander to your heart's content).
Then, if you are serious about using Housesitting as a tool to travel the world for free (as we do), you can use my exclusive discount code to save yourself 20% by Clicking here.
Still not sure about paying for a Housesitting membership? Remember that the cost of a yearly membership (approx $80 using the discount code above) will be paid back (and more) on the first housesitting night. It really is that simple!