Can you imagine coming to New Zealand with dogs? I can't. Bringing two kids was stressful enough. But you are about to meet a family who has done both! and in this episode, they share how moving to New Zealand without their fur babies was never an option.
Regardless of the stress and the cost.
Would You Like To Join Our Private New Zealand Community?
Are you Considering Moving To New Zealand and are desperate to know what life in New Zealand is (really) like? Do You LOVE New Zealand & dream of moving here one day?
Sign up HERE and I will send you my FREE Moving to and Living in New Zealand Guide. A 5 Part Video Series! At the end of the series, you will be offered details of how to become part of our very exciting and growing community of New Zealand loving members!
Coming To New Zealand With Dogs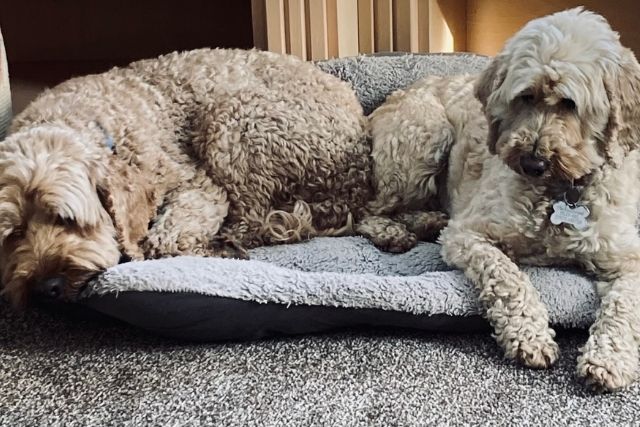 If you are considering moving to New Zealand you will be well aware that the move won't be cheap. By the time you have paid for visa's and shipping and flights, the costs begin to make your eyes water.
And what if you have dogs? (Or cats?) What do you do then? Will you leave them with family back home or will you do everything in your power to take your furry family members with you?
Mark and Gracie are from the UK. Their dream of moving to New Zealand with their children became a reality when Gracie found a job as a GP. After eight months of planning their adventure, they landed in Auckland three weeks ago.
Mark and Gracie have been through the process of bringing their two dogs with them to New Zealand and in this show they share:
The costs to bring two dogs from the UK to New Zealand
The expected time frame between leaving their pets in the UK to when they will once again be reunited in NZ
The flight conditions for their pets
Problems that they didn't expect to encounter
Watch The Video Podcast Coming To New Zealand With Dogs Now!
Moving to New Zealand? Here's More Content For You!
Life in New Zealand Compared to the UK. From a Kiwi Who's Tried Both
Leaving America to live in New Zealand
7 Things That Scared us About Moving To New Zealand
Living in New Zealand. Why 30% Of Immigrants Go Back Home
Moving to New Zealand. The How's, the Whys and the Hoops.
Moving to New Zealand. 5 Rookie Mistakes to Avoid Making
Americans in New Zealand. Will They Ever Feel at Home?
Interested in Life in New Zealand? Here's More Content For You!
7 Weird Things About New Zealand
You Know You're in New Zealand When…
Where To Live in New Zealand? North or South Island?
Can't Wait To Travel Again? Here's Some Inspiring Content For You!
7 Most Beautiful Places on Earth (And Why You Need To Visit Them SOON!
Japanese Culture. 7 Things You Should (Really) Know BEFORE You Go
How to Travel The World For Free. Or at Least Very, Very Cheap.
Italy Travel (Like You've Never Seen Before. In Your Life.)